2011 NFL Mock Draft: The Pittsburgh Steelers' Draft Take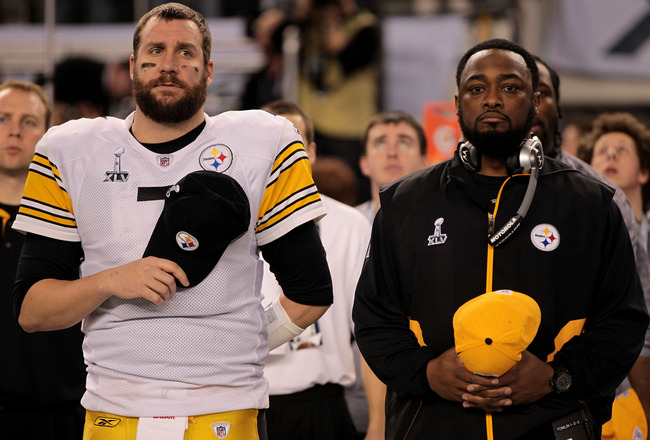 Jamie Squire/Getty Images
This is my 2nd of 32 team draft previews that I will be doing leading up to the 2011 NFL Draft.
The Pittsburgh Steelers fell just short of winning yet another Super Bowl title, but there is a huge reason for optimism in Pittsburgh.
The Steelers have a roster full of young talent that will keep the Steelers in Super Bowl contention the next few seasons. Kevin Colbert has a very successful track record in the draft, and Mike Tomlin is one of the top coaches in the NFL. With those two leading the way, the present and future of the Steelers looks to be brighter than just about every other team in the league.
Ben Roethlisberger is the leader of the offense, and he had an excellent season in 2010. He is one of the best quarterbacks in the game, and Pittsburgh is lucky to have him at the helm for the near future.
Rashard Mendenhall is quickly becoming a top NFL running back, but there isn't much behind him. The Steelers should look to find another runner to complement him.
The receiving corps is very young and talented, but is led by veteran Hines Ward. Mike Wallace, Emmanuel Sanders, and Antonio Brown give the team a nice group of receivers. Heath Miller is a great pass catcher as a tight end, and he pairs well with blocking tight end Matt Spaeth.
The line has a few holes, but Maurkice Pouncey looks like he will be the leader along the line for many years to come. Look for the Steelers to target an offensive lineman or two in this year's draft.
The Steelers' defensive line is still very solid, but they are quickly getting older. Starters Casey Hampton, Brett Keisel and Aaron Smith are getting up there in years. Ziggy Hood looks like a future anchor along the line, but the Steelers should look to add more depth for this unit.
The linebackers are the strength of this team, as all four starters last year have Pro Bowl talent. James Farrior and James Harrison are the veteran leaders, whereas Lawrence Timmons and Lamar Woodley look to be Pro Bowl fixtures in the next five to 10 years.
The secondary is also very solid, as they are led by Defensive Player of the Year Troy Polamalu. Ryan Clark and Ike Taylor also played great, but the lack of depth at cornerback became very obvious in the Super Bowl.
2010 Draft Recap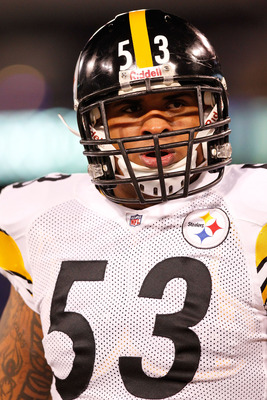 Geoff Burke/Getty Images
1. (18) C Maurkice Pouncey, Florida: Made the Pro Bowl his rookie season and will be an anchor on the Steelers' line for years to come. 16 GP/16 GS
2. (52) OLB Jason Worilds, Virginia Tech: Played well on special teams last season, but he is just biding his time before becoming a starter in the next couple of seasons. 14 GP/0 GS
3. (82) WR Emmanuel Sanders, SMU: Played better toward the end of the season, but he performed well as the No. 3 receiver. He looks to be the future replacement for Hines Ward when he retires. 13 GP/1 GS
4. (116) OLB Thaddeus Gibson, Ohio State: Gibson was waived at midseason, but he finished the year as a backup for the 49ers. 2 GP/0 GS
5. (151) OT Chris Scott, Tennessee: An early foot injury hurt him, but even after he recovered, he didn't see the field. 0 GP/0GS
5. (164) CB Crezdon Butler, Clemson: Not much of an impact in his first year, but he could surprise some people in 2011 if given the opportunity. 4 GP/0 GS
5. (166) OLB Stevenson Sylvester, Utah: Played well on special teams, but he looks like he could have a future as a starting inside linebacker. 16 GP/ 0 GS
6. (188) RB Jonathan Dwyer, Georgia Tech: Only dressed for one game, it remains to be seen what the future holds for him. 1 GP/0 GS
6. (195) WR Antonio Brown, Central Michigan: Played well as a third-string receiver, and he was effective in the return game. 9 GP/0 GS
7. (242) DT Doug Worthington, Ohio State: Didn't make it through the preseason with Pittsburgh, but he made it onto the active roster in Tampa Bay. 0 GP/0 GS
Summary: Pouncey should be a Pro Bowl player for a long time, while the two receivers look like they will be solid contributors. The rest of the class didn't produce much in their rookie seasons, but Sylvester and Worilds could be future starters at linebacker.
Grade: B-
Team Need: Cornerback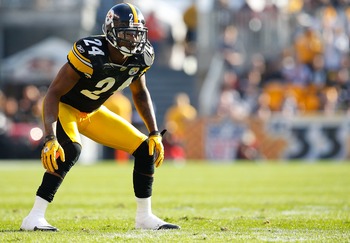 Jared Wickerham/Getty Images
Ike Taylor is a very underrated corner in this league, but he is a free agent.
I think re-signing him will be a priority, but even if they do, the Steelers are sorely lacking depth. That became evident in the Super Bowl, where the Steelers' cornerbacks just couldn't keep up with the multiple wide receiver sets of the Green Bay Packers. I expect they will strongly consider a corner in either the first or second round.
Bryant McFadden and William Gay are better suited to play the nickel and dime roles, which means the Steelers should look to find a starting cornerback this offseason. They could look to draft a corner as early as the first round, but expect them to take one within the first two or three rounds.
Potential Cornerback Targets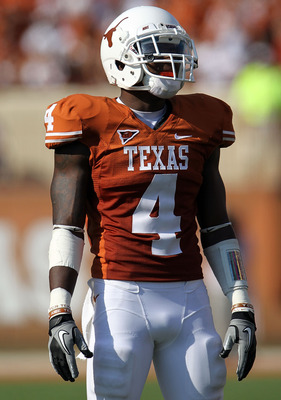 Ronald Martinez/Getty Images
Round 1: Brandon Harris, Aaron Williams
Round 2: Johnny Patrick, Ras-I Dowling, Curtis Brown
Round 3: Rashad Carmichael, Kendric Burney
Williams and Harris would be very good options at the end of the first round since each of them have good speed and solid height. Dowling and Brown may not be as highly rated as Williams and Harris, but they still have the ability to become solid contributors in their rookie seasons.
Team Need: Offensive Guard
Gregory Shamus/Getty Images
Chris Kemoeatu has been a serviceable guard over the past couple seasons, but the right guard position has been a sore spot in Pittsburgh for a long time.
Trai Essex and Ramon Foster left something to be desired, and I expect them to try finding an upgrade for them this offseason. They may have to upgrade the position in the draft due to the uncertainty of when free agency will actually start.
The Steelers need to find some upgrades at guard, and the best way to do so would be in the draft.
Potential Offensive Guard Targets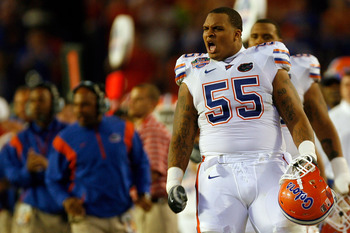 Eliot J. Schechter/Getty Images
Round 1: Mike Pouncey, Danny Watkins
Round 2: Ben Ijalana, Clint Boling
Round 3: John Moffitt, Will Rackley
The popular pick in some people's eyes would be for the Steelers to take Pouncey in the first round to pair him with his twin brother. That actually makes a lot sense, but that doesn't mean he'll be the only option in the first round. Watkins would be a great pick for the Steelers.
This is another position I'd expect to see Pittsburgh consider early in the draft.
Team Need: Defensive End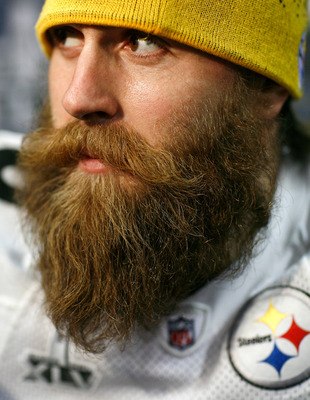 Tom Pennington/Getty Images
Brett Keisel and Ziggy Hood look to be solid players, and Aaron Smith will be returning from injury. Hood looks to be a long-time fixture on the line, but Smith and Keisel are on the wrong side of 30, and depth seems to be lacking behind those three.
Finding a future bookend to pair with Hood for the next 10 seasons could be an option in the early rounds.
This is a deep draft for defensive linemen, even though we could see a lot of them selected before the Steelers first pick at No. 31. However, with all of those linemen expected to go early in Round 1, it's very likely one of the top linemen could fall right into the Steelers' lap.
Potential Defensive End Targets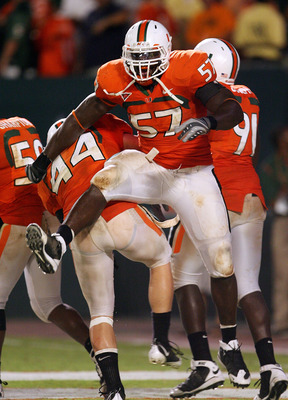 Doug Benc/Getty Images
Round 1: Corey Liuget, Christian Ballard, Cameron Heyward
Round 2: Allen Bailey, Marvin Austin
Round 3: Lawrence Guy
Round 4: Ian Williams
A defensive end isn't exactly an immediate need, but it's a position the Steelers should consider for the future. They may look at someone like Lawrence Guy or Ian Williams in the middle rounds who can be rotational players in their rookie years while gradually working themselves into the starting position opposite Ziggy Hood.
Team Need: Nose Tackle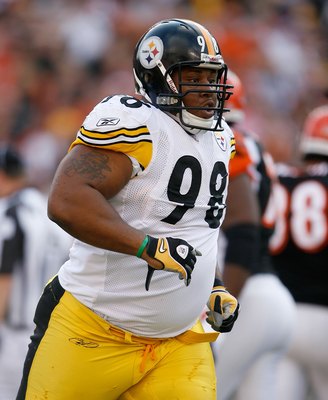 Andy Lyons/Getty Images
Casey Hampton and Chris Hoke are a very solid tandem at the nose tackle position, but they will be 34 and 35 years old respectively next season. There is no long-term replacement currently on the roster, and Hoke is a free agent, so depth could be a concern heading into next season.
There aren't a whole lot of pure 3-4 nose tackles available in this draft, so Pittsburgh might have to take one early if they decide to take one at all. Hampton hasn't slowed down too much, so maybe the Steelers will elect to wait until the 2012 NFL Draft to find his heir apparent.
Potential Nose Tackle Targets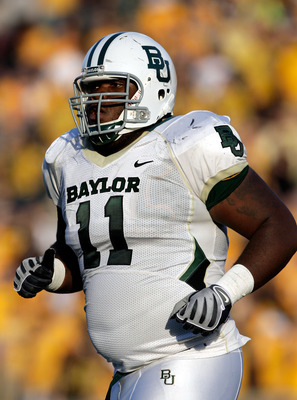 Jamie Squire/Getty Images
Round 1: Phil Taylor
Round 3: Kenrick Ellis
Round 4: Jerrell Powe
Phil Taylor would be a great pick at the end of Round 1, but he might not make it that far. He is by far the best pure nose tackle available in this year's draft.
Ellis might be an intriguing option, as he'd get an opportunity to learn from Casey Hampton for the next year or two before taking over when Hampton retires.
Team Need: Offensive Tackle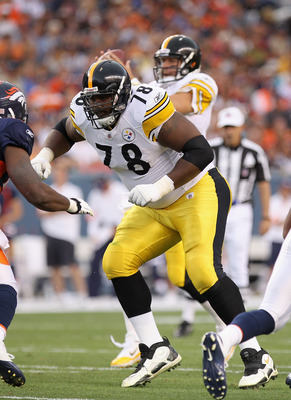 Doug Pensinger/Getty Images
Willie Colon and Max Starks missed a lot of time last season due to injuries. Jonathan Scott and Flozell Adams didn't play terribly, but I don't think the Steelers can afford to have those two starting if Colon and/or Starks go down again with injury .
The Steelers do have some talent at offensive tackle, but they have had some injury problems in the past. Pittsburgh needs to try improving the overall depth of the position, even if they don't take an offensive tackle early in the draft.
Potential Offensive Tackle Targets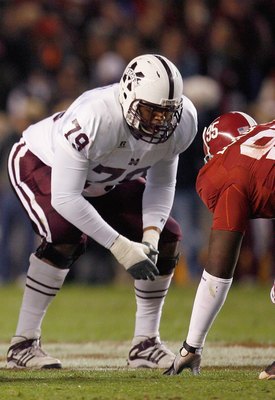 Kevin C. Cox/Getty Images
Round 1: Gabe Carimi, Derek Sherrod
Round 2: Marcus Cannon, James Brewer
Round 3: Chris Hairston, Lee Ziemba
Sherrod and Carimi would be hard to pass up at the end of Round 1, and offensive tackle is a big question mark heading into next season. I like the potential of Cannon because I think he has the ability to become a good offensive tackle, even though he is being projected as a guard by most people.
Other Possible Needs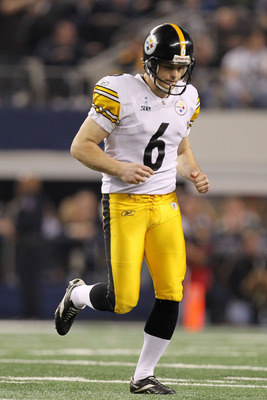 Ronald Martinez/Getty Images
Kicker: Shaun Suisham filled in well last season after Jeff Reed was released, but he hasn't always been a reliable kicker, so they could look to find some competition.
Running Back: Rashard Mendenhall is becoming one of the best young running backs in the NFL. The Steelers would be wise to find him a complement though.
Team Draft Strategy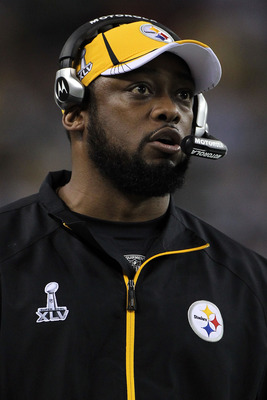 Doug Pensinger/Getty Images
The Steelers are another team that doesn't seem to have a ton of immediate needs and may use this draft to build up the depth of the team.
I think they do need to draft a cornerback in the early rounds, and I also expect them to take an offensive lineman early too. This team has been built through the draft, and I expect they'll have another successful draft this year.
A big target for them should be in the trenches, as four of their top five needs—in my opinion—are along the offensive and defensive lines. The Steelers are going to be competitive no matter who they draft this season, but with a top talent evaluator in Kevin Colbert making the decisions, I think the Steelers will walk away with a few players who will contribute immediately to the team next season.
Keep Reading

Pittsburgh Steelers: Like this team?