2011 NFL Mock Draft: New York Jets' Draft Take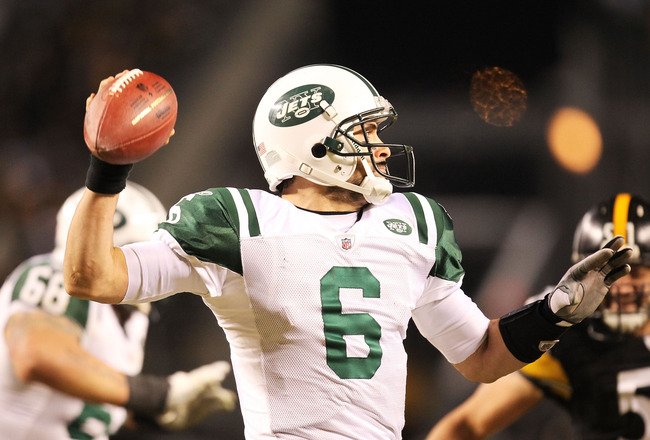 Ronald Martinez/Getty Images
This is the third article in my 32 part Draft Take series leading up to the NFL Draft.
The Jets made it all the way to the AFC Championship game as a number six seed for the second season in a row, yet for the second straight year, they fell just short of making it to the big game. Mike Tannenbaum has done a pretty solid job so far in New York, and Rex Ryan is quickly becoming a top head coach in the NFL. They will have a lot of big decisions to make on free agents this season, but they have enough talent that they can still contend for a title next season even if they lose a couple of their big free agents.
Mark Sanchez can be inconsistent at times, but not many quarterbacks can say that they took their team to the conference championship game in their first two seasons. Sure, he's been helped by the talent around him, but he still has the raw talent and intangibles to lead his team to greatness. LaDainian Tomlinson is starting to slow down, but he can still be effective in a tandem backfield with Shonn Greene. Joe McKnight could take over for L.T. in a season or two, but he wasn't very impressive in his rookie year. The receiving core could look very different next season, as Santonio Holmes, Braylon Edwards, and Brad Smith are all free agents. I expect Holmes to be back, but I doubt that you will see all three of these guys back in New York next year. Dustin Keller is one of the better young tight ends in the league. The offensive line is pretty solid all round, and are led by pro bowlers D'Brickashaw Ferguson and Nick Mangold. The one question mark is at right tackle, where Damien Woody was recently released.
The defense was pretty impressive last season, but there are some question marks heading into next season. Shaun Ellis is nearing the end, and Kris Jenkins was released after missing most of yet another season. Sione Pouha played well last season, but the Jets may look for a long term option at nose tackle. Look for the Jets to take, at the very least, one defensive lineman in the upcoming draft. The Jets are set at inside linebacker, as David Harris is one of the top linebackers in the NFL and Bart Scott is still playing at a high level. The problem is at the outside linebacker positions, where Calvin Pace and Bryan Thomas are expected to be the starters. The Jets could obviously do a lot worse at this position, but they need to find some long term options, especially after the release of big time bust Vernon Gholston. The Jets have one of the top cornerback tandems in the league in Darrelle Revis and Antonio Cromartie. Kyle Wilson struggled in his rookie season, but he's got a lot of potential. Jim Leonhard and Brodney Pool make up a solid, yet unspectacular safety tandem.
2010 Draft Recap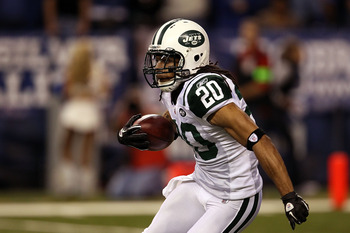 Jonathan Daniel/Getty Images
1. (29) CB Kyle Wilson, Boise State: He didn't play as well as expected last year, but he has the raw skills to be solid contributor at the nickel position next season.
2. (61) OG Vladimir Ducasse, Massachusetts: He didn't get a lot of playing time in his rookie campaign, but he has a lot of potential and could challenge for the starting guard spot this season.
3. (112) RB Joe McKnight, USC: He contributed on special teams, but I think he has a future as a third down back.
4. (139) FB John Conner, Kentucky: The "Terminator" is an excellent blocker with a mean streak who looks to be the fullback of the future in New York.
Summary: None of these draft picks were big contributors in their rookie seasons, but I expect them to all be important players in the team's future. The success of this draft will ultimately hinge on the how well Wilson develops.
Grade: C
Team Need: Outside Linebacker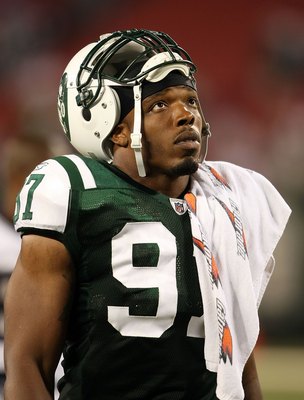 Nick Laham/Getty Images
Jason Taylor won't be back with the team next year, and the Jets gave up on Vernon Gholston, who has yet to record a sack in his career. That leaves Calvin Pace and Bryan Thomas, who are solid players but they aren't the dominating pass rush threat that the Jets need. Jamaal Westerman is a young player with potential, but he will most likely be a backup heading into next season. The Jets need to find a pass rusher who can challenge Thomas for the starting linebacker job.
The Jets may not take an outside linebacker early in this draft, but I think they need to take at least one linebacker at some point in this draft to develop into a starter. Pace and Thomas can be solid players, but depth behind them is very suspect.
Potential Outside Linebacker Targets
Joe Robbins/Getty Images
Round One: Justin Houston, Akeem Ayers
Round Three: Dontay Moch, Jeremy Beal, Sam Acho
Round Four: Greg Romeus
Houston and Ayers could be good options in round one, but the Jets may have some more pressing needs. They could take a flyer on a guy like Romeus in round three or four as he has a lot of talent, but he will drop in the draft due to his injury concerns.
Team Need: Nose Tackle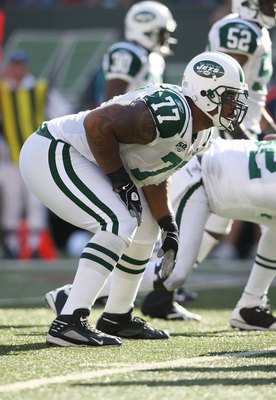 Nick Laham/Getty Images
Kris Jenkins hasn't been able to stay healthy in recent years, and he was recently released by the Jets. Sione Pouha has filled in pretty well over the past two seasons, but there isn't really much depth behind him. Throw in the fact that he is 32 years old and you can see why this position is a top need heading into the offseason. Considering how critical this position is for a 3-4 defense, expect the Jets to look for a nose tackle early in the draft.
The Jets may have a problem finding a nose tackle in this year's draft, as there aren't many quality nose tackles to choose from. Phil Taylor would be the best choice, but he could be gone before it's the Jets turn to pick.
Potential Nose Tackle Targets
Jamie Squire/Getty Images
Round One: Phil Taylor
Round Three: Kenrick Ellis
Round Four: Jerrell Powe
The Jets will most likely miss out on Phil Taylor so they may have to reach a little bit in round three or four with Ellis and Powe. Ellis is the more talented of the two, but his motor and character have been in question for some time now.
Team Need: Offensive Tackle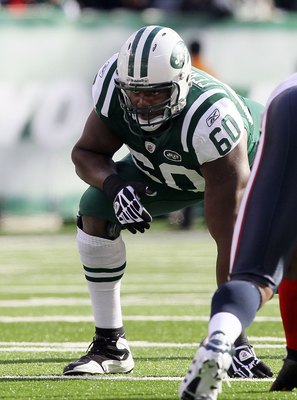 Jim McIsaac/Getty Images
Damien Woody was unable to finish the season last year due to injury and he won't be back with New York next season. It remains to be seen if Vladimir Ducasse is the right tackle of the future, but I don't think that he is ready to take over the full time role just yet. Since there isn't a tackle currently on the roster who can take over long term, look for the Jets to target one at some point in the draft.
This is a position I think that the Jets will very strongly consider at the end of round one. I don't think Ducasse would be ready to start at tackle next season and they don't really have anyone else on the team who could come in and be effective in the starting lineup.
Potential Offensive Tackle Targets
Al Messerschmidt/Getty Images
Round One: Derek Sherrod, Ben Ijalana
Round Two: James Brewer
Round Three: Chris Hairston, James Carpenter, Joseph Barksdale
Round Four: Jason Pinkston, DeMarcus Love
I think Ijalana could be a good choice in round one, even if it might be a slight reach. The Jets may not be able to find a player who could start right away next season, but I think if Sherrod or Gabe Carimi are available they'd be hard pressed to pass on them at the end of the first round.
Team Need: Wide Receiver
Nick Laham/Getty Images
This is only a need because Santonio Holmes, Braylon Edwards, and Brad Smith are all free agents and it doesn't seem likely that all three will be back. Personally I think Edwards will be the odd man out, so the Jets will need to find someone to replace him. Jerricho Cotchery is still a solid receiver, but he is on the downside of his career. The Jets need someone who can contribute in his rookie season to help make up for some of the production that will be lost by whichever free agent receiver isn't back.
The Jets will still have a good receiving corps next season, even if they lose one of their free agents. They should still think about drafting one in the middle rounds, because they need to build up the depth in case they lose a player to injury next year.
Potential Wide Receiver Targets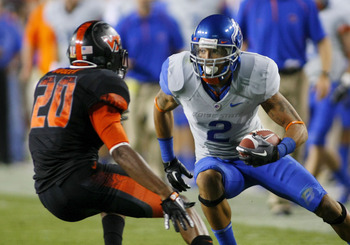 Geoff Burke/Getty Images
Round One: Jon Baldwin
Round Three: Dwayne Harris, Edmund Gates, Leonard Hankerson
Round Four: Austin Pettis, Niles Paul
Round Five: Ronald Johnson, DeAndre Brown
I think that Pettis or Hankerson would be good fits for the Jets in the middle rounds, but Baldwin will be considered if he's available in round one. DeAndre Brown is another player who the Jets could take a flyer on, as he has first round talent but he has some big character concerns.
Team Need: Defensive End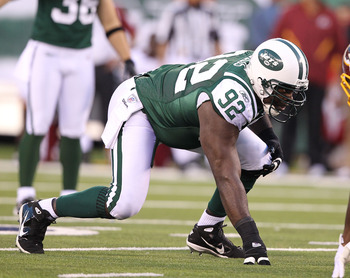 Al Bello/Getty Images
Shaun Ellis has been a mainstay on the defensive line for many years. Even though he had a fairly productive season last year, he is clearly nearing the end and a future replacement is going to need to be brought back. Mike DeVito was pretty solid last year, but there is very little depth behind DeVito and Ellis.
This is one of their biggest needs in my opinion, as they are very old up front with Ellis, DeVito, and Trevor Pryce. They need to find someone who could fill in if needed in their rookie season.
Potential Defensive End Targets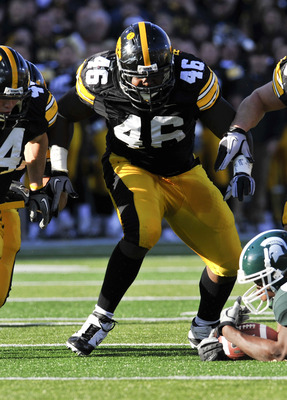 David Purdy/Getty Images
Round One: Muhammad Wilkerson, Corey Liuget, Christian Ballard, Cameron Heyward
Round Four: Lawrence Guy
One of the top defensive ends will most likely fall to them at the end of round one, so I think they should select an end in the first. Wilkerson or Heyward would be able to contribute right out of the gate and challenge for a starting spot.
Other Possible Needs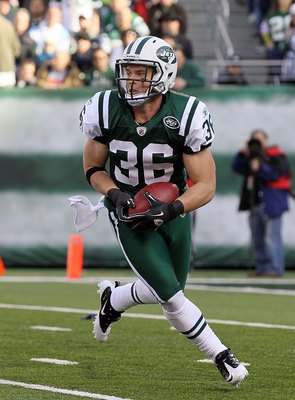 Jim McIsaac/Getty Images
Safety: Brodney Pool and Jim Leonhard are a solid starting safety tandem, but they need to bring in some depth. Dwight Lowery is decent, but I wouldn't want to rely on him for an entire season if Leonhard or Pool go down.
Tight End: Dustin Keller is the starter of the present and future, but they could use another receiving threat at the tight end position.
Quarterback: Mark Sanchez is obviously the franchise quarterback, but they don't have much behind him. They could use a late round pick to develop a quarterback into a solid backup.
Team Draft Strategy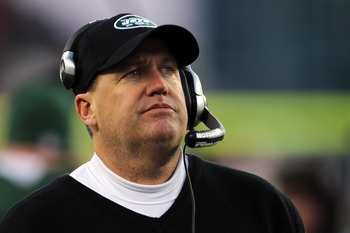 Jim Rogash/Getty Images
The Jets roster has the potential for a lot of changeover heading into next season. They've already released a few long time players and they have a ton of free agents who may or may not be back. The Jets will most likely be targeting defense early on in the draft and I expect a big focus to be on improving the defensive line.
This team already has a lot of talent, and I fully expect them to challenge for a conference championship yet again next season. Not having a second round pick will hurt, but they still have enough picks to acquire a few solid players.
Keep Reading

New York Jets: Like this team?