2011 NFL Mock Draft: Minnesota Vikings' Draft Take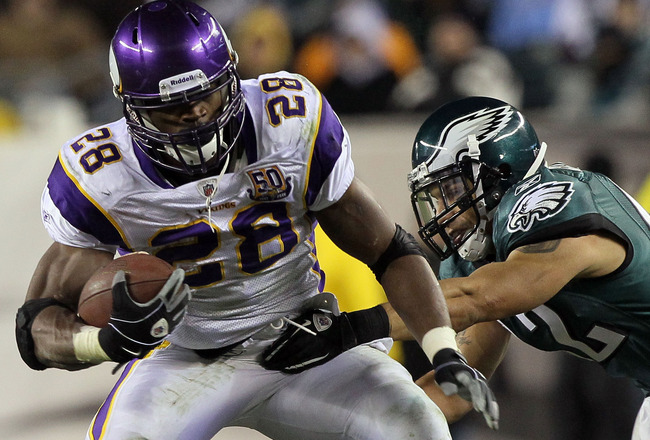 Jim McIsaac/Getty Images
The Minnesota Vikings had an extremely disappointing season in 2010. Many people picked them to contend for a Super Bowl title, but they ended up finishing dead last in the division. A lot of the disappointment can be attributed to injuries to many key players, but a lot of the team's big flaws were pointed as well.
Brett Favre is finally going to call it a career, but him leaving creates a very big question mark at the quarterback position. Joe Webb played well late in the season in place for Favre, but he is still very unproven. A quarterback will most likely be brought in to compete for the starting position next year.
Adrian Peterson is arguably the top running back in the league still, and he gives the offense a very dangerous weapon. The combination of him and Toby Gerhart gives the Vikings a pretty formidable duo at running back. Percy Harvin and Sidney Rice are a solid starting combination, but Rice is a free agent and he may not be back. Both of these players missed time with health problems, and backup Bernard Berrian struggled. This position could use an upgrade, especially if Rice leaves as a free agent.
Visanthe Shiancoe isn't a top tight end, but he is a solid pass catcher who gives Minnesota another weapon in the passing game. The left side of the Vikings' line is still very solid, with Bryant McKinnie at left tackle and Steve Hutchinson at left guard. Yet the rest of the line could use some upgrades, particularly over John Sullivan and Anthony Herrera at center and guard.
The defensive line has been the best in the league in previous years, but the line could look different next season. Jared Allen is great at one end spot, but Brian Robison will take over for Ray Edwards if Edwards leaves as a free agent, and Robison is unproven.
Kevin Williams is a Pro Bowler at one tackle spot, but Pat Williams could retire. The Vikings don't really have a proven player to take over if he isn't back next year. E.J. Henderson and Chad Greenway are two very solid players at linebacker, but the other linebacker spot is far from locked down. Ben Leber is an adequate starter, but he is a free agent, and it's possible the Vikings could look for an upgrade.
The cornerback position could be a question mark if Cedric Griffin has trouble staying healthy again, as he has two torn ACL's in the previous two years. Antoine Winfield is still a pretty good cornerback, but his career is nearing an end and they need to find a long term replacement for him. That player could be Chris Cook, but he didn't look very impressive last season. Both safety spots could use an upgrade, as Madieu Williams and Hussain Abdullah are fringe starters at best. I expect to see the Vikings take at least one safety in the upcoming draft.
2010 Draft Recap
Gregory Shamus/Getty Images
2. (34) CB Chris Cook, Virginia: Cook battled injuries throughout the season, but it also looked like he had trouble grasping the system. 6 GP/5 GS
2. (51) RB Toby Gerhart, Stanford: He is a hard runner who should make a very good backup to Adrian Peterson. 15 GP/1 GS
4. (100) DE Everson Griffen, USC: He didn't get a whole lot of playing time, but he could factor into the starting position at defensive end. 11 GP/0 GS
5. (161) OG Chris DeGeare, Wake Forest: He got some starting experience due to Steve Hutchinson's injury, but I don't think that he's ready for a full time starting position. 8 GP/5 GS
5. (167) ILB Nathan Triplett, Minnesota: He was cut in the preseason, but he ended up on the Colts roster at the end of the year. 5 GP/0 GS
6. (199) QB Joe Webb, Alabama Birmingham: He played surprisingly well when pressed into starting duty, and could start for them this season. 5 GP/2 GS
7. (214) TE Mickey Shuler, Penn State: He factored into the Miami Dolphins' season after being cut by the Vikings. 6 GP/2 GS
7. (237) ILB Ryan D'Imperio, Rutgers: He was converted to fullback, and he could factor into their plans in the coming seasons. 0 GP/0 GS
Summary: This draft did not produce much in 2010. Cook and Gerhart struggled, especially early on in the season, and none of the other players turned into starters. The grade could increase if Joe Webb becomes the new franchise quarterback, but for now, this class looks like a bust.
Grade: D
Team Need: Quarterback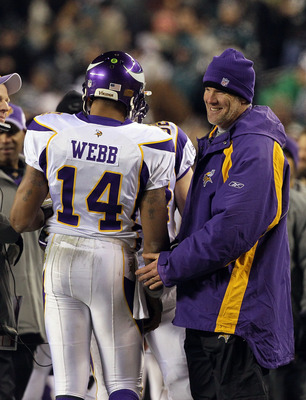 Jim McIsaac/Getty Images
If looks like Brett Favre will finally retire for good this time, but his absence could be a problem for the Vikings moving forward.
Joe Webb played pretty well in his late-season stint as a starter last year, but he is far from a sure thing at quarterback. He may not be ready to take over as the full time starter next season. Tavaris Jackson is much more suited to a backup position, and he may not even be back as he is currently a free agent.
The Vikings could go for the quick fix by acquiring a starting quarterback in a trade. However, drafting and developing a quarterback would give them a better outlook for the long term future of the team.
Potential Quarterback Targets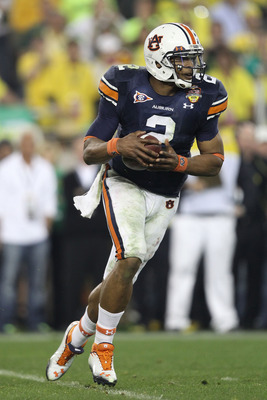 Christian Petersen/Getty Images
Round 1: Cam Newton, Blaine Gabbertt, Jake Locker, Ryan Mallett
Round 2: Andy Dalton, Christian Ponder, Colin Kaepernick
Round 3: Ricky Stanzi
Newton and Gabbert will most likely be gone by the Vikings pick, but they would be strongly considered in Round 1. The best option could be to take either Dalton or Kaepernick in Round 2, give them a year or so to develop and hand the starting role over to Joe Webb heading into the 2011 season.
Team Need: Wide Receiver
Jim McIsaac/Getty Images
The Vikings will more than likely bring back current top receiver Sidney Rice. But if they don't, this position becomes a much bigger need.
Bernard Berrian really struggled last season, and he could be released due to his big contract. Percy Harvin is a huge weapon for the Vikings offense, but he's not really a No. 1 wide receiver. Greg Camarillo gives the Vikings a solid third or fourth option, but the top player could be lacking if Rice leaves.
If Rice comes back, then this won't necessarily be a huge need. But at this point, nobody can be 100 percent certain that he will be back. Either way, look for the Vikings to target this position somewhat early on in the draft.
Potential Wide Receiver Targets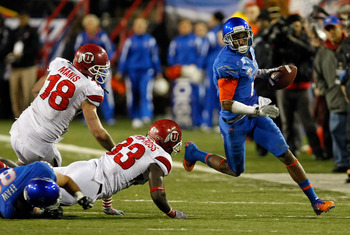 Ethan Miller/Getty Images
Round 1: Julio Jones
Round 2: Greg Little, Torrey Smith, Jon Baldwin, Titus Young
Round 3: Greg Salas, Niles Paul, Vincent Brown, Dwayne Harris
Round 4: Cecil Shorts, Edmund Gates, Austin Pettis
Round 5: Ronald Johnson, Jeff Maehl, DeAndre Brown
The Vikings will likely pass on Jones in Round 1, but I think that it's foolish to say that the Vikings won't consider him—especially since they aren't certain that Rice will be back next year. Someone like Harris or Pettis in Round 3 or Round 4 could potentially challenge for a starting spot next year.
Team Need: Safety
Ezra Shaw/Getty Images
The Vikings have lacked an impact safety in recent years since Darren Sharper left for New Orleans. Madieu Williams hasn't really been anything to write home about, and he could be upgraded. The other safety position was held down by both Tyrell Johnson and Husain Abdullah. Neither of them played well, and both of them could be upgrade heading into next season.
Young Jamarca Sanford could be the future starter for one of the spots, but the Vikings need to find a top notch safety for the other spot.
Potential Safety Targets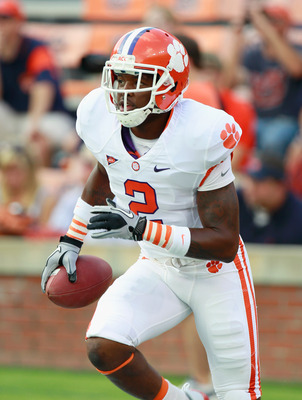 Kevin C. Cox/Getty Images
Round 2: Rahim Moore, Jaiquawn Jarret
Round 3: DeAndre McDaniel, Tyler Sash
Round 4: Robert Sands, Deunta Williams, Eric Hagg, Quinton Carter, Jeron Johnson
The most likely option for the Vikings is to take a guy in Round 3 or Round 4, such as McDaniel or Carter. Both of those guys could compete and play well in their rookie seasons, but they also have the potential to develop into very solid starting safeties in a year or two.
Team Need: Defensive End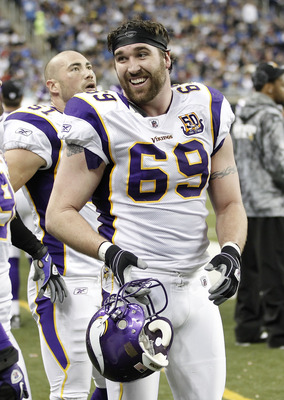 Gregory Shamus/Getty Images
Jared Allen is still one of top pass rushers in all of football, and he should have one spot locked down for years to come. The other spot is very solid as well, but Ray Edwards is a free agent. Losing him would be a huge hit to the defense. Brian Robison could do a solid job as the starter if Edwards does leave, but if that is the case, the depth will suffer.
Everson Griffin could step up as the top backup at defensive end, but he hasn't really proven anything yet. So, the Vikings would be well served to pick up another guy to add some depth.
Potential Defensive End Targets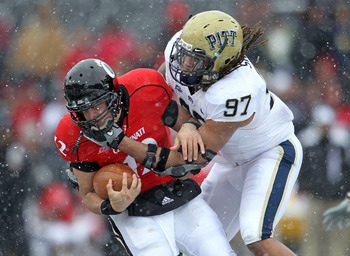 Andy Lyons/Getty Images
Round 2: Jabaal Sheard, Brooks Reed
Round 3: Jeremy Beal, Sam Acho, Greg Romeus
Round 4: Cliff Matthews, Ryan Winterswyk
Round 5: Ricky Elmore, Pernell McPhee
This wouldn't be a need at all if Ray Edwards was certain to be back. But the Vikings won't know for sure until after the draft is over. They could wait until Round 4 or Round 5 to take someone like Matthews or McPhee to help improve the depth.
Team Need: Center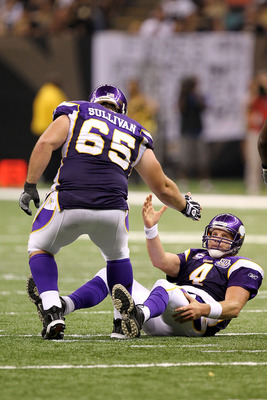 Ronald Martinez/Getty Images
The Vikings have missed Matt Birk in recent years, as John Sullivan really hasn't replaced his production. Sullivan struggled last season, and the Vikings could be well suited to find an upgrade for him in this year's draft. This isn't the biggest of needs, but it's something they could consider at some point in this draft.
This is a weak draft for centers, and with the Vikings having more pressing needs, this is a position that may not be upgraded in the draft this year.
Potential Center Targets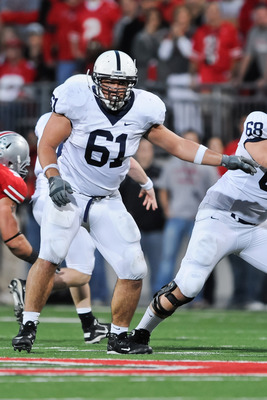 Jamie Sabau/Getty Images
Round 2: Stefan Wisniewski
Round 4: Alex Linnenkohl, Brandon Fusco, Kris O'Dowd
Round 5: Jake Kirkpatrick, Zane Taylor
Wisniewski most likely won't be a target in Round 2, but they could seriously consider O'Dowd or Fusco in Round 4 or Round 5. They could compete with Sullivan for the starting spot next year or take over for him in a year or two.
Other Possible Needs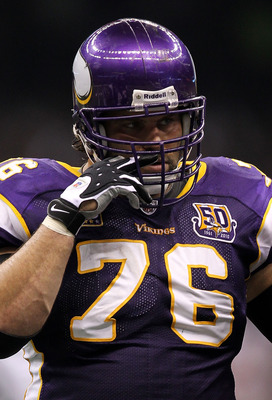 Ronald Martinez/Getty Images
Outside Linebacker: Chad Greenway was franchised, but Ben Leber is still a free agent. Losing him would create a sizeable hole at linebacker.
Offensive Guard: The depth is an issue, and it's possible that the Vikings will look for an upgrade for current right guard Anthony Herrera.
Defensive Tackle: If Pat Williams isn't back next year, it would create a huge hole for the Vikings next to other starter Kevin Williams.
Team Draft Strategy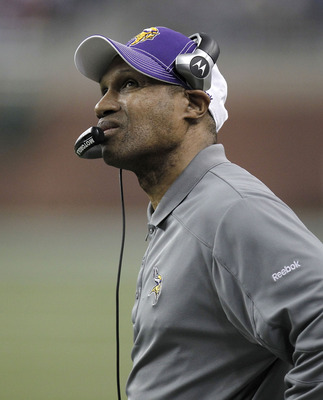 Gregory Shamus/Getty Images
The Vikings did not have an impressive draft last year. They cannot afford to have another unsuccessful draft in 2011. The talent in their division has greatly improved in the past season, and the Vikings are falling behind. They had a down year last year, and it remains to be seen how well they will play this season without Favre at quarterback.
The Vikings' main concern this offseason is figuring out who is going to be their quarterback of both the present and future. Joe Webb could be that guy, but I expect the Vikings to strongly consider a quarterback in Round 1.
The Vikings could easily contend for the division title next year, but I could also see them finishing in last place yet again last season.
Previous 2011 NFL Team Draft Takes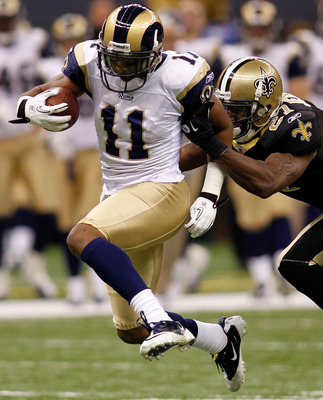 Chris Graythen/Getty Images
Keep Reading

Minnesota Vikings: Like this team?