With the college football season nearing its conclusion, my favorite time of year is fast approaching; the NFL Draft. Each year analysts and draftniks across the country debate the value of prospects and compare mock drafts.
The 2011 NFL Draft Class is one of the most talented in recent memory. In what has been dubbed the year of the quarterback, Andrew Luck, Ryan Mallett, Cam Newton, and Jake Locker all figure to be drafted in the first round. Wide receiver is another position of strength for this class, with five potential first rounders, including one of the best receiving prospects since Randy Moss, A.J. Green.
Here is the first full edition of my mock draft.
1. Carolina Panthers (1-12) – Andrew Luck, QB Stanford – Andrew Luck is the consensus number one quarterback in the 2011 NFL Draft Class. I am not entirely sold on him as the once-in-a-generation prospect some are calling him, but he has an impressive command of a west coast offense at Stanford to go with his elite accuracy and leadership abilities. That being said, he tends to float his deep passes a bit, causing me to question his arm strength. However, some of the best quarterbacks in the NFL get by without elite arms, and Luck's is more than adequate.
While the Panthers just spent a second round selection on Jimmy Clausen, he has not shown enough in his brief NFL career to justify Carolina passing on a prospect like Andrew Luck. Clausen's career is in his hands. If he plays well enough to win Carolina a few games, they won't be in position to draft Luck, and he'll get another year to establish himself. Just win Jimmy.

2. Cincinnati Bengals (2-11) – Ryan Mallett, QB Arkansas – The way Carson Palmer has performed this season warrant his release from the team. He makes way more money than he is worth at this point in his NFL career. He has seemingly lost all of his arm strength, and he is struggling to provide this offense with any sort of consistency, despite the plethora of weapons at his disposal.
Streeter Lecka/Getty Images
Ryan Mallett is in line to be the second quarterback off of the board at this point in the process. Scouts will drool over his arm strength and production in a pro style scheme down at Arkansas. He will likely deliver a jaw dropping combine and pro day and secure his spot in the top five to ten picks. However I expect Mallett to disappoint the team that invest a high draft pick in him. His footwork and pocket presence are very unimpressive, and character concerns have arisen from his "punk" personality. I go back and forth on Mallett. One day I think of what he could do at the next level with his ability, but then the weaknesses and his game give reason to back off of him as an elite prospect.

3. Detroit Lions (3-10) – Prince Amukamara, CB Nebraska – The Lions are not this bad. Had Matthew Stafford not gotten injured, the Lions could be playoff contention at this point. The offense is explosive, with Jahvid Best, Calvin Johnson, and Brandon Pettigrew surrounding Stafford. After this season, it is obvious that Stafford needs some blind side protection. Unfortunately, at this point and time a left tackle has not emerged as worthy of a top five pick, and the Lions do not reach for need.
Luckily, the Lions also have a desperate need for a premier corner back, and have for a number of years now. Prince Amukamara is the best pure corner back in the 2011 NFL Draft class. His hips are fluid in coverage, he plays physically, and he mirrors wide receivers brilliantly. Many will argue that Patrick Peterson of LSU is the best corner in this class and possibly of the last decade, however he is very bulky for a corner and may have to move to safety. Peterson has more natural playmaking qualities than Amukamara, but his stiff hips and imposing frame make him an ideal safety. The history of LSU players disappointing at the next level is another reason for teams to shy away from Peterson.

4. Denver Broncos (3-10) – Nick Fairley, DE/DT Auburn – This is a very difficult pick to make. A new regime will be in place for the Denver Broncos, and that normally means a new quarterback. Much like Jimmy Clausen, Tim Tebow's reign as the franchise quarterback could be over before it even starts. Kyle Orton looked horribly out of place in the non-McDaniels offense on Sunday, so a quarterback would be completely justified. If the new coach does not want to build around Tebow a quarterback should be the pick here.
Until the Broncos name the coach, I am going to assume they will stick with Florida's golden boy. The defense is in need of upgrades along the line as they have been thrashed on the ground in recent weeks. Nick Fairley is a great fit in the 3-4 defense (assuming they stick with that), and would make an immediate impact for this franchise.

5. Buffalo Bills (3-10) – Marcell Dareus, DE/DT Alabama – With Buffalo starting to win some meaningless games, they have played themselves out of the Andrew Luck sweepstakes. The fact that Chan Gailey is sold on Ryan Fitzpatrick as the quarterback of the future is equally unfortunate for this organization.
With quarterback seemingly out of the question, the Bills should take this opportunity to adress a gaping hole on their defensive line. The Marcell Dareus vs. Nick Fairley debate will be a fun one leading up to the draft. Fairley has the momentum at the momentum, and a chance on a national stage to continue to dominate his opponents. For now, Dareus slides to Buffalo.

6. Dallas Cowboys (4-9) – Patrick Peterson, DB LSU – Dallas needs major help in the secondary. The performance of some of the high picks they invested in the secondary has been underwhelming to say the least. Patrick Peterson, who was once dubbed the best overall prospect in the 2011 class, has seen his stock level off a bit. As previously mentioned, Peterson has stiff hips, and an arrogant attitude that may scare some teams off. This is the perfect scenario for the Cowboys as need meets value.

7. Arizona Cardinals (4-9) – Cam Newton, QB Auburn – The Cardinals do not have a franchise quarterback. John Skelton looked solid on Sunday, but he has not shown enough to be consider the answer to Arizona's issues under center. Ken Whisenhunt still has not gotten his man calling signals.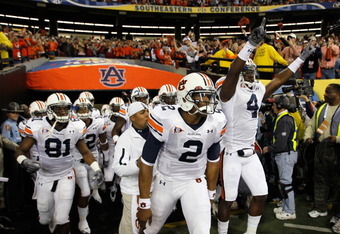 Kevin C. Cox/Getty Images
Cam Newton probably shouldn't be drafted this high, but he will be. The hype for this guy is building like crazy. Newton has an outstanding arm, impressive wheels, and is a fabulous playmaker. If Auburn takes down Oregon in the BCS National Championship, Cam Newton's stock will continue to soar.

8. Washington Redskins (5-8) – A.J. Green, WR Georgia – The hiring of Mike Shanahan and trading for Donovan McNabb masked the fact that this is a team in rebuilding mode. They would love to get some help for their ailing secondary, but the value does not match up at this spot.
A.J. Green is one of the best wide receiver prospects since Randy Moss. His speed, body control, leaping ability, and ball skills are on an elite level. The Redskins would be getting an absolute steal if Green was to fall this far.

9. Tennessee Titans (5-8) – Da'Quan Bowers, DE Clemson – The Titans did spend last year's first round draft pick on defensive end Derrick Morgan. However, let's not forget that Jason Babin, while having a productive year, will be a free agent at the end of the year. If the Titans can't get him resigned Bowers is an amazing value. Tennessee knows how to draft, and they will not pass up this value.
The towering 6'4'' 275-pound Bowers has collected 24 tackles for loss and 15 sacks this season. With Robert Quinn's suspension, Bowers is now the top defensive end in the class.

10. San Francisco 49ers (5-8) – Robert Quinn, DE/OLB North Carolina – The 49ers are on fire in recent weeks, and will likely play themselves out of this draft position. If they end up staying in this spot, Robert Quinn makes a ton of sense. He fits the scheme will and the 49ers lack an elite pass rusher. The secondary has really struggled, so Brandon Harris could be an option, but the best cure for a bad secondary is a strong pass rush.
Streeter Lecka/Getty Images
Robert Quinn was a preseason top five lock, but after being suspended he has seen his stock fall a bit. I doubt he slides any farther than this spot, he is incredibly talented at a premier position. His value will likely climb back up come March.

11. Houston Texans (5-8) – Brandon Harris, CB Miami – Is there a worse defense in the NFL than the one the Houston Texans throw on the field on a weekly basis. Upgrades are needed all over the field, especially in the secondary. Brandon Harris is the best defensive player available at this juncture making him a no-brainer.

12. Minnesota Vikings (5-8) – Jake Locker, QB Washington – Mark my words, Jake Locker will get redemption in the Holiday Bowl against Nebraska. His first outing against them this season was putrid. His receivers were locked up all game, and he was under a ton of pressure from the Cornhusker defensive line. If Locker can put together a decent performance in the Holiday Bowl, he will cement his status as a first round pick. He still has plenty of time to regain momentum, and land in the top 15 picks.
The Vikings have a new regime in place, and need to lock up the franchise quarterback. Locker would be thrust into a dream scenario, with a steady offensive line and elite running game.

13. Cleveland Browns (5-8) – Ryan Kerrigan, DE/OLB Purdue – Mike Holmgren has an excellent understanding of positional value in the NFL, as made evident by his selection of Joe Haden in 2010. Here, Ryan Kerrigan is the best player available at a premier position. I have seen wide receivers being mocked here, but that does not strike me as a Mike Holmgren pick. By my estimation, this pick should be a quarterback, as Colt McCoy limits this offense with his lack of arm strength. Jake Locker would be a considerable upgrade.
Ronald Martinez/Getty Images
That being said, Cleveland seems to be confident in Colt McCoy as "their guy." Ryan Kerrigan is still an outstanding selection at this point. He has been a force for the Boilermakers this season, piling up 26 tackles for loss and 12.5 sacks.
14. New England Patriots (from Oakland 6-7) – Akeem Ayers, DE/OLB UCLA – It seems as if every offseason mock drafters expect the Patriots to draft an offensive playmaker, such as a running back or wide receiver, to help out Tom Brady. News flash: Tom Brady doesn't need any help. Brady has made something out of nothing his entire career, and this season is no different. The Patriots rarely spend first round picks on running backs and wide receivers, so I do not expect Mark Ingram or Justin Blackmon to come off of the board here.
Akeem Ayers is a Bill Belichick kind of player. A team captain at UCLA, Ayers is a versatile threat who fits perfectly into New England's scheme. The Patriots are 26th in the league with just 23 sacks on the season. They need to add some youth to their anemic pass rush.
15. Seattle Seahawks (6-7) – Adrian Clayborn, DE Iowa – Adrian Clayborn has had an underwhelming season to go along with his perceived character issues. The 6'4" 285 pound Hawkeye, was once considered a top ten pick, but has played his way out of that spot. I think Clayborn, with a strong showing at the combine, ends up in the middle of the first round. He is a solid all around defensive end, and has an above average motor.
Meanwhile, the Seattle Seahawks are desperate for a pass rusher off of the end. Chris Clemons has been solid this season, but they need a respectable force across from him. Raheem Brock is 32-years-old and has just five sacks this season. Clayborn makes a lot of sense here.

16. San Diego Chargers (7-6) – Derek Sherrod, OT Mississippi State – I considered Von Miller here, but the Chargers' defense is one of the league's best units in 2010, and the question marks surrounding Marcus McNeil make offensive line an area of focus. Even if McNeil remains with the team, he has not established himself as an elite player, and San Diego still needs a tackle opposite him on the line.
Enter Derek Sherrod. Many are considering Anthony Costonzo to be the best tackle prospect in a weak class, but the competition is wide open. Sherrod is as steady as they come, and one of the best all around tackles in the draft. I expect his stock to pick up steam as the draft approaches.
17. Indianapolis Colts (7-6) – Nate Solder, OT Colorado – The Colts continually get thrown around up front on both sides of the ball. Peyton Manning has had very little time to throw all season, and it is certainly affecting his game.
Standing at 6'8'' tall, Nate Solder is a tremendous athlete for his size, with outstanding footwork. He is a bit of a work in progress as a former tight end, but his upside is undeniable

18. Miami Dolphins (7-6) – Mark Ingram, RB Alabama – Ronnie Brown and Ricky Williams are both scheduled to become free agents after this season. There is a chance neither returns to the Dolphins in 2011.
If that's the case, Mark Ingram is a capable replacement. The 2009 Heisman Trophy winner, hasn't gotten a ton of attention this year, but he is the same bruising, productive back. Ingram is the consensus number one tail back in the 2011 Class.

19. Tampa Bay Buccaneers (8-5) – Allen Bailey, DE/DT Miami – The Bucs added depth to the interior of their defensive line in the 2010 NFL Draft, but now need some help on the outside. Allen Bailey can play both tackle and end, and would add a valuable piece to this defense.

20. Green Bay Packers (8-5) – Anthony Costonzo, OT Boston College – The Packers' offensive line is getting old. The addition of Brian Bulaga was the start of the reconstruction, now they need to find someone to replace Mark Tauscher on the right side.
Anthony Costonzo is arguably the best tackle in the draft, but some will question his ability to play left tackle. He projects as an excellent right tackles in the NFL.

21.St. Louis Rams (6-7) – Julio Jones, WR Alabama – The success Sam Bradford has had this season is astounding given his lack of talent at receiver. Neither Donny Avery or Mark Clayton is a legitimate number one guy, even when healthy, and an elite weapon could do wonders for Bradford's development.
Julio Jones is a tough, physical, playmaking wideout with questionable hands in the mold of Terrell Owens. We have seen in the past that wide receivers tend to slide a bit on draft day. Julio Jones will be nitpicked for his drops in recent years.
22. Jacksonville Jaguars (8-5) – Aaron Williams, CB Texas – The Jaguars have major issues in the secondary at all positions, they could use another pass rushing defensive end, and a young quarterback needs to be added behind David Garrard.
Gene Smith is all about taking the best available player. In this case, I would say that is Aaron Williams out of Texas. His Texas pedigree, and physical play should get him drafted in the first round if he chooses to declare.

23. Kansas City Chiefs (8-5) – Von Miller, DE/OLB Texas A&M – Scott Pioli has done an admirable job rebuilding the Kansas City Chiefs' defense. The defensive line has been great this year, but a pass rushing linebacker could take this stop unit to another level.
Von Miller is a top notch prospect, possessing elite speed and a quick first step. He is an ideal fit for Kansas City's 3-4 scheme.

24. Chicago Bears (9-4) – Gabe Carimi, OT Wisconsin -Chicago needs to surround Jay Cutler with some talent. Not only does he lack pass protection, he has no weapons on the outside with which to work. He has been hit more than any quarterback in the league this year and the Bears have allowed a league high 44 sacks.
Gabe Carimi has started to string together some consistent play late in the season. Some scouts question his ability to play left tackle, but Chicago could slide Carimi in at right tackle with Chris Williams on the left side.
25. New York Giants (9-4) – Justin Blackmon, WR Oklahoma State – Justin Blackmon, WR Oklahoma State – Justin Blackmon is putting together a prolific season for the Oklahoma State Cowboys. With 102 catches 1,665 yards and 18 touchdowns, the redshirt sophomore has cemented his status as the third best receiver in this draft.
This pick is a bit of a surprise, but look at how depleted the Giants' receiving core looked as soon as Hakeem Nicks went down with an injury. For a team without a lot of holes, taking a guy like Blackmon makes a ton of sense. He is the best player available at this point and could end up going much higher on draft day.

26. New York Jets (9-4) – Cameron Jordan, DE California – The Jets need some help along the defensive line. Trevor Pryce and Shaun Ellis are both getting old, and their production is slipping.
Cameron Jordan is having a terrific season in a 3-4 defense at Cal and should see his stock rise come draft day.

27. Baltimore Ravens (9-4) – Janoris Jenkins, WR Florida – Jenkins is shooting up draft boards with an excellent season. The Ravens desperately need to fix their secondary, specifically the corner back situation. They have a number of corners scheduled to become free agents and Dominique Foxworth is coming off of a torn ACL. Jenkins could come in and contribute immediately.

28. New Orleans Saints (10-3) – Travis Lewis, OLB Okahoma – The Saints have a hole at linebacker after Scott Fujita left in free agency last season. Travis Lewis is a productive and instinctive linebacker who could solidify this front seven.

29. Philadelphia Eagles (9-4) – Mike Pouncey, G Florida – The Eagles have had a tough time protecting Michael Vick in recent weeks. Upgrades are needed all over the offensive line, and Andy Reid loves to get the big fellas early. Pouncey is far and away the best guard prospect in this class and a great fit for the Eagles.

30. Pittsburgh Steelers (10-3) – Jonathan Baldwin, WR Pittsburgh – After trading away Santonio Holmes, the Steelers could use another wide receiver to add to Big Ben's repertoire. Hines Ward is over the hill, while Mike Wallace is mostly a deep threat. A possession receiver like Baldwin makes a ton of sense for the Steelers, especially because all of the top offensive linemen are off of the board.

31. Atlanta Falcons (11-2) – Justin Houston, DE Georgia – The Atlanta Falcons have long searched for a defensive end opposite John Abraham. With Justin Houston's incredible play this season, he may have played himself into first round consideration. The Falcons would not hesitate to pull the trigger to improve their pass rush and help out the young secondary.

32. New England Patriots (11-2) – Jared Crick, DE/DT Nebraska – The Patriots need a number of upgrades in the front seven. In addition to a rush linebacker, a true 3-4 defensive end is a pressing need. Jared Crick fits the bill. Crick played his career in Ndamukong Suh's shadow, but has emerged this season as a disruptive force for the Cornhuskers.