NFL Week 6 Predictions: Cowboys Lose; Ben Roethlisberger Will Mess Things Up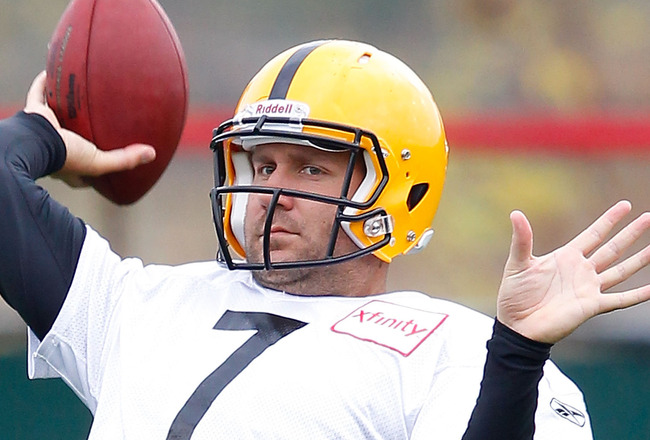 Jared Wickerham/Getty Images
Is it me, or has this been one wild football season? My predictions were so bad for Week 4, that I was too embarrassed to publish anything for Week 5. And it's a good thing too, because I would have been mortified! Who'da thunk that the Arizona Cardinal's would beat the world champion New Orleans Saints? (I didn't.) Who'd have thought that the 49ers would STILL be winless? (Not me.) Who on Earth would have thought the Oakland Raiders would win against the Chargers? (Yep, I didn't predict that either.)
And here it is, Week 6, which will be another week of surprises and upsets. Most of us will be scratching our heads Tuesday morning, thinking about the weekend games, repeatedly muttering, "Are you serious?" Especially with some of the ones that I picked this week.
Here are my predictions for NFL Week 6:
Miami is coming off of a bye week, where I know they were studying that horrible loss to the Patriots. They are out for blood. The Packers are a very good team, but unfortunately for them, they are riddled with injuries. Those injuries are going to be costly.
Miami 27, Green Bay 20
I have always said that the New England team as a whole is a great machine, but their QB Tom Brady is mediocre, at best. And with Randy Moss gone from the offense, Brady is going to look even MORE tepid. Baltimore's Joe Flacco has been simply outstanding this season, and should continue his wonderfulness this week.
Baltimore 31, New England 26
The poor Rams. Boy do they need some work. They couldn't even get a touchdown last week, and they were playing Detroit. San Diego should have loads of fun with this one, and it doesn't even matter that they are on the road.
San Diego 30, St Louis 10
Pittsburgh has been playing GREAT football this season, but I have a feeling that the return of Big Ben is going to mess things up. He may have been practicing with the team or on his own or whatever, but what counts is the emotional mindset when you have an actual game. They have been doing just fine without Big Ben, and his presence is going to upset the balance. And I'm sure Cleveland is counting on that.
Cleveland 28, Pittsburgh 2
I was beginning to think that the Chiefs were emerging as a contender this season. Yeah, they were undefeated, but they had yet to play a great team. And then, they played the Colts, and got their butts handed to them in the second quarter. So I had to rethink my original opinion. No, they are not the contenders that I thought they were. They are playing against Houston this week, in Houston's back yard. The Texans are a good team. KC is going down.
Kansas City 14, Houston 27
I am so happy that the Lions won a game, and decidedly. I told y'all, Detroit is NOT a bad team; they just needed to work on a few things. And it looks like it's coming together rather nicely. I am not really crazy about the Giants; I mean, they are a really good team, I just want Detroit to win more than one game. So I am going to base this prediction on hope alone.
Detroit 35, New York Giants 28
The Eagles played well against the 49ers, but that is really not saying a lot. Atlanta is one of the best teams in the NFL this season, and they play really well on the road. (Remember, they whipped up on the Super Bowl champion Saints, at the Superdome, amid extreme hostility.)
Atlanta 31, Philadelphia 24
The Seahawks are playing MUCH better than most people expected (including myself.) Chicago is hit or miss. This is a "miss" week.
Seattle 20, Chicago 14
New Orleans @ Tampa Bay
New Orleans needs Reggie Bush. Without him, their offense seems to be missing a key element. It's like trying to make a cake without flour—it ain't gonna work. Tampa Bay started off the season on fire, but the heat has cooled somewhat. Still it should be enough to light up the Saints.
New Orleans 31, Tampa Bay 36
Jets QB Mark Sanchez is on fire. Eight TD passes and no interceptions so far. The Broncos...well, I don't even know what to say. They are just...bad.
New York Jets 31, Denver 7
Oakland @ San Francisco
(Sigh) I had so much hope for my 49ers. I thought they had the talent to take the division by storm. And yet, they go into Week 6 winless. Somebody PLEASE check the 49ers for guns, because they seem to keep shooting themselves in the foot. It's a do-or-die week for San Francisco. They better "do" a win, or somebody's position/career is going to "die." Oakland is riding high after their win last week. I'm very afraid.
Oakland 24, San Francisco 13 (and I hope I'm wrong)
Dallas, Dallas, Dallas. What can I say? Sacks, sacks and more sacks. They look lost most of the time. Even some of their most diehard fans are beginning to hide their Cowboy coffee mugs from embarrassment. Randy Moss has joined the Vikings, and man, is he ready to play. Farve has got to start passing the ball with more accuracy, or he is going to end up in a do-or-die situation, just like my 49ers. However, Farve is a much better QB than Romo on any given Sunday, and this week is no exception.
Dallas 17, Minnesota 28
This is going to be the most interesting game this week, and also the hardest one for me to predict. The Redskins have been playing GREAT ball this season, and they have been consistent. The Colts have been anything BUT consistent. They play great during the second half, but so do the Redskins. And then, there is Peyton Manning, the man that has pulled miracles out of his pocket at the last minute. Not sure if that will work against the 'Skins.
Indianapolis 28, Washington 31
To my surprise, the Jaguars have really improved their offense in the last two games. Maurice Jones-Drew ALWAYS plays his best. I wish the same could be said about the rest of the team. Tennessee leads the NFL in sacks, and Jaguars David Garrard is so "sackable." This is going to be fun to watch.
Tennessee 31, Jacksonville 14
This article is
What is the duplicate article?
Why is this article offensive?
Where is this article plagiarized from?
Why is this article poorly edited?

Dallas Cowboys: Like this team?