The NFC Wild Card Round's top quarterback standoff boasts Aaron Rodgers against Kirk Cousins, with the advantage resting not exactly where most would expect.
Rodgers and the Green Bay Packers are limping into the playoffs after surrendering the NFC North to the Minnesota Vikings and finishing the season on a two-game skid.
Cousins has Washington on absolute fire as the NFC East champion and winner of four consecutive games, suddenly leading what looks like one of the league's most potent attacks.
Based on how wild the postseason has already been (the finish to Pittsburgh-Cincinnati, anyone?), there's little doubt this one has some wonky results in store as a fitting end to the crazy regular season.
Here's a look at the details surrounding the game and some predictions for how it could play out.
Game Details
Time: 4:40 p.m. ET
Where: FedEx Field in Landover, Maryland
Television: Fox
Tickets: ScoreBig.com
Over/Under: 45
Spread: Washington (-1), per Odds Shark
Notable Predictions
Green Bay Falters in Fresh Start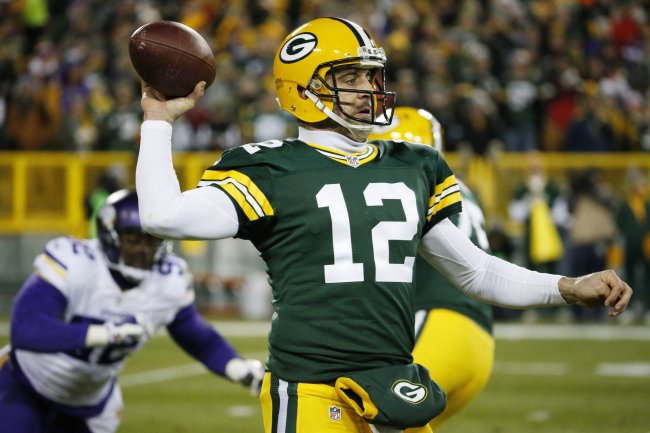 Matt Ludtke/Associated Press
Listen closely and the biggest talk around the Packers centers on starting over.
How could it not? The Packers started the season on a six-game streak, fully living up to expectations. Something went wrong after the Week 8 bye, though, and the team lost six of its next 10 games while Rodgers looked human.
"Human" isn't such a terrible word, of course, but folks have come to expect better of Rodgers, who has completed 60.7 percent of his passes with 31 touchdowns to eight interceptions. Over his last three outings, Rodgers has a ratio of three touchdowns to three interceptions and hasn't thrown more than two scores in a game since Week 9.
So it shouldn't come as a surprise, then, that he's talking about starting over, according to ESPN.com's Rob Demovsky:
It's about establishing your identity in that game. We've obviously been up and down throughout the year on offense, the defense has been playing really well lately, we've got a great kicker and punter and we've been covering kicks really well, we've got a kick returner who can take it the distance now. We've just got to take care of our part. We're a balanced football team this year. We have the opportunity to start the run now. We've got to put it all together.
The problem is simple: Finding a new identity doesn't happen overnight. Washington's defense ranks 17th in scoring at 23.7 points allowed per game, 25th against the pass and 26th against the rush, but if Green Bay's personnel don't change, it might not matter much.
Behind Rodgers, Eddie Lacy and James Starks have combined for five rushing scores all season. Neither has rushed for more than 60 yards since Week 14. In front of him, Rodgers doesn't have Jordy Nelson but leans on a veteran in James Jones and this season's biggest disappointment, Randall Cobb.
It's going to be a long day for Rodgers, who has to get the ball out quickly against a defense that boasts 38 sacks. That's not the craziest number, but it will look crazy once the defense can ignore the running game and get after Rodgers, who won't have time behind his struggling line.
Cousins Outplays Rodgers
What a world, right?
Cousins went from a guy who was about to lose a job to someone akin to Colt McCoy to a hero worthy of his own folklore—a "You like that" fame spawned by an impressive run to end the season while possibly solidifying himself as a franchise quarterback.
The numbers look good. Cousins has completed 69.8 percent of his passes with 29 scores to 11 picks. More impressive is when he posted the best of his numbers, though, as he threw three or more scores in each of his final three games with no turnovers.
Philadelphia Eagles safety Malcolm Jenkins put it best, according to NFL Media:
"Arguably he's been the best QB over the last 10 weeks in the NFL & he has numbers to prove that." - Malcolm Jenkins on Kirk Cousins

— NFL Media (@NFLMedia) January 10, 2016
Call Sunday an interesting chess match, seeing as Green Bay comes in sixth with just 227.6 passing yards allowed per game.
But it's hard to see how Cousins doesn't have a big game. First off, the pass-defense numbers for Green Bay might be a tad inflated, with the best passing attack the defense has played as of late, Arizona, posting 38 points. Chicago, Detroit, Dallas, Oakland and Minnesota otherwise helped boost the numbers.
Second, Cousins has one of the deepest sets of weapons in the league:
| | | | | |
| --- | --- | --- | --- | --- |
| NAME | REC | TAR | YDS | TD |
| Jordan Reed | 87 | 114 | 952 | 11 |
| Pierre Garcon | 72 | 110 | 777 | 6 |
| Jamison Crowder | 59 | 79 | 604 | 2 |
| DeSean Jackson | 30 | 49 | 528 | 4 |
ESPN.com.
DeSean Jackson is the big name there for his big-play ability, but Jordan Reed is a top-five player at tight end who opens things up for others. Plus, Pierre Garcon quietly has a touchdown in each of his last three outings.
Long story short, it's Cousins at home. He has the better offensive line and players around him. Cousins isn't the one who is looking for a fresh start.
Prediction
What could possibly make Rodgers' iffy supporting cast incapable of developing a play before the offensive line collapses even worse?
Cold weather, of course.
Nobody is concerned with Green Bay's ability to run the football. The receiving weapons cannot create separation quickly enough, so Washington, backed by a rowdy crowd, will come after Rodgers early and often.
It's a bad situation for the visitors. Cousins won't have to hang onto the ball long with so many options. He'll help pull Washington away late and sit on the lead, while Rodgers struggles with those around him and the opposition.
Prediction: Washington 28, Green Bay 27
Stats courtesy of NFL.com and accurate as of January 10. All advanced metrics courtesy of Pro Football Focus. All betting information courtesy of Odds Shark.