1. A two-year plan for NFL coaches
There is no better metric for the lack of patience owners now have than the next paragraph you're about to read.
Joe Philbin was fired by the Dolphins after a little more than three seasons. Chip Kelly by the Eagles after less than three. Mike Pettine by the Browns after two. Lovie Smith by the Bucs after two. Ken Whisenhunt by the Titans after one and change. Jim Tomsula by the 49ers after one.
I asked NFL league office and team executives when was the last time so many head coaches were fired after so little time with their teams? The answer I got from everyone was: I'm sure it's happened before, but I can't remember.
Well, neither can I. Even some of the coaches who survived, like the Colts' Chuck Pagano, lost significant portions of their staffs in order to stay.
With the stunning dismissal of Smith, the Buccaneers, in fact, have fired three consecutive coaches who failed to reach their fourth season.
The leash for coaches has always been short, but now it's measured in millimeters. This may be the most brutal era for head coaches in the NFL.
Coaches get hired, and coaches get fired. This is a part of their job. They know this. They get it. They don't want our sympathy. They make a great deal of money. No pity party needed.
This is more about how owners, despite the obvious stupidity of making constant changes, despite how that sets back an organization, are still making those types of moves.
If you look at this year's list of fired guys, it's mostly filled with the usual losing teams: the Browns, the Dolphins, the Buccaneers. The Dolphins have had nine coaches since 2004. The fact the teams that change coaches the most are also among the league's biggest losers isn't coincidental.
The moral of this story is not a complicated one. Owners have invested large sums of money to buy teams. To some owners—not all but enough—these teams are toys. When the toys don't amuse them, they change the toys. They see coaches as interchangeable, and continuity as something that's not vital.
Cool if continuity happens, some owners think. If not, no biggie, dude. Is the jet fueled?
One of the most interesting moments of the firing season came in New York. It was the press conference where John Mara—a smart, patient owner—was speaking about Tom Coughlin. There was something Mara said that was really striking: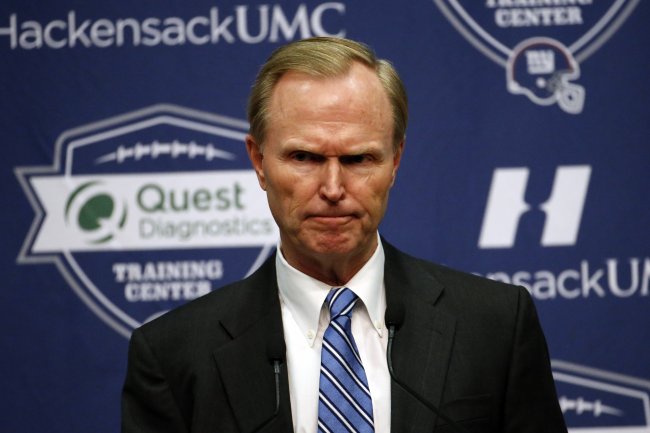 Julio Cortez/Associated Press
I think back over the last 12 years how many times people had him dead and buried and fired, including a lot of the people in this room. I'm very thankful that he was able to persevere, that we were all able to persevere through that and go through the 12 years we had, all the success we had, all the professionalism he brought to this organization. I just can't think of anybody who could have done a better job.
It was the "12 years" part. Twelve years. Coughlin was coach for 12 years. That is like 100 years now. There were low points, for sure, but in those dozen years, the Giants won two Super Bowls. That situation exemplifies why a franchise should be patient.
His first season, he went 6-10. This 49ers regime might have fired him after that season.
The leash is short. So short it's now just l-e-a-s. The "h" was just fired.
2. You are the culture you create
First, I like Marvin Lewis. A great deal. Good man. Good human being.
But I don't think there's any question Lewis hasn't done enough to curb nasty behavior from some of his players. Yes, the Bengals aren't the only team with culture issues. Yes, the Steelers players weren't angels, either. Yes, yes, yes. Glad we got that out of the way.
The problem is, the Bengals' history with on-field and off-field issues goes back years under Lewis. It's all well-chronicled. A great example is solid citizen Vontaze Burfict. It wasn't just the cheap shot he delivered against the Steelers.
Go back one week earlier in a game against the Ravens. This hit by Burfict is just totally inexcusable:
People who think Burfict's hit on Antonio Brown is bad need to look at his hit on Maxx Williams last week. https://t.co/05ZOQtzKaB

— John Urschel (@JohnCUrschel) January 10, 2016
That hit is so dirty. What a coach like Lewis needs to do is discipline Burfict himself, not wait for the NFL to do something. Maybe Lewis fined Burfict, but I doubt it. What's certain is Burfict didn't lose any playing time.
If he's not punished, why would Burfict feel the need to change?
Clearly, he didn't. A week later, he did something similar. Why not?
But it's not just Burfict. Steelers offensive lineman Ramon Foster said Tuesday on Pittsburgh radio station The Fan that at least one other Bengals player was spitting on Steelers players. That is a lack of control by the head coach.
"If you can't control your players, then maybe somebody else should be trying to control them," Rodney Harrison said on NBC.
"Cincinnati has had a history of taking these types of players. ... That's probably the reason they haven't won a playoff game in over 20 years," Tony Dungy said on the same broadcast.
This is what I mean by culture. If Burfict has no incentive to change, why would he?
3. More on the Bengals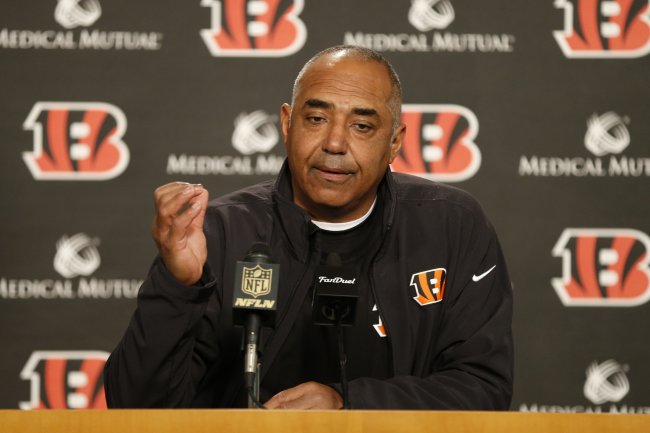 Gary Landers/Associated Press
CBS broadcasters lit into the Bengals, and I thought the comments were noteworthy, both in their substance and uniformity. You rarely see former players and coaches hit current players and coaches so hard.
All of the comments were made on the CBS postgame broadcast. One of the comments was made by a former Bengal, and two others were made by future Hall of Famers in Bill Cowher and Tony Gonzalez.
Via Sports Illustrated's Richard Deitsch:
Boomer Esiason: This was a disgraceful performance by the Cincinnati Bengals. An ugly performance by one, Vontaze Burfict, who should not only be fined but suspended for a significant amount of time. The guy is a danger on the field to opposing football players … I'm a former Bengal and I'm embarrassed by the way this game ended and by the way these guys acted on the field today. I feel bad for Marvin Lewis. And I'll tell you one thing, if Marvin Lewis can't control his players, maybe Marvin Lewis shouldn't be standing there on the sidelines coaching.

Bill Cowher: We saw this with Odell Beckham and Josh Norman. Right now that responsibility, I take it away from the officials, that is the head coach … When players get to that line and they cross it, they should no longer be in the game because they become a detriment to your team. That was Vontaze Burfict at the end of that game. He lost his game and that goes on the head coach.

Tony Gonzalez: That is absolutely embarrassing. It has no place in the league. It's just stupid. That's all you can say—it's stupid.

Bart Scott: What it is is selfish. He's letting his personal vendettas [get] in the way of the team goals. This game was won. He was a hero. He made a tremendous interception and came back and became the goat.
4. Officiating analysis
What I like about Mike Pereira is he speaks the truth about officiating, even if it means criticizing former officiating colleagues. He's also thorough.
This video is short but gives you a lot to think about—mainly that the Steelers-Bengals extracurriculars could have long-lasting ramifications.
A great Wild Card weekend is done - yet #PITvsCIN is still what people are talking about. My @KFC Postgame Fill Up: https://t.co/ptPPE5OlyZ

— Mike Pereira (@MikePereira) January 11, 2016
5. A smiling Aaron Rodgers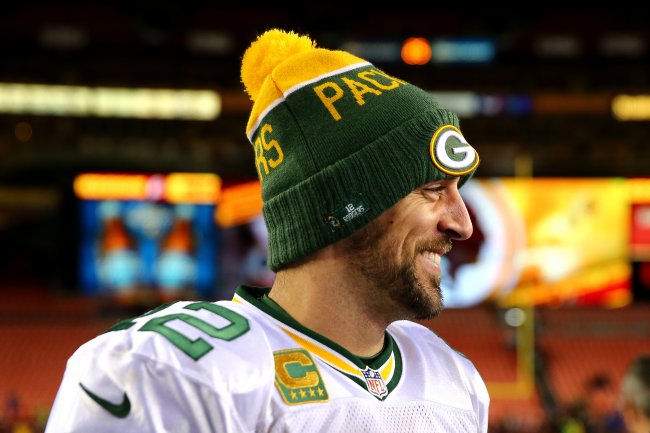 Elsa/Getty Images
It was one of the first times in weeks that we've seen Aaron Rodgers have fun during a game. Can't blame him for not smiling much this season, with all the hits he took. Smiling probably hurt.
There's a simple reason Rodgers looked more effective in the Washington game than for much of the recent season: his damn receivers were finally getting open.
This was the clear difference. Not sure why they were suddenly getting open (and it wasn't by much), but they were. And all Rodgers needs is a tiny bit of daylight to hit them. Daylight was finally there.
My belief all along was that the problem wasn't Rodgers. Not saying he was perfect, but there were far more pressing issues. Mainly, the receivers.
This is what happens when receivers get, you know, open.
6. Scout on Johnny Manziel: "Teams looking hard at him"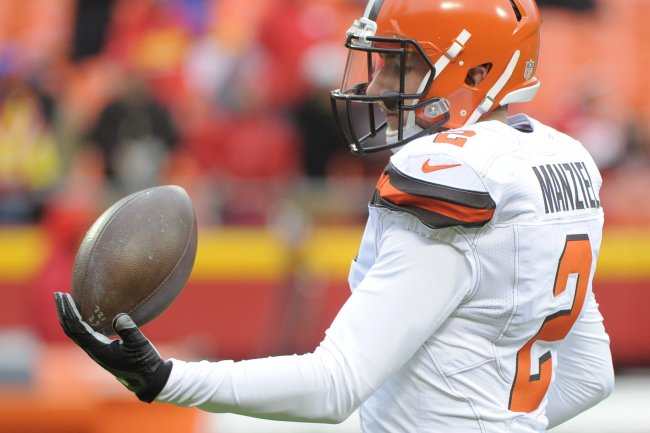 Ed Zurga/Associated Press
An NFC scout said something that stunned me, though maybe it shouldn't. He said there are at least a half-dozen teams interested in Johnny Manziel if the Browns—as expected—dump him. (I'm not totally convinced the Browns will cut ties, but everyone I speak to around the NFL says it's a certainty.)
The scout said what everyone has been thinking: The Cowboys are one of the teams interested, the front-runners. It's such a marvelously bad idea, it's certain to happen.
7. And RG3?
That same scout said there is even more interest in Robert Griffin III.
Said the scout: "Every team with quarterback needs will look at him. He'll have almost his pick of places to go. There's still a thought process that [Washington] ruined him and he can be fixed."
This scout predicted Griffin would end up with the Rams.
8. Here comes the Peyton Manning cold-weather stat
Ed Andrieski/Associated Press
Peyton Manning is 0-5 in playoff games when the temperature is 40 degrees or lower. Good chance the temps will be around there by the time the game is played Sunday.
This stat is mostly ridiculous, mainly because the true reason Manning lost in those games is because he played good teams. Yet now that Manning is being held together by duct tape and hope, the temperature will definitely be a factor for him.
An even bigger factor will be an improving Steelers defense.
9. The perfect Alex Smith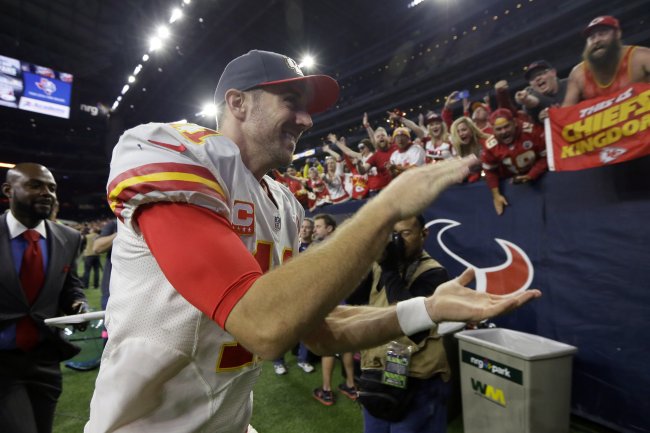 Tony Gutierrez/Associated Press
It's time, maybe long past time, to think of Alex Smith as one of the game's great quarterbacks. Maybe some of you have long thought of him this way. I'm late to the Smith party, but I'm at the party.
Greatness isn't just athletic ability. It's also making as few mistakes as possible. Smith this past weekend very quietly set a record with 119 postseason pass attempts without an interception to start his career, according to the NFL. That put him past Jeff Hostetler's 115.
The next two quarterbacks on that list: Roger Staubach (103) and Peyton Manning (101).
Not bad company to be in.
10. DeSean Jackson isn't lazy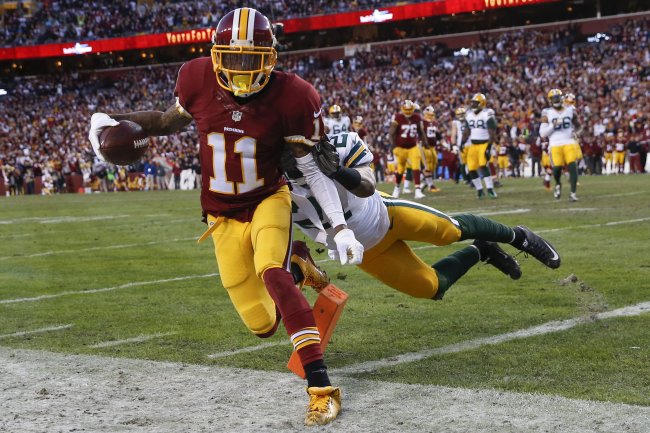 Alex Brandon/Associated Press
This was analyst and former quarterback Esiason on CBS' NFL Monday QB: "You know why Chip Kelly wanted to get rid of DeSean Jackson? You saw the laziness of him not scoring a touchdown when they really needed it in that game."
I like Esiason a great deal. He's a smart guy, and he offers strong opinions. I love that. He's also not alone in excoriating Jackson.
But I'm not sure I would describe Jackson as lazy. No player who is 5'10" and weighs 175 pounds (and that's generous) and plays in the most violent sport in the world is lazy.
I've heard nothing but positives about Jackson's work ethic.
It's fair to question Jackson's effort on that play, and maybe this is a distinction without a difference. What you'd like to see Jackson do is show as much effort trying to score when it's tough as he's done when it's been easy.
Showboat? Sure. Lazy? No, not lazy.
Mike Freeman covers the NFL for Bleacher Report.