This changes weekly. Hell, sometimes it changes from half to half. But right now the best defense in football doesn't belong to the Seattle Seahawks, the San Francisco 49ers or the Kansas City Chiefs. It belongs to the Carolina Panthers.
There may be statistical data that states otherwise, but while numbers are important, they are rarely the entire story. This also isn't about something that happened just this past week or recently, but instead over the past month or so as the Panthers have won five straight. The Panthers have become the most physical team in football. Easily.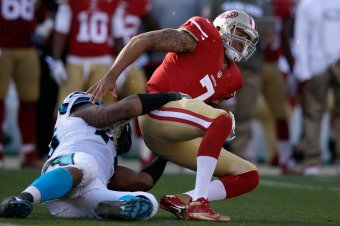 Carolina's defense is portable. It can play well anywhere because it doesn't rely on scheme or gimmickry. It relies on good old-fashioned athleticism and physicality.
We saw it against a highly physical and athletic 49ers team. The Panthers went on the road, against one of the bright young quarterbacking stars, and held Colin Kaepernick to 11-of-22 for 91 yards and an interception. He had a sparkling 42 passer rating. He was sacked six times.
This wasn't a statement game for Carolina's defense, because the defense has been playing that well for much of the past five to six weeks.
They get the Patriots on Monday in another huge test. We've waited for that defense to falter. We may keep waiting all season.
Now, to the grades.
| | | |
| --- | --- | --- |
| Team | Grade | Analysis |
| 49ers | D- | It's rare to see the 49ers get absolutely punk'd. They got punched in the mouth by the Panthers and didn't respond. And you saw the lack of a downfield presence truly rear its ugly head for the 49ers. |
| Bears | D | Give coach Marc Trestman credit: He admitted his mistake keeping obviously injured quarterback Jay Cutler in the game too long. But…he kept an obviously injured Jay Cutler in the game too long. It was a crushing decision that lost Chicago the game. |
| Bengals | B | Can't kill them for this loss. Tough, hard-fought game. Sure they got lucky with a ridiculous Hail Mary, but the Bengals could have easily won this game. Two stats that are troubling: The Bengals had more penalty yards than total offense in the first half (114-102), and Andy Dalton in the first half was 8-of-21 for 47 yards and an interception. |
| Bills | F | One of the ugliest offensive performances of the day. How bad? EJ Manuel threw for 43 yards in the first half. Forty. Three. The Bills are done. |
| Broncos | A- | They were explosive and brilliant on offense. Then Peyton Manning was hit. Then hit again. Over and over. Never seen him battered so much in a game. That's the huge concern going forward. |
| Browns | | Bye |
| Buccaneers | A | The last time the Bucs had more than eight first downs in the opening quarter, according to Warren Sharp of sharpfootballanalysis.com, was 102 games ago, on Sept. 30, 2007. Bucs win! |
| Cardinals | A | The Cards defense continues to be vastly underrated. They scored the game's first points and continued that dominance. Arizona is a scary 5-4. |
| Chargers | B- | Loved to see San Diego fight back from a 28-6 third-quarter deficit. Hated to see corner Derek Cox benched. Again. His lack of effort is just inexcusable. And to think this was San Diego's best free-agent addition of the offseason. |
| Chiefs | | Bye |
| Colts | | Bye…oh, sorry, they just played like they were on one. |
| Cowboys | F | Disgraceful, humiliating, historically bad defensive performance. They gave up 625 yards. Someone is getting fired. Jerry Jones may want to start by firing the general manager. Oh, wait... |
| Dolphins | D- | A single first down in the opening quarter. The Bucs ran the ball at will. By the time Miami recovered from that ugly start, it was too late. Two rushing yards. Two. Are the Dolphins drained from the bullying scandal? |
| Eagles | B+ | They beat a team missing the best quarterback in football and, for most of the game, its second-string QB. Give them credit for winning, and give Nick Foles credit for 10 touchdowns and zero interceptions in his last two games. So then why is coach Chip Kelly noncommittal on who is the starter once Mike Vick is ready? |
| Falcons | F | The 23-point beating at the hands of Seattle was the worst regular-season home loss in the Matt Ryan era. Coach Mike Smith will not be fired, but this is as bad as it gets for the Falcons. |
| Giants | A- | So don't look now, but the Giants have won three straight games. I think the team will win the worst division in football because the Cowboys are the worst 5-5 team in history. |
| Jaguars | A+++ | They won! Time to celebrate! The trumpets blare, the birds sing, and we all make love with our faces! |
| Jets | | Bye |
| Lions | A+ | I'm not a believer in the Lions. They have been remarkably undisciplined under this coaching staff, and that will bite them in the rear as the season progresses. |
| Packers | C- | Hard to judge the Packers when they didn't have QB Aaron Rodgers—or second-stringer Seneca Wallace for most of the game—and they look fairly beat up across the board. |
| Panthers | A+++ | The toughest defense in football. |
| Patriots | | Bye |
| Raiders | D | Horrible miscues, including an interception and a blocked punt for a touchdown, doomed the Raiders. But doesn't it seem like we say every week that some knucklehead play doomed the Raiders? |
| Rams | A+++ | Tavon Austin had 314 all-purpose yards. He won't do this every week, of course, but I think this is the beginning of Austin being great and the Rams being watchable again. |
| Ravens | B+ | This team is proving to be mentally tougher than almost anyone thought. Four out of five Ravens losses have been by a combined 14 points. They've lost close games and then learned how to win a close one. They stay alive in the playoff hunt. |
| Redskins | F | Up by 13 points in the third quarter against a horrible Vikings team, and they lose. Massive, choking fail. |
| Saints | A+++ | New Orleans had an NFL-record 40 first downs. That just seems impossible. That's like two games' worth of first downs. Did New Orleans get that "Buy one first down, get the second one free" package? |
| Seahawks | A | They had 211 yards rushing. Punishing, tough yards. The old Seahawks are back. |
| Steelers | B | They played the Bills. They're supposed to hold the pathetic Bills to 227 total yards. Let's see what happens when they play a real offense. |
| Texans | F | The ship be sinking. |
| Titans | F | Not only did the Titans lose to the freaking Jaguars; they lost quarterback Jake Locker for the year. |
| Vikings | A | Give them credit for a gutsy comeback. The play of the game was Adrian Peterson carrying the entire Washington defense on his back for a score. |