NFL Power Rankings: Projecting Where Each Team Will Stand After Week 1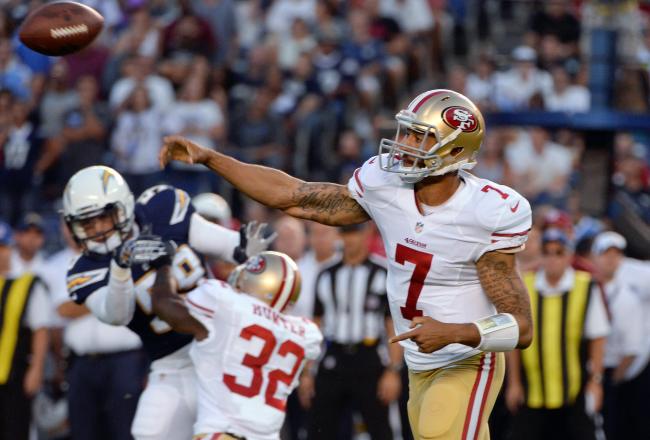 Robert Hanashiro-USA TODAY
Our long national drought is mere minutes from being satiated, as the 2013 NFL season will kick off for a majority of the league's teams Sunday.
The theory goes that each of the league's 32 teams come into the season with a chance to win the Super Bowl. While I guess that's true from a mathematical standpoint—go ahead and pat yourself on the back now, Jaguars fans—the parity concept is a bit of a misnomer. There are about eight to 10 teams right now with an actual shot at hoisting the Lombardi Trophy, and it's highly likely each of those teams find themselves playing in January.
Similarly, there are eight to 10 teams right now we all know have no shot at even sniffing a playoff berth. (Hi, Oakland.) The NFL perhaps has a greater level of parity than any other major professional sports league, but these are still sports. Talented teams win out.
So when handling things like power rankings, it's critical to not get too hung up on minuscule sample sizes. There are some folks (read: not very smart people) who think just because a team wins its Week 1 game that it deserves to be placed higher than all 0-1 teams, and so on. This, of course, is criminally insane.
If the Saints lose to the Falcons by three points in the best game of Sunday afternoon, are they suddenly worse than a 1-0 Colts team that will almost certainly give the Raiders a backhanded slap? Of course not. Concepts like power rankings shouldn't be results-based until there is a larger sample, though it's totally fair to bump around a few teams based on observation. The NFL is a league of small samples, after all.
But with really high levels of variance still in play, we can probably get a good idea of where teams will fall heading into Week 2 before they even play their Week 1 game. That's mostly because the rankings shouldn't change all that much.
With that in mind, here's a look at a quick breakdown of where every team will stand on the NFL's hierarchy.
Projected Week 2 Power Rankings

| | |
| --- | --- |
| Team | Projected Record |
| 1. San Francisco 49ers | 1-0 |
| 2. Seattle Seahawks | 1-0 |
| 3. Denver Broncos | 1-0 |
| 4. Atlanta Falcons | 1-0 |
| 5. New England Patriots | 1-0 |
| 6. Houston Texans | 1-0 |
| 7. Green Bay Packers | 0-1 |
| 8. Cincinnati Bengals | 1-0 |
| 9. New York Giants | 1-0 |
| 10. New Orleans Saints | 0-1 |
| 11. Detroit Lions | 1-0 |
| 12. Washington Redskins | 1-0 |
| 13. Baltimore Ravens | 0-1 |
| 14. Pittsburgh Steelers | 1-0 |
| 15. Dallas Cowboys | 0-1 |
| 16. Kansas City Chiefs | 1-0 |
| 17. Chicago Bears | 0-1 |
| 18. Carolina Panthers | 0-1 |
| 19. Indianapolis Colts | 1-0 |
| 20. Miami Dolphins | 1-0 |
| 21. Minnesota Vikings | 0-1 |
| 22. San Diego Chargers | 0-1 |
| 23. Arizona Cardinals | 1-0 |
| 24. Cleveland Browns | 0-1 |
| 25. Philadelphia Eagles | 0-1 |
| 26. Tennessee Titans | 0-1 |
| 27. Tampa Bay Buccaneers | 1-0 |
| 28. St. Louis Rams | 0-1 |
| 29. Buffalo Bills | 0-1 |
| 30. New York Jets | 0-1 |
| 31. Jacksonville Jaguars | 0-1 |
| 32. Oakland Raiders | 0-1 |
Teams of Note
3. Denver Broncos (1-0)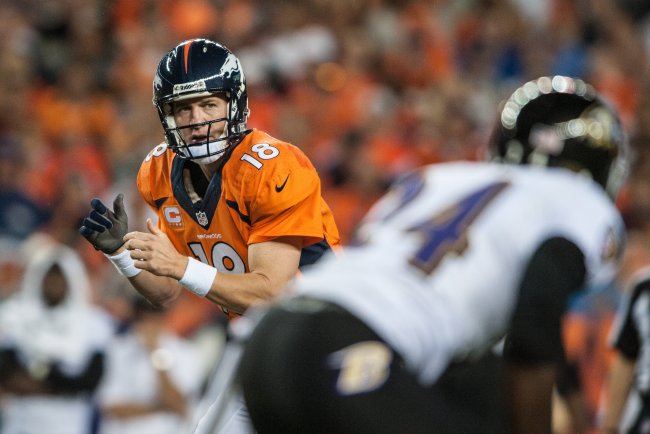 Dustin Bradford/Getty Images
The Broncos are Exhibit A as to why you can definitely put some stock into what you see this week. They didn't move up or down from my preseason power rankings—San Francisco and Seattle are probably locked in for a while, barring an injury to Colin Kaepernick or Russell Wilson—but they would have had I been more bearish before Thursday.
Instead, Denver merely moved up in quote-unquote tier. I was of the opinion that the two NFC West juggernauts were in a class by themselves. Turning off the television after the Sports Authority massacre, Peyton Manning joined Kaepernick and Wilson in the "barring injury" conversation.
The Broncos frankly played video-game offense against an overmatched Baltimore squad. Manning, as you all know by now, tossed seven touchdown passes and threw for 462 yards in what was the finest performance of his illustrious career. He's surrounded by perhaps the greatest array of weapons as well, with Wes Welker joining Demaryius Thomas and Eric Decker to make for three Pro Bowl-caliber targets.
If Julius Thomas is a real player and not just a one-game fluke, we could be looking at the best passing offense since the 2007 New England Patriots. Either way, it'd be a borderline shock if Denver didn't lead the NFL in scoring this season—the offense is that good.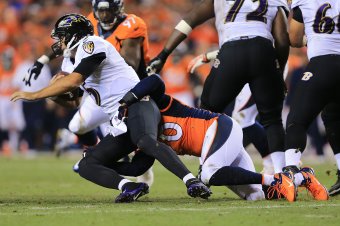 Doug Pensinger/Getty Images
We already knew that coming in, though. What was more impressive about the Broncos' performance was how well they played on defense. Expected to be a weakness with Von Miller suspended and Elvis Dumervil on the other sideline, the pass rush was instead a major asset, sacking Joe Flacco four times and hitting him an additional eight. Pro Football Focus measured that Flacco was under pressure on 23 dropbacks, one of which led to an interception.
If guys like Shaun Phillips (2.5 sacks) and Robert Ayers (one sack) can keep stepping up in Miller's absence, the Broncos could get off to a hot start. They're at the Giants next week and the Cowboys in Week 5, but after the display of excellence Thursday night, Denver could head into its Week 9 bye undefeated if that keeps up.
11. Detroit Lions (1-0*)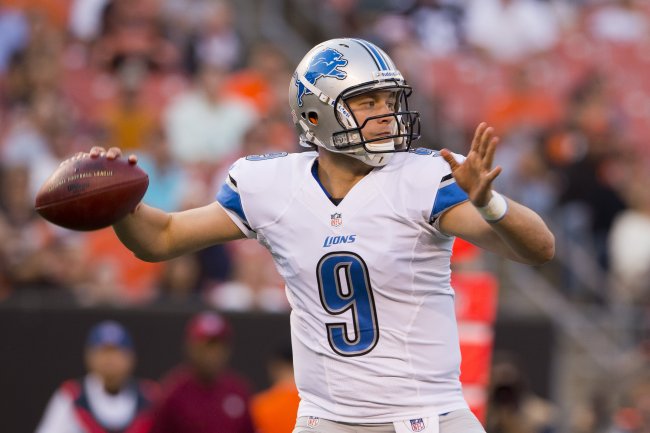 Jason Miller/Getty Images
By now, everyone has picked their quote-unquote sleeper team, one that will leap up from the dregs of the league to make the playoffs or at least have a winning record.
The overwhelming favorite among pundits has been the Kansas City Chiefs. They've replaced Romeo Crennel and the god-awful Brady Quinn-Matt Cassel duo with Andy Reid and Alex Smith. Neither Smith nor Reid are the type who are going to lead you to a Super Bowl, but going from one of the worst coach-quarterback combos in the league to one that's at least respectable is worth more than you know.
Though Kansas City will improve, the team that stuck out most on every preseason model I ran was the Lions.
Grantland's Bill Barnwell had the most critical stats. The Lions underperformed their Pythagorean Expectation, a statistical model that shows how many games a team "should" win based on their point differential, by 2.6 wins—by far the worst in the league. They lost eight games by one score or fewer. Their defense showed a fundamental inability to take the ball away from the other team, while Matthew Stafford was among the most generous quarterbacks in the league.
These variables all tend to even out over the long haul. While Jim Schwartz probably should have been fired for the way his team played with a complete disregard for, like, discipline and stuff, the talent is there to make a playoff run.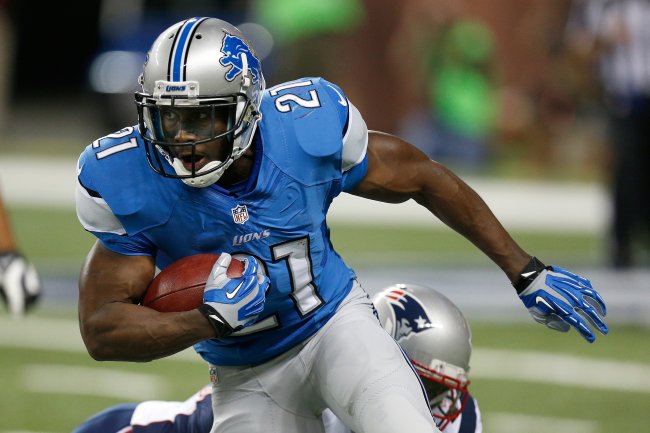 Gregory Shamus/Getty Images
Stafford wasn't nearly as bad as anyone thought last year. Calvin Johnson is still a damn Transformer on the football field. Reggie Bush, the first competent running back Detroit has had in years, may catch 100 passes and rush for 1,000 yards this season. There are a few problems defensively, but if Nick Fairley improves, this could be one of the league's best pass rushes. Even if a playoff berth isn't in Detroit's future, there's still a lot to be excited about here.
The Lions should get off to a 1-0 start against a team on the other side of the regression model, the Minnesota Vikings. For all of his bluster about rushing for 2,500 yards, the duality of simple logic and NFL history tells us that Adrian Peterson's 2012 pace is unsustainable.
If Peterson even drops to merely an elite running back—something like 1,500 yards and 12 touchdowns—that puts a massive onus on Christian Ponder's shoulders. That's not a good thing.
Look for Detroit to get off to a 1-0 start in the NFC North Sunday.
12. Washington Redskins (1-0)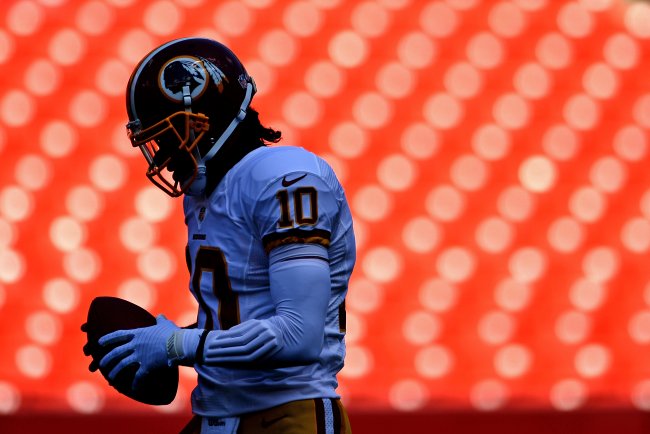 Patrick Smith/Getty Images
The Redskins don't play until tomorrow night, which is a good thing, because we'll all need a national stage to know what to make of them. Washington may have the highest variance of any team in the league.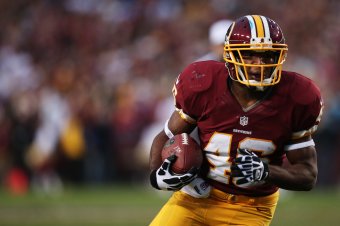 Win McNamee/Getty Images
No one is sure whether Robert Griffin III is fully healthy. Or how often Mike and Kyle Shanahan will allow him to run. Or whether Griffin and his coaching staff even speak to one another or just grunt at one another caveman style. All that we do know is there has been a lot of contradiction, a ton of unnecessary talk about preseason games and that this team will boast a quarterback who hasn't seen live action in about eight months.
Without all of the questions about RGIII, however, there are a ton of reasons to be optimistic about this roster. Alfred Morris had one of the best rookie running back seasons in NFL history, somehow quietly rushing for more than 1,600 yards and 13 touchdowns. Pierre Garcon's toe injury that mired his first season in Washington is seemingly behind him, giving Griffin a top target that was absent or playing hurt for most of last season.
Brian Orakpo also returns fully healthy and should reignite a stagnant pass rush. The ageless London Fletcher will line up alongside Orakpo in the middle, helping create one of the better linebacking corps in the league.
DeAngelo Hall is still there at corner and will play a major role. Well, OK. You got me there. That's just a human sieve that the Redskins couldn't plug up this offseason because of cap penalties. But Josh Wilson's competent. So they have that. And then there's the guy named Bacarri Rambo starting at safety, which instantly became one of the five best names in the league.
Secondary is definitely the major concern on defense, but having any semblance of a pass rush will be an improvement from 2012 and make lives easier.
Whether the Redskins regress or make the proverbial leap this season will come down to Griffin, though. Rehabbing an entire offseason isn't exactly the best way to get better from Year 1 to Year 2, typically where NFL players take the biggest leap from a standard deviation perspective. If Griffin is back and better than ever, Washington is a playoff team.
If not, don't worry, we'll be hearing about it. A lot.
Follow Tyler Conway on Twitter:
This article is
What is the duplicate article?
Why is this article offensive?
Where is this article plagiarized from?
Why is this article poorly edited?