Denver Broncos' Von Miller Suspended 6 Games by NFL for Violating League Policy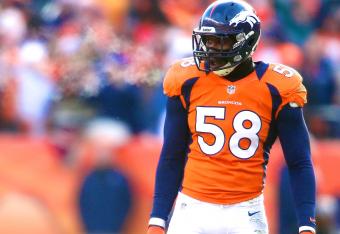 UPDATE: Sunday, Sept. 22
From NFL on ESPN:
BREAKING: Von Miller tried to unsuccessfully corrupt the NFL's drug testing program with the help of a urine collector.

— NFL on ESPN (@ESPNNFL) September 22, 2013
ESPN's Adam Schefter and Chris Mortensen explain how Miller and the urine collector attempted to corrupt the sample:
Sources said the collector worked in Miami, where Miller spends offseason time, and the collector reveled in knowing the Broncos linebacker while being, according to a source, "star struck." It led, sources said, to the collector's willingness to substitute another person's urine specimen for Miller. It might have worked, sources said, had a second collector not discovered that Miller was not in the city where his collection was supposed to have taken place.

"He's fast," one source said of Miller, "but he's not that fast."
UPDATE: Sunday, Sept. 8
From ESPN's Adam Schefter:
Broncos will reclaim $1.25 million of signing bonus they gave Von Miller, withholding the money from his paychecks.

— Adam Schefter (@AdamSchefter) September 8, 2013
Von Miller's defense team is convinced return of bonus money is not included in settlement it reached with NFL.

— Adam Schefter (@AdamSchefter) September 8, 2013
Schefter also reported that Miller recently met with NFLPA lawyers to discuss a settlement:
Miller spent Friday in Washington with NFL Players Association lawyers, going over the terms of his settlement with the NFL. Executives around the league said Denver has no choice but to reclaim Miller's bonus money; it's how the NFL wants its business conducted.
UPDATE: Wednesday, Aug. 21
NBC Sports' Mike Florio sheds light on Von Miller's expected monetary loss resulting from his six-game suspension:
The Broncos have said all the right things regarding the suspension of linebacker Von Miller, calling him a member of the "family" and vowing to support him.

That support also will include collecting from him more than $1.2 million in bonus money paid out more than two years ago...

... Based on Appendix D to the substance-abuse policy, the six-game suspension requires Miller to repay 6/17th of the bonus allocation for 2013. At a total signing bonus of $13.773 million and an allocation per year of $3,443,250, that's a forfeiture of $1,214,264...

... Coupled with Miller's lost salary of $806,161.76 (based on a full 2013 base salary of $2,284,125), his total financial losses for the six-game suspension will be $2,020,425.76.
UPDATE: Wednesday, Aug. 21
From NFL.com's Ian Rapoport:
Reality I've confirmed for #Broncos star Von Miller: He is now in Stage 3 of @NFL's drug policy. Next violation is minimum 1-year suspension

— Ian Rapoport (@RapSheet) August 21, 2013
UPDATE: Tuesday, Aug. 20
From ESPN's Chris Mortensen:
Miller's suspension is effective Aug. 31; under substance policy, he cannot practice or be at games but can meet and train at team facility

— Chris Mortensen (@mortreport) August 20, 2013
Original Text
According to ESPN's Chris Mortensen and Adam Schefter, Miller is unlikely to appeal this decision and therefore will serve the full suspension.
Miller released a statement on today's ruling (via Klis):
Von Miller on suspension: "The Substances of Abuse policy requires everyone to comply with the rules. Although my suspension doesn't result

— Mike Klis (@MikeKlis) August 20, 2013
More Von Miller: "a positive test, there is no excuse for my violations of the rules. I made mistakes and my suspension has hurt my team,

— Mike Klis (@MikeKlis) August 20, 2013
More Von on suspension: " Broncos fans, and myself. I am especially sorry for the effect of my bad decisions on others. I will not make the

— Mike Klis (@MikeKlis) August 20, 2013
Von Miller on suspension: the same mistakes about adhering to the policy in the future. During my time off the field, I will work

— Mike Klis (@MikeKlis) August 20, 2013
Von Miller on suspension: "tirelessly and focus exclusively on remaining in peak shape. I look forward to contributing immediately upon my

— Mike Klis (@MikeKlis) August 20, 2013
Von Miller: "upon my return to the field and bringing a championship back to the people of Denver."

— Mike Klis (@MikeKlis) August 20, 2013
The Broncos, the favorite to win the AFC West again this year, must immediately prepare to go over a third of the season without the 24-year-old star in the lineup.
Miller is coming off a first-team All-Pro performance in 2012, recording 18.5 sacks, six forced fumbles and 68 tackles while playing in all 16 games. In his first two years in Denver, the pass-rusher has already accumulated 30 sacks.
His absence will be felt immediately, as the Texas A&M product is the heart and soul of Denver's defense. Miller was expected to be an even more menacing and disruptive force during the upcoming season, his third in the league.
After winning 13 games and challenging for the AFC crown in 2012, the Broncos may be taking a major step back.
Although Peyton Manning is still under center and has a new weapon in Wes Welker to throw to, the defense just won't be the same early on without Miller causing havoc in the backfield and driving opposing coaches mad.
It'll certainly be interesting to see how Broncos head coach John Fox and defensive coordinator Jack Del Rio can manage to overcome losing a player of Miller's caliber.
This article is
What is the duplicate article?
Why is this article offensive?
Where is this article plagiarized from?
Why is this article poorly edited?