NFL Power Rankings: Full Overview of Entire League Heading into 2013 Draft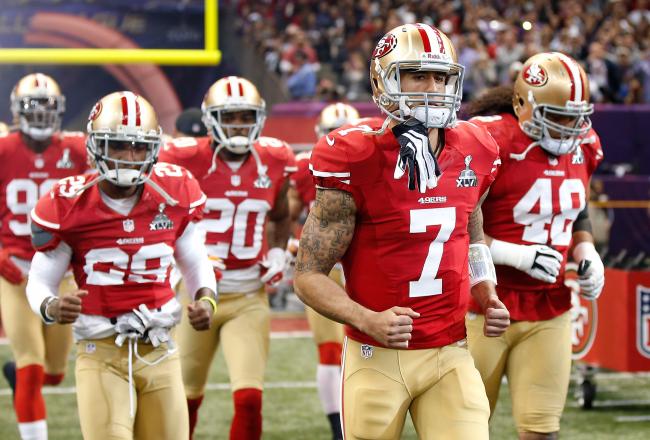 Chris Graythen/Getty Images
It's fun to rank NFL teams like properties on a Monopoly board. On one extreme we have Park Place (the San Francisco 49ers), and on the other we have Mediterranean Avenue (the Oakland Raiders).
The NFL draft is a time of excitement for every team, but the truth remains that only a few teams can be considered elite heading into the new season.
These teams were built upon a solid foundation, though. Led by general managers who understand the value of building through the draft rather than spending frivolously in free agency, the best teams make the most of their limited opportunities to cultivate and develop their talent.
As the draft approaches, this is how the league stacks up, with certain teams highlighted in italics for more in-depth analysis.
Note: NFL master transaction list courtesy of NFL.com. This will serve as the source for all free-agent transactions listed except for those that have occurred in the past two weeks.
1. San Francisco 49ers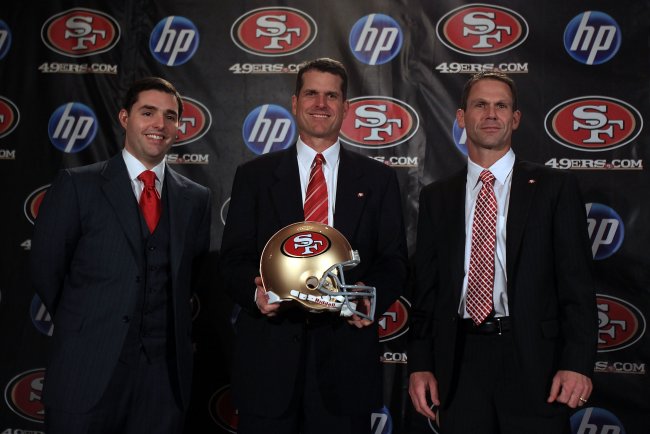 Ezra Shaw/Getty Images
Under Jim Harbaugh, the 49ers have lost an NFC championship game and a Super Bowl in succession, and this team is still trending up. The only thing left for the 49ers to accomplish is to finish the deal next season.
Losing Dashon Goldson may seem like a big blow, but in reality, Goldson was more flash than dominance. He played well for the 49ers, but he isn't irreplaceable. The 49ers will likely pick up his replacement with one of their 13 draft picks.
The 49ers added Glenn Dorsey, Anquan Boldin and Nnamdi Asomugha—all of whom have the potential of producing in a major way for the team in 2013.
Colin Kaepernick and his offense will be one of the hottest shows in the league, and the 49ers defense is always feared. Heading into the 2013 season, San Francisco is the team to beat.
2. Seattle Seahawks
The 49ers and Seahawks were the two teams nobody wanted to face in the NFC last year, and Seattle got more dangerous on both sides of the ball in free agency. Percy Harvin will be deadly with Russell Wilson tossing him the ball, while Cliff Avril, Michael Bennett and Antoine Winfield (h/t Seahawks.com) will boost the team's already dominant defense.
3. Denver Broncos
Losing Elvis Dumervil may hurt the Broncos in the short term, but the addition of Wes Welker to Peyton Manning's offense will more than make up for that loss. It's tough to imagine any defense stopping the trio of Welker, Eric Decker and Demaryius Thomas.
4. Baltimore Ravens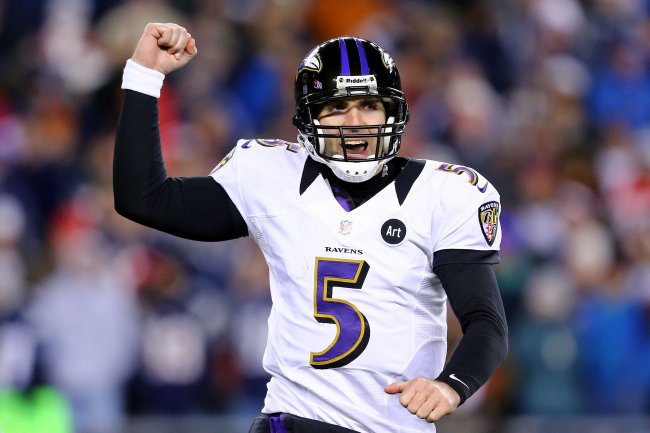 Al Bello/Getty Images
There's a real chance the Ravens could plummet like a rock once the season begins. This team lost two Hall of Fame defenders in Ray Lewis and Ed Reed, sent Boldin packing to San Francisco for a sixth-round pick, released Bernard Pollard and watched Dannell Ellerbe sign a mega-deal with Miami.
Will the Ravens suffer a Super Bowl hangover in 2013?
That's a lot of talent, leadership and production to make up for, and Baltimore may end up suffering a mediocre season as a result.
That said, out of respect for the incredible season the Ravens put together in 2012 and out of respect for the quarterback Joe Flacco has developed into, Baltimore deserves a top spot in these rankings.
5. New England Patriots
As long as Tom Brady is still lining up behind center for the Patriots, New England will be one of the top teams in the NFL. If Bill Belichick can fix his secondary, the Patriots have a chance to win another Super Bowl before Brady retires.
6. Atlanta Falcons
The Falcons may be even better on offense in 2013 than they were last year. The addition of Steven Jackson will boost the team's toughness and productivity on the ground, and Matt Ryan is already one of the top quarterbacks in the league. Atlanta still needs to get better against the pass on defense, however, and it will be interesting to see how Thomas Dimitroff addresses the team's need for cornerbacks in this year's draft.
7. Green Bay Packers
Aaron Rodgers is the best quarterback in the NFL. That said, he was beat up a lot last year by pass-rushers, and unless Green Bay develops a running game and improves its offensive line, he'll be subject to more of the same in 2013.
8. Houston Texans
It seems clear that Matt Schaub isn't an elite quarterback. That said, should the Texans give him another receiver, Houston's offense will be balanced enough to keep its defense off the field. And a rested Texans defense with a healthy J.J. Watt will be tough to overcome—especially with the addition of Ed Reed.
9. Cincinnati Bengals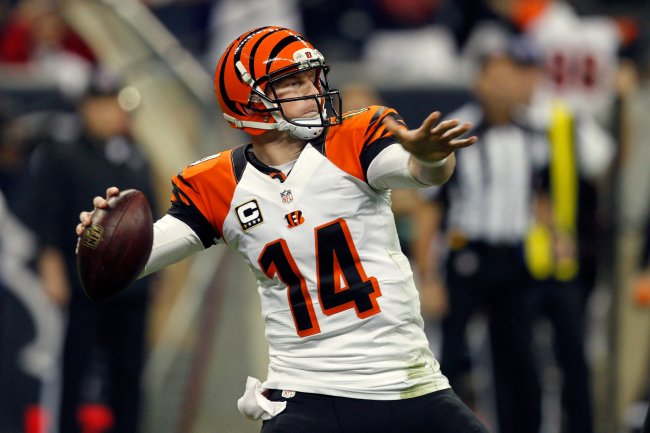 Bob Levey/Getty Images
The Bengals will go as far as Andy Dalton takes them. This team is loaded with talent on both sides of the ball. Mike Zimmer's defense proved to be one of the top units in the league toward the end of last season, and if Dalton can raise his game this year, Cincinnati could emerge with the AFC North title.
10. Washington Redskins
Provided Robert Griffin III comes back strong from his knee injury, the Redskins will be the favorite to win the NFC East again. Alfred Morris was a revelation last year, and if the 'Skins find a starting safety or two in the draft, the team's defense will continue developing into a strong unit.
11. Indianapolis Colts
If the Colts can protect Andrew Luck better this season, he's going to continue blowing us away. The addition of Darrius Heyward-Bey will give him another speedy target in the passing game, and the team's 3-4 defense will improve in its second year in that scheme.
12. Chicago Bears
The loss of Brian Urlacher won't haunt this team, as Urlacher was a shell of himself last year when he was healthy enough to play. If new head coach Marc Trestman can give Jay Cutler the boost he needs to elevate his game, Chicago's offense could be explosive in 2013.
13. New York Giants
The Giants experienced a terrible Super Bowl hangover in 2012. The entire team struggled all year long, but there were a few rays of sunshine. With improved depth on both lines, Big Blue should contend for a playoff spot once again.
14. New Orleans Saints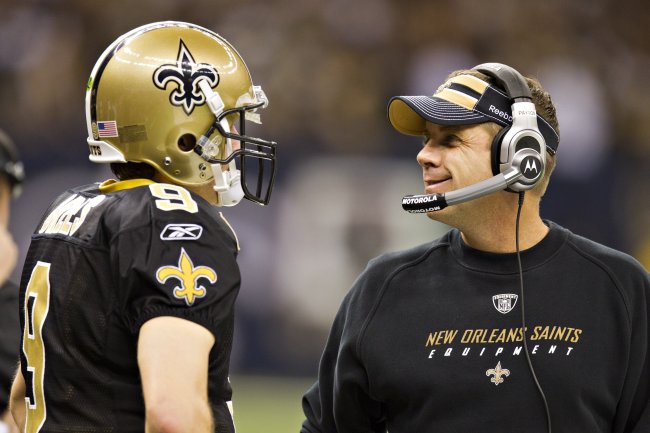 Wesley Hitt/Getty Images
The fact that the Saints were able to win seven games last year was impressive. The cost of losing Sean Payton cannot be overstated, and New Orleans will be a dangerous team again this upcoming season with him at the helm.
Rob Ryan brings a new look to the team's defense, which stagnated last year. His 3-4 scheme may take awhile to bear fruit, but with a few savvy draft picks and some hard work, the Saints defense could have some teeth in 2013.
Drew Brees will benefit from Payton's presence. The two of them feed off one another, and Payton is one of the most innovative and creative play-callers in the NFL today.
Perhaps making the playoffs is a stretch, but I for one won't be surprised to see New Orleans earn a wild card spot in the NFC.
15. Minnesota Vikings
Christian Ponder is in make-or-break mode this season. If he progresses, the Vikings have a chance to make it back to the playoffs. If he regresses, the Vikings may be looking at selecting one of the top quarterbacks in the 2014 NFL draft.
16. Miami Dolphins
On the cusp.
The Dolphins are so close to fielding a playoff team, and Jeff Ireland approached free agency with that in mind. No other team hauled in as many top free agents as the Dolphins, but it remains to be seen if this group of talented players can learn to play as one.
17. Dallas Cowboys
Tony Romo must have the season of his life for the Cowboys to earn a playoff spot. The team's defense will be a work in progress all year in Monte Kiffin's first season, and Romo's offensive line is a mess. That said, Dez Bryant is an emerging star, and if Dallas can find a running game, this team will be fun to watch.
18. Pittsburgh Steelers
Pittsburgh struggled to win eight games last year, and things might get worse before they get better. James Harrison signed with the Bengals, Mike Wallace signed with the Dolphins and Troy Polamalu has struggled to stay healthy, missing 22 games in the past four years.
If Mike Tomlin gets the Steelers into the playoffs, he'll deserve Coach of the Year consideration.
19. St. Louis Rams
The Rams are a tough team under Jeff Fisher's leadership that defeated the 49ers once and managed a tie in the other contest between them. The roster still has a few holes, however, and it will probably be another year or two before the Rams can challenge the 49ers and Seahawks for the NFC West crown.
20. Cleveland Browns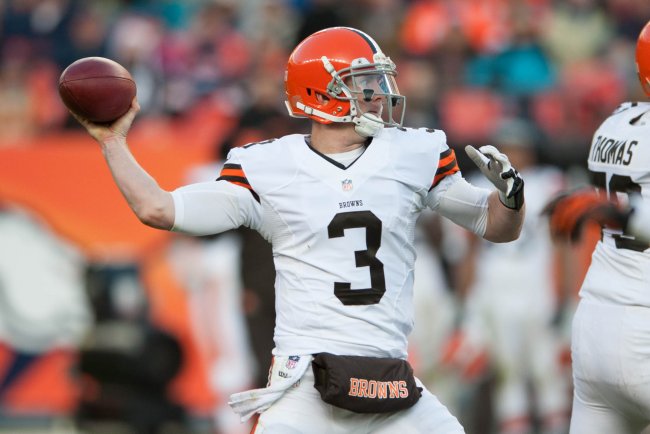 Dustin Bradford/Getty Images
Norv Turner will make a huge difference for Brandon Weeden and the Browns offense. Ray Horton was an invaluable pickup for this team as its defensive coordinator. Adding Paul Kruger and Desmond Bryant gives Horton some serious firepower up front.
The Browns are a team in the rise.
21. Tampa Bay Buccaneers
Kudos to the Bucs for making a bold move to acquire Darrelle Revis in a trade with the New York Jets (h/t John Geiger, Revis' marketing and business manager). It will be fascinating to see how much of an impact he can make on the NFL's worst pass defense from a year ago.
On the other side of the ball, Josh Freeman has yet to prove himself as the teams long-term answer at the quarterback position, and if he falters this season, Tampa Bay could be making an early selection in the 2014 NFL draft.
22. Detroit Lions
Detroit could feature one of the most explosive offenses in the NFL in 2013. If Matthew Stafford can minimize his mistakes, he has enough weapons to put up monster numbers. It remains to be seen, however, if the Lions can stop anyone from scoring on the other end.
23. Philadelphia Eagles
The Chip Kelly era has begun in Philly, and he might revolutionize a few things before he's done. That said, this team still has some major issues on the defensive side of the ball. I won't be surprised to see the Eagles go 5-11 or win 10 games. With so much uncertainty about this team, the Eagles will occupy a lowly position on these power rankings.
24. Carolina Panthers
2012 was supposed to be the year Cam Newton was going to propel the Panthers into the playoffs. Instead, he was outplayed by a few rookies and struggled as a leader. If Newton can learn from his mistakes and the team's defense improves, Carolina could be a contender.
25. San Diego Chargers
Under new management and looking at a huge challenge in the AFC West with the Broncos dominating, the Chargers will have a tough go of it in 2013. Philip Rivers must get better protection, and Antonio Gates must stay healthy for the offense to flourish. On the other side, the defense must improve its poor play on the back end.
26. Tennessee Titans
Jake Locker still has a lot to prove. There's no doubt he's athletically gifted, but his accuracy issues in college have followed him into the NFL (56.4 percent last year). The Titans defense is still a work in progress as well, and it will be interesting to see how George Wilson and Bernard Pollard fit in the secondary.
27. Buffalo Bills
It's hard to imagine Buddy Nix envisioned his team being in this position when he signed Mario Williams to a mega-contract a year ago and was gearing up for a run at the Patriots. The Bills don't have a franchise quarterback, have a dearth of talent at the receiver position and is still missing talent at the linebacker position.
28. Kansas City Chiefs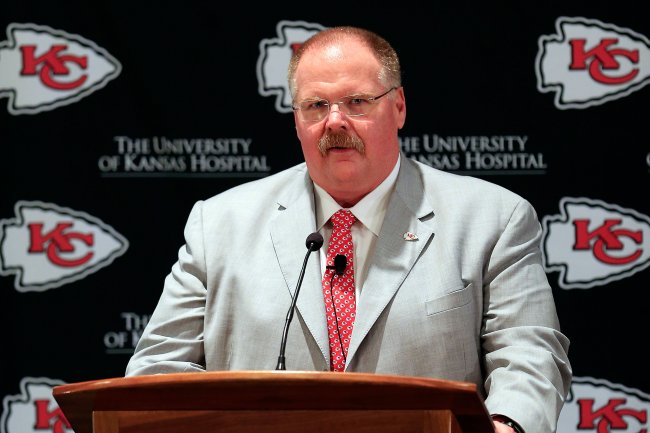 Jamie Squire/Getty Images
Until the Chiefs start winning games, they'll be among the bottom feeders in these power rankings. Sure, this team looks good on paper, but it looked good on paper before the 2012 season as well.
Will the Chiefs win more than six games in 2013?
Andy Reid has a tall task in front of him to turn the Chiefs around, but he has some players to build around.
The addition of Alex Smith will give the offense some much-needed stability. Re-signing Dwayne Bowe was also a big move. With Jamaal Charles running hard, Reid's offense has a chance to surprise a lot of people.
The key will be whether or not the defense can hold up. If it does, Kansas City will be a tough team to beat.
29. Arizona Cardinals
The strength of Arizona in 2012 was its defense. Now that Ray Horton is gone, it is no guarantee this team will dominate on that side of the ball. Adding Carson Palmer was a good move, but he's not going to lead the Cardinals to the playoffs in the NFC West.
30. New York Jets
2013 could be Rex Ryan's final season in New York. Trading Revis to the Bucs won't help the Jets right away, and Mark Sanchez may continue to regress. This is a team rebuilding from the ground up under new general manager John Idzik, and it may be a few years before the Jets are relevant in the AFC playoff picture again.
31. Jacksonville Jaguars
It's not good news that Blaine Gabbert reportedly struggled (h/t AP, via The Washington Post) in the team's first offseason workout. The Jaguars made the right move by hiring Gus Bradley to turn the team's culture around, but the transition won't happen overnight.
32. Oakland Raiders
Reggie McKenzie likely knew his team would have to take a few steps backward before it could progress. In his second season as the team's general manager, McKenzie must prove a savvy evaluator of personnel and bring in players who can make an immediate impact, as the players currently on the roster will struggle to win two or three games.
Follow me on Twitter @JesseReed78
This article is
What is the duplicate article?
Why is this article offensive?
Where is this article plagiarized from?
Why is this article poorly edited?