The Top 20 Games of the 2012 NFL Season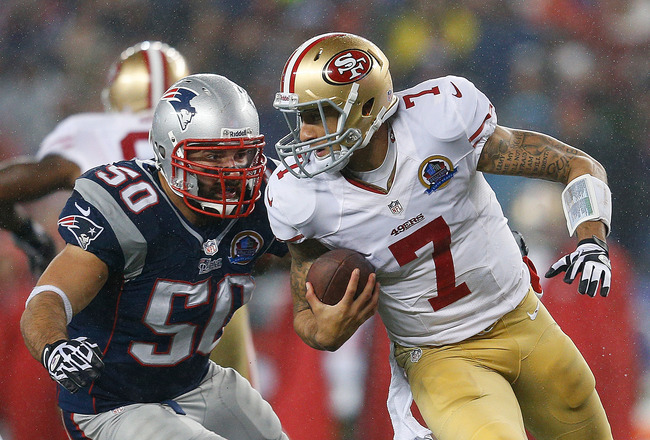 Jim Rogash/Getty Images
The 2012 NFL season rewarded its fans with a boatload of intense and nail-biting games. There were plenty of crazy finishes to go along with incredible comebacks.
Peyton Manning, Matt Ryan, Joe Flacco, and Tom Brady put up their usual seasons, while rookie sensations Andrew Luck, Robert Griffin III and Russel Wilson had plenty of late-game heroics for the ages.
It was not easy to choose from a wide list of dramatic, heart-pounding games, but I managed to do it somehow.
Here are the top 20 games of the 2012 NFL season.
Honorable Mentions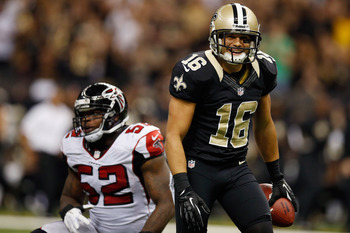 Chris Graythen/Getty Images
-Week 10 Saints 31, Falcons 27
The Atlanta Falcons entered the Mercedes-Benz Superdome with an 8-0 record, hoping to keep their chances at a perfect season alive. Their arch-rival New Orleans Saints were battling a disappointing 3-5 record, hoping to spoil the Falcons' perfect season. A clutch goal-line stand in the last two minutes helped the Saints preserve a 31-27 victory, handing Atlanta their first loss of the season.
-Week 13 Chiefs 27, Panthers 21
The Kansas City Chiefs played their first game after linebacker Jovan Belcher tragically shot and killed his girlfriend before committing suicide in front of head coach Romeo Crennel and GM Scott Pioli. The Chiefs managed to overcome the tragedy and survived a last-second 53-yard completion from Cam Newton to Steve Smith to hold on for an emotional victory.
-Week 15 Cowboys 27, Steelers 24
Both teams were in desperate need of a win to keep their playoff hopes alive. The Cowboys and Steelers have two of the biggest fanbases in all of football and are also among the most successful and storied franchises as well. Both teams failed to capitalize on chances to get into field-goal range in the dying minutes, and a costly Ben Roethlisberger interception in overtime set up a short Dan Bailey field goal to give the Cowboys a much-needed win.
-Week 12 Ravens 16, Chargers 13 (OT)
The score was low, but the finish was unbelievable. The Ravens trailed by 10 late in the fourth, but a Dennis Pitta touchdown cut the Bolts' lead to 3. With under two minutes to play, the Ravens faced a 4th-and-29 situation from their own 37. Joe Flacco dumped off a short screen pass to Ray Rice, who somehow eluded multiple tackles and barely got the first down. Justin Tucker kicked a late 38-yard field goal and made one from the same distance in overtime to cap off an unlikely comeback.
-Week 12 Texans 34, Lions 31 (OT)
NFL fans were rewarded with a Thanksgiving spectacular between two high-powered offenses. The Lions had a 21-14 lead at halftime, and things only got better from there. The Lions added a field goal in the third, and the Texans scored 10 points to even the game at 24. Joique Bell and Arian Foster traded rushing scores to make it 31-all heading into overtime. After three turnovers and two missed field goals in overtime, Shayne Graham nearly made a 32-yard field goal to give the Texans a thrilling victory in the Motor City.
-Week 14 Redskins 31, Ravens 28 (OT)
Kirk Cousins came off the sidelines to take over for an injured RG3 and led Washington to a last-minute touchdown with a successful two-point conversion to send the game into overtime. Kai Forbath's 34-yard field goal in overtime gave the Redskins an unlikely comeback win, which helped them ride the momentum en route to an NFC East title.
-Super Bowl Ravens 34 49ers 31
Yes, it was the Super Bowl. But the game itself wasn't that exciting until the end. Baltimore jumped out to a 28-6 lead, but 17 unanswered points by San Fran put the game within reach. The Ravens added a field goal to make it 31-23. San Francisco gets a TD but fails the two-point conversion, and Baltimore kicks a field-goal to go up 34-29. The Ravens defense makes a huge goal-line stand, turning the ball over on downs. They concede a safety and punt to the 49ers, but Ted Ginn is tackled near mid-field, giving the Ravens another championship.
20. Russell Wilson's Late Game Heroics Take Down Patriots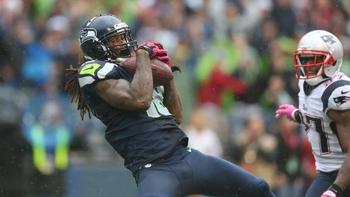 Week 6, at Seattle
At the time, this matchup featured the No. 1-ranked defense in Seattle facing the league's top-ranked offense led by Tom Brady's Patriots.
Russell Wilson proved that his victory over the Green Bay Packers was no fluke, as he rallied the Seahawks to an improbable 24-23 comeback over the mighty New England Patriots.
The Patriots had a 17-10 lead in the second quarter. Sloppy play by the Seahawks, a Wilson lost fumble, and a botched snap on a punt gave the Patriots a chance to increase their lead. Tom Brady was called for intentional grounding with one second left in the half, and the 10-second runoff cost the Patriots a chance to kick a late field goal.
Stephen Gostkowski added another field goal in the third to give the Pats a 10-point lead. Timely interceptions by Richard Sherman and Earl Thomas gave the Seahawks a chance to climb back. A fumble by Zach Miller in the fourth gave New England yet another chance to put the game away, but Gostkowski was forced to add another field goal to give New England a 23-10 lead.
With just over seven minutes left, Braylon Edwards made a clutch reception in the end zone on 4th-and-3 to cut the lead to six.
The next three possessions resulted in punts, and Wilson had just over two minutes left to lead the Seahawks to victory.
A beautiful 46-yard touchdown pass to Sidney Rice gave the Seahawks a 24-23 lead. Brady had 1:18 to get the Patriots into field-goal range, but a clutch sack and defensive stop on 4th-and-17 sealed the Seahawks victory.
This was the first NFL game that I attended, and few games could have matched the incredible experience of this one.
19. Peyton Manning's Mile High Debut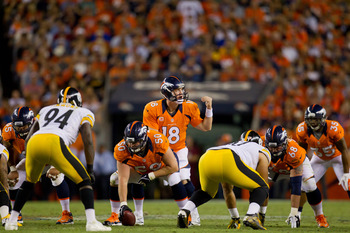 Justin Edmonds/Getty Images
Week 1, at Denver
The final score was 31-19 Broncos. Looking at it, this game doesn't seem like it was that exciting, but it was one of the most memorable regular season games in recent memory.
Broncos quarterback Peyton Manning was donning the orange crush jerseys for the first time, but what made this matchup more intriguing was that it was his first game back from a career-threatening neck injury that required four surgeries, which forced him to sit out all of 2011.
Manning threw for 253 yards, two touchdowns, and posted a 94.4 QB rating against the eventual top-ranked defense.
Trailing by five with 9:23 to play, Peyton found his former teammate in Indianapolis, Jacob Tamme, for a touchdown, and the two-point conversion was successful. Matt Prater kicked a 26-yard field goal to extend the lead to six, but Ben Roethlisberger had three minutes to take his team down field for a game-winning touchdown.
Tracy Porter picked off Roethlisberger just after the two-minute warning and returned it for a touchdown.
This was only the start of what turned out to be an unexpected, dominant season by Denver, which nearly resulted in an AFC Championship appearance.
More on that later.
18. Matt Ryan and Matt Bryant Team Up to Form Clutch Gene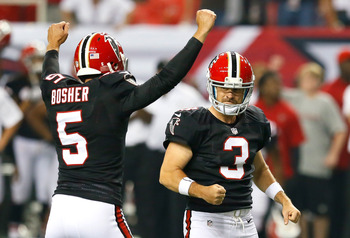 Kevin C. Cox/Getty Images
Week 4, at Atlanta
The Cam Newton-led Carolina Panthers came into the Georgia Dome hoping to pull off an upset against their division rivals.
That certainly looked probable after the Panthers scored touchdowns late in the third and midway through the fourth quarter to take a 28-24 lead. Matt Bryant kicked a 33-yard field goal with 4:57 to play to cut the lead to a single point.
The Panthers just had to melt the clock, and with Newton behind center that should have been easy, right?
Not so fast.
The Panthers faced a critical 3rd-and-2 situation at the Atlanta 46. A first down would have essentially sealed the game. Newton tried running for the first down but fumbled the ball. Teammate Mike Tolbert bailed him out by recovering it, but the Panthers were one yard short of the first.
Instead of going for it, they seemingly made the right decision to punt it with one minute to go. The punt was downed at the Falcons' one-yard line. On first down, Matt Ryan threw a deep pass to Roddy White, who made a leaping 59-yard catch in double coverage to at the Panthers 40-yard line.
The Falcons advanced the ball from there on a defensive pass interference call and completions to Tony Gonzalez and Harry Douglas.
Matt Bryant kicked a 40-yard field goal, and the Panthers didn't have enough time to make the comeback.
Matt Ryan proved the nickname "Matty Ice" does fit him well.
17. Cowboys Fall Just Short of Miracle Win over Ravens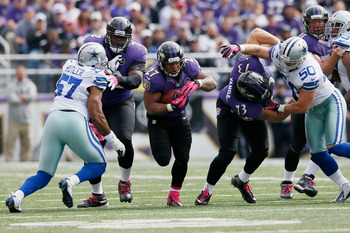 Rob Carr/Getty Images
Week 6, at Baltimore
The Ravens and Cowboys squared off in an intriguing Week 6 matchup between two high-scoring offenses.
It was a rough start for the Ravens, who lost two key players on defense. With Terrell Suggs sidelined, Ray Lewis went down with a torn triceps and missed the rest of the regular season, while star cornerback Lardarius Webb tore his ACL.
Baltimore's defense was not the same after this game, but it barely did enough to hold on for the victory.
This game went back-and-forth throughout, and the Ravens led 24-20 after three quarters.
Dan Bailey kicked a 34-yard field goal, and Ray Rice scored on a one-yard run to give the Ravens a 31-23 lead with under five minutes to go.
On the ensuing drive, the Cowboys marched downfield and converted twice on fourth down, which set up a four-yard touchdown pass from Tony Romo to Dez Bryant. The two-point conversion was unsuccessful, so the Cowboys had to try an onside kick, which they recovered.
A defensive pass interference penalty and a short completion to Bryant gave Dan Bailey a chance to kick a game-winning 51-yard field goal.
Bailey sailed it wide left, and the Ravens narrowly held on for the close victory.
This loss would end up costing the Cowboys a playoff spot.
16. Cowboys Fall Short of Miracle Win, Part II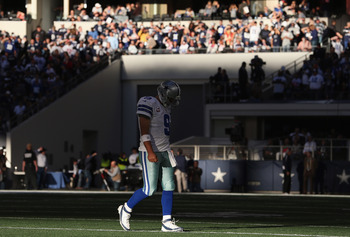 Ronald Martinez/Getty Images
Week 8, at Dallas
The Dallas Cowboys are currently 0-4 against the New York Giants at home since moving into their new stadium in 2009.
They almost made it 1-3.
Tony Romo threw two errant interceptions in the first quarter, and the Giants turned his mistakes into a 13-0 lead after one quarter.
A 26-yard Lawrence Tynes field goal and Jason Pierre-Paul pick-six gave the Giants a seemingly insurmountable 23-0 lead.
The Cowboys closed out the first half with a Felix Jones four-yard touchdown run, and a Dan Bailey field goal to pull within 13 at halftime.
Tony Romo scored on a one-yard run, and he threw a touchdown pass to John Phillips to give the Cowboys 24-23 lead. The Giants added two Lawrence Tynes field goals of 43 and 37 yards to lead 29-24 with 3:31 to play.
On 4th-and-one at the Giants' 19, Romo threw another interception, but the Cowboys forced a Giants punt to get one more chance.
The Cowboys had to go 70 yards in 55 seconds, and Romo found Dez Bryant in the back of the end zone for what appeared to be the game-winning score. The play was reviewed, and it was ruled incomplete because Bryant's hand touched the out of bounds area. Romo attempted three more passes, but none of them found the end zone. And the Cowboys once again found themselves just short of pulling off a miracle victory.
15. Golden Tate Catches Hail Mary from Russell Wilson, or Did He?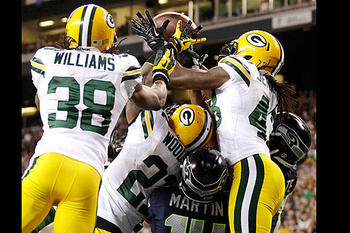 Week 3, at Seattle
Russell Wilson was making his prime-time debut at home against the Aaron Rodgers-led Green Bay Packers.
The final score (14-12) isn't so much what made this game one of the best, but the finish and controversy surrounding it did.
Both teams started out slow, with the Seahawks sacking Aaron Rodgers eight times in the first half. A 41-yard touchdown pass from Wilson to Golden Tate gave Seattle a 7-0 lead, which they took into the third quarter.
Two Mason Crosby field goals in the third made it a 7-6 game entering the fourth. Cedric Benson scored on a one-yard run, but the two-point conversion failed, making it 12-7 Packers.
The Seahawks forced a punt and were blessed with good field position at the Packers' 46. However, they were out of timeouts and needed a touchdown to win. The Seahawks drove to the Packers 24 and had time to attempt one final Hail Mary.
Russell threw what appeared to be an interception to Packers defender M.D. Jennings, but Seahawks receiver Golden Tate got his hands on the ball, and both wrestled for it. The refs signaled a touchdown, ruling it simultaneous possession, which always favors the offensive player. The controversy was raised even higher when replay showed that Tate shoved Packers cornerback Sam Shields, which the NFL ruled a missed pass interference call.
This would be the end of the horrific replacement referee saga. Thankfully, the league reached an agreement with the original referees, who made their debut three days later, but not before a controversial play that will go down in infamy.
14. Texans Avoid Huge Upset Against Jaguars in Thrilling Shootout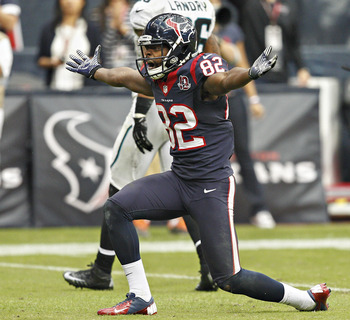 Bob Levey/Getty Images
Week 11, at Houston
The 8-1 Houston Texans hosted the Jacksonville Jaguars, who held a putrid 1-9 record.
The Texans were 15.5-point favorites, and no one gave the Jaguars a chance to win this game.
Keshawn Martin and Marcedes Lewis traded touchdown receptions, and the game was tied 7-7 after one quarter. The game broke wide open after that.
Cecil Shorts scored on a 67-yard touchdown from Chad Henne, and James Casey evened it up with a one-yard pass from Matt Schaub.
Josh Scobee and Shayne Graham traded field goals to make it 17-17 at halftime.
In the third quarter, Scobee added another field goal and Lewis caught his second TD pass of the game from Henne to give the Jags a 27-17 lead. Graham added another field goal to make it 27-20 after three quarters.
Justin Blackmon caught an 81-yard touchdown from Henne to put in what many believed was the dagger, but two Garrett Graham touchdown receptions tied the game for Houston. Shayne Graham missed a 47-yard field goal late that would have won the game, so it went into overtime.
Graham and Scobee each scored on field goals in overtime, which made it sudden death. Schaub threw an interception, but the Texans forced a critical fourth-down stop on their 47-yard line. Two plays later, Matt Schaub threw a screen pass to Andre Johnson, who took it 48 yards to the house, giving the Texans a 43-37 victory in overtime.
Houston avoided what would have been by far the biggest upset of the season.
13. Andrew Luck's Late Game Heroics Finish Lions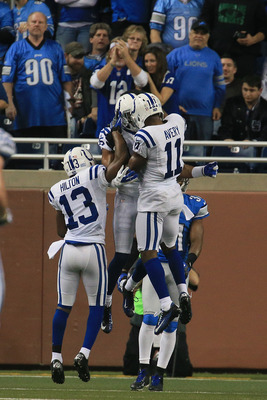 Dave Reginek/Getty Images
Week 13, at Detroit
The Indianapolis Colts entered Detroit with a 7-4 record. The Lions were 4-7, hoping to finish the season on a strong note.
Despite the wide margin in records, many expected the Lions prolific offense led by Matt Stafford and Calvin Johnson to out-muscle the rookie sensation, Andrew Luck. The Lions led 10-3 after one quarter but turned up the heat in the second.
Mikel Leshoure scored on a six-yard run, Coby Fleener caught a 26-yard pass from Luck, and two Jason Hanson field goals gave the Lions a 23-10 lead after two quarters.
Vick Ballard scored on an 11-yard run, but Calvin Johnson countered with a 46-yard TD pass. Hanson added another field goal in the fourth which gave the Lions a 33-21 lead. LaVon Brazill caught a 42-yard pass in the end zone to pull the Colts within five with 2:39 to play.
Despite an atrocious night, the Colts defense made a crucial stop to give their offense the ball with 1:07 left to play.
Luck scrambled for nine yards, found Reggie Wayne for 26, ran for 16 more, and found Dwayne Allen for 10 yards. The next two plays were incomplete to Wayne, setting up time for one more play at Detroit's 14-yard line.
Andrew Luck barely stayed behind the line of scrimmage and found Donnie Avery on a screen play, who barely got past the Lions defenders and sprinted into the end zone for the game-winning touchdown.
It seemed like the hole was too deep to climb out of, but Luck found a way to make it happen in crunch time.
12. Bears Are Latest Victim of Russell Wilson's Clutch Gene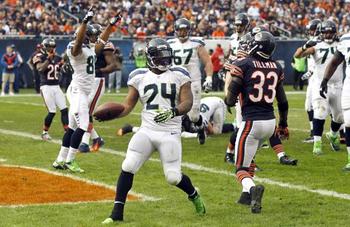 Week 13, at Chicago
Russell Wilson had taken down Tony Romo, Cam Newton, Aaron Rodgers and Tom Brady. Next up? Jay Cutler.
Major playoff implications were on the line for both teams, and both knew winning was imperative.
The Seahawks led 10-7 at the half, but Matt Forte caught a 12-yard touchdown pass from Jay Cutler to give the Bears a 14-10 lead after three quarters.
Russell Wilson took the Seahawks down field in the final minutes. Zach Miller made a crucial catch on 4th-and-3, and two plays later Golden Tate escaped four Bears tackles and scrambled into the end zone to give Seattle a 17-14 lead.
Jay Cutler found Brandon Marshall deep for a 56-yard reception, which set up Robbie Gould's 46-yard field goal to send the game into overtime as time expired.
The Seahawks went on a drive that lasted 7:27, which included three third-down conversions. Wilson found Sidney Rice in the end zone for the game-winning 13-yard touchdown pass.
Wilson kept taking down some of the game's top quarterbacks, and the Bears were a victim of this one, which would ultimately cost them a playoff spot.
11. Torrey Smith Has the Game of His Life After Tragedy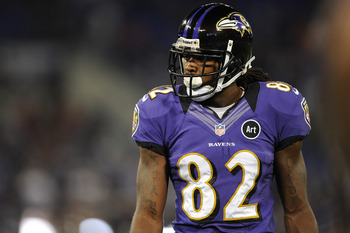 Patrick Smith/Getty Images
Week 3, at Baltimore
The Baltimore Ravens had home-field advantage in a highly-touted Week 3 matchup against their conference rivals—the New England Patriots. Ravens receiver Torrey Smith elected to play despite his 19-year old brother Tevin Jones dying in a motorcycle accident. Smith had 127 receiving yards and two touchdowns en route to a 31-30 comeback win over the Patriots.
Two Stephen Gostkowski field goals and a Brandon Bolden 2-yard run gave New England an early 13-0 lead. The Ravens answered with back-to-back touchdowns from Torrey Smith and Dennis Pitta to grab a one-point lead. The Patriots got a touchdown pass from Julian Edelman to close out the half and take a six-point lead. Ray Rice added a seven-yard run early in the third to give the Ravens a 21-20 lead.
The Patriots scored nine unanswered points to take a 30-21 lead. Mid-way through the fourth, the Ravens comeback bid appeared to fall short after being stopped on fourth down in New England territory. However, the Ravens forced a much-needed punt and got the ball back. Torrey Smith caught a touchdown with four minutes left to pull the Ravens within two. After a series of controversial penalty calls against the Ravens defense, they finally forced a punt which gave Joe Flacco just under two minutes to get his team into field-goal range.
Justin Tucker made a 27-yard field goal that barely stayed inside the upright, and the Ravens won another controversial game—thanks to poor officiating. The game featured 899 yards of offense—seems like NBC got the game they were hoping for.
Torrey Smith won the game for his brother, playing with a heavy heart.
10. Matt Ryan Finally Wins His First Playoff Game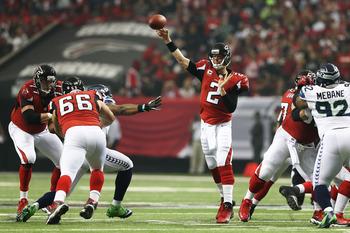 Streeter Lecka/Getty Images
Divisional Round, at Atlanta
Matt Ryan has come under heavy criticism for choking once the playoffs roll around. In the NFC divisional round, he finally won his first playoff game, but it nearly turned disastrous.
Two first-half field goals by Matt Bryant, a Tony Gonzalez touchdown catch and Roddy White's 47-yard touchdown pass gave Atlanta a monumental 20-0 lead at halftime. Poor clock management cost Seattle a chance to kick a field goal before the first half ended, which proved costly.
Golden Tate and Jason Snelling traded touchdown receptions, making the score 27-7 after three quarters.
In the fourth quarter, Wilson scored on a one-yard run to make it 27-14. Ryan then threw a pick to Earl Thomas, and on the ensuing drive, Zach Miller caught a three-yard touchdown pass to cut the Falcons lead to six.
The next three possessions resulted in punts, and Seattle got the ball with 3:00 left at their own 39.
Six plays later, Marshawn Lynch scored on a two-yard run, and the extra point gave Seattle a 28-27 lead with 31 seconds left.
Too much time for Matty Ice, who found Harry Douglas for 22 yards and Tony Gonzalez for 19, which set up a 49-yard attempt by Matt Bryant with eight seconds left.
Seahawks head coach Pete Carroll called a timeout as Bryant missed his attempt, so Bryant got one more chance, which he capitalized on.
The Falcons botched the squib kick, and the Seahawks had a chance for one Hail Mary. Julio Jones intercepted it in the end zone, and Wilson was finally taken down in crunch time, while Matt Ryan silenced his critics.
9. Saints Dent Cowboys' Playoff Hopes, Win Overtime Thriller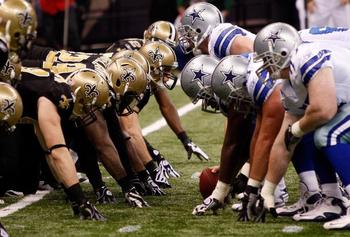 Week 16, at Dallas
At this point, the New Orleans Saints were playing for pride only but still trying to defeat the Dallas Cowboys, who were still in the hunt for the NFC East title.
The Saints led 7-0 after one quarter. Dez Bryant had two touchdown receptions in the second quarter which gave Dallas a 14-7 lead. Lance Moore caught a 6-yard pass from Drew Brees, and Garrett Hartley added a field goal to give the Saints a 17-14 lead after two quarters.
Dan Bailey added a field goal in the third quarter to tie it up at 17. Pierre Thomas caught a five-yard pass from Drew Brees in the third, and David Thomas caught a three-yard pass from Brees in the fourth to give New Orleans a 31-17 lead.
In the last 3:35, the Cowboys scored two touchdowns—a 16-yard Dwayne Harris reception followed by Miles Austin's 19-yard reception with 15 seconds left—which sent the game into overtime.
Garrett Hartley kicked a 20-yard field goal in overtime to win the game for the Saints.
Who doesn't love a good old-fashioned shootout between dangerous offenses like these two teams?
8. Eli Manning Rallies Giants Past Buccaneers, Saves Them from Disaster
Jeff Zelevansky/Getty Images
Week 2, at New York
The defending Super Bowl champions were on the verge of starting the 2012 season 0-2.
That was before two-time Super Bowl MVP Eli Manning was his usual calm, cool, clutch self in a 41-34 shootout at MetLife Stadium.
The Giants led 6-3 after one quarter, but like most games on this list, it got better later on.
Vincent Jackson and Doug Martin each scored touchdowns in the second quarter to give Tampa Bay a 17-6 lead. Hakeem Nicks hauled in a 23-yard touchdown to make it 17-13. Eric Wright then picked off Eli Manning and returned it 60 yards for a touchdown. The Bucs led 24-13 at halftime.
Connor Barth and Lawrence Tynes traded field goals in the third, 27-16 after three.
Tynes added another to cut the lead down to three. Victor Cruz had an 80-yard touchdown with a successful two-point conversion to tie it up at 27. Manning would then find Martellus Bennett for a 33-yard touchdown to give the Giants an unlikely 34-27 lead.
The big plays didn't stop there, as Josh Freeman hit Mike Williams for a 41-yard touchdown to tie it up at 34-all.
Eli Manning would drive the Giants down the field in just four plays, and Andre Brown finished the eventual game-winning drive with a two-yard TD run. The Bucs' hope of a comeback ended when Freeman was picked off by Michael Boley.
Once again, Eli Manning stayed calm under the pressure and gave the Giants a much-needed victory to avoid what would have been a disastrous start.
7. Peyton Manning Leads Broncos to Epic Comeback Win Against Chargers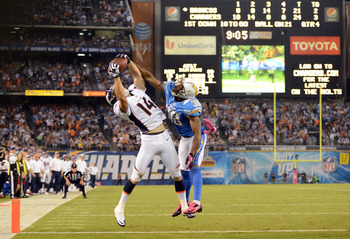 Harry How/Getty Images
Week 6, at San Diego
The San Diego Chargers hosted the Denver Broncos on Monday Night Football. The Chargers led the AFC West with a 3-2 record, while Denver was one game behind at 2-3.
A Peyton Manning pick-six, as well as muffed punt returns by the Broncos' special teams helped the Chargers take a 24-0 lead into halftime. Manning found Demaryius Thomas deep for a touchdown to make it 24-7. The Chargers then drove into Broncos territory, but Phillip Rivers lost a fumble that was scooped up and returned for a touchdown by Tony Carter to get Denver back in the game.
Rivers would go on an interception spree in the fourth, throwing three costly ones that helped Denver get within reach. Touchdowns to Eric Decker pulled them within three. An incredible, acrobatic catch from Brandon Stokley gave Denver a 28-24 lead, and a Chris Harris pick-six in the final minutes helped the Broncos pull of a stunning 35-24 victory.
The Chargers would go 4-6 the rest of the way, while Denver closed out the regular season with 11 straight victories.
This game turned both teams' seasons around and was a huge reason Norv Turner is not the Chargers head coach anymore.
6. NFC Championship Game: Kaepernick Takes Down Ryan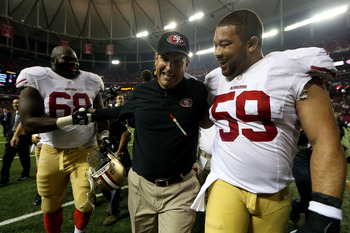 Streeter Lecka/Getty Images
NFC Championship Game, at Atlanta
The NFC Championship game featured two explosive offenses going up against each other. Colin Kaepernick took over the 49ers' starting quarterback job midway through the season, and there was no looking back from there.
The San Francisco 49ers rode a red-hot Kaepernick all the way to the Georgia Dome in Atlanta to take on Matt Ryan's Falcons. San Francisco entered the game as favorites, but that did not stop the Falcons from jumping out to an early 17-0 lead, thanks in large part to a couple touchdown receptions from Julio Jones of 46 and 20 yards. The 49ers wouldn't panic, and a touchdown run from LaMichael James and a Vernon Davis touchdown reception made the score 17-14. Tony Gonzalez added a touchdown near the end of the first half to make it 24-14 at the half.
Frank Gore added two touchdowns—one in the third and another midway through the fourth to give the 49ers a 28-24 lead. The Falcons drove down into the 49ers red zone, but a fourth-down pass was broken up late to seemingly clinch the game. The Falcons got the ball back, but could barely advance the ball into 49ers territory, ending the game.
The NFC Championship game featured plenty of big plays, drama, scoring plays and featured an incredible comeback.
It won't be easy for next year's finalists of the NFC to top that.
5. Adrian Peterson Falls Just Shy of Dickerson's Record, Vikes Make Playoffs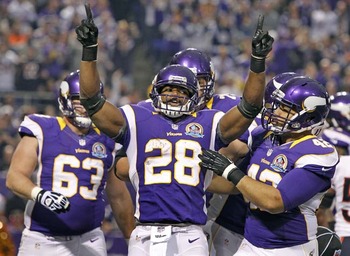 Week 17, at Minnesota
The Minnesota Vikings had to win to make the playoffs, or else their divisional rival Chicago Bears would claim that spot.
It didn't help that they had to play Aaron Rodgers' Green Bay Packers, who wanted to defeat their enemies and claim a first-round bye.
The Vikings jumped out to a 13-0 lead, but Greg Jennings caught an eight-yard pass from Rodgers to make it 13-7. The Vikings added seven more on a short run by Adrian Peterson, but a Mason Crosby field goal made it 20-10 at halftime.
Jennings and Peterson traded touchdowns in the third, and a James Jones TD reception made it 27-24 for Minnesota entering the fourth quarter.
Mason Crosby kicked a field goal to tie it up, and touchdowns from Michael Jenkins and Jordy Nelson made it 34-34 with 2:54 left.
On the final drive, Adrian Peterson was trying to break Eric Dickerson's record of 2,105 rushing yards in a single season. He got 26 but fell nine yards short. However, Blair Walsh kicked a 29-yard field goal to send the Vikings in the playoffs.
The Vikings went from the third overall pick to the playoffs in dramatic fashion.
Simply incredible if you ask me.
4. Andrew Luck and Colts Are #Chuckstrong, Defeat Packers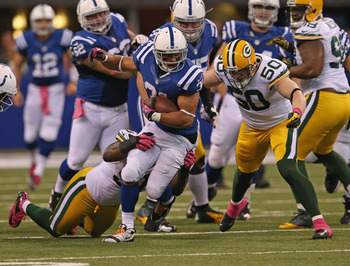 Jonathan Daniel/Getty Images
Week 5, at Indianapolis
The Indianapolis Colts hosted the Green Bay Packers in a Week 5 clash. Few gave the rookie quarterback a chance against the reigning league MVP.
This was the Colts' first game after head coach Chuck Pagano was diagnosed with leukemia. Nonetheless, the Colts came out to play, which was inspirational enough.
The Packers led 21-3, and all signs pointed to a blowout. But the Colts had other ideas, and Luck would not back down.
A Dwayne Allen touchdown reception, Adam Vinatieri field goal and a touchdown run by Luck with a failed two-point conversion made the score 21-19 for Indianapolis after three quarters. Another Vinatieri field goal gave them a 22-21 lead with 8:04 to play.
Aaron Rodgers was his usual self and completed a two-play drive that concluded with an eight-yard touchdown pass to James Jones. The Packers failed the two-point conversion which gave them a 27-22 lead, leaving 4:30 left on the clock. What transpired afterwards was nothing short of spectacular.
The Colts converted on third down twice, and capped off a 13-play drive with Luck finding Reggie Wayne, who stretched the ball across the goal line for a touchdown. They converted the two-point conversion to go up 30-27 with 35 seconds left.
Rodgers moved the ball quickly and efficiently, but Mason Crosby missed a 51-yard field goal, which would have sent the game into overtime.
As a Colts fan, this was my favorite game of the season. It was not the best, but I never felt happier for a team than I did this game. I didn't think they had a chance of winning, but they beat one of the league's elite teams during a very emotional time for the franchise.
3. Titans Defeat Lions in One of the Craziest Finishes Ever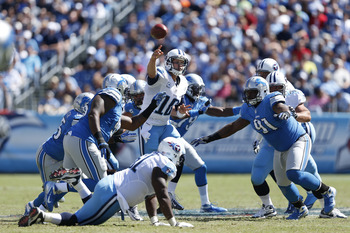 Joe Robbins/Getty Images
Week 3, at Tennessee
The Titans and Lions were two of the more disappointing teams of the 2012 season, but they teamed up to form one of the highest-scoring games in recent memory a finish that the league has never seen.
After a parade of field goals throughout the first three quarters, the Lions led 27-20 in the fourth. Darius Reynaud answered with a 105-yard kick return TD to tie the game. The Titans then scored on a 71-yard touchdown by Nate Washington. Alterraun Verner then recovered a fumble and took it 72 yards to give the Titans a 41-27 lead. The Drama is far from over.
Shaun Hill had to take over for Matt Stafford, and Calvin Johnson scored on a three-yard pass with 18 seconds left. The Lions recovered the onside kick, and, would you believe it, score on a 46-yard touchdown pass as time expires to send it into overtime.
Rob Bironas kicked a field-goal in OT, but since Tennessee had possession first and didn't score a touchdown, the Lions had a chance to tie it or win it. The Lions drove down to the Titans 7, and Hill tries a QB sneak on fourth-and-one but was stopped just short.
The game featured 1,020 yards of offense. Wow.
Plenty of big plays? Check.
Lots of points? Check.
Big plays? Check.
Great game? Check.
You can't write this stuff.
2. 49ers Narrowly Avoid Embarrassing Loss in Foxborough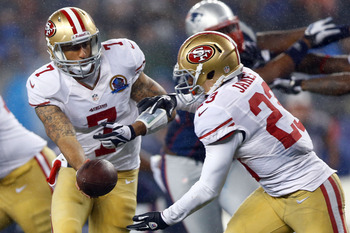 Jared Wickerham/Getty Images
Week 15, at New England
Anyone who thought Alex Smith was the answer over Colin Kaepernick would no longer have a case after Kaepernick took down Tom Brady in a December game at Gillette Stadium.
This was the one game I had circled on my calendar. I knew it would be one of the best games in recent memory, and I was far from being wrong.
Randy Moss caught a 24-yard pass for a touchdown by Kaepernick, fittingly against the team that secured his legacy as one of the greatest wide receivers to ever play the game. After the teams exchanged punts, it became a circus of mistakes.
Tom Brady threw an interception to Carlos Rodgers, who returned it to the Patriots' five-yard line. Two plays later, Delanie Walker caught a pass and fumbled it, which was scooped up by Aqib Talib.
After the 49ers forced a punt, David Akers missed a 39-yard field goal to keep it 7-0. Shane Vereen then made a catch on a screen pass but fumbled the ball, which was recovered by the 49ers at the Patriots' 34-yard line.
Delanie Walker hauled in a 34-yard touchdown reception, Stephen Gostkowski and Akers each kicked a field goal, and San Francisco led 17-3 at halftime.
Trying to increase the lead, Kaepernick threw an interception in the end zone to Devin McCourty, but Stevan Ridley would fumble the ball after a huge hit, which Dashon Goldson returned to the Patriots' six-yard line. Frank Gore picked up a loose ball and scrambled in to give San Francisco a 24-3 lead. Tom Brady then attempted a pass to Hernandez, but it bounced off him and wound up in the arms of Aldon Smith. Kaepernick hit Crabtree in the end zone to give the 49ers a 31-3 lead. Game over, right?
Think again.
A six-yard touchdown run from Danny Woodhead, one-yard TD run by Brady, five-yard TD reception from Hernandez, and a one-yard touchdown run from Woodhead evened the game. The Pats had the momentum until LaMichael James had a 62-yard return to the Patriots 38-yard line. Kaepernick found Crabtree on a short pass, who ran to the end zone to give his team a 38-31 lead. Both teams exchanged punts, the 49ers defense forced a critical stop on fourth down, and Akers and Gostkowski exchanged field goals, which resulted in a 41-34 victory for San Francisco.
How Tom Brady came back from 28 points down against one of the toughest defenses in the league is beyond me, but had they won this game, he would have likely secured his third MVP. But there is no denying how great of an effort this was by the Patriots. Simply remarkable.
This game was the best of the regular season, but there is one game that tops it...
1. Flacco, Ravens Pull off Miracle Against Broncos to Reach AFC Championship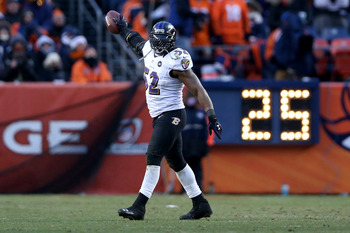 Jeff Gross/Getty Images
AFC Divisional Round, at Denver
The Broncos had won 11 straight games with home-field advantage in the playoffs. They had the second-ranked defense and fourth-ranked offense. Meanwhile, Joe Flacco's Ravens limped into the playoffs with a 10-6 record, losing four out of five games to conclude the season, including an embarrassing 34-17 loss at home to the Broncos.
The game was highlighted by plenty of big plays: Trindon Holliday had a punt return and kickoff return for a TD. Corey Graham had a pick-six, and Torrey Smith had 59- and 32-yard touchdowns to tie the game twice. The game was 21-21 entering halftime.
Holliday started out the second half with a 104-yard kick return touchdown to give Denver a 28-21 lead, but the Ravens struck back with a one-yard Ray Rice touchdown run.
Demaryius Thomas gave Denver another lead, this time on a 17-yard touchdown catch.
The Broncos defense forced a clutch stop in the final minutes and ran down plenty of clock to give Baltimore the ball with just over a minute to go, having to go 77 yards to force overtime.
On 3rd-and-3, Flacco sent a Hail Mary to Jacoby Jones. Somehow the Broncos' defense blew the coverage, and Jones caught it and walked into the end zone, sending the game into overtime.
The two teams constantly exchanged punts, until a Corey Graham interception gave the Ravens good field position, needing only a field goal to win. In the second overtime, Justin Tucker narrowly made a 47-yard field goal to win the game for the Ravens. Ray Lewis was two incomplete passes away from hanging them up in heartbreak, but his career lived to see another day. The team rode the momentum all the way to the Super Bowl.
The Ravens played with destiny on their side all along.
This was the greatest game I have ever witnessed, and although not everyone will feel the same way, it's difficult for one to believe that any other game in 2012 topped this one.
Keep Reading