Post-NFL Scouting Combine 2013 Mock Draft: Round 1
Joe Robbins/Getty Images
The conclusion of the 2013 NFL Scouting Combine puts the upcoming draft more in perspective. The best of the best college football players were timed and measured in a handful of events, all of which will greatly affect their draft status.
The Kansas City Chiefs have the first pick, which will be one of Andy Reid's first major moves as their new head coach. There's no clear-cut top player in the draft, although Texas A&M offensive tackle Luke Joeckel was and still is seen by many as the likely first pick.
Picks two through 10 could go in any order, and it will be difficult to project them. In keeping with the general mock draft rules, I did not project any trades. Click here to read my first mock draft, published immediately after the Baltimore Ravens' Super Bowl win.
1. Kansas City Chiefs: Luke Joeckel, OT, Texas A&M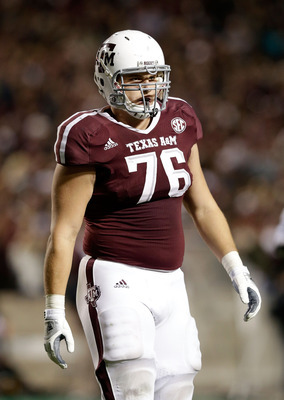 Scott Halleran/Getty Images
The Kansas City Chiefs' trade for Alex Smith makes it all the more likely the team selects Texas A&M offensive tackle Luke Joeckel.
Joeckel is widely seen as the best all-around player in the draft. He also fills a huge position of need for Kansas City. Branden Albert played at a high level in 2012, but he's struggled with back injuries of late. Even though Albert received the franchise tag, he's liable to be traded to a contender for 2012 (Chicago, anyone?). Andy Reid will want a franchise left tackle that can hold down the fort for the next decade.
He's got that player in Joeckel. Imagine how much better that offense will be with Smith and Joeckel in 2013 compared to Matt Cassel and Albert. Factor in Jamaal Charles and the likely re-signing of Dwayne Bowe, and the Chiefs may surprise people next season.
*UPDATE: Chiefs have released right tackle Eric Winston, a very good player due to make a base salary of $4.9 million in 2013. That makes the likelihood of Reid drafting a tackle all the higher. It's just down to either Joeckel or Fisher.
Previous Pick: Same
2. Jacksonville Jaguars: Sharrif Floyd, DT, Florida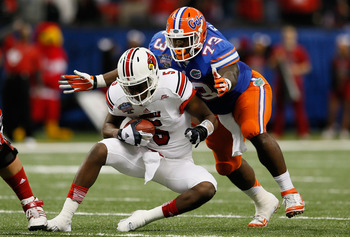 Kevin C. Cox/Getty Images
The Jacksonville Jaguars need five to six first-round picks to be competitive in 2013. Their quarterback position is a mess with Blaine Gabbert, but the rest of the offense isn't much better. And the defense put almost no pressure on the quarterback last year.
This pick would be Star Lotulelei until the shocking news of his heart condition emerged. That pushes Florida defensive tackle Sharrif Floyd to the top of the wish list for the Jaguars.
Floyd can play 3-4 defensive end or 4-3 defensive tackle. He's disruptive against both the pass and the run. He turned in a phenomenal scouting combine and he would instantly upgrade a Jaguars unit that ranked dead last in sacks in 2012.
Previous Pick: Damontre Moore, DE, Texas A&M
3. Oakland Raiders: Geno Smith, QB, West Virginia

Geno Smith NFL Player Comparison

Several signs point to the Oakland Raiders selecting Geno Smith. Carson Palmer is due a ridiculous $28 million over the next two seasons. Cutting him early would show that the trade the Raiders made to acquire him was way too much, but that was obvious right away.
Smith is essentially a more talented version of Terrelle Pryor. He's much more mobile than expected, as he ran a 4.59 40 at the 2013 NFL Scouting Combine. Last year, Smith threw for over 4,000 yards and 42 touchdowns for West Virginia. He's the franchise quarterback the Raiders haven't had since the days of Rich Gannon.
Previous Pick: Star Lotulelei, DT, Utah
4. Philadelphia Eagles: Eric Fisher, OT, Central Michigan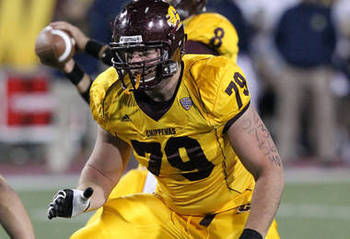 As a Philadelphia Eagles fan, I'm torn between which player the team will select. There's no quarterback for Chip Kelly to take that can run his offense, especially with Geno Smith going third overall to Oakland.
Dee Milliner is the best cornerback in the draft, although no cornerback has gone in the top four since Charles Woodson in 1998. But I think the overall athleticism of Eric Fisher will make him Kelly's selection at pick four. Fisher is 6'7" and 305 pounds, and he can play tackle and guard. Fisher could give Luke Joeckel a run for his money as the top offensive tackle in the draft.
I still think Joeckel holds off Fisher because he's a better all-around player and he's a more natural left tackle. But the Eagles need help on their offensive line. Selecting Fisher would allow Todd Herremans to move inside to right guard to replace Danny Watkins. A tackle duo of Jason Peters and Fisher would be one of the best in the business.
Previous Pick: Geno Smith, QB, West Virginia
5. Detroit Lions: Dee Milliner, CB, Alabama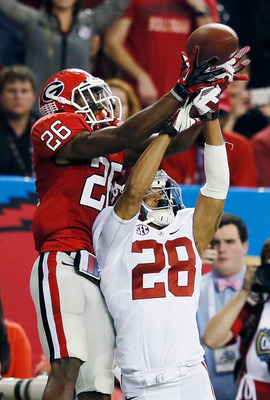 Kevin C. Cox/Getty Images
The Detroit Lions would likely be thrilled if Dee Milliner fell to them with the fifth overall pick. It fills a huge position of need, and he's the best player available.
Milliner wowed scouts by running a 4.37 40 at the scouting combine. He isn't quite in the class of Morris Claiborne, but Milliner is a definite day one starter. Last year, the Lions rated 27th in scoring defense and 23rd in interceptions. They need an upgrade from Jacob Lacey and Chris Houston.
Milliner's performance in the BCS National Championship Game showed he can play well against top competition. He will have his hands full covering Jordy Nelson, Randall Cobb and Brandon Marshall within the division.
Previous Pick: Bjoern Werner, DE, Florida State
6. Cleveland Browns: Damontre Moore, DE, Texas A&M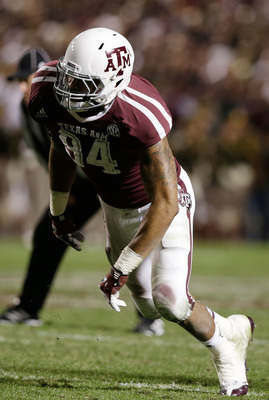 Scott Halleran/Getty Images
Damontre Moore unquestionably saw his stock fall after a frightening performance at the scouting combine. He appeared slow and out of shape, benching 225 pounds just 12 times and running a 4.95 40.
Nevertheless, Moore's performance in 2012 speaks for itself. He registered 12.5 sacks last year, including six in his first three games. He is a tremendous pass-rusher and he would be a great addition to an underrated Cleveland Browns defense.
If the Browns don't select Moore, there's definitely a chance they go with Cordarrelle Patterson or another pass-rusher like Barkevious Mingo.
Previous Pick: Jarvis Jones, DE/OLB, Georgia
7. Arizona Cardinals: Lane Johnson, OT, Oklahoma
Joe Robbins/Getty Images
The Arizona Cardinals badly need an offensive line upgrade. When Levi Brown went down with a season-ending injury, the Cardinals were forced to thrust D'Anthony Batiste and Nate Potter into a starting position. The duo combined to surrender 19 sacks. That's two less than the Denver Broncos gave up all year as a team.
Lane Johnson may be a slight stretch as the seventh overall pick. But with Luke Joeckel and Eric Fisher off the board, Johnson is the next-best available offensive tackle. He's extremely athletic. Johnson ran a 4.72 40 yard dash and was a former quarterback in college. There's almost no way the Cardinals can justify passing on the offensive line again.
Previous Pick: Eric Fisher, OT, Central Michigan
8. Buffalo Bills: Cordarrelle Patterson, WR, Tennessee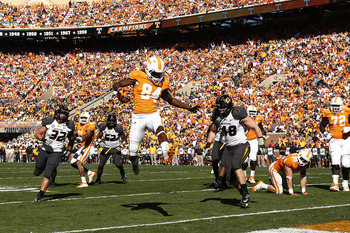 Joe Robbins/Getty Images
Adding Cordarrelle Patterson to the mix would give the Buffalo Bills an up-and-coming offense for their 2013 quarterback, be it Ryan Fitzpatrick or not.
Patterson is a big playmaker at 6'3", and he can stretch the field. He and Stevie Johnson would give the Bills an explosive offense, especially with C.J. Spiller and Fred Jackson in the backfield. The experts have been raving about Patterson's skills.
There's some speculation that the Bills could select a quarterback but a second-round option might make more sense. There's no one worth taking with the eighth overall pick.
Previous Pick: Ryan Nassib, QB, Syracuse
9. New York Jets: Dion Jordan, DE/OLB, Oregon

Dion Jordan NFL Player Comparison

Rex Ryan will be in a tough spot with his first selection of the 2013 draft. To save his job, he may need to pick a quarterback that can replace Mark Sanchez. However, there really is no good pick to go in the top 10 other than Geno Smith.
Ryan is a defensive guy at heart, and Dion Jordan would be an excellent addition to his defense. The New York Jets may allow Darrelle Revis to be traded, which makes Kyle Wilson the other starter opposite Antonio Cromartie. The Jets need more pass-rushers, especially considering they have an aging group of linebackers.
Jordan will make an immediate impact in the NFL. He's going to be a terrific 3-4 outside linebacker that can get to the quarterback. The Jets need players like Jordan that can pressure Tom Brady.
Previous Pick: Cordarrelle Patterson, WR, Tennessee
10. Tennessee Titans: Star Lotulelei, DT, Utah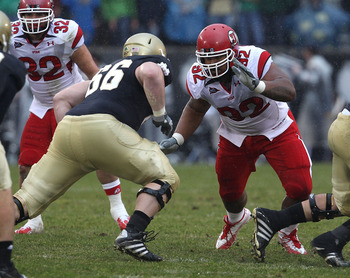 Jonathan Daniel/Getty Images
The Tennessee Titans will likely take one of two positions—a guard or a pass-rusher. Selecting a guard at the 10th overall pick is high, and I think Star Lotulelei's potential will be too much to pass on.
Lotulelei was initially seen as the top defensive player in the draft. His heart condition has dropped his stock, although it's still unclear as to how much that will affect it. If Lotulelei is medically cleared, he will probably still go in the top 10. In fact, don't rule him out as the first overall pick to the Kansas City Chiefs, although teams will probably play it safe early on.
If the Titans pick Lotulelei, they're getting a stud defensive tackle. He's going to make life easier for Derrick Morgan and the rest of the defense.
Previous Pick: Barkevious Mingo, DE/OLB, LSU
11. San Diego Chargers: Chance Warmack, G, Alabama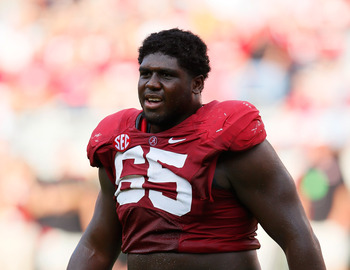 Kevin C. Cox/Getty Images
The San Diego Chargers desperately need a complete overhaul on their offensive line. Per Pro Football Focus, this unit ranked fourth-worst in pass-blocking and fifth-worst in run-blocking.
Chance Warmack would be an instant upgrade to the line. The team hasn't recovered from losing four-time Pro Bowler Kris Dielman to retirement last offseason. Warmack is viewed as one of the top guard prospects of this lifetime, and definitely the best since Steve Hutchinson in 2001.
Warmack didn't help his case with a 5.49 40-yard dash at the 2013 NFL Scouting Combine. Last year, David DeCastro was viewed as the top guard and he fell to pick 24. But Warmack's play at Alabama spoke for itself. He will be a tremendous addition to a Chargers team that won't look back.
Previous Pick: Same
12. Miami Dolphins: Tavon Austin, WR, West Virginia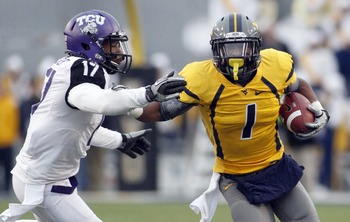 Justin K. Aller/Getty Images
Tavon Austin has a chance to be a truly special player. His production in 2012 was ridiculous. He had double-digit catches in eight of his first nine games. He had 572 all-purpose yards in a game against Oklahoma. And he finished the season with 114 receptions for 1,289 receiving yards, 643 rushing yards and 15 total offensive touchdowns.
Austin would work wonders for second-year quarterback Ryan Tannehill. He has a chance to be the next Wes Welker, although with his speed, he will be more like DeSean Jackson in his prime. And even though the Dolphins are rumored to be in the bidding for Mike Wallace, don't rule out Austin them acquiring both Austin and Wallace.
Previous Pick: Dee Milliner, CB, Alabama
13. Tampa Bay Buccaneers: Desmond Trufant, CB, Washington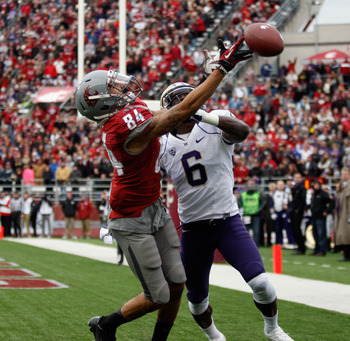 William Mancebo/Getty Images
A phenomenal performance at the scouting combine vaulted Desmond Trufant's stock. He could even go in the top 10 to 15 picks in the draft.
The Tampa Bay Buccaneers really need a cornerback to add to their secondary. Ronde Barber has been moved to safety and Eric Wright is just an overpaid mediocre corner. Football runs in Trufant's family, as his brothers Marcus and Isaiah are both NFL corners.
Trufant is a fine cover corner that would start from day one for the Buccaneers. He would be an asset to a Buccaneers defense that has to worry about Julio Jones and Roddy White two games per season.
Previous Pick: Dion Jordan, DE/OLB, Oregon
14. Carolina Panthers: Sheldon Richardson, DT, Missouri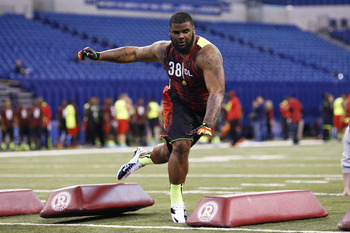 Joe Robbins/Getty Images
Last year, the Carolina Panthers opted to choose Luke Kuechly in the first round over a defensive tackle. Kuechly had a terrific rookie season, but a stud defensive tackle in front of him would only improve Kuechly's play.
Sheldon Richardson is a 4-3 defensive tackle or 3-4 end. He is an efficient pass-rusher and run-stopper, and he's very quick off the defensive line. The Panthers already have two stellar defensive ends in Charles Johnson and Greg Hardy, as well as a good young linebacking corps. Richardson would help the Panthers in the four games they play annually against Matt Ryan and Drew Brees.
Previous Pick: Same
15. New Orleans Saints: Kenny Vaccaro, S, Texas
Erich Schlegel/Getty Images
The New Orleans Saints gave up more total yards this past year than any team in NFL history. Jabari Greer held his own in 2012 but Patrick Robinson, Malcolm Jenkins and Roman Harper were torched repeatedly.
Kenny Vaccaro would be an asset to this Saints team. He would start from Week 1. Vaccaro can defend the run, the pass and can even blitz the quarterback.
Previous Pick: Johnthan Banks, CB, Mississippi State
16. St. Louis Rams: Jonathan Cooper, G, North Carolina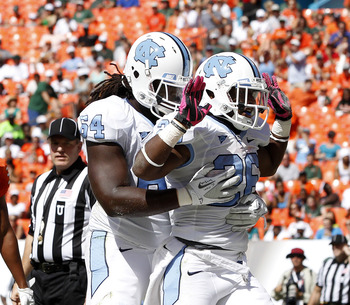 Joel Auerbach/Getty Images
The St. Louis Rams are fortunate enough to have two first-round picks after the famous RGIII trade. This one would be best utilized on someone that can protect Sam Bradford.
The team tried and failed with Jason Smith in 2009. Rodger Saffold finally showed signs of life last year as Bradford's blindside protector. Left guard was a disaster though last year, and Jonathan Cooper would be a huge upgrade from Quinn Ojinnaka.
Cooper turned in a fabulous combine, benching 225 pounds a ridiculous 35 times. He's NFL-ready and would be the first guard off the board if not for Chance Warmack. Cooper has a chance to make a slew of Pro Bowls by the time he's finished.
Previous Pick: Keenan Allen, WR, California
17. Pittsburgh Steelers: Jarvis Jones, DE/OLB, Georgia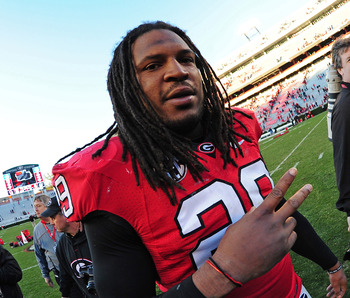 Scott Cunningham/Getty Images
There are those that think Jarvis Jones' spinal condition isn't that big of a deal. And there are those that think he will be the biggest fall of Round 1. I'm leaning more to the latter of the two.
Spinal stenosis is no minor deal. It forced former San Diego Chargers offensive tackle Marcus McNeill into retirement at age 28. Jones is already 23 years old.
That being said, the Pittsburgh Steelers would be a perfect fit. Their defense is aging, they're built to win now, and Jones would be able to take over for James Harrison, who may be entering his final season in Pittsburgh.
Previous Pick: Kenny Vaccaro, S, Texas
18. Dallas Cowboys: Bjoern Werner, DE, Florida State

Bjoern Werner NFL Player Comparison

As a 4-3 defensive end, Bjoern Werner is slightly undersized at 6'4", 255 pounds. The Dallas Cowboys are switching to a 4-3 again, so Werner would have to put on some weight.
But this would still be a good fit. Anthony Spencer was franchised for the second consecutive season. It doesn't appear likely that the team will be able to work out a long-term deal with him. Adding Werner to a defense that already includes DeMarcus Ware, Sean Lee and Morris Claiborne would make Dallas a contender in the NFC East again.
Previous Pick: Matt Barkley, QB, USC
19. New York Giants: Ezekiel Ansah, DE, BYU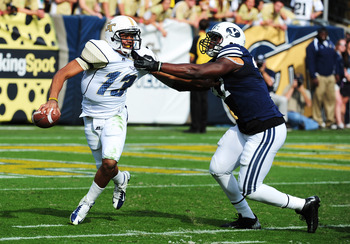 Scott Cunningham/Getty Images
Ezekiel Ansah is as natural of an athlete as there is. He is 6'5", 271 pounds and ran a 4.60 40-yard dash despite not training for the scouting combine.
Ansah racked up just 4.5 sacks in his collegiate career. But don't be fooled by the low sack total. Ansah is a terrific player against both the run and the pass. He just makes plays from the defensive end position, and he would be a great add for the New York Giants.
The team will likely lose Osi Umenyiora, and Justin Tuck hasn't been nearly as effective. Ansah and Jason Pierre-Paul would do some damage though.
Previous Pick: Alex Okafor, DE, Texas
20. Chicago Bears: D.J. Fluker, OT, Alabama
Chris Graythen/Getty Images
The Chicago Bears need to nix the J'Marcus Webb experiment right now. The homegrown left tackle played much better in 2012 than 2011, but he's not a long-term solution.
Jay Cutler needs better protection than he's been getting. There's not a starter on the Bears' offensive line that appears to be a permanent solution (although Gabe Carimi will be given every opportunity to succeed).
D.J. Fluker didn't impress at the scouting combine. But his results on the field were impressive. Per Alabama's website, Fluker graded out at 98.6 percent on his blocking assignments. He was a three-year starter, playing at both left and right tackle.
Previous Pick: Lane Johnson, OT, Oklahoma
21. Cincinnati Bengals: Alec Ogletree, ILB, Georgia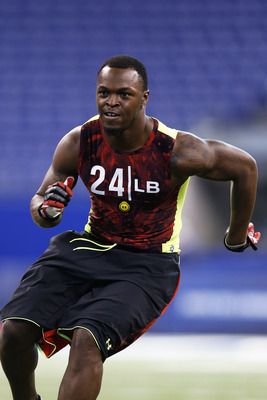 Joe Robbins/Getty Images
The Cincinnati Bengals don't have any glaring weaknesses on their roster. If Andre Smith leaves in free agency, right tackle becomes a concern. And they could use an upgrade at running back.
But this becomes a best-player-available selection. Alec Ogletree is probably the top inside linebacker on most draft boards, especially given the fall of Manti Te'o. Ogletree is a playmaker that would step in as a starter immediately.
That's a pretty solid front seven with Geno Atkins, Carlos Dunlap, Vontaze Burfict and Ogletree.
Previous Pick: Ezekiel Ansah, DE, BYU
22. St. Louis Rams: Keenan Allen, WR, California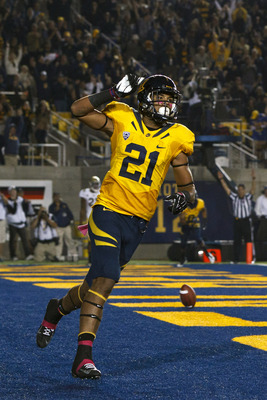 Jason O. Watson/Getty Images
The St. Louis Rams haven't yet given Sam Bradford a true franchise receiver. They've beat around the bush with players like Brandon Lloyd (for half a year), Chris Givens, Brian Quick, and slot receiver Danny Amendola.
Keenan Allen should be a No. 1 threat, though. His stats dropped off significantly from 2011 to 2012. But he's a big target at 6'3" and over 200 pounds. Allen runs good routes and has great hands. He's an electrifying athlete who returned punts in college and can line up all over the field. He could be the Rams' version of a player like Percy Harvin.
Previous Pick: Matt Elam, S, Florida
23. Minnesota Vikings: Alex Okafor, DE, Texas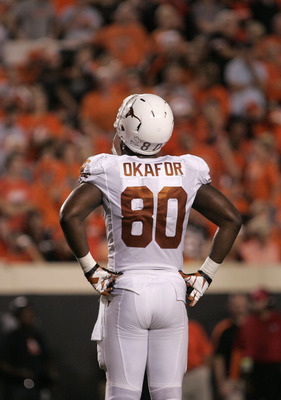 Brett Deering/Getty Images
Alex Okafor ended his college career in dramatic fashion, registering 4.5 sacks in the team's bowl game. Okafor is a pass-rushing 4-3 end who has the size and strength to play at the NFL level.
He had eight more sacks in the regular season. Those results should push him into the first round of the draft. Okafor would combine with Jared Allen to give the Minnesota Vikings a fearsome defensive line.
Previous Pick: Xavier Rhodes, CB, Florida State
24. Indianapolis Colts: Barkevious Mingo, DE, LSU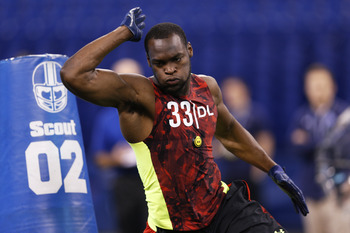 Joe Robbins/Getty Images
There's no real reason for Barkevious Mingo to fall this far down the draft boards; it's just the way it worked out. If this does happen though, it will be a steal for the Indianapolis Colts.
Mingo is viewed as a potential top-10 prospect. He's a pure pass-rusher that will help to replace the recently released Dwight Freeney. Mingo will play opposite Robert Mathis, who is still a terrific player. Mingo had just 4.5 sacks as a junior at LSU but he's got the talent to succeed in the NFL.
Previous Pick: Barrett Jones, C, Alabama
25. Seattle Seahawks: Justin Hunter, WR, Tennessee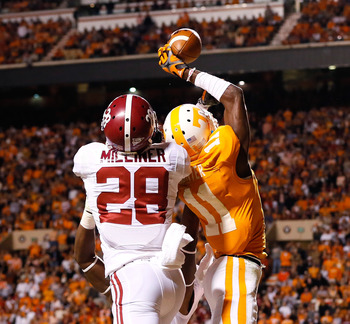 Kevin C. Cox/Getty Images
Russell Wilson is absolutely the quarterback of the future for the Seattle Seahawks, but it's time to surround him with a true No. 1 wide receiver. Justin Hunter can be that guy.
Hunter possesses excellent size at 6'4" and a little over 200 pounds. He totaled 73 receptions for a little over 1,000 yards last year, plus nine touchdowns. Hunter would probably be the Seahawks' top receiver from day one. Golden Tate is a good No. 2, but Sidney Rice hasn't lived up to his contract as a No. 1.
Previous Pick: Robert Woods, WR, USC
26. Green Bay Packers: Eddie Lacy, RB, Alabama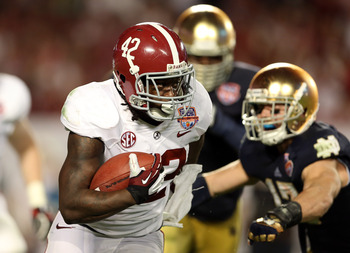 Streeter Lecka/Getty Images
The Green Bay Packers haven't picked a running back in the first round since 1990. And they haven't had a running back rush for 1,000 yards since Ryan Grant in 2009.
The Packers rotated between a washed-up Grant, Alex Green, Cedric Benson, James Starks and DuJuan Harris. None of those is the long-term solution. Eddie Lacy of Alabama has the potential to be a playmaker at running back that Aaron Rodgers has lacked in recent years.
Lacy is a big bruiser at over 230 pounds, but he also ran a 4.44 40-yard dash. He was the MVP of the 2013 BCS National Championship Game, rushing for over 140 yards and scoring two touchdowns. He would make the Packers a much more efficient team.
Previous Pick: Same
27. Houston Texans: Matt Elam, S, Florida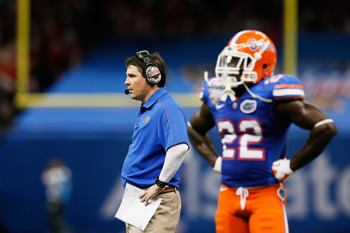 Kevin C. Cox/Getty Images
A good secondary may be what's keeping the Houston Texans from winning the AFC. The unit was torched for six touchdowns by Aaron Rodgers in a regular-season game. Tom Brady threw seven touchdowns to no picks in two contests. Even Chad Henne threw four scores without an interception when he faced the Texans.
Spending a first-round pick on a defensive back is essential. Matt Elam is an extremely talented presence who would make an immediate impact. He can line up all over the field, including covering slot receivers. He is a strong blitzer. Simply put, he just makes plays.
The Texans need a player or two to put them over the top. Elam could be the start.
Previous Pick: Tavon Austin, WR, West Virginia
28. Denver Broncos: Johnthan Banks, CB, Mississippi State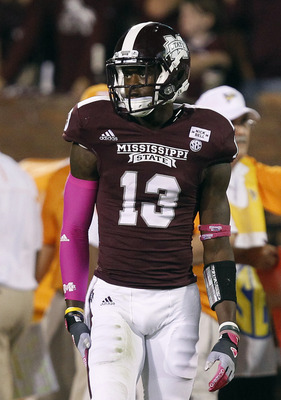 Butch Dill/Getty Images
The entire world saw the shocking demise of Champ Bailey in the NFL playoffs. After turning in another Pro Bowl regular season, Bailey was burned badly by Torrey Smith for two touchdowns.
Regardless of how he played in the postseason, Bailey is entering his 15th year in the league. He can't be counted on for too many more years. It's tough to replace a player of his caliber, but the Denver Broncos should give it a shot with Johnthan Banks.
Banks' height (6'2") will help him cover some of the game's taller receivers. He is a tremendous all-around corner in that he can also play the run and even blitz opposing quarterbacks. Banks doesn't give up too many yards after the catch either. That's production that can help the Broncos repeat as AFC West champions.
Previous Pick: Johnathan Jenkins, DT, Georgia
29. New England Patriots: Kawann Short, DT, Purdue

Kawann Short NFL Player Comparison

Let me first state that I don't expect the New England Patriots to select at pick 29. A trade up would be my prediction, with my hunch being placement in the middle of the first round to select speedy receiver Tavon Austin.
But projecting trades is tough to do, so I'll stick with the Patriots at 29 for this draft.
The team will always be in contention as long as they have Tom Brady. Another playmaker on defense would greatly improve their chances of competing with the Baltimore Ravens, Houston Texans and Denver Broncos for AFC supremacy.
Kawann Short is a talented pass-rusher that would start next to Vince Wilfork on the defensive line. The Patriots got limited production from the duo of Kyle Love and Brandon Deaderick. Short and Wilfork would be a nice tackle duo that would make life easier for Jerod Mayo and Rob Ninkovich.
If the Patriots don't work out a long-term agreement with Aqib Talib, look for the team to also heavily pursue a corner.
Previous Pick: Desmond Trufant, CB, Washington
30. Atlanta Falcons: Sam Montgomery, DE, LSU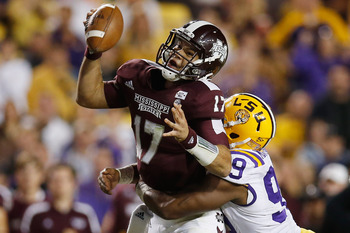 Chris Graythen/Getty Images
The Atlanta Falcons have averaged 11.2 wins for the last five seasons, but they still have some serious holes in their roster.
The running back position could use a young playmaker. The interior offensive line could use an upgrade and the surprise release of John Abraham could lead the Falcons to land another defensive end.
Sam Montgomery of LSU is the best player left at this point, and he fits the Falcons well. Montgomery had eight sacks in just 12 games in 2012. He's not physically huge at 6'4" and about 250 pounds but he's a high-motor player. Montgomery also registered 12 tackles for losses last year, and he did so playing against left tackles.
Previous Pick: Alec Ogletree, ILB, Georgia
31. San Francisco 49ers: Margus Hunt, DE, SMU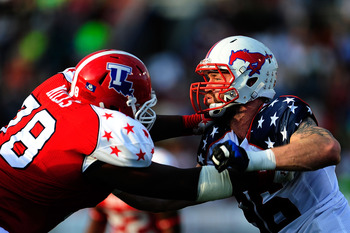 Stacy Revere/Getty Images
It's difficult to leave a physical freak like Margus Hunt out of the first round. He's a 6'8", 280-pound defensive end with an 82-inch wingspan. Hunt ran a 4.60 40-yard dash and bench-pressed 225 pounds an incredible 38 times. That's going to be tough for NFL coaches to overlook, even if the production wasn't overwhelming at SMU.
Hunt would be worked in to be the eventual replacement for All-Pro defensive end Justin Smith. The San Francisco 49ers saw how much of a hit their defense took with Smith at less than full strength down the stretch in 2012. Jim Harbaugh will want to do everything he can to prevent that in the future.
Previous Pick: Same
32. Baltimore Ravens: Barrett Jones, C, Alabama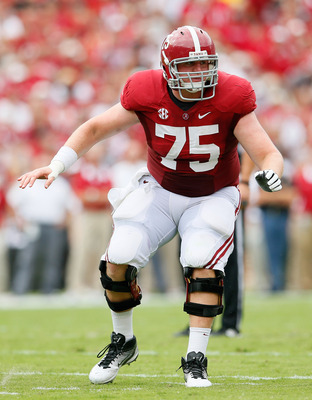 Kevin C. Cox/Getty Images
Marshal Yanda is the NFL's best guard, but the Baltimore Ravens could use an upgrade at both left guard and center. Bobbie Williams and Jah Reid were just adequate and Matt Birk retired. Even if the Ravens keep rookie Kelechi Osemele at left guard for next year, they could use Barrett Jones at center.
Jones was a talented player at Alabama who played all five positions on the offensive line. That incredible versatility should make him extremely intriguing to the Ravens. Jones would likely see action at multiple positions during his first several years in the league, as Baltimore shuffles him around due to needs.
Previous Pick: D.J. Fluker, OT, Alabama
Keep Reading