2013 NFL Mock Draft (First Round): Post-Super Bowl Edition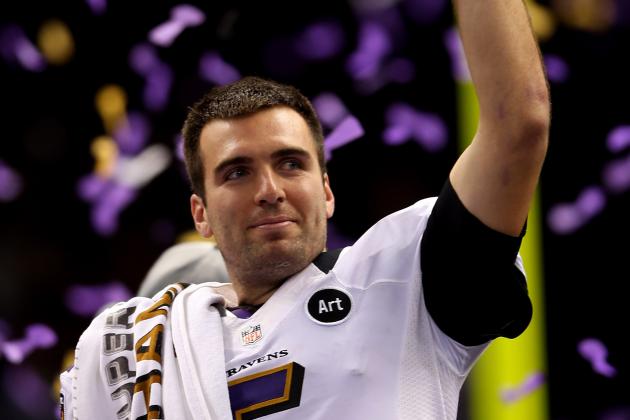 Mike Ehrmann/Getty Images

It's not months until the official 2013 NFL mock draft but that doesn't mean it's too early to start mocking which players will go to which teams.
Unlike previous seasons, there is no clear-cut number one pick. There was no "Suck for Luck" campaign. The quarterback class is one of the weakest in recent years, with the first 10 picks likely to contain a steady supply of offensive and defensive linemen.
The NFL Scouting Combine will undoubtedly affect the stocks of any player looking to get drafted. It will vault some athletes into the discussion for the top 10 while simultaneously dropping others out of the first round.
It's still early but here's a look at how the NFL draft may go down come April.
Begin Slideshow

»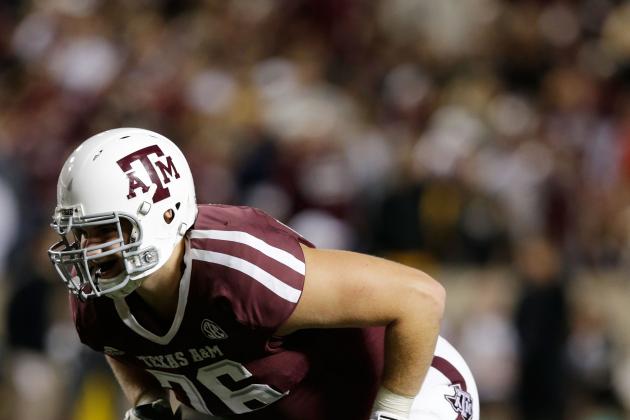 Scott Halleran/Getty Images

Andy Reid has a difficult decision to make with the first overall pick. The whole world knows how much he loves his linemen. After all, his final three first-round picks in Philadelphia were all linemen (Fletcher Cox, Danny Watkins, and Brandon Graham).
Reid inherits a 2-14 Kansas City Chiefs team desperately in need for a quarterback. The problem is that there's no clear-fire first overall QB. Reid likes to think of himself as a quarterback guru, so I envision him trading for a guy like Matt Flynn, Alex Smith, or even Nick Foles.
That means Reid will draft Joeckel and stick him at left tackle until 2025. Joeckel is extremely talented as both a pass and a run blocker, and he should make life much easier for already one of the game's best running backs in Jamaal Charles.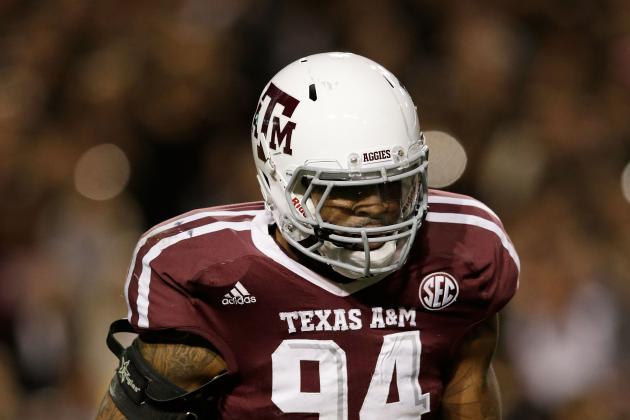 Scott Halleran/Getty Images

It's too early to abandon quarterback Blaine Gabbert. He hasn't shown much promise but the Jacksonville Jaguars need to surround him with more weapons.
The team really needs to improve its horrific pass rush though. As a whole, the Jaguars accumulated just 20 sacks in 2012. That's fewer than J.J. Watt had (and he went one pick ahead of Gabbert in the 2011 NFL draft).
There are a handful of talented linemen the Jaguars could select. Damontre Moore from Texas A&M would make the top two players each from the same school. Moore had a stellar junior season, registering 12.5 sacks and a ridiculous 20 tackles for a loss.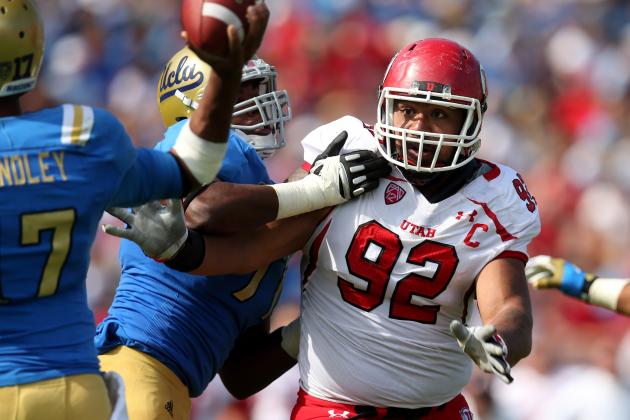 Stephen Dunn/Getty Images

Like the Jacksonville Jaguars a pick before, Oakland needs another defensive lineman. Richard Seymour is still a borderline elite player. Pairing him with Star Lotulelei would really improve the pass rush.
Lotulelei is a tremendously talented player that can excel in a 4-3 or even a 3-4. He's the kind of player that could be a fixture on the Pro Bowl roster every year, and Oakland will need a guy that can get to Peyton Manning and Philip Rivers.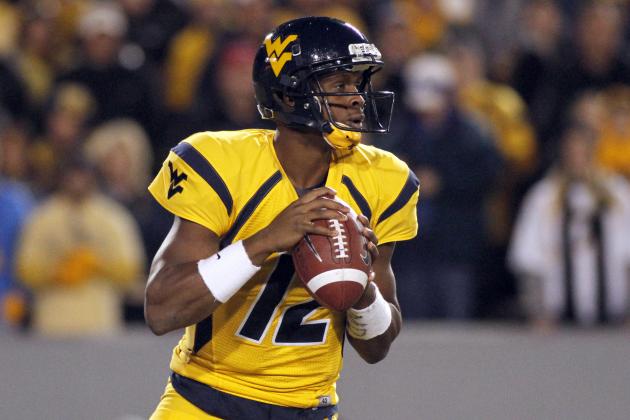 Justin K. Aller/Getty Images

With Luke Joeckel gone, this seems to be the likeliest pick for Chip Kelly. He's going to want to make his first pick with the franchise a selection on the offensive side of the ball.
Geno Smith is a high-risk, high-reward player that could run the kind of offense Kelly wants to run (considering Nick Foles can't run the read option). Smith showed a knack for passing the ball as a senior, turning in a handful of truly tremendous games. He doesn't run a lot but he has the ability to run, which makes him a picture-esque fit for the offense.
Imagine trying to stop an offense with Smith, LeSean McCoy, DeSean Jackson, and Jeremy Maclin all playing to the best of their abilities. That's Kelly's goal.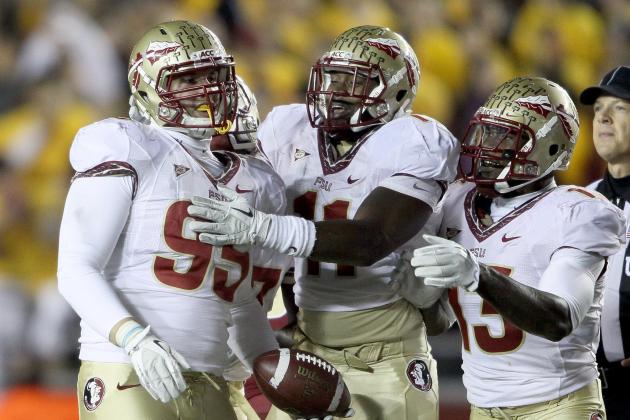 Elsa/Getty Images

Like most of the teams that select in the top five in the NFL draft, the Detroit Lions need a pass-rusher. Cliff Avril rejected a $30 million contract and likely won't be back. Kyle Vanden Bosch had his worst season in ages, and he's in his mid-thirties.
Pairing a fine defensive end with sensational tackles Ndamukong Suh and Nick Fairley is a good move. The Lions have a lot of money committed to Matthew Stafford, Calvin Johnson, and Suh, and they're going to have trouble keeping the team competitive.
Getting to the quarterback is one way to help the defense, and Werner does that with the best of them.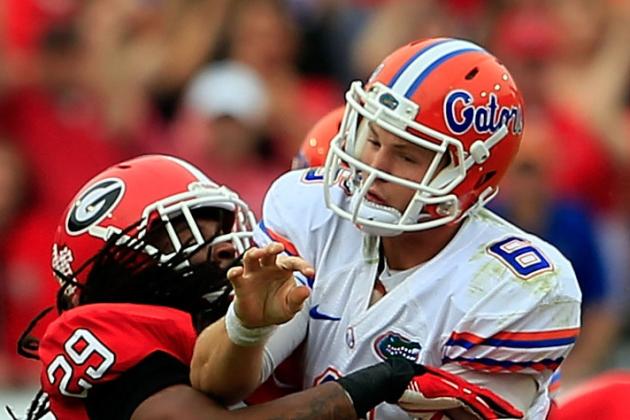 Sam Greenwood/Getty Images

Jarvis Jones' draft stock will only continue to drop heading up to the 2013 NFL draft. As of now, it's doubtful he would slip much past this spot.
But there are concerns about his future in the league. He's already 23 years old and he has spinal sternosis, a condition that forced former San Diego Charger Marcus McNeill into retirement at age 28.
Jones is a talented enough pass rusher that Cleveland is still getting a fine player. Jones is still ranked as the number one overall player on many big boards. He's a defensive end/outside linebacker who registered 15 sacks last year. He projects to be a Von Miller type of player in the NFL.
Add Jones to a Browns defense that already includes Jabaal Sheard, Phil Taylor, D'Qwell Jackson, and Joe Haden, and there's an outside shot of a winning season in 2013.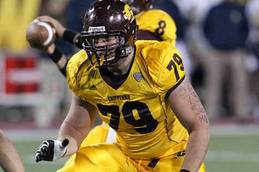 If the Arizona Cardinals don't select an offensive lineman in 2013, they don't care about their quarterback. Kevin Kolb has struggled, John Skelton is nothing more than a backup, and Ryan Lindley is awful.
But playing behind tackles like D'Anthony Batiste and Bobby Massie didn't help. The pair graded as the worst duo in the NFL, per Pro Football Focus. Nate Potter, who filled in for Batiste, wasn't much better.
They combined to give up 32 sacks and 88 quarterback pressures while committing 15 penalties. Compare that to Peyton Manning's tackles (five sacks and 32 pressures allowed).
The Cardinals are getting themselves a fine offensive lineman in Eric Fisher (although remember when they thought that about Levi Brown?). Fisher is 6'7" and he plays well against speed rushers. He can play both left and right tackle, and that should make him a top-10 pick in the upcoming draft.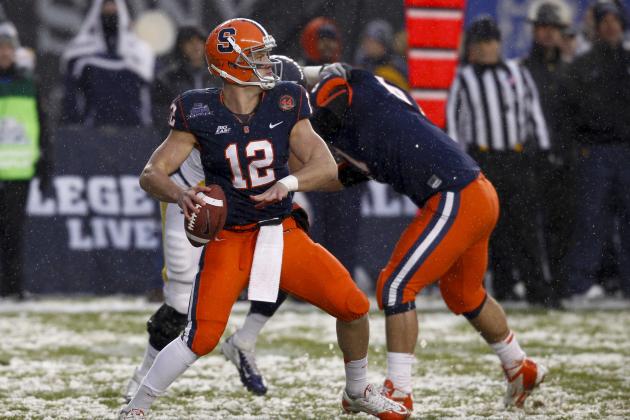 Jeff Zelevansky/Getty Images

It's extremely tricky to predict what the Buffalo Bills will do with the No. 8-overall pick. A trade up for Geno Smith might make sense, since the team needs a franchise quarterback.
But predicting trades is all but impossible to do, so this mock has the Bills going with Ryan Nassib as their new signal-caller. Nassib would be reunited with his Syracuse coach, Doug Marrone, which would make a lot of sense.
Ryan Fitzpatrick isn't a bad quarterback, but he's not the $60 million quarterback he's being paid like. Nassib would inherit an offense with an underrated offensive line and playmakers in Stevie Johnson, C.J. Spiller and Fred Jackson, plus a big red-zone tight end in Scott Chandler.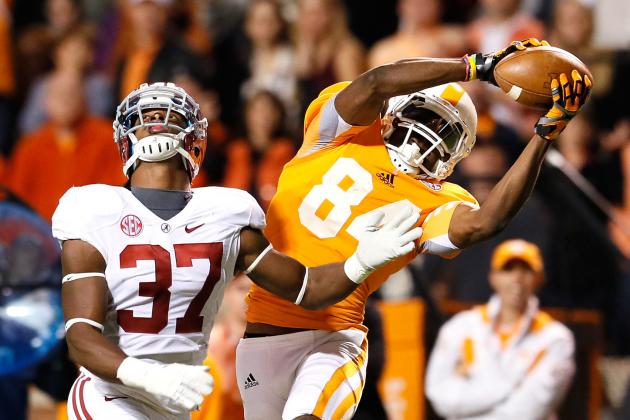 Kevin C. Cox/Getty Images

Rex Ryan may be a lame-duck head coach heading into 2013, so he has to know it's the offense that's been costing him.
The New York Jets are all but forced to go with Mark Sanchez for the fifth consecutive season. Surrounding him with some talent to throw to would be nice. Santonio Holmes' contract may make him expendable, and Dustin Keller is a free agent.
Enter wide receiver Cordarrelle Patterson into the mix. Patterson is a big target at 6'3" and 205 pounds. His 2012 stats weren't overwhelming (46 receptions for 778 yards and five touchdowns). What he brings to the table, though, is the ability to be a downfield threat and a No. 1 receiver.
Patterson is extremely versatile. He can catch passes, run with the football and return kicks. Hopefully he can make life much easier for Sanchez and Ryan.
Andy Lyons/Getty Images

Many mock drafts have the Tennessee Titans selecting Alabama guard Chance Warmack. That would make sense since the interior line wasn't a strength and the team needs better run blockers for Chris Johnson.
But the guards weren't the problem in 2012. It was Johnson's lack of effort, a problem that may lead to his release this offseason.
The Titans finally got a breakout campaign out of pass-rusher Derrick Morgan, who registered 42 quarterback hurries. The other pass-rusher, Kamerion Wimbley, didn't make much of an impact.
Selecting Barkevious Mingo would be a best-player-available type of pick. Mingo had a standout collegiate career at LSU, teaming with Sam Montgomery to be an explosive player off the edge.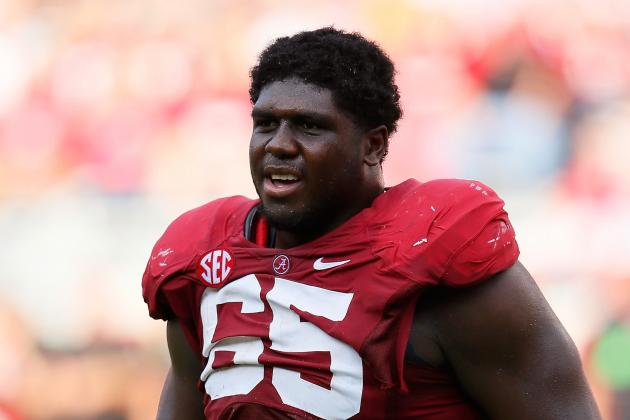 Kevin C. Cox/Getty Images

There's no way the San Diego Chargers can pass on Chance Warmack at this point. The offensive line has been a liability for several seasons now.
Warmack is as talented a guard prospect as the NFL has seen since Steve Hutchinson in 2001. Warmack is a tremendous pass-blocker, and he's going to open holes for Ryan Mathews in the running game.
Warmack can be penciled in as the starter for at least the next decade, and he's going to make a slew of AP All-Pro teams.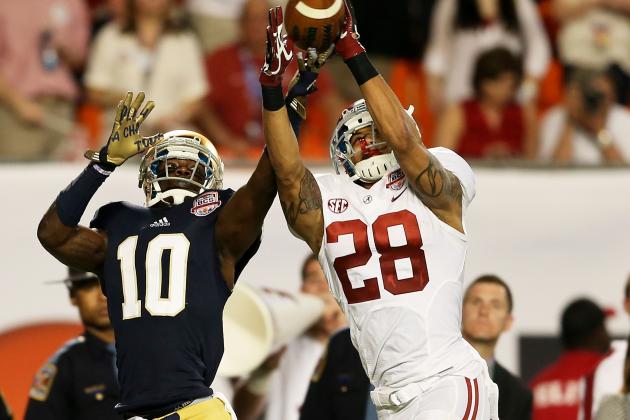 Streeter Lecka/Getty Images

This seems low for a player of Dee Milliner's caliber, but that's just the way it worked out in this draft.
The Miami Dolphins traded away Vontae Davis and may lose Sean Smith to free agency. They could use a top-flight cornerback like Milliner, who was a shutdown player at the University of Alabama.
The Dolphins may have to trade up to select Milliner, since he could very well be gone by pick No. 12. If he is gone, other solid selections would include an offensive tackle to replace Jake Long or a pass-rusher opposite Cameron Wake.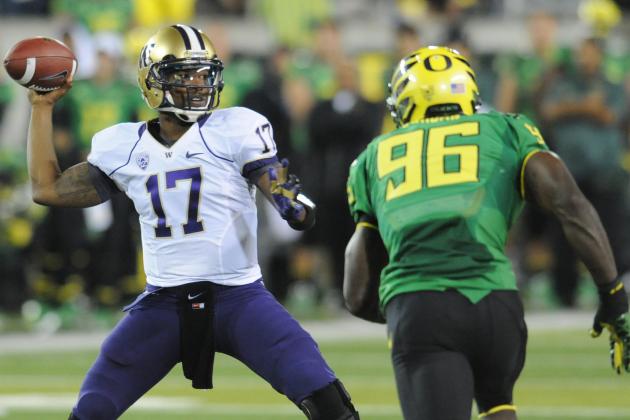 Steve Dykes/Getty Images

Dion Jordan would give the Tampa Bay Buccaneers a handful of highly-drafted defensive linemen on their roster.
There's already Adrian Clayborn, Gerald McCoy and Da'Quan Bowers, plus Michael Bennett, who has turned into a stud after being an undrafted free agent. Jordan is a former tight end who could probably still play that today. He's extremely athletic and even lined up in coverage against some wide receivers at the collegiate level.
The question of where Jordan plays in the NFL is one of the advantages of drafting him. Every coach loves versatility, and that's exactly what Jordan offers.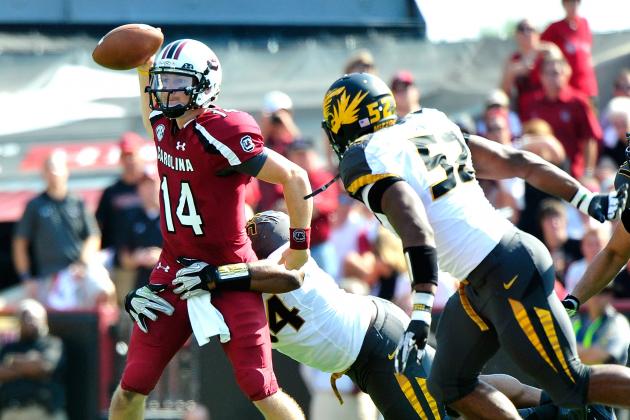 Grant Halverson/Getty Images

The Carolina Panthers have the makings of a team that can win games because of its defense. Luke Kuechly, Jon Beason, Charles Johnson and Greg Hardy are a quartet of Pro Bowl-caliber players in the front seven.
Sheldon Richardson would make the Panthers' defense even more formidable. He's a comparable player to Fletcher Cox. Richardson is lightning quick off the line of scrimmage. He's a force as both a pass-rusher and run-stopper, and he can even cover a little.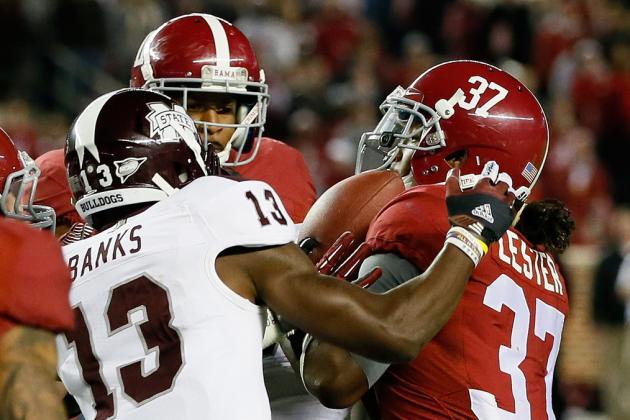 Kevin C. Cox/Getty Images

Drew Brees led the New Orleans Saints to an average of nearly 30 points per game, but the team finished 7-9. Some of that can be blamed on the loss of Sean Payton, but the shoddy secondary is equally responsible.
Patrick Robinson had a terrible season. Roman Harper and Malcolm Jenkins are below average as a safety duo. The Saints could really use an upgrade in the secondary, especially since they play in a division with Julio Jones and Roddy White.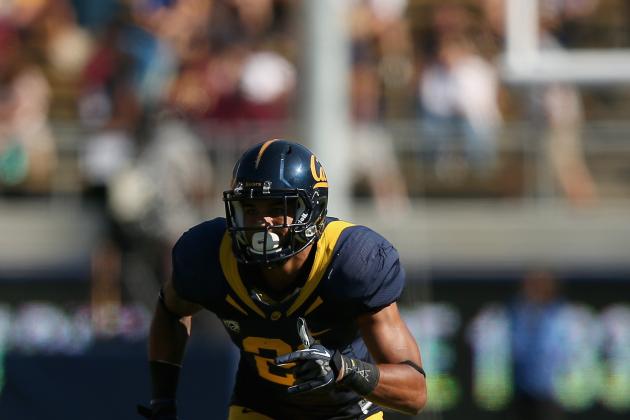 Ezra Shaw/Getty Images

The St. Louis Rams really need an upgrade on the offensive line, but they can't possibly ignore the wide receiver position anymore.
Danny Amendola is a solid slot receiver and Brian Quick and Chris Givens could develop into good players. But it's time for the Rams to go out and spend a first-round pick on a receiver that can give Sam Bradford his first true No. 1 receiver.
Keenan Allen has good hands and he picks up a lot of yards after the catch. He's not a tremendous deep threat but he should be an asset to the team.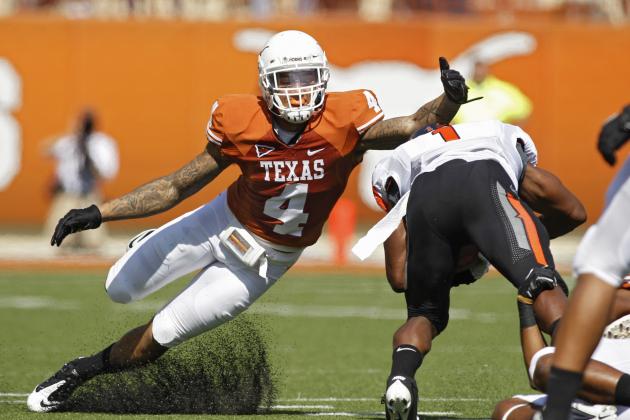 Erich Schlegel/Getty Images

The Pittsburgh Steelers have two tremendous safeties in Troy Polamalu and Ryan Clark. But Polamalu has struggled to stay healthy throughout his career.
He missed nine games in 2012, two in 2010, 11 in 2009, three in 2008 and five in 2007. That's an average of six games missed per season over the past five years. Couple that with Polamalu's age (32 in a few months), and the team has to start looking for his replacement.
Kenny Vaccaro is a similar player to Polamalu. He's a great run-stopper but he can also play coverage. Vaccaro's 2012 stats were impressive: 92 tackles, four tackles for a loss, five passes defensed, two interceptions, and two forced fumbles.
The Steelers missed the playoffs in 2012 but they still have a good defense. Adding Vaccaro to that defensive backfield would help contain playmakers like A.J. Green and Torrey Smith.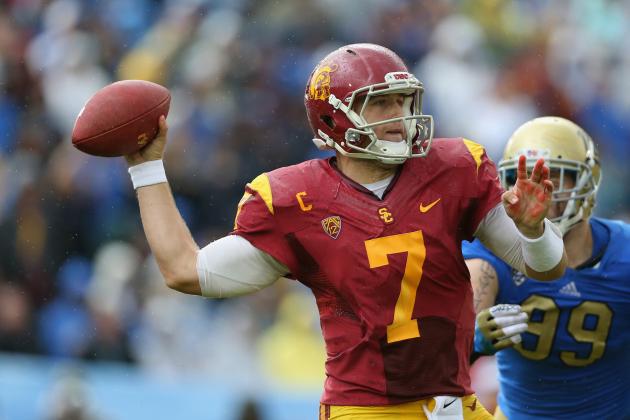 Jeff Gross/Getty Images

Surprise! This may be the boldest prediction of this mock draft but it's something that could very well happen. The Dallas Cowboys have themselves a good quarterback in Tony Romo, but not a great one.
Romo's failure to play well in clutch situations has likely done him in. He's set to become a free agent after the season, and the Cowboys may look to move on from the soon-to-be 33-year-old.
Matt Barkley's draft stock has dropped after a disappointing senior season at USC. However, he's still a potential first-round talent. Barkley did throw 36 touchdown passes, and he did so behind a shoddy offensive line. Jerry Jones wants to win now, and Barkley will inherit plenty of talent in Miles Austin, Dez Bryant, Jason Witten and DeMarco Murray.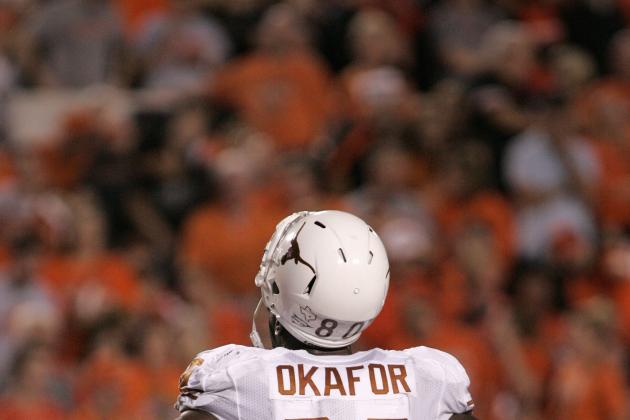 Brett Deering/Getty Images

The New York Giants have won two Super Bowls under Tom Coughlin, largely because of their stellar defensive line. That being said, it's time for another upgrade.
Osi Umenyiora is a free agent and probably won't be back. Justin Tuck has just nine sacks in his last two seasons combined. Even Jason Pierre-Paul was held to 6.5 sacks in 2012.
Alex Okafor would be a talented addition to the Giants. He's slightly undersized at 260 pounds but he's equally impressive against both the run and the pass. Okafor registered 12.5 sacks last year at the collegiate level using a ferocious bull rush. That's production that would really improve Big Blue's defense.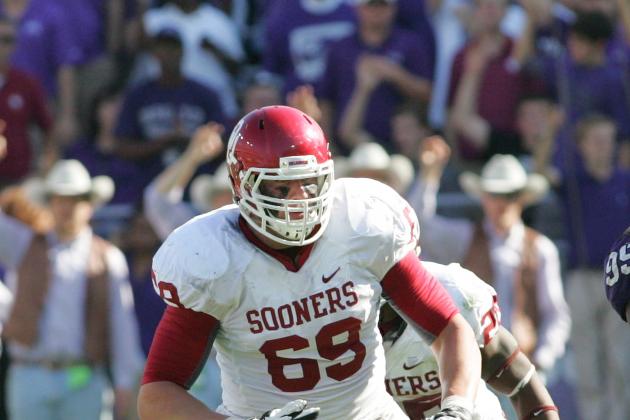 R. Yeatts/Getty Images

If the Chicago Bears ignore the offensive line again, Jay Cutler may not survive. J'Marcus Webb is simply overmatched at left tackle. Gabe Carimi has struggled so badly at right tackle that he was moved inside to guard. Pro Football Focus rated this unit as the fifth-worst pass-blocking group in the NFL, but even that seems generous.
Lance Johnson is 6'7" and a little over 300 pounds. Adding 20 pounds to his frame would significantly help his ability to fend off the top pass-rushers in the NFL. Johnson did well for the Oklahoma Sooners at left tackle and, ideally, can be the franchise left tackle the Bears have lacked for so many years.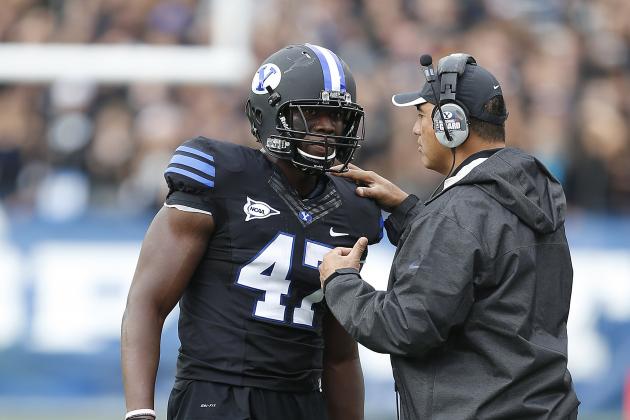 George Frey/Getty Images

This becomes a best-player-available pick for the Cincinnati Bengals. Ezekiel Ansah has been creeping up big boards heading up to the NFL draft, and for good reason.
He's a force as a pass-rusher. Ansah is 6'5", 270 pounds, and said to be crazy fast for a man his size. Ansah is comparable to Chandler Jones or Jason Pierre-Paul in that he didn't have great college production but should still be a star at the NFL level.
Ansah has tremendous size, speed and power. He lined up at defensive tackle a lot in college as well. Pairing him with Geno Atkins and Carlos Dunlap will spell trouble for the opposing quarterbacks.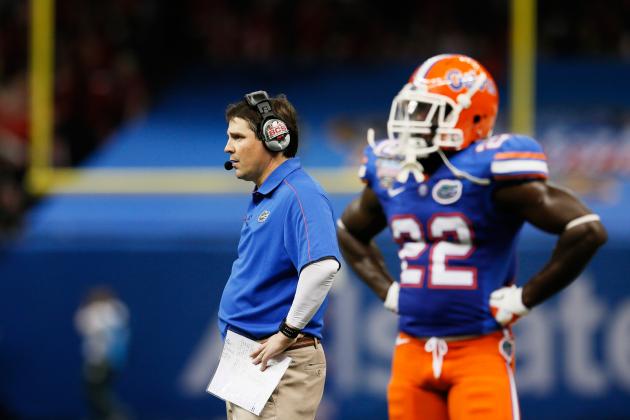 Kevin C. Cox/Getty Images

Quintin Mikell is still playing at a high level for the St. Louis Rams, but Craig Dahl needs to be replaced.
Matt Elam from the University of Florida is flat out a playmaker. He had a terrific collegiate career and made plays all over the field. Elam doesn't have great size, at just 5'10", but he gets results. Add him to a secondary that already has Cortland Finnegan and Janoris Jenkins, and that's a tough defensive backfield.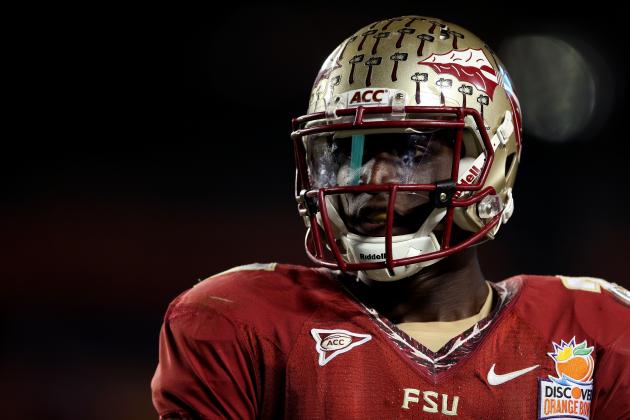 Streeter Lecka/Getty Images

Antoine Winfield may be the most underrated player in the game today, but he's going to be entering his 15th NFL season in 2013. Opposite him, Chris Cook, A.J. Jefferson and Josh Robinson were exposed all year.
Drafting a corner is a must for the Minnesota Vikings. Their offense is pretty stout, and it's too soon to try a different quarterback.
Xavier Rhodes has had success against some of the top receivers, particularly Michael Floyd late in 2011. Rhodes is excellent in man coverage and he has terrific speed and athletic ability.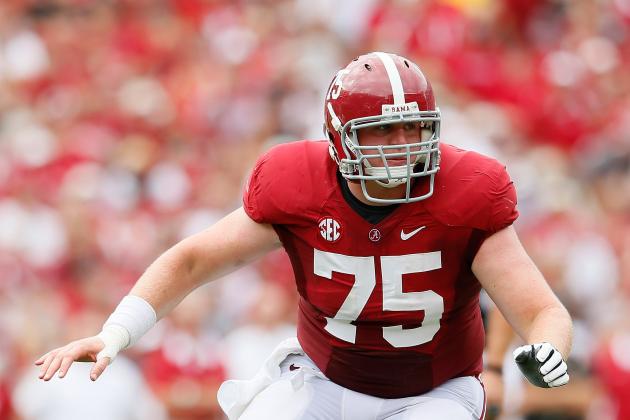 Kevin C. Cox/Getty Images

Despite finishing 11-5 in 2012, the Indianapolis Colts really weren't a good team. Their offensive line needs an overhaul and the defense is old.
Adding Barrett Jones to protect Andrew Luck would be a great move. Jones can pretty much play anywhere on the line. Anthony Castonzo is penciled in as the left tackle, but the other spots are up for grabs.
Jones helped deliver a national championship to Alabama, paving the way for two terrific running backs. He's probably best suited as a center at the NFL level, and it's not as if A.Q. Shipley is the long-term solution for the Colts.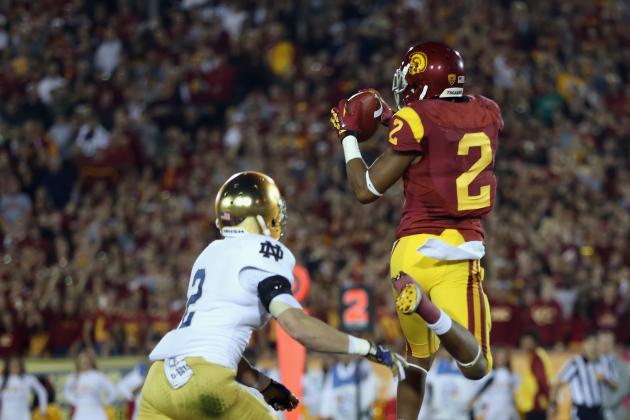 Jeff Gross/Getty Images

The Seattle Seahawks have a great defense, but they could probably use another upgrade at wide receiver. Golden Tate is an up-and-coming player. Sidney Rice hasn't been able to stay healthy, though.
Robert Woods would be a terrific addition for Russell Wilson. Woods played under Pete Carroll at USC. He's not physically gifted at just 6'1", 180 pounds, and he had a subpar senior season. Woods struggled with injuries, which led to less-than-stellar numbers.
After his junior season, Woods was looking like a potential top-five overall pick. If he can recapture some of that magic, he's worth a first-round pick. Woods is fast and he's terrific after the catch.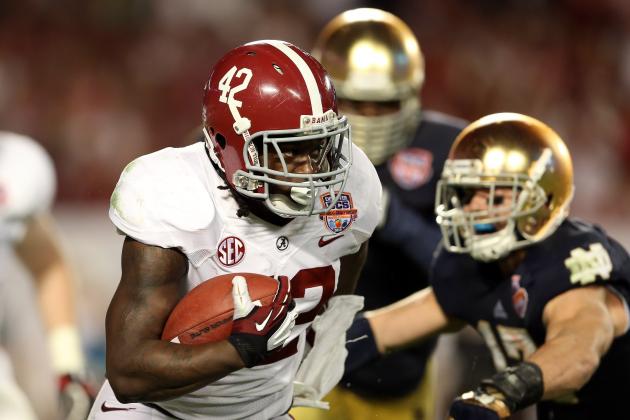 Streeter Lecka/Getty Images

It's time that the Green Bay Packers finally get a talented running back for Aaron Rodgers. They've spent the past three seasons rotating players like James Starks, Cedric Benson, Alex Green and Ryan Grant.
Eddie Lacy was a tremendous runner at Alabama. He did play behind an NFL-caliber offensive line, but the Packers have a fine one themselves with Bryan Bulaga, Josh Sitton and T.J. Lang. The Packers also have plenty of offensive weapons for Rodgers to throw to, which could give them a top-three offense for the next five years or more.
Lacy is a power runner who averaged a ridiculous 6.4 yards per carry in 2012. He torched Notre Dame in the BCS National Championship Game, rushing for 140 yards on 20 carries. The Packers haven't spent a first-round pick on a running back in a number of years, but it's time to do so.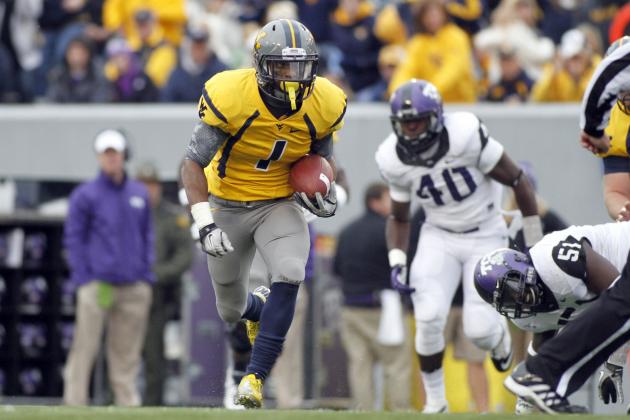 Justin K. Aller/Getty Images

It's amazing that Andre Johnson has been as productive as he is despite the lack of a solid No. 2 receiver. Johnson totaled a ridiculous 112 catches for 1,598 yards in 2012.
He's entering his10th NFL season, and if the Houston Texans want to win a Super Bowl with this current core of players, they need another deep threat. Tavon Austin is undersized but he's a similar player to DeSean Jackson.
Austin is ridiculously fast and athletic. He's going to be a nightmare for opposing defensive backs. That is, if Austin has the size to make it in this league.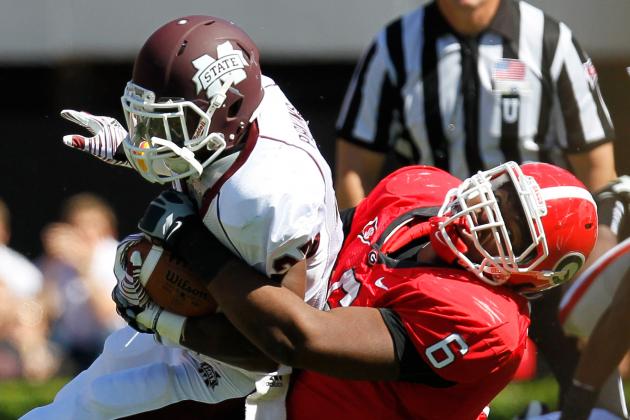 Kevin C. Cox/Getty Images

It's time the Denver Broncos upgrade their defensive line. They have playmakers on defense in Elvis Dumervil, Von Miller and Champ Bailey.
But they could use an upgrade over Justin Bannan and Kevin Vickerson. Jonathan Jenkins is best suited as a 3-4 nose tackle, although he could certainly fit in a 4-3. Jenkins is a massive man at 6'5" and 360 pounds. He's really athletic for a man of his size and he would certainly help out Miller.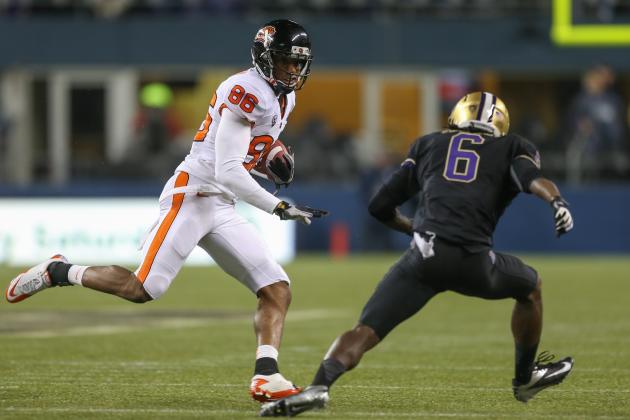 Otto Greule Jr/Getty Images

The New England Patriots have really been strapped at cornerback in recent years. Devin McCourty has been moved to safety, and regardless of whether Aqib Talib is re-signed, an upgrade is necessary.
Enter Desmond Trufant of the University of Washington. He's the brother of Seattle Seahawks corner Marcus Trufant and New York Jets corner Isaiah Trufant. This Trufant has the potential to be a great one at the NFL level.
He's tremendous in man coverage. He has great speed and he's proven he can excel against great receivers. Trufant would probably start from day one for this Patriots team.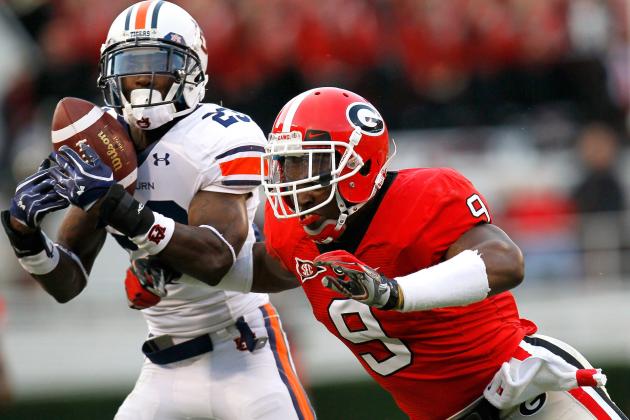 Kevin C. Cox/Getty Images

The Atlanta Falcons could probably use a running back, but Alec Ogletree might be their pick because he's the best player available.
He's a talented inside linebacker who is fast and instinctive. He is a playmaker who is always around the ball, and the Falcons need an upgrade to finally get to the Super Bowl with Matt Ryan.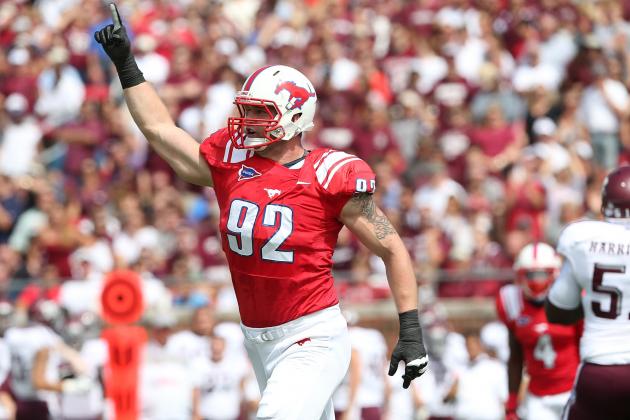 Ronald Martinez/Getty Images

After Sunday's Super Bowl, it was fairly evident the San Francisco 49ers need some serious help in the secondary. The cornerbacks were exposed and the safeties may take a hit, especially if Dashon Goldson leaves in free agency.
But their defensive line also needs an upgrade. The best player, Justin Smith, just finished his 12th NFL season.
Margus Hunt is an extremely athletic defensive end. He's 6'8" and over 280 pounds with an 82-inch wingspan. Hunt would play opposite Smith in the Niners' 3-4 scheme, and he would just help a formidable defense get even better.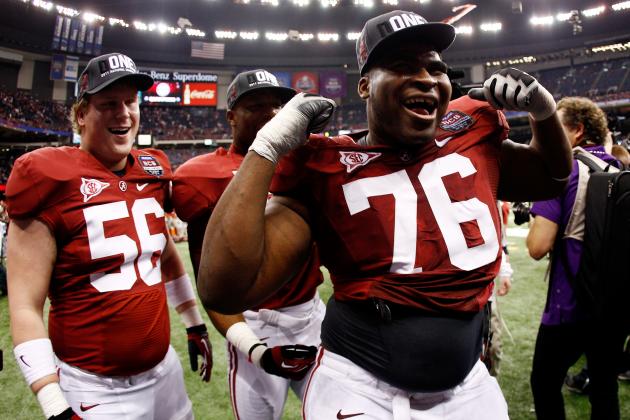 Chris Graythen/Getty Images

Congratulations to the Super Bowl-champion Baltimore Ravens.
Head coach John Harbaugh pulled off a gutsy move late in the season when he moved veteran tackle Bryant McKinnie back into the starting lineup and Michael Oher to right tackle. McKinnie really improved the offense down the stretch.
He's not the long-term answer, though. The Ravens could use a franchise tackle. Oher has been a disappointment, and he's a free agent after 2013 anyway. Kelechi Osemele should be the right tackle of the future. Add in D.J. Fluker to the mix, and the line should be much-improved.
Fluker is a mammoth of a man. He is a tremendous pass-blocker and a first-round talent. The Ravens will undoubtedly be signing Joe Flacco to the contract of his choice, and they need to keep him standing tall.