New York Jets Mock Draft: Updated 7-Round Projections After Senior Bowl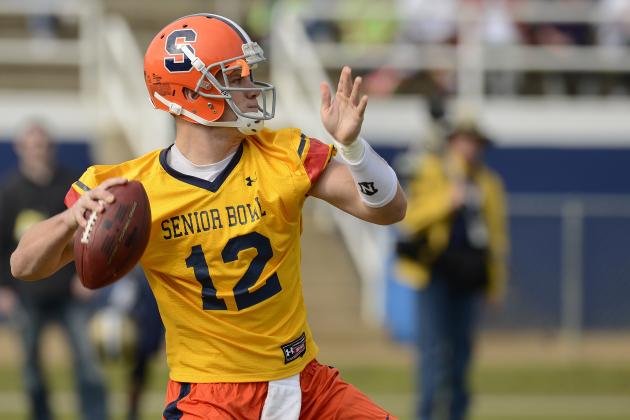 USA TODAY Sports

As the NFL offseason progresses for the 30 teams not participating in the Super Bowl, hopeful NCAA players are starting to sort out their futures in this game.
With the Senior Bowl in the books, mock drafts from around the web will start to align themselves with each other and start to at least agree on the general vicinity where specific prospects will be selected.
One of the main story lines of the 2013 Senior Bowl would be whether or not any of the quarterbacks would separate themselves from the pack and become established as a first-round pick.
That simply wasn't the case as Mike Glennon, Ryan Nassib, Landry Jones and Zac Dysert did nothing to instill confidence in any team looking at them as a franchise quarterback.
So what does this all mean for the Jets?
If you scoured the internet for enough mock drafts, you will find the Jets connected to just about every quarterback who played in the game.
Because of the lackluster play at the position, it seems to be less likely the Jets will take a chance on one of them in the first round.
While the quarterback position is of great concern to Jets fans, there are plenty of other holes to fill on the roster as well.
This latest mock draft will take a look at who the Jets might select to fill those holes, but some ground rules need to be set first.
This mock draft was completed under the following assumptions:
The Jets will address their wide receiver needs through free agency. They have Stephen Hill as a young project with an upside, they don''t need another.
The Jets will resign either Brandon Moore or Matt Slauson, but not both.
The Jets will either stick with Austin Howard at right tackle or sign a free agent.
The Jets will resign either or both LaRon Landry or Yeremiah Bell and increase Antonio Allen's role at safety in 2013.
No trades were assumed involving Darrelle Revis or otherwise.
Follow RC Cos and the BR_Jets Report on Twitter: @BR_Jets_Report
Begin Slideshow

»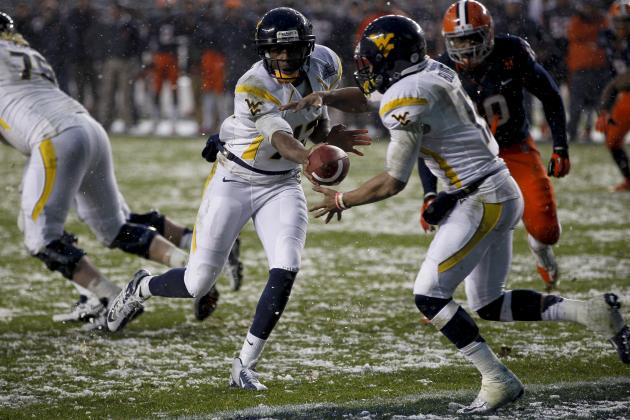 Jeff Zelevansky/Getty Images

Before we take a look at the Jets selection, we'll have to set the stage to see who will be on the board.
There are hundreds of mock drafts strewn about the internet, and it's tough to find two that have the top-eight picks the same.
In fact, some updated mocks are even starting to drift away from Geno Smith as the first overall pick, which is a departure from where things were just a few weeks ago.
One of the major keys to the top eight will be how many teams draft quarterbacks with their pick. If you believe that the Jaguars want to give Blaine Gabbert a real chance, that leaves the Chiefs, Raiders, Cardinals and Bills as top-eight teams in the market for a quarterback.
If at least three of those teams select quarterbacks, it will unexpectedly push some real top-notch defensive prospects down to the Jets at No. 9.
It's impossible to predict who will be taken by each team, especially with the draft still three months away, but for the sake of argument, lets say the top eight goes as follows:
1. Kansas City Chiefs: Luke Joeckel, OT
2. Jacksonville Jaguars: Bjoern Werner, DE
3. Oakland Raiders: Star Lotulelei, DT
4. Philadelphia Eagles: Damontre Moore, OLB
5. Detroit Lions: Dee Milliner, CB
6. Cleveland Browns: Jarvis Jones, OLB
7. Arizona Cardinals: Geno Smith, QB
8. Buffalo Bills: Tyler Wilson, QB
Because we aren't considering trades in this slideshow, the Jets are on the clock...
With Taylor Lewan and Jake Matthews set to return to school, the likelihood of the Jets selecting an offensive lineman at pick No. 9 diminished greatly.
Unless Luke Joeckel unexpectedly falls into the Jets lap, expect the Jets to fill a glaring need by taking the top available outside linebacker on the board in a strong draft for that position.
Based on the scenario laid out in the previous slide, the best available outside linebacker at this point is Barkevious Mingo from LSU.
In early mock drafts, Mingo was a popular selection just out of the Jets reach at No. 9. However, mock drafts are now trending to show Mingo available for the Jets if they stay where they are currently slotted.
If Mingo falls to the Jets, he would be a tremendous piece of clay for Rex Ryan to mold.
The 6'4", 245-pound Mingo is a physical freak who will give the Jets another blue-chip young defender to build around on defense.
Mingo's draft status will fluctuate as the big day approaches and will be dependent on whether teams in the top eight draft to fit their specific needs or to simply pick the best player available.
If the Jets do land Mingo, they will be happy to plug him right into Calvin Pace's role in 2013—a massive upgrade.
Alternate Picks: Dion Jordan: DE/OLB, Oregon; Chance Warmack: OG, Alabama; Ziggy Ansah: DE/OLB, BYU
Hope He Falls: Jarvis Jones: OLB, Georgia; Luke Joeckel: OT Texas A & M; Geno Smith: QB, West Virginia
Please Don't Reach: Manti Te'o: ILB, Notre Dame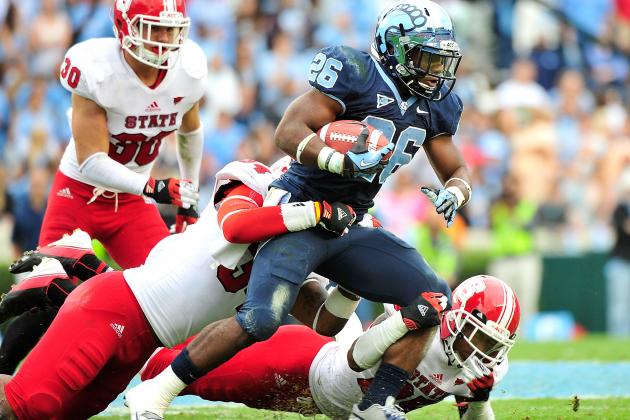 Grant Halverson/Getty Images

If the Jets get lucky here, Alabama's Eddie Lacy will be available at this spot and the Jets could get their workhorse running back to replace Shonn Greene.
In this mock, the Jets got a break by having Barkevious Mingo fall to them in Round 1, but in Round 2, they won't be so lucky.
Lacy's star has been rising and there's no reason to think it's going to slow down. Right now cbssportsline.com still projects Lacy as a second-round selection, but he could jump into the first round without question.
The Packers select at No. 26 in the first round and they need a full-time running back for sure. Between the Packers' pick and the Jets selection in the second round, there are four teams who need a starting running back.
After the Packers, the Broncos (No. 26), Jaguars (No. 33), Lions (36) and Cardinals (No. 38) could be in the market for Lacy.
We are projecting the Lions to ultimately grab Lacy, leaving the Jets to consider picking the No. 2 running back in Giovani Bernard or choosing the best available quarterback.
Bernard could possibly be the best running back left in the draft and that will be too much for the Jets to pass up.
Bernard is the exact type of running back that will fit into Marty Mornhinweg's system and has a style that mirrors LeSean McCoy, who flourished under Mornhinweg.
The explosive and elusive Bernard is a fine pass catcher as well and is the type of playmaker the Jets desperately need.
Alternate Picks: Stepfan Taylor: Stanford, RB; D.J. Fluker: Alabama, OT; T.J. McDonald: S, USC
Hope He Falls: Eddie Lacy: Alabama, RB; Tavon Austin: West Virginia, WR
Please Don't Reach: Matt Barkley: USC, QB
Mike Ehrmann/Getty Images

E.J. Manuel might not be the quarterback that Jets fans want the most, but when you start connecting the dots, it seems like there is a good chance he will end up wearing green and white in 2013.
As the Jets make over their offense, they need to seek out dynamic players who generally thrive under the direction of Marty Mornhinweg.
Drafting Giovani Bernard and Manuel in Round 2 and Round 3 would give the Jets the new-look offense they have promised fans in 2013.
Manuel is 6'5" and 240 pounds and has the mobility that Rex Ryan craves in his quarterback.
In fact, with Ryan, Mornhinweg and new quarterback coach David Lee in place, the selection of Manuel would be a logical choice.
Manuel completed over 65 percent of his passes in each of his four seasons at Florida State and threw 41 touchdowns against 18 interceptions in his two seasons as Florida State's starter.
For all of his attributes, Manuel isn't a slam dunk though.
Manuel's greatest detriment is the mental aspect of the position, something that is quite important in Mornhinweg's system.
Manuel struggles to read defenses and his field vision is limited at times. Basically, he has the same problem of not seeing defenders that has plagued Mark Sanchez.
The Jets brass needs to do their homework on Manuel. If they are convinced he can overcome his mental shortcomings, Manuel will end up as a Jet in 2013.
It's tough to believe a quarterback who struggles to read defenses will improve on that in the pros, where defenses are more complicated.
Manuel's size, athleticism, arm strength and natural ability will have the Jets thinking Colin Kaepernick.
The top of the third round is about as high as you will currently find Manuel mocked. There is a good chance he'll be available in the lower third round or even when the Jets pick in Round 4.
However, his strong showing at the Senior Bowl practices coupled with the rising stock of athleticism in the quarterback position will force his draft stock to rise.
Surprisingly, he also looked like he was the quarterback with the most poise at the Senior Bowl.
There are just so many things that scream out that the Jets would reach for him here.
This is a boom-or-bust pick, but Manuel is the type of player Ryan loves. Throw in Mornhinweg and Lee's presence and John Idzik's experience picking Russell Wilson last year, and you can understand why it's very possible Manuel is the pick here.
Alternate Picks: Tyler Bray: Tennessee, QB; Brennan Williams: North Carolina, OT
Hope He Falls: Larry Warford: Kentucky, G
Please Don't Reach: Landry Jones: Oklahoma, QB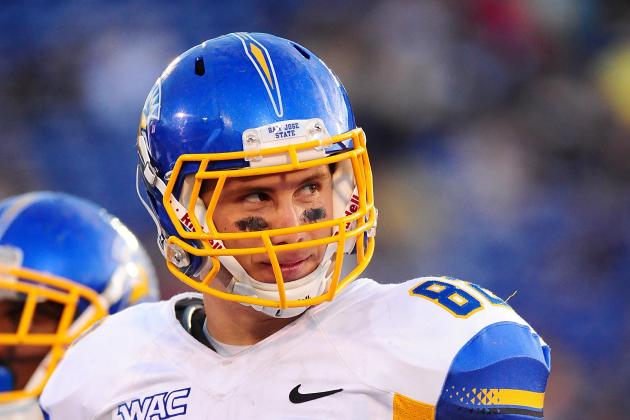 Evan Habeeb-USA TODAY Sports

As the Jets retool their offense to fit Marty Mornhinweg's system, they have to get the tight end position right if they want to succeed.
Mornhinweg's system calls for an athletic, pass-catching tight end who can get downfield—and that description fits San Jose State's Ryan Otten to a tee.
Whether or not the Jets bring back Dustin Keller, they would be well-advised to add a tight end like Otten either way.
Otten has great height at 6'5" and at 235 pounds, he can get himself downfield rather quickly.
The First Team All-WAC tight end led all NCAA tight ends with at least 40 catches with a 16.0 yard per catch average.
If Jets fans need a visual, just picture what Brent Celek did to the Jets under Mornhinweg's direction in their 2011 matchup.
Alternate Picks: Dion Sims: Michigan State, TE; Montee Ball: Wisconsin, RB
Hope He Falls: Jordan Reed: Florida, TE
Please Don't Reach: Jawan Jamison: Rutgers, RB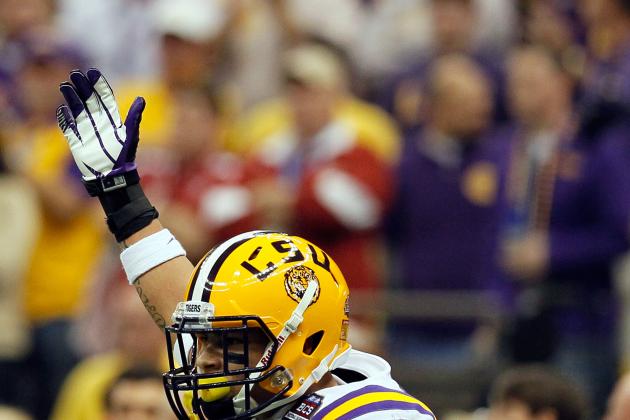 Kevin C. Cox/Getty Images

During the week, Ben Volin of the Palm Beach Post reported that Tyrann Mathieu spoke with the Jets and Redskins at the Senior Bowl.
Although Mathieu wasn't invited the play in the game, he was in attendance.
Mathieu may have been a first-round talent if he wasn't suspended for the 2012 season, but now he's an unknown at best.
Mathieu's talent is undeniable, and somebody is going to take a chance on him, so why not the Jets?
Whether Mathieu is still around in the fifth round or not remains to be seen, but if the Jets have the chance to take on a player this dynamic, they have to give him a shot.
Last season's biggest free-faller due to character issues was Vontaze Burfict. Not only was Burfict a fine citizen during his rookie campaign, but he played like a first-round talent on a playoff team despite not even being drafted.
Mathieu would be a new toy on defense for Rex Ryan, who could find a number of roles for the incredibly athletic corner.
In fact, they might even consider moving him to a free safety to take advantage of his supreme ball-hawking skills.
The more likely path though would be to use the 5'9" Mathieu to cover slot receivers, a role filled by Ellis Lankster last season.
Wherever he is on the field—whether it's at cornerback, safety or return man—Mathieu has an undeniable knack for big plays.
If he is there in the fifth round, the Jets should take less than five seconds to draft him. Most Jets fans probably wouldn't argue if they even took him a round earlier.
Alternate Picks: Johnathan Franklin: UCLA, RB, Keith Pough: Howard, OLB
Hope He Falls: Marcus Lattimore: South Carolina, RB
Please Don't Reach: Denard Robinson: Michigan, Athlete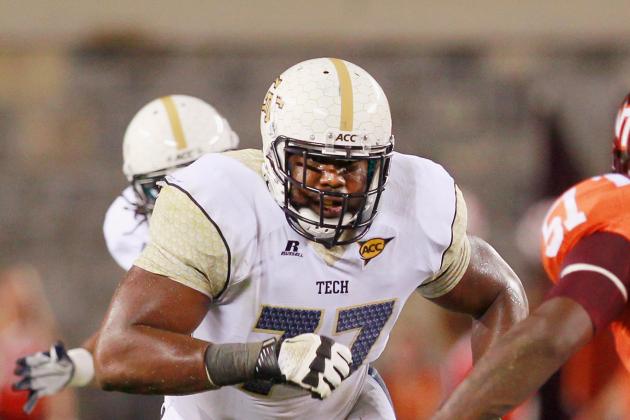 Geoff Burke/Getty Images

The Jets have a serious situation on the offensive line right now as Vladimir Ducasse is the only guard with experience under contract for 2013.
That situation could cause the Jets to draft Alabama's Chance Warmack—the clear top guard in the draft—in the first round. However, if they pass on him, there are good options later in the draft at the position.
Guards typically don't fly off the board in most drafts, and 2013 figures to be no different.
In the fifth round, the Jets could have a good selection of guards still available and Omoregie Uzzi of Georgia Tech will be among that group.
Uzzi is solidly a top-10 guard in this draft and some may even project him into the top-five.
The two-time First Team All-ACC honoree is a 6'3", 300-pound run-blocking specialist who helped Georgia Tech to the No. 4 run offense in the NCAA in 2012.
Uzzi plays with a nasty streak and has been a three-year starter for the Yellow Jackets.
The Jets' current fifth-round pick stands at No. 134 overall and cbssports.com ranks Uzzi as a sixth-round prospect, so the pick seems to match up to the value.
If the Jets could land a cost-effective starter who is considered one of the top-10 players at his position in the draft, it would be a huge help in rebuilding the team under the cap restraints.
Alternate Picks: Jelani Jenkins: Florida, OLB; Sam Brenner: Utah, OG
Hope He Falls: Zeke Motta: Notre Dame, FS
Please Don't Reach: Colby Cameron: Louisiana Tech, QB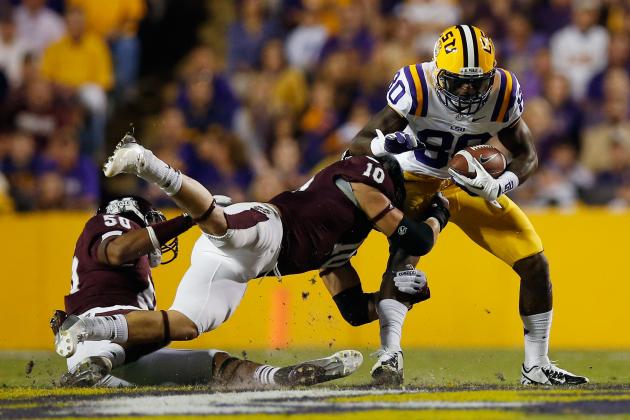 Chris Graythen/Getty Images

While Mike Tannenbaum did have his successful moves in the draft during his tenure as the Jets general manager, one of his weaknesses was late-round draft picks.
Even if the Jets don't find the steal of the draft in the seventh round, it would help them if they could find a rotational player who can contribute somewhere.
That's where Cameron Lawrence comes into play.
Cbssports.com currently projects Lawrence as a sixth or seventh-round draft pick, so he may not be there when the Jets select.
However, the Second Team All-SEC linebacker would be a great addition if he's available.
Lawrence was one of just three SEC players to register over 100 tackles this season and averaged 13 tackles a game against AP Top 25 opponents.
Lawrence struggles sometimes in pass coverage and is often caught out of position due to his aggressive style of play.
However, he could be a useful rotational and special teams player as he learns the nuances of the position from one of the best defensive coaches in the game.
Alternate Picks: Robbie Rouse: Fresno State, RB; Joseph Fauria: UCLA, TE
Hope He Falls: Ace Sanders: South Carolina, WR
Please Don't Reach: Collin Klein: Kansas State, QB