Ranking Every 2012 Thursday Night Football Game from Worst to First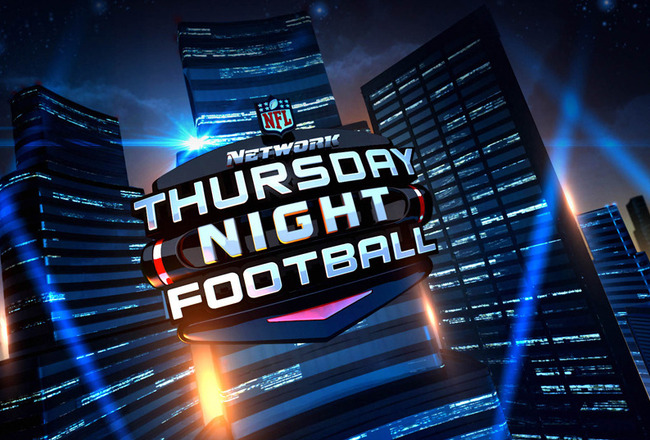 Courtesy NFL Network/GeorgeTVincent.com

After 13 weeks of some forgettable games, Thursday Night Football came to an end for the 2012 season with the Cincinnati Bengals defeating the Philadelphia Eagles 34-13.
This game was indicative of most of the Thursday night action this season. The better team prevailed in a big way in a sloppy game that at times was nearly unwatchable.
The many flaws of having Thursday Night Football all season long have been discussed at length throughout the season. But now that it's over, let's rank the games from the absolute worst to the best.
Not included in this list are the opening night game between the Dallas Cowboys and New York Giants or the Thanksgiving Night game that featured the New England Patriots and New York Jets (which is a shame because I had the butt-fumble GIF ready to go). We're only dealing with the NFL Network games, and those games that were featured on NBC.
13. Week 3 (New York Giants 36, Carolina Panthers 7)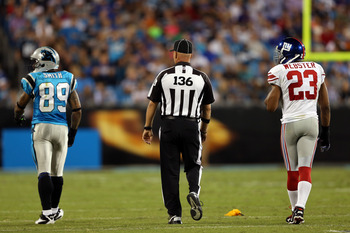 Streeter Lecka/Getty Images
All you really need to describe this game is this: David Carr got playing time.
Eli Manning wasn't hurt; in fact, he had a great game throwing for 288 yards and a touchdown while completing 27-of-35 passes. It was the efficient Eli that has won the Giants two Super Bowls and has them gunning for a third, as he let the Giants running game, led by Andre Brown, run over the porous Panthers defense to the tune of 113 yards.
The Panthers offense on the other hand? They were terrible. Cam Newton was at his worst in this game, throwing three interceptions. The running game for the Panthers was nonexistent as DeAngelo Williams, Newton and Mike Tolbert combined to rush for 60 yards. As a whole the Panthers turned the ball over five times.
The score itself looks like a blowout, but it actually could've and should've been worse for Carolina. The funny thing is both teams came into the game with the same record of 1-1. Since then the Giants have taken control of the NFC East, while the Panthers have taken control of the NFC South cellar.
12. Week 5 (St. Louis Rams 17, Arizona Cardinals 3)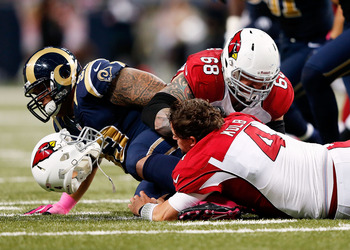 Jamie Squire/Getty Images
Here's an example of a game that was just painful to sit through unless you were a Rams fan.
St. Louis only gained a total of 12 first downs and 242 yards while only holding onto the ball for 25:38. Their defense allowed Arizona to hold the ball for 34:22 while gaining 282 yards.
Yes, the Rams wound up winning by 14. Could it have ended any other way?
Well I did leave out the key stat and the only entertaining part of the game: The Rams' front seven played a game of who can get to the quarterback first, collecting nine sacks on the evening. Robert Quinn would win that game with three sacks, but in reality, there were no losers.
Except for Kevin Kolb; I'd say he lost pretty big.
Since that game the Arizona Cardinals, who were 4-0 prior to the game, still have yet to win another game.
11. Week 9 (San Diego Chargers 31, Kansas City Chiefs 13)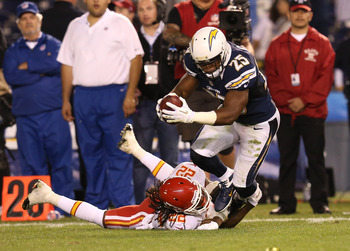 Stephen Dunn/Getty Images
This game was quite painful for me to watch, at least I think it was this game that was so painful. I'm not sure, I had my wisdom teeth taken out the day before so I was still in a good amount of pain.
This matchup is a prime example of "it's a division game, it should be good," that turns out not to be the case. At first it did look like a good matchup as the Chiefs managed to hang in there, trailing 13-6 after three quarters.
But the floodgates opened in the final period when the Chargers scored 21 unanswered points, with 14 of those points coming off of Kansas City turnovers.
The game saved Norv Turner's job in San Diego for that week and further intensified Romeo Crennel's hot seat. But considering the performance of both teams prior to the fourth quarter, I wouldn't have been surprised if they would have fired both coaches at halftime.
10. Week 15 (Cincinnati Bengals 34, Philadelphia Eagles 13)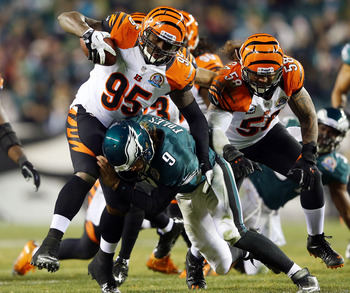 Elsa/Getty Images
The most recent game was a terrible game, but not bad enough to be considered in the bottom three.
The game did start off well enough. Cincinnati went up early, then thanks to turnovers would wind up trailing at halftime.
But then by forcing five second-half turnovers, the Bengals managed to score 24 unanswered points, leading to the 21-point deficit.
On the Bengals' end, the game was bad enough that some of their fans expressed doubt over the team, which I have to say is the first time I've seen doubt emanating from a fanbase after their team wins by 21.
I would be more likely to pin their first-half struggles on the short week and the fact that it was a road game than I would really wonder about the team going into their stretch run against the Steelers and Ravens, but it did bring up some real issues with the team.
9. Week 10 (Indianapolis Colts 27, Jacksonville Jaguars 10)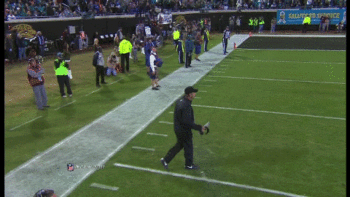 Courtesy of thebiglead.com
This part shown in the GIF of Mike Mularkey throwing down his headset made the game for me.
Otherwise this game was a typically boring rout by one team over another. I can't even point to the excellence in the Colts' execution considering that Andrew Luck wasn't exactly on top of his game.
Also the Colts defense did seem to get Jacksonville back into the game in the fourth quarter when Chad Henne made his second appearance of the season and gave us a glimpse into the future.
But other than that, it was a boring 27-10 victory for the team on its way to the postseason. Nothing really special about this one.
8. Week 4 (Baltimore Ravens 23, Cleveland Browns 16)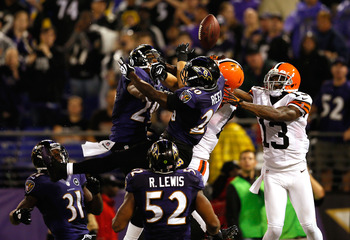 Rob Carr/Getty Images
This game was known more for the return of the real referees in the build-up to the contest, which many thought would be an easy win for Baltimore.
After the game, however, we learned that this Browns team does lack talent, but not fight. I knew after watching this contest that the Browns were going to make things really tough on opponents towards the end of the season, which so far they have done thanks to a three-game winning streak.
So despite the fact that the Browns kept it close on the road in one of the most hostile environments, why would I rank this game eighth?
Well, Cleveland didn't seem to come alive for this game until the fourth quarter, and by then with Baltimore leading 23-10, it felt like too little, too late. Don't get me wrong, it could've been a lot worse for Cleveland than the moral victory that was had, but it wasn't a very compelling comeback attempt unless you were a Browns fan.
It also reminded us that close games don't necessarily equate to good games, and a prime example of this comes in at No. 8.
7. Week 11 (Buffalo Bills 19, Miami Dolphins 14)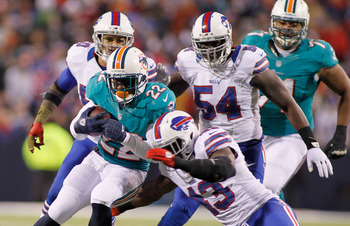 Rick Stewart/Getty Images
Can I just submit my Miami Dolphins game grades for this contest in lieu of an explanation as to why it's No. 7?
Here's why this game, despite the close deficit, is ranked so low: These teams kept getting in their own way.
Buffalo struggled to score in the red zone, a place they visited enough times to have their mail delivered to. In fact, their lone touchdown came on a kickoff return, despite the fact that the Bills gained 281 yards.
C.J. Spiller was barely used because Chan Gailey doesn't think he's a good running back? I'm still lost on Gailey's decision-making, Bills fans. Can you help me out here?
Buffalo did everything in their power to win the game for Miami, but rookie Ryan Tannehill did everything in his power to lose the game.
Buffalo should have won by at least 21 with the way the Dolphins played the first three quarters. That it was a five-point Buffalo victory highlights every single problem with the Chan Gailey era in Buffalo.
Sure it was close, but entertaining? Oh God, no!
6. Week 14 (Denver Broncos 26, Oakland Raiders 13)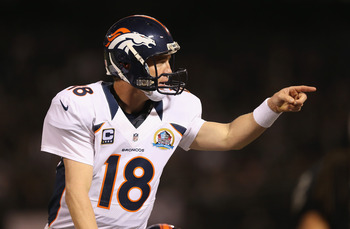 Ezra Shaw/Getty Images
You've got to give credit to the Raiders, who at halftime of this game were only down six to the eventual AFC West champion Broncos.
But in the third quarter the game started to unravel. Peyton Manning was picking and choosing who and where to throw to during this game (much like his entire career), while leading the Broncos to the relatively easy looking 26-13 victory.
Despite Peyton's mastery over the Oakland defense, the Raiders did have some good spots, mainly from Rod Streater and his four catches for 100 yards, as well as Darius Heyward-Bey's 56-yard catch-and-run touchdown from Carson Palmer.
But other than that, it was a show of power from the Broncos, who also got a forced fumble from Defensive Player of The Year candidate Von Miller.
This wasn't one of the worst games of the year, and compared to some of the other Thursday Night Football games wasn't bad either, but it wasn't great.
5. Week 8 (Tampa Bay Buccaneers 36, Minnesota Vikings 17)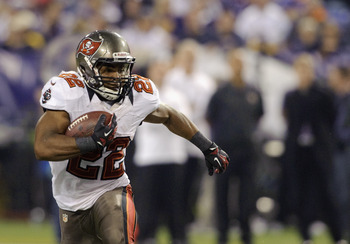 Hannah Foslien/Getty Images
Why is there a blowout in the top five?
Doug Martin is why. I have a soft spot for primetime coming-out parties for athletes, and Martin had an amazing one against the Vikings on Thursday Night Football.
The rookie running back was responsible for 214 yards of total offense and two touchdowns, including a 64-yard touchdown reception and a 41-yard touchdown run. Despite having to travel on short rest, the Buccaneers managed to not just beat the Vikings, but to flat-out destroy them.
The game would begin a four-game winning streak for Tampa Bay, which now seems so long ago in the midst of a three-game losing streak that has knocked them out of contention for the NFC Wild Card berth. But as far as being a team of the future, the Buccaneers showed that against the Vikings in Week 8.
4. Week 7 (San Francisco 49ers 13, Seattle Seahawks 6)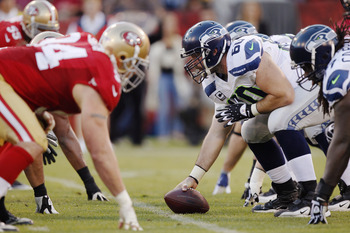 Brian Bahr/Getty Images
Here's a low-scoring game that I liked. Why?
It wasn't about how inept these offenses were (the rest of the season both offenses have shown themselves to be quite proficient), but rather how great these two defenses are.
The secondary for both teams were the stars defensively, as we saw Russell Wilson complete only nine passes, while Alex Smith completed 14. Both quarterbacks were picked off as well.
On the ground, however, it was an epic battle of two of the NFL's best backs: Marshawn Lynch and Frank Gore. The two combined for 234 yards that evening and were the only problems either defense seemed to have all night.
The victory went to Gore and the 49ers, but this game's rematch will find itself on primetime once again in Week 15 when it becomes a Sunday Night Football telecast. Here we will not only see how much Wilson has developed since his first encounter with the 49ers' defense, but also how big of an impact Colin Kaepernick will have as the full-time starter against the equally tough Seahawks defense (assuming their secondary is present of course).
3. Week 2 (Green Bay Packers 23, Chicago Bears 10)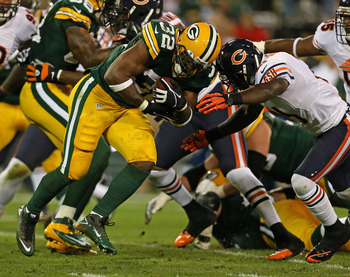 Jonathan Daniel/Getty Images
Here's another game where defense was king. Somehow it contains the Green Bay Packers.
Division games are weird, aren't they? The Packers defense hasn't performed at such a high level since this game against Chicago (and their loss* to the Seahawks in Week 3), but when they showed up, they showed up big.
Jay Cutler was lost against Green Bay's blitzes, completing only 11 passes for 126 yards and four interceptions. Brandon Marshall was kept fairly quiet that evening, only grabbing two receptions for 24 yards.
One thing I must mention is that the Packers secondary during the game was fairly healthy compared to the rest of the season. It was only Week 2.
One more matchup to go between these two teams, and if the Packers win, they clinch the division. The road there, however, started against the Bears in Week 2.
2. Week 13 (Atlanta Falcons 23, New Orleans Saints 13)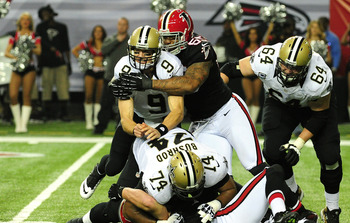 Scott Cunningham/Getty Images
This game made history in a somewhat bad way: It was the end of Drew Brees' streak of games with at least one touchdown pass.
Brees was horrendous in this game, yet despite that, what made this game so good was the fact that the Saints never really felt out of the game until the final Brees interception. You always felt while watching the game that Brees had to put together at least one touchdown drive with him scoring the touchdown.
Considering the history between the Falcons and Saints prior to this game, a lot of Falcons fans probably felt the same way too.
The game was important for Atlanta as it showed that they could win games they weren't supposed to. Their offense wasn't bad, but it wasn't exactly prolific either. Matt Ryan has had better games than this.
But the MVP for the Falcons in this game was Drew Brees. Yes, he threw for 341 yards, but those yards also came with five interceptions.
In a roundabout way the game was a testament as to how good Brees is as a quarterback. He had earned so much trust among Saints fans and football fans everywhere that the Saints still felt in the game. Had it been any other team, odds are after the third or fourth interception many people would've given the game to the Falcons. But this time around it was different.
1. Week 6 (Tennessee Titans 26, Pittsburgh Steelers 23)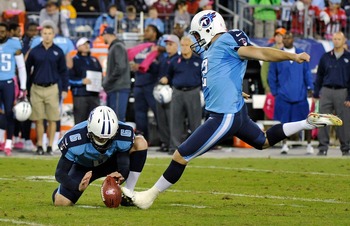 Frederick Breedon/Getty Images
In Week 6 Thursday Night Football managed to give the fans a good game between the Tennessee Titans and the Pittsburgh Steelers.
You had a psuedo-Super Bowl rematch between the two quarterbacks in Ben Roethlisberger and Matt Hasselbeck. Both signal-callers performed very well with the exception of one interception each.
You had the Steelers continuing to fight in this game despite the fact that they continued to lose offensive linemen left and right. It felt like every time you turned your head the Steelers would lose a lineman, yet they still had a seven-point lead at one point in the fourth quarter.
Hasselbeck would lead a game-winning drive to set up Rob Bironas' 40-yard field goal with 49 seconds left. The Steelers would fail to respond, giving Tennessee the win.
This game wasn't only the best of the bunch on Thursday nights, but also one of the best of the year. It will also be a game that the Steelers will look at this upcoming offseason as one they should've had, for as it stands right now, Pittsburgh is out of the playoffs, due in part to this game.
Keep Reading