NFL Week 14 Picks: Betting Line Winners for Remaining Slate of Games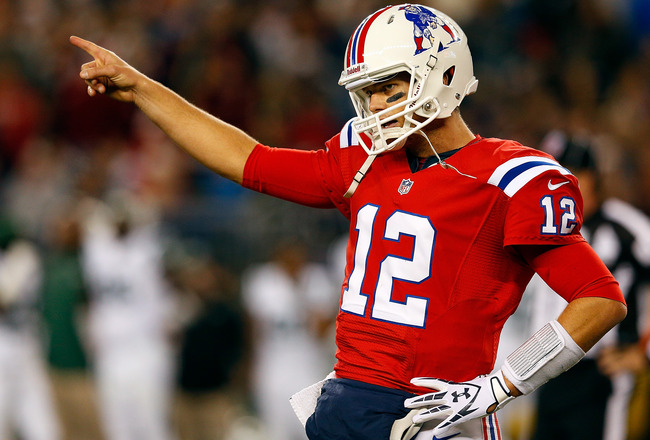 Will Tom Brady and New England win a colossal matchup against the Texans?
Jim Rogash/Getty Images
As the season presses onward, finding winners for NFL picks with the betting line can get tricky.
Blame the impact of the playoff picture because plenty of games get affected and the intensity continues to increase.
Just look at the Monday night matchup between the Houston Texans and New England Patriots. Tom Brady faces his best opponent from a defensive perspective this season.
Houston on the other hand, hits the road against a conference Super Bowl contender. With home-field advantage in January potentially part of this game's outcome, taking a side is challenging.
Fortunately, we have score picks utilizing the spread for the rest of the slate. So, before we breakdown the Texans and Patriots, let's see what else is brewing in Week 14.
Note: All spreads are courtesy of FootballLocks.com. Also, be sure to check back throughout the weekend, as the lines may change prior to each game's kickoff.
Baltimore Ravens at Washington Redskins (-1.5)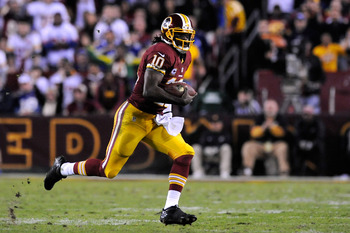 Patrick McDermott/Getty Images
The obvious player to watch for between the Baltimore Ravens and Washington Redskins is Robert Griffin III.
Because of his dual-threat capabilities and explosive playmaking skills, RG3 will cause some issues for Baltimore's front seven.
Additionally, there is concern of Terrell Suggs. Per the Associated Press via ESPN.com:
Baltimore Ravens linebacker Terrell Suggs doesn't intend to let a torn right biceps keep him out of Sunday's game against the Washington Redskins.

"We kind of live by the creed of, if you can breathe then you can play," Suggs said Wednesday. "We just got to check it out. We got to see how it holds up throughout the week. (It will) definitely be a game-time decision on Sunday."
Regardless, don't expect Baltimore to isolate Griffin. The Ravens still allow an average of four yards per carry and 246.5 passing yards per game.
Although Baltimore has improved defensively since earlier in the year, and when healthier, Washington is too dynamic to shut down. Not to mention, the Ravens offense lacks consistent explosiveness to set the pace.
Washington against the spread
Redskins 21, Ravens 17
Kansas City Chiefs at Cleveland Browns (-7)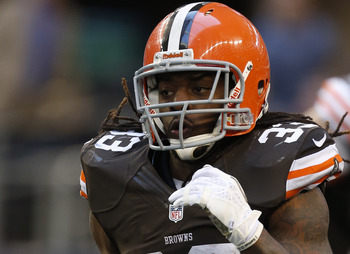 Wesley Hitt/Getty Images
The Kansas City Chiefs and Cleveland Browns are not perennial playoff-contending teams, but each enters Week 14 with confidence.
K.C. displayed unbelievable mental toughness last week, simply just by competing during unimaginable circumstances.
Cleveland, on the other hand, got a second straight win and is looking for a third. Well, the difference here will be the more balanced offense.
Although the Chiefs can run the rock consistently, turnovers have been an issue all year. As a result, the passing game and pass protection has not impacted despite Jamaal Charles' production. Also, the Browns field a rather opportunistic defense and solid pass rush.
In turn, Cleveland provides its offense with additional possessions to control the tempo. Brandon Weeden has proven to work well off Trent Richardson and the receiving corps continues to step up.
Cleveland against the spread
Browns 21, Chiefs 10
San Diego Chargers at Pittsburgh Steelers (-7.5)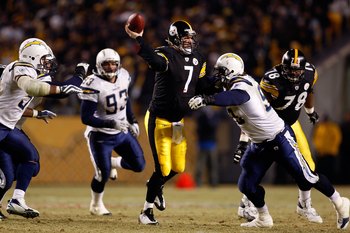 Chris Graythen/Getty Images
It's tough to expect much from the San Diego Chargers for the remainder of 2012.
Of their four wins, two have come against the Chiefs and the others over the Oakland Raiders and Tennessee Titans.
And along with having to play at the Pittsburgh Steelers this week, Ben Roethlisberger is also returning.
Per Teresa Varley of the Steelers' official website:
Quarterback Ben Roethlisberger will start against the San Diego Chargers on Sunday, returning to action after missing the last three games with a shoulder injury.

Roethlisberger practiced for the second straight day on Thursday, and Coach Mike Tomlin was comfortable enough with what he saw to say Roethlisberger will start this week.
Therefore, don't anticipate Pittsburgh turning the ball over. The Steelers offense presents a stronger balance to keep San Diego honest and is in control throughout. On the flip side, when Philip Rivers is on the field, Pittsburgh's elite defense will blanket the Bolts.
The Chargers lack explosiveness and pass protection, which ultimately results in turnovers.
Pittsburgh against the spread
Steelers 28, Chargers 0
Tennessee Titans at Indianapolis Colts (-4)
Don McPeak-USA TODAY Sports
For as many weaknesses as the Tennessee Titans have defensively, allowing a 69.5 completion percentage is arguably the biggest flaw.
And in taking on Andrew Luck this week, the passing game has been the Indianapolis Colts' offensive strength.
Luck spreads the field quite well to his array of receiving targets, and the running game impacts enough to create solid balance. Considering how suspect the Titans are on defense, any sort of balance will keep Tennessee honest for 60 minutes.
Switch to the Colts defense and they're quite vulnerable to the run and pass. That said, in giving up a 62.0 completion percentage, Indy also allows an average of 4.8 yards per carry.
Unfortunately for Tennessee, its offense pales in comparison to the Colts.
The Titans are weak in passing offense, which affects the potential of Chris Johnson's ground game each week. In short, Tennessee's strength is its inconsistent rushing attack, because the aerial assault turns the ball over and the Titans remain one-dimensional.
Indianapolis against the spread
Colts 24, Titans 3
New York Jets (-3) at Jacksonville Jaguars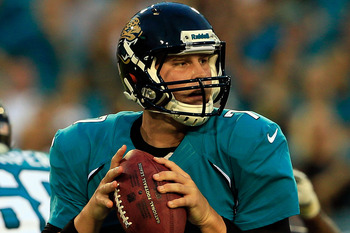 Sam Greenwood/Getty Images
Whether we choose to believe it, the New York Jets are still alive for the postseason.
Courtesy of their Week 6 victory over the Colts, Gang Green has an outside shot to qualify for January.
The Jacksonville Jaguars, though, are a team New York does not want to face right now. Since Chad Henne got under center a new-found sense of confidence has been given to the Jags.
The passing game has significantly improved and that helps the ground game see wider running lanes. New York has yet to improve at defending the run consistently, so a solid balance from Jacksonville's offense provides Mike Mularkey with a competitive advantage.
Also, the Jets offense remains in dire straits.
No matter which quarterback is under center, Gang Green's offense lacks a passing attack and the running game averages just 3.8 yards per carry.
Now yes, Jacksonville fields arguably the NFL's worst defense. Nevertheless, the Jags' potential fast-paced offense is enough to get New York on its heels early.
Jacksonville and the points
Jaguars 23, Jets 13
Chicago Bears (-1.5) at Minnesota Vikings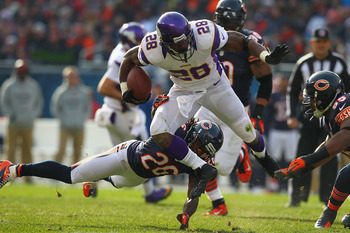 Dilip Vishwanat/Getty Images
There are some key injuries that will impact the Chicago Bears and Minnesota Vikings this week.
Interestingly enough, both are when the Vikings offense takes the field.
Per Vaughn McClure of the Chicago Tribune:
Multiple sources told the Tribune that [Brian] Urlacher won't play for the next three games at a minimum after suffering a Grade 2 right hamstring strain during Sunday's 23-17 overtime loss to the Seahawks. An MRI confirmed the severity of Urlacher's injury.
And according to Brian Hall of FOXSportsNorth.com:
Everyone around the Minnesota Vikings was holding out hope that injured receiver Percy Harvin would be able to return this season, but coach Leslie Frazier said Thursday that Harvin just had not made enough progress and needed to be shut down.
To that end, Adrian Peterson will be fed additional carries to shorten the game and help Minnesota win the trenches. The Vikings are better at running and defending the run than Chicago, so Peterson is a distinct advantage.
Plus, that takes pressure off Christian Ponder and minimizes the Bears' odds of forcing multiple turnovers.
Minnesota and the points
Vikings 14, Bears 9
Atlanta Falcons (-3.5) at Carolina Panthers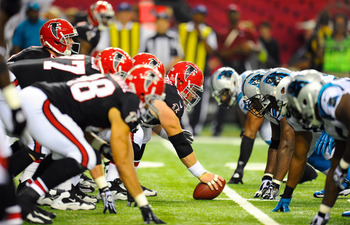 Dale Zanine-USA TODAY Sports
The Carolina Panthers may rank No. 8 in pass defense; however, they have also only defended 404 passes entering Week 14.
That ranks for the 10th least number of passes attempted against Carolina. And yet, the Cats give up a 67.3 completion percentage and an average of 24.3 points per contest.
So, the Atlanta Falcons' best approach here is for Matt Ryan to drop back quite often.
After all, his receiving corps of Roddy White, Julio Jones and Tony Gonzalez is arguably the best trio in football. Because of that threat and Carolina being suspect in coverage, Cam Newton will be forced to match Ryan.
This is also an edge for the Dirty Birds because Atlanta is coming off intercepting Drew Brees five times. Factor in the Panthers averaging only 19.6 per game, and the Falcons will pull away in the second half.
Atlanta against the spread
Falcons 31, Panthers 14
Philadelphia Eagles at Tampa Bay Buccaneers (-7)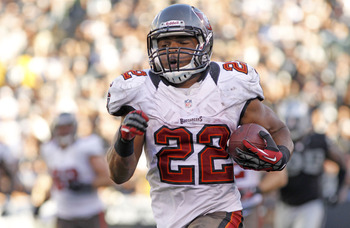 Cary Emondson-USA TODAY Sports
No chance for an upset from the Philadelphia Eagles over the Tampa Bay Buccaneers this week.
For one, the Buccaneers present too much offensive balance and big-play potential to be stopped. Secondly, it's not like the Eagles have been shutting down opposing offenses either.
Also, offensive injuries continue to make each week a tough challenge for Philly. According to Jeff McLane of the Philadelphia Inquirer:
[Michael] Vick will miss his fourth game when the Eagles travel to face the Buccaneers on Sunday. [LeSean] McCoy will be out for his third straight. Nick Foles and Bryce Brown will start once again for the injured quarterback and running back.
Now, despite Brown's production of recent and Foles improving at decision-making, Tampa is one opportunistic defense in coverage (17 picks). The Bucs also rank No. 1 against the run, which will force Philly into a one-dimensional attack.
Also, the Eagles defense won't stop Doug Martin and Tampa rolls at home.
Tampa Bay against the spread
Buccaneers 30, Eagles 14
St. Louis Rams at Buffalo Bills (-3)
USA TODAY Sports
The biggest impact between the St. Louis Rams and Buffalo Bills will be rushing offense.
Each offense's strength is running the rock, as C.J. Spiller averages 6.6 per carry and the Rams get 4.3 as a team.
So, it's a challenge for the opposing front sevens to clog lanes and the linebackers must make plays at a consistent rate. The impact of the better ground attack, though, will set up the passing game and limit quarterback pressure.
Ryan Fitzpatrick has seen more reliable pocket protection throughout 2012, and Spiller's dual-threat ability will keep St. Louis honest. And we've seen Buffalo's high-powered potential before, whereas the Rams have yet to really dominate a game offensively.
Buffalo against the spread
Bills 20, Rams 7
Dallas Cowboys at Cincinnati Bengals (-3)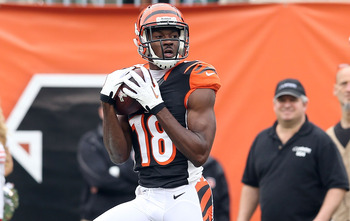 Andy Lyons/Getty Images
Although the Dallas Cowboys and Cincinnati Bengals is an inter-conference matchup, the game will greatly impact the playoff picture.
Each team sits just on the cusp of the wild card, so winning here is imperative.
Dallas brings the offensive prowess to push the pace and get Cincy on its heels early. The concern, however, is Tony Romo's pass protection and the Cowboys reverting back to inconsistent play.
As for the Bengals, Cincy presents a stellar pass rush and has allowed only 13 passing touchdowns.
Flip to the Cowboys defense and Big D must isolate A.J. Green.
Cincinnati doesn't turn the ball over a whole lot and the ground game is an issue for Dallas. In giving up an average of 4.3 yards per carry, Rob Ryan's defense will be forced to stack the box against the Bengals.
Well that's when Andy Dalton finds Green downfield, because the Cowboys are not opportunistic—merely five picks recorded thus far in 2012.
Cincinnati against the spread
Bengals 27, Cowboys 16
Miami Dolphins at San Francisco 49ers (-10.5)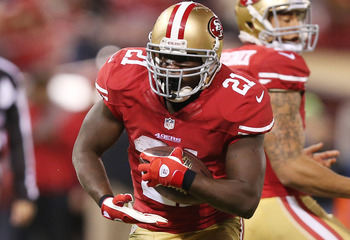 Ezra Shaw/Getty Images
Controlling the trenches will be the key for the Miami Dolphins and San Francisco 49ers.
The Dolphins allows only 3.7 yards per carry, whereas the 'Niners edge them by giving up just 3.6.
Still, neither offense can afford to abandon the ground game.
Doing so creates a one-dimensional attack, which is a big disadvantage when facing a defense capable of stuffing the run and applying constant quarterback pressure. Interestingly enough for San Francisco, though, Colin Kaepernick is getting the start.
Per the 49ers' official Twitter feed:
Harbaugh confirmed Colin Kaepernick will start Sunday against the Dolphins.

— San Francisco 49ers (@49ers) December 3, 2012
His mobility will play a factor in Miami's blitz packages and, in turn, take pressure off Frank Gore. Plus, with Kaepernick's strong arm, he can stretch the Dolphins out and keep Miami off balance.
Ryan Tannehill and Co., however, have proven to move the ball against tough defenses such as the Seattle Seahawks, Rams and Bengals. This game will be closer than anticipated, so don't expect a blowout.
Miami and the points
49ers 24, Dolphins 16
New Orleans Saints at New York Giants (-4.5)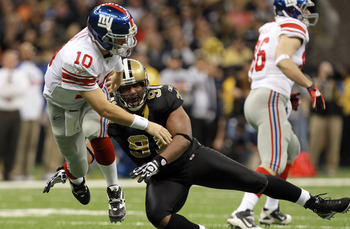 Ronald Martinez/Getty Images
The New Orleans Saints and New York Giants is one of Week 14's more fascinating contests.
Obviously the quarterback duel between Drew Brees and Eli Manning will be featured. So, the stronger pass rush will provide a major advantage.
New York, unfortunately, has not been as consistently dominant in the trenches this season.
And after Monday's performance against Washington, expect more from the Saints' ground attack. For as effective as Brees can be, New Orleans also averages 4.2 yards per rush. The downside of New Orleans against the Giants, though, will be its defense.
The Saints give up 440.5 total yards per game and 5.1 yards per carry. Therefore, more attempts from Ahmad Bradshaw to set up the play-action pass will reduce Brees' possessions.
New York doesn't turn the ball over much, and the Saints' inability to force turnovers will be costly.
New York against the spread
Giants 27, Saints 21
Arizona Cardinals at Seattle Seahawks (-10)
Harry How/Getty Images
Until the Arizona Cardinals bother to block somebody, this team has no chance of winning.
The pass protection continues to struggle immensely, which unsurprisingly affects the running game as well.
On the bright side, a bit more production from Larry Fitzgerald is possible this week. According to Danny O'Neil of the Seattle Times:
Cornerback Brandon Browner will begin a four-game suspension this week for violating the league's policy on performance-enhancing drugs.

The suspension was announced early Wednesday afternoon. He will miss Seattle's final four regular-season games, but will be eligible to return for the postseason.
Now we can't get all crazy regarding what Arizona could potentially accomplish here. The rest of Seattle's defense is quite dominant at stopping the run, getting pressure and locking down in coverage.
Fitzgerald will see additional targets, but it won't be enough. The Seahawks offense moves with smooth efficiency and the Cardinals fail to stop the run. The end result is Marshawn Lynch taking over from opening kickoff.
Seattle against the spread
Seahawks 30, Cardinals 10
Detroit Lions at Green Bay Packers (-6.5)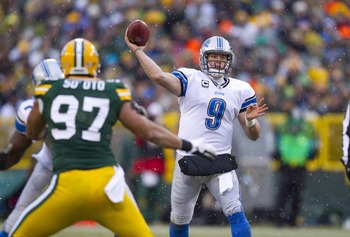 Jeff Hanisch-USA TODAY Sports
Even though it's December and the Detroit Lions and Green Bay Packers are playing at Lambeau Field, expect a rather high-scoring affair.
The same occurred in 2011 at regular season's end, only this time the Packers have some key injuries.
According to Tom Silverstein of the Milwaukee Journal-Sentinel:
Green Bay Packers coach Mike McCarthy's plans for Charles Woodson and Clay Matthews became a lot clearer Thursday.

Both are being prepared for a return to action next week in time for a showdown with the Chicago Bears.
What we must now redirect Detroit's offensive potential to is ball control. The Packers remain an opportunistic defense and only allow a 55.2 completion percentage. Plus, Matthew Stafford has been interception-prone at times throughout 2012.
Neither offense presents a thrilling ground game, so it will come down to whether Detroit can outscore Aaron Rodgers. The Lions defense, by comparison, gives up a 63.1 completion percentage and have allowed 21 passing touchdowns so far.
Therefore, Rodgers dices and Green Bay wins.
Green Bay against the spread
Packers 34, Lions 20
Houston Texans at New England Patriots (-3.5)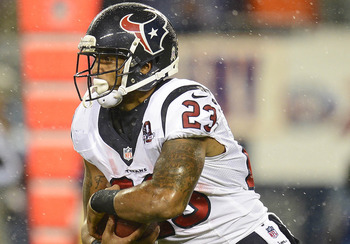 Mike DiNovo-USA TODAY Sports
The million-dollar question regarding the Houston Texans against the New England Patriots: Can Houston stop the pass?
It's a reasonable concern, because the Texans gave up plenty to Aaron Rodgers (338 yards, six touchdowns), Chad Henne (354 yards, four touchdowns) and Matthew Stafford (441, two touchdowns).
Even worse in each of these three games? No interceptions.
As you can imagine, Tom Brady will be expected to pick apart Wade Phillips' defense.
While Houston plans to prevent big plays from Brady, though, New England can get busy on the ground as it averages 4.2 yards per rush.
This aspect will only be needed to keep Houston's pass rush at bay, because Brady launching downfield is New England's best approach.
Now, Houston's offense possesses the explosive balance to match pace, but Bill Belichick's defense is also just as opportunistic in coverage.
New England against the spread
Patriots 38, Texans 31
Follow John Rozum on Twitter.
Keep Reading