Ranking the Most Watchable NFL Games of Week 14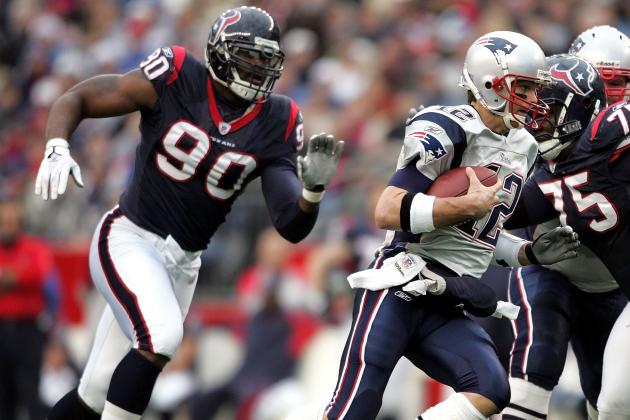 Elsa/Getty Images
Tom Brady hopes to elude Texans pass rush in Week 14.
The challenge in ranking the most watchable games of Week 14 in the 2012 NFL regular season schedule is that there is only one game being played by two teams with a winning record. That contest will be played on Monday Night Football, so the national audience should be treated to a great game.
The Week 14 schedule finds four home underdog games, along with one even or pick 'em game. Three contests have at least a 10-point spread, which serves as your warning to expect a couple blowouts.
Consider these final four weeks of the season to serve as playoff games for some NFL teams. These final four games will be high-stress games for any team that is trying to keep their faint playoff hopes alive.
As for the nationally-televised games, we have Denver at Oakland on Thursday Night Football, Detroit at Green Bay on Sunday Night Football and Houston at New England on Monday Night Football.
We will start the presentation with the least watchable game of the week and work our way up to the No. 1 game for Week 14. All point spreads are courtesy of ESPN.com and were the current lines when this went to publication.
Begin Slideshow

»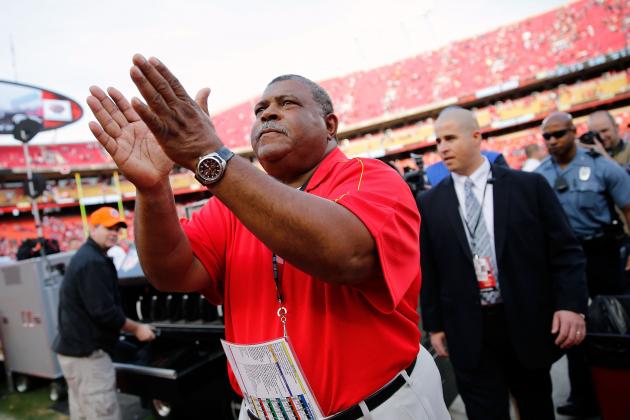 Jamie Squire/Getty Images
Kansas City Chiefs and Romeo Crennel are coming off an emotional win.
The Kansas City Chiefs and Cleveland Browns have a combined record of 6-18, which makes this the least favorable game to watch in Week 14. The ironic part is that the Browns have strung two wins together and are playing their best football of the year.
The Chiefs, of course, were playing an emotional game in Week 13 due to the death of teammate Jovan Belcher. It is conceivable that this tragedy brought the Chiefs team together and they will rally around Romeo Crennel. The win over Carolina doubled their win total for the year.
Carolina continues to sleepwalk through the 2012 season, as not much has gone right for Cam Newton or head coach Ron Rivera.
On the surface, this game doesn't appear to have huge significance in the overall standings, but it will have a big impact on the 2013 draft order. Both teams are projected to be on the clock with one of the first 10 draft picks.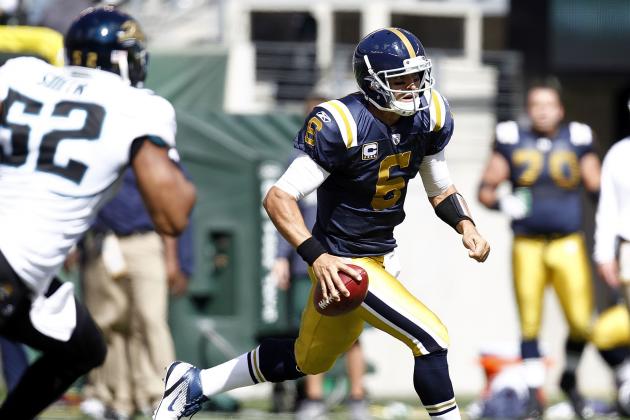 Jeff Zelevansky/Getty Images
Who will Jets start at QB, Sanchez, Tebow or McElroy?
The Jacksonville Jaguars are a two-point home underdog to the New York Jets in Week 14. The Jaguars are a miserable 2-10 team in 2012, and not much has gone right for them this year. They are hopeful that Maurice Jones-Drew will be able to return, but he is still awaiting medical clearance.
For the Jets, they are coming off an uninspiring 7-6 win over the Arizona Cardinals, where Rex Ryan finally pulled the plug on starting quarterback Mark Sanchez. Sanchez turned in a dreadful game against the Cardinals (three interceptions and a QB passer rating of 21.4), so Ryan finally had seen enough. He called on Greg McElroy to rally the team, and McElroy led the Jets to their winning touchdown in the fourth quarter.
As of today, Ryan has still not decided who he will start. The New York Daily News was reporting that Ryan probably won't decide on his starter until Wednesday. Tim Tebow is still not 100 percent due to his rib injury, so he likely won't be starting in front of his local Florida fans.
The Jaguars gave up 232 rushing yards to the Buffalo Bills in Week 13, so the Jets will try to take advantage of their problems in the run defense.
But as far as the national viewing audience is concerned, this is a game between two bad offenses that is one of the least watchable games of the week.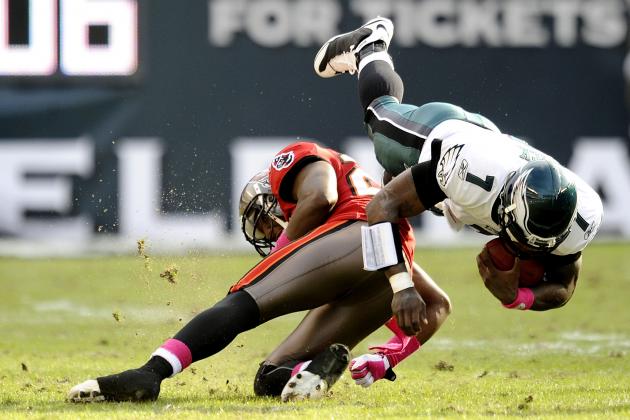 Jeff Zelevansky/Getty Images
Will Michael Vick get medical clearance to play in Week 14?
The Philadelphia Eagles had the chance to end their long losing streak in front of a national audience on Sunday Night Football. Instead the Eagles increased their losing streak to eight straight games by losing to Dallas 38-33.
Philadelphia rookie QB Nick Foles turned in his best performance of the year. Foles threw for 251 yards, had one touchdown and no interceptions. Rookie RB Bryce Brown had another impressive game for the Eagles, as he rushed the ball 24 times for 169 yards and two touchdowns. But once again, Brown came up with a costly fumble, which is an issue he has to address.
Tampa Bay was trailing 28-10 coming into the fourth quarter at Denver, but its fourth quarter rally came up short. The final score was 31-23, which drops the Buccaneers to 6-6 on the year. The Denver defense did a solid job on both Josh Freeman and Doug Martin, as both players came up with sub-par games.
The loss dealt the Bucs' playoff hopes a serious blow, as they fell behind Seattle for the sixth and final spot in the NFC postseason. Tampa Bay needs to win its final four games and hope that 10-6 will be good enough to get it in to the postseason.
The Eagles have announced this week that they are going to start Nick Foles for the rest of the 2012 season. A tweet from Jeff McLane confirmed the news:
"Reid: I'm going to name Nick Foles as starter for rest of the season."
This game is ranked as our third-least watchable game due to how bad this Eagles team is. It is not a reflection on Tampa Bay, which is a much-improved team.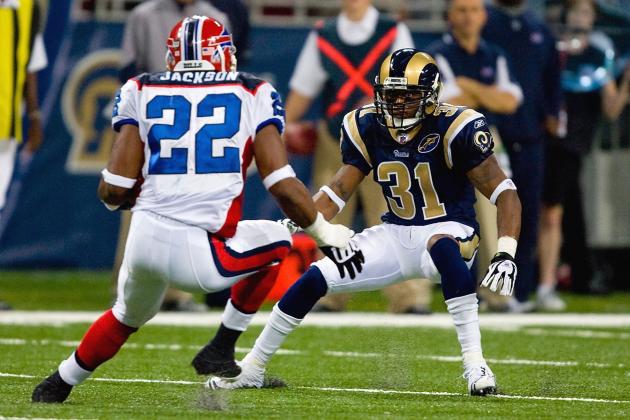 Dilip Vishwanat/Getty Images
Fred Jackson rushed for 109 yards in Week 13.
The St. Louis Rams travel to Buffalo to face the Bills in our third game of the week featuring two teams with losing records. Both teams are still fighting hard, however, as we witnessed in Week 13 action. The Rams beat the San Francisco 49ers in overtime, while the Bills ran all over the Jacksonville Jaguars.
Both teams are hanging onto the slimmest of playoff hopes, so neither team can afford to lose this game. That should make for a spirited contest, as this is likely the final meaningful game for one of these teams. Whoever loses is basically done for the rest of the year.
Call it their own playoff game if you like, but the winner will still need to keep winning and hope that a number of teams can help them out.
As for the game itself, Sam Bradford will be trying to do what Chad Henne was unable to do for Jacksonville in Week 13. Bradford will be going after the Bills' young cornerbacks, who are rookies Stephon Gilmore, Ron Brooks and Crezdon Butler.
Bradford will be looking for WR Chris Givens, who had a big game against San Francisco with 11 receptions for 92 yards. Danny Amendola sat out the 49ers game with a heel injury, so his availability will be determined later this week.
For the Bills, they will feature their dynamic running back duo of C.J. Spiller and Fred Jackson. If there is bad weather in Buffalo (it is December, after all), that would favor the Bills. If the weather isn't a big factor, look for the Rams to be throwing the ball early and often against the rookie corners.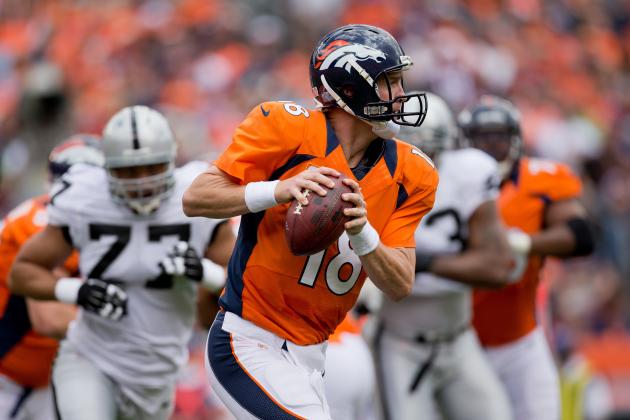 Justin Edmonds/Getty Images
Peyton Manning has led Denver to seven-straight wins.
Our next game is the NFL Network's Thursday Night Football contest between two AFC West rivals, as the Denver Broncos visit the Oakland Raiders. This is a game with two teams headed in the opposite direction. Denver has won its last seven games in a row, while Oakland has lost its last five.
The Raiders will look to their home crowd for inspiration. It is tough preparing for Peyton Manning with a short work week, but that is the reality of the situation. The Raiders pass defense is ranked No. 25, so expect another big game from Manning.
Denver is a very well-balanced team, as it has a top-10 overall offense to go along with a top-10 overall defense. The only team that shares that distinction with it is the Houston Texans. QB Manning has the Broncos offense clicking on all cylinders, and Von Miller is spearheading the defense.
For Oakland, Carson Palmer continues to throw the ball all over the field week in and week out. In 2012, Palmer has passed for at least 300-plus yards in six games this year. The Raiders' record in those games is 0-6. That tells you everything you need to know.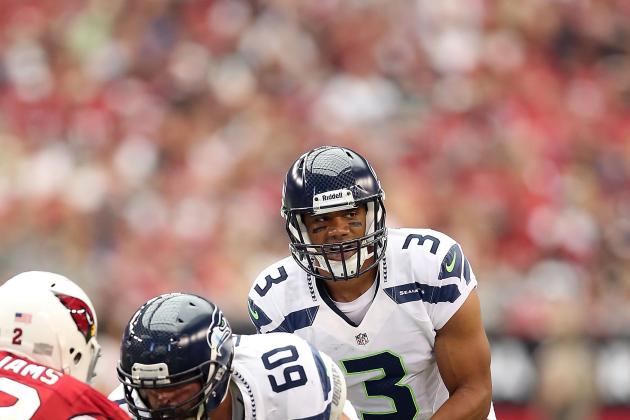 Christian Petersen/Getty Images
Russell Wilson is 0-1 against the Cardinals so far.
The Arizona Cardinals continue their downward spiral, as they have now dropped eight straight games. Too bad they aren't scheduled to face Philadelphia this year because one of them would be guaranteed to break their losing streak.
The Seahawks are coming off of a big 23-17 overtime win against the Chicago Bears. The win vaulted the Seahawks into sixth place in the NFC, which means they would qualify for the playoffs if they season ended today.
Seattle rookie QB Russell Wilson threw for nearly 300 yards against the Bears' solid defense, which is good preparation for this game. Arizona also boasts another top-10 defense in the NFL, and its pass defense is No. 3 in the NFL. Seattle has the No. 4 overall defense in the league, so this should wind up being a rather low-scoring game.
Arizona was only able to score six points against the New York Jets in Week 13, and it will be challenged to score many points this week, especially if rookie QB Ryan Lindley gets the start.
Playing in front of the loud Seattle home crowd, the Seahawks are a big 11-point favorite at home. The Cardinals opened up the season by defeating Seattle 20-16. Look for the Seahawks to extract some revenge this time around.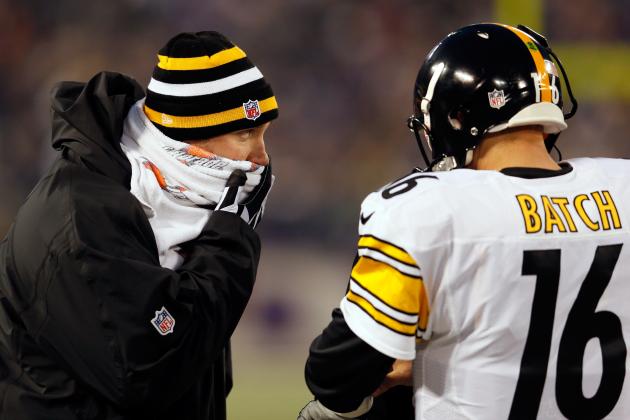 Rob Carr/Getty Images
Who starts in Week 14, Roethlisberger or Batch?
On the cover slide, we sighted all of the point spreads are courtesy of ESPN.com. The spread for the San Diego Chargers at Pittsburgh Steelers is even, or a pick 'em game.
That seems like a rather odd spread, as Pittsburgh has the No. 1 defense in the NFL and is playing at home. It is in a must-win mode for the playoffs. San Diego has nothing to play for now but pride, as saving Norv Turner's job is no longer possible.
The spread must take into account the questionable availability of Pittsburgh QB Ben Roethlisberger. Another factor is that the Chargers defense is pretty good as well, as it is ranked No. 9 overall in the NFL.
The Chargers have now lost four in a row, but all four games were against teams that are vying for the postseason. San Diego continues to find a way to lose games in the final minutes as opposed to finding ways to win games at the end.
If Roethlisberger starts, that will provide a boost to the entire Steelers team. They need to get healthy, but it sure helps to have their stud quarterback back under center. If Roethlisberger can't prove to the team doctors that he is ready, the Steelers will roll with Charlie Batch one more time.
With two top-10 defenses in action, this looks like another tight, low-scoring game.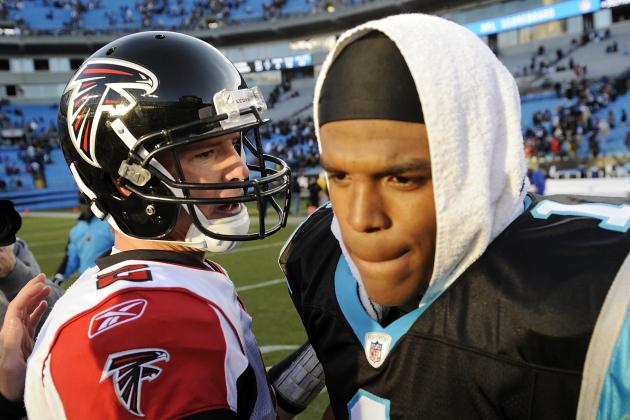 Jared C. Tilton/Getty Images
Can Newton and the Panthers upset the Falcons?
The Atlanta Falcons are riding high atop the NFC with a record of 11-1. The Carolina Panthers are struggling at 3-9, which is why they are a home underdog (four points) in this NFC South division game.
The Falcons are still fighting for home-field advantage throughout the playoffs. The Falcons have some breathing room with a 2.5-game cushion over the rest of the conference with just four weeks to go. At some point over the final three weeks, the Falcons can start to think about preserving some of their starters or dinged-up players for the postseason.
Carolina ran into an emotional Kansas City Chiefs team in Week 13. Cam Newton did manage to throw for three touchdown passes, but that wasn't enough in the 27-21 loss.
The Falcons have now strung three wins together after being upset by New Orleans to spoil their perfect season. They shouldn't have too many problems with the Panthers, who might have lost Brandon LaFell to a sprained foot injury in Week 13.
Out of Atlanta's 11 wins, seven of them have been decided by a touchdown or less. This game offers the Falcons an opportunity for a double-digit win.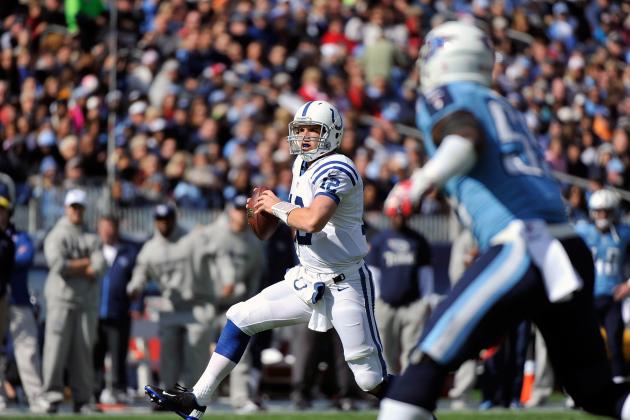 Frederick Breedon/Getty Images
Andrew Luck led Colts to an overtime win in Tennessee back in Week 8.
In a AFC South division game, the Tennessee Titans travel to face the Indianapolis Colts. These teams met in Week 8, and the Colts won up winning in overtime in Tennessee, 19-13. The Colts have been playing inspired football for head coach Chuck Pagano, having won six out of the last seven games.
Few people could have imagined the Colts winning eight games this year, but they have the chance to go for 10 or more wins. When you consider all of the rookies on this team and the turnover in personnel from the 2011 season to now, that is just remarkable.
Rookie phenom QB Andrew Luck is trying to improve his touchdown passes to interception ratio, which currently stands at 17 touchdowns to 16 interceptions.
At Tennessee, the opposite is true. The Titans have lost four out of their last five games. Jake Locker threw for over 300 yards against Houston, but the offense was only able to generate 10 points. The biggest culprit was Locker himself, who threw three interceptions and fumbled the ball away twice. In total, the Titans committed six turnovers in the game.
Tennessee's playoff hopes are now gone, so will it still battle, or will it just play out the string?
One player you can be sure will be fighting is Titans RB Collin Mooney. Mooney was just activated off of the Titan's practice squad. He is a 26-year old rookie from West Point playing in his first NFL game. He was a fullback at Army, and at 5'10" tall and 247 pounds, he is a load to handle.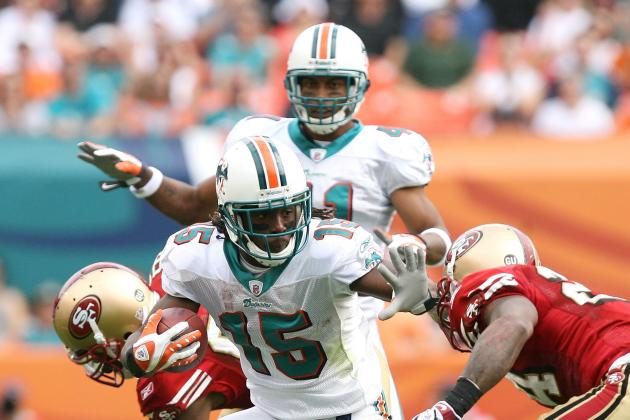 Doug Benc/Getty Images
San Francisco's No. 2 defense looks to put the clamps on Dolphins offense.
The Miami Dolphins are getting 10 points from Las Vegas in Week 14 when they travel across the country to face the San Francisco 49ers.
The 49ers are coming off a overtime loss to the St. Louis Rams when usually reliable kicker David Akers missed a 51-yard field goal in overtime that would have clinched a win. The loss was tough to take since the 49ers hold a slim lead over the Chicago Bears and Green Bay Packers for home-field advantage in the NFC playoffs.
Colin Kaepernick had some positive plays in the loss, but this was his first start that could be viewed as less that stellar.
According to the 49ers' Twitter account, head coach Jim Harbaugh announced that he is still sticking with Kaepernick.
"Harbaugh confirmed Colin Kaepernick will start Sunday against the Dolphins."
Getting a vote of confidence from your head coach has to be a boost for Kaepernick. For Alex Smith, he is frustrated and upset, but he is still trying to be a good teammate at the same time.
Miami has dealt its playoff hopes a severe blow by losing four of its last five games. The Dolphins are now in a three-way tie for second place in the AFC East with the New York Jets and Buffalo Bills.
The Dolphins offense will be facing a very tough test to try to move the ball against the outstanding 49ers defense, which is why Miami is getting 10 points.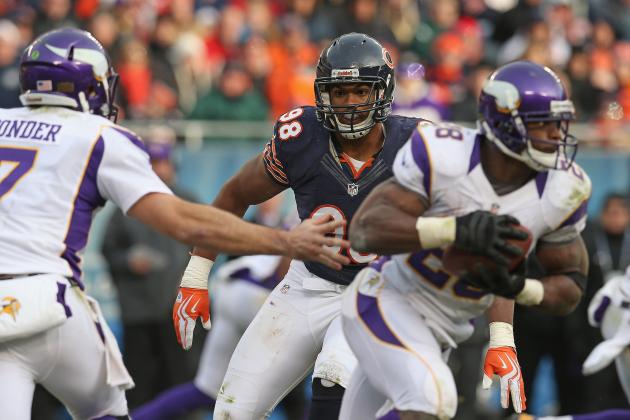 Jonathan Daniel/Getty Images
Adrian Peterson needs a big game against Chicago to give his team a chance.
The Chicago Bears were holding on to a slim one-game lead in the NFC Central until they were upset by Seattle in overtime in Week 13. Now tied with Green Bay for the best record in the NFC North, the Bears need these last four games to try to win the division title.
The Minnesota Vikings, on the other hand, lost to Green Bay 23-14 despite 208 rushing yards by Adrian Peterson. Peterson can't do it all by himself. Other members of the Vikings offense, most notably Christian Ponder, have to step up their game. Minnesota has now lost four out of its last five games.
While Christian Ponder continues to struggle, it won't help his cause that he has to face the talented Bears defense this week. That is why the Vikings come in as a home underdog.
These teams just met two weeks ago in Chicago, and the Bears won that game 28-10. Since this game is in Minnesota, it should be closer. But with the Bears needing this win badly, it would be a surprise if they didn't come up with a season sweep over the Vikings.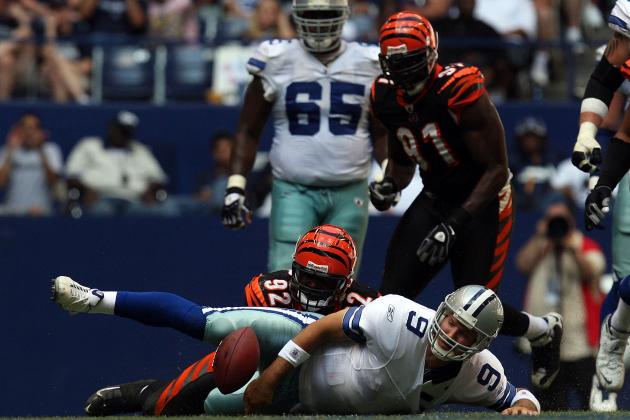 Ronald Martinez/Getty Images
Cincinnati and Dallas both need a win for the postseason.
The Dallas Cowboys will bring their No. 8 overall offense in the NFL to face the Cincinnati Bengals No. 8 overall defense in a game featuring two teams that need a win to keep their playoff hopes alive.
The Cowboys survived their Sunday Night Football game against the Philadelphia Eagles, 38-33, with some fourth-quarter heroics by Tony Romo, Dez Bryant and Morris Clayborne.
Based on the Washington Redskins upset of the New York Giants in Monday Night Football, the Cowboys are now just one game behind New York for the NFC East division lead. That game should breathe new life into the Cowboys team.
Cincinnati continues to roll along with four straight wins, as it is tied with Pittsburgh at 7-5 for the final playoff spot in the AFC. The Bengals are trailing Indianapolis by one game for the No.5 seed.
Romo has passed for at least 300 yards in five out of the last six Cowboys games. He will be challenged by the Bengals secondary, which is ranked No. 11 in the NFL. Dallas is helped out by RB DeMarco Murray coming back from injury.
By contrast, Andy Dalton hasn't passed for 300 yards in six straight games, yet the Bengals just keep winning anyway. They are riding BenJarvus Green-Ellis, who has rushed for at least 100 yards in three-straight games.
Both teams need this win, which should make for a spirited contest for the viewers.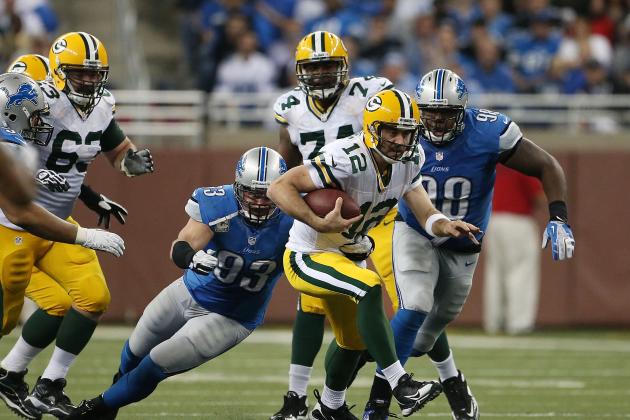 Leon Halip/Getty Images
Aaron Rodgers is looking to complete the sweep over Detroit Lions.
The Green Bay Packers just faced the Detroit Lions back in Week 11 in Detroit and escaped with a narrow 24-20 victory. This week, the Packers get a chance to complete the sweep against the Lions playing outside in the elements at Lambeau Field.
With its win over Minnesota in Week 13, Green Bay is now tied with Chicago for the best record in the NFC North division. The Lions have lost four games in a row, and their playoff aspirations are gone.
As for the Lions, the ESPN.com article that recapped the Week 13 game came up with the following gem:
They're the first team to lose three straight games when leading with 2 minutes left in regulation since San Diego did it in 2000, according to Elias Sports Bureau, and the first since at least 1983 to blow leads that late in three home games in a row.
Ouch. Part of these end-of-game failures for Detroit comes down to discipline, focus and coaching. The talent is there, but the team still hasn't learned how to finish out games this year.
No word yet on what the weather will be like in Green Bay. This game figures to see lots of passes all day long from Matthew Stafford and Aaron Rodgers. There should also be quite a few points scored. If the weather presents a major problem for the passing game, both running games are suspect, so that would actually make for an interesting battle.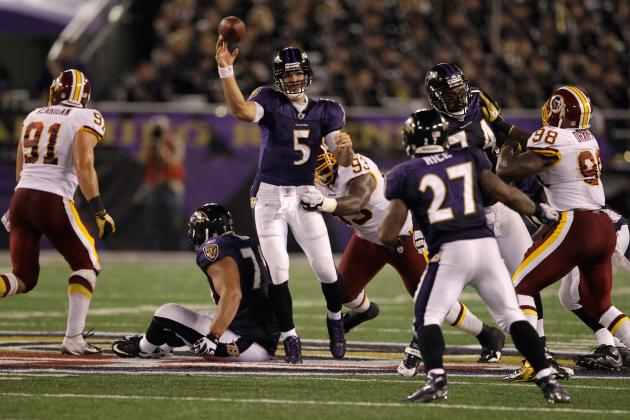 Rob Carr/Getty Images
Joe Flacco and Ravens offense didn't look that great against Steelers.
Bragging rights for the Baltimore and Washington D.C. area are up for grabs when the Baltimore Ravens travel to face the Washington Redskins in Week 14.
Baltimore is coming off a hard-fought loss to the Pittsburgh Steelers that dropped the Ravens into a tie with Denver and New England for the second-best record in the AFC. The Ravens can't afford to lose another game, as that could cost them a home playoff game down the road.
Washington, meanwhile, is coming off its emotional one-point victory over the New York Giants on Monday Night Football. The Redskins are now just one game behind the Giants in the NFC East, which should give them plenty of motivation for the final four games.
The Ravens defense is obviously not as strong as it has been in recent years. Injuries to Ray Lewis and Lardarius Webb have been a major issue, which is compounded by the recent injury to 2011 NFL Defensive Player of the Year Terrell Suggs. According to this tweet from Adam Schefter of ESPN, Suggs has a torn triceps injury.
"Terrell Suggs has torn biceps. Doctors say there are some torn biceps players can play through, others they can't. Thus, 2nd opinion needed."
With so many key defenders missing from the Ravens defense, it figures to have a hard time stopping Robert Griffin III. If the Giants defense struggled the second time it saw RG3, imagine what it will be like for the Ravens experiencing Griffin for the first time.
Should be an entertaining game to watch.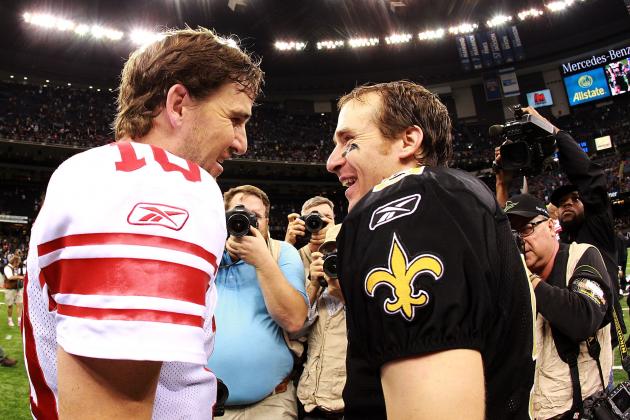 Ronald Martinez/Getty Images
Drew Brees and Eli Manning are featured in our No. 2 game of Week 14.
The New York Giants lost by one point on Monday Night Football against the Washington Redskins. The loss allows the Dallas Cowboys and Washington Redskins to be just one game behind New York for the NFC East division. Whatever breathing room the Giants held, it is now gone. The Giants need to win all four of their final regular season games if they want to make a run at defending their Super Bowl crown.
With a short preparation week, New York will have to face Drew Brees and the New Orleans Saints. The Giants catch a slight break since the game is at home, so they can avoid traveling.
With a record of 5-7, the New Orleans Saints are on the outside looking in with regards to the playoffs. They can play the role of spoiler, however, and that will have to serve as their motivation for now.
With both teams led by great quarterbacks, this promises to be a game filled with plenty of vertical strikes down the field. Both Brees and Manning enjoy throwing long passes, so fans will be treated to an aerial show. The Giants pass defense is ranked No. 22, while the Saints pass defense is ranked No. 30.
This battle of elite quarterbacks is rated as our No. 2 game of Week 14.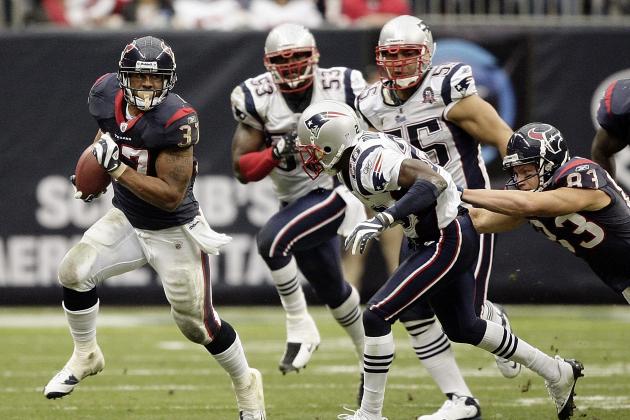 Bob Levey/Getty Images
Can the New England defense contain Arian Foster?
Our No. 1 game of Week 14 is a battle between two of the best offenses in the AFC. This could be a potential preview of the AFC Championship Game, which will be played on January 20, 2013.
It is a little hard to believe that you would want to give the 11-1 Houston Texans four points in this game, but that is exactly where the line is right now.
Which defense is best equipped to slow down or contain its opponent's offense? The Houston defense is ranked No. 6 overall in the NFL, while the Patriots defense is ranked No. 27.
New England's offense is No. 1 in the NFL, while the Houston offense is ranked No. 4.
The Patriots are learning how to exist without TE Rob Gronkowski, which is a big blow to their offense. The Texans have the dual threat of Arian Foster and Andre Johnson, so which of the two stars will Bill Belichick try to take away with his game plan?
This is a game many NFL fans have been looking forward to, as the winner will take a big step towards being perceived as the favorite team to represent the AFC in Super Bowl XLVII.