What Is the Expectation for Every NFL Team Closing out 2012?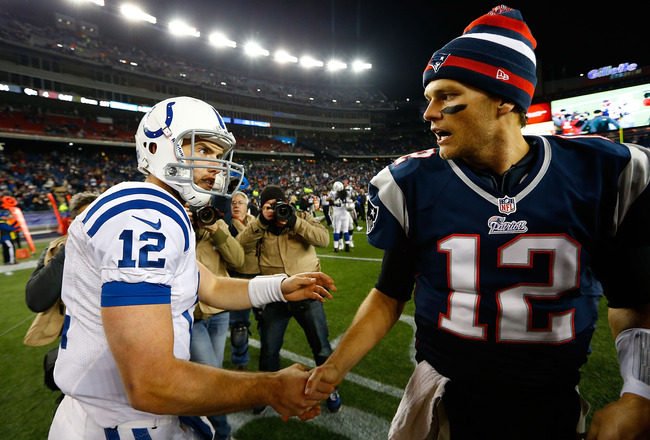 Jared Wickerham/Getty Images
With only six games left in the 2012 season, the landscape of the NFL is taking shape. As usual the picture at the top and bottom of the spectrum is clearer than the muddle in the middle.
At the top, the Atlanta Falcons and Houston Texans will look to secure home-field advantage in their respective conferences.
At the bottom the Jacksonville Jaguars and Kansas City Chiefs will fight for respectability. They'll also be keeping an eye on 2013's first overall pick.
Here are every team's expectation for closing out the 2012 NFL season.
32. Kansas City Chiefs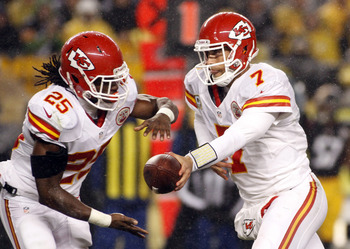 Justin K. Aller/Getty Images
As officially the league's worst team, the Kansas City Chiefs face a tough balancing act to close out 2012. That balance involves playing for pride and adding some wins to their dismal 1-9 record.
Yet, the Chiefs must also be mindful of their prospects for next season. The AFC West flops obviously face a major rebuilding task.
The best start to that kind of revival might be using the first overall pick in the 2013 draft. Looking at the Chiefs' schedule, they should pick high—but maybe not that high—come the draft.
They have home games against the Carolina Panthers and Indianapolis Colts. There's also road trips to take on the Cleveland Browns and Oakland Raiders.
The Chiefs should expect a slight improvement, but it's hard to see them rising above 4 wins for the season.
Predicted finish: 4-12
31. Jacksonville Jaguars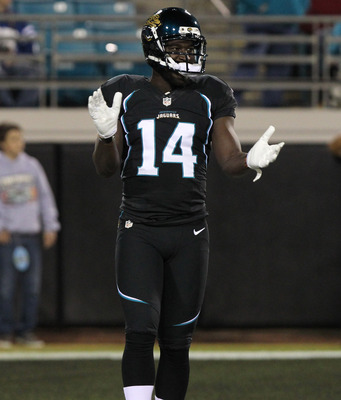 Kim Klement-US PRESSWIRE
Despite running the Houston Texans close last week, the Jacksonville Jaguars still won't rescue their season. Their disastrous campaign has been defined by the struggles of top draft pick Justin Blackmon.
The rookie wide receiver has been part of an offense that ranks at the bottom of the league. The running game has faltered and new head coach Mike Mularkey hasn't been able to improve young passer Blaine Gabbert.
Worst still, the defense that was a strength in 2011 has regressed. It's a safe bet to expect the Jaguars to bring the first overall pick to Wembley in 2013.
Predicted finish: 3-13
30. Cleveland Browns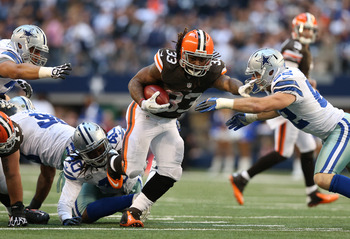 Matthew Emmons-US PRESSWIRE
Playing out time and making way for a new regime is all that's left for the current Cleveland Browns' staff. Head coach Pat Shurmur has struggled to implement a credible offense to match an improved defense.
The Browns do have some talent on both sides of the ball. Running back Trent Richardson is a cornerstone for the future, but quarterback Brandon Weeden is fighting to save his job.
Predicted finish: 5-11
29. Carolina Panthers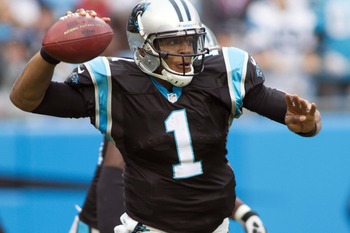 Jeremy Brevard-US PRESSWIRE
Ron Rivera is another coach making way for the next guy. The Carolina Panthers were considered by many, including this author, to be playoff bound this season.
Things haven't played out that way and the regression of Cam Newton has been the main cause. Failing to properly handle the franchise's star asset already cost Marty Hurney his job.
Rivera is likely to follow his former general manager out the door. Playing for a lame duck coach will see the Panthers likely limp across the finish line to end 2012.
Predicted finish: 5-11
28. Philadelphia Eagles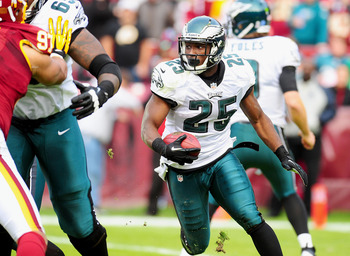 Evan Habeeb-US PRESSWIRE
Speaking of lame ducks, it's hard not put Andy Reid in that category. The star-studded Philadelphia Eagles have again found a way to disappoint.
That means Reid is set for a fate his excellent tenure in Philadelphia doesn't deserve. Like the Browns, Chiefs and Jaguars, the Eagles will be evaluating what they have.
Reid will look to finish things with a flourish, but things seem beyond repair for the Eagles.
Predicted finish: 6-10
27. Oakland Raiders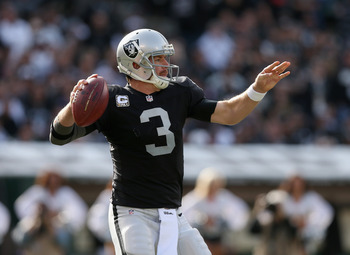 Ezra Shaw/Getty Images
As bad as the Oakland Raiders have played, it's hard to believe they even have three wins this season. The new regime of Reggie McKenzie and Dennis Allen is finding out how big a task rebuilding the Raiders is.
Allen has yet to construct a stout defense and is tied to some ageing personnel. On offense, Carson Palmer has put up some big numbers, but is nothing more than a stop-gap.
McKenzie needs to find some young talent and fast, or the Raiders will be starting from scratch with someone else.
Predicted finish: 5-11
26. St. Louis Rams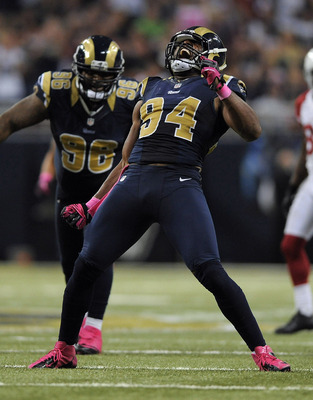 Jeff Curry-US PRESSWIRE
The St. Louis Rams appear to be on the right track under Jeff Fisher. However, the rebuild is far from complete.
Fortunately for the Rams they are the owners of two first round picks in the next two drafts. Improving the league's 28th scoring offense has to be the priority.
That's not to say the Rams shouldn't be aiming for as close to parity as they can get before 2012 closes. 8-8 is not an unrealistic expectation.
However, tough divisional games against the San Francisco 49ers and Seattle Seahawks should see them finish below .500.
Predicted finish: 5-10-1
25. Washington Redskins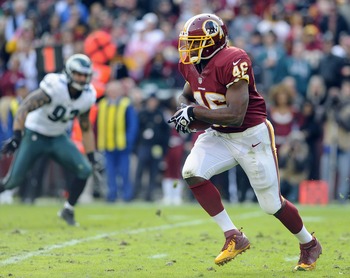 Brad Mills-US PRESSWIRE
The future looks bright for the Washington Redskins, but does that future include Mike Shanahan? That will depend on how Shanahan closes out his third year with the Redskins.
Quarterback Robert Griffin III and running back Alfred Morris key an offense that will certainly score enough points. It's Shanahan's 3-4 defense that will determine how the Redskins finish 2012.
Four divisional games and an encounter with the Browns, still give Washington hope in the NFC East.
Predicted finish: 8-8
24. Tennessee Titans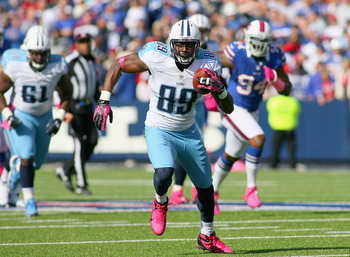 Rick Stewart/Getty Images
One of the NFL's most difficult to predict teams, the Tennessee Titans can still achieve a record reflecting their talent.
With four AFC South games left, the Titans can push for playoff consideration. If head coach Mike Munchak can create some consistency, his team could still spring a few surprises.
Predicted finish: 8-8
23. San Diego Chargers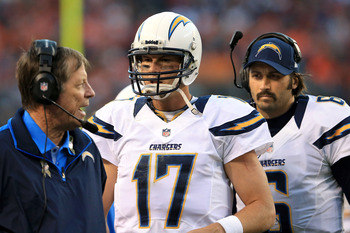 Doug Pensinger/Getty Images
Norv Turner and Philip Rivers just can't turn the San Diego Chargers into winners. Floating around the 8-8 mark won't be enough to save Turner from the axe this time.
His offense hasn't lived up to expectations and the defense still struggles to match its talent level. Tough games against the Baltimore Ravens and Pittsburgh Steelers could see the Chargers plunged into more trouble.
Predicted finish: 7-9
22. New York Jets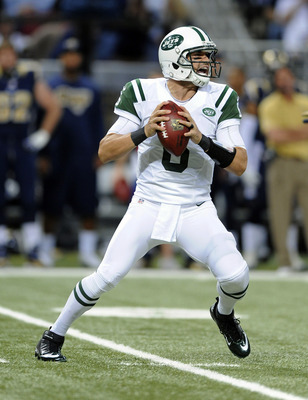 Jeff Curry-US PRESSWIRE
Predicting the New York Jets fortunes is almost as tricky as predicting the Titans. Their defense, while no longer stellar, can still deliver a shutout performance.
Offensively, the Jets struggle, but still boast decent talent. They do have a soft schedule, but Gang Green will struggle to engineer a spectacular turnaround.
Predicted finish: 7-9
21. Miami Dolphins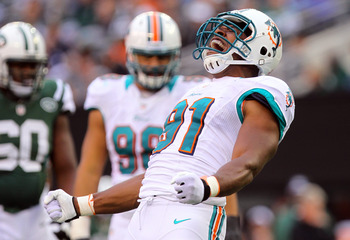 Ed Mulholland-US PRESSWIRE
Completing a solid first year under Joe Philbin will depend on the play of rookie passer Ryan Tannehill. However, the Miami Dolphins' defense can make Tannehill's job easier.
Cameron Wake continues to dominate and the new 4-3 scheme has certainly taken hold. Only a difficult closing schedule could keep the Dolphins below .500.
That includes games against the Seahawks, San Francisco 49ers and a double-header against the New England Patriots.
Predicted finish: 6-10
20. Detroit Lions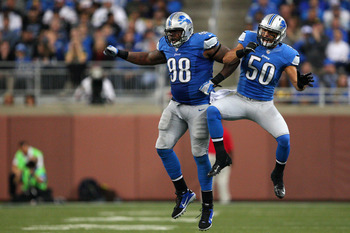 US PRESSWIRE
The Detroit Lions have found some balance on offense and even managed to solidify their defense. The question is do they have the right leadership to turn this talented team into a champion?
If the Lions fail to make the playoffs, that serious question will be asked about Jim Schwartz. The Lions are behind in the NFC North, having already lost four divisional games.
That makes the playoffs an unrealistic expectation.
Predicted finish: 7-9
19. Buffalo Bills
Mark Konezny-US PRESSWIRE
The Buffalo Bills have shown signs of life in recent weeks. Whether those signs will be enough to keep Chan Gailey in the job, is another matter.
C.J. Spiller is becoming a more dangerous playmaker every week. That's good news for the offense, but the improvement from a much-maligned defense is great news for the Bills.
Mario Williams is starting to justify his free agency value. That could help the Bills dominate a favourable remaining schedule.
Predicted finish: 8-8
18. Arizona Cardinals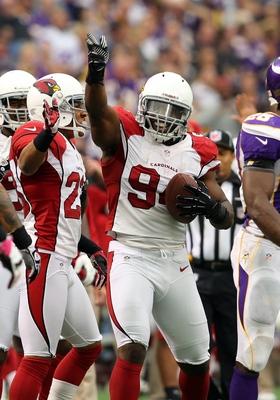 Adam Bettcher/Getty Images
If only the Arizona Cardinals could find a quarterback, they wouldn't be a losing team. That could actually play into their favour, as their best chance of finding that quarterback might be the 2013 draft.
Their defense is one of the rising units in the league and is set to dominate. Larry Fitzgerald remains a force as perhaps the finest wide receiver in the game.
All that's left is finding that quarterback. Without one, the Cardinals shouldn't expect more than a limp finish to 2012.
Predicted finish: 7-9
17. New Orleans Saints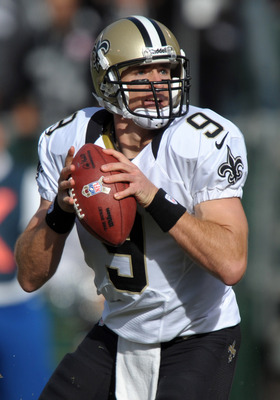 US PRESSWIRE
After getting back to .500, the New Orleans Saints can get back to the playoffs. Drew Brees is as good as ever and that means the Saints can pile up the points on anybody.
It will be up to Steve Spagnuolo to get his defense to be more than a weak link. Getting to the playoffs will mean besting the Atlanta Falcons and Tampa Bay Buccaneers again.
Brees can't do it all alone.
Predicted finish: 9-7
16. Dallas Cowboys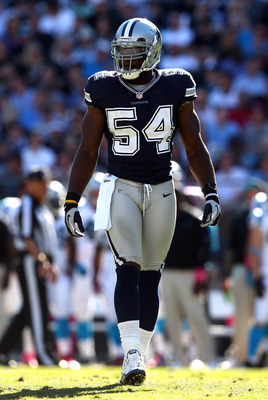 Streeter Lecka/Getty Images
The Dallas Cowboys could be the favourites in the NFC East, or they could miss out on the playoffs altogether. Nothing would surprise from a group of players that has turned underachieving into an art form.
This year, the defense isn't the problem. Youngsters like linebacker Bruce Carter have helped make coordinator Rob Ryan's complex, aggressive ideas a reality.
The reality on offense is an ugly one. Tony Romo has been guilty of a rash of turnovers, while the running game remains hit and miss.
As usual, the Cowboys have the talent for a strong finish. That is, if they can avoid once again pressing the self-destruct button.
Predicted finish: 8-8
15. Cincinnati Bengals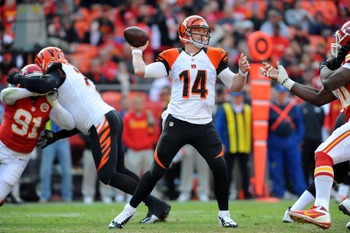 Denny Medley-US PRESSWIRE
The Cincinnati Bengals could again back into the playoffs the way they did last season. If the Pittsburgh Steelers struggle without Ben Roethlisberger, that could leave room for the Bengals.
Getting involved in a crowded AFC wild-card race will mean beating the Steelers on the road in Week 16. There's also road trips against the Chargers and Eagles.
The connection between Andy Dalton and A.J. Green might not be enough to get the young Bengals through. However, two recent big wins over the New York Giants and the Kansas City Chiefs, should give the Bengals confidence.
Predicted finish: 8-8
14. Tampa Bay Buccaneers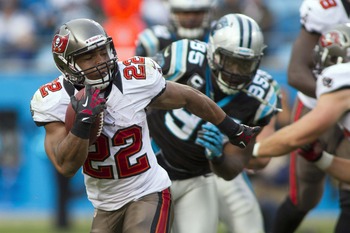 Jeremy Brevard-US PRESSWIRE
It seems the Tampa Bay Buccaneers knew what they were doing when they spent all that money in free agency.
The Bucs' have won their last their last three games to take their record to 6-4. That gives them a shot in the NFC South.
Veterans like Vincent Jackson and Dallas Clark have helped. As has rookie running back Doug Martin.
Two games against division-leading Atlanta Falcons and a visit to the Saints, will decide the Bucs' fate.
Predicted finish: 9-7
13. Seattle Seahawks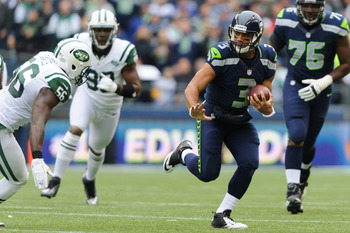 Steven Bisig-US PRESSWIRE
Overtaking the 49ers in the NFC West is no easy task and the Seattle Seahawks might be a year short. Pete Carroll's team has merited their 6-4 start, thanks to a stout defense and select big plays on offense.
Many of those big plays have come from rookie quarterback Russell Wilson. He is thankfully proving his doubters wrong and has been a game-winner for Seattle.
The remaining schedule isn't soft, but three home division games gives the Seahawks a great playoff shot.
Predicted finish: 9-7
12. Pittsburgh Steelers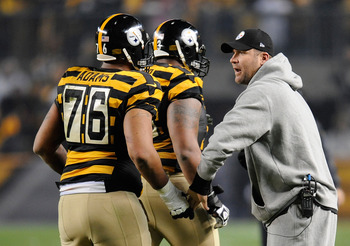 Joe Sargent/Getty Images
It's a testament to Ben Roethlisberger's ability that a team as talented as the Pittsburgh Steelers will struggle without him.
Despite an excellent group of wide receivers and a savvy defense, the Steelers are no longer championship contenders without Roethlisberger.
They'll win some close ones, but the Steelers will struggle to return to the postseason.
Predicted finish: 9-7
11. New York Giants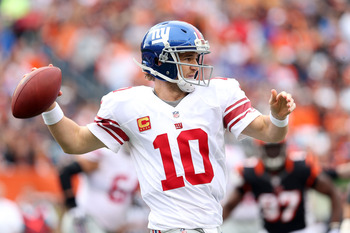 Andy Lyons/Getty Images
The defending Super Bowl champions will again be hoping to peak late. That's because the New York Giants are stumbling through their title defense.
Injuries to key personnel haven't helped, particularly on defense. However, the Giants are struggling to find some coherence in their schemes.
The running game has flourished at times, but hasn't always been given a chance to lead the team. Eli Manning has been under too much pressure to key the offense.
Defensively, Big Blue are surrendering more than a reasonable share of big plays. They've also appeared soft against the run.
Tom Coughlin has been a master of guiding the Giants through the clutch period of the season. If he can do it again, the team is still talented enough to control the NFC East.
Anything else might be too much to ask this time round.
Predicted finish: 10-6
10. Minnesota Vikings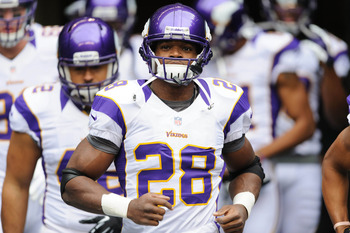 Steven Bisig-US PRESSWIRE
If the Minnesota Vikings didn't have to navigate the tough NFC North, they'd be a lock for the playoffs.
Adrian Peterson has returned to his magnificent best and led an offensive revival. The defense, while not known for highlight-reel plays, has been smart and solid.
Playoffs might be the expectation, but the Vikings have a problem. That problem is two games apiece against the Chicago Bears and Green Bay Packers.
Getting past the division front runners won't be easy and could mean the Vikings fall just short.
Predicted finish: 8-8
9. Indianapolis Colts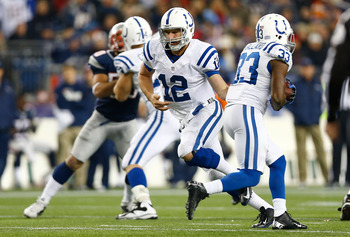 Jared Wickerham/Getty Images
Heading into the season, the Indianapolis Colts' expectations might have been simply doubling 2011's win total. However, thanks to rookie quarterback Andrew Luck, the Colts can actually entertain playoff hopes.
That's because 2012's first overall pick has been as good as advertised. It's also due to playing in a weak AFC South division.
Looking at the schedule, the Colts will have to beat the Titans in Week 14. They'll also hope for positive results against the Bills and Chiefs.
One of the NFL's youngest teams, the Colts could find a late playoff push too much after their efforts so far.
Predicted finish: 8-8
8. New England Patriots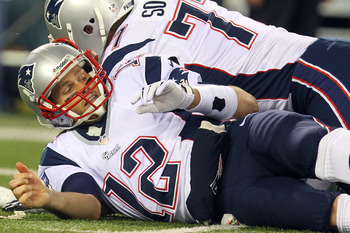 Ed Mulholland-US PRESSWIRE
Their defense might still be suspect, but the New England Patriots remain serious AFC contenders. The way Tom Brady and their offense is playing, the Patriots could again find themselves in the Super Bowl.
That's the obvious expectation for the 8-3 AFC East leaders. If Bill Belichick can continue to tweak some big plays from his defense, his 2012 team could meet that expectation.
Games against the 49ers and Houston Texans will test those prospective champion credentials.
Predicted finish: 12-4
7. Green Bay Packers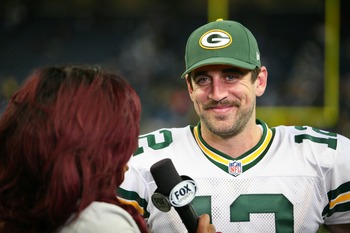 US PRESSWIRE
The Green Bay Packers are hitting top form at the perfect time. That's not the most encouraging news for the rest of the NFC.
They have had injury issues on defense, but the Packers are still keyed by Aaron Rodgers and their offense. That unit is loaded with playmakers and a new hero seems to emerge each week.
If they get past the Giants on the road this Sunday, the Packers can set their sights on home-field advantage.
Predicted finish: 12-4
6. Denver Broncos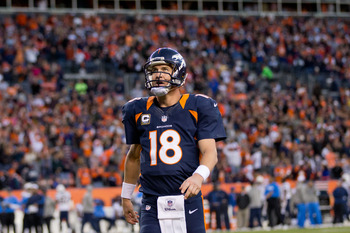 Justin Edmonds/Getty Images
The Denver Broncos are a genuine contender for AFC supremacy. Peyton Manning has taken no time at all transforming the offense and Von Miller leads a burgeoning defense.
That combination gives the Broncos a level of balance even the Patriots can't match. They should seal the AFC West in the next few weeks.
Their race with the Patriots, Ravens and Texans for home-field advantage, will be far more intriguing.
Predicted finish: 12-4
5. Chicago Bears
Jake Roth-US PRESSWIRE
The Chicago Bears should be a playoff team and a legitimate contender in the NFC. They will be if they can avoid a nasty case of deja vu.
When Jay Cutler went down injured last season, the Bears campaign went with him. The signs of a repeat are looking ominous.
The Bears have lost two straight since Cutler succumbed to injury against the Texans in Week 10.
Avoiding a full blown slide is crucial. They can do it if their defense produces some solid stops to go with their bevy of turnovers.
The offense has to find a way to play more than just a supporting role. At this point, the Bears best hope is a wild card berth.
Predicted finish: 10-6
4. San Francisco 49ers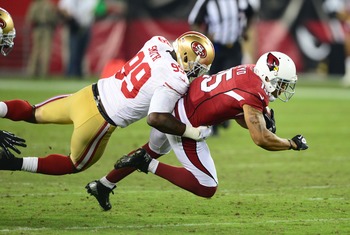 Mark J. Rebilas-US PRESSWIRE
Only a brewing quarterback controversy can stop the San Francisco 49ers from again being at home for the playoffs.
Rolling the dice on either Colin Kaepernick or Alex Smith, will be the biggest gamble of Jim Harbaugh's career. If he gets it right, this team could be Super Bowl-bound.
Predicted finish: 12-3-1
3. Baltimore Ravens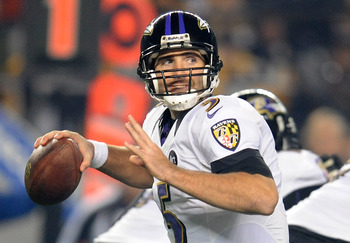 Joe Sargent/Getty Images
The Baltimore Ravens continue to find ways to win, despite not being dominant on either side of the ball. That's the mark of an experienced and efficient team.
That blend could finally take the likes of Ed Reed and Ray Rice to a Super Bowl. That's not an unreasonable expectation for a team at 8-2.
The question is, can Joe Flacco get past Brady, Manning or even Schaub in the playoffs? This writer remains unconvinced.
Predicted finish: 13-3
2. Atlanta Falcons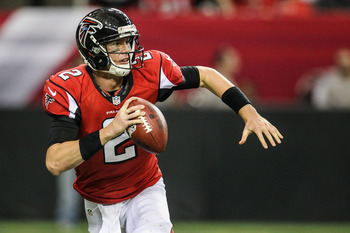 Daniel Shirey-US PRESSWIRE
It's equally hard to be totally convinced by the Atlanta Falcons, despite their 9-2 mark. The NFC South leaders have been pushed very close by mediocre opposition in recent weeks.
That doesn't bode well for a group of players whose first expectation simply has to be winning a playoff game. The Falcons seem to be stumbling towards the close of 2012.
Their pass offense should be the best in the league, but won't carry them through every game. Don't be surprised to see a late falter from Matt Ryan and company that lets the Packers steal home-field.
Predicted finish: 11-5
1. Houston Texans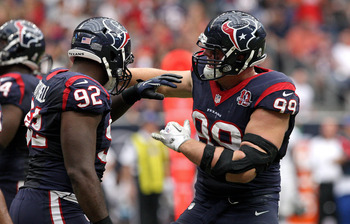 Troy Taormina-US PRESSWIRE
The Houston Texans would be obvious Super Bowl favourites, if it weren't for some nagging doubts. Those doubts stem from seeing Wade Phillips's otherwise excellent defense struggle against premier quarterbacks.
They were destroyed by Aaron Rodgers in Week 6 and were exposed by Matthew Stafford on Thanksgiving.
To successfully navigate the AFC, the Texans will likely have to get past Brady or Manning. Their offensive fire power relies on being able to dictate games with the run.
Facing large deficits naturally challenges that approach.
Week 14's encounter with Brady and the Patriots will show how Super Bowl-ready the Texans really are.
Predicted finish: 14-2
Keep Reading