NFL Power Rankings: Grades and Analysis Going into Week 10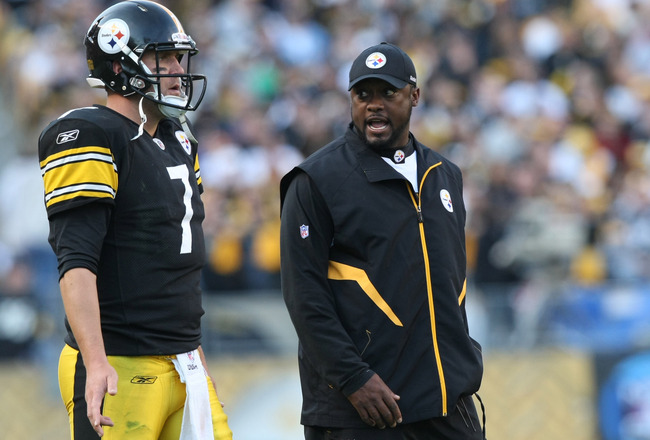 Jason Bridge-US PRESSWIRE
Survive and advance, is one way for NFL teams to approach November.
Now yes, the postseason doesn't begin until January. However, winning now builds that confidence and momentum for December.
Ben Roethlisberger and the Pittsburgh Steelers are one of the most notable teams heading into Week 10. The Steelers were sitting at 2-3 in mid-October and hadn't won a road game.
Since then, Pittsburgh has run off three straight victories and is sitting pretty at 5-3. Ahead, we take a look at the Steel City along with the rest of pro football through nine weeks of 2012.
32. Kansas City Chiefs (1-7)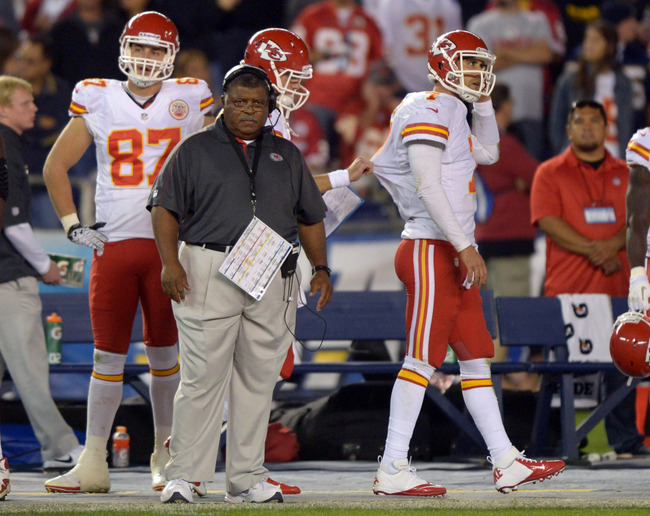 Kirby Lee-US PRESSWIRE
The Kansas City Chiefs are minus-20 in the turnover differential.
Wow.
Averaging just 16.6 points per game, K.C. allows 30 and it's no surprise the Chiefs are 1-7. For as much as Matt Cassel turns it over, Kansas City might as well never throw the ball again this season.
Grade: F
31. Jacksonville Jaguars (1-7)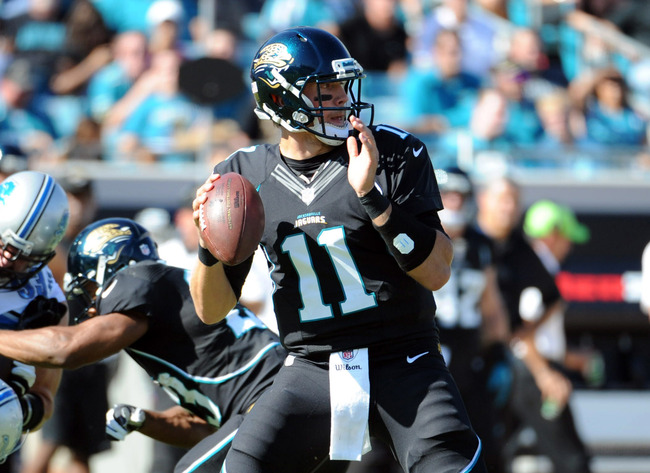 Melina Vastola-US PRESSWIRE
Here's an offense that simply can't move the ball, whatsoever. The Jacksonville Jaguars average a mere 254.4 total yards per game, which is roughly eight yards fewer than what the Steelers' defense allows (262.6, ranked No. 1 in total defense).
In addition, the Jaguars rank dead last in scoring and number of first downs. Backed by an underachieving defense, Jacksonville will never have a chance without some type of ball movement.
Grade: F
30. Cleveland Browns (2-7)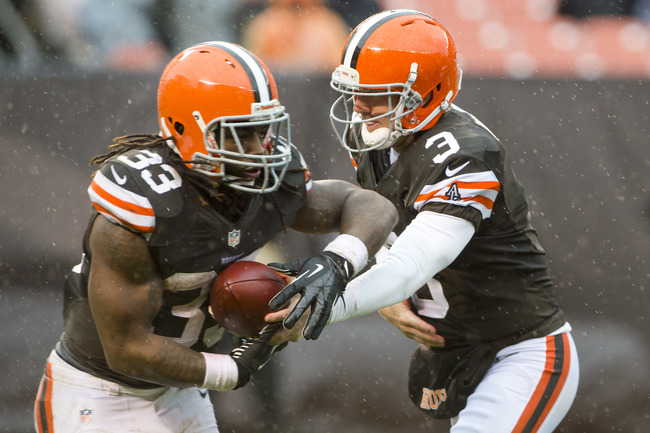 Jason Miller/Getty Images
If it weren't for kicker Phil Dawson the Cleveland Browns would rarely get points on the board.
Going an impressive 5-of-5 on Sunday against Baltimore, Dawson has connected on all 17 field goals this season. Unfortunately, his efforts still aren't enough as Cleveland gives up 23.4 points per game.
That's not a ridiculous number to overcome, but when the offense consistently fails inside the red zone it's a significant assist to the opposition.
Grade: D
29. Buffalo Bills (3-5)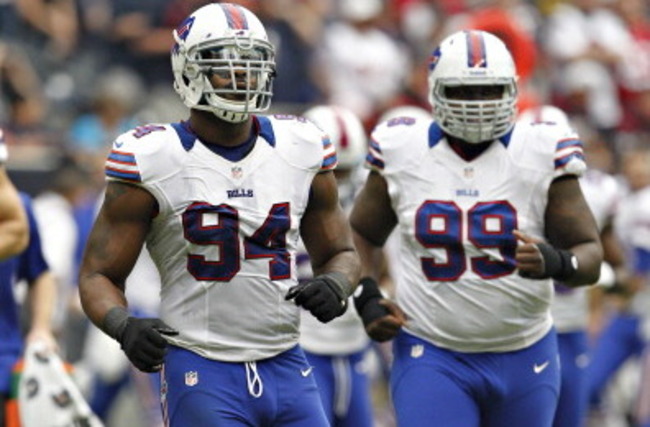 Bob Levey/Getty Images
Although the Buffalo Bills are just two games below .500, two of their three wins have come against the Chiefs and Browns.
Aside from a rushing attack, the Bills don't present much because the offense lacks an explosive passing game and the defense simply can't stop anyone: Allows 418 total yards and 31 points per game.
Unless that gets fixed immediately, Buffalo will continue to disappoint.
Grade: D
28. Carolina Panthers (2-6)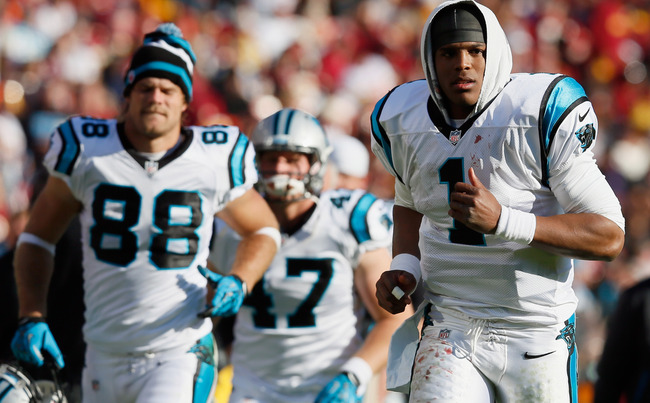 Rob Carr/Getty Images
The Carolina Panthers got a nice win on the road over the Washington Redskins.
Still, the Panthers have much proving left as the Redskins defense is among the worst around. This week, Carolina plays host to the Denver Broncos, followed by the Tampa Bay Buccaneers.
Both of those teams present much better defenses than Washington, so the Panthers' 18.6 points per game average will be tough to meet.
Grade: D
27. Tennessee Titans (3-6)
Tom Szczerbowski/Getty Images
Turnovers are what happen when teams fail to run the rock against the Bears. Yes, Chris Johnson ended with 141 rushing yards, but 80 came in garbage time after Chicago led 51-12.
Not to mention, Johnson lost both fumbles and the Titans' offensive miscues continue to affect any shot at building consistency. Even worse, Tennessee allows a league-worst 34.2 points per game.
Despite that not falling all on the defense, giving up 414 total yards per game doesn't help either.
Grade: D-
26. Washington Redskins (3-6)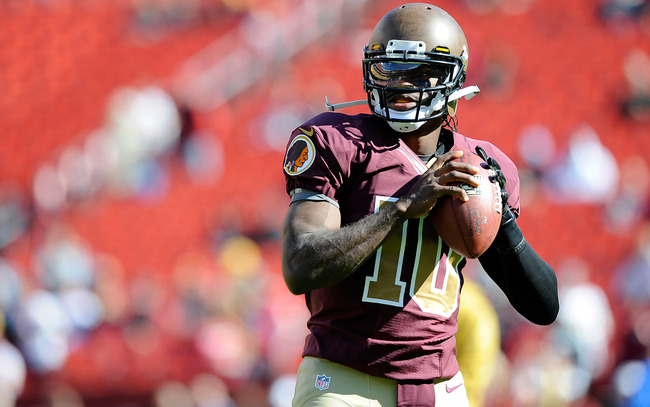 Patrick McDermott/Getty Images
The Washington Redskins don't have any chance to consistently win without a defense.
Robert Griffin III can only develop so much as a rookie quarterback and his ability to limit turnovers is saving the Redskins right now. That said, the defense keeps failing miserably by allowing an average of 27.6 points per contest.
Despite having a plus-seven turnover margin, Washington doesn't provide RG3 with all the weapons to keep pace.
Grade: D+
25. Cincinnati Bengals (3-5)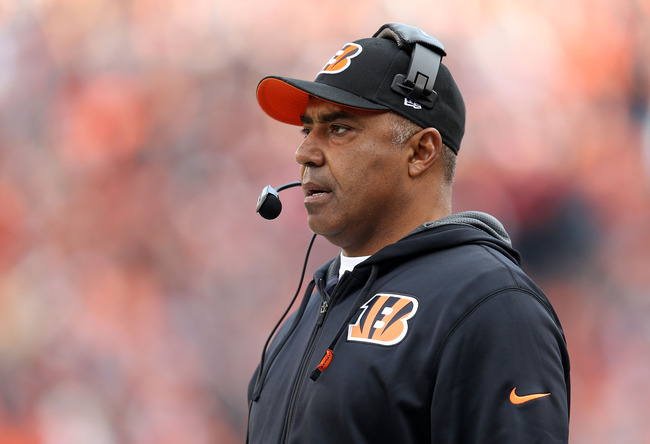 Andy Lyons/Getty Images
When October began the Cincinnati Bengals were 3-1 and on a three-game winning streak.
Fast forward to post-Halloween and the Bengals have dropped four straight. Or shall we say, "The Bungles."
Andy Dalton and the passing game is stout. Unfortunately, the pass rush and pass protection can be rather unreliable at times. In short, that affects the ground game and consistently forces turnovers.
Grade: D+
24. Oakland Raiders (3-5)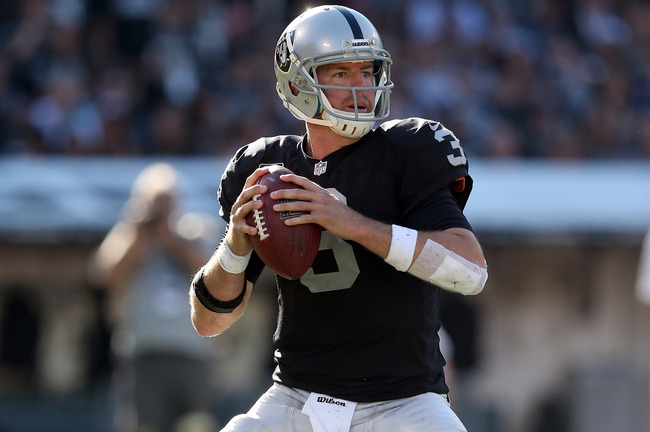 Ezra Shaw/Getty Images
If the Oakland Raiders would have figured out how to slow down Doug Martin, the Silver and Black win in Week 9.
On the bright side, Oakland may be 3-5 but certainly playing much better now than when 2012 kicked off. The passing game is consistent, so whoever receives carries isn't seeing stacked boxes when slamming on the ground.
Provided Dennis Allen's defense forces more turnovers, the Raiders will make some noise: But not until Oakland actually gets those additional possessions.
Grade: C-
23. San Diego Chargers (4-4)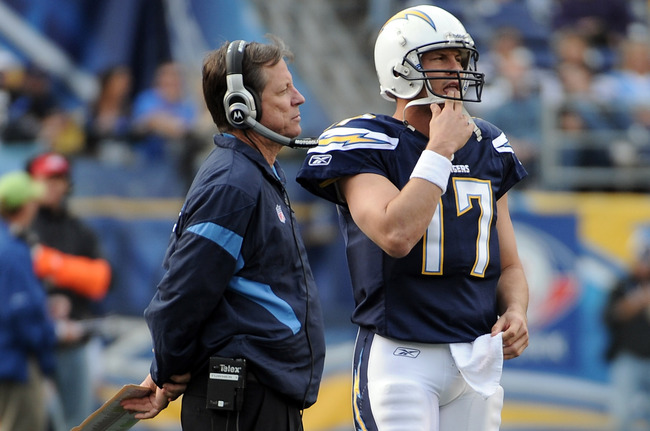 Harry How/Getty Images
The San Diego Chargers can thank the Chiefs for being in the AFC West, otherwise Norv Turner and Co. wouldn't be 4-4 right now.
With two wins coming over K.C., San Diego's other victories have come from Oakland and Tennessee. The Chargers haven't beaten a team with a winning record and have only faced two opponents who are currently above .500 (Falcons and Broncos).
So, even with a weak schedule San Diego is still flirting with mediocrity.
Grade: C-
22. Philadelphia Eagles (3-5)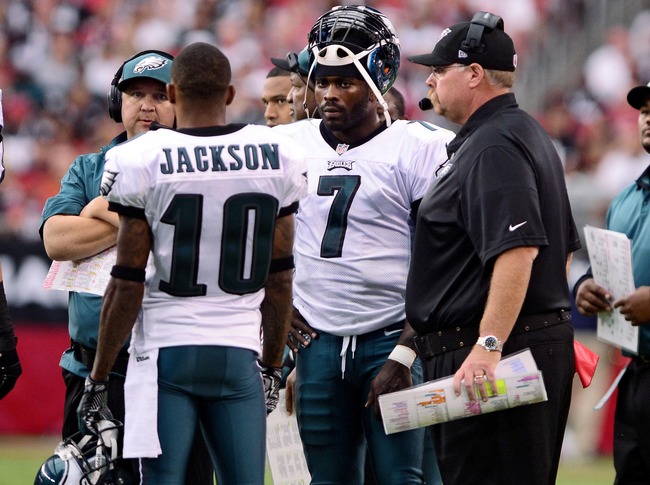 Jennifer Stewart-US PRESSWIRE
The line of scrimmage is the Philadelphia Eagles' worst enemy right now: Not turnovers.
Because turnovers are a byproduct of an absolute horrendous pass protection, Michael Vick doesn't have a chance to survey his reads. And because the defense remains inconsistent at tackling, that affects shutting down the run and getting quarterback pressure.
Leading into Week 10, Philly's best shot to win is slowing the game down and feeding LeSean McCoy. For as atrocious as the Eagles' offensive line has been at pass-blocking, at least run-blocking creates a quicker point of attack approach.
Grade: D
21. New Orleans Saints (3-5)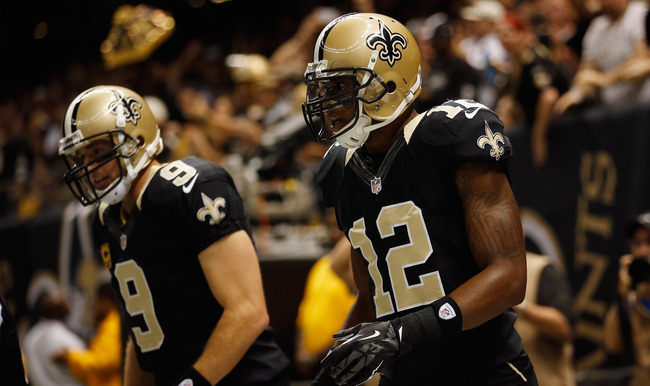 Chris Graythen/Getty Images
Winners of three of their last four games, the New Orleans Saints have somewhat salvaged the 0-4 start.
We know Drew Brees and the offense will continue to score and rack up yards, but the defense is still an atrocity. Allowing only 13 points to Philadelphia, New Orleans still gave up 447 total yards and let the Eagles average 7.6 yards per rush.
Against better teams such as the Falcons, 49ers and Giants, the defense won't be able to help Brees and Co.
Grade: C
20. New York Jets (3-5)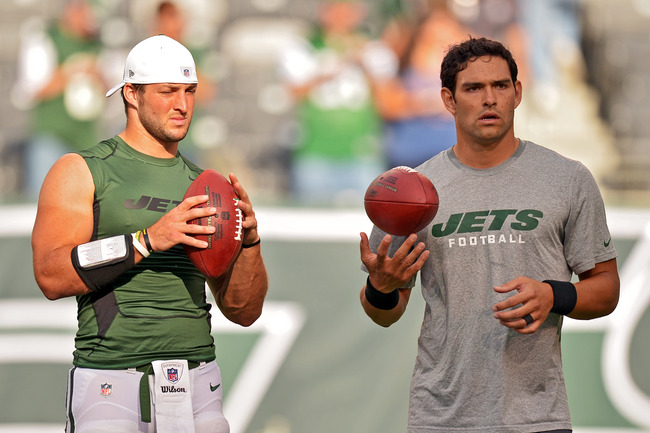 Drew Hallowell/Getty Images
Before we get all concerned about the New York Jets' offense, Gang Green has faced one tough road thus far.
Outside the division Rex Ryan and Co. have seen the Texans, 49ers, Colts and Steelers: All of which sport a winning record. New York also split with Miami and nearly upset the Patriots in New England.
As long as the ground game can get established each week, the Jets have a fighter's chance because the defense will come around.
Grade: C
19. St. Louis Rams (3-5)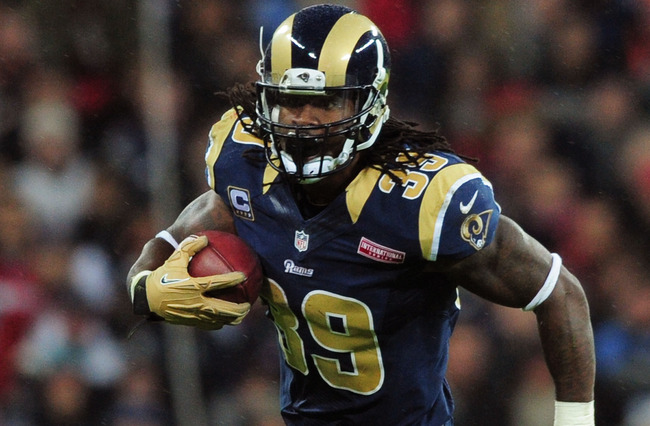 Jamie McDonald/Getty Images
Much like the Jets, Jeff Fisher and the St. Louis Rams have seen a rugged schedule through nine weeks.
The fives losses have come courtesy of San Francisco, New England, Miami, Detroit and Chicago. On the flip side, St. Louis' wins are over the Redskins, Seahawks and Cardinals.
So, sitting at 2-1 in the division and having won when expected, the Rams aren't in a bad position. The defense is capable of locking opponents down, therefore, it's just a matter of getting more offensive balance which has been displayed at times this season.
Grade: C
18. Dallas Cowboys (3-5)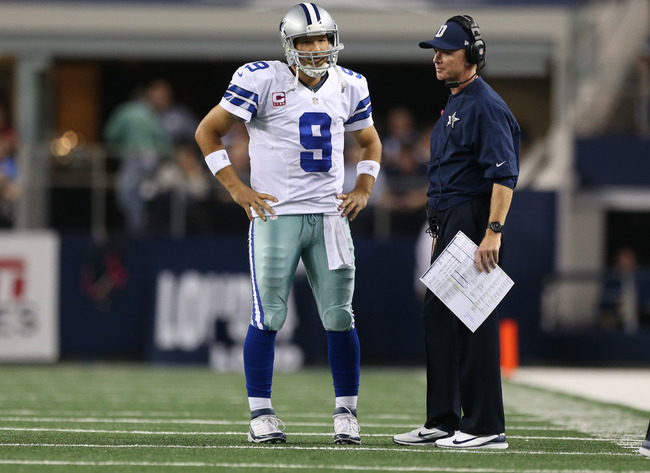 Matthew Emmons-US PRESSWIRE
Along the same lines as the Eagles, the Dallas Cowboys have trouble with the line of scrimmage.
Ranking No. 3 in passing offense and No. 5 in pass defense, Dallas averages a measly 3.6 yards per rush and allows 4.1. In addition, Dallas gives up 107 rushing yards per game and logs only 83.4 for itself.
Recently, turnovers aren't so much the issue when compared to the beginning of the season. Still, lacking in the trenches is proving to cost Big D in must-win games.
Grade: C-
17. Miami Dolphins (4-4)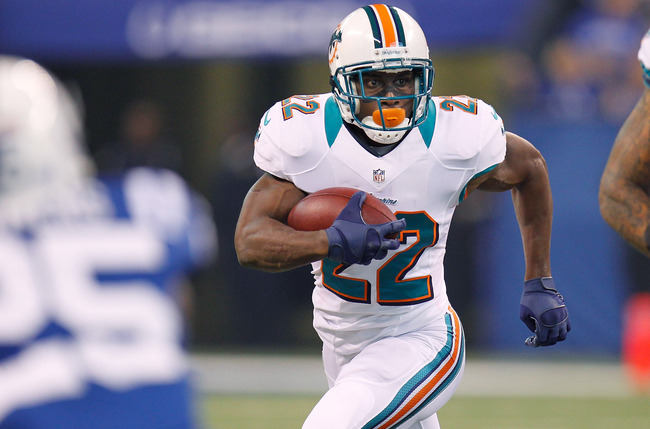 Gregory Shamus/Getty Images
The road loss to the Colts doesn't hurt the Miami Dolphins' chances of making a postseason run.
Dropping to 4-4, Miami is still second in the AFC East and presents a tough front seven with a reliable rushing attack. In short, the Dolphins possess the ability to control the line of scrimmage which is always a competitive advantage.
Just imagine the potential once the coverage improves.
Grade: B
16. Arizona Cardinals (4-5)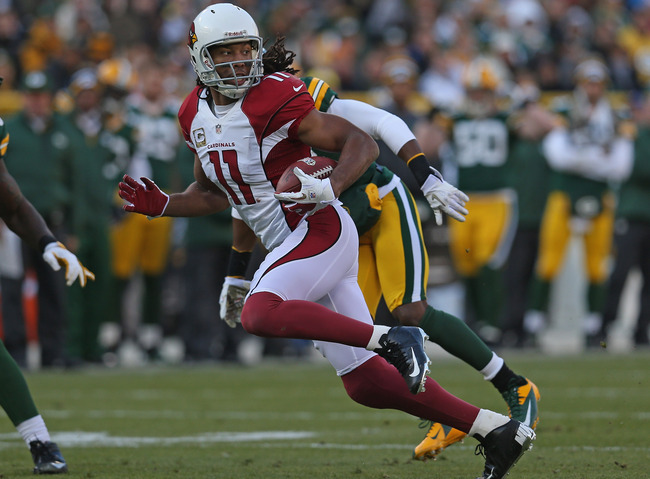 Jonathan Daniel/Getty Images
One difference between the Arizona Cardinals and Eagles is defense. We know the Cards can't pass protect or run the ball, although Arizona plays some stingy defense.
During this five-game skid the Cardinals certainly have not produced offensively, but the bye has come right on time. If the proverbial bleeding can get minimized regarding quarterback pressure, the offense can help with the field position battle.
However, the defense is not stellar enough to win games by itself on a weekly basis.
Grade: C-
15. Tampa Bay Buccaneers (4-4)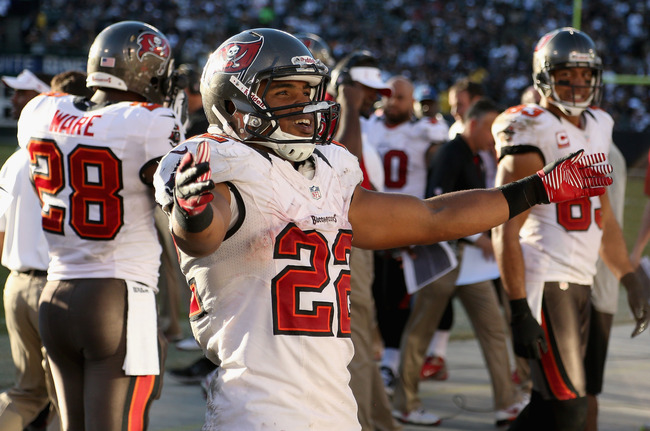 Ezra Shaw/Getty Images
The Tampa Bay Buccaneers are similar to the Dolphins, because Greg Schiano's team controls the line of scrimmage quite well.
Doug Martin is steamrolling right now and the Bucs are 3-1 over the past four games. With a defense that shuts down the run and has improved quarterback pressure, blanketing in coverage is the next step.
Fortunately, Tampa can force turnovers and Josh Freeman's aerial assault helps field a balanced offense.
Grade: B+
14. Detroit Lions (4-4)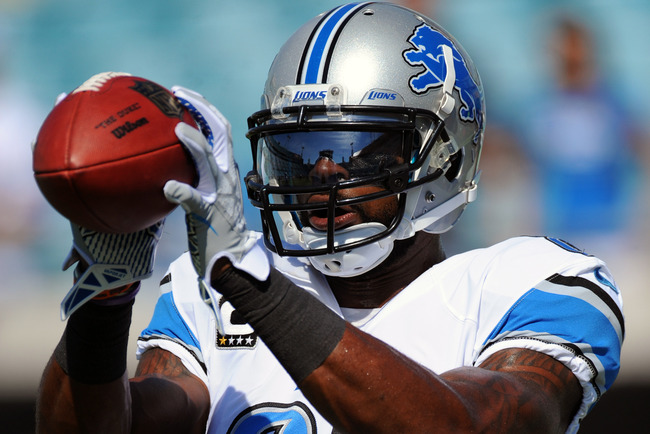 Al Messerschmidt/Getty Images
After the 1-3 start, the Detroit Lions appeared to have found some consistency. Having gone 3-1 over the past four games, only some red-zone woes in the Windy City cost the Lions of recent.
Nonetheless, the passing game has certainly found a new step and players impacting more aside from Calvin Johnson. Next, is to keep building ground game production.
If the Lions work well between the tackles Ndamukong Suh and the defense will put teams away: Instead of Matthew Stafford needing to orchestrate a comeback.
Grade: B
13. Minnesota Vikings (5-4)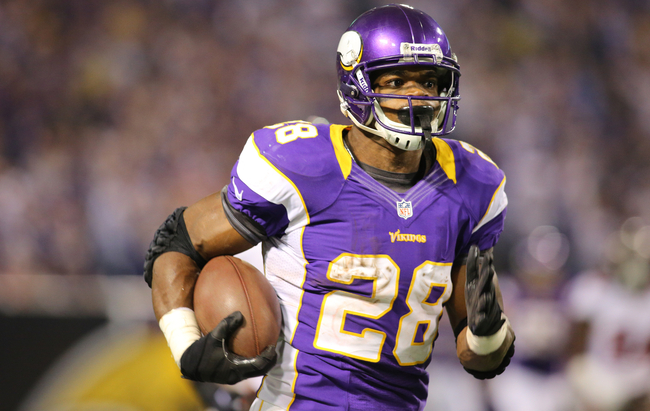 Adam Bettcher/Getty Images
Starting 5-2, the Minnesota Vikings have since dropped two straight but remain a strong postseason contender.
Against the Seahawks, though, Jared Allen and the rush defense were "beasted"—not bested—by Marshawn Lynch's beast-mode. In turn, that set up play-action and the coverage was exploited.
Factor in Minnesota's lack of a passing offense and Adrian Peterson can only do so much on the ground.
Grade: C+
12. Indianapolis Colts (5-3)
Gregory Shamus/Getty Images
All you have to say is Andrew Luck, because the rookie quarterback is proving week in and week out why he went No. 1 overall in the 2012 draft.
The guy is a winner, period. Now, the Colts have supplied Luck with some reliable receiving weapons and decent pass protection. Nevertheless, no one can make an impact without the quarterback reading pre-snap and making every throw.
The defense is faring well against the pass and improving versus the run, so the postseason is not unrealistic.
Grade: B+
11. Seattle Seahawks (5-4)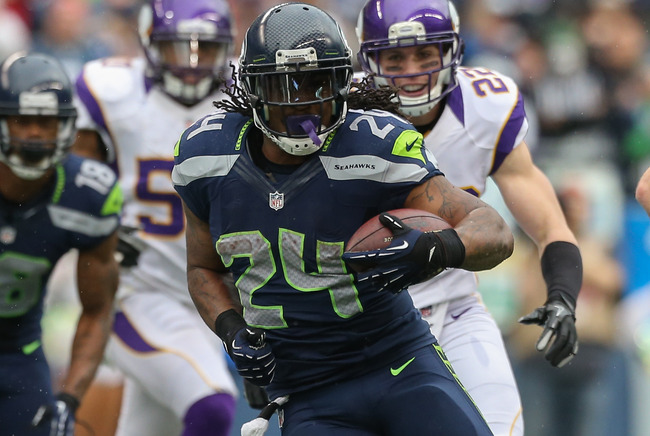 Otto Greule Jr/Getty Images
Right now the Seattle Seahawks' only legit concern is winning on the road and more specifically, within the division.
At 5-4, Seattle has just one road victory (Carolina) and is 0-3 in the NFC West. The flip side of the coin however, shows us three divisional home games in December. So to the Seahawks' advantage, the schedule plays out well because Pete Carroll's team is 4-0 at home.
And regardless of the opponent, Marshawn Lynch's rolling helps set up the pass for balance. As a result, the defense continues to dominate.
Grade: B+
10. Baltimore Ravens (6-2)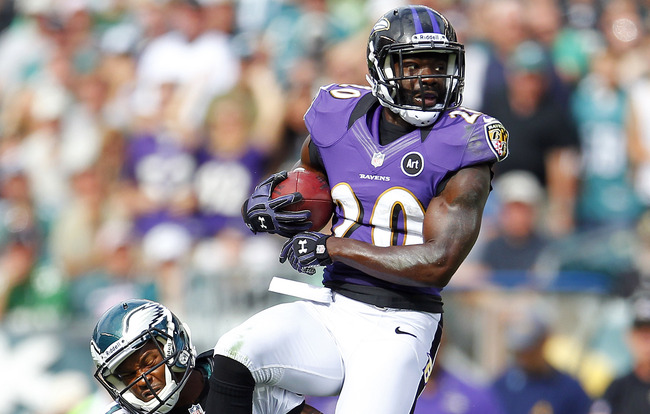 Rich Schultz/Getty Images
Despite a 6-2 record the Baltimore Ravens are one vulnerable team.
Only one victory has been over a winning team (New England) and the schedule toughens up real soon. Ed Reed and the defense still allow nearly 390 total yards per contest, which will cost Baltimore down the road.
Plus, the offense has yet to really put on an explosive display. So, with the Steelers, Broncos and Giants coming up, we'll find Baltimore's true identity.
Grade: B
9. New York Giants (6-3)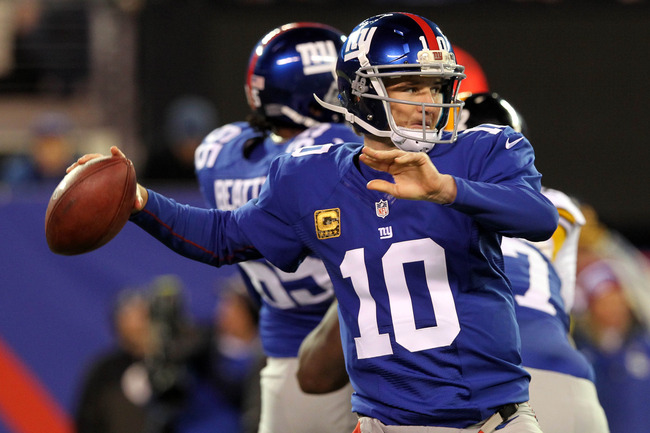 Brad Penner-US PRESSWIRE
The New York Giants just got beat by a Steelers team that has found some impressive momentum.
We also have to keep in mind that Big Blue is a better road team: As evidence of recent seasons.
To that end, New York shouldn't panic because the NFC East is supremely weak and getting to January is all that matters. Obviously the pass defense needs to make more plays (ranks No. 26), but the pass rush will soon hit an even stronger level.
Grade: B
8. Pittsburgh Steelers (5-3)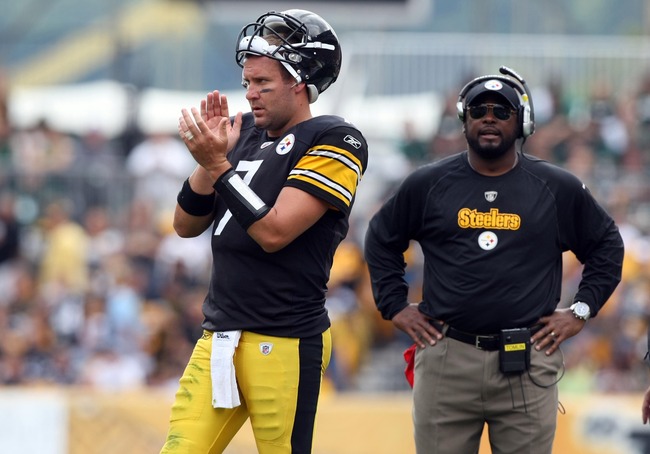 Jason Bridge-US PRESSWIRE
Other than the Patriots, the Pittsburgh Steelers have arguably been the NFL's most resilient franchise of the 21st century.
In the midst of a three-game winning streak, Pittsburgh has found a consistent rushing attack and sound pass defense. It's what isolated receiver A.J. Green in Cincinnati, quarterback Robert Griffin III from Washington and limited Eli Manning last week.
Physical play on offense has boosted this team, because the offensive line displayed a quick turnaround after losing to Tennessee.
Grade: A-
7. Denver Broncos (5-3)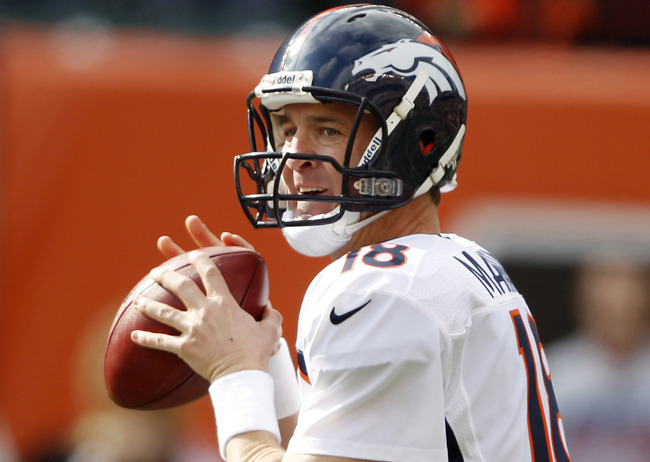 Frank Victores-US PRESSWIRE
It seems the Denver Broncos marginally improve with each new week. Turnovers, though, remain a slight concern as Peyton Manning did toss two picks against Cincinnati.
Nevertheless, the defense is finding more confidence and the ground game continues to punish with Willis McGahee. After facing arguably the NFL's roughest slate to kickoff 2012, the Broncos get one of the easier schedules down the stretch.
In short, the AFC West is Denver's to lose as we progress through November.
Grade: A
6. New England Patriots (5-3)
Joe Nicholson-US PRESSWIRE
Perhaps the bye was perfect for the New England Patriots, because Bill Belichick's pass defense is treacherous to watch.
And that facet remains the Pats' lone flaw.
New England's offense can virtually move at-will, and the pass rush and run defense is solid. With some tough games against the Colts, Dolphins (twice), Texans and 49ers, we'll learn a great deal about the 2012 Pats real soon.
Grade: A
5. Green Bay Packers (6-3)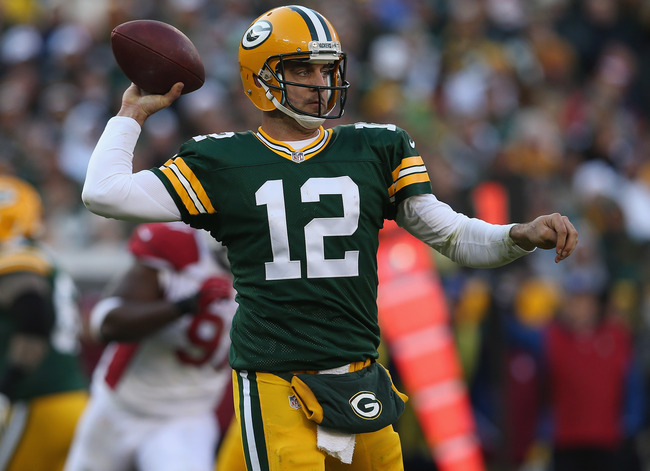 Jonathan Daniel/Getty Images
The impressive thing about the Green Bay Packers through nine weeks is how they are winning: Meaning, not always pretty.
This four-game win streak has been anything but smooth because Aaron Rodgers' pass protection still needs work. The defense continues to play just well enough, as games aren't put away early despite a strong pass rush.
That, however, is a good thing because it means the Pack has not peaked just yet: Which only makes them more dangerous come January.
Grade: A
4. San Francisco 49ers (6-2)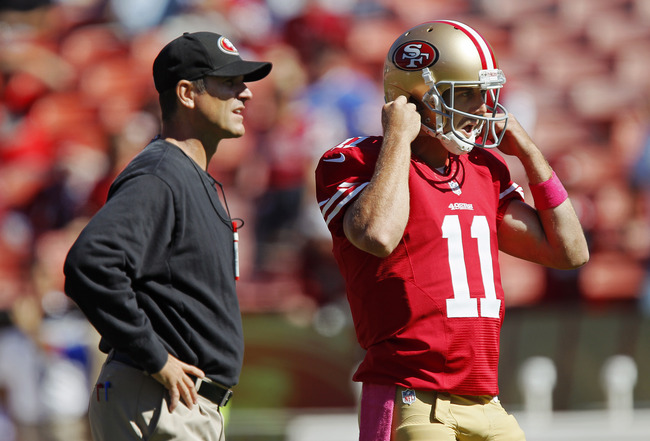 Brian Bahr/Getty Images
Coming off a bye week the San Francisco 49ers possess some impressive momentum.
After the home loss to the Giants, the 'Niners won one a short week then followed that with a key divisional road win at Arizona.
Interestingly enough, this team also has not peaked yet despite the passing game improving. Over the next seven weeks this team will get consistently tested, though, because the Rams (twice), Bears, Saints, Dolphins, Patriots and Seahawks, are not cakewalks.
Grade: A
3. Houston Texans (7-1)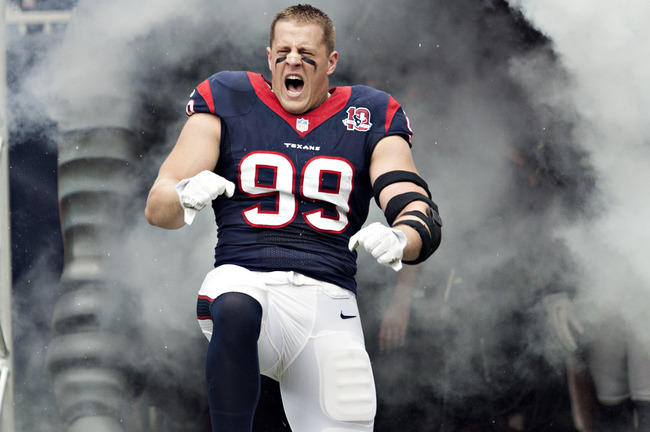 Bob Levey/Getty Images
So far the Houston Texans have some impressive wins over the Broncos, Ravens and Dolphins.
The next five weeks however, are going to challenge this rising team. Four of Houston's next five are road contests and three are against the Bears, Lions and Patriots.
Provided Arian Foster and the offense stay true to balance, we know J.J. Watt and the defense will lock it down. It's simply a matter of winning the truly tough matchups on a prime-time stage.
Grade: A
2. Chicago Bears (7-1)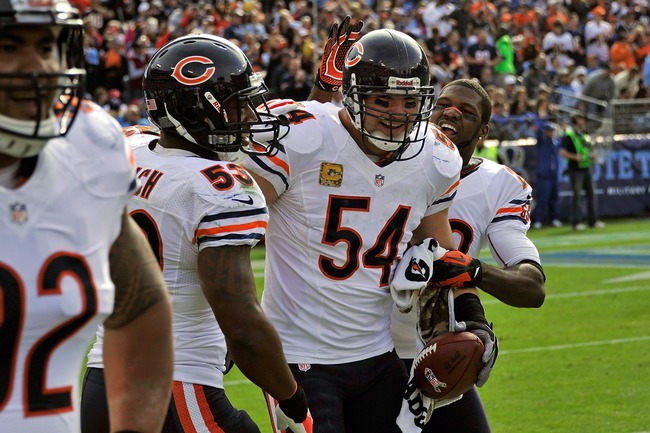 Frederick Breedon/Getty Images
A defense that willingly creates multiple turnovers a game has a distinct competitive advantage. One major difference between the 2012 Chicago Bears and the 2011 Packers, though, is the actual ability to stop the run and pass.
Last season Green Bay forced all kinds of turnovers, but Chicago does it by merely allowing 318 total yards per contest. As long as the offense keeps its turnovers to a minimum, Chicago will win the NFC.
Grade: A
1. Atlanta Falcons (8-0)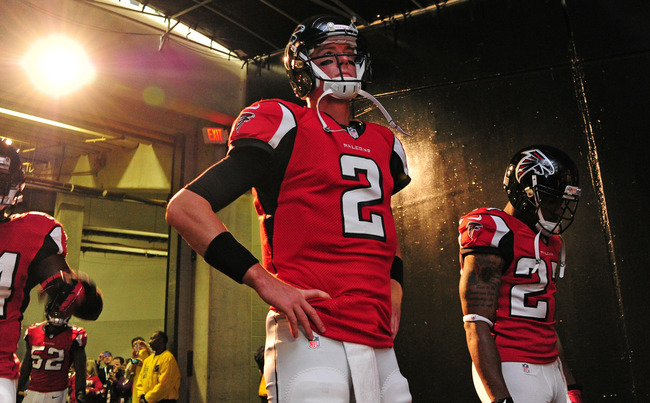 Scott Cunningham/Getty Images
Once again the Atlanta Falcons showed why they are the NFL's top team: Composure.
Hosting the Cowboys was a challenge on Sunday night, because Dallas was desperate for a win and didn't have much to lose heading in. Atlanta on the flip side, is bound to win the NFC South simply because of how weak it is compared to the NFC North and West.
A vulnerable division is not an excuse for the Falcons' dominance, however. Thomas DeCoud and the defense are disciplined versus the pass and it continues to assist the front seven. We know the offense will move the ball, so it's a matter of minimizing an opponent's big plays while controlling the clock.
Grade: A+
Follow John Rozum on Twitter.
Keep Reading