San Francisco 49ers: Grading the Week 4 Win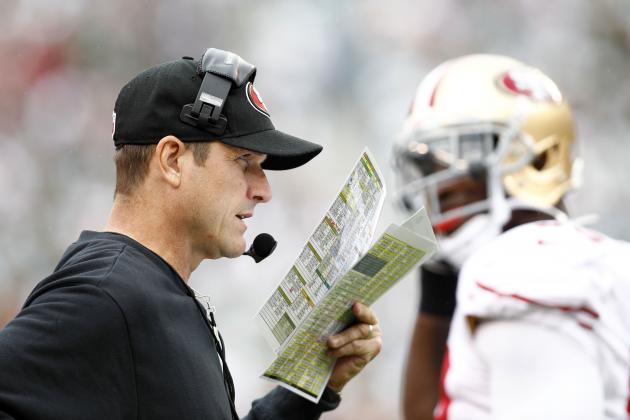 Jeff Zelevansky/Getty Images

Well, that's better! After getting thoroughly embarrassed in Minnesota last week, the 49ers bounced back with an absolute destruction of the New York Jets in Week 4. Led by a stingy defense and efficient offensive game planning, the Niners barrelled right through Rex Ryan's team.
San Francisco didn't even really need Alex Smith this week. For all we knew, they were just direct snapping to Frank Gore all day. Smith was non-existent, going 12-21 with 134 yards, with no touchdowns and no interceptions. Ho-hum.
Luckily, Gore, Kendall Hunter, Colin Kaepernick, and everyone in red and gold got to run the ball on a less than energetic New York defense. The 49ers racked up 245 total rushing yards.
The ground attack, paired with an opportunistic, hard-hitting defense paved the way for an easy 34-0 road victory over the Jets. Read on to see how each unit graded out:
Begin Slideshow

»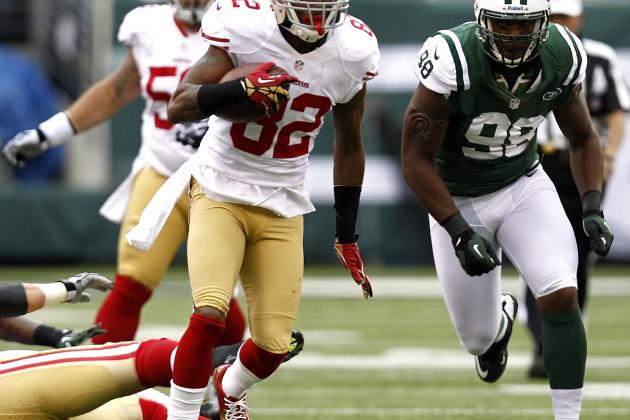 Jeff Zelevansky/Getty Images

Let me just go ahead and clarify something with that C grade—it's not because they played poorly. It's because it was irrelevant against the Jets. Smith only threw the ball 21 times, completing 12 passes.
The passing attack didn't get us a score, and only six receivers even caught passes all game. The best of the bunch was Mario Manningham's three catches for 47 yards. Michael Crabtree and Vernon Davis were hardly involved.
So how do I even grade this unit in a game they didn't need to be playing in? As an average, boring group that had no control over their own stats. When the opportunity arose, most players did well. But again, the main plan of attack against the Jets started and ended with the running game.
The offensive line had a solid day in pass protection, only allowing two sacks. Amazing what Joe Staley can do when Clay Matthews and Jared Allen aren't lining up against him!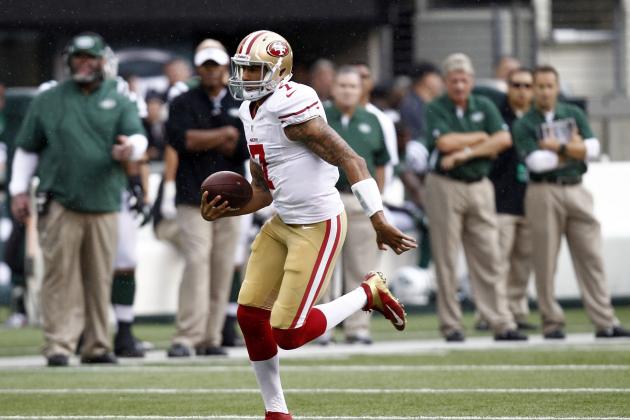 Jeff Zelevansky/Getty Images

When you rush for 245 yards, against any defense, you're going to grade out with an A. Every aspect of the running game was on point in Week 4. From the game plan, to the execution, to the offensive line, it was borderline perfect.
Nobody put up huge numbers, but nine different players carried the ball, including wide receivers Manningham, Kyle Williams and Ted Ginn, Jr.
Backup quarterback and wildcat specialist Kaepernick looked great carrying the ball, running five times for 50 yards. The trio of Kaepernick, Gore and Hunter carried for about 170 of the 245 team yards. If the Niners can get Kaepernick involved in occasional wildcat formations, the already elite running game will become even more dangerous.
Not to mention, Brandon Jacobs is coming back this week against Buffalo. With the offensive line again doing a fantastic job of opening holes, this team is poised to continue bruising their way to wins on the ground.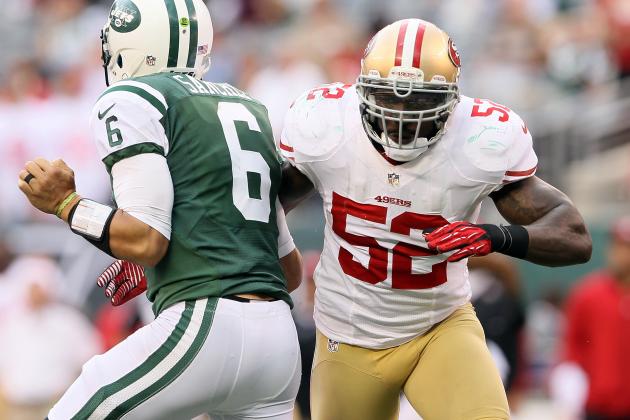 Elsa/Getty Images

The Jets put up 45 rushing yards all game and Mark Sanchez was sacked twice by Aldon Smith, once by Ahmad Brooks. This matchup really just wasn't fair. When Sanchez and Tim Tebow are forced to go to the air to win a ball game, it just won't happen.
Aldon Smith forced a fumble, Justin Smith recovered one, Patrick Willis had an interception and two tipped passes, Ray McDonald tipped a pass, Navorro Bowman tipped a pass and was in on no less than eight tackles...
...the list just goes on and on. It was an outstanding effort by the best front 7 in football. After a surprisingly lazy performance against Minnesota, this was the redemption game the 49ers needed to restore any faith lost in a hungry fan base.
I highly doubt we'll see this unit get anything below an A again this season.
Jeff Zelevansky/Getty Images

Mark Sanchez: 13-39, 103 yards, 0 TD, 1 INT.
Enough said. And Carlos Rogers recovering two fumbles, one for a touchdown, was just icing on the cake. I know Sanchez is one of the worst QBs of all time, but this is still an incredibly impressive performance from this unit.
The Jets never stood a chance. And this is exactly the type of effort 49ers fans like to see one week after a big letdown.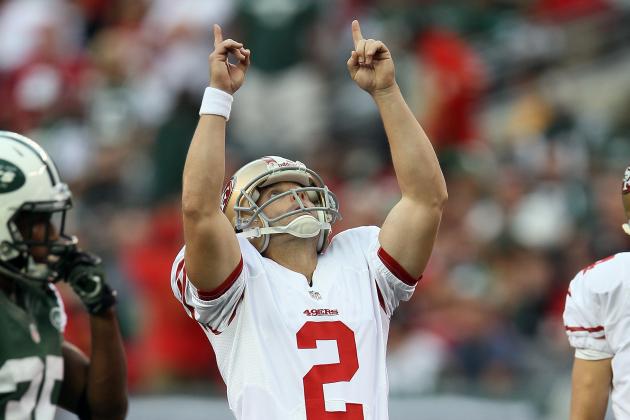 Elsa/Getty Images

For the second time this season, we will use the Special Teams unit as our "Good, Bad and Ugly" segment:
The Good:
Andy Lee only punted four times, twice inside the 20, and one as long as 61 yards. He continues to be the most consistent, powerful, accurate punter in the entire NFL. A second straight Pro Bowl is definitely in his future.
The Bad:
In Ted Ginn, Jr.'s long-awaited return to punt returning duties, he only returned four times for 40 yards. I'm not saying I expected four touchdowns, but a little more than 10 yards per return was definitely something I was expecting. We need his electric return skills to be the game changer.
The Ugly:
This is a rare week. Take a picture, because it likely won't happen again—David Akers shanked two field goals against the Jets. It didn't hurt us in the long run, and he was still good for two from distance and all four PATs, but in a close game, that could have been the difference.
Elsa/Getty Images

After an awful game planning week against the Vikings, Jim Harbaugh and company really stepped it up in New York. Though passing was barely a part of what they tried to do, it resulted in a 34-0 win, so there's not much complaining to be done.
You have to love the involvement of so many rushers on gadget plays. Getting the speedy, elusive receivers the 49ers have on the field involved in running plays is going to pay dividends in future weeks.
Even if opposing coaches know the 49ers have those kinds of plays up their sleeves, they won't know which player to keep an eye on. I have a feeling the playbook of the 49ers has hardly been tapped to its full potential.
My only minor complaint is that the passing attack was smothered by the game plan. Yes, it worked to perfection. But what about when the Niners play a sturdier front 7? I would have liked to see a few of the running play calls go to passing plays. But hey, that's just me.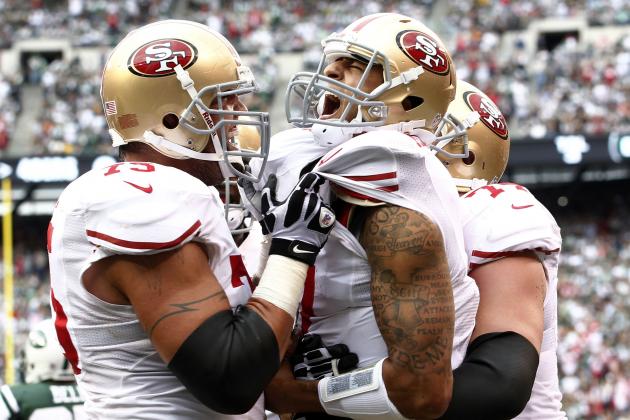 Jeff Zelevansky/Getty Images

Normally, I'd just give a 34-0 bounce-back road win a solid A. But I'm going to be a little tougher on these guys this time (I'm sure they are all broken up about that).
Yes, the game plan was superb. Yes, the running game was fantastic. Yes, the defense was insanely ridiculous.
That being said, the passing game didn't even get going, Akers missed two field goals, Ginn Jr. was hardly a factor on returns and we allowed Tim Tebow to complete 100 percent of his passes!
Just kidding on the last one—surely that was a fluke. All I'm saying is that there are a couple certain areas that can be shored up before the 49ers have to play someone like the Patriots later on this season. I'm sure Harbaugh would agree with me on that point.
But for now—a 34-0 win provides a nice bit of momentum going into a game against Buffalo. The defense vs. C.J. Spiller/Fred Jackson combination will be very fun to watch. Here's to stuffing them like Thanksgiving turkeys.
Who's got it better than us?