Top 50 Fantasy Football Big Board for NFL Week 4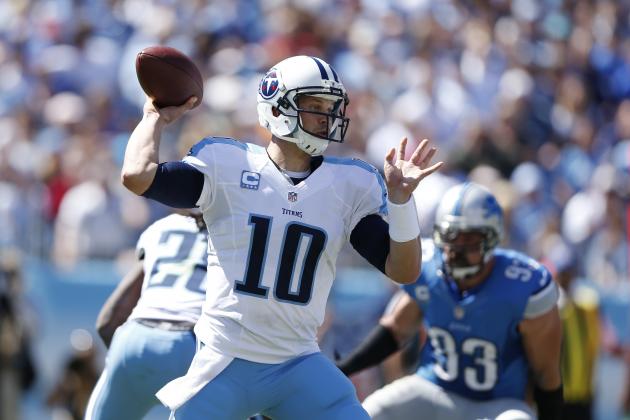 Joe Robbins/Getty Images

This has been a topsy turvy fantasy season thus far, particularly at the quarterback position.
Aaron Rodgers, Tom Brady, Cam Newton and Matthew Stafford have all underperformed, particularly when taking their average draft position into consideration. Is the trend going to continue this week?
Here are Week 4's top 95 fantasy players. Take a gander.
Begin Slideshow

»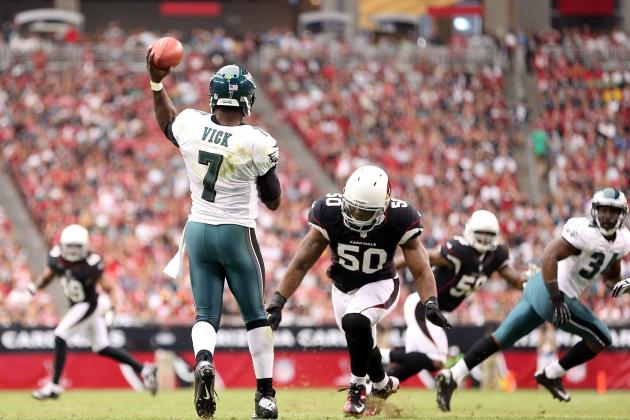 Christian Petersen/Getty Images

20. Matt Cassel (vs. San Diego)
Did not wind up having a huge game last week, as Jamaal Charles did most of the heavy lifting. Still a pretty good QB2 on a weekly basis.
19. Blaine Gabbert (vs. Cincinnati)
Gabbert's receivers have not looked like much of an improvement from a year ago, but this is a good matchup to right the ship. The Bengals have not looked good against the pass this season.
18. Ryan Fitzpatrick (vs. New England)
Fitzpatrick has quietly been a top-five fantasy quarterback thanks to Week 1 garbage time and tasty matchups in Weeks 2 and 3. The going gets tougher from here.
17. Alex Smith (at New York Jets)
He might not be lighting up fantasy scoreboards, but thanks to avoiding turnovers, he has become one of the more reliable quarterbacks. The Vikings should be a nice matchup for him.
16. Andy Dalton (at Jacksonville)
Dalton had a great game against the porous Redskins defense. Jacksonville's defense is not so pumice-like.
15. Jay Cutler (at Dallas)
How many mulligans will Cutler get? The Bears had little need for Cutler to produce a big game last week against the Rams. Dallas should prove tougher, which hopefully means more fantasy output from Cutler.
14. Matt Schaub (vs. Tennessee)
This is a good matchup for Schaub, but the Texans are going to continue relying on the ground game. His Week 3 output was more of an aberration than something to expect on a weekly basis.
13. Philip Rivers (at Kansas City)
That was a massive egg laid by Rivers last week. That it was at home and the Chargers were trying to come from behind for much of the game is also concerning. Road games at Arrowhead are never easy, either.
12. Tony Romo (vs. Chicago)
We are now two weeks removed from Romo's fantastic opening week and the Bears are allowing the fewest fantasy points against quarterbacks this season.
11. Michael Vick (vs. New York Giants)
Things could get ugly for Vick quickly if he continues to be a turnover machine.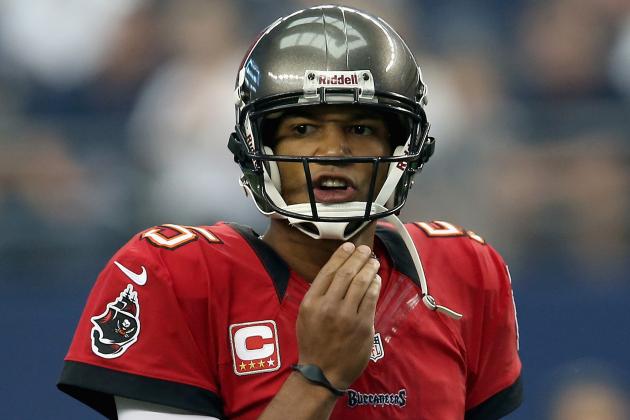 Ronald Martinez/Getty Images

This might seem a bit ludicrous, but there is a reason Josh Freeman is ranked so high.
The Redskins are allowing the third-most fantasy points to opposing quarterbacks through three weeks. Having to face Drew Brees and Andy Dalton (not to mention allowing a 73-yard score from Mohamed Sanu to A.J. Green) has been a big reason. However, Washington's defense has been hit with major injuries and their secondary was not good heading into the season.
Freeman had a glorious fantasy weekend against the Giants two weeks ago before falling off against the Cowboys last week. He has a great matchup and should bounce back this week with the help of Vincent Jackson.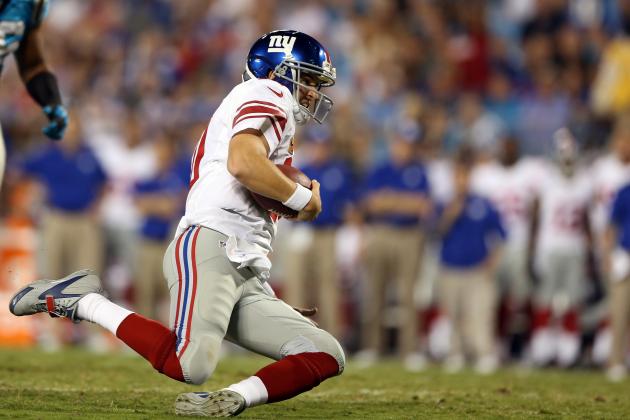 Streeter Lecka/Getty Images

Many of his fantasy points were stolen last week as Andre Brown racked up a ton of points, but Manning had a fine day passing the ball against the Carolina Cam Newtons.
He might not have such an easy time passing this week with Hakeem Nicks likely out, but the Giants do not have the luxury this week of throwing at a rookie cornerback on the opposite side of Victor Cruz like they did with Barden against Carolina. He has also scored plenty of fantasy points in difficult situations in the past.
Manning generally plays well on the road, so he should not be too far down the rankings this week.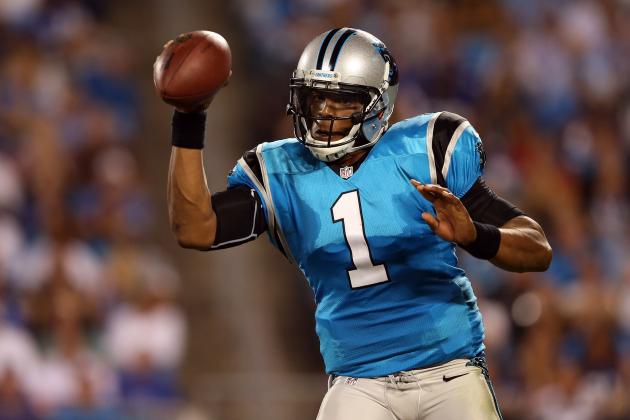 Streeter Lecka/Getty Images

The Giants pantsed Newton on national television last week, ruining many a fantasy owner's weekend in the process.
The Falcons, meanwhile, utterly shut Philip Rivers down on the road last week. Will that happen to Newton?
The truth is that Newton is capable of a huge fantasy week on any given Sunday. That is not a terribly good reason to just throw him in the top five, but the Panthers figure to either be in a shootout or playing from well behind for much of the game, boosting Newton's chances for a nice day.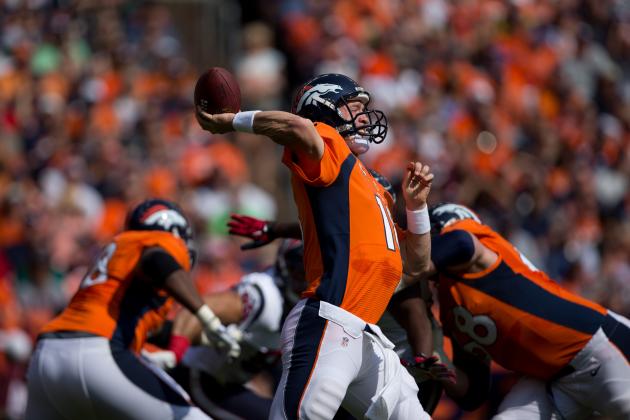 Justin Edmonds/Getty Images

Denver has lost the past two games, but Manning nearly brought them back in both cases.
They get a better matchup against the Raiders this week, who are hurting in the secondary. Oakland is giving up the fifth-most fantasy points to opposing quarterbacks as a result.
Manning should have a field day at Mile High this week.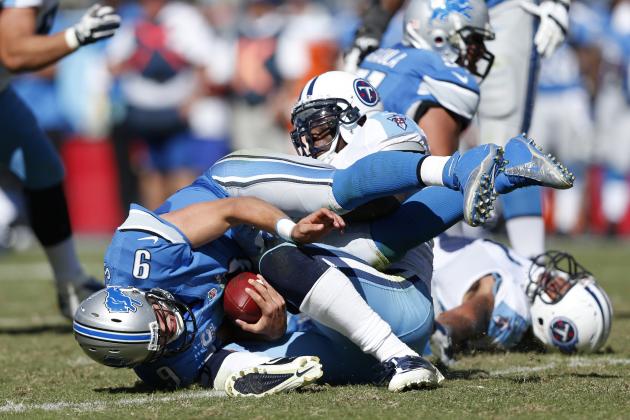 Joe Robbins/Getty Images

The Vikings are one of the surprising teams of the season and Stafford has largely been a fantasy disappointment. To add injury to insult, Stafford was knocked out of the game with an injury against Tennesee last week. (Though, if you tack Shaun Hill's stats onto Stafford's from last week, he would have thrown for 450 yards and three touchdowns—if only we could do that as fantasy owners.)
Stafford should be good to go this week, though, and he looks to get things in gear against the Vikings at home. He is due for a big week and Calvin Johnson should help him get there, finally.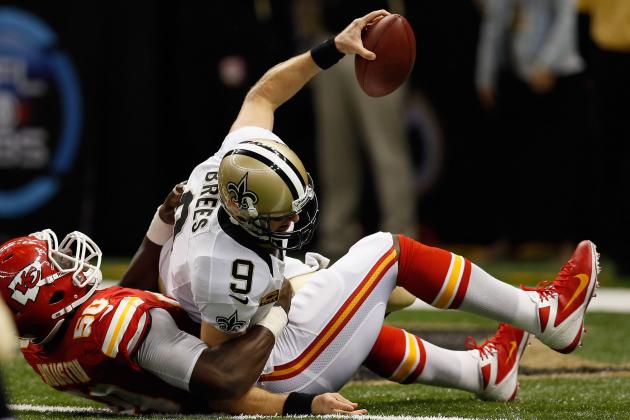 Chris Graythen/Getty Images

Brees has had a nice fantasy season thus far, but he has some alarming peripheral statistics. Most notably, Brees is averaging just 6.6 YPA this season and he is on pace to throw 730 passes. Basically, his fantasy output has been a product of volume more than skill.
The Saints travel to Green Bay, who are sure to be steamed from getting robbed on national television last Monday. The Packers have played well on defense, holding opposing quarterbacks to less than 12 fantasy points per game in standard leagues.
That does not mean Brees will have a bad game, but it will be tougher sledding for him than usual.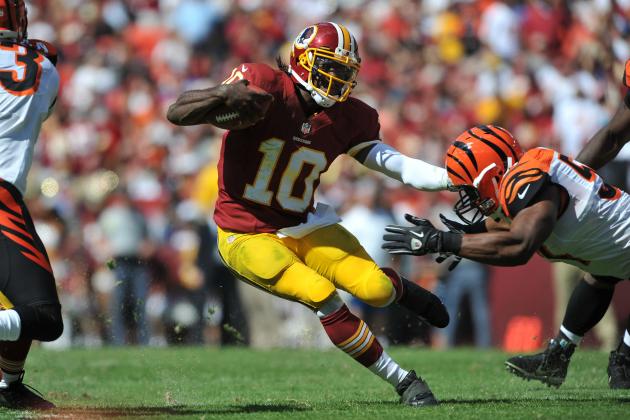 Larry French/Getty Images

Things were not looking good for Griffin and his fantasy owners last week after a difficult first half against a suspect Bengals defense. The second half was a nice recovery.
Have defenses begun to figure Griffin out?
It will be interesting to see which Tampa Bay defense he goes up against this week—the one that allowed 510 yards passing to Eli Manning, or the one that held Tony Romo in check. Granted, Romo did a fair amount of damage to himself with a couple of fumbles, but the Bucs held the Cowboys within striking distance the entire game.
Griffin will be difficult to contain for an entire game, especially if he is playing catch-up like he likely will be this weekend.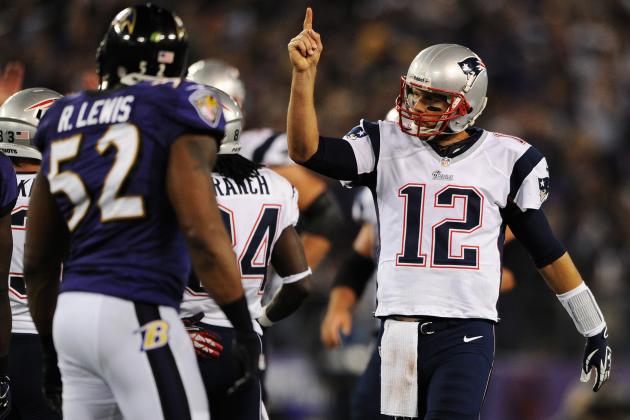 Patrick Smith/Getty Images
"Now see here!"
This seems like a fantastic matchup for Brady, but it is not so elementary.
The Bills gave Brady and the Patriots everything they could handle last season, picking him off five times in two games. Of course, he also threw for nearly 800 yards and seven touchdowns, so his fantasy output was just fine.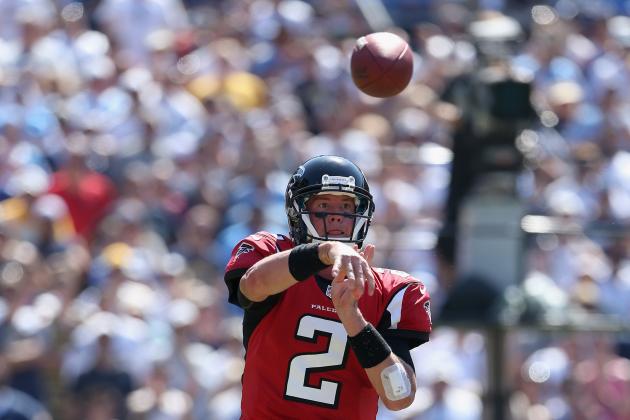 Jeff Gross/Getty Images

The Matt Ryan train keeps on chugging as the Falcons continue to steamroll opponents. This week should be no different as Cam Newton and the Panthers come to town.
Carolina has been on the better half of teams in terms of fantasy points given up to opposing quarterbacks, but that is largely because they have given up points on the ground.
Ryan should have a nice day.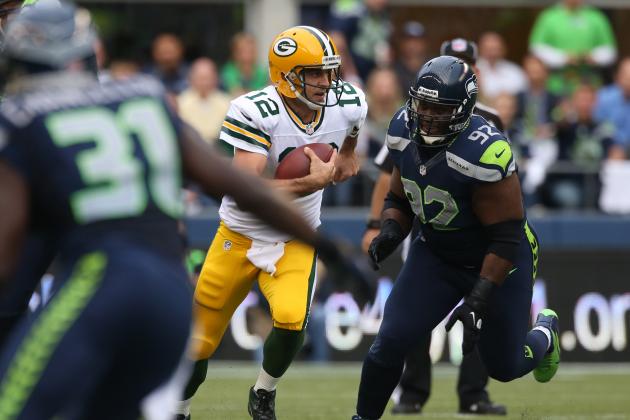 Otto Greule Jr/Getty Images

Fantasy football's prodigal son returns this week.
After a brutal three-week opening stretch for Aaron Rodgers against great defenses of the 49ers, Bears and Seahawks, the reigning MVP finally gets a break when he faces the soft Saints.
New Orleans was able to keep Matt Cassel's fantasy numbers down last week by virtue of letting Jamaal Charles run wild, otherwise they might be in the bottom five in fantasy points against quarterbacks.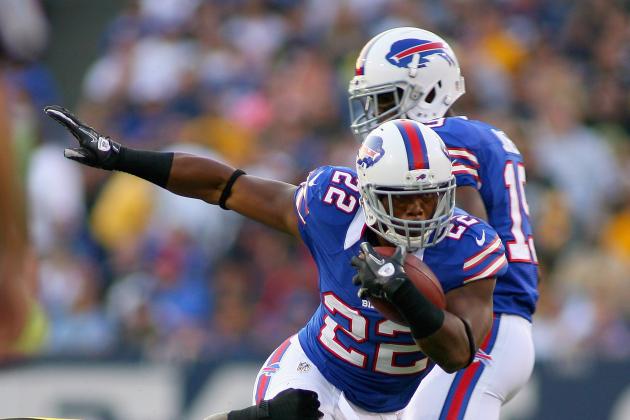 Rick Stewart/Getty Images

20. Matt Forte (at Dallas)
How fortunate would the Bears be if Forte could play on Monday, with Michael Bush's shoulder being balky? This is obviously a tenuous ranking, but he could have a decent day if he plays.
19. Fred Jackson (at New England)
Speaking of coming back from injury, with C.J. Spiller banged up, Jackson makes his return to the lineup in the nick of time. Both could play, but Jackson should have a bigger role considering he practiced more this week.
18. Reggie Bush (at Arizona)
The "return from injury" parade continues with Reggie Bush.
Reggie worked with the team in non-contact drills. The way he's running, you'd have no idea he hurt himself Sunday

— Ben Volin (@BenVolinPBP) September 27, 2012
17. Mikel Leshoure (vs. Minnesota)
It seems as though Leshoure has won the lead back gig in Detroit. The trouble is, he goes up against a Vikings defense that has allowed just 6.7 standard PPG to running backs this season.
16. Darren Sproles (at Green Bay)
Sproles could be in for a big day as a pass-catcher this week considering his critical role in the Saints offense. Brees should be under pressure from Clay Matthews and the Packer pass rush most of the day, so check-downs to Sproles will be a key to the Saints offense this week.
15. Stevan Ridley (vs. Buffalo)
Belichickery! Brandon Bolden and Danny Woodhead both got touchdown runs last week while Ridley languished with 37 yards rushing. Bill Belichick certainly does not care about your fantasy team. Ridley still carries value as the primary back, but this could be a problem for his owners.
14. Alfred Morris (at Tampa Bay)
The Buccaneers have allowed the fifth-fewest fantasy points to opposing running backs through three weeks despite letting DeMarco Murray and Andre Brown get in to the end zone. Morris has benefited from touchdowns thus far. He will eventually get shut out of the end zone.
13. Cedric Benson (vs. New Orleans)
Yes, Benson is averaging 3.1 YPC on the season, but he has gone up against the 49ers, Bears and Seahawks defenses. He is not going to light the Saints up like Jamaal Charles did last week, but he should finally have a good week.
12. BenJarvus Green-Ellis (at Jacksonville)
The Bengals are giving The Law Firm a big workload, and it will finally pay off against a team that has given up the second-most fantasy points to running backs thus far this season.
11. Frank Gore (at New York Jets)
The Jets are not too far behind in giving up fantasy points to running backs—they sit at seventh.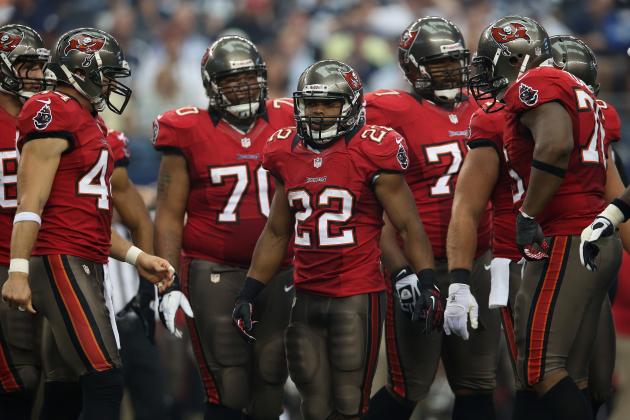 Ronald Martinez/Getty Images

Martin's 3.4 YPC are a bit of a concern, but he is still getting "lead back" treatment in Tampa Bay.
The Redskins have done a decent job limiting fantasy points to opposing running backs this season, but that is largely due to the fact they give up so many through the air.
The rookie can catch out of the backfield to complement his rushing skills, which make him a good all-around threat despite the limited YPC.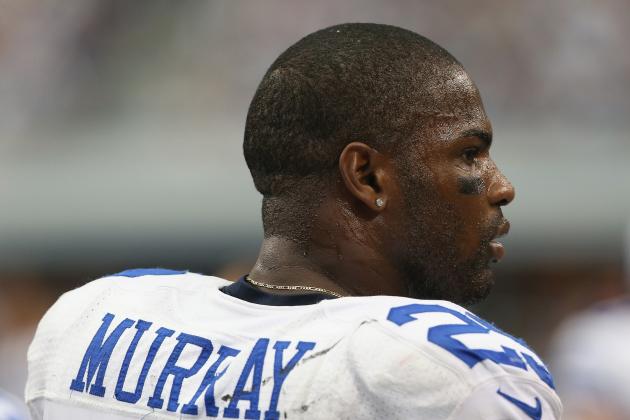 Ronald Martinez/Getty Images

DeMarco Murray is on shaky ground in fantasy land, but touchdowns have salvaged his value.
He gets a good Bears defense this week, one that has allowed the third-fewest points to opposing running backs. Of course, they didn't quite see a running back like Murray when they played the Colts, Packers and a Rams squad with a hobbled Steven Jackson.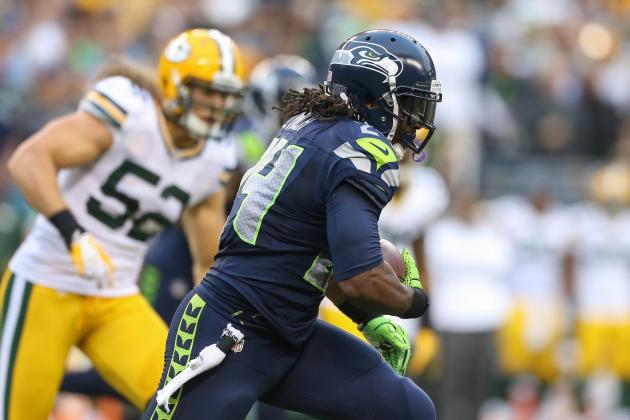 Otto Greule Jr/Getty Images

He might have an unconventional running style, but Lynch is making the most of his opportunity as the feature back in that Seattle offense.
After having to deal with good Packers and Cardinals defenses in two of his first three weeks, Lynch gets a bit of a break against the Rams, who were terrible against the run last season. They have improved, but Lynch should have a pretty good day.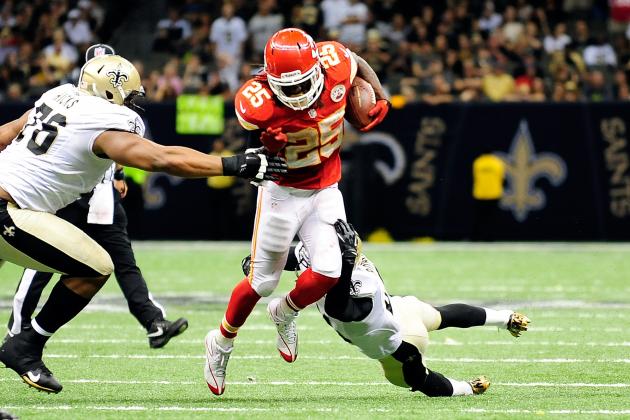 Stacy Revere/Getty Images

So much for that knee injury.
A week after being taken out of a game with pain in his surgically repaired left knee, Charles absolutely annihilated the Saints on the road. He got 39 touches in the process.
That is unsustainable, especially for a guy coming back from a torn ACL, but it is nice to see Charles return to form. Peyton Hillis is doubtful this week, further bolstering Charles' ranking, though Shaun Draughn could prove himself in Hillis' absence.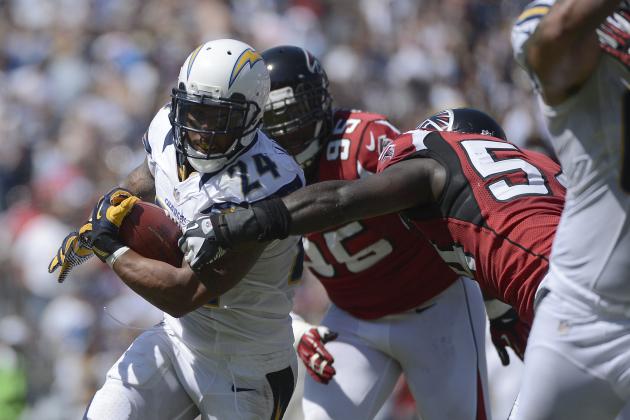 Donald Miralle/Getty Images

It was not the return from injury that Mathews and his fantasy owners would have liked—San Diego fell behind early and could not keep pace to effectively utilize him—but the Chargers obviously expect him to be the workhorse in their offense.
If he can keep from fumbling again and getting into the general manager's doghouse, Mathews should be a fine start on a weekly basis.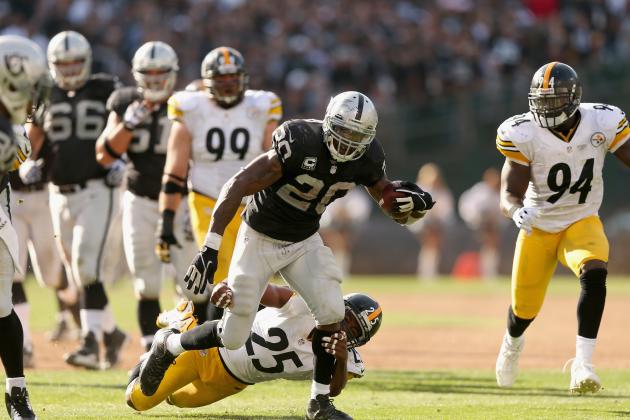 Ezra Shaw/Getty Images

This ranking is a bit tenuous considering McFadden is still averaging a paltry 3.8 YPC. It looks much worse when you take away the one great 64-yard run he had against the Steelers—his average dips to 2.4 YPC at that point.
He does face a Broncos team that he has torched in recent years, though. They will also be without Joe Mays on that defensive front, making things a bit easier for the offensive line blocking in front of Run DMC.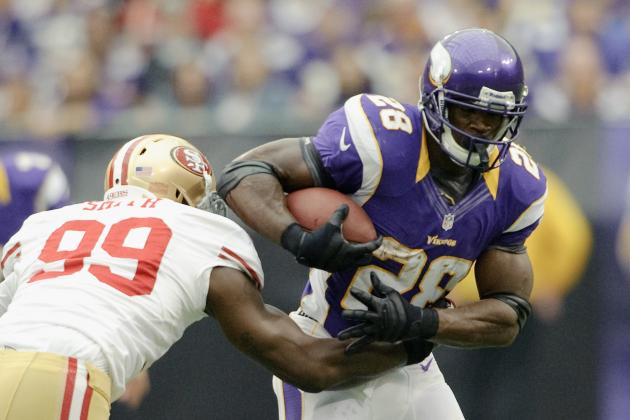 Hannah Foslien/Getty Images

Peterson gutted out 86 yards on the ground last week against a tough San Francisco run defense that stuffed him at the goal line a few times.
Things should be a bit easier this week against Detroit, though they have a good defensive line as well. A return to the end zone is imminent for Peterson.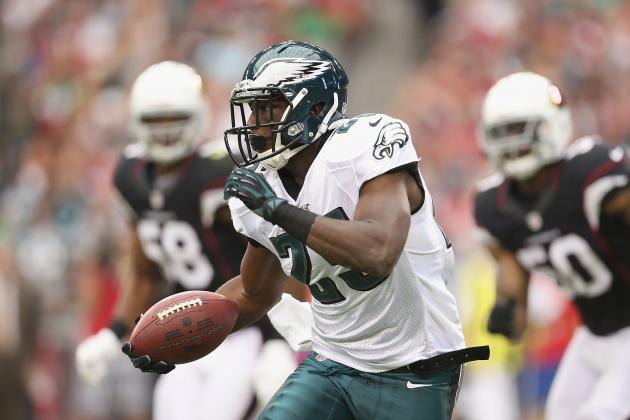 Christian Petersen/Getty Images

It has not been quite as nice of a season for McCoy thus far. He has scored just one touchdown after getting into the end zone 20 times last year.
He has scored at least one touchdown against the Giants when facing them for the first time in a given season. (Incidentally, he has had a poor fantasy output in the second game of each season.)
This is Philadelphia's first meeting against the Giants and it comes at home. Of course, they might be a bit riled up after McCoy called Osi Umenyiora a ballerina.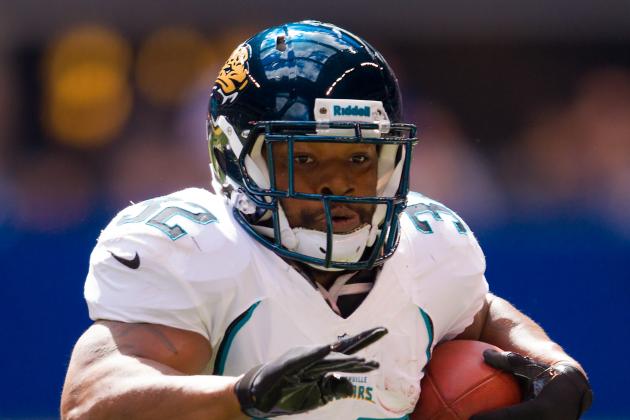 Michael Hickey/Getty Images

Jones-Drew finally broke through with a great game against the Colts last week. The Jacksonville workhorse broke a long touchdown run, validating anyone who was willing to draft him with a high draft pick.
Even though they have been bad against the run, the Bengals have given up plenty of fantasy points to running backs. Jones-Drew can do damage on the ground and through the air.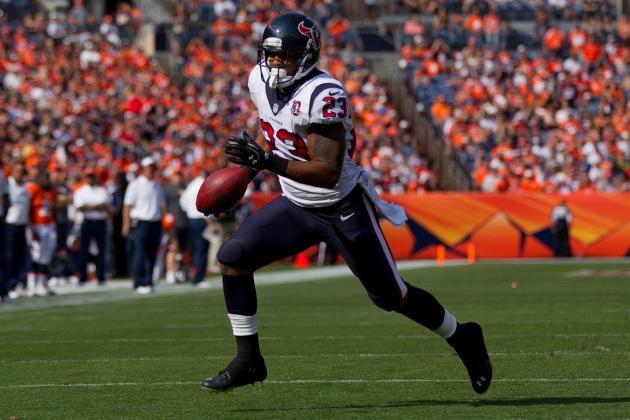 Justin Edmonds/Getty Images

Foster promptly put Ben Tate back into a handcuff role last week.
The Titans have allowed the fourth-most fantasy points to running backs. His 3.7 YPC is a bit concerning, but the Texans remain committed to the run and Foster has been a consistent fantasy performer this year.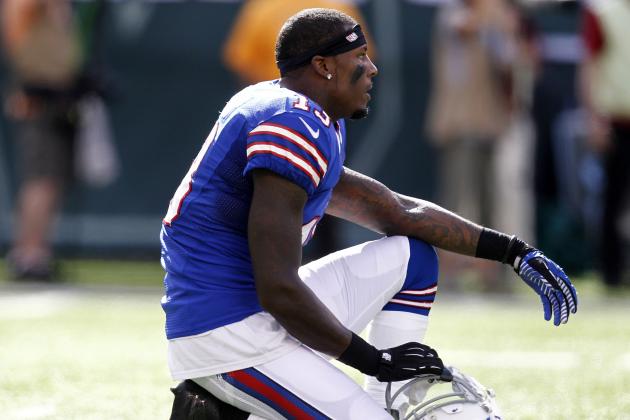 Jeff Zelevansky/Getty Images

20. Eric Decker
It should be a nice day for the passing game in Denver this week.
19. Victor Cruz (at Philadelphia)
With Hakeem Nicks out, look for Philadelphia to key on Cruz like the Panthers did. Only they have someone capable of handling Barden on the other side.
18. Wes Welker (at Buffalo)
Welker should continue to benefit from Aaron Hernandez's absence. If Julian Edelman is out, expect even more contribution from the diminutive receiver.
17. Miles Austin (vs. Chicago)
Austin has been far more productive than big-name Dez Bryant.
16. Brandon Lloyd (at Buffalo)
Lloyd is a touchdown or two away from popping off with a huge fantasy game. He continues to lead his team in targets.
15. Steve Johnson
The Bills figure to be passing the ball quite a bit this week.
14. Jordy Nelson (vs. New Orleans)
The fluky, big plays have not been there for Nelson this season, but he gets a nice matchup against the Saints this week.
13. Brandon Marshall (at Dallas)
The last couple of weeks have been rough for Marshall after a nice debut in Bears blue. This week might not get much better going up against Morris Claiborne and the Cowboys.
12. Greg Jennings (vs. New Orleans)
Jennings has been even more disappointing than running mate Jordy Nelson, but injuries have been a contributing factor. He could go off against the Saints.
11. Roddy White (vs. Carolina)
A weekly top-20 play until further notice, particularly in PPR leagues.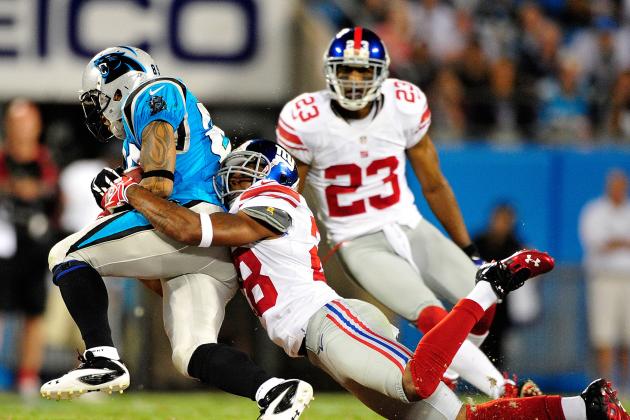 Grant Halverson/Getty Images

Smith has gotten good yardage thus far this season, but he needs to get into the end zone to finally have a great fantasy day.
Atlanta has done a good job covering No. 1 receivers with Brent Grimes out, but Newton finds a way to get him the ball. The uncertainty of a touchdown is all that is keeping him from a higher ranking.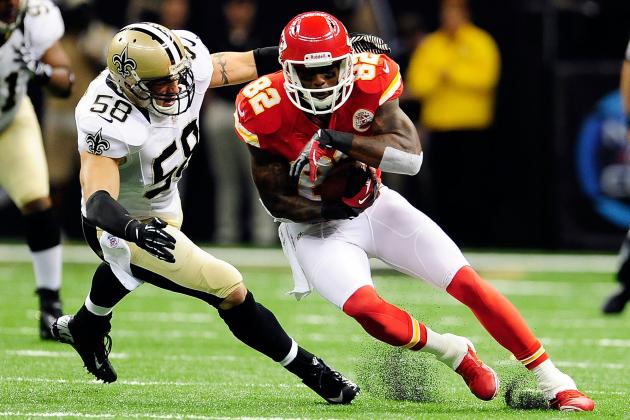 Stacy Revere/Getty Images

The big receiver is questionable this week, which makes him a bit of a risky start in an afternoon game.
I am banking on him playing and doing well in the process.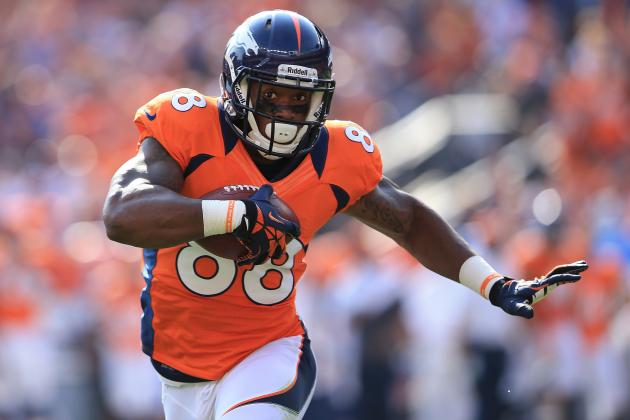 Doug Pensinger/Getty Images

He was held in check last week against a tough Texans team, but he gets a much easier matchup against a soft Oakland secondary.
Eric Decker finally got in on the action last week, as the Texans seemed intent on limiting Thomas, but order should be restored this week.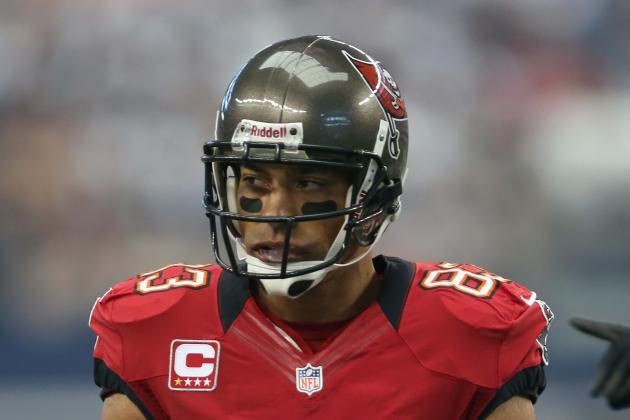 Ronald Martinez/Getty Images

Josh Freeman is going to have to throw to someone when he goes nuts against the Redskins defense.
Vincent Jackson had a quiet Week 3 after a nice day against the Giants. Washington has a sieve-like defense.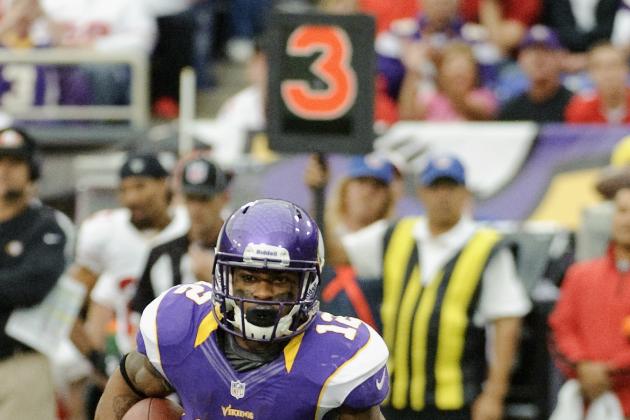 Hannah Foslien/Getty Images

According to some of his teammates, Harvin is the best player in the NFL. That might be hyperbole. Or is it?
The talented receiver has been shut out of the end zone, but he remains a top-20 receiver. He is certainly one of the most versatile threats in the league.
They will not be able to keep him out of the end zone for very long.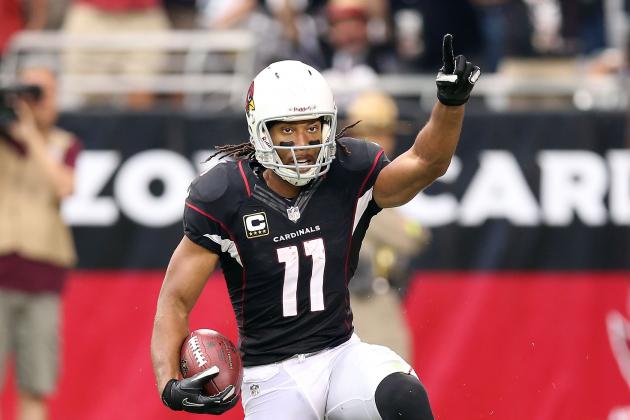 Christian Petersen/Getty Images

In a bit of a surprise, Fitzgerald finally got it going against the good cornerbacks Philadelphia employs. It goes to show what happens when you throw the ball to one of the league's top-two receivers.
He gets a Miami defense that is stout against the run, but one of the worst pass defenses in the league. Richard Marshall's balky back means the Dolphins will be even more handcuffed in a relatively weak secondary.
If the offensive line can keep Kolb upright more often than not, it could be another big day for the big-time receiver.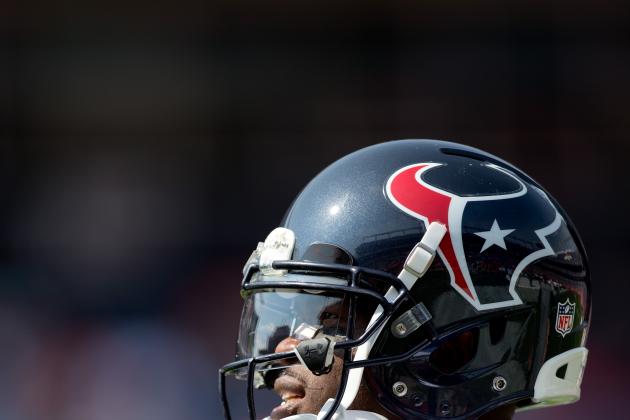 Justin Edmonds/Getty Images

Just another day at the office for Johnson, who had a good one last week against the Broncos.
The Titans should not prove to be a big obstacle for the big receiver. He continues to be healthy, as does his quarterback, Matt Schaub. As long as that is the case, Johnson will be a nice fantasy start.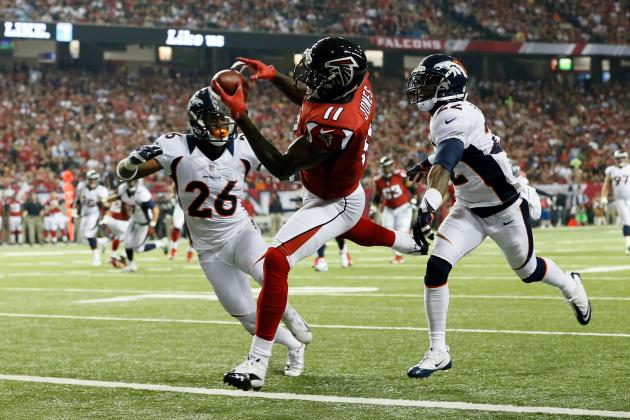 Kevin C. Cox/Getty Images

Jones injured his hand at the beginning of the game last week, returned and scored a touchdown on a nice fantasy afternoon for him.
He is elite. He will always be a threat to go off.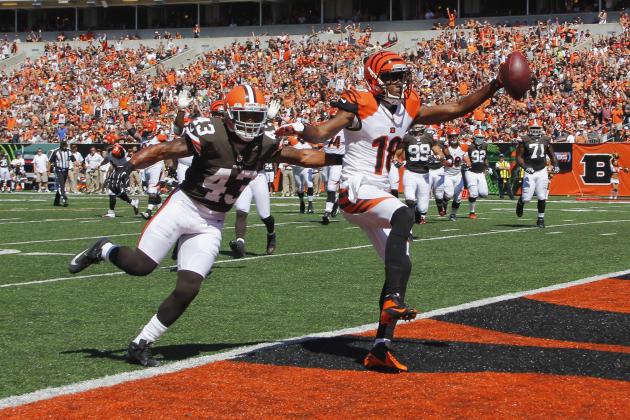 John Grieshop/Getty Images

Perhaps Mohamed Sanu should play quarterback more often?
The rookie receiver threw a long touchdown pass to A.J. Green on the first play of the game for the Bengals, but Green had a good day with Dalton at the helm, too.
The Jaguars have a pretty good defense, and Rashean Mathis is getting stronger each week at cornerback.
Green, like Jones, is Megatron-like in eliteness, though. It will be difficult to contain him all game long.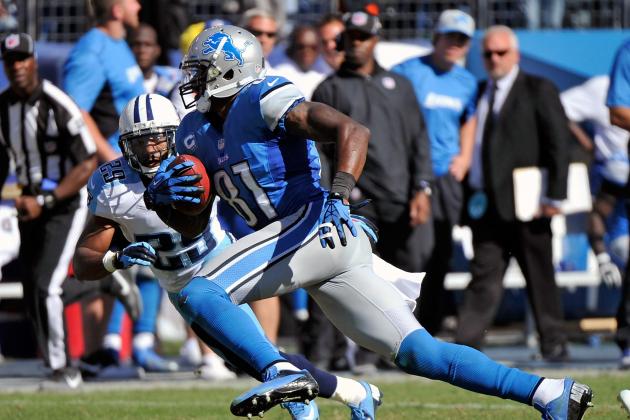 Frederick Breedon/Getty Images

Believe it or not, Johnson's fantasy day was saved when Shaun Hill was inserted into the game to replace an injured Matthew Stafford.
Johnson had racked up some good yardage to that point, but he scored his first touchdown of the season with Hill at the helm.
Alright, Hill is no Stafford. It was just a matter of time.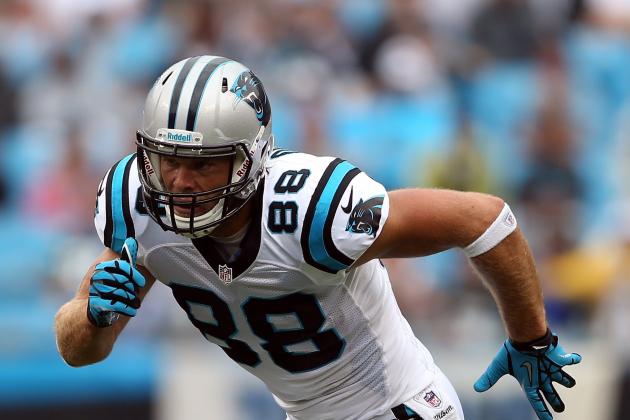 Streeter Lecka/Getty Images

20. Marcedes Lewis (vs. Cincinnati)
The Bengals do not possess a great pass defense. Hopefully that will help break Lewis out of the funk he's been in after a nice Week 1.
19. Kellen Davis (at Dallas)
The Cowboys are a middling team against tight ends in fantasy scoring. They should be focused on Brandon Marshall and Matt Forte—if he plays—which could open things up a bit for Davis.
18. Jacob Tamme (vs. Oakland)
Tamme has fallen off since his Week 1 touchdown. This could be the week he makes it back into the end zone, but that is not a safe bet.
17. Scott Chandler (vs. New England)
Chandler is a "boom or bust" candidate in that his value comes almost exclusively from whether or not he scores a touchdown. He didn't last week.
16. Jared Cook (at Houston)
He had a great game last week largely due to one big play, but the Texans will be a tougher test.
15. Jermaine Gresham (at Jacksonville)
Gresham finally broke out last week against the Redskins. Maybe the defense was paying too much attention to A.J.Green and his cohorts in the receiving corps, or maybe Gresham finally lived up to the hype. Can he do it again?
14. Greg Olsen (at Atlanta)
Olsen had a great week against the Giants, as the Panthers lined him up all over the field. The Falcons have been pretty good against tight ends thus far, though.
13. Jermichael Finley (vs. New Orleans)
For all their defensive woes, the Saints are the best team against tight ends in the fantasy realm. Finley also has stone hands.
12. Owen Daniels (vs. Tennessee)
Daniels remains one of the most targeted tight ends in the league, which gives him weekly value.
11. Brandon Pettigrew (vs. Vikings)
This is not a bad matchup for Pettigrew, who is always dangerous in that offense.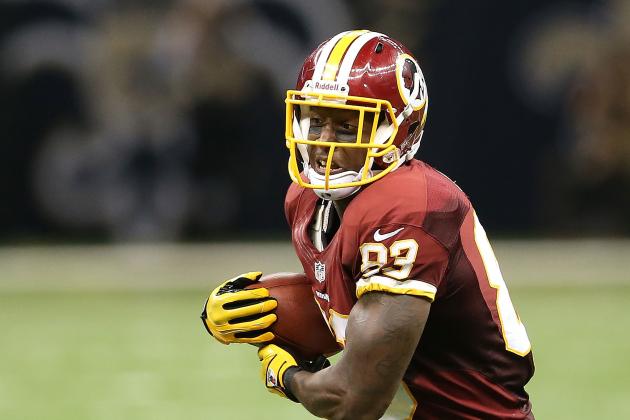 Ronald Martinez/Getty Images

Davis finally had a good day after two weeks of misery for his fantasy owners. He had performed so poorly in the first two weeks that some owners actually dropped him.
Well, anyone who was willing to pick him up was nicely rewarded with a seven-catch, 90-yard day. It seems as though Robert Griffin III was finally able to get him the ball.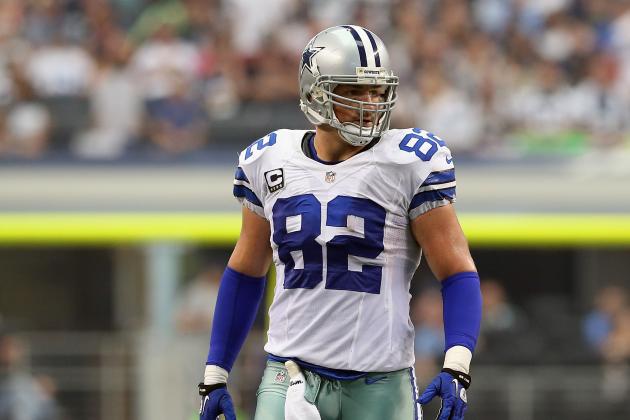 Ronald Martinez/Getty Images

Witten was targeted six times last week but caught just two passes for eight yards.
He has yet to break out of a funk to start the season, which was, perhaps, caused by his ruptured spleen. Maybe age is catching up with Witten, but Romo still throws the ball his direction a good amount. He should eventually get out of his funk.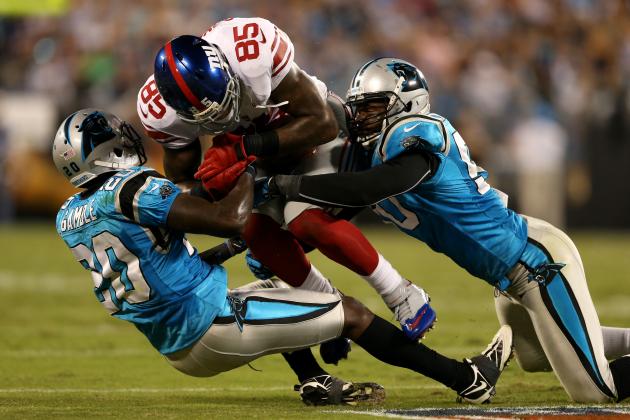 Streeter Lecka/Getty Images

Three straight weeks with a touchdown and a nice fantasy output. Perhaps changing quarterbacks was the key, as Bennett puts it (via Dan Machota of the Dallas Morning News):
But according to the outspoken Texas A&M product, his lack of production could have something to do with the quarterback. Apparently, Cowboys quarterback Tony Romo isn't on the same elite level as Giants quarterback Eli Manning.

"Romo isn't in the same league as Eli Manning. Not even close," Bennett was overheard saying at a New York restaurant.

According to the New York Post, Bennett made the statement to a waiter while he and teammate Michael Coe were dining at the Old Homestead Steakhouse.
This seems like an overblown story, but there might be something to it.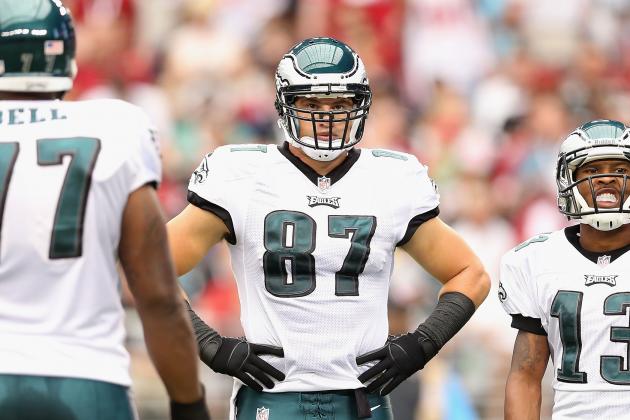 Christian Petersen/Getty Images

Celek continues to be an integral part of the Philadelphia offense.
He did not have a great day last week, but who did for Philly? He had a rough first week and bounced back with a huge game. Maybe he will get in the end zone to boot.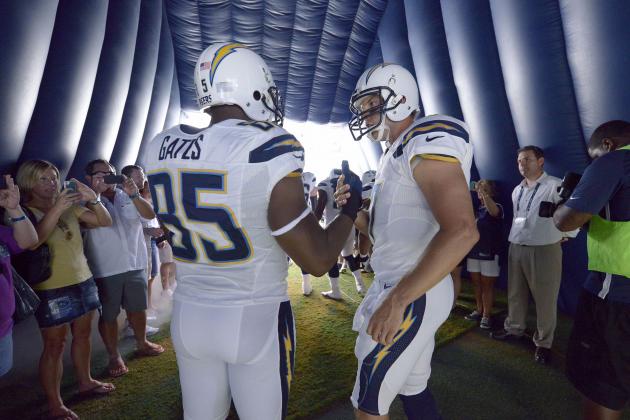 Donald Miralle/Getty Images
"Ok, so you're going to throw me the ball this week ,right?"
It turns out Antonio Gates is no Dante Rosario. Who knew?
Maybe age is finally catching up to the talented tight end, or maybe his injuries have made life difficult. Gates was targeted seven times last week, though, so don't give up hope yet.
The Chiefs give up the seventh-most fantasy points to tight ends. Perhaps this will be the week he finally gets going.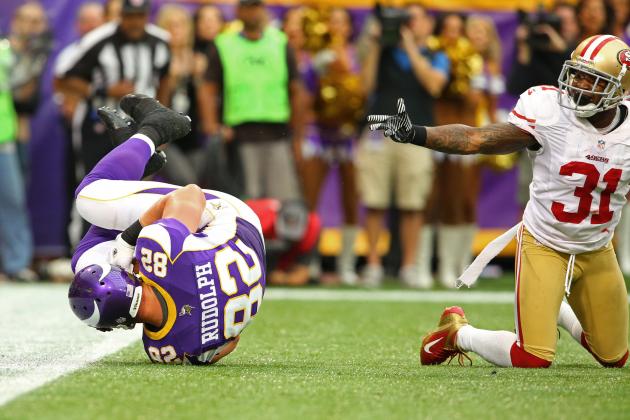 Adam Bettcher/Getty Images

Rudolph the Purple Viking,
had a big fantasy game,
and if you ever saw him,
you would know he's here to stay.
All of the other tight ends,
used to laugh and call him raw,
They never let poor Rudolph,
score in many football games.
Then one clear day in the dome,
Ponder came to say,
"Rudolph with your giant frame,
won't you save me in this game?"
Then all the Vikings loved him,
and they shouted out with glee,
so did his fantasy owners,
he'll lead to victory!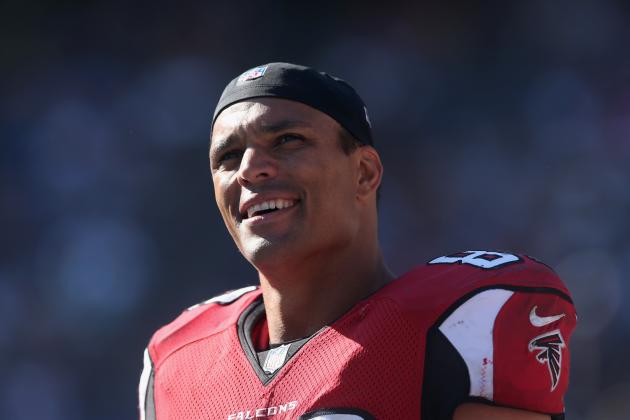 Jeff Gross/Getty Images

Matt Ryan has some serious weaponry, and Gonzalez might be the key cog in the passing game. He has been one of the few consistent fantasy performers at the position this year.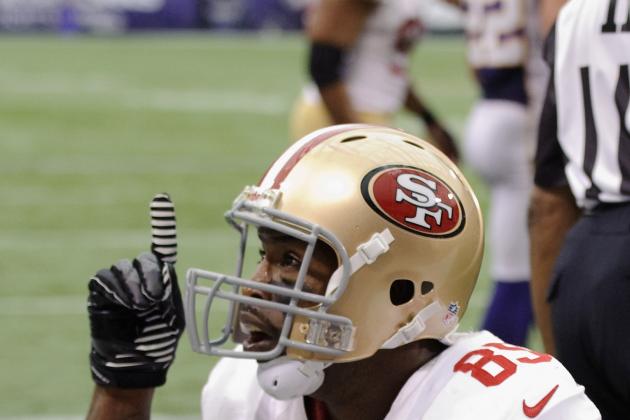 Hannah Foslien/Getty Images

Davis remains one of Alex Smith's favorite targets. He does not have the big volume that some of the other tight ends have, but he has made the most of his opportunities—he is second in the league in points per target.
The Jets are a middling team against fantasy tight ends. This should be another good day for Davis.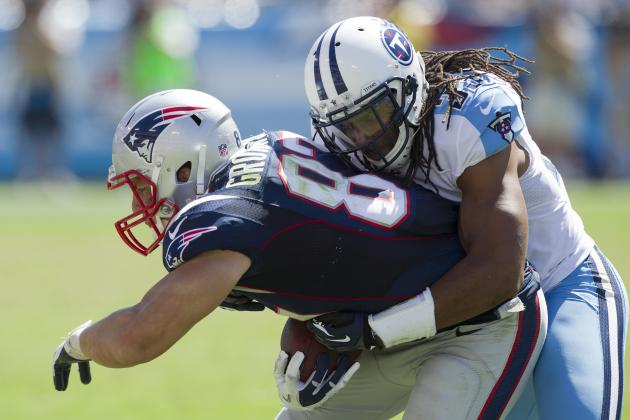 Wesley Hitt/Getty Images

The Bills are the fourth-best team against fantasy tight ends this season, but they have faced Jeff Cumberland, Tony Moeaki and Benjamin Watson.
None of those guys is exactly Rob Gronkowski.
The big tight end had 217 yards and four touchdowns in two games last year against the Bills. Buffalo had better eat its Gronk flakes.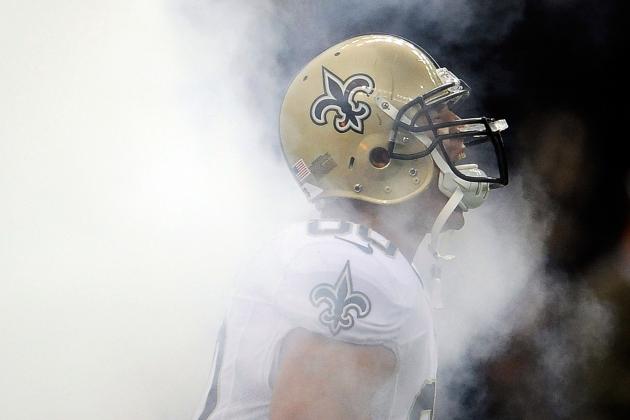 Stacy Revere/Getty Images

Graham is Drew Brees's favorite and most consistent receiver. Teams have keyed on him and he has still has had a great season to date.
The Saints should be playing catchup this weekend against the Packers, which means Graham will have plenty of opportunity to continue his fine fantasy season.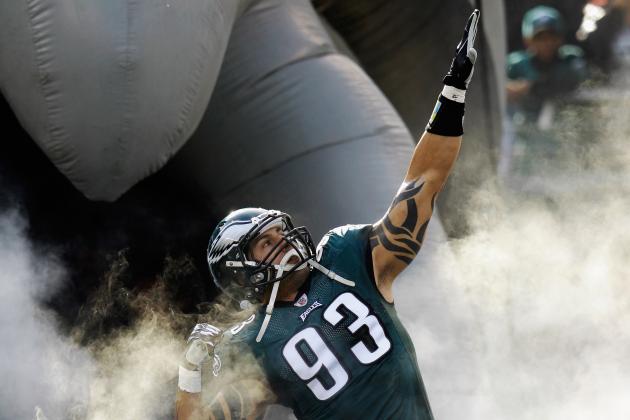 Rob Carr/Getty Images

15. St. Louis Rams (vs. Seattle)
The Seahawks have not exactly lit up the scoreboard, and they will be on the road versus the Rams.
14. Cincinnati Bengals (at Jacksonville)
This is the best matchup of the year for the Bengals, save perhaps the Browns.
13. Philadelphia Eagles (vs. New York Giants)
The Eagles just got done giving up 27 points to the Cardinals. They are at home, which could help.
12. Detroit Lions (vs. Minnesota)
The Vikings were surprisingly good offensively against a great 49ers defense. But the Vikes are on the road this week, though.
11. Miami Dolphins (at Arizona)
They might have a suspect secondary, but the Dolphins have a good pass rush and great run defense. Perhaps they will force a few turnovers if they can grill Kolb.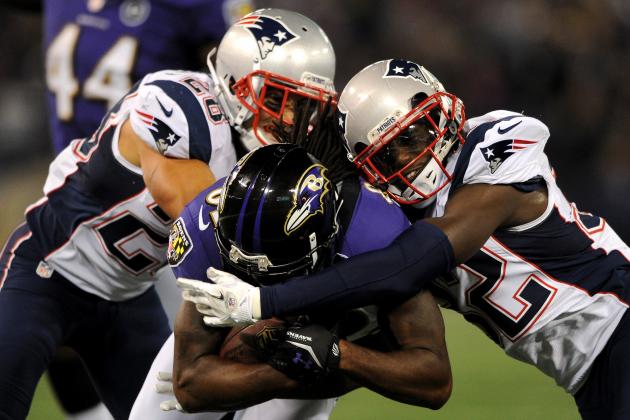 Patrick Smith/Getty Images

The Bills have had a great couple of offensive weeks against weaker defenses. The Patriots are not great defensively, but they are improved from a year ago.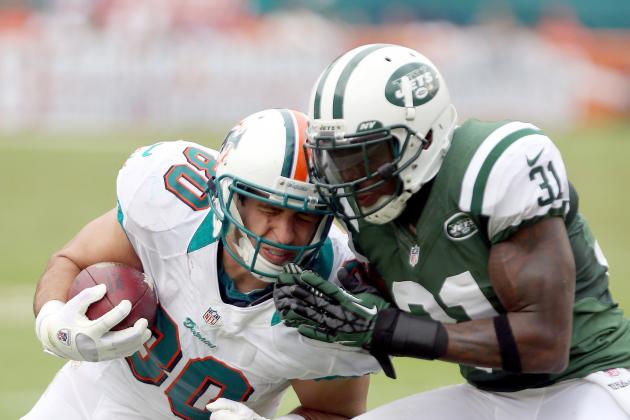 Marc Serota/Getty Images

The Jets will sorely miss Darrelle Revis this season. Fortunately for them, the 49ers are not an offensive powerhouse, though they have generally been better than in recent years.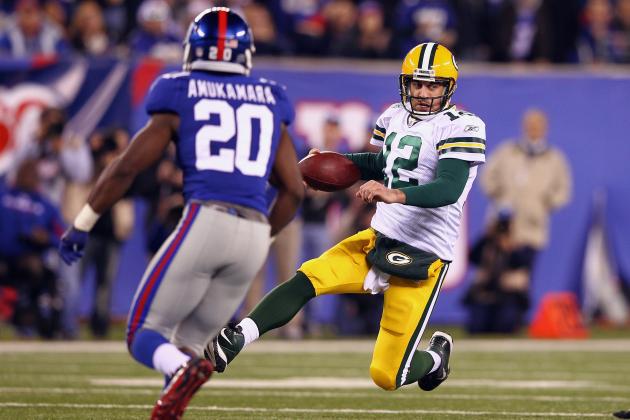 Al Bello/Getty Images

Michael Vick has nine turnovers in three games. The Eagles will be missing tackle King Dunlap. Do the math.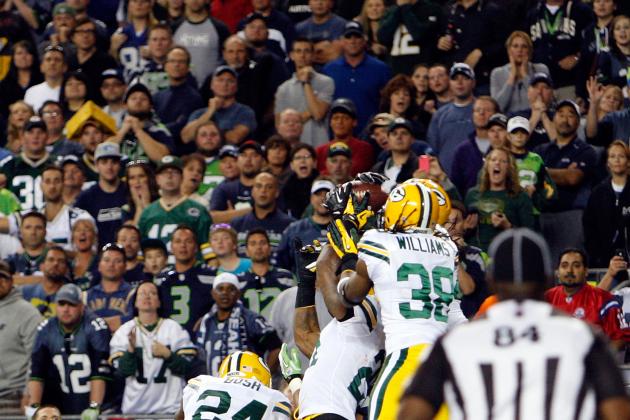 Kevin Casey/Getty Images

Despite "Fail Mary," the Packers are one of the top defensive teams in the NFL. New Orleans will not be an easy test, but they will fare much better than they did in last season's meeting.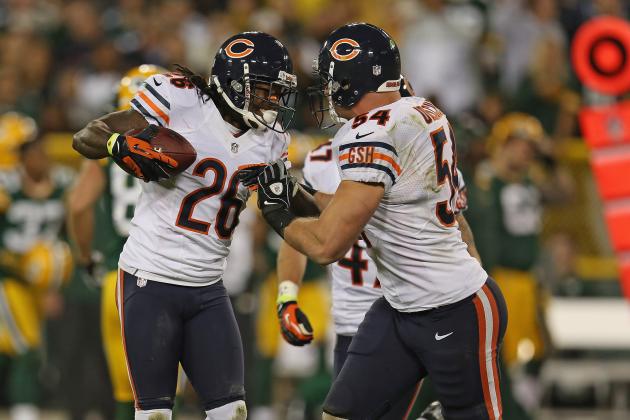 Jonathan Daniel/Getty Images

The Bears currently sit atop the fantasy defensive rankings in many formats and leagues. They will get a tougher test than the Rams when they travel to Dallas this week, but you never know how many points Tony Romo is going to give away.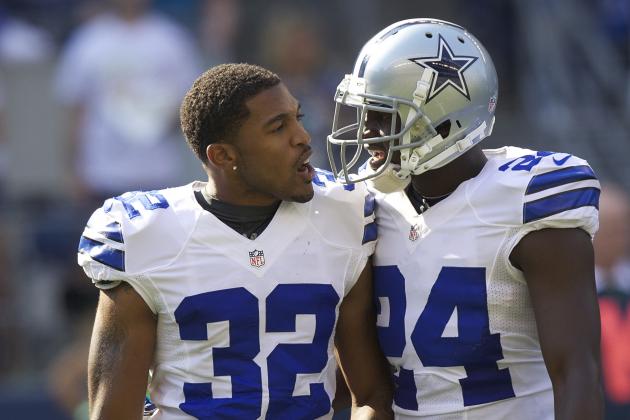 Stephen Brashear/Getty Images

Which Jay Cutler is going to show up? He is a threat to throw several picks on any given Sunday.
His offensive line is liable to get him maimed against Demarcus Ware and that Cowboys pass rush.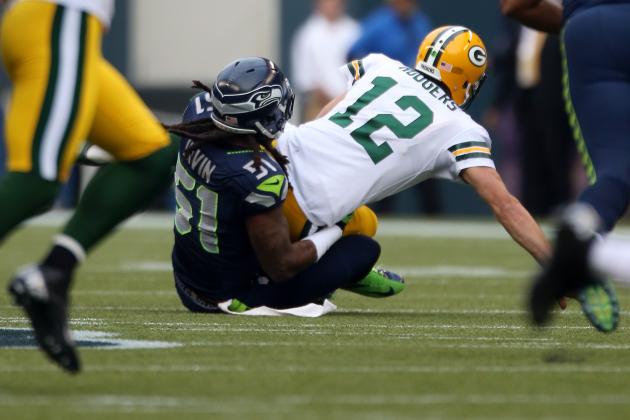 Otto Greule Jr/Getty Images

They will not be quite as dominant on the road, but the Seahawks should have a good day against the Rams offense this week.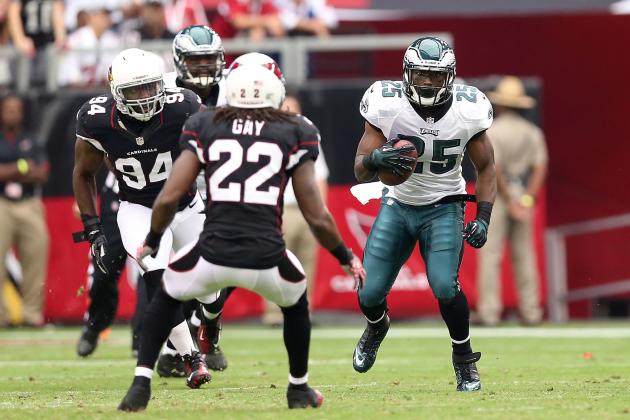 Christian Petersen/Getty Images

The Cardinals have stopped the Patriots and Eagles in consecutive weeks, and they lead the league in scoring defense. They are at home against a Dolphins team that has but one serious weapon on offense.
Of course, anything could happen, but this should be a nice defensive day for the Cardinals.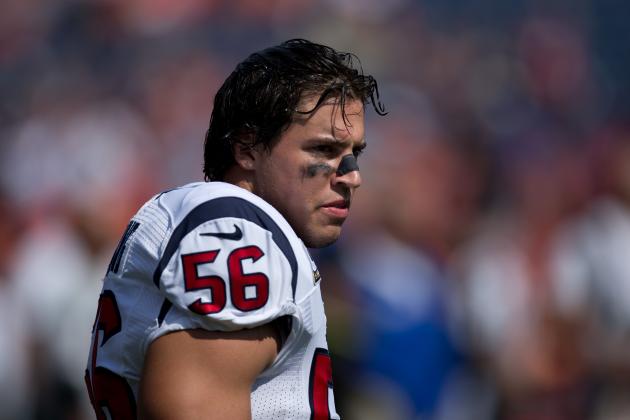 Justin Edmonds/Getty Images

Tennessee just lit up the Lions at home, but the Texans are a bit better on defense.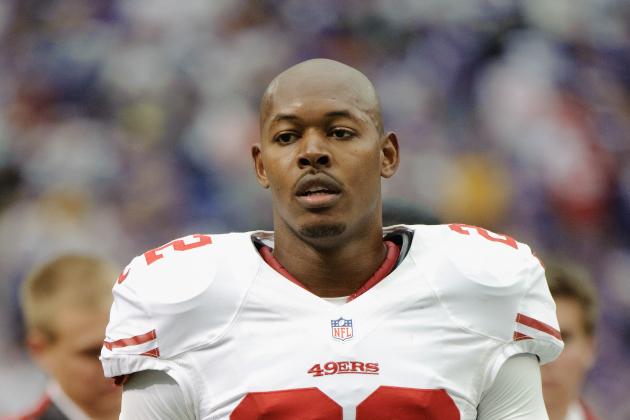 Hannah Foslien/Getty Images

Christian Ponder took the 49ers by surprise last week. That defense is sure to be angry heading into Week 4, which is bad news for Mark Sanchez and that Jets offense.