Fantasy Football Waiver Wire: Who Are the Hottest Adds for NFL Week 4?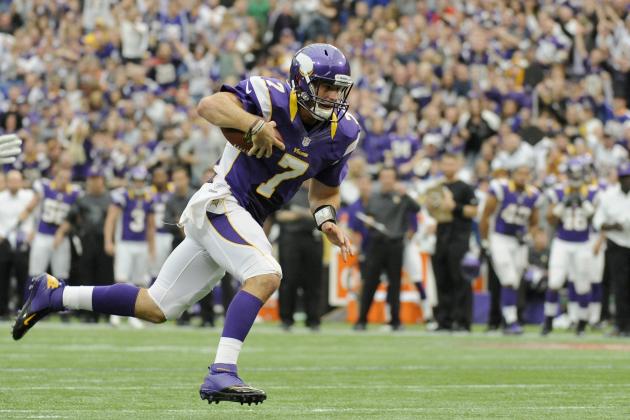 Hannah Foslien/Getty Images

Who are the best free agents for you to pick up off the waiver wire for your fantasy football team as we prepare to enter Week 4?
In case you somehow missed it, Week 4 also marks the start of bye weeks in the 2012 NFL regular-season schedule, not to mention the return of the regular NFL officials. The bye teams you need to be aware of this week are Indianapolis and Pittsburgh.
Week 3 saw some more key injuries, as well as some fairly unknown players stepping up and having some monster games. Will these players continue to put up big points for you, or was the one-game outburst more of a fluke than anything else?
This presentation is due to be released Friday morning, so we will omit the teams from the Thursday Night Football contest between the Cleveland Browns and Baltimore Ravens since you won't be able to pick up their players for this weekend.
Begin Slideshow

»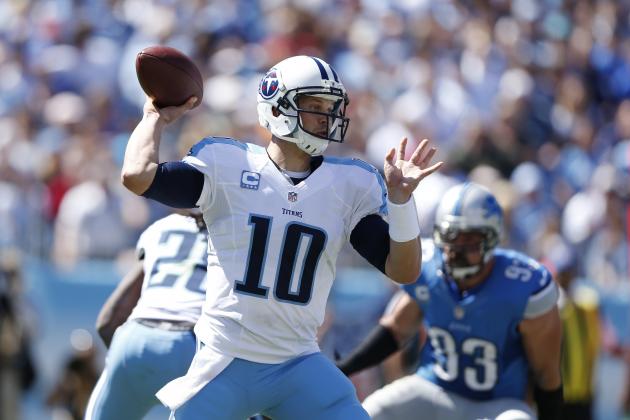 Joe Robbins/Getty Images

If you are a fantasy football owner that has seen his team struggle out of the gate, there is a reasonable chance that you own one of the following QBs that have failed to deliver what you expected from them.
Here are some rather surprising QB rankings based on QB passer rating: Tony Romo (No. 14), Aaron Rodgers (16), Philip Rivers (17), Peyton Manning (20), Matthew Stafford (22), Drew Brees (25), Michael Vick (29) and Jay Cutler (31).
On the flip side, some of these QB rankings might surprise you as well: Kevin Kolb (3), Andy Dalton (4), Christian Ponder (5), Robert Griffin III (6) and Alex Smith (7). Jake Locker is also sitting there at No. 13.
Chances are good that one of the QBs ranked in the No. 3-7 range is available on your league's waiver wire right now, so if you own Ben Roethlisberger or Andrew Luck (both have byes this week), you should be taking a hard look at all these guys.
If you are contemplating adding Locker this week, you need to be aware that the Titans are playing the Houston Texans this week.
If you are thinking about adding Locker for depth purposes, that is fine, but just know that this is not a very good week to be starting Locker. The Texans have the No. 2 overall defense and are No. 4 against the pass.
Why Locker is somewhat interesting is that he threw for 378 yards and two touchdowns last week. That was against the Detroit secondary, which can be brutal at times. Kenny Britt is getting back into action, so that is a plus.
Food for thought: If the Titans drop this game, they will fall to 1-3. Would Tennessee turn back to Matt Hasselbeck in an attempt to save the season? You have to consider that factor as well.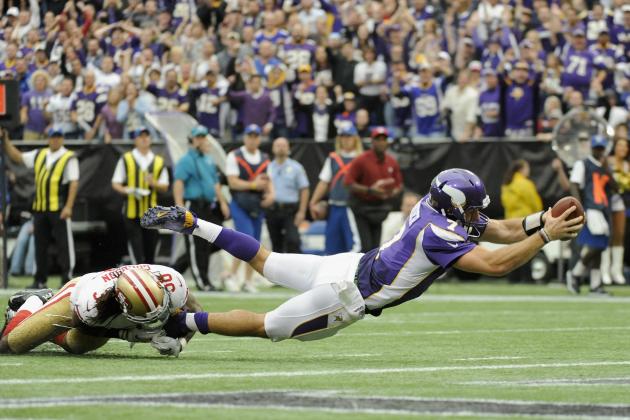 Hannah Foslien/Getty Images
Christian Ponder dives for end zone vs. 49ers
Christian Ponder turned in a very good game last Sunday against the San Francisco 49ers' outstanding defense. He didn't put up gaudy numbers, but leading his offense to three touchdown drives against one of the best defenses in the NFL is nothing to sneeze at.
Ponder connected on two short touchdown passes to Kyle Rudolph and ran in for another touchdown from 23 yards out. On the year, Ponder has four touchdown passes and no interceptions, which helps to explain why he is ranked as the No. 5 overall QB in the latest passer ratings.
This Sunday, Ponder and the Vikings are taking on the Detroit Lions, the same Lions defense that Jake Locker torched for 378 yards in Week 3.
If you are needing to add a quarterback this week since you have either Andrew Luck or Ben Roethlisberger on bye, you might want to consider picking up Ponder.
Another reason to consider adding Ponder is that the Vikings offense gets a shot in the arm with the addition of WR Jerome Simpson. That move alone should help to add more fantasy points to Ponder's weekly totals.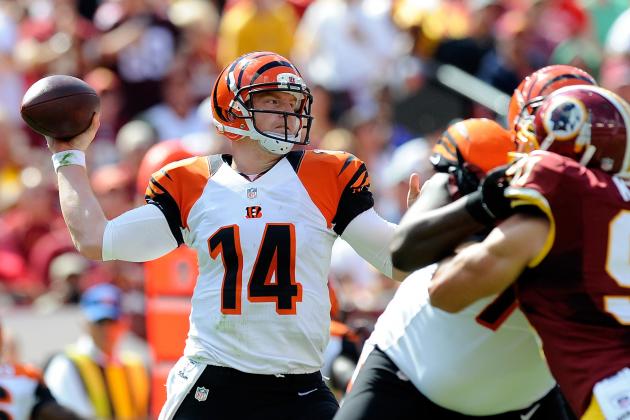 Patrick McDermott/Getty Images

When I looked at the Cincinnati Bengals offense in 2012, I was concerned for Andy Dalton because after A.J. Green and Jermaine Gresham, I just didn't see much help on the horizon.
But here we are after Week 3 of the 2012 season, and Andy Dalton is currently ranked as the No. 4 QB in passer rating in the NFL. I have to admit that I am impressed that he is making do with what he has to work with.
Dalton has thrown six touchdown passes to three interceptions so far on the season. The only stat I see that is somewhat troubling is taking 12 sacks on the young season, which ties him with Sam Bradford for second-most in the NFL. He needs to learn how and when to throw the ball away.
The supporting cast that came to life with Dalton this year includes wide receivers Andrew Hawkins and Armon Binns, who are providing Dalton with additional outlets.
As for Week 4, Dalton is going up against the Jacksonville Jaguars defense this week, which is ranked as the No. 28 defense overall in the NFL. The Jaguars are No. 21 against the pass, so if you have Ben Roethlisberger or Andrew Luck on bye this week, this would be a good week to pick up Dalton and plug him into your lineup.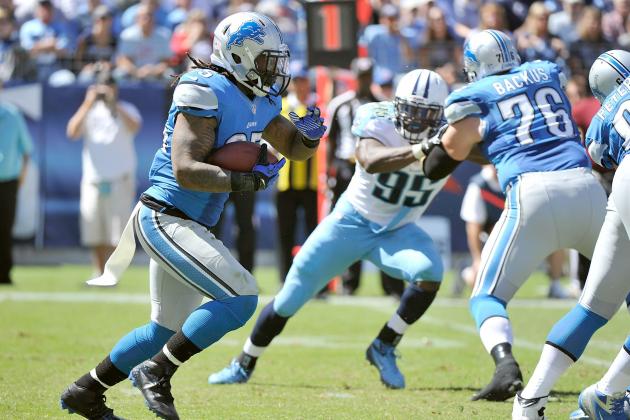 Frederick Breedon/Getty Images
Mikel Leshoure finally made his NFL debut last week
If it seemed like it took forever for Detroit Lions RB Mikel Leshoure to make his NFL debut, that was because it did. But after the long wait, Leshoure didn't disappoint, as he registered a 100-yard rushing game in his NFL debut. That is something that he probably will never forget.
For the day, Leshoure rushed 26 times for 100 yards, which was an average of 3.8 yards per attempt. He also scored one rushing touchdown. In addition, Leshoure caught all four passes thrown his way for another 34 yards.
With all the problems the Detroit Lions have been experiencing with their backfield, Leshoure appears to be the main man going forward. In case you need further proof, last week against Tennessee, Leshoure received 30 touches and Kevin Smith didn't have any.
If you have an open hole at RB this week due to the Pittsburgh or Indianapolis bye or the injury to C.J. Spiller, consider picking up Leshoure.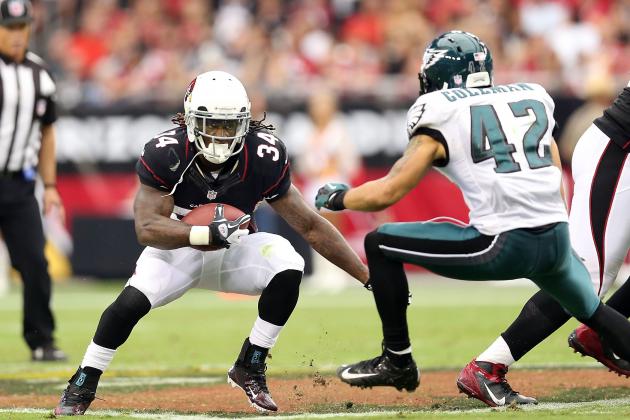 Christian Petersen/Getty Images
Ryan Williams is now the No. 1 RB in Arizona
With Arizona Cardinals RB Beanie Wells out of the picture for the immediate future, it looks like Ryan Williams is now the running back to own in Arizona.
Williams will be asked to carry the load, so he represents another option if you were previously starting a running back from the Colts or Steelers. If you had handcuffed Williams to Wells, then you are already ahead of the game.
In Week 3, Williams gained 83 yards on 13 rushes against the Philadelphia Eagles defense, so he should be good for anywhere from 15 to 20 touches per week for the foreseeable future.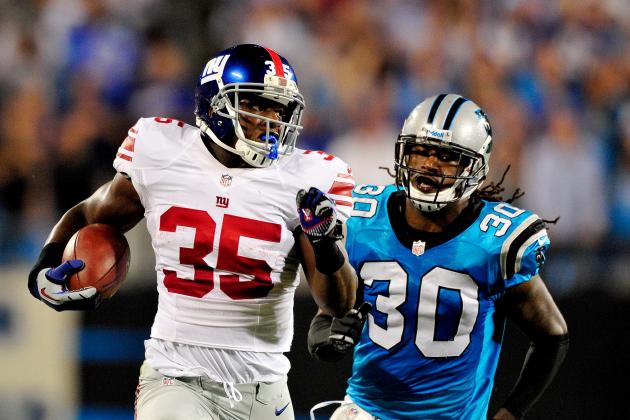 Grant Halverson/Getty Images

The New York Giants backfield situation is getting a little more difficult to read thanks to the emergence of Andre Brown.
According to this tweet from Ralph Vacchiano of the New York Daily News, Giants offensive coordinator Kevin Gilbride is going to go with whoever has the hot hand between Ahmad Bradshaw and Brown. Good luck in trying to pick and choose who will have the hot hand for which week.
Last week against Carolina, Brown rushed the ball 20 times for 113 yards and scored two touchdowns. He averaged 5.7 yards per rush and also caught three passes for 17 yards.
While it is clear that Brown brought some life to the Giants backfield, you might want to stash him on your roster for a week or two to see if there is any more clarity with the way the Giants will employ their backs.
If you lost Beanie Wells or C.J. Spiller to injury, you might want to consider taking a chance on Brown.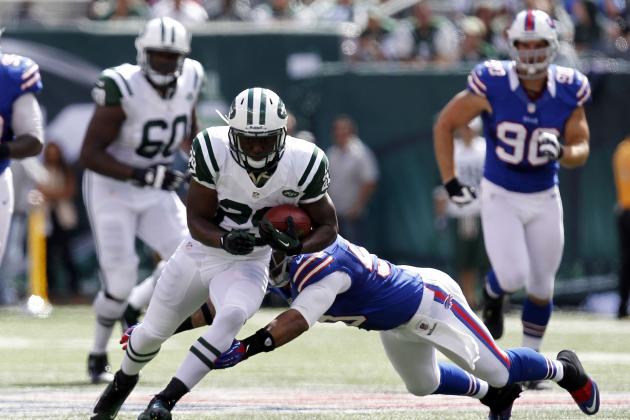 Jeff Zelevansky/Getty Images
Bilal Powell is taking snaps away from Shonn Greene
If you have been paying attention to the New York Jets offense, you realize that RB Shonn Greene is in danger of losing snaps to backup RB Bilal Powell.
Greene turned in a clunker of a game against Miami in Week 3, as he gained only 40 yards on 19 carries for an average of 2.1 yards per rush. Powell, on the other hand, was able to run for 45 yards on just 10 carries for an average of 4.5 yards per rush.
Powell also caught two passes for 24 yards out of the backfield, which is another plus in his favor. As much as the Jets seem to be struggling on offense to score points some weeks, you want to own the guy that is the No. 1 ball-carrier, especially when the weather starts turning bad later in the year.
I am not sure I would be starting Powell this week against the San Francisco 49ers, but I would at least consider adding him to my fantasy football roster.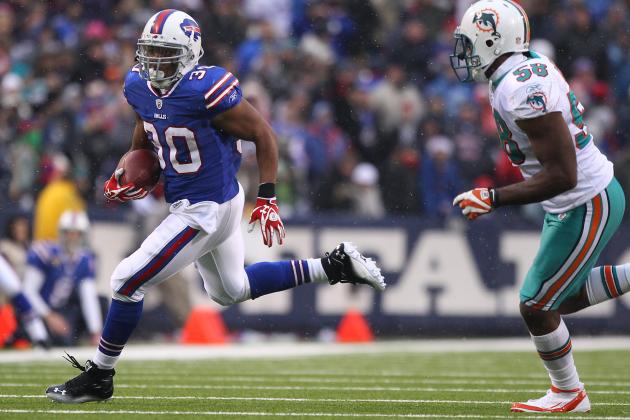 Tom Szczerbowski/Getty Images

With regards to the Buffalo Bills' running back situation, it is probably accurate to describe it as risky, but worth the risk. Why worth the risk? The Bills are No. 3 in rushing in the NFL. They have a young, talented offensive line that continues to improve.
In Week 1 against the Jets, Buffalo ran the ball 26 times for 195 yards, averaging 7.5 yards a carry. In Week 2 vs. the Chiefs, Buffalo ran it 36 times for 201 yards, which was an average of 5.6 yards per carry.
In Week 3 against Cleveland, without Fred Jackson and largely without C.J. Spiller, they picked up 138 yards on 34 carries for an average of 4.1 yards per rush. Trust me when I tell you that you could do a lot worse.
Starter Jackson went down with a sprained knee in Week 1, and then his backup Spiller went down with a sprained shoulder in Week 3. Third-string RB Tashard Choice relieved Spiller last Sunday against the Cleveland Browns and led the Bills in rushing.
With regards to Jackson, here is the latest on his health situation as of Thursday morning from Chris Brown, the lead writer for Buffalo Bills.com:
Bills RB Fred Jackson said how he felt getting out of bed Thursday morning after a day of practice on his recovering knee would tell a lot about his status for Sunday. He shared how he felt prior to Thursday's practice.

"I was a little sore this morning," said Jackson. "It was a little swollen. I got in the training room and they did what they could."

Jackson said he will practice here on Thursday.

"We'll go out and see what happens," he said. "We'll see how I feel on it. I haven't moved around on it yet, so i don't know if it's going to be worse or better. It was a little more sore than expected, but not too much."

Jackson maintains that he's not any less confident about playing Sunday. He's just wondering how much he'll be able to play.
If you read between the lines, it sounds like Jackson is prepared to give it a righteous effort, but it also sounds like he is resigned to the fact that he will be splitting carries with another back (probably Choice).
The other factor to consider is that Jackson hasn't been able to finish either of the last two games he started, dating back to the Miami Dolphins game in 2011. He is 31 years old, after all.
The other issue with Choice is that he might be a fine guy to add for this week only if you are trying to cover for a RB from this week's bye teams, Indianapolis and Pittsburgh. Spiller could be back for the Week 5 contest against San Francisco.
Choice has picked up 131 rushing yards on 32 carries so far for an average of 4.1 yards per rush. He has one rush of more than 20 yards but has yet to score a touchdown this season.
One final thought: If somebody in your league bailed on Fred Jackson due to his Week 1 injury, I would make him a priority add for your fantasy team. The Bills will be smart about how many touches they give him in Week 4.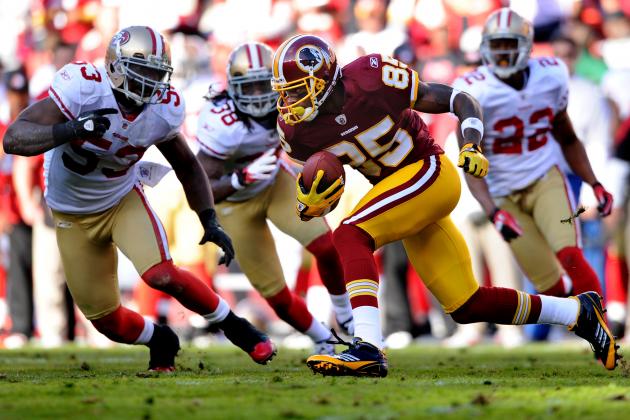 Patrick Smith/Getty Images

Washington Redskins WR Pierre Garcon hasn't been able to practice this week due to his foot injury, so it is looking more likely that the Redskins will have to start Leonard Hankerson in place of Garcon this week.
While we aren't about to endorse Hankerson for the rest of the year, we do think he could make an interesting play this week if you are looking to fill a wide receiver hole due to the bye weeks for Pittsburgh and Indianapolis.
Hankerson, Robert Griffin III and the rest of the Redskins are playing the Tampa Bay Buccaneers this week. He should see enough targets to make it worth your while to play him, assuming you have an opening for Week 4.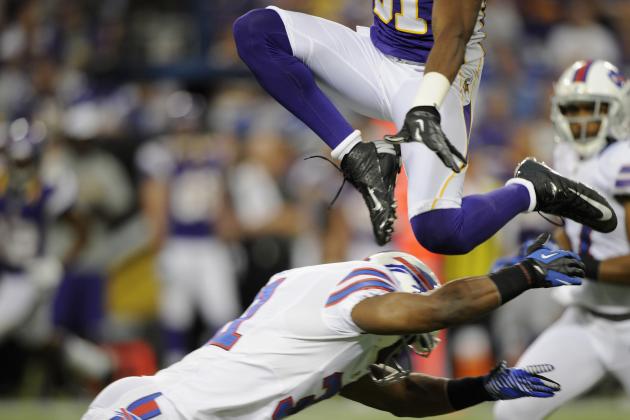 Hannah Foslien/Getty Images
Jerome Simpson is still leaping over NFL defensive backs
We all recall the Jerome Simpson acrobatic flip in the end zone from his impressive touchdown catch in the 2011 regular season. Well, Simpson is ready to resume his NFL career now that he has finished serving his NFL suspension.
After three weeks, only Percy Harvin and Kyle Rudolph have managed to catch at least 10 passes in the Vikings offense, so it is safe to assume that Simpson will be able to come in and make an impact on the pass-receiving corps.
Christian Ponder was hooking up with Simpson in the preseason games, and I see no reason why it shouldn't continue in the regular season. If you have a hole at wide receiver, you need to consider adding Jerome Simpson.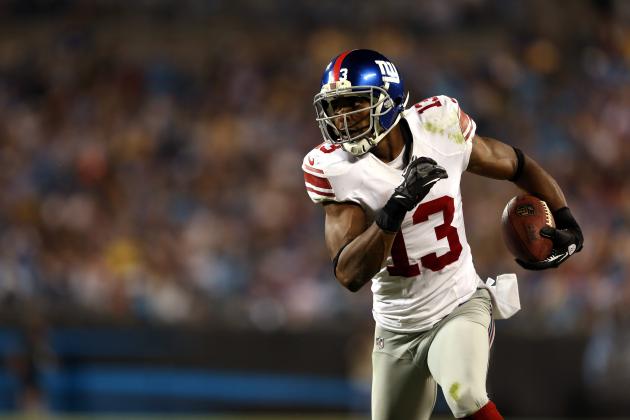 Streeter Lecka/Getty Images
Ramses Barden exploded last Thursday night
As we have observed over the years, Eli Manning loves to throw the long ball to his wide receivers. In 2011, it seemed that Victor Cruz, Hakeem Nicks and Mario Manningham were hauling in one long touchdown pass after another.
Now in 2012, we have another receiver to add to the list. With Manningham gone and Nicks dealing with his foot injury, Ramses Barden has stepped up to show that he deserves some consideration for your fantasy football team.
Against Carolina last week Thursday, Manning found Barden for nine receptions for 138 yards. That was good for an average of 15.3 yards per catch.
Even more impressive is that Barden was only targeted 10 times in the game, so if you have a receiver that is catching 90 percent of all the passes thrown his way, don't you think the quarterback will keep looking for him when he can?
Assuming that Nicks returns to his customary starting job this week, you might want to stash Barden to see if Manning keeps looking his way. Somebody has to step up to assume the production that Manningham had last year, so why not Barden?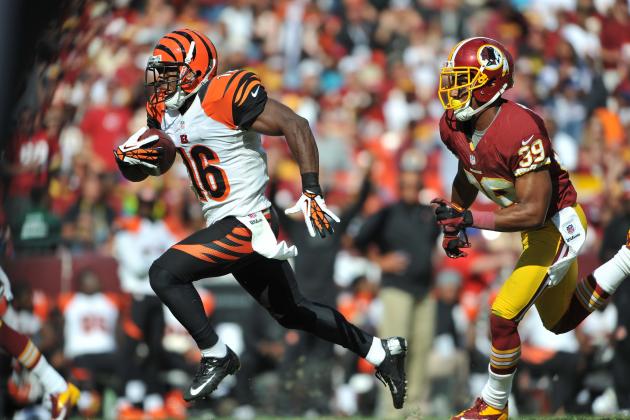 Larry French/Getty Images

After three weeks of watching Cincinnati Bengals WR Andrew Hawkins in action, there is no doubt that he is exceptionally quick, and he knows how to use his speed to pull away from the defense once he catches the ball.
After three games, Hawkins has amassed 12 catches for 208 yards and two touchdowns. His average yards per catch for the three games has been rising from 10.8 to 28.0 to 33.0 yards per catch. That is an impressive average.
We all wondered who was going to pick up the slack when Jerome Simpson left the Bengals, and it looks like Hawkins will be clearly involved for the rest of the year with the Bengals offense.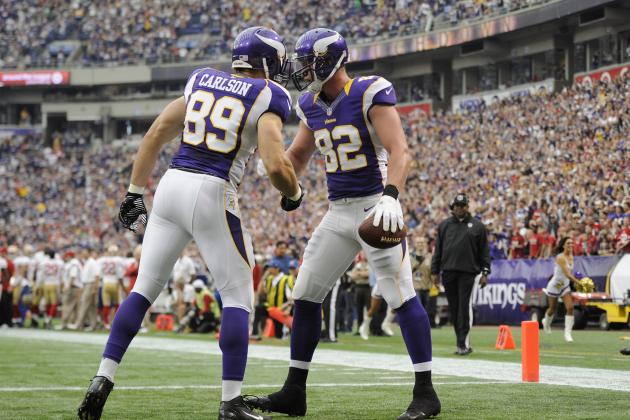 Hannah Foslien/Getty Images
Kyle Rudolph had two TD catches in Week 3
If your tight end happens to be one of the favorite targets of his quarterback in the red zone, that is the kind of player you want in your starting lineup.
Case in point is Minnesota Vikings tight end Kyle Rudolph. Rudolph is emerging as one of the favorite targets for QB Christian Ponder in the red zone.
Ponder hit Rudolph for two touchdown passes against the San Francisco 49ers defense last week, and those extra points could easily have been the margin for victory in your Week 3 contest.
Ponder and Rudolph will probably be clicking together for years to come, so jump on board for this producing duo now while you still can.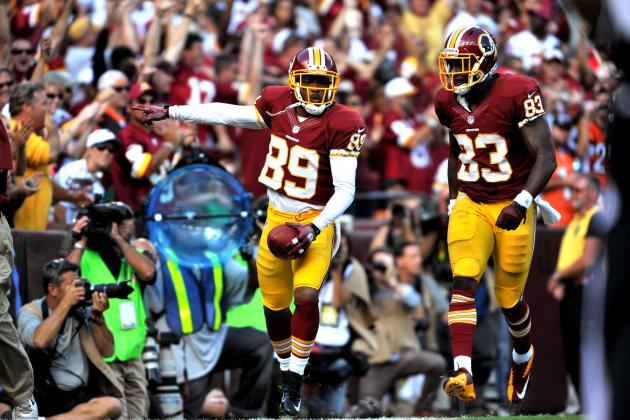 Larry French/Getty Images

Thanks to a slow start to the 2012 NFL season, fantasy owners were too quick to abandon ship on Washington Redskins tight end Fred Davis.
Davis exploded in Week 3 with seven catches for 90 yards, so he is proving to have some decent chemistry with Robert Griffin III after all.
With the recent injury to Pierre Garcon, who else is Griffin going to be throwing the ball to often in the Redskins offense? If somebody dropped Davis in your league, think about picking him up.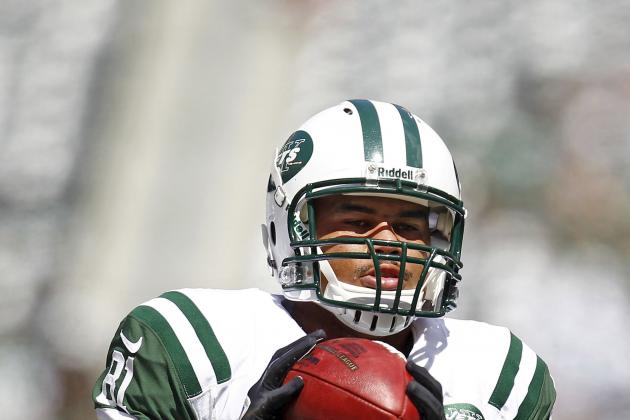 Jeff Zelevansky/Getty Images

If you noticed that New York Jets tight end Dustin Keller is sitting there on your waiver wire, you might want to consider picking him up.
Keller was dropped by a number of fantasy owners when he missed two games due to a hamstring injury. He is supposed to be healed up from the injury and ready to perform again.
When you look at the Jets offense, you realize that Mark Sanchez only has so many people that he can possibly throw the ball to, and Keller is one of the targets that Sanchez is comfortable with.
Thanks for checking out the presentation.