The 25 Biggest NFL Early-Season Storylines for Week 3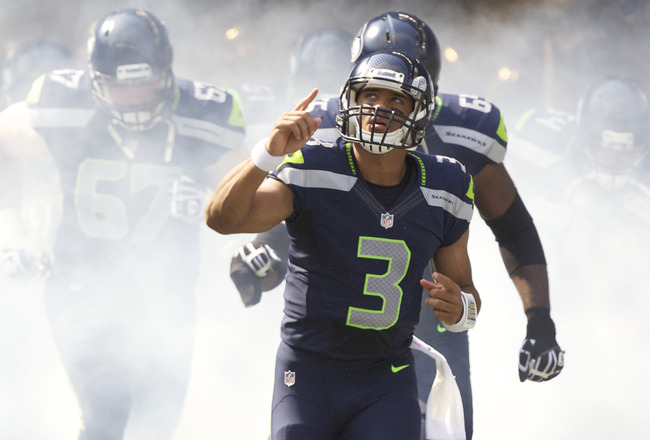 Stephen Brashear/Getty Images
As Week 3 of the 2012 NFL season approaches, a variety of early-season storylines are more than worthy of your attention, as they could have serious effects on the rest of the season.
Whether it be the shocking Arizona Cardinals or the slumping New Orleans Saints, there are serious implications in Week 3 despite it being so early in the season.
Key rookies such as Robert Griffin III have their teams thinking playoffs, while injuries are seriously limiting certain teams in a big way. Even some fanbases are already dreaming of their team's 2013 NFL draft.
Whether you're a fan of a specific team or just the NFL in general, take a look at 25 of the biggest NFL storylines heading into Week 3.
Are the Arizona Cardinals NFC Title Contenders?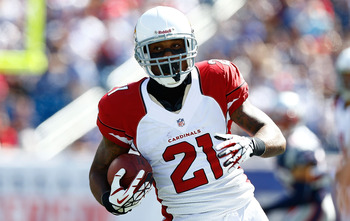 Jared Wickerham/Getty Images
Don't laugh, but the Arizona Cardinals are quietly undefeated and a team on the rise despite their lack of a defined starting quarterback.
After knocking off NFC West divisional foe Seattle in Week 1, the Cardinals managed to defeat the vastly superior (or so we thought) New England Patriots.
The Cardinals are not winning in a pretty fashion by any means, but they are winning. In a suddenly strong division, Arizona has a real shot at making the playoffs.
A stout defense is leading the way in Arizona, and the Cardinals could be the surprise team of 2012. Watch their game with the Philadelphia Eagles closely this week.
Can the Carolina Panthers Continue to Ride Momentum?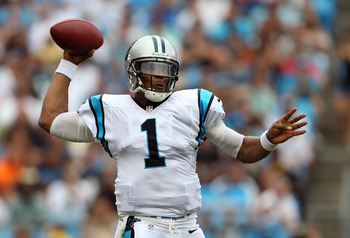 Streeter Lecka/Getty Images
The Carolina Panthers are only 1-1 and have only notched one win in the NFC South, but they could be on the inside track for a divisional crown in 2012.
Cam Newton has not played his best football yet, but the Panthers were able to knock off the New Orleans Saints in stunning fashion last week.
Behind a solid running game and defense, and with a potentially elite player in Newton, Carolina could make a big statement against the defending Super Bowl champion New York Giants in Week 3 on the way to an NFC South title.
Are the New Orleans Saints Already Done?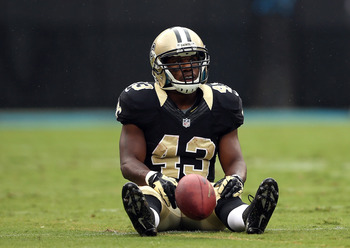 Streeter Lecka/Getty Images
After the tumultuous offseason New Orleans had, it is not shocking to see the Saints start off the 2012 NFL season 0-2, but it still seems weird to think quarterback Drew Brees could not will his team to at least one victory.
The Saints have already lost a game in divisional play, and statistically speaking, teams that start 0-2 or worse have serious issues making the postseason.
Brees and the Saints face the slumping Kansas City Chiefs in Week 3 and need to make the most of the opportunity. If New Orleans cannot win big, the 2012 season may be lost.
Can the Tampa Bay Bucaneers Bounce Back Against the Dallas Cowboys?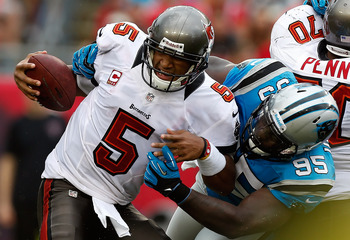 J. Meric/Getty Images
The Tampa Bay Buccaneers lost in horrible fashion in Week 2, allowing the New York Giants to come back and win the game in the final minutes.
For a team that prides itself on defense, giving up 510 yards passing to Eli Manning and 41 points is not going to get it done for the hopeful 2012 edition of the Buccaneers.
The NFC East onslaught continues for Tampa Bay in Week 3, as the Bucs face a showdown with the Dallas Cowboys. If Josh Freeman and company cannot bounce back with a win, they could have serious issues making the postseason after dropping two consecutive NFC matchups.
How Will RGIII Respond After a Heartbreaking Loss?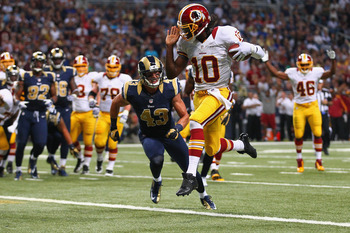 Dilip Vishwanat/Getty Images
Robert Griffin III arrived in Washington this offseason via the draft with massive expectations on his shoulders. He delivered in a big way in his debut by outdueling Drew Brees en route to a victory over the New Orleans Saints.
Griffin did not look as spectacular in Week 2, as his team lost to the lowly St. Louis Rams.
Now we will get a chance to see what RGIII is truly made of, as the Cincinnati Bengals come to town this week. The Bengals are known for their defense, so if RGIII can have a big day and lead his team to a win, he will help soothe any fans who are currently worrying about him.
How Will the Redskins Respond After Losing Important Pieces for Season?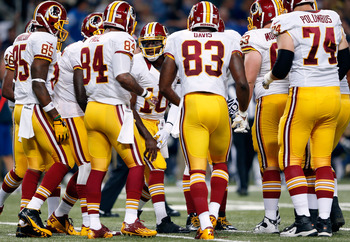 Jamie Squire/Getty Images
Not only did the Washington Redskins lose a game to the lowly St. Louis Rams last week, but they lost their two best defensive players for the year in Brian Orakpo and Adam Carriker.
Both players were integral pieces of what Washington does defensively, and without them, things could get ugly fast for the unit.
This week, Cincinnati comes to town, and if the next men up cannot generate a pass rush on quarterback Andy Dalton, he and receiver A.J. Green could have a big day.
How the unit responds without the two leaders out for the remainder of the season is something to keep a close eye on.
Can Jay Cutler Get the Bears Back on Track Against the Rams?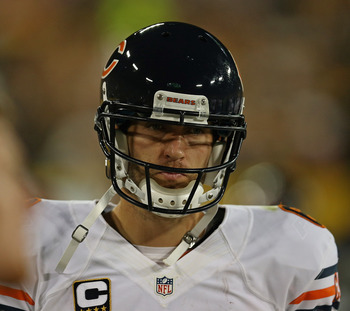 Jonathan Daniel/Getty Images
Not only did Jay Cutler throw four interceptions in a massive divisional loss to the Green Bay Packers last week, but he also managed to verbally abuse his own teammates on camera and potentially cause a rift in the Chicago Bears locker room.
Well done, Jay.
This is not anything surprising from Cutler, but it is unfortunate considering the talent on the Bears roster. If Cutler can pull himself together and get his teammates to rally behind him, they have a great opportunity to notch a win against the St. Louis Rams this week.
Can the Lions Prove They Aren't Pretenders Against the Titans?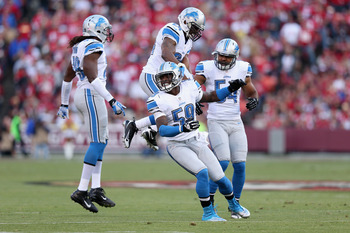 Ezra Shaw/Getty Images
The Detroit Lions barely slipped past the St. Louis Rams in Week 1 and were physically abused by the San Francisco 49ers the following week.
Matthew Stafford and the Lions are not exactly known for their toughness, but the aerial assault led by Stafford and Calvin Johnson should be able to keep them in games better than what they showed in San Francisco.
It is not unreasonable at this point to assume that the Lions are all flash and little substance. Luckily for Detroit, it faces the reeling Tennessee Titans this week and could use the game as a momentum builder to catapult itself into serious playoff contention.
Will the Titans Continue to Allow Jake Locker to Ruin the Team's Season?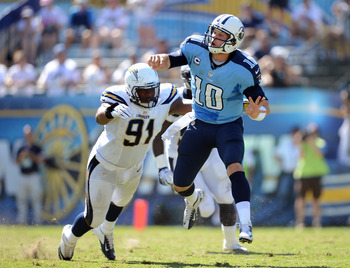 Harry How/Getty Images
The Tennessee Titans do not appear to be close to benching second-year quarterback Jack Locker anytime soon, and it will cost them the 2012 season.
The Titans are sitting at the bottom of the league at 0-2, and Locker is a big part of that, having thrown for only 403 yards to go with his two touchdowns and two interceptions.
His horrendous decision making does not show up on the stat sheet, but it has killed crucial drives.
If the Titans are serious about contending this year, veteran Matt Hasselbeck would be the starter by now. We'll find out how serious they are in Week 3.
Battle of Undefeated Teams in Falcons vs. Chargers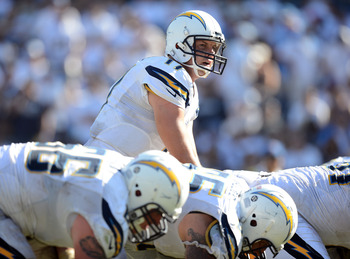 Harry How/Getty Images
The Atlanta Falcons and San Diego Chargers are simply on fire and have a huge showdown in Week 3 that may be the best game of the week.
While the game will not have massive playoff implications, it is one worth watching because Matt Ryan and Philip Rivers, two of the NFL's best, are going to attempt to outduel each other.
Both teams are surging, and whichever squad comes out on top could ride some serious momentum for quite some time.
Can Matt Ryan Continue to Play at an MVP Level?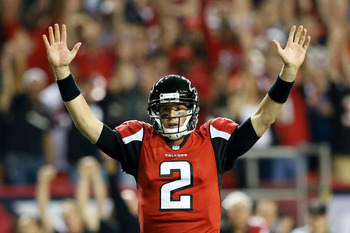 Kevin C. Cox/Getty Images
Entering Week 3, Matt Ryan has thrown five touchdowns, no interceptions and compiled a 117.6 rating while displaying elite decision-making and game-management skills that have led his team to two victories.
Ryan is a name that has been flirting with the "elite" tag for quite some time, but it appears as if he has finally reached that point.
In a showdown with the San Diego Chargers this week, Ryan has a big opportunity to quiet any disbelievers that happen to remain.
Patriots vs. Ravens May Only Be Round 1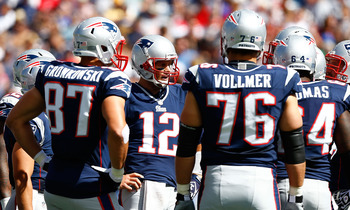 Jared Wickerham/Getty Images
The New England Patriots and Baltimore Ravens are certainly no strangers to each other, and once again, both are two of the best teams in NFL.
With a Week 3 matchup looming, the familiar foes have a chance to test each other, but it is highly unlikely that this is the only time the two teams will meet.
Both teams seem destined for an AFC Championship matchup, so consider this Week 3 showdown simply a warm-up for much bigger things a few months down the road.
How Will Loss of Aaron Hernandez Impact Patriots?
Frederick Breedon/Getty Images
Tight end Aaron Hernandez is a massive part of what the New England Patriots do offensively, so when it was revealed he will miss four to six weeks with an ankle sprain, it was only right to question how it will impact the offense.
The short answer? It won't.
All Hernandez's absence will do is give more opportunities to the currently neglected Wes Welker. Tom Brady has done more with less than Hernandez, so all his absence does is allow fantasy owners more options to choose from for a few weeks.
Are the 49ers the Best Team in the NFL?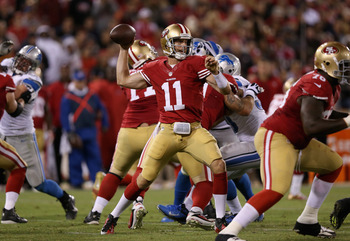 Ezra Shaw/Getty Images
The San Francisco 49ers may very well be the best team in the NFL.
In consecutive weeks, the team took out the Green Bay Packers and Detroit Lions—two teams with Super Bowl aspirations.
The dominance of teams of such caliber in head-turning fashion and the balanced approach on both sides of the ball has to be intimidating for any team standing in the 49ers' way.
In Week 3, that would be the Minnesota Vikings. The 49ers have beaten contenders; now, let's see if they can handle the teams they are supposed to beat.
The Undefeated Eagles Face a Huge Test in the Surging Cardinals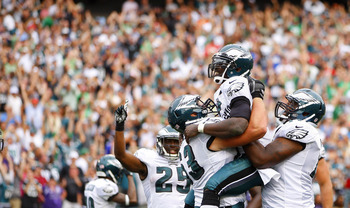 Rich Schultz/Getty Images
The Philadelphia Eagles have been the definition of inconsistent thus far, but are undefeated at 2-0.
In Week 1, Philadelphia barely slipped by the Cleveland Browns, but notched a huge win against the Super Bowl-caliber Baltimore Ravens the following week.
Michael Vick and the deeply talented Eagles roster face a big test against the up-and-coming Arizona Cardinals this week. Traveling to Arizona and taking care of business would reinforce the hype and credibility of the team.
Can the Bengals Overcome a Lack of Pass Rush and Mediocre Pass Defense?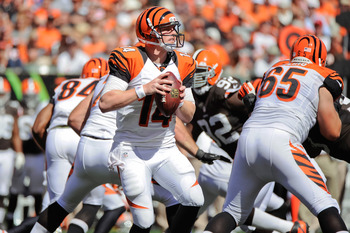 Jamie Sabau/Getty Images
The Cincinnati Bengals were embarrassed in Week 1, but managed to slip by the Cleveland Browns last week.
A serious lack of pass rush is slowly killing the team. Geno Atkins is one of the best in the NFL from the defensive tackle spot, but is ineffective when offenses can focus on him thanks to a lack of threats anywhere else.
Against the Washington Redskins this week, the Bengals are going to need to put some serious pressure on Robert Griffin III, or he is going to torch them though the air and on the ground.
If Cincinnati can somehow generate an effective rush, it could fluster the rookie quarterback. If not, the game could get ugly, and fast.
Will Reggie Bush Effectively Continue His Quest for the Rushing Title?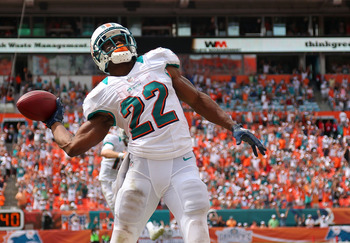 Mike Ehrmann/Getty Images
As the No. 1 back for the Miami Dolphins, Reggie Bush is currently averaging 120 yards per game through the first two weeks of the season.
Bush was not taken seriously when he suggested he wanted to win the rushing title in 2012, but his statements are slowly turning to reality at this pace.
If Bush wants to stay on his elite pace, he has to come up with a huge game against the elite defense of the New York Jets this week.
Whether or not he can put up huge numbers and, more importantly, lead his team to a huge divisional victory will tell us if he has a legit shot at the rushing title in 2012.
Browns Could Notch Their First Win Against the Bills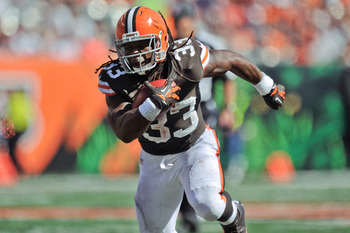 Jamie Sabau/Getty Images
The Cleveland Browns may be 0-2, but they have not lost their games in bad fashion.
Losing efforts against the Philadelphia Eagles and Cincinnati Bengals were close games, which is a great sign for a team starting a rookie quarterback and running back.
In Week 3, the Browns are fortunate enough to host the erratic Buffalo Bills, a team the Browns defense should be able to contain. It is not the highlight matchup of the week by any means, but it could provide a massive confidence boost to the young Cleveland team.
C.J. Spiller Could Continue Jaw-Dropping Campaign Against the Browns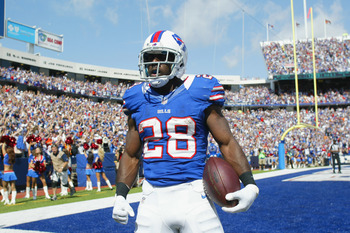 Rick Stewart/Getty Images
It's safe to say that Buffalo Bills running back C.J. Spiller is having a breakout year.
After starting back Fred Jackson went down, the Bills turned to Spiller to carry the load, and he responded in a big way.
In two games, Spiller has carried the ball only 29 times, but racked up 292 yards and three touchdowns, outstanding numbers for a back most thought was nothing better than a second-stringer.
Spiller goes up against the Cleveland Browns defense this week and could put together another huge performance, if recent history is any indication.
Is Blaine Gabbert Healthy and Really a New Player in '12?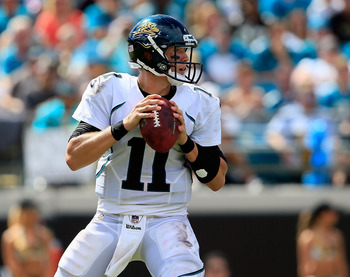 Sam Greenwood/Getty Images
Blaine Gabbert was the brunt of many jokes during his rookie campaign last year, but he looked like a different player entirely in the preseason and Week 1 of this season.
Then, Week 2 happened.
Gabbert reverted to his old self against the Houston Texans, completing only seven of his 19 attempts for 53 yards before leaving the game with an injury.
Gabbert is expected to play this week against the Indianapolis Colts, and his performance will say a lot about him and his team's future.
Will the 'Tebow' Chants Surface in New York This Week?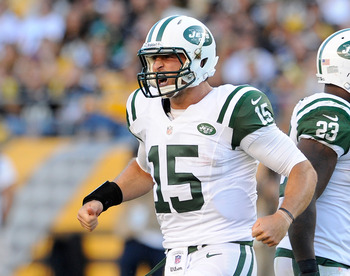 Joe Sargent/Getty Images
It's only a matter of time.
New York Jets starting quarterback Mark Sanchez has been effective, but the minute he slips up, the chants for Tim Tebow will begin.
That could happen in Week 3.
The Jets got physically abused by the Pittsburgh Steelers last week and face a vastly underrated Miami Dolphins team this week.
Should Sanchez falter against Miami, the Tebow chants could quietly begin.
Will the Real Peyton Manning Please Stand Up?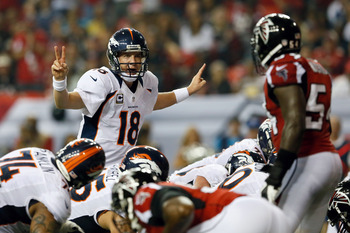 Kevin C. Cox/Getty Images
Peyton Manning made a triumphant return to the NFL against the Pittsburgh Steelers in Week 1, leading the Denver Broncos to victory while throwing for 253 yards and two touchdowns to the tune of a pristine 129.2 rating.
In Week 2, Manning looked like a third-stringer in a loss to the Atlanta Falcons, as he threw three interceptions and a compiled a 58.5 rating.
If the Broncos are going to have any shot at the postseason this year, Manning needs to show some consistency.
That quest for consistency begins in Week 3 against the Houston Texans. Broncos fans should hope he finds a positive consistency.
Texans Will Quietly Continue Super Bowl Ambitions vs. Broncos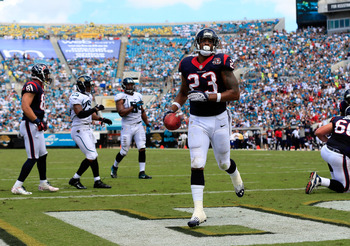 Sam Greenwood/Getty Images
Should Peyton Manning falter, the Houston Texans will have no issues at all continuing their quest for a Super Bowl title this year.
The Texans have quietly annihilated all competition on their way to an early 2-0 record thanks to an elite rushing attack led by Arian Foster and a disruptive defensive unit.
Defensively, Houston could give Manning fits, and Foster alone could keep Manning on the sideline for the majority of the game.
If Houston can pull off a win here, 12 or more wins is not out of the question.
Will Steelers Continue to Win Without Rashard Mendenhall?
Joe Sargent/Getty Images
The Pittsburgh Steelers managed to defeat the New York Jets last week, but it was in no way thanks to the running game.
Pittsburgh's leading rusher, Jonathan Dwyer, only had 28 yards rushing on 12 attempts.
Luckily for the Steelers, it sounds as if starting back Rashard Mendenhall is ready to return after the team's Week 4 bye.
In the meantime, this week, Pittsburgh is going to have to take on the Oakland Raiders, and the lack of a solid running game could be an issue. If the Steelers cannot win the time-of-possession battle by running the ball, Oakland could dominate the game.
The Replacement Officials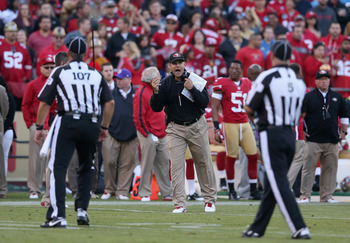 Ezra Shaw/Getty Images
What else needs to be said about the replacement officials?
It is plain as day to even a casual observer that not only are the replacements making atrocious calls or missing penalties, but they are seriously intimidated by the players and have quickly lost control of all contests.
The "scabs" seem here to stay for a while, as negotiations between the league and the regular officials are at a standstill, so they will once again be under the microscope in Week 3.
Don't be surprised to see a few missed or wrong calls completely alter the outcome of a game this week.
Keep Reading