NFL: Week 1 Predictions vs. the Spread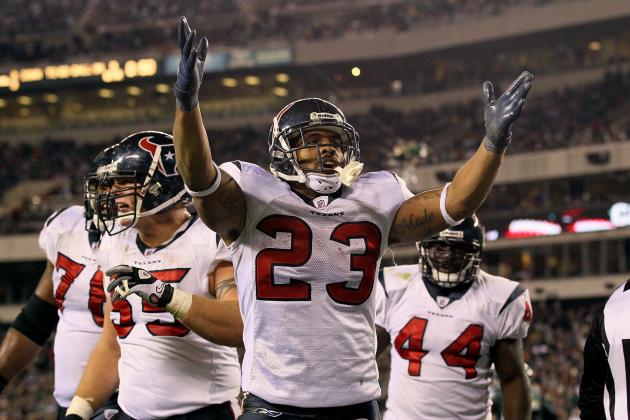 Jim McIsaac/Getty Images

After watching Wednesday night's season opener that saw the Dallas Cowboys handle the defending Super Bowl champion New York Giants, NFL fans have to be pumped for the beginning of the NFL season.
On tap Sunday, we have 13 games, including two playoff teams from a season ago going head-to-head, in the Green Bay Packers and the San Francisco 49ers.
As the NFL has done in previous seasons, Monday Night Football will kick off with a double-header, with the Cincinnati Bengals traveling to Baltimore to meet Ray Rice and the Ravens and the Oakland Raiders hosting Phillip Rivers and the San Diego Chargers.
Enough talking; let's get into the action.
Here are my picks with the spread for Week 1 of the NFL season.
*All spreads via ESPN's Pigskin Pick'em
Begin Slideshow

»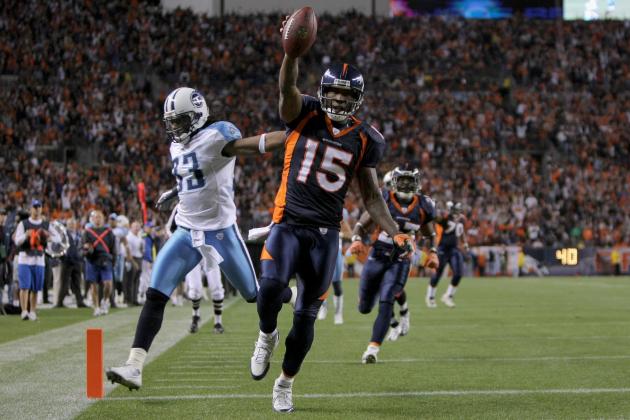 Doug Pensinger/Getty Images

Time: 1:00 p.m. ET
Line: Chicago by 10.5
A rookie quarterback going against the Bears' defense?
I'll take Chicago, despite the big spread.
According to The Washington Post, Bears linebacker Brian Urlacher is projected to lead Chicago's D on Sunday against Indianapolis.
Andrew Luck has been extremely impressive during the preseason (6 passing TDs, 2 rushing TDs, 4 INT), but it's the Colts' defense that worries me in this one.
I think Matt Forte runs for more than 100 yards and Jay Cutler and Brandon Marshall have a reuniting party against that Colts' D.
Prediction: Chicago covers the spread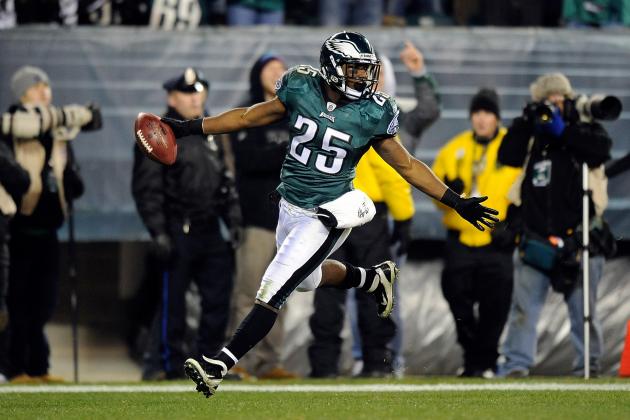 Patrick McDermott/Getty Images

Time: 1:00 p.m. ET
Line: Philadelphia by 8.5
We heard it last season and we're hearing it again this season: the Philadelphia Eagles are going to do big things.
Well, against the Cleveland Browns, just about any team in the NFL is going to do big things in 2012.
With rookies at quarterback and running back, I'm not putting much faith in the Browns in this game.
Although Michael Vick requires body armor to play (via ESPN), I like LeSean McCoy to lead the Eagles in all-purpose yards and win this one easily for Philly.
Prediction: Philadelphia covers the spread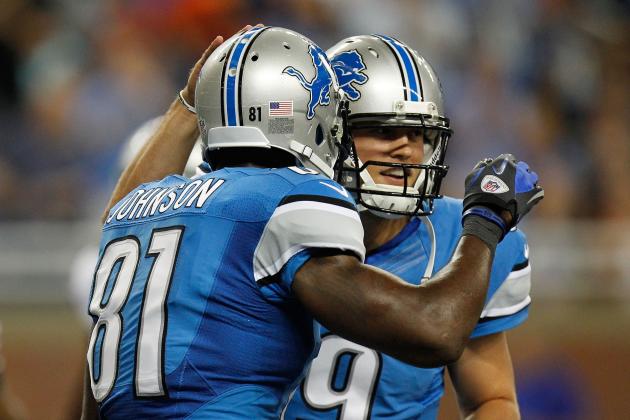 Gregory Shamus/Getty Images

Time: 1:00 p.m. ET
Line: Detroit by 8.5
I really think this is going to be a breakout season for Sam Bradford.
As long as Danny Amendola and Steven Jackson remain healthy, I think the St. Louis Rams can make some noise in 2012.
But it will all depend on the rushing defense, which ranked No. 31 in the NFL last season.
And despite the Detroit Lions not being known for their rushing attack, I still like them to cover the spread and put up a ton of points with the Matthew Stafford-to-Calvin Johnson connection.
Kevin Smith is also a suitable back to run all over the Rams' poor rushing defense.
Prediction: Detroit covers the spread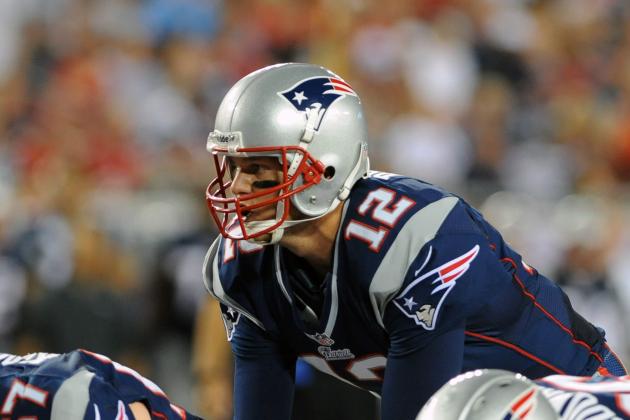 Al Messerschmidt/Getty Images

Time: 1:00 p.m. ET
Line: New England by 6.5
Jake Locker looked like a man ready to lead the Tennessee Titans in 2012, but he won't be doing that against the New England Patriots this Sunday.
We're still waiting to see if Chris Johnson will bounce back this season (he hasn't exactly looked like his 2,000-yard self this preseason) and Locker will have a tough day against the New England defense.
Tom Brady and the Patriots were the No. 2 passing attack in 2011 and that trend will continue this season.
Rob Gronkowski will be a monster again and the addition of Brandon Lloyd provides Brady with a much needed deep threat.
Expect the Pats to go into Tennessee and have success against the Titans.
Prediction: New England covers the spread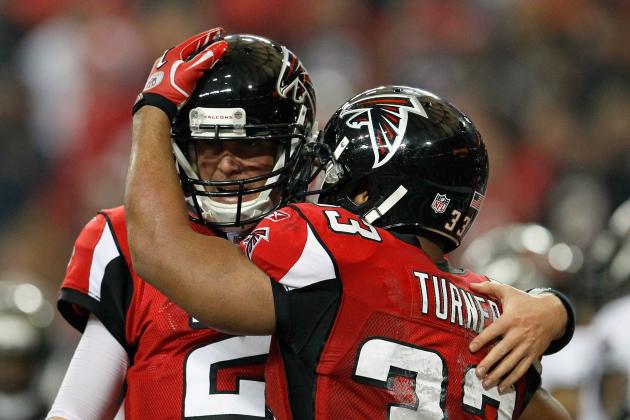 Kevin C. Cox/Getty Images

Time: 1:00 p.m. ET
Line: Atlanta by 0.5
I like the Atlanta Falcons to go into Arrowhead Stadium on Sunday and cover the spread against the Kansas City Chiefs.
I'm not sold on Matt Cassel just yet and Jamaal Charles is returning from a seriously torn ACL sustained at the beginning of last season.
Aside from that, the Falcons' D was No. 6 in the NFL against the rush last year, while a Michael Turner-lead rushing game will line up against the No. 26 rushing defense from a year ago in Kansas City.
Atlanta's passing offense—with the likes of Matt Ryan, Julio Jones, Roddy White and Tony Gonzalez—combined with the ground and pound of Turner will be too much for KC.
Prediction: Atlanta covers the spread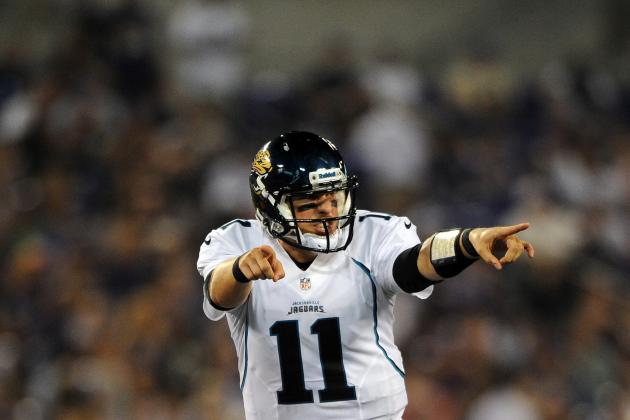 Patrick Smith/Getty Images

Time: 1:00 p.m. ET
Line: Minnesota by 4.5
Believe it or not, I like the Jacksonville Jaguars in this one.
Not just because Maurice Jones-Drew has finally ended his holdout, but because it looks like Blaine Gabbert has an understanding of the Jags' offense.
Gabbert needs work on hanging onto the pigskin, but he did manage to throw three touchdowns to zero interceptions this summer and has weapons at his disposal, with the likes of rookie Justin Blackmon and Laurent Robinson.
Jacksonville was ranked ninth in the NFL against the rush last season, which should help against the Minnesota Vikings' rushing attack if Adrian Peterson plays.
According to the Boston Globe, Peterson's Week 1 status won't be revealed until game day.
While Percy Harvin and Michael Jenkins are well above-average receivers, I'm not sold on Christian Ponder yet.
Prediction: Jacksonville wins outright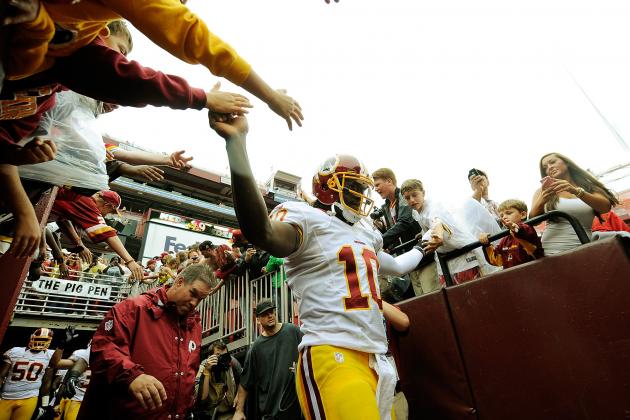 Patrick McDermott/Getty Images

Time: 1:00 p.m. ET
Line: New Orleans by 9.5
Like most NFL fans, I can't wait to see Robert Griffin III in his first regular season game.
Unfortunately, his first start will come in one of the most boisterous stadiums in the league, but I still believe RGIII will fare well in his NFL debut.
The addition of Pierre Garcon is huge for the rookie QB and Fred Davis is a suitable security blanket at tight end.
New Orleans may be looking to force the rookie to throw the ball, which might not exactly work out in their favor, as the Saints' defense ranked No. 30 in passing last season.
On offense, I think it'll take a little getting used to for Drew Brees and Co. without head coach Sean Peyton at the helm.
The Saints will win this game but it's going to be closer than you think.
Prediction: New Orleans wins but doesn't cover the spread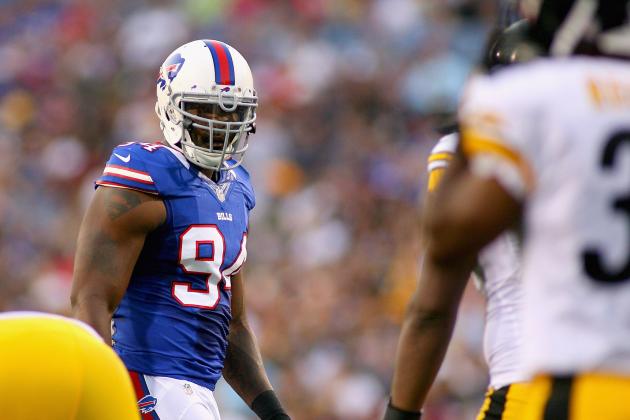 Rick Stewart/Getty Images

Time: 1:00 p.m. ET
Line: New York by 3.5
If you saw the New York Jets' offense during the preseason, you'd be taking the Buffalo Bills in this one too.
I'm really not sure how the New York Jets' are going to score touchdowns this season, but what I will tell you is that I drafted Nick Folk as my fantasy kicker in both leagues.
2012 will see C.J. Spiller emerge as a viable NFL back as he and Fred Jackson will split time in the Bills' backfield.
Ryan Fitzpatrick looked solid during the preseason and it doesn't hurt having a guy like Steve Johnson to throw to.
Now with Mario Williams rushing the passer, I think the Bills get to Mark Sanchez early and often, disrupting his timing and comfort in the pocket in what will be a New York loss.
Despite dropping both matchups to the Jets last season, I like Buffalo to take this one.
Prediction: Buffalo wins outright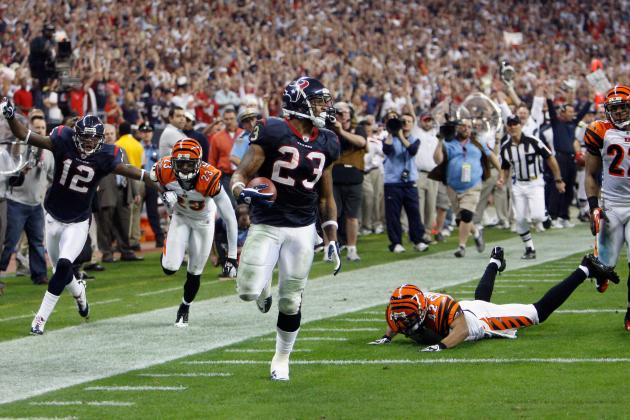 Bob Levey/Getty Images

Time: 1:00 p.m. ET
Line: Houston by 7.5
The Miami Dolphins are going to get run over by the Houston Texans in Week 1.
Matt Schaub, Andre Johnson and Arian Foster are going to put up monstrous numbers against a Miami defense that recently dealt safety Vontae Davis to the Colts.
Miami's defense was ranked No. 25 in passing in 2011 and that trend will continue into 2012.
Without a solid secondary, the Dolphins will need to focus more on defending the pass, leaving holes in the rushing game for opposing RB's.
The Texans handled Miami fairly easily in Week 2 last year, winning 23-13.
Expect a big day from Foster and the rest of the Texans' offense.
Prediction: Houston covers the spread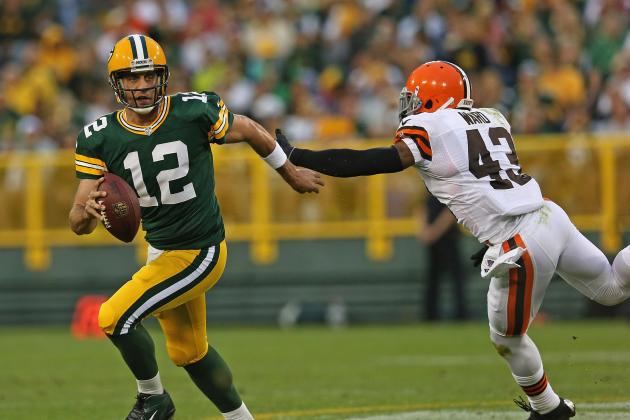 Jonathan Daniel/Getty Images

Time: 4:25 p.m. ET
Line: Green Bay by 6.5
This is easily the game of the week.
Fans will see a high-powered Green Bay Packers offense—lead by MVP Aaron Rodgers—squaring off against a ferocious San Francisco 49ers' defense.
Both teams lost to the New York Giants during the Giants' 2011 Super Bowl run and will be looking to start the season off in the right direction.
Passing defense is the biggest weakness for each teams' D in this one.
We know Rodgers can fling it, but I'm still not sold on Alex Smith making the 49ers a legitimate passing attack.
I do think Frank Gore will help open up the passing game for newcomers Randy Moss and Mario Manningham as well as 49er mainstays Vernon Davis and Michael Crabtree, but I don't think it'll be enough against Rodgers and the Pack attack.
Prediction: Green Bay wins but doesn't cover the spread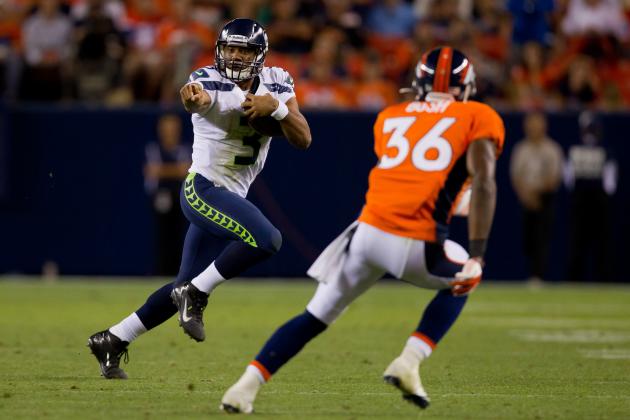 Justin Edmonds/Getty Images

Time: 4:25 p.m. ET
Line: Arizona by 1.5
The Arizona Cardinals' preseason quarterback competition was just downright ugly and they'll be facing a hungry Seattle Seahawks defense on Sunday.
The Seattle defense finished at No. 11 in passing yardage allowed in 2011 and Cardinals starting QB John Skelton threw just one touchdown and two interceptions this preseason.
On the other side for Seattle, they'll be featuring rookie QB Russell Wilson under center, who has looked fantastic this preseason.
Wilson posted six touchdowns, including one rushing, and just one pick in four preseason games to edge out free agent acquisition Matt Flynn.
Although the status of Marshawn Lynch is still up in the air for Sunday (via ESPN), Leon Washington is more than a viable backup and the addition of Sidney Rice will be huge for the rookie Wilson.
These two split the season series in 2011, but the game in which the Seahawks lost was in overtime, and I think they're much improved here in 2012.
Prediction: Seattle wins outright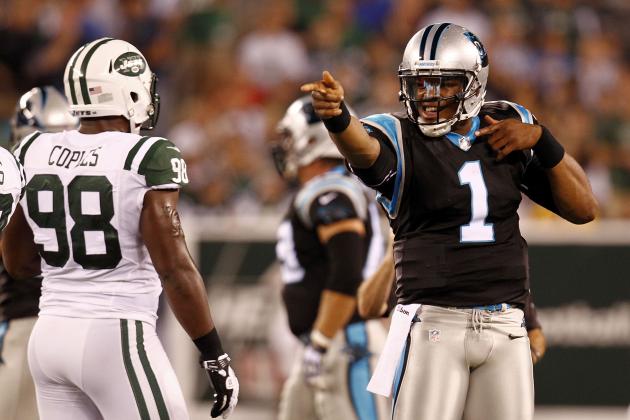 Jeff Zelevansky/Getty Images

Time: 4:25 p.m. ET
Line: Carolina by 2.5
There will be no sophomore slump for Cam Newton in 2012.
He's too talented of a player, with both his arms and his legs, to not succeed in the NFL, and he has a great system around him.
With Steve Smith, DeAngelo Williams and Jonathan Stewart playing major roles in the offense, Newton is only going to get better, and it starts against the Tampa Bay Buccaneers in Week 1.
Josh Freeman was extremely disappointing last year compared to the previous season, but he now has a top-notch wideout in Vincent Jackson and a nice looking backfield with Doug Martin and LeGarrette Blount.
The Panthers blew the Bucs out in both games last season, by a combined score of 86-35.
This will be a back and forth game, but I like the Cats here.
Prediction: Carolina covers the spread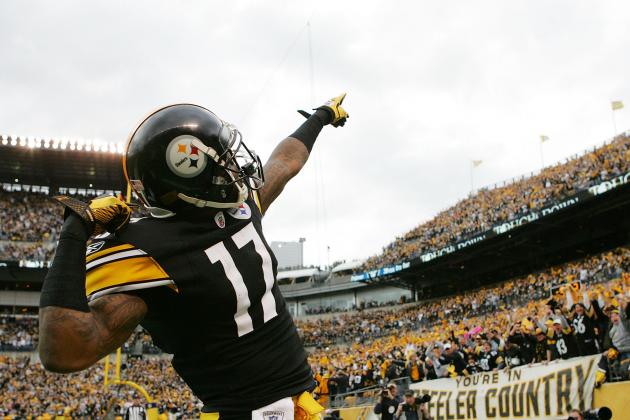 Jared Wickerham/Getty Images

Time: 8:20 p.m. ET
Line: Denver by 1.5
Peyton Manning will make his Denver Broncos' debut against a staunch Pittsburgh Steelers' defense that will again be without Ryan Clarke, due to the high altitude, according to the Denver Post.
The energy inside Mile High stadium is going to be insane, as the three-time MVP tries to take the Broncos the distance this season with receivers Demaryius Thomas and Eric Decker.
It won't be an easy task offensively or defensively for Denver, as Pittsburgh defends both the rush and pass extremely well. Ben Roethlisberger also has his deep threat, Mike Wallace, back with the team.
That cold air in Denver isn't going to affect the Steelers whatsoever and I expect them to go into Mile High and hand Manning and the Broncos their first loss of the season.
Prediction: Pittsburgh wins outright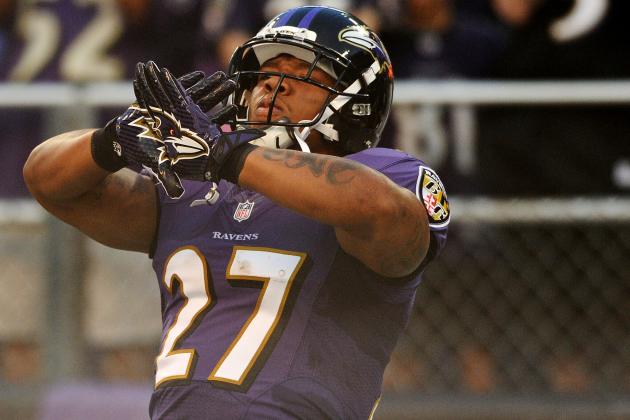 Patrick Smith/Getty Images

Time: 7:00 p.m. ET Monday
Line: Baltimore by 6.5
The Andy Dalton to A.J. Green connection was certainly impressive in 2011, given that it was two rookies leading the Cincinnati Bengals to a 9-7 record and a playoff appearance.
That duo is only going to get stronger in 2012, and now with the law firm, BenJarvus Green-Ellis in the backfield, the Bengals are set up to do some big things in the AFC North.
But that doesn't mean they have enough to overcome Ray Rice and the Baltimore Ravens.
The Ravens have too good of a defense and rushing attack to drop this Week 1 divisional matchup.
Baltimore swept the season series last season, with Rice rushing for a combined 295 yards.
I think this is a big season for quarterback Joe Flacco and his receiving corps, so I'm taking Baltimore to cover in this one.
Prediction: Baltimore covers the spread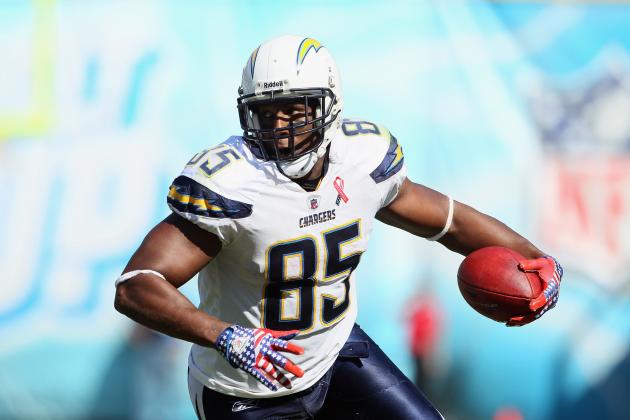 Jeff Gross/Getty Images

Time: 10:15 p.m. ET Monday
Line: San Diego by 1.5
We all know that the San Diego Chargers don't turn it on until December when the playoff picture begins to take shape, but I have a feeling that Phillip Rivers and Co. are poised for a breakout season.
Malcolm Floyd and Robert Meachem are well-established wideouts, Antonio Gates is a top five tight end and as long as Ryan Matthews can stay healthy, the Chargers will be a force to be reckon with.
For the Oakland Raiders, I'm not positive they're set at the quarterback position with Carson Palmer, as he threw more interceptions than touchdowns last season.
Obviously, the biggest question for the Raiders entering this season is the health of star running back Darren McFadden, who has yet to play in more than 13 games in a season since he entered the league in 2008.
These two teams split this series in 2011, but I expect the Chargers to win this game.
Prediction: San Diego covers the spread
Follow me on Twitter; I promise I won't headbutt you: Follow @Pete_Schauer