NFL Preaseason 2012: Report-Card Grades for All 1st-Round Rookies After Week 1
It was less than four months ago that Roger Goodell was busy announcing the first-round selections of 2012
Chris Chambers/Getty Images
So much is put into all seven rounds of the NFL draft, but naturally, the main focus is on the first round, in which often a large percentage of the players that wind up in the Pro Bowl are selected. And if you drafted a quarterback on that first night, you're hoping he will lead your franchise for many seasons to come.
So how has the first-round class of 2012 fared to date? Just one member (Cardinals wide receiver Michael Floyd) has a pair of preseason contests under his belt. For the majority, there's been just one game, and for a handful, we've yet to see them in action against other teams.
So here's some analysis on the first 32 players selected in April, with a grade attached to each. Obviously, there's a long way to go before we get to finals.
Just look at this as a bunch of pop quizzes…
1. Indianapolis Colts QB Andrew Luck
Joe Robbins/Getty Images
It was quite the debut for the first overall pick, whose first pass attempt was a quick toss to running back Donald Brown, who took it the distance for a 63-yard score.
Luck played the majority of the first half and led the Colts to two more touchdowns, capping one of those drives with a scoring pass to wideout Austin Collie.
For the afternoon, the rookie signal-caller completed 10 of 16 passes, for 188 yards and a pair of touchdowns, and was not sacked.
Hard to believe it could have gone much better.
GRADE: A
2. Washington Redskins QB Robert Griffin III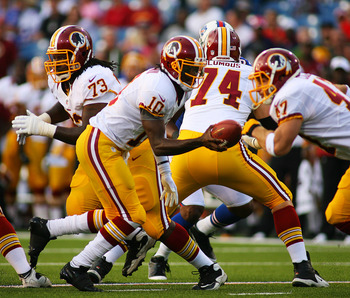 Rick Stewart/Getty Images
We may be hearing plenty about the Griffin-to-Pierre Garcon combination in the nation's capital this season, as the Heisman Trophy winner and former Colts wideout combined for the game's only touchdown in a 7-6 win at Buffalo.
Griffin's first two series featured an incompletion, a 12-yard connection to Leonard Hankerson and a lost fumble.
But he looked confident and went out on a high note, completing three passes for 58 yards (all to Garcon) on his team's eight-play, 80-yard scoring drive.
GRADE: A-
3. Cleveland Browns RB Trent Richardson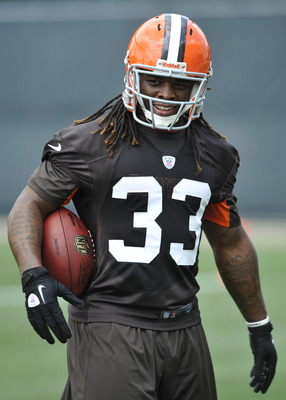 David Richard-US PRESSWIRE
Cleveland's new workhorse back signed in late July, and big things are expected from the ex-Alabama star.
However, Richardson suddenly found himself sidelined due to minor knee surgery, and it's a question on whether he will play at all in the preseason.
Hopefully for head coach Pat Shurmur and company, Richardson will be ready for the Week 1 opener against the Eagles, as the franchise could use a little good news.
GRADE: C
4. Minnesota Vikings LT Matt Kalil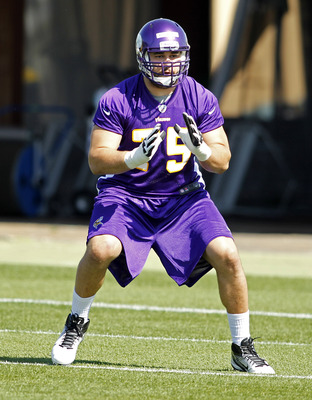 Bruce Kluckhohn-US PRESSWIRE
Kalil was one of the first-round picks who signed later than sooner, but he was in the starting lineup for the Vikings' preseason opener at San Francisco, and from all indications the former Southern Cal standout and his linemates held their own against the 49ers front seven.
Of course, practicing on a daily basis against a defensive unit that tied for the league lead with 50 sacks last season, led by defensive end Jared Allen's NFL-high 22.0 sacks, is probably enough schooling for any young lineman.
GRADE: B+
5. Jacksonville Jaguars WR Justin Blackmon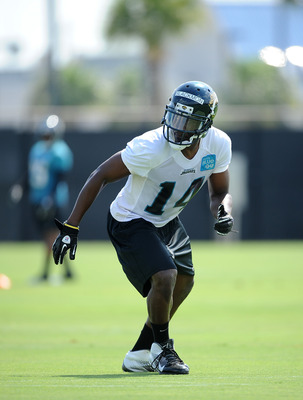 Rick Dole/Getty Images
It's been an eventful debut as a professional for Blackmon, whose off-the-field issues in June were compounded by the fact that he didn't sign his contract until August 6.
The former Oklahoma State standout did not play against the Giants on Friday and obviously has a lot of catching up to do for head coach Mike Mularkey and offensive coordinator Bob Bratkowski.
The release of veteran Lee Evans on Sunday moved Blackmon up the depth chart, but it's been an inauspicious start, to say the least.
GRADE: D
6. Dallas Cowboys CB Morris Claiborne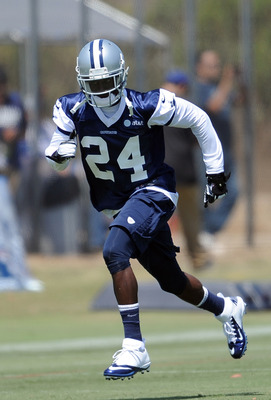 Jayne Kamin-Oncea-US PRESSWIRE
The former LSU standout won't make his NFL debut until Monday night at Oakland, but the Cowboys themselves have not seen a lot of Claiborne on the field, as injuries have been a factor to date.
In any case, the team has made a number of changes at the cornerback spots, most notably the signing of free agent Brandon Carr (formerly of the Chiefs) and the release of veteran Terence Newman.
In order for the Cowboys to match up with the talented receiving tandems in the NFC East, Claiborne's development and presence are vital.
GRADE: C-
7. Tampa Bay Buccaneers SS Mark Barron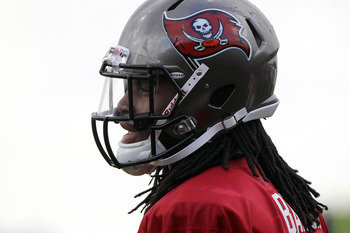 Kim Klement-US PRESSWIRE
Barron did not play in the Buccaneers' Friday-night win at Miami, but to say that head coach Greg Schiano and the coaching staff aren't expecting big things from the national-champion defender may be an understatement.
Barron will team with veteran ball hawk Ronde Barber, who makes the conversion from corner to free safety, to give coordinator Bill Sheridan a pair of playmakers at that last line of defense, big news for a team that gave up the most points in the league in 2012.
GRADE: B+
8. Miami Dolphins QB Ryan Tannehill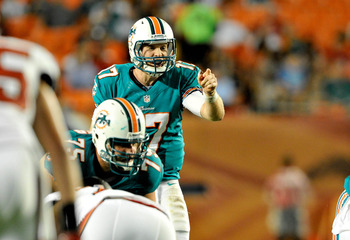 Brad Barr-US PRESSWIRE
While no one is handing the starting job to the rookie signal-caller, Tannehill (who was one of the last draft choices to sign) certainly didn't hurt his cause with his performance against the Buccaneers, completing 14 of 21 passes for 167 yards and a score.
More importantly, he looked extremely comfortable in Mike Sherman's system (hardly a surprise).
With David Garrard shelved for a few weeks due to surgery, the battle between the former Aggie and incumbent Matt Moore has become even more interesting.
GRADE: B+
9. Carolina Panthers OLB Luke Kuechly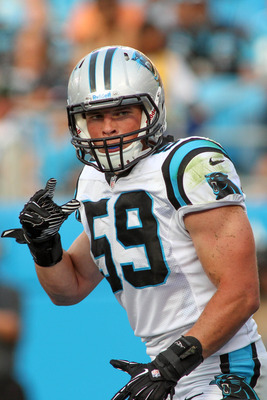 Jeremy Brevard-US PRESSWIRE
The one-time Boston College tackling machine was on full display as Kuechly, who started at right outside linebacker against the Texans on Saturday, totaled four tackles and forced a fumble.
His instincts and his playmaking ability were very evident, and when you consider the underrated James Anderson, the team leader in tackles in 2011; former Pro Bowler Jon Beason (who was lost for the 2011 season after one game); and the promising Kuechly, the Panthers' starting linebacking corps could indeed be formidable.
GRADE: A
10. Buffalo Bills CB Stephon Gilmore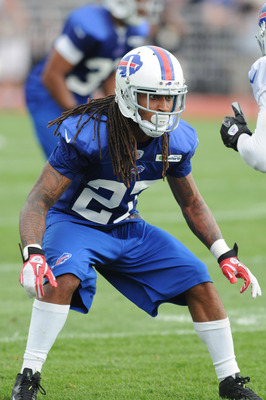 Mark Konezny-US PRESSWIRE
Buffalo's defense underwent a makeover this offseason with new coordinator Dave Wannstedt in charge.
Gilmore started at right cornerback vs. the Redskins and couldn't be found on the defensive stat sheet, but he saw only limited action in the first half.
With that new-look pass rush and the former Gamecock in the secondary, the Bills hope to improve on not only last season's disappointing total of 29 sacks but the 30 touchdown passes allowed by the defense in 2011, as well.
GRADE: B
11. Kansas City Chiefs NT Dontari Poe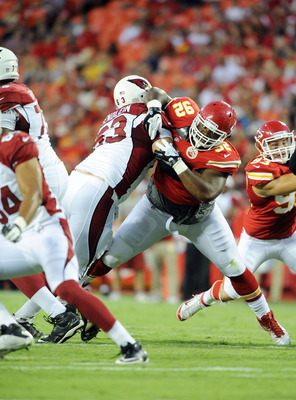 John Rieger-US PRESSWIRE
For the third time in their last five drafts (Glenn Dorsey in 2008, Tyson Jackson in 2009), the Chiefs added a body to the defensive front.
But the jury is still very much out on Poe, who didn't sign until July 26 and has struggled to date fitting into Romeo Crennel's unit.
The Kansas City defense played well at the end of last season and could be one of the better groups in the league in 2012. But Poe's eventual development figures to be a key part of that, and the jury is still out for now.
GRADE: D
12. Philadelphia Eagles DT Fletcher Cox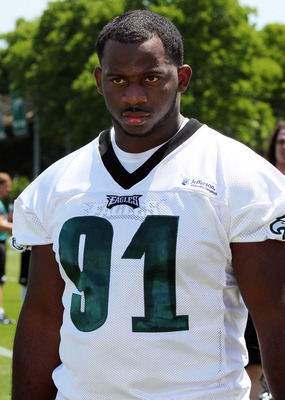 Rich Schultz/Getty Images
Philadelphia is as deep as any team on the defensive front, which is the key to their imposing pass rush—all but four of the team's 50 sacks last season came from the line.
But Juan Castillo's unit also found itself susceptible to the run on numerous occasions, for various reasons.
Cox saw some action against the Steelers' new-look offensive line last Thursday and recorded one tackle. If he can help control the middle, new Eagles linebackers DeMeco Ryans and rookie Mychal Kendricks could enjoy big seasons.
GRADE: B-
13. Arizona Cardinals WR Michael Floyd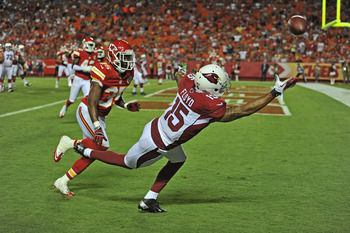 Peter Aiken/Getty Images
After two preseason games, it's been hard to gauge just about any Cardinals pass-catcher, as Ken Whisenhunt's quarterbacks have been under siege against the Saints and Chiefs defenses.
Floyd has been targeted six times in two contests and has caught two passes.
At the very worst, the one-time Golden Domer figures to be Arizona's third receiver and eventually the starter alongside perennial Pro Bowler Larry Fitzgerald. But for now…
GRADE: C
14. St. Louis Rams DT Michael Brockers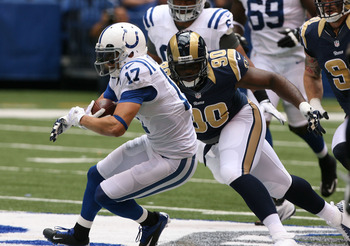 Brian Spurlock-US PRESSWIRE
The good news is that the talented performer started at right defensive tackle and totaled a pair of tackles against the Colts.
The bad news is that the only thing anyone will remember from Brockers' debut is that it came in Andrew Luck's first game with the Colts, and you already know the numbers.
All kidding aside, it looks as though the stout defender will make life difficult for those trying to test the middle of the Rams front.
GRADE: B-
15. Seattle Seahawks DE Bruce Irvin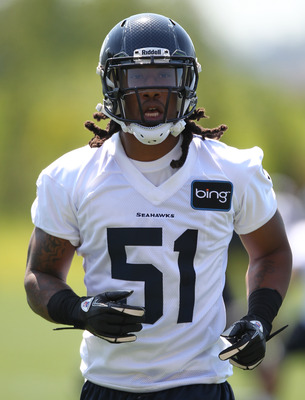 Otto Greule Jr/Getty Images
Other than the quarterbacks, Irvin was perhaps the most discussed opening-round selection the first day of the draft, as he was a surprise Thursday selection in many people's eyes.
The explosive but raw pass-rushing talent did see some action vs. the Titans but was not credited with a tackle or a sack during his time in the game.
Seattle's defense could be a real factor in the league this season, and Irvin's development can be only a plus.
GRADE: C
16. New York Jets DE Quinton Coples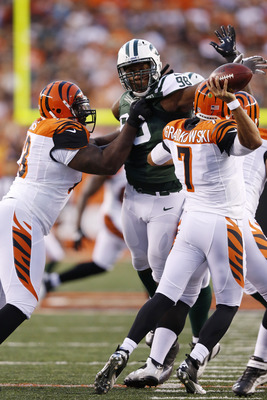 Joe Robbins/Getty Images
It was hard not to be impressed by the former Tar Heel defender, as he was arguably the Jets' brightest spot in their lackluster loss at Cincinnati. Coples finished third on the team with five tackles, had one of New York's three sacks, knocked down a pass and forced a fumble.
Rex Ryan's defense lost a little of its luster in 2011, but the recent influx of youth on the defensive front, including 2011 first-rounder Muhammad Wilkerson, is a big step in the right direction.
GRADE: A
17. Cincinnati Bengals CB Dre Kirkpatrick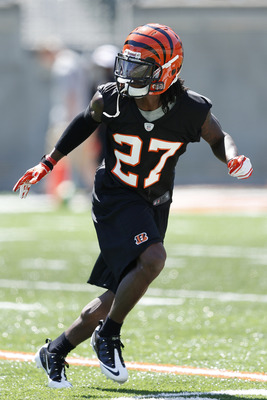 Joe Robbins/Getty Images
Just before the start of training camp, the former Alabama standout was diagnosed with a leg injury that has had him sidelined ever since, but Kirkpatrick is thought to be available soon.
It will be interesting to see where he fits in, at least right away, as Nate Clements and Leon Hall (the latter rebounding from an injury-shortened 2011) will be the starters, with depth provided by former Cowboys Pro Bowler Terence Newman, Jason Allen and Adam "Pacman" Jones, among others.
In other words, no sense in rushing Kirkpatrick back until he's 100 percent.
GRADE: Incomplete
18. San Diego Chargers OLB Melvin Ingram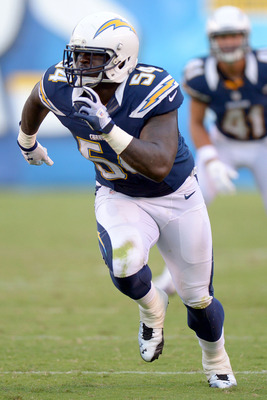 Jake Roth-US PRESSWIRE
San Diego's defense gave up the fewest yards in the league in 2010, and its pass rush produced 47 sacks, tied for the second most in the league.
But this unit fell off just one season later, struggling against the run while dropping opposing quarterbacks just 32 times.
Ingram recorded a pair of tackles vs. the Packers and showed that he can turn the corner. With Ingram and free agent Jarret Johnson (Ravens) joining Shaun Phillips, Antwan Barnes and former first-rounder Larry English, the Chargers are suddenly very deep at linebacker.
GRADE: A-
19. Chicago Bears DE Shea McClellin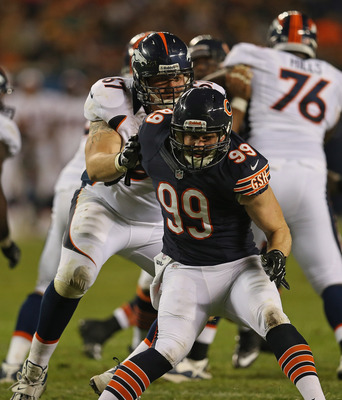 Jonathan Daniel/Getty Images
Though you wouldn't expect a lot of bright spots in a 31-3 home loss, even if it is only preseason, Lovie Smith got a chance to see what his rookie defensive end could do.
McClellin totaled three tackles and sacked Broncos' backup quarterback Caleb Hanie near the end of the first quarter. No doubt the Bears would like to add a little consistency to their pass rush, especially since they totaled only 33 sacks last season (one or fewer in exactly half of their 16 games).
McClellin could be the perfect fit.
GRADE: B
20. Tennessee Titans WR Kendall Wright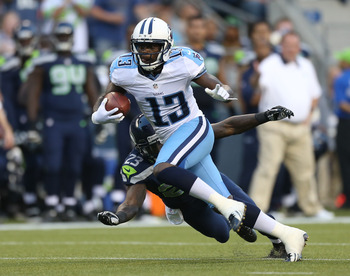 Otto Greule Jr/Getty Images
The wideout got the start Saturday night at Seattle and caught everything thrown his way, totaling three receptions for 47 yards and showing good awareness after the catch.
With oft-injured Kenny Britt on the physically-unable-to-perform list for now, the first-rounder is battling Damian Williams for the starting job opposite veteran Nate Washington.
In any case, whenever Britt gets back on the field, the Tennessee passing attack should be better, be it Matt Hasselbeck or Jake Locker at the controls.
GRADE: B
21. New England Patriots DE Chandler Jones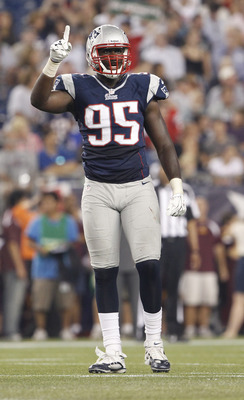 David Butler II-US PRESSWIRE
New England opened in a 3-4 alignment against the Saints with Jones at right defensive end, and the former Syracuse standout made his presence felt, displaying plenty of aggressiveness and hustle.
For the game, the Patriots prospect totaled only two tackles, but it seemed so much more than that, as Jones pushed the pocket on more than one occasion and easily validated his first-round status.
GRADE: A
22. Cleveland Browns QB Brandon Weeden
Leon Halip/Getty Images
Weeden's debut, against the Lions, got off to a good start when he connected on his first two attempts for 46 yards.
But that was followed by a pair of incompletions and a lost fumble via a sack. On Cleveland's third possession, Weeden was picked off by Lions rookie cornerback Bill Bentley, and the final line read three of nine for 62 yards and a pair of turnovers.
GRADE: C+
23. Detroit Lions T Riley Reiff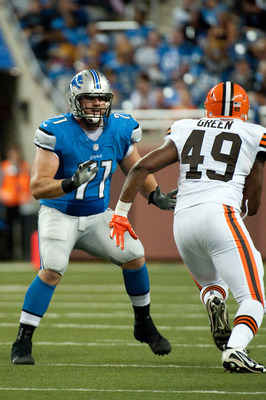 Tim Fuller-US PRESSWIRE
Although he didn't start the preseason opener against the Browns, Reiff logged significant minutes by game's end and appears to be on course to make some sort of impact sooner rather than later.
While he is logically the heir apparent to longtime left tackle Jeff Backus, it wouldn't be a shock to see the former Hawkeye on the other side spelling former first-rounder Gosder Cherilus.
Pass protection turned into a team concern following a strong start last season.
GRADE: B+
24. Pittsburgh Steelers RG David DeCastro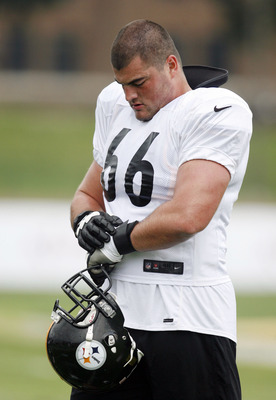 Charles LeClaire-US PRESSWIRE
Although the Steelers offensive front didn't have a particularly great night at Philadelphia, the former Stanford standout appear to hold his own against one of the deepest defensive lines in the league.
DeCastro can take advantage playing alongside two-time Pro Bowl center Maurkice Pouncey, and eventually, this combination could pay big dividends for a Pittsburgh running game looking to make a bigger impression this season.
GRADE: B
25. New England Patriots LB Dont'a Hightower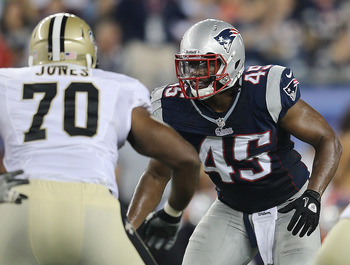 Jim Rogash/Getty Images
While Chandler Jones got the lion's share of the postgame attention after his performance against the Saints, it was actually Hightower who had the better statistical line, although three of his four total tackles were assists.
Still, the former Crimson Tide star, who along with Jones started against New Orleans, showed some quickness as the Patriots defense kept New Orleans' runners under check for the majority of the evening.
GRADE: B+
26. Houston Texans OLB Whitney Mercilus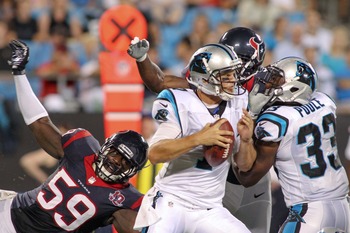 Jeremy Brevard-US PRESSWIRE
Thanks largely to the coaching of coordinator Wade Phillips, the Houston defense made enormous strides last season and set a team record with 44 sacks.
And on Saturday night, this unit picked up where it left off in terms of aggressiveness, totaling eight sacks in the win over Carolina.
Mercilus fit in nicely in his debut, totaling three tackles and 1.5 sacks and spending his share of time in the Panthers backfield.
GRADE: B
27. Cincinnati Bengals RG Kevin Zeitler
Frank Victores-US PRESSWIRE
It wasn't a great night for the Cincinnati offensive line against the Jets for a number of reasons, mainly because starting left guard Travelle Wharton was likely lost for the season with a knee injury and blocking Quinton Coples proved to be a real chore (the Bengals offense totaled 213 yards on 58 plays and scored only one touchdown).
But Zeitler had his moments, perhaps the biggest when he was Kevin-on-the spot with a fumble recovery and two-yard advance following a Bruce Gradkowski miscue.
GRADE: B-
28. Green Bay Packers OLB Nick Perry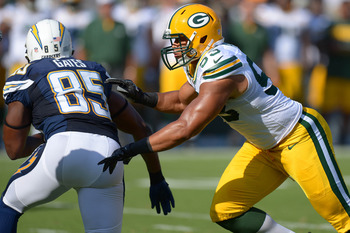 Jake Roth-US PRESSWIRE
Called by some the best pass-rusher in this past April's draft, Perry started Thursday night against the Chargers (opposite fellow former USC star Clay Matthews) and made his mark, totaling three tackles and a sack at San Diego.
It goes without saying that the Packers, who gave up the most passing yards in a season in NFL history last year despite leading the league with 31 interceptions, are looking to get that sack total back to a respectable number. Dom Capers' defenders totaled 18 fewer quarterback traps (29) in 2011 than in the previous season (47).
GRADE: B
29. Minnesota Vikings S Harrison Smith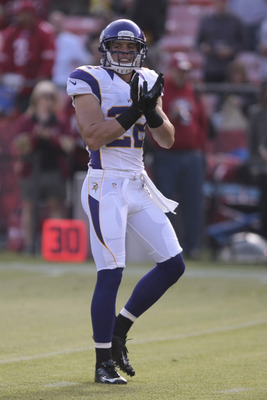 Kelley L Cox-US PRESSWIRE
For now, the Golden Domer is backing up Jamarca Sanford at free safety, although Smith did see some playing time in the preseason opener against the 49ers.
Smith's ability to cover is the key for a defensive unit that may have tied for the league lead in sacks last season (50) but also gave up an NFL-high 34 touchdown passes in 2011.
Of course, it's worth noting that San Francisco rushed for 260 yards on Friday night, 78 of that coming on a scoring jaunt through the secondary by backup quarterback Colin Kaepernick.
GRADE: C+
30. San Francisco 49ers WR A.J. Jenkins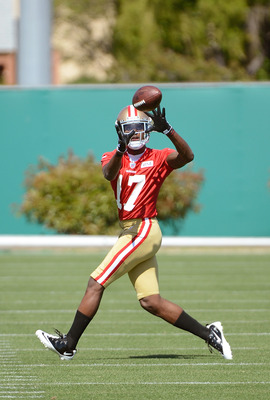 Thearon W. Henderson/Getty Images
With Michael Crabtree, Randy Moss, Mario Manningham and Ted Ginn around, there's certainly no reason to rush Jenkins.
But the first-round wideout was the most targeted pass-catcher for the Niners on Friday night against the Vikings, totaling a pair of receptions for 20 yards after being thrown to a combined six times by quarterbacks Colin Kaepernick (4) and Scott Tolzien (2).
It will be interesting to see just how big of a role he plays in 2012.
GRADE: C
31. Tampa Bay Buccaneers RB Doug Martin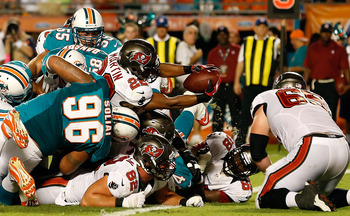 J. Meric/Getty Images
It could be a fun season in Tampa, especially on offense and most notably when Martin has the ball.
The Boise State product showed amazing balance and determination on one of his seven carries and also scored a touchdown on a short burst.
Teaming with powerful LeGarrette Blount, he will give opponents plenty to worry about, and while Martin caught only one pass against the Dolphins, his receiving skills make him very dangerous.
GRADE: A-
32. New York Giants RB David Wilson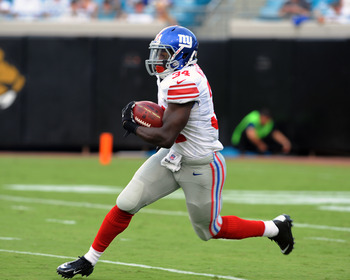 Al Messerschmidt/Getty Images
Tom Coughlin wasted little time putting the last pick in the first round to work at Jacksonville, as Wilson led all Giants with seven carries and 43 yards rushing against the Jaguars, caught two passes for 26 yards and then added 76 yards on a pair of kickoff returns—producing three plays of more than 25 yards by night's end.
And while his most important contributions this season could come on special teams, as the Giants hope to improve their field position on a game-by-game basis, he should be a productive backup to Ahmad Bradshaw.
GRADE: A-
Keep Reading