20 NFL Stars Under Most Scrutiny in 1st Week of Training Camp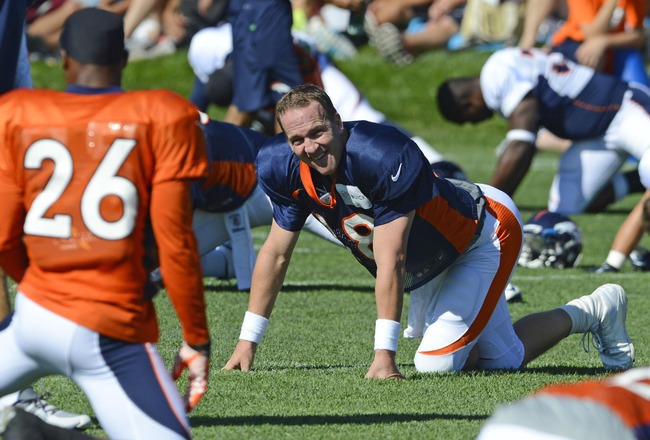 Ron Chenoy-US PRESSWIRE
Which NFL stars are really being placed under the microscope in the first week of training camp?
There has been much speculation on certain players, and we wanted to see if the question marks are getting answered or see if the doubters have something to be concerned about.
Let's clarify the key word in the title—scrutiny. I am referring to the working definition of scrutiny to mean critical observation or examination. Closed continuous watching or guarding would also work here, just in case your definition varies from mine.
Today, we're looking at the top 20 NFL stars who entered their respective training camp under the highest degree of scrutiny in the first week of training camp. If there's an injured player on the PUP list or a player holding out from camp, they obviously won't be on this list, since it's very difficult to observe somebody who isn't there or isn't practicing with the rest of the team.
20) Trent Richardson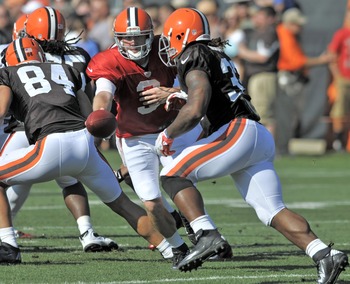 David Richard-US PRESSWIRE
When legendary Cleveland Browns running back Jim Brown described Trent Richardson as an average back on ESPN radio (h/t Micheal David Smith, ProFootballTalk), you knew that there was going to be an increased level of scrutiny placed on Richardson to see if Brown was correct in his assessment of the star back from Alabama.
Actually, there will be scrutiny placed all over the young Browns on offense this year, as Cleveland has youngsters at almost every skilled position on offense.
From rookie quarterback Brandon Weeden, Richardson and the young wide receivers in rookies Josh Gordon, Travis Benjamin and second-year man Greg Little, the Browns will have a more dynamic and exciting offense this year.
Sure, these guys are going to be making their share of mistakes this year, but they will all have the chance to grow up together in the NFL and mature together. Of course, Weeden will already be the mature one of the group due to his age, so he will have to help some of these kids adjust to becoming a pro athlete.
The Browns placed a lot of faith in Richardson by drafting him with the No. 3 overall pick, so there will be plenty of scrutiny on him to see if he can live up to that lofty selection.
19) Darrelle Revis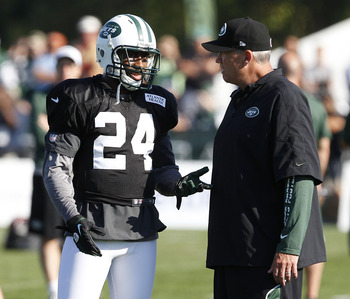 The Star-Ledger-US PRESSWIRE
Darrelle Revis is another player that is being scrutinized this year in training camp. There initially were reports that Revis was going to sit out the beginning of camp due to being unhappy about his contract situation.
Then, Revis reported to camp, but that doesn't mean that everything is wonderful with Revis right now.
According to a story in the New York Daily News, Revis claimed that he was very close to holding out. If the Jets want to keep Revis happy, they will attempt to rework his current deal, which still has several years left.
As he told the Daily News," I want to be a Jet for life. But if management doesn't see fit, then I have to move on."
This will be important to watch, because Revis is a key cog and reason that the Jets can play the defense that they do.
18) Chad Johnson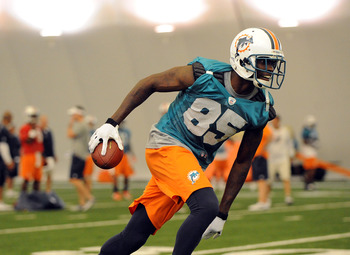 Steve Mitchell-US PRESSWIRE
Does Miami Dolphins wide receiver Chad Johnson have anything left in his tank at all, or was 2011 a complete mirage?
The Dolphins were badly in need of help at wide receiver, and Johnson was badly in need of a team that would throw the ball to him more than once in a great while like New England did.
Whether or not the two parties will find success this year will probably be revealed to a degree on upcoming episodes of Hard Knocks on HBO.
Word out of Dolphins' training camp is that Johnson is looking like the No. 1 wide receiver in Miami. If that remark is met with skepticism, it's because you don't have complete faith in Johnson or you realize that the Dolphins don't have very much going for them in the wide receiving position.
Johnson will be making lots of noise during Hard Knocks, but how much he produces in the season remains to be seen.
17) Blaine Gabbert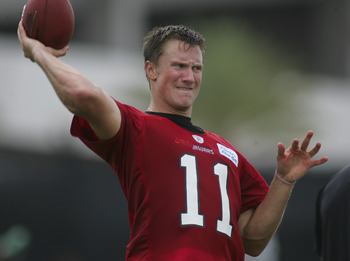 Phil Sears-US PRESSWIRE
Judging from this picture, the long locks are gone, and the pained look on his face seems to suggest that Jacksonville Jaguars quarterback Blaine Gabbert is pressing some to erase the bad memories of his 2011 rookie season.
Depending on what source you trust, reports have been mixed on Gabbert so far in training camp. There has been reports that he looks to be improved (via Twitter, Tania Vanguli, The Florida Times-Union), and I have also seen reports that suggest that Chad Henne is looking like he will be getting chances to start this year (via Don Banks, Sports Ilustrated).
As long as Maurice Jones-Drew continues to hold out and wide receiver Justin Blackmon continues to wait for negotiations to conclude so that he can sign his deal (ESPN), the quarterbacks are getting most of the attention in Jacksonville.
It could be a long year in Jacksonville for new head coach Mike Mularkey. Mularkey has been with the team for almost seven months, and he still hasn't met Jones-Drew, according to this story from CBS Sports' Pete Prisco. The Jaguars are looking like they will be in trouble.
16) Kevin Kolb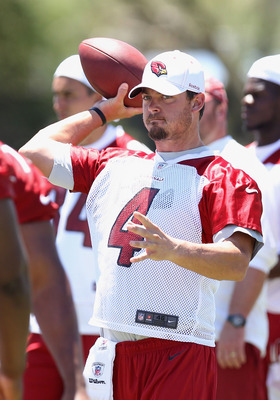 Christian Petersen/Getty Images
Due to the uncertainty of the Arizona Cardinals' starting quarterback this year, the amount of scrutiny placed on the team's decision to reward quarterback Kevin Kolb with a huge signing bonus has called attention to this situation that still needs resolution.
Not only was the huge roster bonus a big deal in Arizona, but the win/loss record of Kolb compared to his backup John Skelton also caused quite a stir. However, with a full offseason for Kolb to come in and work with the coaches to learn the offense inside and out, the Cardinals feel that he has earned the chance to really prove what he can do.
If Kolb falters again like he did in 2011, you know that the Cardinals fans will be screaming to see Skelton. Kolb will be closely examined in the Hall of Fame preseason game this coming Sunday against the New Orleans Saints.
15) Cam Newton
Jeremy Brevard-US PRESSWIRE
Cam Newton believes he can improve in 2012. After reviewing his 2011 season, he came away thinking that there's room for improvement in a number of areas.
Although Newton apparently had no direct level of involvement with center Ryan Kalil's prediction that the Panthers were going to win the Super Bowl this year, it indirectly puts more pressure on Newton's shoulders, as Kalil probably had Newton in mind when he made the statement.
With the stunning ease that Newton was able to decimate NFL defenses as a rookie, there's no telling if he can take another jump up in his second year. If Newton is able to show more growth, there's a good chance that the Panthers will be competing for the postseason.
14) Rob Gronkowski
Stew Milne-US PRESSWIRE
When you're reading and hearing things about "the summer of Gronk," that pretty much tells you all you need to know about certain players getting tremendous amounts of scrutiny. Ashley Fox of ESPN posted a story about summer being over for Gronkowski.
Everybody wanted to know what Gronkowski was up to next this offseason and what was the condition of his injured ankle. The Patriots had to go as far as telling Gronkowski to cool it and focus on football again.
While defenses will be trying to figure out how to slow down the new Patriots' weapons like Brandon Lloyd and the expanded role of Aaron Hernandez, the Patriots are hoping that Gronkowski can continue to develop and become even more dominating, if that's even possible.
13) Mario Williams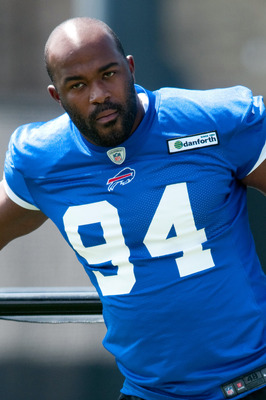 Mark Konezny-US PRESSWIRE
Mario Williams, defensive end for the Buffalo Bills, will be generating tons of scrutiny not only for himself, but for his defensive-line teammates in Buffalo. The Bills could have one of the most vastly improved defensive lines in the NFL with Williams playing alongside Marcell Dareus, Kyle Williams, Mark Anderson and a healthy Shawne Merriman.
When Williams signed his six-year deal for $96 million, it meant that Williams was signing on the dotted line as "the man" to help lead the Bills' charge going forward.
It was also a significant deal from the standpoint of a No. 1 overall draft pick choosing to play in Buffalo over every other NFL team, which should pave the way for other interesting free agents to join the team in the next year to two.
It's safe to say that Williams will be watched closely this year, and it will also be interesting to see how much Williams is missed in Houston. The Texans think they can get by without him.
12) Ed Reed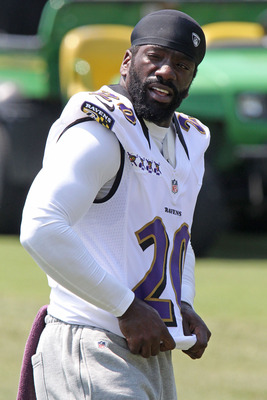 Mitch Stringer-US PRESSWIRE
Was Ed Reed really going to play for the Baltimore Ravens in 2012? Was he seriously considering retirement, or was he spouting off in a poorly conceived plot to try to generate some more money out of the Ravens to play this year?
Whatever the rationale, Reed's antics drew attention to him, so now, he will be scrutinized to see what his physical condition is this year. Does his mental outlook look positive for this season, or is he in fact going through the motions and really prefer to be home with his family?
Reed is going to be 34 years old on September 11th of this year, so it's a reasonable question to ask how much longer he thinks he can play at this level. As the wear and tear of training camp winds down, maybe Reed will give us a clue as to what he's thinking. Then again, it could just be nothing more than noise.
11) Randy Moss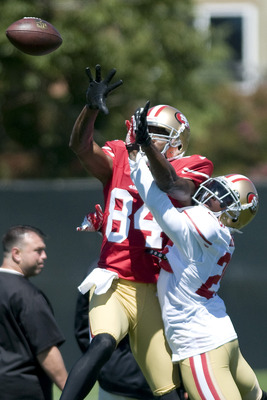 Ed Szczepanski-US PRESSWIRE
Randy Moss had a great career track record, and then he got derailed in 2010. He sat out all of 2011, and now, all of a sudden, he is back in the fold in 2012. How will this on-again, off-again type of commitment work out going forward?
Fans want to know what he has left in the tank and to find out if he has lost a step or not. Moss has been a model player so far in San Francisco and is apparently leading the rest of the San Francisco 49ers wide receivers by example at team meetings, which seems to be something that was unheard of from Moss in the past.
According to Dan Hanzus of NFL.com, Peter King of Sports Illustrated was visiting with Rich Eisen and stated that Moss "absolutely has something left." "If he stays healthy," said King, "five weeks from now I think you're going to see Randy Moss as a contributing player on a playoff offense."
10) Michael Vick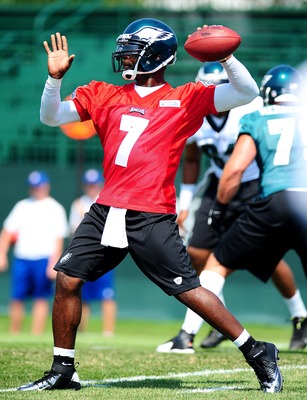 Evan Habeeb-US PRESSWIRE
Much is expected of the Philadelphia Eagles this year, as the team has a legitimate chance to make a strong run in the 2012 playoffs. Well, at least in my humble opinion, they do.
The person who's leading their playoff aspirations is Michael Vick, and he hasn't shied away from sharing his thoughts that the time is now for the Eagles to win for head coach Andy Reid.
One of the biggest factors that will determine how far the Eagles go this year is how well they take care of the football and eliminate the costly turnovers. To that extent, this will be one aspect of Vick's game that will come under heavy scrutiny, not just in training camp, but for the entire regular season.
9) Mark Sanchez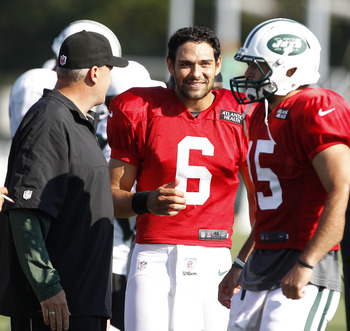 The Star-Ledger-US PRESSWIRE
While most eyes at New York Jets' training camp are probably focused on everything that Tim Tebow says and does, we would be remiss if we didn't point out that the starting quarterback, Mark Sanchez, is also under tremendous scrutiny in training camp.
Observers are trying to see if he's starting to press or crack a little bit under the tremendous attention and pressure that Tebow generates around the team, the city and the locker room.
One aspect that has been a newer development in training camp is that Rex Ryan has asked both Sanchez and Tebow to make faster decisions with the ball and get rid of it by a certain time, according to Manish Mehta of the New York Daily News. Maybe this is Ryan's way of preparing Wayne Hunter to face Mario Williams in the opening game of the season.
As for the Jets; wide receivers in training camp, they aren't looking very good so far, so that in turn will create even more pressure on Sanchez and Tebow to do whatever they can to help carry the offense.
8) Dez Bryant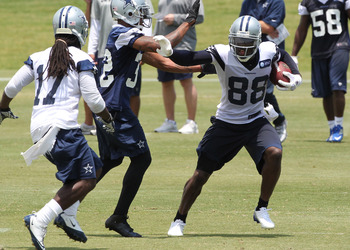 Matthew Emmons-US PRESSWIRE
As soon as Dez Bryant's mother called 9-1-1, you just knew that the media would be scrutinizing Dez Bryant's mood, his ability to show remorse for what happened and how he handled himself right after things started to simmer down a little bit.
It probably didn't help that Dallas Cowboys' owner Jerry Jones had gone out of his way to characterize Bryant as having grown or matured in the past year, only to watch him pull the stunt that he did. For all we know, Jones was just making noise, and I suppose that isn't the first time that he would be guilty of doing that.
A story in the Fort Worth Star Telegram by Clarence E. Hill Jr. states that Jones held off on approaching Bryant right away because he was "too pissed to talk to him." Jones made the comments Tuesday on his radio show on 105.3 The Fan. That doesn't sound like noise to me; it sounds like Jones was angry that the trust and faith he showed in Bryant wasn't treated with more respect.
Expect this relationship to be tenuous for awhile. Either cooler heads will prevail, or Bryant will do something else to stir up the pot, which appears to be consistent with his nature.
7) Justin Blackmon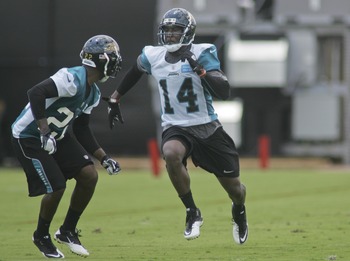 Phil Sears-US PRESSWIRE
Justin Blackmon was under scrutiny prior to the NFL draft taking place. Was he a legitimate franchise player, or were teams going to be reaching for him if he went in the first five or six overall picks?
When Jacksonville traded up to get him, and Blackmon rewarded their faith by turning around and picking up a DUI, it immediately cast doubts about both the player and the team for the wisdom of their selection. It also ratcheted up the level of scrutiny on Blackmon to probably making things uncomfortable for the rookie.
As things stand now, Blackmon is the only first-round draft choice of the 2012 NFL draft class that has failed to sign his contract. In addition, Blackmon is missing practices with his new team, which will further stunt his growth and development. The longer that the contract is not done, the more scrutiny that will be placed on him when he does finally sign.
Nobody expected things to unravel so fast for Blackmon, but his rookie year couldn't have gotten off to much worse of a start than it already has.
6) Andrew Luck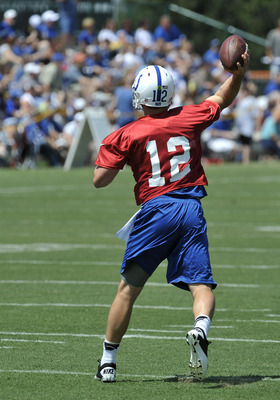 Sandra Dukes-US PRESSWIRE
When you're the No. 1 overall draft pick, you're going to be scrutinized, whether you ask for it or not. Andrew Luck, rookie quarterback of the Indianapolis Colts, has done and said the right things so far, but the fact remains that he will be expected to demonstrate and prove that the Colts made the correct decision by selecting him with the first overall pick.
How does Luck handle pressure in the pocket? If he starts turning the ball over in practice, does he rebound, or does he start to press?
If Luck turns in any bad practices, the media will be grilling him for answers, since he's supposed to be a special quarterback. No doubt that Luck has tremendously large shoes to fill, but that's part of the price of being the top draft pick of your class.
5) Ben Roethlisberger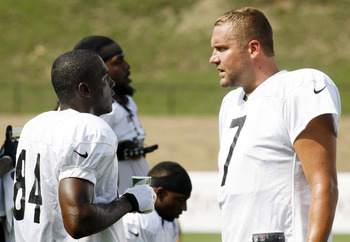 Charles LeClaire-US PRESSWIRE
Ben Roethlisberger will be dealing with a rather high amount of scrutiny during the 2012 training camp. The media will want to see how he's interacting with new offensive coordinator Todd Haley, and then, they will be quizzing him endlessly on how he's feeling about the team's wishes to get back to establishing a power running game again, like the Steelers teams of old.
On the surface, these shifts in strategy and philosophy don't sit very well with Roethlisberger, who prefers to air out the football. It doesn't help that one of his best receivers, Mike Wallace, is still holding out, making it more likely that the Steelers will have to rely on the ground game more in 2012 than they did last year.
In a story this week by Alan Robinson of the Pittsburgh Tribune-Review, Roethlisberger is going to be able to run a no-huddle offense with Todd Haley.
What happened to the power running game? Well, those plays can still be mixed in to the no-huddle package, but it sure seems like we are headed toward seeing Roethlisberger throwing the ball early and often again in 2012.
4) Robert Griffin III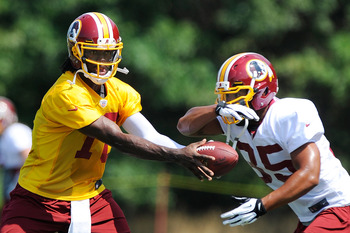 Patrick McDermott/Getty Images
Robert Griffin III would have probably been lower on this list, but when he tried to start convincing NFL teams that he deserved serious consideration as the No. 1 overall draft pick in the 2012 draft, it ensured that the magnifying glass will be focused on him all year long.
Maybe his play will back up his claim, but if he isn't as good as he advertised, his credibility will be somewhat shot, and his star will not be shining as brightly as it is now.
The Heisman Trophy winner has admitted that he was allowed to ad-lib a lot at Baylor. That will be helpful if plays break down in Washington this year, and Griffin is forced to improvise on some plays.
In a story by Chris Russell from ESPN 980, the talk has been that Griffin has been good at times and has struggled at certain aspects of his game. No matter how good or bad he plays, you know that Griffin will be scrutinized as much as any rookie in the league.
3) Drew Brees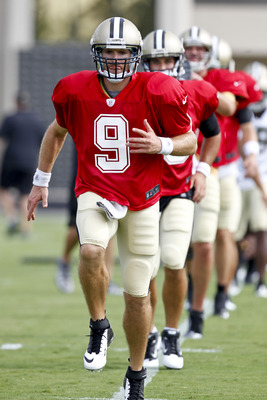 Derick E. Hingle-US PRESSWIRE
Whether you're spellbound by all of the crazy offseason developments with the New Orleans Saints or at the size of the huge new deal that Saints quarterback Drew Brees signed, it's fair to say that there will be a tremendous amount of scrutiny placed on Brees and the Saints in 2012.
Brees will attempt to lead his team without the benefit of head coach Sean Payton being available to offer counsel.
The Saints team finds themselves in a very awkward and uncharted territory this year and will do their best to attempt to prove that a well-coached team is capable of executing, playing and winning without their usual head coach.
Brees was able to sign his deal and still be there for the entire training camp, so we can't use the missed OTAs or minicamp as a big reason why things could go south this year. The offensive leader has the tools he needs to get the job done. Now, will he do it and keep New Orleans competitive in the interim?
2) Tim Tebow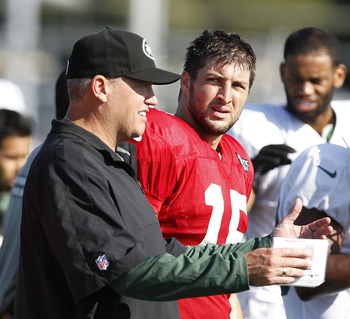 The Star-Ledger-US PRESSWIRE
Tim Tebow is under constant scrutiny because he's a quarterback, he plays in New York City and he's a media darling.
Now, you could also try to say the same things should qualify Mark Sanchez and Eli Manning to be ranked very high on this list, but they do not have the same appeal or magnetism that the media has for Tebow. His winning personality is something the media can't get enough of, but it also means that everything he does is scrutinized to the nth degree.
Things are crazy now in training camp, and they will continue to be crazy right up until the end of the Jets season, whenever it happens to come to an end.
We don't know yet how much of an impact Tebow will have in the overall successes and failures of the Jets in 2012, but you can rest assured that he will be asked to share what he's doing, thinking and feeling every step of the way.
1) Peyton Manning
Ron Chenoy-US PRESSWIRE
There's no other NFL player in the first week of the 2012 NFL training camps under more scrutiny than Denver Broncos quarterback Peyton Manning. From the time Manning was declared a free agent by the Indianapolis Colts and owner Jim Irsay, the media has been agog with Manning news around the clock, leading up to the start of the season.
Now that we're in training camp, nothing has really changed. The media still wants to know how Manning is doing, how he's throwing and how happy he is with his performance to date.
The big test won't come until the preseason games roll around, and Manning takes a couple big hits. When he can get back up on his feet and shrug it off, then Broncos executives and teammates can start breathing easier.
Until then, they will all be collectively holding their breath and hoping that Manning has the ability to endure for the 2012 season without any lapses on the 2011 problems with his neck.
Thanks for checking out the presentation.
Keep Reading