2012 NFL Power Rankings for Each Division in Football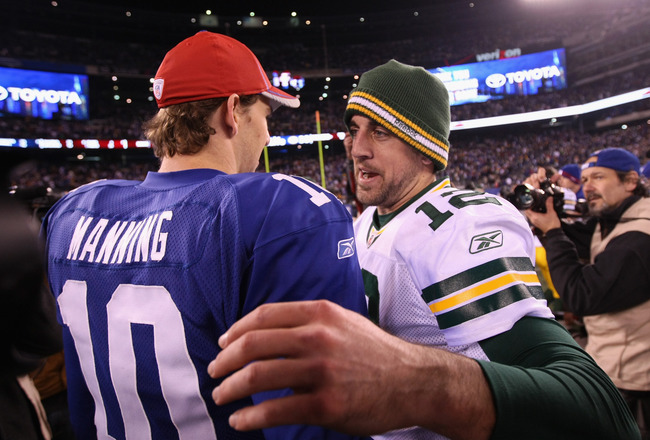 Al Bello/Getty Images
The NFL season is coming, and teams are getting set to make a run at a Super Bowl championship.
This offseason has been filled with controversy and interesting transactions that have changed the landscape of the NFL. They also have left fans craving for the season to start.
Here is a look at where teams sit right now in each of their divisions.
NFC West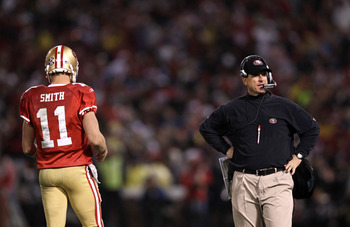 Ezra Shaw/Getty Images
Division Overview
The NFC West is probably the worst division in football. Behind the strong 49ers, there are three teams that have a very small chance of making the playoffs this season. Barring some serious injury or injuries, the 49ers should win this division easily.
1. San Francisco 49ers
The 49ers came out of nowhere last season to become one of the best teams in the NFL. They have a tough, smash-mouth defense that helped carry them to the NFC Championship game. The NFC West is a weak division, and the 49ers should take it with ease.
2. Arizona Cardinals
The Cardinals have their own interesting quarterback battle going on. They brought in Kevin Kolb from the Eagles to be their starting quarterback, but after an injury, backup John Skelton took over and played well. Kolb would return, only to get injured again with a concussion. Skelton then almost led the Cardinals into the playoffs. They won three out of their last four games with Skelton as quarterback.
They obviously have Larry Fitzgerald, who is arguably the best receiver in football. The addition of Michael Floyd could make Fitzgerald an even more dangerous player. Either way the Cardinals really are not good enough to compete with the top teams in the NFC and should win around eight games, but could make a push for a wild-card spot.
3. Seattle Seahawks
The Seahawks are an interesting team. They acquired quarterback Matt Flynn in free agency, but still might have Tarvaris Jackson start. They have a top running back in Marshawn Lynch and a very good defense. The Seahawks have the potential to win close to 10 games; however, a lot of that relies on whether Flynn is the real deal or not.
4. St. Louis Rams
The Rams had an awful season last year. Much of the reason for their struggles was because of young quarterback Sam Bradford. He struggled in his sophomore season, and injuries kept him off the field for a significant amount of time. They are in the process of rebuilding and will win around five games.
NFC South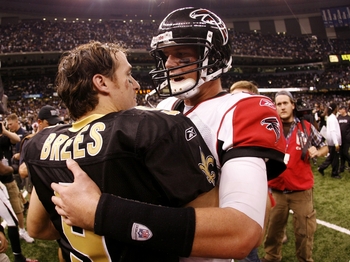 Chris Graythen/Getty Images
Division Overview
The NFC South is another tough division to rank. The Falcons could be on the cusp of taking the next step, and the Saints are dealing with a lot of problems. The Carolina Panthers and Tampa Bay Buccaneers should compete for the third spot in the division.
1. Atlanta Falcons
The Falcons have been a solid team the last two seasons, and they are going to have a big season this year. Much of it will be because of "Matty Ice" Matt Ryan. There offense has been among the top in football over the last two seasons, and nothing has really changed. Julio Jones should improve which helps the offense, especially Roddy White. Their defense also improved with the additions of Asante Samuel and Tatupu. Throw in the Saints' numerous issues, and the Falcons are the top team in the NFC South.
2. New Orleans Saints
The Saints have been one of the best teams in football over the last several seasons. However, they shocked the NFL with the revelation of their bounty scandal. The result were suspensions of players, front office people and coaches. Among these suspensions was head coach Sean Payton and linebacker Jonathan Vilma. They were both suspended for the entire season. Combine this with the issues that have unfolded with Drew Brees and his contract, and the Saints have plenty of distractions to deal with.
3. Carolina Panthers
The Panthers started slow last season, but ended strong. Cam Newton broke rookie records and helped give hope with the Panthers organization and fans. Much of the Panthers success depends on whether Newton will have a sophomore slump or if his early success with continue and turn into wins.
4. Tampa Bay Buccaneers
The Buccaneers had a solid offseason which could help turn around their horrible season last year. They got Josh Freeman, a true No. 1 receiver, with Vincent Jackson and also added key players like Carl Nicks and Doug Martin, who should immediately improve their offense. The issue for the Bucs could be their defense and that they have three strong offensive attacks in their divisions.
NFC North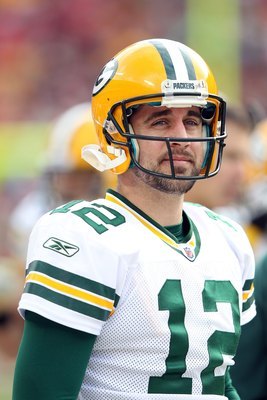 Jamie Squire/Getty Images
Division Overview
The No. 1 and No. 4 position in the NFC North should be a lock. But the battle for second and third between the Bears and Lions is going to be exciting to watch.
1. Green Bay Packers
The Packers were almost perfect during the regular season last year, and they could make a run at being perfect again this season. Aaron Rodgers is in his prime, and that's all you really need to know at this point.
2. Chicago Bears
The Bears had everything going in the middle of last season, but were immediately stopped because of Jay Cutler breaking his thumb. They had won five straight games including a dominating 37-13 win over the Lions. The Bears brought in Brandon Marshall from the Dolphins, which gives them a true No. 1 receiver, who Cutler has had success with with the Broncos.
One concern is with Matt Forte and whether or not he will hold out. However, the Bears luckily brought in Michael Bush, who proved last season that he could be a solid running back in this league.
3. Detroit Lions
The Lions are going to battle the Bears for second place in this division. They are a strong passing team with a shaky defense. Luckily for the Lions, you can get away with having a top passing offense and a questionable defense in this league. Matthew Stafford has developed into the quarterback that they wanted when they picked him with the No. 1 pick a few years ago. They also have one of the best and most exciting players in football, Calvin Johnson. The Bears and Lions could be separated by one game when the season ends.
4. Minnesota Vikings
The Vikings are in a tough division, and the chances of Adrian Peterson missing games or not being 100 percent hurts them greatly. They are optimistic that Christian Ponder is the real deal and will develop into a solid quarterback. They need time to improve both on offense and defense before they can compete with the other teams in their division and in the NFC.
NFC East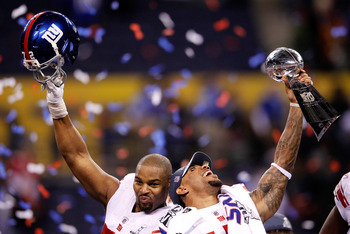 Rob Carr/Getty Images
Division Overview
The NFC East is another division that is going to be hard to predict. The Giants, Eagles and Cowboys are all potential division and Super Bowl winners. Meanwhile, the Redskins are going to be an interesting and exciting team because of Robert Griffin III.
1. New York Giants
The Giants earned the No. 1 spot because of their Super Bowl victory, and Eli Manning. Manning is the best quarterback in this division and possibly the most clutch quarterback in football. He set a new NFL record with 15 fourth-quarter touchdown passes during the regular season. They still have the best defensive line in football and have a decent chance to repeat as Super Bowl Champions.
2. Philadelphia Eagles
The Eagles got off to a slow start last season, which caused them to miss out on the playoffs. Despite that, they still have a top offensive attack with Michael Vick, LeSean McCoy, DeSean Jackson, Jeremy Maclin and Brent Celek. Those are all names with big play potential. Obviously Vick's health plays a huge role in how well their offense will perform. Their defensive struggles last season have been attended to.
To help bolster their defense, more specifically in the middle, the Eagles drafted Fletcher Cox and brought in DeMeco Ryan.
3. Dallas Cowboys
The Cowboys and Tony Romo always have high expectations, and each year, they fail to meet them. They have missed out on the playoffs the last two seasons. However, this offseason has been successful, as they filled some holes on their roster.
The Cowboys improved their defense pretty significantly. They brought in two solid interior lineman in Nate Livings and Mackenzy Bernadeau. They made a big move in the draft to acquire Morris Claiborne, which improves their coverage and allows Rob Ryan to utilize his blitz plays.
4. Washington Redskins
The Redskins are the weak link in this division, but the addition of Robert Griffin III should give them excitement and hope for the future.
AFC West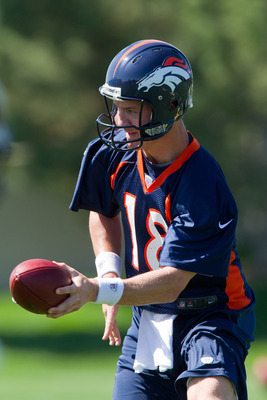 Justin Edmonds/Getty Images
Division Overview
The AFC West could be the hardest to predict because all four teams have a chance to win the division. It all depends on what goes right for what teams and what goes wrong for the others.
1. Denver Broncos
The Broncos made a huge splash this offseason by signing Peyton Manning. Last season, they were able to make the second round of the playoffs with Tim Tebow as their quarterback. Now they have one of the greatest quarterbacks of all-time. Although there are question marks as to whether Manning can still be an elite quarterback or stay healthy, I'd take my chances.
2. San Diego Chargers
The Chargers had another disappointing season last year and failed to make the playoffs. They have a very good quarterback in Phillip Rivers, who is looking to bounce back from a season in which he threw 20 interceptions. Losing Mike Tolbert and Vincent Jackson does hurt, but they also added Mark Ingram and Robert Meachem to a solid offense.
3. Kansas City Chiefs
The Kansas City Chiefs are looking to bounce back from an injury-plagued season. Jamal Charles returning from injury will boost their offense. They also brought in Peyton Hillis, who may have just needed a change of scenery, to be a two-headed horse with Charles. The Chiefs could compete with any team in this division as long as they stay healthy.
4. Oakland Raiders
The Raiders gave up a lot to bring in Carson Palmer last year. Palmer failed to get them in the playoffs and much of their season this year depends on how he performs. Another player that has a lot resting on his shoulders in order for the Raiders to be successful is Darren McFadden. He has proven that he can be a top running back in football when he is on the field.
The problem is, he hasn't been able to stay on the field, and this season, they don't have Michael Bush to fall back on. Because the Raiders are relying so much on an overrated Palmer and a running back who can't stay on the field, they are at the bottom of this division.
AFC South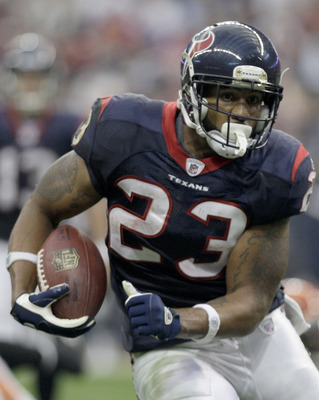 Thomas B. Shea/Getty Images
Division Overview
The Houston Texans have taken over as the top team in the AFC South. A big reason for that is because of Peyton Manning leaving the Colts. The three teams other than the Texans could have very young quarterbacks under center.
1. Houston Texans
The Texans are clearly the top team in this division. They have a strong offense as well as defense. Matt Schaub is a top-of-the-line quarterback when he can stay healthy. He broke his meniscus in the middle of the season, but the Texans defense was still able to carry them into the playoffs. They also have two of the best offensive weapons in football, with Arian Foster and Andre Johnson. They lost Mario Williams, which is not an easy one. However, Whitney Mercilus and Bradie James should help make up for Williams' absence.
2. Tennessee Titans
The Titans almost snuck into the playoffs last season. They have some offensive weapons with Chris Johnson and Kenny Britt. However, they still do not know who their starting quarterback will be. Matt Hasselback is a proven veteran who showed he still had some left in the tank last season. Jake Locker showed some promise as well, and his athleticism may make him the starter. The problem for them is there defense, which failed to make any serious improvements in the offseason.
3. Indianapolis Colts
The Colts have officially moved on from the Peyton Manning era to the Andrew Luck era. Everyone will be watching to see if Luck truly is the real deal. Either way, the Colts are not a good team and have too many holes in their roster to contend in their division.
4. Jacksonville Jaguars
The Jaguars have one of the most consistent running backs in Maurice Jones-Drew and made a nice splash in this year's draft with Justin Blackmon. These two players have made headlines, though. Blackmon got a DUI and Jones-Drew is holding out because of contract disputes.
Despite those issues, the Jaguars' real problem is at quarterback. Blaine Gabbert is being given a chance to start in this league, but how long can they go with him struggling.
AFC North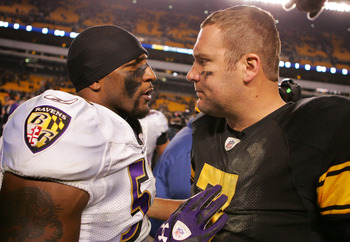 Jared Wickerham/Getty Images
Division Overview
The AFC North has the best current rivalry between the Ravens and the Steelers. Throw in the Bengals' surprising success last season, and this division is going to be a real battle.
1. Pittsburgh Steelers
The Steelers are in the first spot because of the issues with the Ravens. A major issue for the Steelers last year was protecting Ben Roethlisberger. They drafted David DeCastro, which should improve their line and help keep "Big Ben" on his feet and healthy. The Steelers still have an elite defense that will help as their offense gets used to Todd Haley's offensive scheme.
2. Baltimore Ravens
The Ravens were finally able to win the division with Joe Flacco as their quarterback. Unfortunately for them, they have two big issues that could seriously hurt them. Terrell Suggs tore his Achilles and is going to miss a substantial amount of time this season.
The other problem is Ray Rice. He refuses to sign his franchise tag and his holdout could even leak into the season. These are two key players that the Ravens need in order to be successful.
3. Cincinnati Bengals
The Bengals had a surprisingly good season last year in which they made the playoffs. Andy Dalton and A.J. Green had solid rookie seasons and should only improve the more they play together. They improved their secondary with the additions of Dre Kirkpatrick and Terence Newman. Another nice pick up was BenJarvis Green-Ellis, but the Bengals don't have enough right now to trump the Ravens and Steelers.
4. Cleveland Browns
The Browns immediately improved when they drafted Trent Richardson. They already have a decent defense that is improving and coming into their own. Their biggest holes are at the wide receiver position. While they may eventually decide to start 28-year-old rookie quarterback Brandon Weeden over Colt McCoy, they don't have any receivers to throw to. The Browns are the basement of the AFC North.
AFC East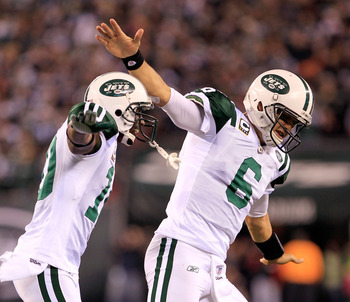 Chris Trotman/Getty Images
Division Overview
This division may be the easiest to predict and sort out. Each team is pretty much a lock to fall where they are expected to.
1. New England Patriots
The Patriots are the clear favorite to win the AFC East division. They have one of the best offenses in football, which is led by future Hall of Famer Tom Brady. It really doesn't matter who they acquire or lose in the offseason as long as they have Bill Belichick and Brady. Look for another 13-3 or 12-4 season from the Patriots.
2. New York Jets
The Jets are looking to bounce back from a tough season. They failed to make any big improvements to an offensive line that needed to be improved. Their defense should continue to be a strength with LaRon Landry and Quinton Coples. Landry adds depth to their secondary, and Coples could finally be the pass-rusher on the defensive line that the Jets have needed.
Mark Sanchez is clearly a better quarterback than Tim Tebow. Stephen Hill and the push from Tebow being behind him could finally make him have the breakout season we have been waiting for. If the Jets can use Tebow the right way, there could be some success.
3. Buffalo Bills
The Bills started off strong last season, but came back down to Earth by the end of the season. They have a mediocre offense and a mediocre defense, which should result in a mediocre 6-10 or 7-9 season. The addition of Mario Williams is definitely interesting though.
4. Miami Dolphins
The Miami Dolphins missed out on pretty much every quarterback that became available this offseason. They settled with drafting Ryan Tannehill, who may not start the season as their starting quarterback. The Dolphins looked awful at the start of last season, but started playing better towards the end of the year. Having Reggie Bush is nice if he can actually stay healthy. Expect a similar rough season from the Dolphins this season.
Keep Reading