NFL Players Who Will Take a Huge Step Back in 2012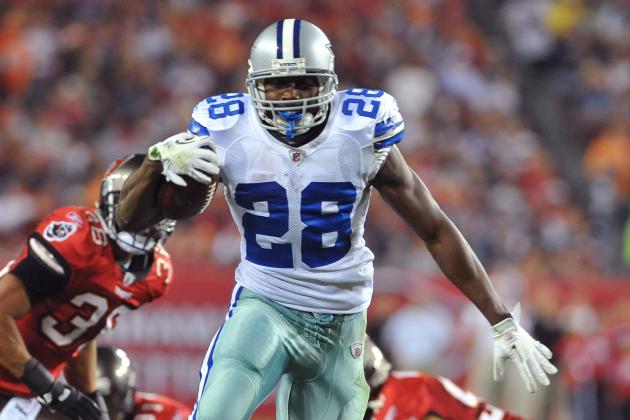 Al Messerschmidt/Getty Images

Now that we are less than one month away from the start of 2012 NFL training camps, every team is able to generate reports about what the starting units are going to look like coming into the new season.
While every report isn't set in stone, we can at least project that there will be certain players who appear to be in a situation that is less promising this year than it was in 2011.
Whether somebody was outperformed, lost their starting job due to injury or is falling victim to a scheme change, this slideshow lists the players that will likely regress in the 2012 season.
If you happen to own any of these players on your fantasy football team and were contemplating keeping them for 2012, you may want to reconsider.
Begin Slideshow

»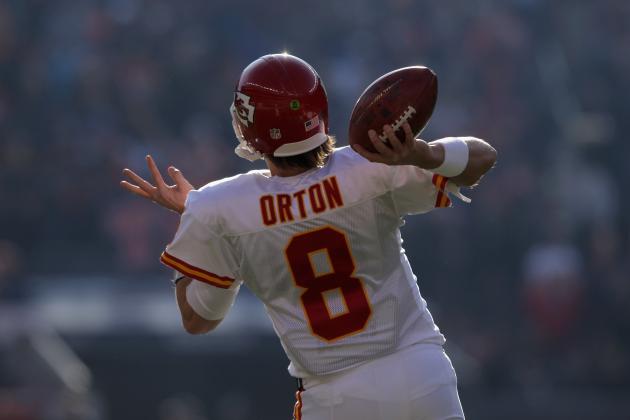 Doug Pensinger/Getty Images

We could take up six slides just by naming the different quarterbacks who were starters in 2011 and now look to be backups in 2012. In the process of likely losing their starting position, it is obvious that they will take a step down in production.
The players in question are Colt McCoy (Cleveland), Rex Grossman (Washington), Jason Campbell (Oakland), Curtis Painter (Indianapolis), Kyle Orton (Denver and Kansas City) and more than likely Tarvaris Jackson (Seattle). Orton and Campbell have relocated to Dallas and Chicago, respectively, but they will still act as backups.
There are other quarterbacks that could fall into this group like Matt Moore or John Skelton, but we won't know their fate until the final starting decisions are made during training camp.
If any of this group of quarterbacks sees the starter go suffer an injury early in the season, then it is conceivable that they could still put up similar numbers to what they did in 2011. But the reality is that they will probably be seeing a fairly steep decline in production this season.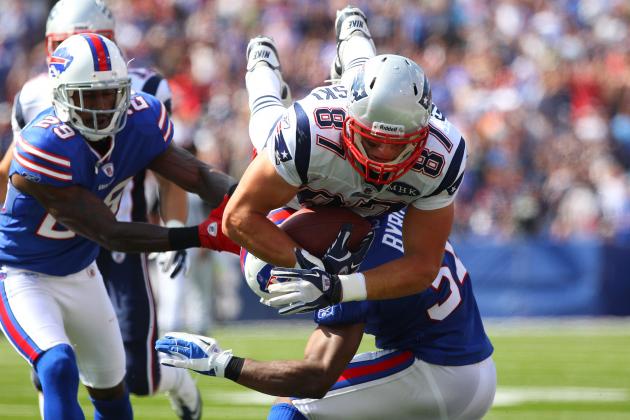 Tom Szczerbowski/Getty Images

New England Patriots tight end Rob Gronkowski had an unbelievable season in 2011, catching 90 passes for 1,327 yards and an amazing 17 touchdowns. He was so dominant that he has forced AFC East teams to change personnel and draft players with the idea of containing him or slowing him down.
So, with such a great year behind him, how could we possibly predict that he will be taking a step backwards in 2012?
First of all, the New England offense will be different in 2012. Gone are players like Chad Ochocinco, BenJarvus Green-Ellis and Kevin Faulk.
In 2012, the offense will be generating more touches for Stevan Ridley and Shane Vereen, in addition to touches for the many newcomers like Joseph Addai, Jabar Gaffney, Brandon Lloyd and Donte Stallworth. Where will the new players' touches be coming from? Most likely, from Gronkowski and Wes Welker.
There are other factors involved in Gronk's predicted statistical decline. What is his health like? Will be be a step slower in 2012 due to the ankle surgery? What about defensive coverages? Will teams aim to shut down Gronkowski, thereby opening up other options in the Patriots offense?
Finally, there is the Aaron Hernandez factor. The Patriots were starting to experiment with Hernandez towards the end of the 2011 season in an H-back role. That looked like it could be a successful experiment, so if more touches are going to Hernandez, then that should yield fewer touches for Gronkowski.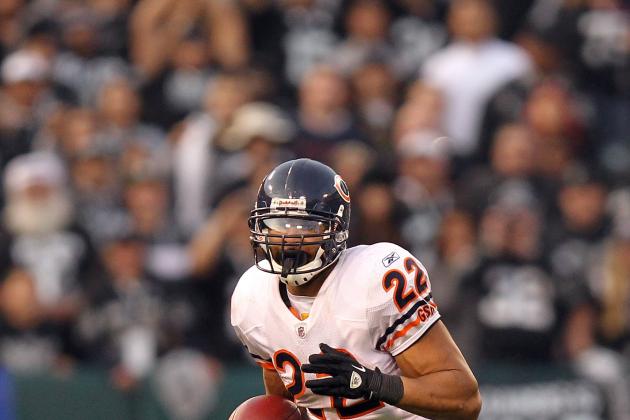 Ezra Shaw/Getty Images

The Chicago Bears traded for Brandon Marshall and drafted Alshon Jeffery because they wanted to upgrade their passing attack.
Jay Cutler will finally have an interesting group of receivers in Chicago, so it would stand to reason that the Bears will be less likely to rely on running the ball in 2012.
When it comes to running the ball this season, the Bears will be handing it off to not only Matt Forte, but to Michael Bush as well. Bush led the Oakland Raiders with 977 rushing yards in 2011, so this isn't the kind of player that you just hand the ball to two or three times a game.
Bush will be clearly cutting into some of the key touches that Forte handled in prior years. Whether it is down in the red zone or in short-yardage situations, every touch that goes to Bush is one less chance for Forte to make something happen.
Finally, we have to wonder what kind of physical and mental condition Forte will be in for the 2012 season. Is he still upset about his lack of a long-term contract with the Bears and, as a result, playing with a chip on his shoulder? Did he lose a step due to his surgery from his 2011 knee injury?
For all of the above factors, I foresee Forte taking a step back in 2012.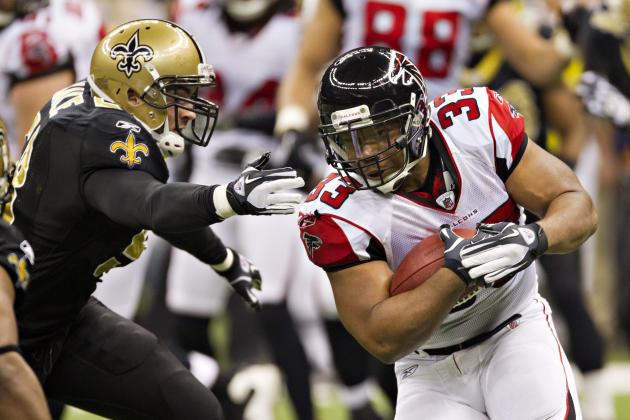 Wesley Hitt/Getty Images

For each of the past four seasons, Michael Turner has been a workhorse in the Atlanta Falcons backfield. He has led the team in carries and rushing yards in each season. In three of the past four years, he topped 1,300 yards in rushing.
But now that we are coming into 2012, there are signs that his production might be going down.
For one thing, the Falcons have said that they are going to reduce Turner's workload this year by giving more touches to Jacquizz Rodgers and Jason Snelling, as per this article by D. Orlando Ledbetter of The Atlanta Journal-Constitution.
Reducing Turner's carries will keep him fresher at the end of the season, and it might help the Falcons reverse their string of quick postseason exits.
The other issue is age. Turner is now 30 years old—the age that puts a running back's shelf life in question. How many years does he have left? When will the pounding he took from the prior seasons start to catch up to his body?
It is still conceivable that Turner could be a 1,000-yard rusher, but don't be surprised if 400 to 500 yards are lopped off of his 2011 totals.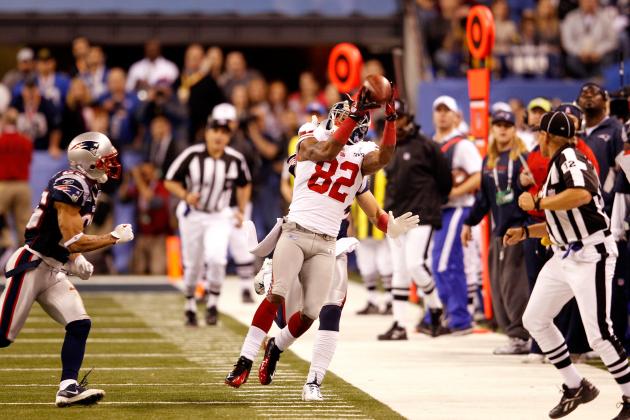 Rob Carr/Getty Images

It will be an interesting season for Mario Manningham, as the wide receiver is now part of the San Francisco 49ers. Manningham is going from a team that was ranked No. 5 in passing and No. 32 in rushing to a team that was No. 29 in passing and No. 8 in running the ball.
From a pure offense philosophy, Manningham will see fewer pass plays called and more running plays, which reduces his personal production.
Then you look at the receivers in San Francisco. The 49ers already had Michael Crabtree and Vernon Davis as established options. On top of that, they added on Randy Moss, Manningham and rookie A.J. Jenkins. How will all of the touches be divided?
In 2011, Manningham caught 39 of the 77 passes that Eli Manning threw his way. I doubt that he comes up with 39 catches in the 2012 season, only because I think the majority of the passes will go to Davis, Crabtree and Moss.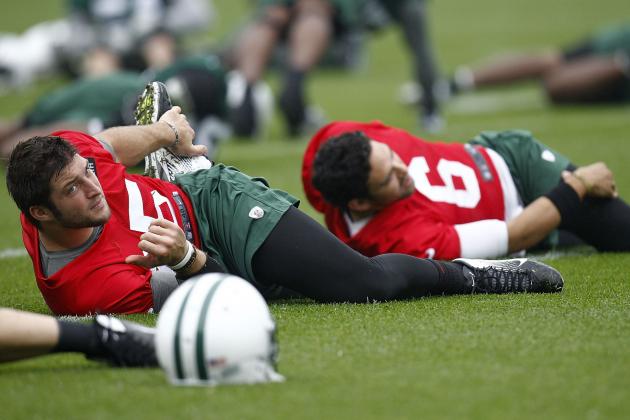 Jeff Zelevansky/Getty Images

I suspect that the 2012 season will be a step backwards for both of the New York Jets quarterbacks, Mark Sanchez and Tim Tebow. We are going to operate from the premise that the Jets are going forward with their plans to implement a package of 20 plays per game for Tebow.
Based on those 20 plays, there is no way that Tebow can even come close to matching the production he had as the starting quarterback for the Broncos.
The 20-play scripted sequence would be like playing one quarter of the game instead of playing all four. There is no way the math works out to any conclusion other than the 2012 season being a step backwards for Tebow.
There are signs that Sanchez's production will slide as well. The Jets want to run the ball more: More ground-and-pound means less passing.
Even when Sanchez does pass, there's no more Plaxico Burress, and LaDainian Tomlinson has also left. Santonio Holmes is likely to explode any minute, and it will take time for rookie Stephen Hill to adjust to the NFL game, as he wasn't the most polished receiver to begin with.
If it turns out that the Jets prefer to let Tebow run his 20 plays from inside the red zone, then Sanchez will become the QB between the 20-yard markers as a result, and that will greatly impact Sanchez's performance.
Some questions still remain, but this has the potential to become an ugly situation in New York City.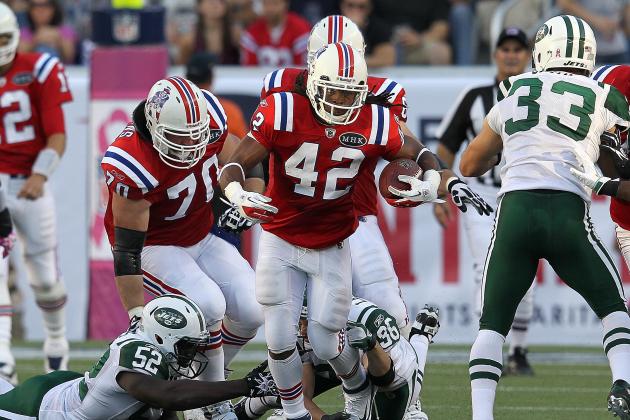 Jim Rogash/Getty Images

When BenJarvus Green-Ellis was running the football for the New England Patriots, he had the advantage of playing against defenses that were designed to try to stop Tom Brady and the passing game, therefore making it easier to run the football.
Now that he is headed off to Cincinnati, Green-Ellis will be seeing defenses that are designed to stop the run and force Andy Dalton and the Bengals to throw the ball.
Not only that, but Green-Ellis will be splitting some carries with Bernard Scott, it is very conceivable that Green-Ellis won't be able to best the 667 rushing yards he gained in 2011.
The other statistic that is susceptible to decline is the number of touchdowns that Green-Ellis has been scoring. In this article from Rotoworld.com, Adam Levitan points out that 18 of Green-Ellis' last 24 touchdowns have come on goal-to-go situations.
There is no guarantee that Green-Ellis will continue to be the beneficiary of that arrangement in Cincinnati, as the Patriots offense generates far more scoring drives than the Bengals.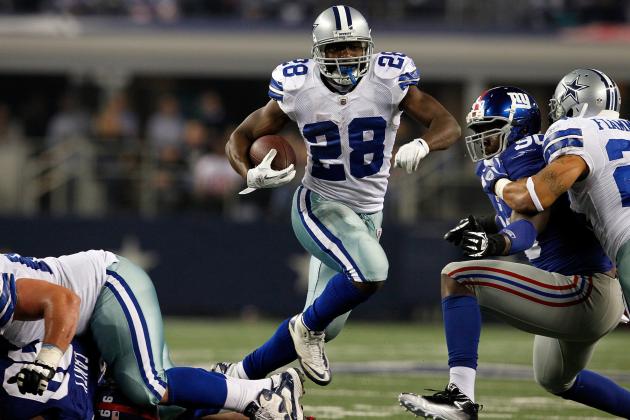 Tom Pennington/Getty Images

Felix Jones was the starting running back entering the 2011 season. Then the Dallas Cowboys played against the St. Louis Rams in Week 7 when DeMarco Murray exploded for 253 rushing yards on just 25 carries.
Just like that, Murray became the Cowboys' starting running back.
In 2012, nothing has changed. Murray will still be the starter, while Jones will serve as the backup in order to provide a change of pace.
Because of the lack of snaps or carries, Jones' projected production in 2012 should be greatly diminished compared to what he produced in 2011 (575 rushing yards).
Unless Murray gets injured, it appears that Jones' days of being a starter in Dallas are over.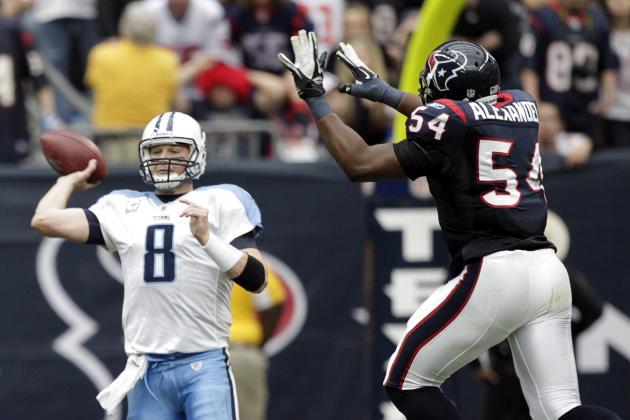 Bob Levey/Getty Images

Tennessee Titans quarterback Matt Hasselbeck was able to hold off rookie Jake Locker to become the Titans' starting quarterback in 2011. Will he be able to do the same in 2012?
While it wouldn't be a complete surprise for Hasselbeck to win the starting job in Week 1, it would be a surprise if he kept the job for the entire year.
The Titans drafted Locker in the first round to give him the chance to watch and learn during his rookie year, but I don't believe that they ever intended for that to last two full years.
Sometime during the 2012 season, the Titans will be prepared to turn over the offense to Locker, and they will then sink or swim from that point on.
Whenever the transition occurs, that will be the start of the Locker era in Tennessee, and it will also mark when Hasselbeck's production takes a step backwards.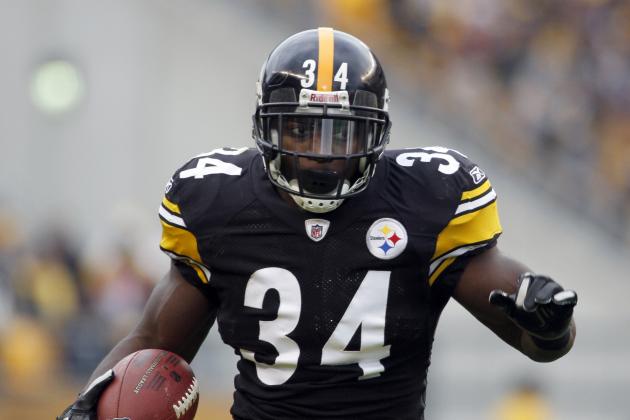 Justin K. Aller/Getty Images

Pittsburgh Steelers running back Rashard Mendenhall is recovering from ACL surgery due to an injury suffered in the final game of the 2011 season. As a result, he will not be ready to go at the start of the season, so the Steelers have to go in a different direction.
According to this story by Jamison Hensley of ESPN.com, the Steelers are counting heavily on Isaac Redman in 2012.
While we don't know yet for sure what week that Mendenhall will get medical clearance, there are other warning signs that Mendenhall is ready to take a step backwards in production.
Hensley notes:
Since the start of 2010, Mendenhall averaged 3.9 yards per carry, the fifth worst among the 28 players with at least 300 rushes in the last two seasons, according to ESPN Stats & Information.

Mendenhall also had the second fewest yards after contact (1.6 per carry) among running backs with at least 200 carries.
Both of those stats have to be of concern for Steelers fans and anybody that owns Mendenhall on their fantasy team. The tea leaves are revealing that it is time to start relying less on Mendenhall.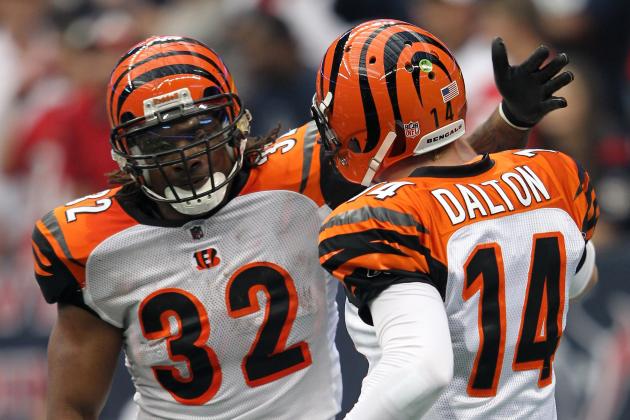 Jamie Squire/Getty Images

Cedric Benson is a free agent, but it won't be a surprise if he winds up signing with another team during the next month.
However, the biggest difference is, in 2012, he will be viewed as a backup, compared to his usual role as a starting running back with the Cincinnati Bengals.
Benson cranked out three straight seasons rushing for more than 1,000 yards for the Bengals, but that won't be happening in 2012.
In addition, Benson has only had one season out of his last five years where he averaged at least four yards per carry.
While it seems that the Oakland Raiders might wind up signing Benson to be a backup for Darren McFadden, the reality is that Benson's totals will be a big drop from the 1,067 yards he gained in 2011.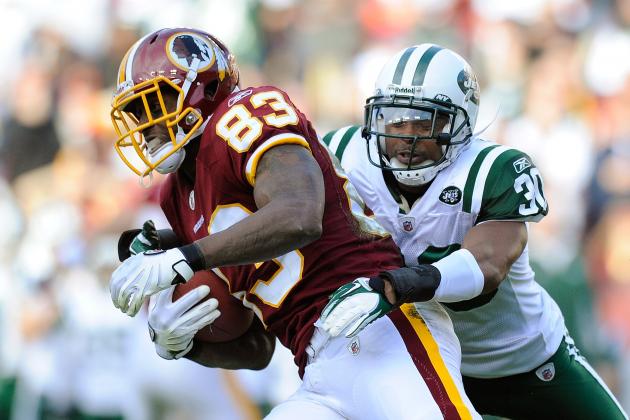 Patrick McDermott/Getty Images

Our final player in the presentation is Washington Redskins tight end Fred Davis. Davis enjoyed a solid 2011 season, but things look to be different in 2012.
For starters, Davis was already suspended for four games in the 2011 season due to failed drug tests, so his next infraction will mean he is gone for the entire season. How does this possibility hanging over his head affect him? Maybe not at all, but we will find out as the season unfolds.
Secondly, the offense is going through a major overhaul with Robert Griffin III taking over. Griffin will need some time to make the necessary adjustments to playing in the NFL, so that can likely affect his receivers' numbers in the early going.
Another issue with Davis is that the Redskins will have a number of new targets to which to throw the ball. Besides Davis, Griffin also will have Pierre Garcon, Josh Morgan, Santana Moss and Leonard Hankerson.
While Davis caught 59 passes for 796 yards last season, it would not be a surprise if he winds up with 25 percent less production across the board in 2012.