One Burning Question for Every NFL Team's First-Round Pick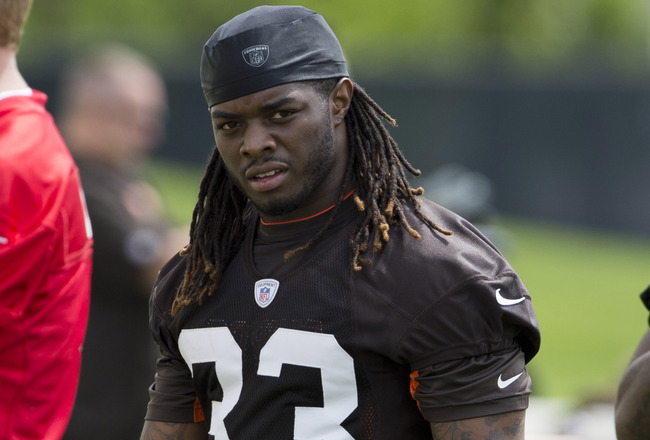 Jason Miller/Getty Images
From the very early stages of the first round to the bottom of the final round, every single NFL draft pick comes into the league with a myriad of different questions.
The more questions the player has, the more of a chance he is going to become a bust. The less questions that a prospect has, the more of an opportunity he is going to have to stick in the NFL.
It is a pure math game.
It does seem that the 2012 NFL draft class has more questions than in the past. This is probably due to the lack of "elite" talent available on the board and the number of solid prospects that spanned into the middle rounds.
Is Andrew Luck going to take the torch from Peyton Manning and run with it? Will Robert Griffin III suffer the same fate as so many No. 2 overall picks at the quarterback position before him? Is Jim Brown right about Trent Richardson?
This article will answer those questions and many more, in regard to each first-round pick from the 2012 NFL draft as they enter their rookie seasons.
David Wilson, New York Giants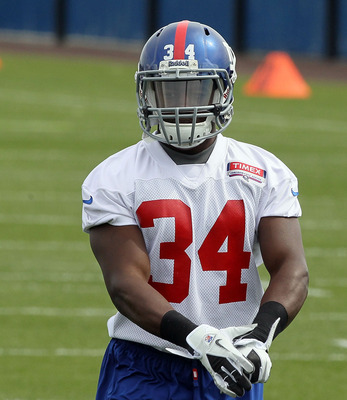 Jim McIsaac/Getty Images
Will David Wilson be an immediate impact performer in the National Football League?
No!

There is no questioning the talent that David Wilson possesses. He gained over 1,700 yards in his only season as the featured back at Virginia Tech, gaining 100 yards in all but four games.
Issues do remain in regards to Wilson's ability to make an immediate impact. Some skeptics have concluded that he is more of a runner than a running back. This means that Wilson doesn't yet have the ability to do the small things a running back must do to be successful in the National Football League.
This part of the game is huge. It includes being able to see the entire field with the ball in your hands, understanding when to follow your blockers and possessing the necessary field vision to cut away from the grain.
At this point, I would have to conclude that Wilson is more of a project for the New York Giants. He is going to have to learn the nuances of the league before being counted on to be an every-down back.
Doug Martin, Tampa Bay Buccaneers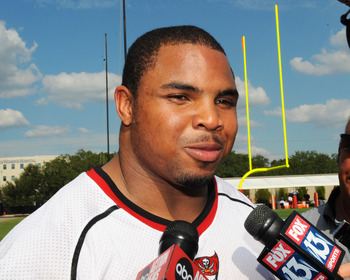 Al Messerschmidt/Getty Images
Will Doug Martin be the Tampa Bay Buccaneers' starting running back as a rookie?
Yes!


Martin was one of my favorite offensive prospects in the entire 2012 NFL draft. While many were projecting him to be an early third-round pick early in the scouting process, I had the Boise State product firmly entrenched as the No. 2 running back prospect behind Trent Richardson.
Nothing has changed since the Tampa Bay Buccaneers traded back into the first round to select Martin.
He will get stiff competition from LeGarrette Blount, who is one of the better inside runners in the National Football League. Expect the Buccaneers to run some sort of rotation in the backfield in 2012.
That being said, Martin possesses the blocking and receiving ability to be an every-down back in the league. You can expect him to get more touches than Blount as the season progresses.
A.J. Jenkins, San Francisco 49ers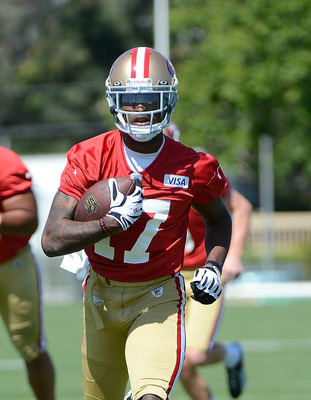 Thearon W. Henderson/Getty Images
How does A.J. Jenkins fit into the San Francisco 49ers' scheme in 2012?
Many "experts" questioned the 49ers' selection of A.J. Jenkins in the first round. After all, he was nowhere on the radar of mock drafts leading up to the real event in April.
I am not going to question him as a perceived reach. My major issue is where Jenkins fits in as a rookie. San Francisco utilized the least amount of four-wide receiver sets in the NFL last season. They added both Randy Moss and Mario Manningham in free agency, as well.
Moss is getting rave reviews and appears to be penciled in as the starter opposite Michael Crabtree with Manningham moving to the slot.
This pretty much means that Jenkins wont make an immediate impact as a rookie on offense, solely due to the 49ers' depth chart.
Harrison Smith, Minnesota Vikings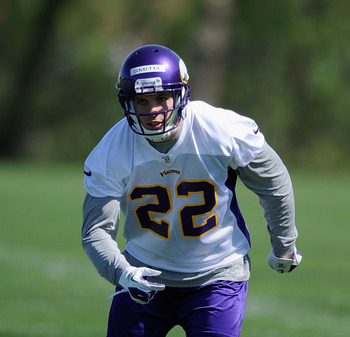 Hannah Foslien/Getty Images
Does Harrison Smith have the athleticism to be a starting safety for the Minnesota Vikings?
No!

There has been a lot of talk in scouting circles about the Vikings' selection of Smith towards the end of the first round in April.
The former Notre Dame safety doesn't appear to have the measurements to be a standout starter in the National Football League.
His 4.57 40-yard dash at the combine was surprising to skeptics, but also put Smith right in the middle of the pack in regards to prospects at the strong safety position. Smith struggled in coverage with Notre Dame and seems to be more of a stack-the-box, run-support type of player.
It now appears that the Vikings are planning to play Smith at the free safety position, which will put his coverage skills under the microscope. I am not entirely sure that this is the position he should play in the NFL.
That being said, the young safety was a team leader in South Bend over the course of the last three seasons, and he will provide Minnesota with the "quarterback" they are looking for in the secondary.
I still have a hard time believing that Smith will be a difference-maker at the next level, and this is coming from someone that had the pleasure to watch every game he played in college.
Nick Perry, Green Bay Packers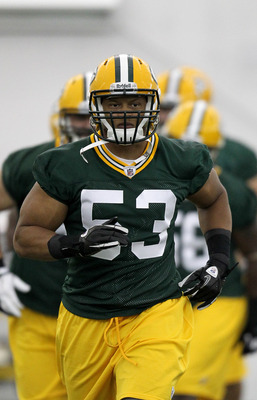 Mike McGinnis/Getty Images
How does Nick Perry translate to the Packers' 3-4 scheme as an outside linebacker?
An old professor once told me, "Going against the grain will get you cut." This could be interpreted to mean that a minority opinion might make sense, but it will end up burning you in the long run.
Throughout the NFL draft process, I have been in the minority by concluding that Nick Perry doesn't translate well as an outside linebacker in a 3-4 defensive scheme.
Obviously the Packers don't value, or haven't got word of, my opinion. If they had, I am pretty sure they would have passed on Perry.
Either way, I will take Ted Thompson and Co. as experts in this field. If they believe Perry will be able to translate to outside opposite Clay Matthews, there really isn't any reason to question it.
At the very least, Perry should be able to make an Aldon Smith-like impact as a pure pass-rusher during his rookie season. Expect double-digit sacks.
Kevin Zeitler, Cincinnati Bengals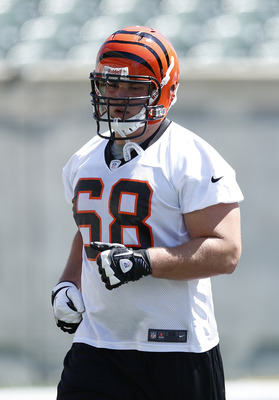 Joe Robbins/Getty Images
Is Kevin Zeitler a day-one starter?
Yes!

At this point, it doesn't look like the Cincinnati Bengals plan to re-sign Bobbie Williams, who has been their starting right guard for the last eight seasons.
This opens up opportunities for younger Bengals players to battle for a starting position during training camp later this summer.
Zeitler will be battling with 2011 fourth-round pick Clint Boling and free-agent acquisition Travelle Wharton for the two starting guard spots.
Considering that the Bengals spent a first-round pick on Zeitler, it is hard to imagine him sitting on the bench at any time during the 2012 season.
It also helps that Zeitler performed extremely well in a pro-style blocking scheme at Wisconsin. He should be able to come in and play without having much of a transition from college to the NFL.
I envision Zeitler as the starting right guard from day one.
Whitney Mercilus, Houston Texans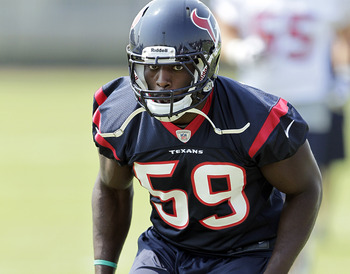 Bob Levey/Getty Images
Does Whitney Mercilus have the skill set to be a three-down player in the NFL?
No!

Whitney Mercilus doesn't seem to have the athletic skill set to be an every-down player in the NFL. He struggles a great deal against the run and doesn't possess fluid enough hips or field recognition to drop back into coverage.
What Mercilus does bring is a capable combination of pass-rush moves that will enable him to be an immediate impact rookie in a situational role.
I am not sure if the Illinois product will ever be a three-down player in the NFL.
Dont'a Hightower, New England Patriots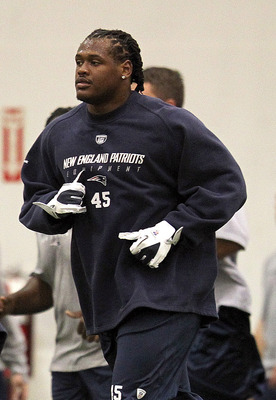 Jim Rogash/Getty Images
Will injury concerns be a consistent issue for Dont'a Hightower in the NFL?
No!
ACL injuries are scary for anyone. They really have an impact on explosiveness and speed moving forward. This is only magnified when they occur in college, at a point in a player's career when they are not fully grown.
This is what happened to Hightower during a 2009 game against Arkansas.
It does seem that the Alabama product has fully recovered from this devastating injury and is ready to move on with his career three years later.
If it wasn't for this, as well as some other minor injury concerns, Hightower probably would have received some play in the top 10.
He has everything you look for in a starting inside linebacker: instincts, speed, aggressiveness and strength. Look for him to be a great player for the New England Patriots for the next decade.
I am sold!
David DeCastro, Pittsburgh Steelers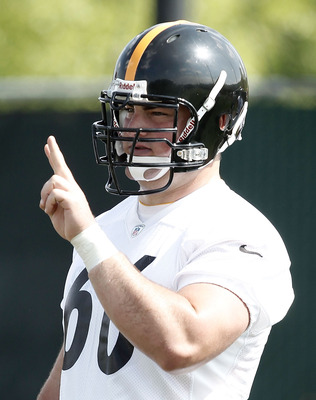 Jared Wickerham/Getty Images
Will David DeCastro be a Pro Bowl guard out of the gate?
Yes!

This was already answered when some "experts," including myself, indicated that DeCastro was the best guard prospect to enter the draft in over two decades.
The Stanford product is a player that possesses everything you look for in an elite interior lineman. He has the ability to pull on sweeps, is just as good in pass-protection as he is in run-blocking and absolutely dominates the trenches.
I had DeCastro as the No. 5 overall prospect in the 2012 NFL draft. That obviously tells you just how high I am on him.
Without a doubt, he will be a Pro Bowl performer his rookie season. I don't even think that is in question at this point.
Riley Reiff, Detroit Lions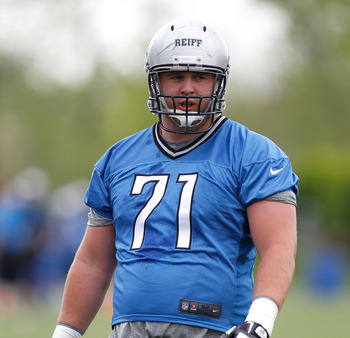 Gregory Shamus/Getty Images
Can Riley Reiff handle the blind side in the NFL?
Yes!

This was an absolute steal of a pick for the Detroit Lions. Not only did they fill a position of need, they received great value in the form of Reiff.
Many "experts" had the former Iowa standout as a top 10 pick heading into the draft. For some reason, Reiff fell a great deal in the days leading up to the annual event.
He possesses the footwork and technique to be a blindside protector right out of the gate. I really love how Reiff gets low at the point of contact and moves his feet to take on speed-rushers. This is something that Detroit has struggled with at the left tackle position over the course of the last few seasons.
There is no doubt in my mind that he can be a franchise cornerstone along the offensive line. The only question is when he will be implemented at that position.
Brandon Weeden, Cleveland Browns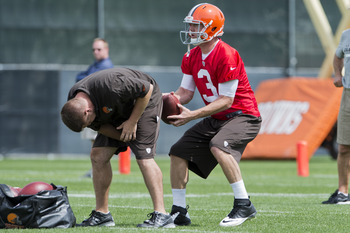 Jason Miller/Getty Images
Will Brandon Weeden just be another bust at quarterback for the Cleveland Browns?
Yes!

I was one of those people that refused to knock Weeden due to his age leading up to the draft. That really doesn't matter a great deal in the grand scheme of things.
That being said, this selection by the Browns made absolutely no sense. They refused to give Colt McCoy an opportunity to succeed with actual weapons on the offensive side of the ball and were unable to provide Weeden with that during the draft or in free agency.
He is going to be in the exact same situation that so many Browns quarterbacks were in before. The Oklahoma State product will not be able to make consistent plays in the passing game due to a lack of experience and talent at the receiver position.
History tells us an unflattering story in regard to the Browns and their quarterback position. This is a book that has been rewritten throughout the years, but always comes to the same discouraging ending.
There is no reason to believe this won't be the case with Weeden, either.
Chandler Jones, New England Patriots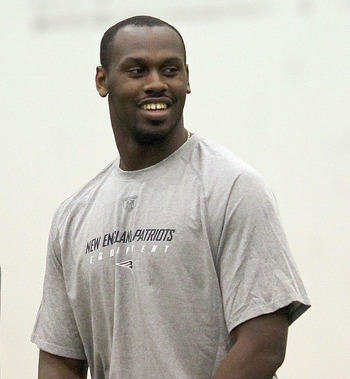 Jim Rogash/Getty Images
Is Chandler Jones going to give the New England Patriots a consistent pass rush?
Yes!

The Syracuse product was a late riser leading up to the draft in April. In fact, Mike Mayock indicated that Jones was the best defensive player in the entire draft.
While I am not ready to buy that, Jones does possess excellent pass-rush moves and should give the Patriots an immediate upgrade off the edge in 2012.
A more consistent pass rush should also improve that dreadful secondary a great deal.
Even if Jones is more of a situational player in 2012, you can expect him to make an immediate impact. You just cannot teach the athleticism and talent, however raw it might be, that Jones possesses.
Kendall Wright, Tennessee Titans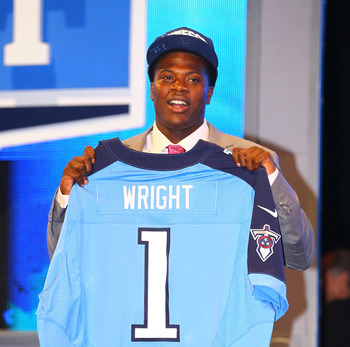 Al Bello/Getty Images
Was Kendall Wright just a product of Robert Griffin III at Baylor?
Simple answer, no!
More extended answer needed? Maybe.
Kendall Wright actually helped RGIII out a great deal by finding open seams against defenses on a consistent basis last season. This is something that Tennessee Titans receivers struggled with a great deal without Kenny Britt in 2011.
There is no other way to look at it: Wright was one of the primary reasons that his quarterback at Baylor won the Heisman Trophy.
Look for Wright to make an immediate impact in the slot for Tennessee as a rookie. He has the ability to stretch the field and dominate in space.
Shea McClellin, Chicago Bears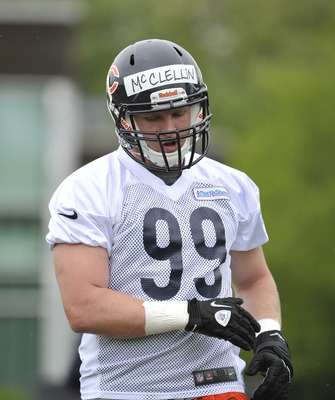 Brian Kersey/Getty Images
Can Shea McClellin hold his own as a 4-3 defensive end in the NFL?
No!

The large majority of those around the NFL leading up to the draft believed that this former Boise State standout figured to be selected by a team that utilized a 3-4 defensive scheme.
Don't tell Chicago Bears general manager Phil Emery that.
They plan to play McClellin as a defensive end in their 4-3 defense. This could be a major issue against the run until he is able to add some girth to that frame. Offenses were able to run against McClellin a great deal in college, which should be troublesome.
I have a hard time believing that McClellin is going to be able to hold his own against superior talent and strength at the line of scrimmage in the NFL.
Chicago would have been much better off going with a natural 4-3 end with this selection.
Melvin Ingram, San Diego Chargers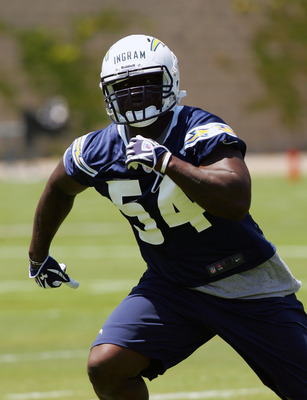 Kent Horner/Getty Images
Will Melvin Ingram prove to be the best pass-rusher in the 2012 NFL draft?
Yes!

There is no doubt in my mind that the San Diego Chargers received the best value of any first-round pick in April's draft.
Melvin Ingram had top-10 potential and will likely lead all NFL rookies in sacks during the 2012 season. The South Carolina product has a full arsenal of pass-rush moves at his disposal, even this early in his career.
He also fits the Chargers' 3-4 scheme as an outside linebacker to a T. You are looking at a player that has the ability to beat blockers off the edge with elite speed and can bull rush right through the gut with amazing strength.
The short form answer to this question is a resounding YES!
Dre Kirkpatrick, Cincinnati Bengals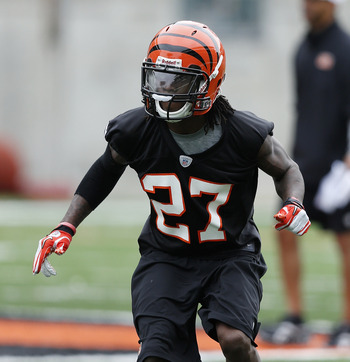 Joe Robbins/Getty Images
Is Dre Kirkpatrick a better long-term fit at cornerback or safety?
The answer to this question doesn't matter in the grand scheme of things to the Cincinnati Bengals. They could actually move Kirkpatrick over to safety if he doesn't perform well on the outside and actually receive as much value, if not more.
That being said, I do believe that the Alabama product actually fits better as a free safety in the National Football League. He has the ability to quarterback a defense from the top while still being able to make plays against the run in the box.
Couple this with the fact that he does tend to get stiff on the outside, and you have the indicators for a possible move to the safety position.
Quinton Coples, New York Jets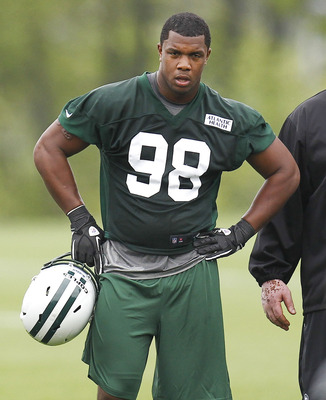 Jeff Zelevansky/Getty Images
Will Quinton Coples become a more consistent performer at the next level?
No!

It isn't a secret to those of you who read my articles leading up to the draft that I am not a huge fan of Coples. He was far too inconsistent in college to justify a first-round selection.
That being said, the indicators of success are right in front of our face in regard to the talented defensive end. He already possesses the size and strength to be dominant as a run-stopping defense end. This seems to work well in the scheme that the New York Jets utilize on defense.
Coples does still struggle with consistency during a game and doesn't have all the necessary pass-rush moves that you would want from a defensive end in the National Football League.
If Rex Ryan and Co. can light a fire under Coples, this could turn out to be a solid selection. However, the "bust" factor is just too high for me at this point.
Time will tell.
Bruce Irvin, Seattle Seahawks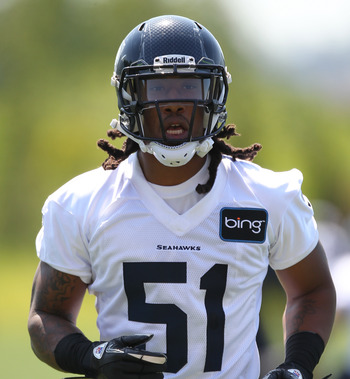 Otto Greule Jr/Getty Images
Will Bruce Irvin prove his skeptics wrong and produce at a first-round level?
No!

Criticism among pundits in the NFL draft is expected, especially if you go out there and make a selection like the Seattle Seahawks did.
Listen, there is no questioning the pure pass-rush talent that Irvin possesses. He has elite athleticism and an outstanding first step.
The larger question here is whether or not Irvin can live up to his top-20 status. Considering all the things that go into scouting a prospect, I would have to conclude no.
He doesn't fit well in the Seahawks' 4-3 defensive scheme and is going to struggle a great deal shedding blocks until he gets a better feel for the field.
More of a second-round prospect in my mind, and that is where he is going to top out in the NFL.
Michael Brockers, St. Louis Rams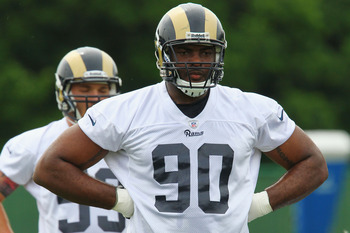 Dilip Vishwanat/Getty Images
How much of a project is Michael Brockers?
The LSU product didn't get a whole deal of play within scouting circles early in the process. This was long before the young defensive tackle declared for the 2012 NFL draft.
Once it became apparent that Brockers was going to enter the NFL, the consensus among "experts" was that he had some of the best raw talent of any defensive prospect on the board.
This hasn't changed.
What has changed is the understanding, at least in my opinion, that Brockers figures to be much larger of a prospect then what his top-15 selection suggests.
He tends to get too high at the point of contact, which causes him to be thrown off the line against stronger interior linemen. This is something that Brockers needs to fix in relatively short order if he is going to make an immediate impact for the Rams in 2012.
While Brockers will struggle early in his career, he does possess the talent to be successful over the long term.
It just won't be in 2012.
Michael Floyd, Arizona Cardinals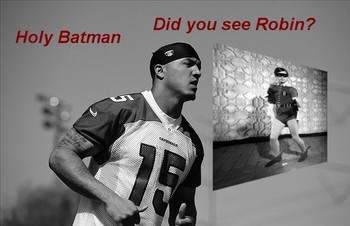 Original photo courtesy of NFL Mocks
Will Michael Floyd play the role of "Robin" to Larry Fitzgerald's "Batman"?
Yes!

In regard to Floyd and Fitzgerald, this is a match made in heaven. The All-Pro receiver wanted this talented youngster on the roster and it happened exactly that way.
You can expect the Notre Dame product to be able to come in and immediately make an impact opposite Fitzgerald. He has a rare combination of speed and physicality that teams covet in a true No. 1 receiver.
The primary question here is whether John Skelton or Kevin Kolb will be able to find the rookie and make the second reads necessary for Floyd to have an immediate impact.
At this point, it is all on the quarterback play and ability of the offensive line to pass protect, because Floyd has the talent to be an elite receiver early in his career.
Fletcher Cox, Defensive Line, Philadelphia Eagles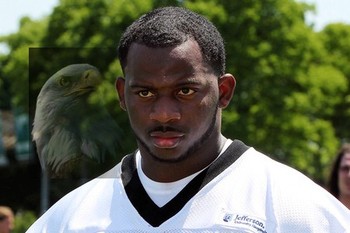 The Eagle has Landed
Just how good is Fletcher Cox?
The Philadelphia Eagles did an amazing job during the 2012 NFL draft building positions perceived as relative weaknesses. This is not the case with their defensive line—it was one of the best in the league last season.
That said, it was nearly impossible for them to pass up on Cox when he fell to them. The Mississippi State product is the most flexible defensive player in the entire draft. He has the ability to play both on the inside and outside, dominating in all possible ways.
I envision Cox playing a rotational role in 2012 before giving Philadelphia no other option but to play him on a consistent basis. This is a future Pro Bowl performer in the making.
He is good!
Dontari Poe, Kansas City Chiefs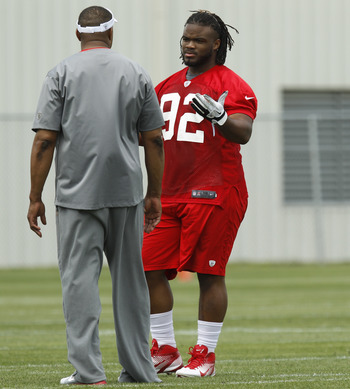 Kyle Rivas/Getty Images
Will Dontari Poe prove to be anything more than a workout warrior?
Yes!

I was one of the first "experts" to come out in favor of Poe once the scouting process began in full swing earlier this year. He has that rare combination of speed and strength that defensive line coaches drool over.
This is evidenced by his stunning performance at the scouting combine in Indianapolis. Poe ran a 4.98 40-yard dash and compiled a position-best 44 bench press reps.
Some scouts have concluded that Poe isn't much more than a "workout warrior," meaning that this display of pure athleticism will not translate to the football field on Sundays.
I am not sold on that hyperbole.
Poe will be able to penetrate the line against opposing blockers, consistently taking on double-teams to open up gaps for Kansas City Chiefs pass-rushers. He is, by all accounts, going to be a damn good defensive tackle in the National Football League.
It is all about honing that technique and gaining some seasoning to go along with the tremendous upside that he possesses.
Stephon Gilmore, Buffalo Bills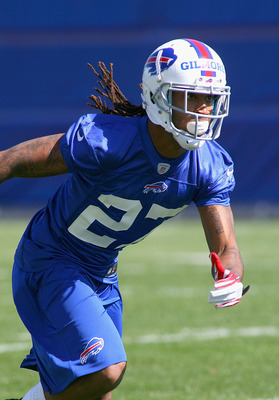 Rick Stewart/Getty Images
How will Stephon Gilmore handle the starting role for the Buffalo Bills as a rookie?
Rookie cornerbacks tend to struggle in man coverage in the NFL. Even the best players at this position in the league have had issues getting turned around on the outside. This leads to some long plays in the passing game.
This is one of the primary reasons that contending teams stray away from playing inexperienced cornerbacks on the outside. Instead, they tend to play in the slot with coverage over the top from the safety.
Gilmore will not be able to rely on this help, as he will be thrown to the wolves right out of the gate. Can he handle it?
I don't see this being a major issue for Gilmore. He possesses above-average technique on the outside and doesn't seem to get turned around on a consistent basis. The more I look at his game film from South Carolina, the more I believe Gilmore will be an immediate impact starter for the Bills.
Luke Kuechly, Carolina Panthers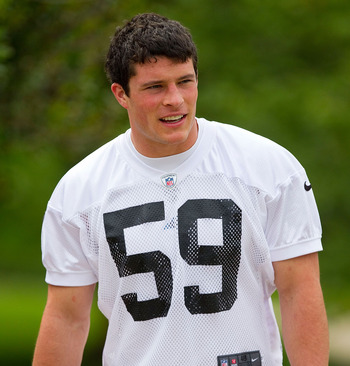 Brian A. Westerholt/Getty Images
How will Luke Kuechly transition to the outside with the Carolina Panthers?
I don't see this being a major issue for the Boston College product. He has the field awareness to handle the outside linebacker position in a 4-3 defense. It is rare to see such a seasoned prospect come out of college and be able to do this out of the gate.
While I don't think Kuechly is going to be an All-Pro performer in the NFL, he does have the ability to be a damn good player immediately.
In order to play outside, a linebacker needs to be able to drop back in coverage and recognize offensive formations prior to the snap. If this doesn't happen, teams tend to struggle against the pass between the hashes.
This wont be an issue for Kuechly as a rookie.
Ryan Tannehill, Miami Dolphins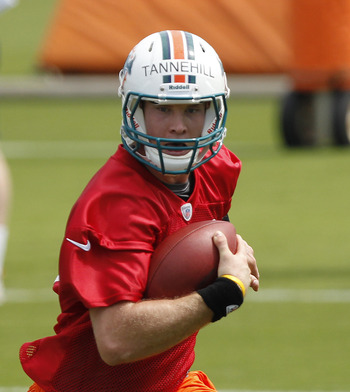 Joel Auerbach/Getty Images
Will Ryan Tannehill see the field as a rookie in 2012?
No!
Quickest slide ever!
Okay, let me explain. The Miami Dolphins are going to go into the 2012 season with playoff expectations. They also have two veteran quarterbacks slotted ahead of Tannehill on the depth chart.
Pure conjecture here, but I believe that Matt Moore will be the starter out of training camp as Miami attempts to play a run-first offense under first-year head coach Joe Philbin.
They have a trio at running back in the form of Reggie Bush, Daniel Thomas and Lamar Miller, all of whom have the ability to start. This will put Moore in a situation to succeed as a game manager.
If Miami does fall out of contention, there is a possibility they will throw Tannehill out there, but I would wager against it at this point.
Mark Barron, Tampa Bay Buccaneers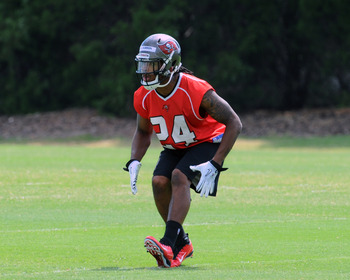 Al Messerschmidt/Getty Images
How long will it take for Mark Barron to punch his ticket to Hawaii?
First-year Pro Bowl safety.
Like many, I fell in love with Barron during the draft process. He is going to be a great all-around safety for the Tampa Bay Buccaneers.
The Alabama product is already solid in coverage over the top and isn't afraid to hit the box against the run. While Barron might struggle going up against tight ends between the hashes in man coverage, he will do a great job helping out as the "quarterback" of the secondary.
Barron's transition to the NFL should also be seamless coming from a pro-style defense against elite competition at Alabama.
Morris Claiborne, Dallas Cowboys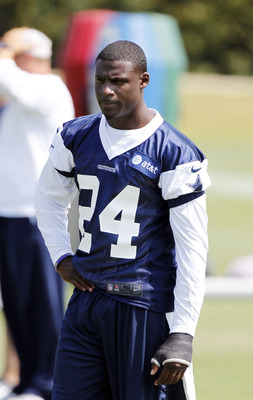 Layne Murdoch/Getty Images
Will Morris Claiborne be a shutdown corner as a rookie in 2012?
Yes!
Claiborne is already ahead of his former LSU teammate Patrick Peterson in terms of coverage technique on the outside. He has the ability to completely shut down one side of the field, as evidenced by dominating play against tough SEC opponents.
While the Dallas Cowboys might not ask Claiborne to fill the No. 1 corner role due to the signing of Brandon Carr, he is more than ready to do that.
I cannot state the importance of this addition for the Cowboys defense. Claiborne immediately upgrades the No. 2 corner position and will allow Mike Jenkins to move to the slot, a position that might serve him better in 2012.
Justin Blackmon, Jacksonville Jaguars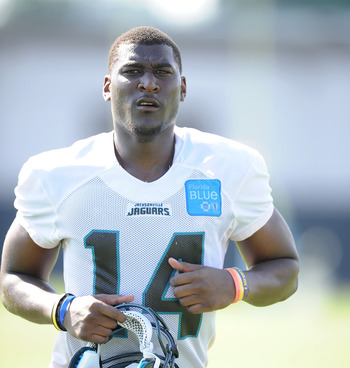 Rick Dole/Getty Images
Will Justin Blackmon live up to his top-five draft status?
No!
Long before Blackmon was arrested in Oklahoma for an absurd DUI, I had my questions about his ability to be a true No. 1 receiver in the National Football League. Consequently, teams do not draft in the top five at this position unless they feel the receiver is going to be a go-to guy.
Blackmon is too slow off the line, struggles against press coverage, doesn't run refined routes and has questionable body control down the field.
All indicators of a player that is going to struggle making the jump to the pros.
At this point, Blackmon might not be one of the top six or seven receivers in the 2012 NFL draft. Down the line, he might go down as one of the biggest first-round busts in recent history.
Sorry!
Matt Kalil, Minnesota Vikings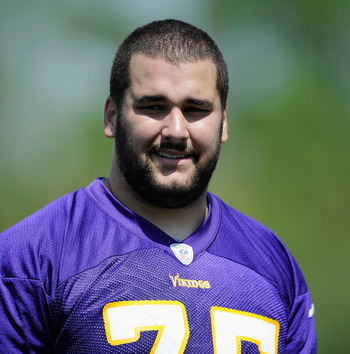 Hannah Foslien/Getty Images
Is Matt Kalil a franchise left tackle?
Yes!
There was some undue criticism in regard to Kalil leading up to the draft. This seemed to come out of left field—mostly from his detractors.
What I have seen on tape is the exact same thing that Rick Spielman and the Vikings brass saw when they made the decision to select Kalil.
Not only does the USC product have the strength to handle bull-rushers, but he utilizes tremendous athleticism and footwork to close off the edge against speed-rushers. This is rare for such a young offensive tackle.
Look for Kalil to be an immediate upgrade over Charlie Johnson at the left tackle position, helping Christian Ponder take that next step at quarterback.
Trent Richardson, Cleveland Browns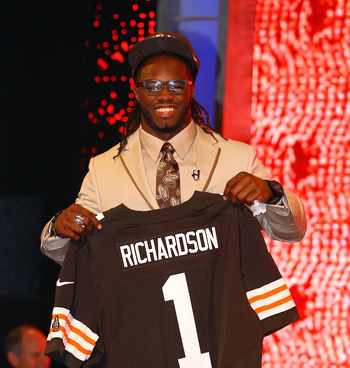 Al Bello/Getty Images
Is Jim Brown right in his criticism of Trent Richardson?
No!
Jim Brown might have been the greatest running back to suit up on Sundays, but he is an absolutely horrible judge of talent.
Richardson is the best all-around running back to enter the NFL since Adrian Peterson in 2007. He can make opponents miss on a consistent basis, possesses tremendous field awareness and understands when to utilize blockers at the line.
Moreover, Richardson has a rare combination of speed and toughness that every offensive coordinator in the league dreams of.
No matter how the Cleveland Browns quarterback situation plays out in 2012, you can fully expect this dynamic running back to put up over 1,300 yards and 10 scores as a rookie.
Robert Griffin III, Washington Redskins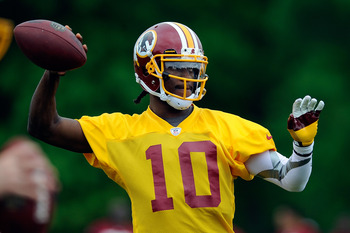 Patrick McDermott/Getty Images
Will Robert Griffin III break the trend of quarterbacks being busts after becoming the No. 2 overall pick?!
Yes!
RGIII finds himself in a tough spot to start his NFL career. He takes over a downtrodden Washington Redskins franchise in search for some hope moving forward. He does so immediately following a 2011 season that saw Cam Newton do the same for the Carolina Panthers.
He is also going to be compared to Andrew Luck throughout the duration of his career. This is a less-than-enviable position.
RGIII is a truly dynamic quarterback and possesses everything that teams look for in a franchise signal-caller. He has a tremendous arm, can lay the ball in between zone coverage on intermediate routes and will kill opposing defenses with his legs.
There is no reason to believe that RGIII will join Rick Mirer and Ryan Leaf as quarterback busts selected No. 2 overall.
It just isn't going to happen.
Andrew Luck, Indianapolis Colts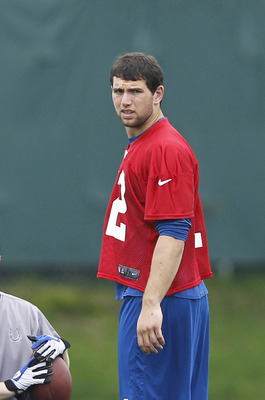 Joe Robbins/Getty Images
Will Andrew Luck pick up where Peyton Manning left off in Indianapolis?
No.
It is going to take some time for Luck to lead the Colts to where they were under Manning. This is a team void of the necessary talent to succeed short-term. It is going to be a tremendous struggle for Luck and the Colts early in his career.
This doesn't mean that the No. 1 overall pick is going to struggle as a rookie starter. It just means that his team isn't going to be able to put up wins on a consistent basis in 2012.
As you already know, the Colts are rebuilding, not reloading. The process of rebuilding in the NFL is a long one and it cannot be done overnight.
In time, Luck will prove any detractors wrong and lead Indianapolis back to elite status. It just won't be as a rookie.
Keep Reading