NFL 2012: Predicting Every Cleveland Browns Game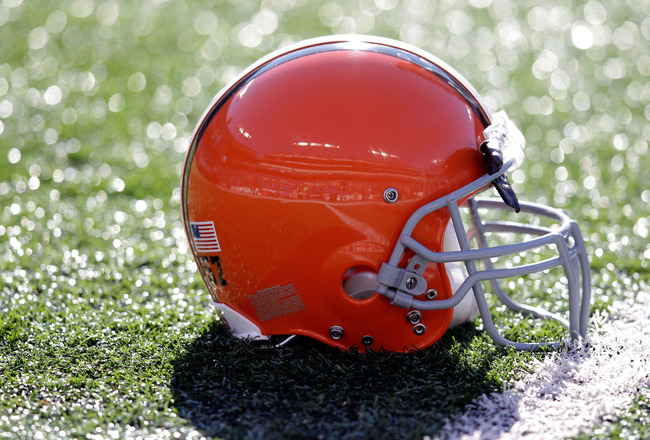 The Browns are poised for a turnaround in 2012
Rob Carr/Getty Images
The Cleveland Browns have compiled a 9-23 record in the first two years of the Mike Holmgren era. When the Super Bowl winning coach came to Cleveland there was hope he'd bring stability to a franchise that had been in turmoil since coming back into the league in 1999.
But after a solid draft, it seems there is hope. The Browns plucked running back Trent Richardson with the No. 3 pick and then took 28-year-old quarterback Brandon Weeden with the No. 22 pick in last month's draft. Both looked great in shorts and playing against air at a recent rookie camp.
But just as things looked like they could be going the Browns way, second-year defensive tackle Phil Taylor tore a pectoral muscle and may be out for the year.
Sometimes it seems like the team is jinxed.
Be that as it may, there is a season to play and a schedule that is rank third toughest in the league. The Browns play in a division where every team, with the exception of them, made the playoffs in 2011.
That said, we'll peer into our crystal ball and see how the 2012 Browns will fare:
Week 1: Victory over Vick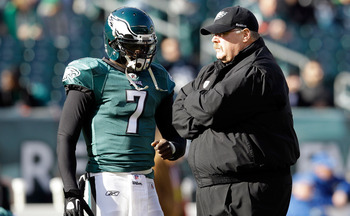 Michael Vick and Andy Reid come to Cleveland for Opening Day
Rob Carr/Getty Images
The Eagles were supposed to go to the Super Bowl in 2011. But things fell apart as the team of superstars didn't come together and they didn't even make the playoffs. But could this be the year?
They come to Cleveland to open the season. The Browns pick off Michael Vick three times, and Cleveland rookie running back Trent Richardson rushes for 117 yards and three scores as the Browns win 37-18.
Week 2: Bungles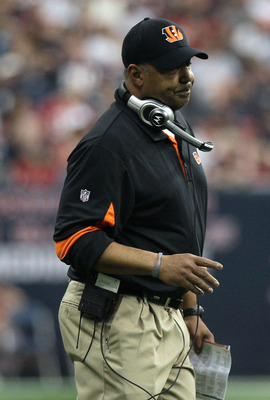 Marvin Lewis
Thomas B. Shea/Getty Images
The Bengals were founded by Paul Brown, the first coach of the Cleveland Browns. The Bengals under current coach Marvin Lewis have followed a pattern where they are good one year and then bad for several. Last year the Bengals made the playoffs. The Browns make it two in a row as they pound out a win at home.
Branden Weeden, in his second-career start at quarterback, throws for 300 yards and two scores and the Browns win 24-13. Evan Moore catches six passes for 118 yards and a score.
Adam the Bull of 92.3 The Fan's afternoon call-in show, a devout Bengals fan, screams "Marvin Lewis sucks" 150 times during a five-hour show.
Week 3: Juiced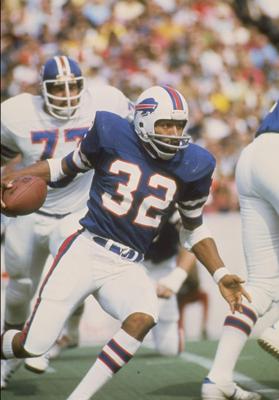 O.J.
Getty Images/Getty Images
I remember when O.J. rushed for 2000 yards. He's had a quite a run since then. So have the Bills. They've lost the Super Bowl four times. They now start a guy at quarterback who played his college football at Harvard.
The Browns go to 3-0 with a 27-10 win.
During the next week the powers that be at Sports Illustrated talk about a cover story on Cleveland.
Week 4: Yech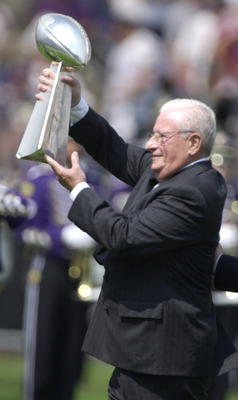 Art Model is Public Enemy No. 1 in Cleveland
Doug Pensinger/Getty Images
Art Model is Pubic Enemy No. 1 in Cleveland. I still think he is more unpopular than LeBron James, but James is a very strong second. The Ravens, who used to be the Browns, have owned the Cleveland franchise in head-to-head competition.
That appears to be changing. Trent Richardson rushes for 150 yards and two touchdowns. In a key fourth quarter drive he carries six times for 34 yards as the Browns kick a clinching field goal in a 20-11 win. On one run he runs over Ray Lewis, leaving Lewis rolling around the ground in pain. Ravens training staff has to carry Lewis off the field.
That's 4-0 for you keeping score at home.
Week 5: Mr. ABC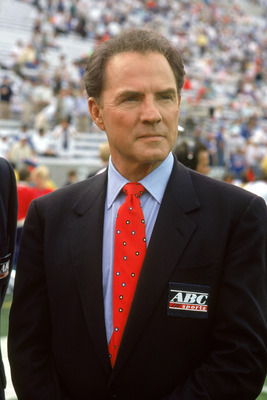 Frank Gifford
George Rose/Getty Images
Frank Gifford was a key component of the original Monday Night Football announcing team. Before that he was a star halfback for the New York Football Giants in the 1950s and parlayed that into a long sportscasting career. He did Monday Night Football with Howard Cosell. When I think of the Giants I think of Gifford, who is an old man now. The Browns make this no country for old men. Isn't that weird? I don't think of LT, or Phil Simms, or Eli Manning.
Trent Richardson rushes for 237 yards and two scores. the defense forces two fumbles and Joe Haden gets a pick and it's all Cleveland, 31-14. The Browns are 5-0.
Week 6: Smoked Joe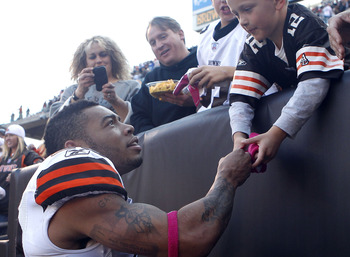 Joe Haden has game for the ages, but it's not enough
Matt Sullivan/Getty Images
The undefeated Browns jump out to an early 17-0 lead. Joe Haden picks off three Andy Dalton passes in the first half. But Dalton and the Bengals wear down Cleveland in the second half and A.J. Green catches his third touchdown pass of the game with just four seconds left as the Bengals win 28-24. Haden gives up all three scores. Cleveland drops to 5-1 on the year.
Week 7: Bad Luck for Browns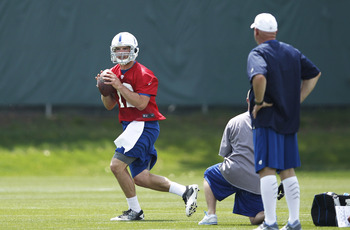 Andrew Luck torches the Browns
Joe Robbins/Getty Images
Andrew Luck's dad, Oliver, grew up in Cleveland. He went on to play in the NFL for the Houston Oilers and then sired the best quarterback since Peyton Manning.
Andrew torches his dad's hometown team throwing for four touchdowns as the Colts win 35-10 and the Browns lose their second straight and fall to 5-2.
Week 8: Trent Warfare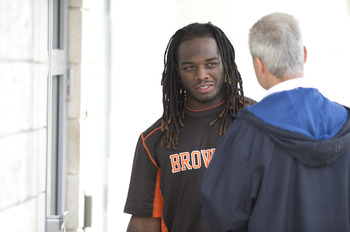 Trent Richardson likes to drive fast
Jason Miller/Getty Images
Trent Richardson has another impressive game as he rushes for 145 yards and two touchdowns as the Browns beat the San Diego Chargers 24-13. Browns backup quarterback Colt McCoy enters the game late in the fourth quarter and sees his first action of the year. He throws an interception. The Browns are 6-2.
Week 9: Big Drop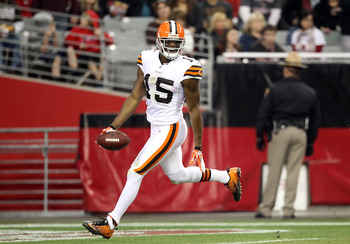 Greg Little still can't catch a cold
Christian Petersen/Getty Images
The Browns find themselves driving for the game-winning score. Cleveland finds itself on the Ravens' seven-yard line with time for one play and trailing 20-15. Quarterback Branden Weeden finds Greg Little along the back line of the end zone, but Little drops a sure touchdown as the clock expires. Colt McCoy is overhead in the locker room telling Weeden, "I told you these guys can't catch." The Browns are 6-3
Week 11: Beatdown in Dallas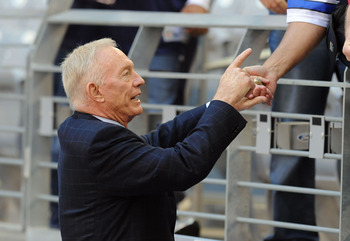 Welcome to Dallas
Norm Hall/Getty Images
The Browns travel to Dallas after a bye-week. The Browns turn the ball over on their first drive and things go down hill from there as the Cowboys destroy Cleveland, 37-7. The Browns are 6-4.
Week 12: Browns Ring Up Win over Big Ben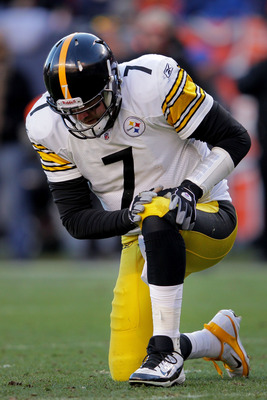 The Browns beat up on Big Ben
Doug Pensinger/Getty Images
The Browns bounce back from the debacle in Dallas with a win over Pittsburgh. Trent Richardson rushes for 189 yards and two scores and Cleveland limits the Steelers to just five first downs in a 28-3 win. The Browns improve to 7-4.
Week 13: Madden 2012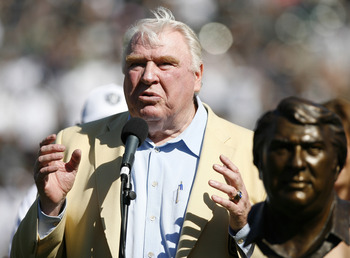 John Madden personifies the Raider mystique
Robert B. Stanton/Getty Images
The Browns are so good in 2012 that the Raiders elect to bring John Madden out of retirement to try to outcoach Pat Schurmur. It doesn't work because Madden elects to bring Ken Stabler out of retirement to quarterback Oakland. Cleveland wins 42-0.
Weeek 14: Romeo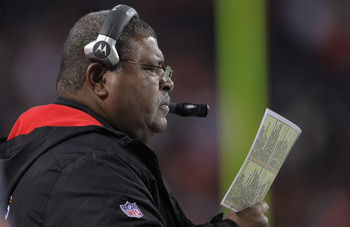 Romeo returns to Cleveland
Doug Pensinger/Getty Images
Former Browns head coach Romeo Crennel returns to Cleveland Browns Stadium. The game is a defensive struggle, but the Chiefs make just enough big plays to pull out a 17-13 win. The Browns are 8-5.
Week 15: The Franchise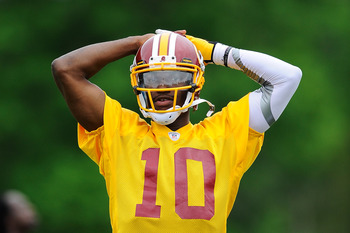 Browns lusted for RG III
Patrick McDermott/Getty Images
Browns fans lusted for Robert Griffin III during the offseason. They believed he could return the franchise to its glory. Instead he ended up in Washington. On this day 29-year-old Brandon Weeden plays like an All-Pro throwing for 355 yards and three touchdowns as Cleveland wins the home finale 34-14.
Week 16: The Devil and Peyton Manning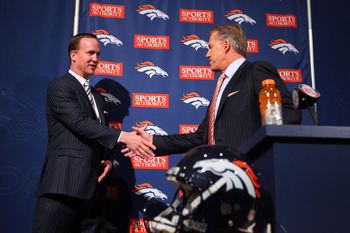 Doug Pensinger/Getty Images
The Browns have suffered some of the most devastating losses in franchise history at the hands of the Denver Broncos and John Elway. Enter into the mix, Peyton Manning. Cleveland gets out to an early lead and holds on for a thrilling 24-23 win. Weeden throws for 300 yards and Trent Richardson rushes for 150 and two scores. The Browns are 10-5 and are assured a playoff spot in the AFC.
Week 16: Champions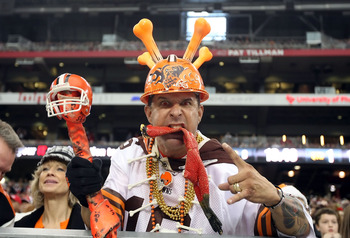 Browns fans celebrate a division title
Christian Petersen/Getty Images
The Browns knock off Pittsburgh 20-14. Trent Richardson rushes for 150 yards and two touchdowns as Cleveland finishes the year 11-5 and wins the AFC North title. Richardson rushes for 1,417 yards for the season and scores 15 touchdowns on the ground.
Keep Reading

Cleveland Browns: Like this team?