2012 NFL Mock Draft: Last-Minute Odds for Every 1st-Round Pick
April 26, 2012

Butch Dill/Getty Images
What are the actual chances your team drafts a certain player in the first round of the 2012 NFL draft tonight? 
Wouldn't you love to know? 
I've got the last-minute percentages right here. 
1. Indianapolis Colts: Andrew Luck, QB, Stanford - 100%
Thanks for ruining the suspense, Ryan Grigson. Ha. Yeah, right. We knew Luck was going to Indianapolis all along.
Now that the Colts have the most clean quarterback prospect to enter the league since Peyton Manning, they'll need to spend the next few years surrounding him with talent. Just like they did with Peyton Manning. 
2. Washington Redskins (trade with St. Louis Rams): Robert Griffin III, QB, Baylor - 99%
This pick has almost been as big of a formality as Luck to the Colts. There's been nothing official yet, so I have to leave it at 99 percent. Only fair. Griffin III is a high-profile prospect with star potential, playing in the ultra-hyped NFC East. Perfect. 
3. Minnesota Vikings: Matt Kalil, OT, Southern California - 49%
Needs: OT, CB, WR
For the longest time, I've had Kalil penciled in this position. Now, LSU cornerback Morris Claiborne is undoubtedly in the picture. Now, I actually believe Claiborne is the slight favorite at No. 3.  
4. Cleveland Browns: Trent Richardson, RB, Alabama - 80%
Needs: RB, WR
There's a slight chance they could draft Justin Blackmon and even a smaller chance they'd draft Ryan Tannehill. 
Richardson has been pegged to the Browns for a while due to the run-heavy style that the team could implement with him in the backfield, but Justin Blackmon is a possibility. 
He's the closest thing to Adrian Peterson, and the Browns must acquire the dynamic offensive talent. 
5. Tampa Bay Buccaneers: Morris Claiborne, CB, LSU - 49%
Needs: CB, OLB, RB, WR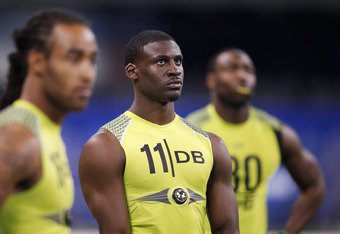 Joe Robbins/Getty Images
As alluded to above, Claiborne has a realistic shot at being taken by the Vikings. 
The Buccaneers play in a division with Drew Brees, Cam Newton and Matt Ryan. Claiborne is the best corner in the class and a fine overall prospect. Shouldn't that say enough?
6. St. Louis Rams (trade with Washington Redskins): Dontari Poe, DT, Memphis - 30%
Needs: WR, OL, DT
This pick could ultimately be Justin Blackmon, but I think Jeff Fisher is dying to get his Albert Haynesworth to help the league's 31st-ranked run defense. 
This percentage is so slow due to the late rise from Mississippi State's Fletcher Cox, who could ultimately be the selection. 
7. Jacksonville Jaguars: Justin Blackmon, WR, Oklahoma State - 70%
Needs: WR, DE, OL 
If Blackmon's available, he'll be the pick. Just not totally sold that he'll be on the board. 
After adding pieces to their defense last offseason, the Jaguars must at least make it fair for Blaine Gabbert. He's in dire need of playmakers out wide. Blackmon is Anquan Boldin-esque. 
8. Miami Dolphins: Ryan Tannehill, QB, Texas A&M - 90%
Needs: QB, WR, RT
With a lot of the top-tier talent gone, Tannehill reunites with Mike Sherman in Miami. 
Tannehill's the "Christian Ponder/Jake Locker reach" of the 2012 NFL draft. Wait, isn't he a better prospect than both of these guys? Definitely more intriguing than Ponder was coming out last year. 
9. Carolina Panthers: Fletcher Cox, DL, Mississippi State - 60%
Needs: DL, CB, OLB, WR
If Cox is there, Carolina would jump on him, but I'm not so sure he will be. Could Michael Brockers be taken this high? What about Michael Floyd or Stephon Gilmore?
A wideout would be the more flashy pick, but I feel that Ron Rivera is more worried about obtaining quality players for his often porous defense. To some, Cox is the safest and most versatile interior defensive lineman in the class. 
10. Buffalo Bills: Michael Floyd, WR, Notre Dame - 45%
Needs: WR, CB, OT, OLB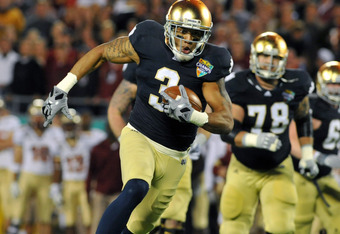 Al Messerschmidt/Getty Images
The Bills haven't met with Floyd since the combine and Buddy Nix has a track record of drafting top talent from the South. Gilmore could quite easily be the pick. 
Nothing against the current Bills receiving corps, but it consists of three undrafted guys, one seventh-rounder and a fourth-rounder who was drafted in 2010 but who's never played an NFL down. 
Time for a supreme talent for Ryan Fitzpatrick. 
11. Kansas City Chiefs: Luke Kuechly, LB, Boston College - 60%
Needs: NT, OLB, LG
Now things are getting a bit complicated. If Kuechly's available, he'd make a ton of sense for KC. There's a pretty good chance he will be.  
For a team picking at No. 11 overall, the Chiefs don't have a ridiculous amount of holes. Lucky for them. A big-time nose tackle like Michael Brockers is an option, but I really think they'd love to pair Kuechly with Derrick Johnson to complete their underrated defense. 
12. Seattle Seahawks: Nick Perry, DE, Southern California - 40%
Needs: LB, DE, OL, WR
This make too much sense not to happen. The Seahawks need a 4-3 defensive end, Perry's arguably the best one in the draft, and Pete Carroll coached Perry at USC.
He will wreak havoc with Red Bryant next season and beyond. Perry needs coaching and could add more pass-rushing moves to his repertoire, but he has the size and innate skill to become a solid professional. Melvin Ingram and Luke Kuechly are possibilities too. 
13. Arizona Cardinals: David DeCastro, G, Stanford - 50%
Needs: OL, WR, OLB, 
It'll be interested to see what Arizona does if Michael Floyd and David DeCastro are on the board. Floyd's the sexier pick, but DeCastro would be an instant impact guy on their offensive line and significantly aid their offensive attack. 
The best thing for oft-victimized left tackle Levi Brown would be Stanford stalwart David DeCastro. He's the most premier guard prospect to enter the draft since Steve Hutchinson in 2001, and he is equally as dominant run-blocking as he is pass-blocking. 
14. Dallas Cowboys: Dre Kirkpatrick, CB, Alabama - 70%
Needs: S, DT, CB, G
All this "Mark Barron to the Bills" talk is decreasing the chances the Cowboys take the Alabama safety. Don't rule out the possibility of the team trading up, though. Kirkpatrick would give the team an intimidating secondary.
15. Philadelphia Eagles: Michael Brockers, DL, LSU - 80%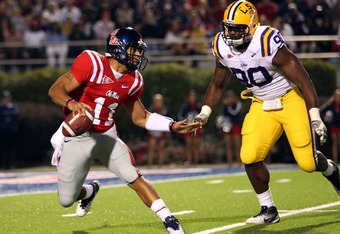 Joe Murphy/Getty Images
Needs: S, DT
Another pick too logical not to happen. 
The Eagles were too soft on the interior of their defense last season. Brockers' enormous frame and disruptive tendencies will change that. It may take a while for the LSU stalwart to get acclimated to the NFL, but he's got scary potential. Brockers, Trent Cole and Jason Babin form a stellar defensive front. 
16. New York Jets: Riley Reiff, OT, Iowa - 65%
Needs: RT, OLB, S, WR
I'm really hoping this is one under-the-radar pick I nailed. After a roller-coaster pre-draft process, this spot in the draft seems about right value wise and would fill a major need. 
I'm no NFL scout, but to me, Reiff is best suited for the right tackle position. Wayne Hunter is not a starting-caliber offensive lineman.
17. Cincinnati Bengals: Melvin Ingram, DE/OLB, South Carolina - 20%
Needs: CB, WR, G, OLB
I get that Ingram's a special talent, but I could realistically see him falling to, at least, the Jets. Rex Ryan would be tempted to grab him, so that drives down the possibility for the Bengals to make him their first-rounder. 
Everyone seems high on Ingram, so chances are, I was wrong somewhere along the way and Ingram will be gone by No. 17. But if he somehow falls this far, the Bengals will pounce. See what I did there? Anyway, Mike Zimmer's a defensive mastermind and would like to utilize Ingram on a multiple of confusing zone blitzes. 
18. San Diego Chargers: Courtney Upshaw, DE/OLB, Alabama - 60%
Needs: OL, DE, NT
This may be a bit high for Upshaw, who many have been deemed as a guy with not as much explosiveness. But he'd be a great fit in San Diego. 
Upshaw seems like a younger and slightly smaller version of Shaun Phillips, a guy that's been a defensive staple for the Chargers for quite some time. 
Who's better to groom Upshaw than Phillips?
19. Chicago Bears: Quinton Coples, DE, North Carolina - 50%
Needs: DE, LT, CB
The only way this pick doesn't happen is if the Bears fall in love with an offensive tackle like Cordy Glenn. Coples would have the time to grow as a player in Chicago.  
Coples should fall this far due to the perception that he has a low motor. Not the best attribute to have as an NFL draft prospect.
However, playing with the always-hustling Julius Peppers, who could probably get by going half speed, Coples will learn how far hard work can take a talented prospect.
20. Tennessee Titans: Zach Brown, LB, North Carolina - 50%
Needs: CB, OLB, S
Many would say this is too high for Brown, but it only takes one 4-3 team to be enamored with his quickness and stupendous speed. Cornerback is another option. 
Brown may be considered a reach at this juncture, but he's the ideal 4-3 outside linebacker, who just must become more aggressive making plays against the run. He's a tremendous athlete with unparalleled speed for a linebacker.   
21. Cincinnati Bengals: Stephon Gilmore, CB, South Carolina - 30%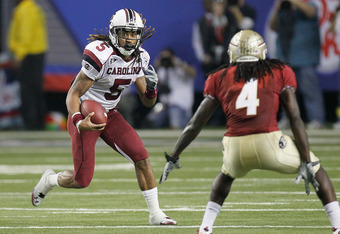 Kevin C. Cox/Getty Images
Needs: CB, WR, G, OLB
When piecing together this final mock draft, I was completely unaware of the late rise Gilmore was bound to experience. No way he lasts this long, but he could be taken by the Bengals at No. 17 overall. 
Leon Hall is returning from a devastating Achilles injury. Gilmore learns from him and Nate Clements and emerges as a playmaking pro to become another vital asset to the Bengals' blossoming defense. He's a gritty defender who brings a lot to the football field. 
22. Cleveland Browns (from Atlanta): Kendall Wright, WR, Baylor - 75%
Needs: RB, WR
Cleveland would love a big-play threat on their roster. Wright's the guy and should be available. 
Colt McCoy's the happiest man in Cleveland.
23. Detroit Lions: Cordy Glenn, OL, Georgia - 80%
Needs: OT, CB
There's a small chance Glenn doesn't last this long, but if he does, the Lions will make him their newest edge offensive lineman. 
Matt Stafford is capable of being one of the best quarterbacks in the league if he stays healthy. Glenn is more insurance that he stays upright on a more consistent basis next season. He can play left or right tackle or either guard spot. He's a great commodity to have.
If somehow Gilmore is still available, they'll take a long look at him, as well as a few other cornerbacks. 
24. Pittsburgh Steelers: Dont'a Hightower, ILB, Alabama - 75%
Needs: OT, CB, ILB
With Glenn likely gone, the Steelers grab the best player available that would fit a major need on their daunting defense. 
Jonathan Martin could go here because, after last season, the Steelers experienced a harsh reality check without a 100 percent Ben Roethlisberger. But the team did cut James Farrior and would like an upgrade over the aging Larry Foote.
Hightower's punishing downhill style fits wonderfully with the defensive philosophy in the Steel City.
25. Denver Broncos: Devon Still, DT, Penn State - 55%
Needs: DT, CB, G, RB
Don't sleep on Boise State's Doug Martin here—he'd make Peyton Manning's life easier. However, Denver would like to add more bulk to their defensive interior. At 6'5'' and 310 pounds, Still's the ideal selection. 
26. Houston Texans: Coby Fleener, TE, Stanford - 60%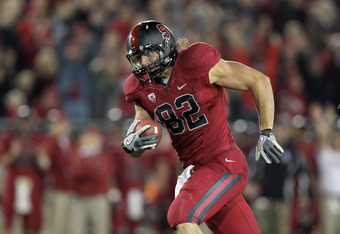 Ezra Shaw/Getty Images
Needs: WR, ILB, RT, TE
There's talk that Fleener's a bit overrated, but he looks like a fine pass-catching tight end prospect to me. 
If Kendall Wright is on the board, he should be the pick. Alshon Jeffery? Eh, maybe.
I love what Fleener could bring to the middle of the field for Matt Schaub, and he'd take rolled coverages away from Andre Johnson. 
27. New England Patriots (from New Orleans): Mark Barron, SS, Alabama - 5%
Needs: S, DE
The only way the Patriots get Barron is if they trade up. Not a typical Patriots move. 
Bill Belichick is still reworking his secondary. Adding Barron would form an intimidating safety duo with Patrick Chung. Both are willing run defenders with better-than-advertised coverage abilities. He represents great value here and fills a major need.  
28. Green Bay Packers: Andre Branch, DE/OLB, Clemson - 50%
Needs: OLB, S, RB
This pick has to be Branch or Boise State's Shea McClellin. 
Branch and Matthews coming off the edge? Scariness. The Packers totalled only 29 sacks in 2011—a number they certainly must improve upon to make another serious run at the Super Bowl.  
29. Baltimore Ravens: Chandler Jones, DE, Syracuse - 40%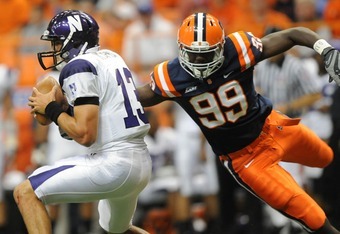 Needs: OLB, G, LT
There's a legitimate chance Jones, with tremendous upside, is selected earlier. 
Jones is a bit raw, but he is intriguing. Playing on the same defensive line as Terrell Suggs will certainly shorten his learning curve. 
30. San Francisco 49ers: Amini Silatolu, G, Midwestern State - 40%
Needs: G, DE
This has to be Silatolu or Wisconsin's Kevin Zeitler. They could go with a luxury pick here like a tight end, but guard makes more sense. 
Adam Snyder bolted in free agency. Silatolu is a late riser, who has tremendous power and is a profound force when quickly reaching the second level. He's a perfect addition to San Fran's downhill-running scheme. He and Mike Iupati pulling to the next level? I'm glad I'm not an NFL linebacker.  
31. New England Patriots: Whitney Mercilus, DE, Illinois - 15%
Needs: S, DE 
If history tells us anything, New England trades down from this pick, right?
However, Mercilus could be the pick here and play in a Mark Anderson-type role next season. While getting to the quarterback is his specialty, he's not a total liability against the run. 
32. New York Giants, Jonathan Martin, OT, Stanford - 30%
Needs: RT, RB, LB
It's hard to predict the last pick in the first round, but if Martin's there, the Giants will take a long look at him. 
Chances are, right tackle Kareem McKenzie won't be with the team in 2012. Jonathan Martin needs some polishing, but he is certainly capable of starting on the right side after an illustrious career in Palo Alto. The team loves 2011 fourth-rounder James Brewer, but Martin gives him quality competition and could start this season.
Competition is never a bad thing, right? After a promising collegiate career, Martin has the potential to emerge as a quality tackle for the G-Men for a long time.