Monday Night Football Schedule 2012: Full Listing of Dates, Times and TV Info
April 17, 2012

Elsa/Getty Images
The schedule for the 2012 NFL regular season has been released, and that means we can all start looking forward to Monday Night Football.
MNF had a regrettable slate of games lined up in 2011, and they routinely failed to entertain. I highly doubt that pigskin fans are looking forward to seeing more Colts vs. Buccaneers and Chargers vs. Jaguars matchups after what they saw last year.
Well, good news. There are some so-so matchups on this year's Monday Night Football slate, but there are other matchups that look pretty good on paper.
Here's the 2012 MNF schedule, courtesy of ESPN.com.
Note: as always, all times are eastern, and all games will be shown on ESPN.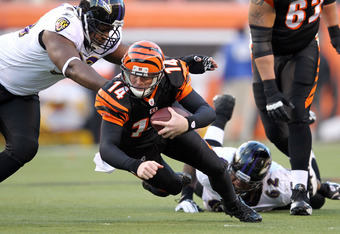 Andy Lyons/Getty Images
Week 1: Cincinnati Bengals at Baltimore Ravens, Sept. 10 at 7:00 p.m.

The Ravens won the AFC North in 2011, but the Bengals were a lot better than many people expected them to be. They will look to make an early statement right away in a hostile environment.
Week 1: San Diego Chargers at Oakland Raiders, Sept. 10 at 10:15 p.m.

The Raiders pulled Monday night duties to open the season last year, and they will do the same in 2012. In a matchup of two teams that shook up their organizations in the offseason, this one should have plenty of fireworks.
Week 2: Denver Broncos at Atlanta Falcons, Sept. 17 at 8:30 p.m.

This will be a tough road test for Peyton Manning and the Broncos. The Falcons may not have what it takes to win in the playoffs, but they are very tough to beat at home in the regular season.
Week 3: Green Bay Packers at Seattle Seahawks, Sept. 24 at 8:30 p.m.

The subplot in this one will be the matchup between Aaron Rodgers and Matt Flynn, who is likely to start in Seattle after backing up Rodgers in Green Bay. If he doesn't, we will get Rodgers vs. Tarvaris Jackson, which doesn't sound nearly as fun. 
Week 4: Chicago Bears at Dallas Cowboys, Oct. 1 at 8:30 p.m.

This matchup has the look of a fun old-school matchup. The Bears were pretty active improving their offense this offseason, but they will have their work cut out for them against a Dallas defense that features a very good front seven.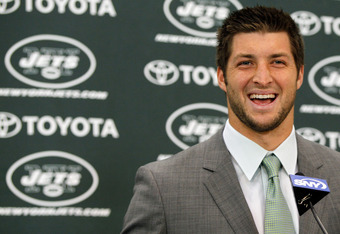 Mike Stobe/Getty Images
Week 5: Houston Texans at New York Jets, Oct. 8 at 8:30 p.m.
The Jets defense will face a tough test going up against Houston's loaded offense. For that matter, Mark Sanchez and Tim Tebow will face a tough test going up against Houston's loaded defense.
Week 6: Denver Broncos at San Diego Chargers, Oct. 15 at 8:30 p.m.

Yet another Manning showcase. In this game, he will go head-to-head with Philip Rivers, which could lead to some big numbers going up on the scoreboard.
Week 7: Detroit Lions at Chicago Bears, Oct. 22 at 8:30 p.m.

These two teams played one of the more memorable Monday night games last season, which is a compliment. Don't be surprised if this one turns into a shootout.
Week 8: San Francisco 49ers at Arizona Cardinals, Oct. 29 at 8:30 p.m.

This game will be a lot better than it looks on paper. The 49ers are the class of the NFC West, but don't overlook how well the Cardinals were playing at the end of the 2011 season.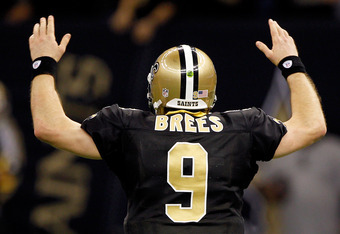 Chris Graythen/Getty Images
Week 9: Philadelphia Eagles at New Orleans Saints, Nov. 5 at 8:30 p.m.
Sean Payton won't be around to see this one, but it will be a matchup between two explosive offenses all the same. Anybody feel like watching Michael Vick square off against Drew Brees?
Week 10: Kansas City Chiefs at Pittsburgh Steelers, Nov. 12 at 8:30 p.m.

Whatever you do, don't underestimate the Chiefs. They're going to be healthy in 2012, and they're going to be dangerous. As for the Steelers, my guess is that their inevitable demise is still another season or two away.
Week 11: Chicago Bears at San Francisco 49ers, Nov. 19 at 8:30 p.m.

I fear for Jay Cutler going up against San Francisco's defense. Then again, Cutler is going to have a lot more to work with in 2012 than he ever did in 2011, so this game could be a close one.
Ronald Martinez/Getty Images
Week 12: Carolina Panthers at Philadelphia Eagles, Nov. 26 at 8:30 p.m.

Cam Newton vs. Mike Vick. Need I say more?
Week 13: New York Giants at Washington Redskins, Dec. 3 at 8:30 p.m.

It looks like a mismatch on paper. But remember, the Redskins beat the Giants twice last year, and they're going to have a new franchise quarterback in 2012. This game will loom large in the chase for the NFC East.
Week 14: Houston Texans at New England Patriots, Dec. 10 at 8:30 p.m.

Circle this one on your calendar. The Texans and Patriots are going to be two of the best teams in the AFC in 2012. This game will shift the balance of power in the AFC one way or the other.
Week 15: New York Jets at Tennessee Titans, Dec. 17 at 8:30 p.m.

Not too sure about this one. The Jets probably won't be anything special in 2012, and the Titans are a team that's hard to get excited about.
Week 16: Atlanta Falcons at Detroit Lions, Dec. 22 at 8:30 p.m.

This is more like it. We get to see Matt Ryan and Atlanta's offense go up against Matthew Stafford, Megatron and Detroit's offense. Not a bad way to wrap up the 2012 MNF slate.