Mel Kiper 2012 NFL Mock Draft: Grading Each Pick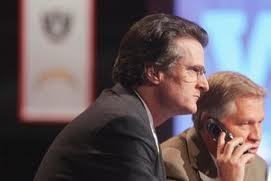 Chris McGrath/Getty Images
Mel Kiper Jr. is the NFL Draft guru everybody recognizes, and because of this, his mock drafts get a lot of attention. He's plugged into the NFL community and gets a lot of insight from general managers and coaches.
This is one of the reasons his mock drafts carry so much weight.
Kiper's latest version features some interesting selections. The biggest surprise is the inclusion of Cincinnati's Derek Wolfe in the first round. Wolfe is a solid prospect, but it would be a shock if he somehow worked his way into the first round.
The upcoming slides include a grade for each of Kiper's picks. I graded them based on the fit for the team and the level of prospect each team landed.
Begin Slideshow

»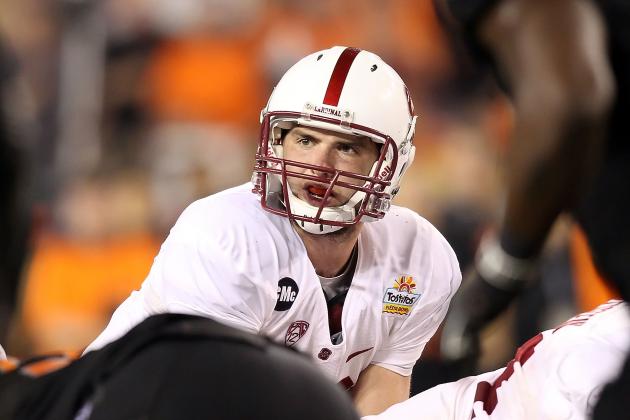 Christian Petersen/Getty Images

Pick: Andrew Luck, Quarterback, Stanford
Grade: A+
Andrew Luck to the Indianapolis Colts is pretty much written in stone. Indianapolis has a rare opportunity to transition from a future Hall of Fame quarterback to a prospect with similar potential.
Most teams have a hard time replacing a legendary quarterback—just ask the Miami Dolphins.
It's not every year there's such a clear-cut No. 1 prospect. The Colts were lucky enough to have this happen to them twice in recent history. Bringing Luck on board will help speed up the rebuilding process. He's not only a terrific player, but also a strong leader.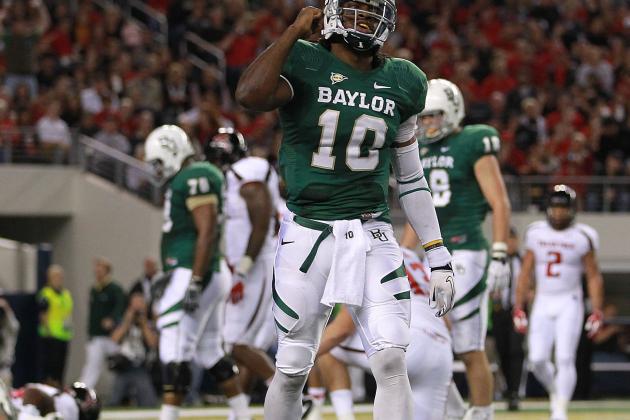 Ronald Martinez/Getty Images

Pick: Robert Griffin III, Quarterback, Baylor
Grade: A+
The Washington Redskins might have paid a high price to land the No. 2 pick, but it's a move that needed to happen. This franchise has been suffering through putrid quarterback play for many years. Robert Griffin III finally gives them an elite talent at the position.
This is another pick that's already set in stone, as the Redskins didn't move up the draft to select a non-quarterback prospect. Griffin III immediately becomes the best quarterback on the roster and an instant starter.
Things in Washington will be much more exciting with Griffin III on board.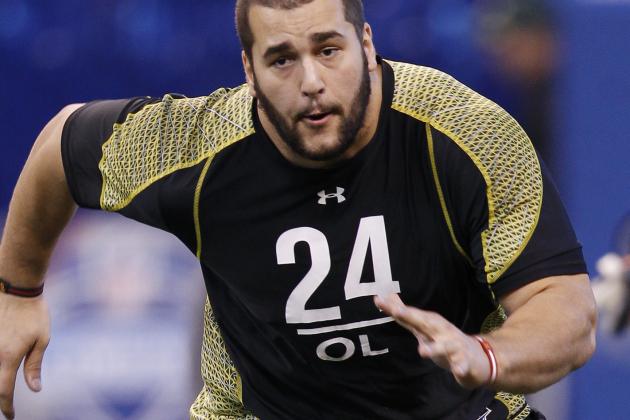 Joe Robbins/Getty Images

Pick: Matt Kalil, Offensive Tackle, USC
Grade: A
The Minnesota Vikings' greatest need is at left tackle, and they have a chance to address that need here at No. 3. Matt Kalil is a big, athletic and strong offensive lineman who's capable of instantly upgrading the Vikings' line play. His run-blocking abilities make him a good fit for the offensive game plan run by Minnesota.
Christian Ponder's development depends on having the proper surrounding pieces. Quarterbacks who are consistently under duress tend to develop poor habits. Adding Kalil at left tackle gives Ponder the peace of mind of knowing he'll get strong protection.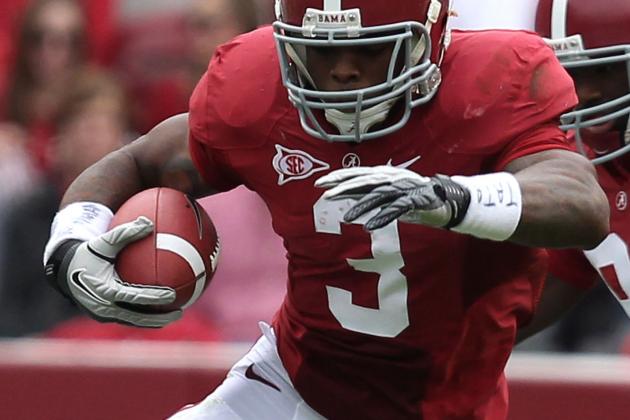 Mike Zarrilli/Getty Images

Pick: Trent Richardson, Running Back, Alabama
Grade: B
Trent Richardson is an excellent player who'll have a very impactful career. However, selecting a running back at No. 4 doesn't bring a lot of value. It's even more of an issue because of the wide range of needs for the Cleveland Browns. They must find a way to maximize the value of each pick.
Cleveland would be better off selecting Justin Blackmon and selecting a running back early in the second round. Doug Martin, David Wilson and Lamar Miller would all be very good options to come in and immediately improve the running game.
With that said, there's no doubting Richardson's talent. His addition will give the Browns a top-notch running game.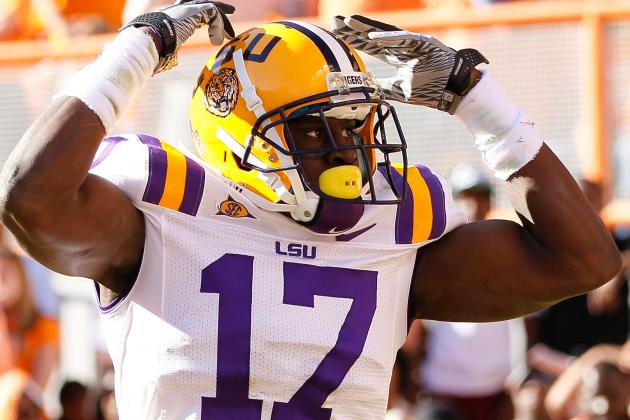 Kevin C. Cox/Getty Images

Pick: Morris Claiborne, Cornerback, LSU
Grade: A-
The Tampa Bay Buccaneers have a lot of uncertainty at the cornerback position. Aqib Talib's future with the team is a tossup, and Ronde Barber no longer has the speed to play at an elite level.
Morris Claiborne is one of the better prospects in this draft. His skill set gives him the potential to develop into a shutdown corner.
Tampa Bay gave Eric Wright a big contract to come in and help solidify the secondary. However, he's more of a complementary piece rather than a team's top cover man. Claiborne gives the Buccaneers the type of player who can lock up a team's No. 1 receiver.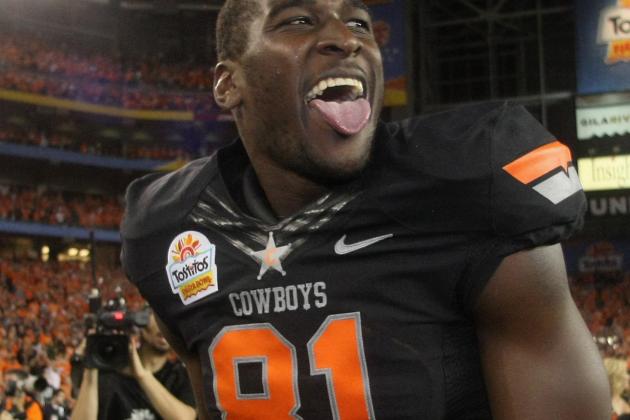 Donald Miralle/Getty Images

Pick: Justin Blackmon, Wide Receiver, Oklahoma State
Grade: A+
The St. Louis Rams are heading into the draft failing to address their biggest need in free agency. Landing a wide receiver like Justin Blackmon is exactly what St. Louis needs to accomplish in the draft. They don't need to add more mid-round prospects, but must find a potential No. 1 receiver.
Blackmon's well-rounded game will instantly help Sam Bradford and the entire Rams offense. He makes plays all over the field and excels at picking up yards after the catch. His drive and work ethic will help this young team improve as a unit.
The difference between Blackmon and the second-round receiver prospects is very noticeable. Teams know what they are getting with Blackmon: a tough player who was extremely productive in college.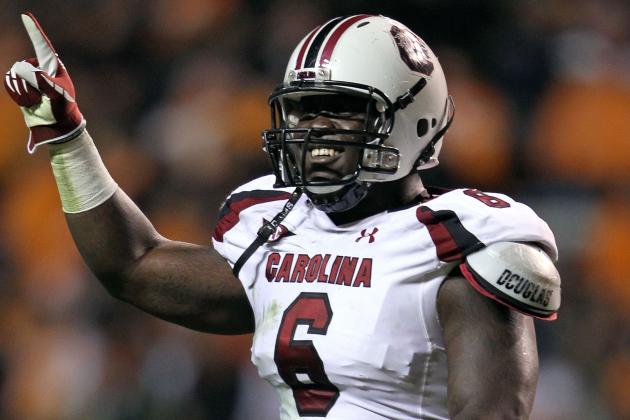 Andy Lyons/Getty Images

Pick: Melvin Ingram, Defensive End/Linebacker, South Carolina
Grade: B+
The Jacksonville Jaguars have two clear-cut needs at wide receiver and defensive end. Their defense played very well last season, and might be one pass-rusher away from becoming one of the finer units in the league.
Melvin Ingram possesses the quickness, motor and savvy needed to be a productive player in the NFL.
However, he isn't the prototypical defensive end because of some size concerns. Quinton Coples has much more upside and would be a better option at No. 7. He has the size, quickness and strength to develop into an elite pass-rusher.
There are some concerns surrounding Coples' work ethic, but Mel Tucker is the type of coach who'll get the most out of him.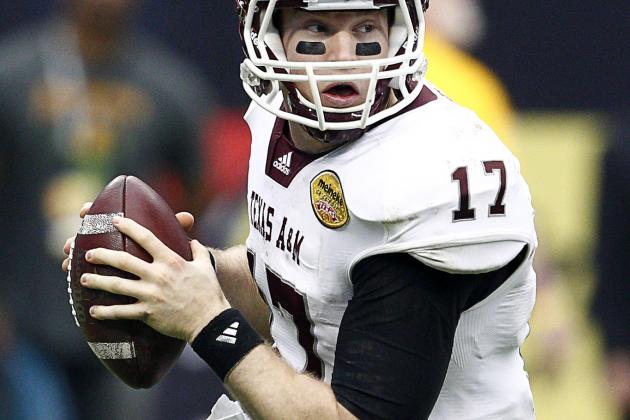 Bob Levey/Getty Images

Pick: Ryan Tannehill, Quarterback, Texas A&M
Grade: D-
The Miami Dolphins' need for a quarterback will likely lead to them making the mistake of selecting Ryan Tannehill. It's even possible that they work a trade in order to move up and land the promising quarterback.
Tannehill has some potential, but he's shown very little to warrant coming off the board this early.
Miami would be better off using this pick to upgrade their pass rush, and then targeting a quarterback in the second or third round. Teams that routinely "win" the draft focus on bringing in the top player available, rather than overdrafting based on need.
However, it's also likely that Tannehill finds himself in a Jimmy Clausen situation. Clausen was projected as a top-10 pick by most media, but fell into the second round.
Joe Robbins/Getty Images

Pick: Dontari Poe, Defensive Tackle, Memphis
Grade: C+
Dontari Poe's draft stock soared after his impressive combine performance. He's a massive defensive tackle who possesses good quickness for his size. The Carolina Panthers need to get stronger up front, while also adding someone who can get into the backfield. Poe has the potential to develop into a real difference maker.
However, Poe's play on the field doesn't match up with his soaring draft stock. He didn't show much explosiveness while at Memphis, looking more like a two-gap nose tackle. The Panthers would be better off targeting someone like Fletcher Cox, who was far more productive in college.
Poe is an excellent talent, but selecting him would be a risky choice.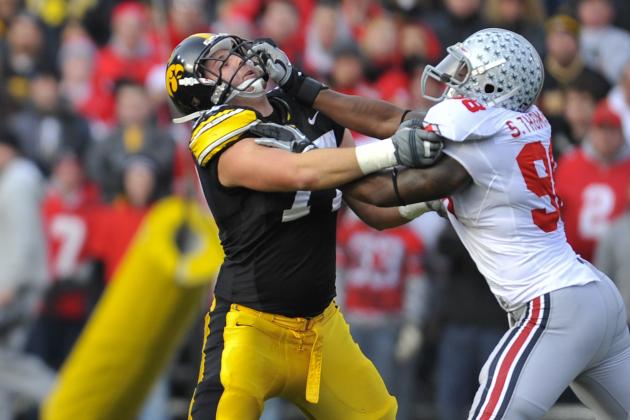 David Purdy/Getty Images

Pick: Riley Reiff, Offensive Tackle, Iowa
Grade: A
The Buffalo Bills focused a lot of their offseason resources on upgrading the defensive side of the ball. Their addition of Mario Williams showed the rest of the NFL that they're serious about improving their football team.
Adding someone capable of lining up at left tackle should be the Bills' next priority. Riley Reiff does a good job both protecting the quarterback and opening running lanes.
He plays with good balance and fluid movement, which allows him to reach the edge and react to counter moves. His experience at Iowa taught him solid technique that helps him maximize his talents. As it stands, Buffalo's only only option to play left tackle is Chris Hairston. He's a good young player, but is better suited to play right tackle.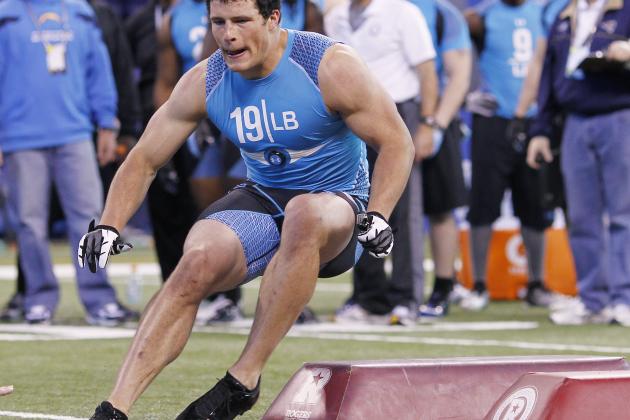 Joe Robbins/Getty Images

Pick: Luke Kuechly, Linebacker, Boston College
Grade: A
Landing Luke Kuechly would be a great addition for the Kansas City Chiefs. Their defense continues to improve and adding a talented player like Kuechly will help this unit take the next step. A linebacking corps of Tamba Hali, Derrick Johnson, Justin Houston and Kuechly would be one of the better units in the league.
Head coach Romeo Crennel has a defensive background and will likely campaign hard to add more talent to that side of the ball. Kuechly's instincts and leadership ability will give Crennel someone able to help ensure everyone is on the same page.
Because of the Denver Broncos addition of Peyton Manning, it will be increasingly more important to have smart defensive players.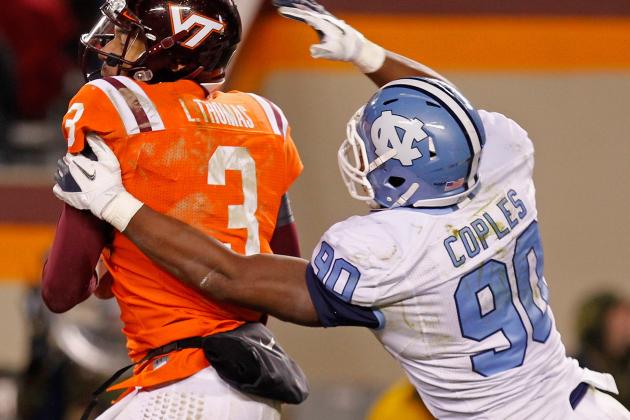 Geoff Burke/Getty Images

Pick: Quinton Coples, Defensive End, North Carolina
Grade: A
Quinton Coples is a top-10 talent who plays a premium position. His ability to generate pressure on the quarterback from his defensive end position makes him a valuable prospect. Last season, the Seattle Seahawks struggled to create pressure, making this an area of need.
Landing Coples at this spot both fills a need and brings good value.
Seattle's unique defensive style may limit the amount of snaps Coples gets early in this career. They only feature one true defensive end, while the other plays more of a five-technique role. Chris Clemons currently holds down the traditional defensive end spot.
However, Coples is more than a pass-rush specialist, as he also does a good job against the run. This versatility will allow the Seahawks to rotate him across the defensive line.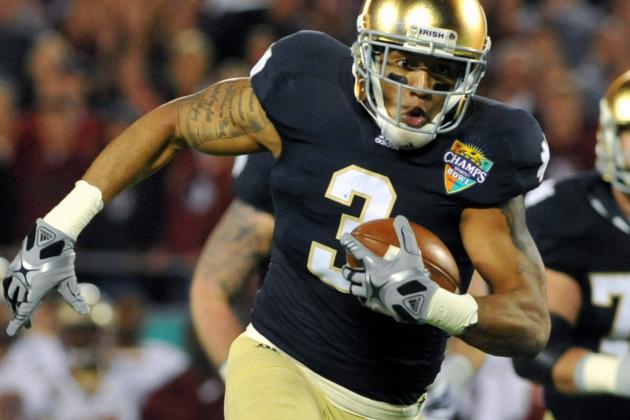 Al Messerschmidt/Getty Images

Pick: Michael Floyd, Wide Receiver, Notre Dame
Grade: C+
The Arizona Cardinals surrendered 54 sacks last season, and the answer to that problem isn't adding another wide receiver. Neither John Skelton nor Kevin Kolb will have enough time to properly utilize the explosive Michael Floyd. This team needs to address the offensive line, even if it means slightly reaching for a prospect.
Early in this article, I mentioned reaching for need rarely results in success. However, the Cardinals are in a different situation. If they fail to improve their pass protection, this team will have another disappointing season.
Floyd would absolutely help the team, but not as much as an offensive lineman like Cordy Glenn.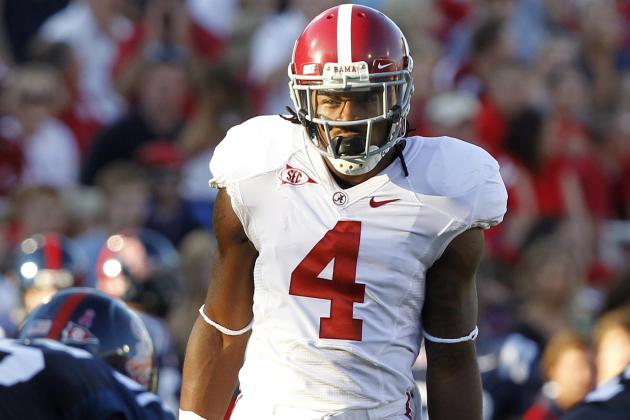 Butch Dill/Getty Images

Pick: Mark Barron, Safety, Alabama
Grade: A-
The Dallas Cowboys' poor secondary play was a major contributor to their failed run at the playoffs. They made some moves in free agency to help the unit, but more upgrades are needed. Mark Barron's ability to both hold up in coverage and support the run will help him make an instant impact.
He immediately becomes the most talented safety on the roster. Rob Ryan could use him in a variety of ways, including blitz packages and playing him close to the line of scrimmage. Entering the season having added Brandon Carr and Barron brings the Cowboys closer to making a run at the Super Bowl.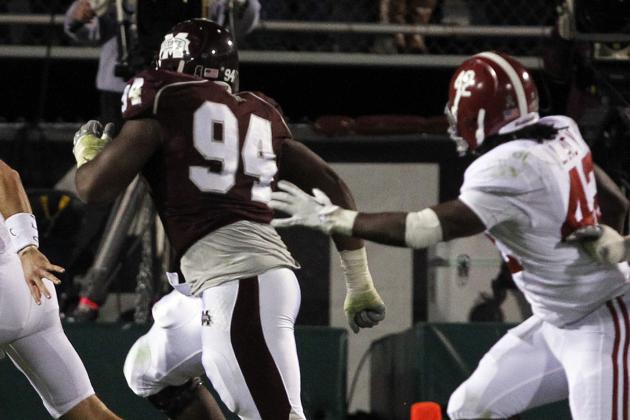 Butch Dill/Getty Images

Pick: Fletcher Cox, Defensive Tackle, Mississippi State
Grade: A-
The Philadelphia Eagles don't really have any glaring needs, which means they can attack the draft anyway they wish. It's likely they just sit back and wait to see if a player happens to slip.
However, they could focus their resources on upgrading the defensive front. Fletcher Cox is a disruptive defensive lineman who would give the Eagles another pressure player on defense.
Cox does a good job firing off the ball, which helps him penetrate the pocket. His ability to disrupt the timing of the offense is what makes him a valuable prospect. Lining Cox next to Cullen Jenkins in passing situations would give the Eagles a strong inside presence.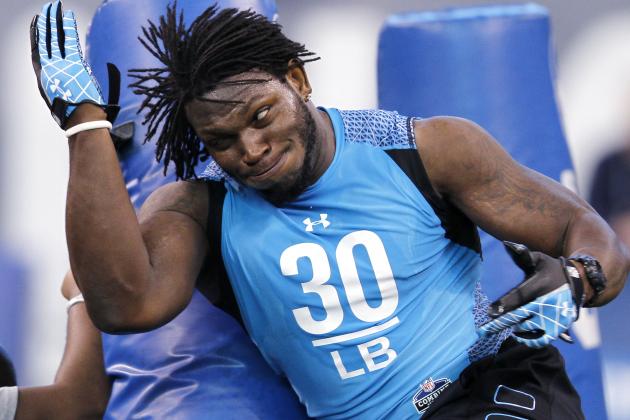 Joe Robbins/Getty Images

Pick: Courtney Upshaw, Linebacker, Alabama
Grade: A-
The New York Jets must find a way to get their defense back on track, and there's no better way than adding talent through the draft. Courtney Upshaw is a perfect fit for the outside linebacker position in Rex Ryan's 3-4 defense. He does a great job setting the edge against the run, while also bringing the ability to get after the passer.
Adding Upshaw will give New York a four-down player who'll contribute on both defense and special teams. He's more of a complete player than the other linebackers on the Jets roster. Expect to see Ryan shift him around to create mismatches.
Upshaw is a safe pick for the Jets because they have pass-rush specialists like Aaron Maybin. This means that Upshaw can make an impact by playing the run, and there won't be that immediate pressure for him to be a dominant pass-rusher.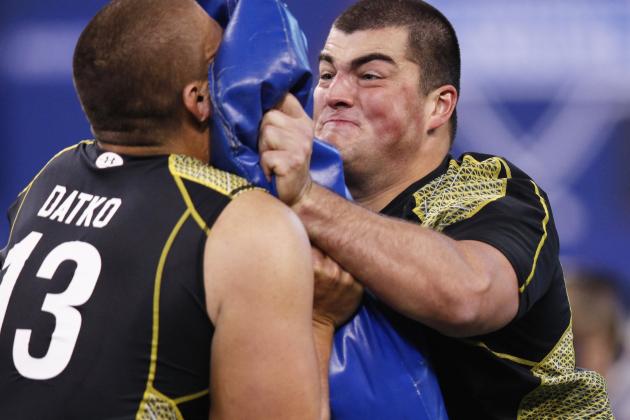 Joe Robbins/Getty Images

Pick: David DeCastro, Guard, Stanford
Grade: A+
Owning two first-round picks gives the Cincinnati Bengals a great opportunity to really improve their football team. They have several needs, but none that should force them to make a mistake and overdraft a player.
Selecting David DeCastro at No. 17 wouldn't be an overdraft; it could actually be seen as a steal.
DeCastro is an all-around excellent football player. He brings toughness and leadership to the interior of the offensive line. Cincinnati has a need at guard, which makes this pick a dream scenario. DeCastro will make an immediate impact by improving the pass protection and opening running lanes.
One of the best ways to support a young quarterback (Andy Dalton) is by putting him behind a strong offensive line.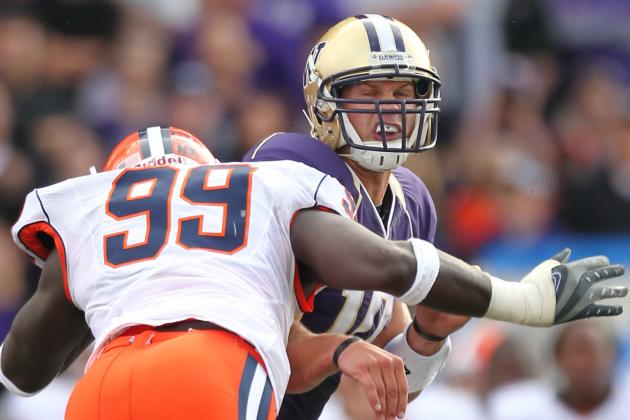 Otto Greule Jr/Getty Images

Pick: Chandler Jones, Linebacker/Defensive End, Syracuse
Grade: B-
Chandler Jones is a good-looking prospect with a ton of upside. However, he doesn't seem like a great fit for the San Diego Chargers. I have him rated as a defensive end prospect, who might be a little too stiff to transition to outside linebacker.
San Diego needs to bring in another pass-rusher, but might be better off targeting a different prospect.
They should make a strong effort to trade back and target a prospect like Shea McClellin, who would excel in San Diego's 3-4 scheme. Selecting him at No. 18 would be a bit of a reach, but moving down into the mid-twenties would bring good value.
Again, I love Jones as a prospect, but I feel that he isn't a fit at outside linebacker.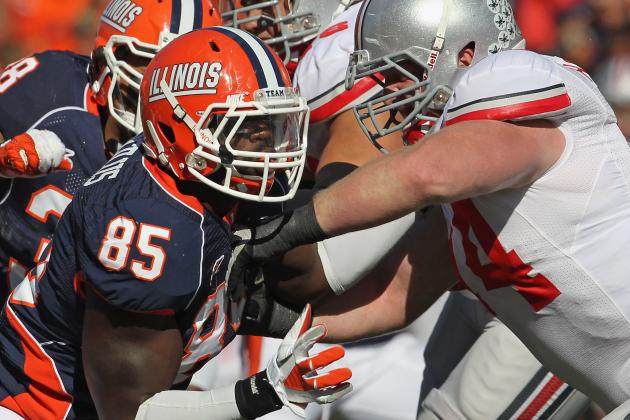 Jonathan Daniel/Getty Images

Pick: Whitney Mercilus, Defensive End, Illinois
Grade: A-
The Chicago Bears defense needs to find another consistent pass-rushing threat. Julius Peppers is still playing at a high level, but nobody is taking advantage of the one-on-one opportunities he provides.
Whitney Mercilus showed this past season that he knows how to get after the quarterback.
Mercilus does a good job mixing speed and power to generate pressure. His ability to use his hands to keep clean makes him a constant threat to tally a sack. He's capable of consistently contending for double-digit sacks, especially working opposite Peppers.
Chicago's Cover 2 system relies on the front four to generate the majority of pressure. Adding Mercilus will help keep this defense playing at a high level.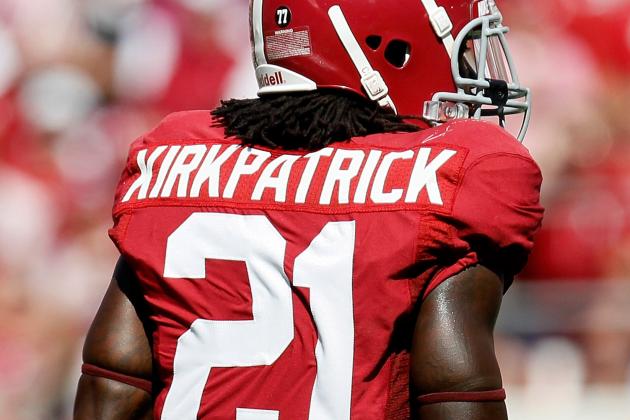 Kevin C. Cox/Getty Images

Pick: Dre Kirkpatrick, Cornerback, Alabama
Grade: B+
Depth and talent are issues in the Tennessee Titans secondary. Their decision to let Cortland Finnegan leave via free agency left them with Alterraun Verner and Jason McCourty as the starters. Both are capable of playing good football, but the depth behind them is a real issue.
Dre Kirkpatrick will not only provide depth, but also give the Titans a player with more upside.
Kirkpatrick is a good prospect, but I have Stephon Gilmore rated higher. If the Titans want to address the cornerback position they'll add the top player on their board, Gilmore is a better all-around cover man than Kirkpatrick, and also has much better ball skills.
Ultimately, it will come down to who the Titans have rated higher on their board.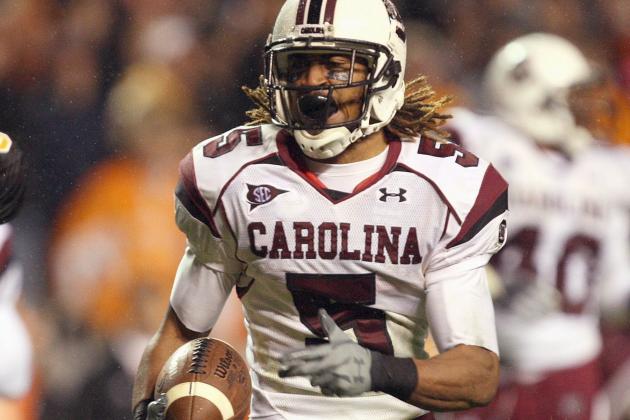 Streeter Lecka/Getty Images

Pick: Stephon Gilmore, Cornerback, South Carolina
Grade: A
The Cincinnati Bengals should use one of their two first-round picks to bring in a young cornerback. Kiper has them passing on one at No. 17, but somehow they still land one of the top players at the position. I have Stephon Gilmore rated as my No. 2 corner, behind Morris Claiborne.
He's a fluid athlete who's capable of running with any receiver in the NFL. Gilmore likes to play a physical brand of football and isn't afraid to come up and support the run. Teaming him up with Leon Hall would give the Bengals one of the better tandems in the league.
Because of the NFL's continued focus on passing the football, it's important to have a strong secondary.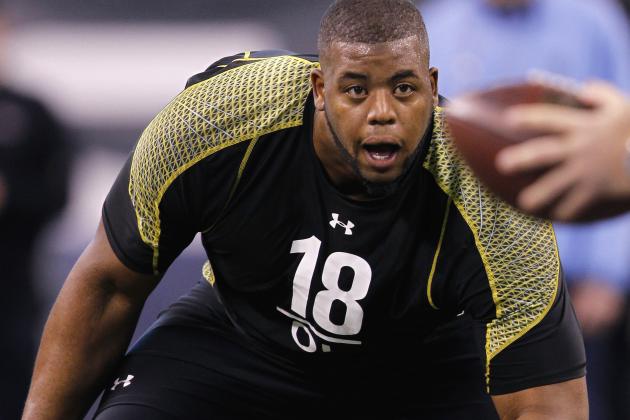 Joe Robbins/Getty Images

Pick: Cordy Glenn, Offensive Line, Georgia
Grade: B+
Cordy Glenn is one of my favorite players in this draft class. He's a versatile player who's capable of playing right tackle, guard or left tackle. His size makes people overlook his athleticism, which he showed this past season playing left tackle. The Cleveland Browns would likely use him on the right side, but it never hurts to have options.
Joe Thomas and Glenn would form a potentially dominant tackle tandem. Both players do a good job protecting the quarterback and they excel at opening running lanes. Trent Richardson would have a ton of running room working behind this line (Kiper has Cleveland selecting Richardson at No. 4).
The only issue I have with this pick is that Cleveland fails to upgrade their receiving corps. There's a big difference between the talent of receiver they can get here and what will be available in the second round. I would love this pick a lot more if Cleveland went with Justin Blackmon at No. 4, instead of Richardson.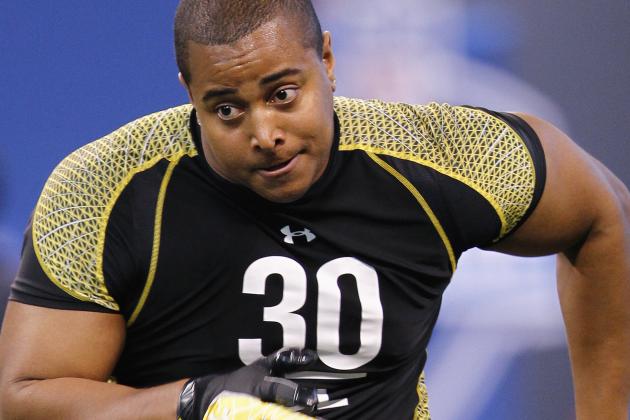 Joe Robbins/Getty Images

Pick: Jonathan Martin, Offensive Tackle, Stanford
Grade: A
I have Jonathan Martin rated as my No. 2 tackle, slightly behind Matt Kalil. He excels as a pass protector because of his natural bend, balance and quick feet. The Detroit Lions need to ensure quarterback Matthew Stafford has good protection. His health is what will determine what this team will accomplish in the upcoming years.
Martin's stock has dropped significantly since the end of the season. He struggled in his workouts, and some are beginning to question his NFL readiness. However, Martin has some really good game footage. He knows how to use angles and proper technique, which helps make up for some of his shortcomings.
Detroit is getting a steal if they're able to land a prospect like Martin this late in the first round.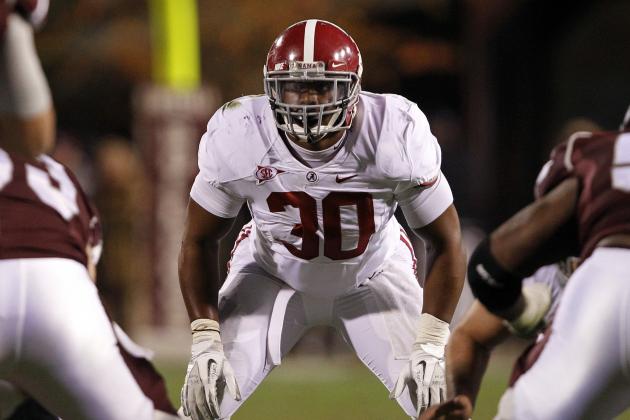 Butch Dill/Getty Images

Pick: Dont'a Hightower, Linebacker, Alabama
Grade: A
Dont'a Hightower didn't really impress me the first time I sat down to evaluate him. However, the more I watched, the more I began to appreciate his talents. He's a versatile player who can play any linebacker position, and even defensive end.
The Pittsburgh Steelers' need for youth in the linebacking corps makes Hightower a perfect fit.
Dick LeBeau will really enjoy finding ways to utilize Hightower's skill set. He's a much better pass-rusher than most realize. Hightower could play first and second downs at middle linebacker and then shift to the outside in passing situations.
Players with versatility always tend to see their stock raise as the draft approaches.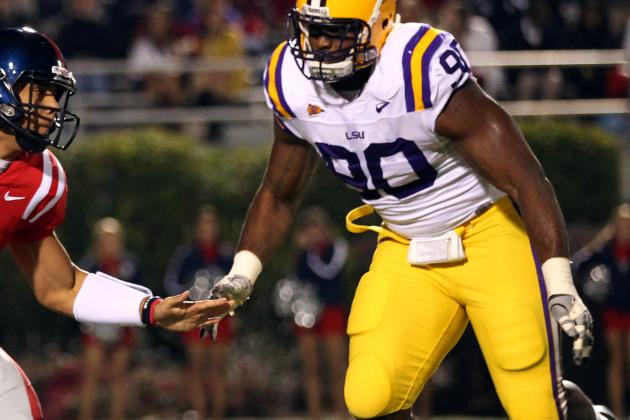 Joe Murphy/Getty Images

Pick: Michael Brockers, Defensive Tackle, LSU
Pick: B-
The Denver Broncos really need to add a difference maker to the interior of their defensive line. This was a need even before they lost Brodrick Bunkley via free agency.
Michael Brockers has a lot of the same skills as Bunkley. He'll immediately help this team get stronger up front by providing the ability to hold up against the run.
Brockers isn't a finished product and could develop into an elite player. His stock is tied to the belief that his best football is still ahead of him. He's a intriguing prospect because he has a lot of potential, but could also turn out to be a bust.
At this point, the Broncos can afford to take a gamble, because at the very least he'll give him someone that can help stuff the run.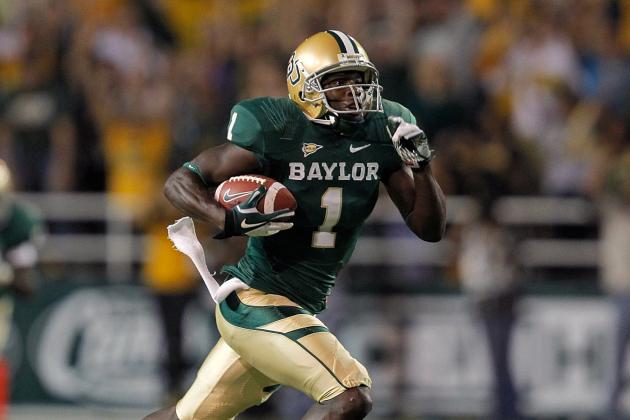 Sarah Glenn/Getty Images

Pick: Kendall Wright, Wide Receiver, Baylor
Grade: A+
The Houston Texans would jump for joy if they're able to land Kendall Wright at No. 26. His quickness and playmaking ability is exactly what this offense needs. They rely so much on Andre Johnson that when he's out with an injury or triple-teamed, the offense struggles.
Wright is dangerous enough to command some coverage, helping to open things up for Johnson. He's also talented enough to step in and help fill the void if Johnson is out with an injury. Defenses will have a tough time locating Wright, as he can play multiple positions. Houston will line him up both in the slot and on the outside.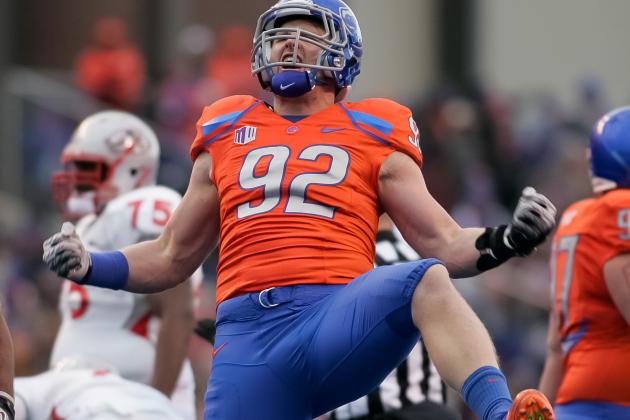 Otto Kitsinger III/Getty Images

Pick: Shea McClellin, Linebacker/Defensive End, Boise State
Grade: B+
Until recently, Shea McClellin was seen as more of a second- or third-round prospect. However, the more evaluators got to see of him, the higher his stock climbed. McClellin is a terrific pass-rusher and underrated athlete. His savvy and second gear allows him to generate a ton of pressure on the quarterback.
The New England Patriots are desperate to upgrade their pass rush.
McClellin has some versatility, but his best fit would be at outside linebacker in a 3-4 system. He has some problems holding at the point of attack, making him a bit of a liability against the run.
This pick is a home run if New England decides to shift back to a 3-4 scheme. However, there's still value even if they plan on using him at defensive end.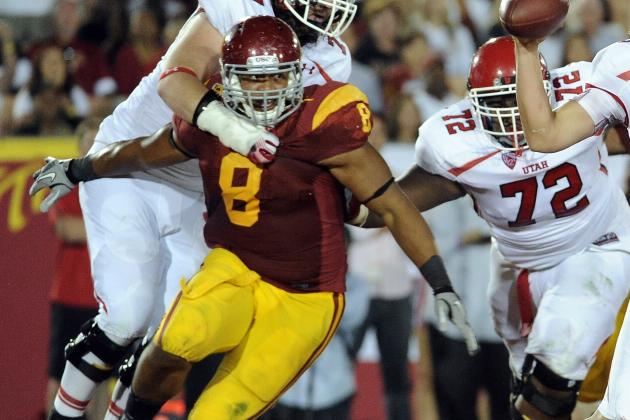 Harry How/Getty Images

Pick: Nick Perry, Linebacker/Defensive End, USC
Grade: B-
Nick Perry is another player who I have rated much lower than most evaluators. He's a good athlete with some potential, but he just doesn't show elite playmaking ability. Perry is slow off the line and struggles to flatten out around the edge.
However, the Green Bay Packers' need for a pass-rusher makes this a decent selection.
I can't hammer this pick because I have a different opinion on the prospect. This is both a scheme and need fit for the Packers. Perry is a pass-rusher who's capable of transitioning to outside linebacker. The Packers need to bring someone in to help draw some attention away from Clay Matthews.
However, I can't help but think they should make an aggressive move to land a prospect with more potential.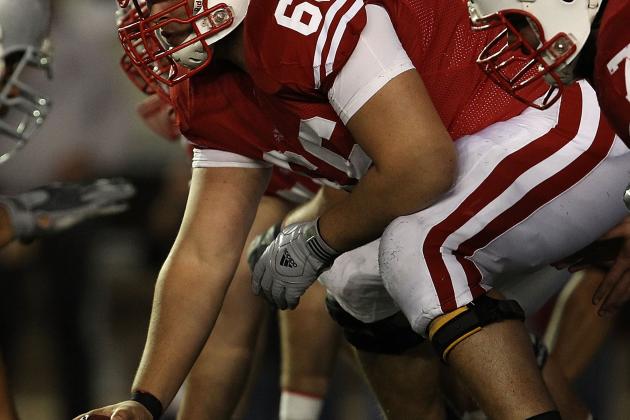 Jonathan Daniel/Getty Images

Pick: Peter Konz, Center/Guard, Wisconsin
Grade: A
The Baltimore Ravens offensive line is in a bit of flux. They recently lost Ben Grubbs to free agency, and both Matt Birk and Bryant McKinnie are at the end of their careers.
Adding someone able to make an immediate impact like Peter Konz is a great move. He'll start his career at guard and then shift the center once Birk decides to retire.
Baltimore's identity surrounds running the football and playing strong defense. They must bring in some young talent across the offensive line if they hope to continue that style of play. Strong running teams typically get strong play from the interior of the line.
Adding Konz will help ensure the offensive line has talent, youth and toughness.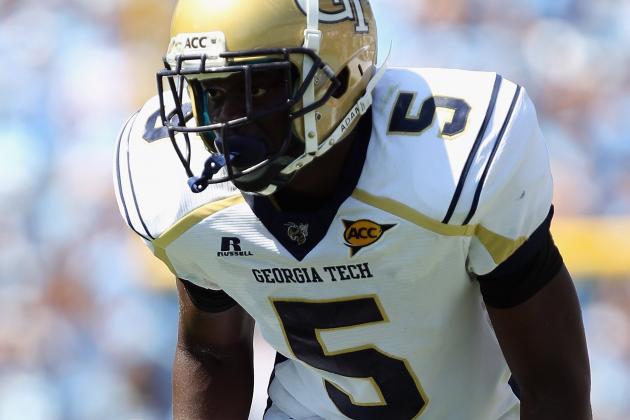 Streeter Lecka/Getty Images

Pick: Stephen Hill, Wide Receiver, Georgia Tech
Grade: A-
The San Francisco 49ers addressed the immediate need at wide receiver via free agency. However, the additions of Randy Moss and Mario Manningham don't guarantee the long-term future of the position. Counting on Moss for this season or beyond would be a mistake.
Selecting Stephen Hill would give San Francisco a young receiver who can grow under their system.
Hill is a very raw prospect who will need time to develop. The presence of Moss, Manningham and Michael Crabtree means Hill won't be expected to make an immediate impact. This ability to sit and learn should help Hill reach his potential.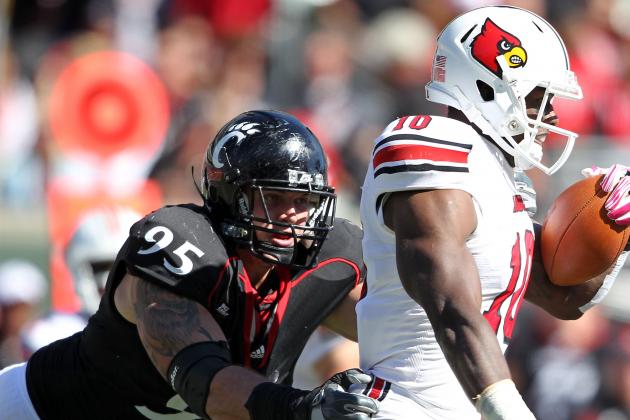 Andy Lyons/Getty Images

Pick: Derek Wolfe, Defensive Line, Cincinnati
Grade: D
Derek Wolfe is a solid player, but doesn't carry a first-round grade. If the New England Patriots decide to add Wolfe ahead of prospects like Kendall Reyes and Jerel Worthy, it would be a major mistake. The Patriots understand the importance of finding value with each pick, leading me to believe that if they want to add Wolfe they would trade down.
With that said, each year there's a prospect who comes out of nowhere and is a surprise first-round pick. Wolfe could very well be this year's Tyson Alualu, but for some reason I doubt it will happen.
New England loves to work the draft and orchestrate trades that give them future picks. This is a prime spot for Belichick and company to land a future first-round pick.
Marc Serota/Getty Images

Pick: Coby Fleener, Tight End, Stanford
Grade: B+
Coby Fleener is a dynamic pass-catcher who'll instantly give Eli Manning another weapon. His combination of size and speed make him a potential mismatch problem. Opposing defenses will struggle to find a linebacker fast enough or a defensive back strong enough to handle Fleener.
The New York Giants haven't had a really good tight end since Jeremy Shockey.
Jake Ballard and Martellus Bennett are solid players, but none offer the same upside as Fleener. Bringing him into the mix will allow the Giants to run a lot of two-tight end sets. Because of Fleener's pass-catching ability, New York would still be able to get big plays out of this alignment.
This pick gets a "B+" because selecting Fleener means the Giants pass on the chance to land a running back. Ahmad Bradshaw's continued issues with injuries and the loss of Brandon Jacobs makes this position a major need. If they pass on adding a running back at No. 32, they'll likely miss out on this draft's top prospects.