Washington Redskins Gave Up Way Too Much to Draft Robert Griffin III
March 10, 2012

Rob Carr/Getty Images
The Washington Redskins have bee known to spend big to get what they want.  
Owner Dan Synder will spend and give up draft picks for big names and it has always cost him and his team in the long run.
When Synder hired Mike Shanahan to coach the Redskins last season, the Redskins were changing their ways.  
Shanahan stockpiled picks and saved on spending to fill needs on a roster that had very little depth. That mode of thinking is how Bill Belichick and the New England Patriots keep their team competitive and win championships.
The Redskins threw that smart strategy out the window.  
It was reported that the Redskins traded three first round picks and a second round pick to the St. Louis Rams for the No. 2 pick in this year's NFL draft.
That trade puts the Redskins in position to draft the highly coveted QB Robert Griffin III.
Even with this trade, the Redskins are still going after the biggest free agent in the history of the NFL, Peyton Manning.
It is one thing to take a chance on a future hall of fame quarterback, it is another to take a chance on a quarterback that has never played in the NFL.
The Redskins gave away way too much for Robert Griffin III.
For months, the media has put Griffin and QB Andrew Luck on a pedestal, saying that both players are basically "locks" as successful quarterbacks in the NFL.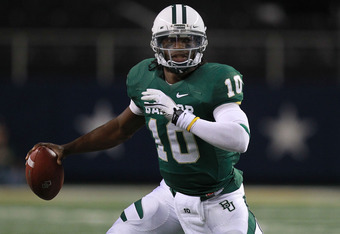 Ronald Martinez/Getty Images
I want to remind everyone that neither player have ever played a single play in the NFL.  
Mike Shanahan went all-in on Robert Griffin III and is hoping that he can save Shanahan's job. I'm not saying that Griffin will not be a good player in the NFL.
I'm saying there is no such thing as a "lock" in the NFL draft. Even if Griffin is a great quarterback, now the Redskins can't draft any top prospects to fill other needs for a few years.  
The only saving grace for the Redskins is if they get Peyton Manning and he can carry the load for a few years. Griffin would then have time to develop and learn from a hall of fame quarterback.  
I would not be surprised if this trade costs Mike Shanahan his job. This trade is such a huge risk for Washington and a big break for the Rams.
We'll see how this plays out, but don't be surprised to see the Washington Redskins suffer from spending and sacrificing too much again.