Fantasy Football 2012: Top 25 Quarterbacks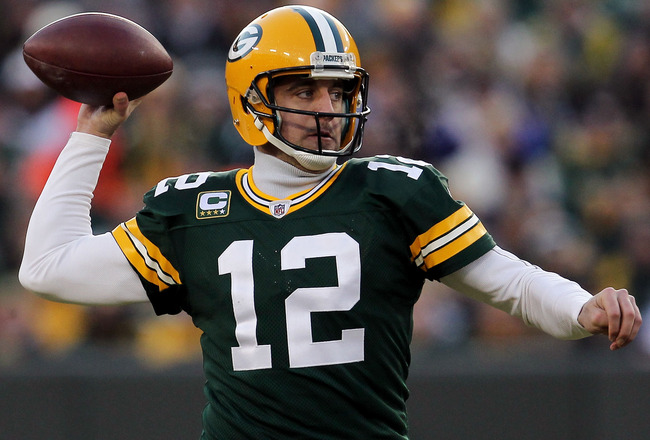 Green Bay's Aaron Rodgers (4,643 yards passing, 48 total TDs) stands as the No. 1 QB and likely top-10 pick in fantasy drafts.
Jonathan Daniel/Getty Images
What a month for the NFL, huh? Peyton Manning finds a new home in Denver. Chad Henne (Jaguars) and David Garrard (Dolphins) partake in some kind of Freaky Friday thing involving backup QBs. Andrew Luck isn't the reason behind one of the most astonishing March trades in league history; and Robert Griffin III gets handed the keys to a storied franchise...six weeks prior to hearing his name called by commissioner Roger Goodell.

All this excitement has put us in the mood for brainstorming a rudimentary listing of the Top 25 Fantasy QBs Right Now—a countdown that doesn't presume Tim Tebow popping up in Jacksonville or Miami just yet.
No. 25: Robert Griffin III, Redskins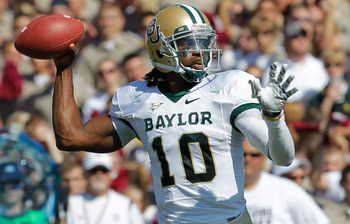 Sarah Glenn/Getty Images
Skinny: Griffin owes this spot to Cam Newton and Pierre Garcon. In 2011, Newton shattered all long-standing myths about rookie quarterbacks in fantasyland by rolling for 4,757 total yards and 35 TDs; and Garcon's move to D.C. gives Griffin—a possible Day 1 starter—four stupendous options: receivers Garcon and Leonard Hankerson, TE Fred Davis and RB Roy Helu.
No. 24: Matt Hasselbeck, Titans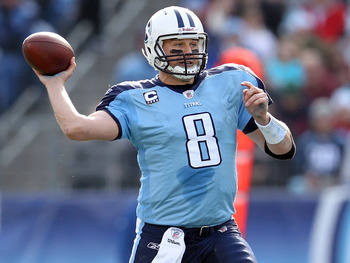 Andy Lyons/Getty Images
Skinny: Hasselbeck's tenuous spot in the countdown has nothing to do with his 2011 numbers (3,571 yards passing, 18 TDs) or the state of the receivers if Kenny Britt isn't fully recovered from an ACL tear. Hasselbeck will most likely cede a few starts to backup QB Jake Locker, who showed flashes of his immense potential last season.
No. 23: Alex Smith, 49ers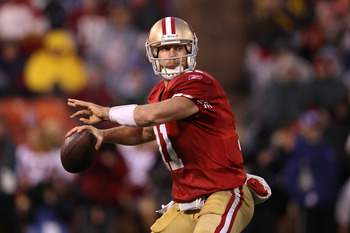 Ezra Shaw/Getty Images
Skinny: Smith posted career highs in passing yards (3,144) and pass attempts (445) last year, while almost breaking new ground in TD passes (17) and INTs (5). He obviously has a good rapport with coach Jim Harbaugh and feels at ease with the San Francisco offense, which now features RBs Frank Gore/KendallHunter, TE Vernon Davis and wideouts Michael Crabtree, Mario Manningham and Randy Moss.
No. 22: Matt Flynn, Seahawks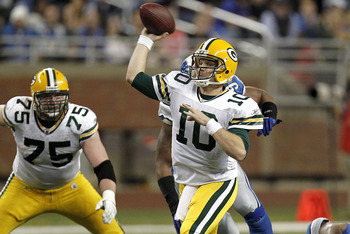 Gregory Shamus/Getty Images
Skinny: The Seahawks coaches, most notably Pete Carroll and O-coordinator Darrell Bevell, will enjoy calling 30-plus pass calls for Flynn (9 career TDs) nearly every Sunday. With a sturdy O-line and potential star like Sidney Rice in the fold, Flynn should flirt with 3,600 yards and 24 TDs.
No. 21: Joe Flacco, Ravens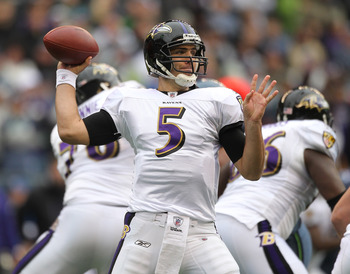 Otto Greule Jr/Getty Images
Skinny: Flacco regressed in yards passing, touchdowns, interceptions and yards-per-completion last year, fueling the notion that he'll never be a 28-TD guy or top-10 quarterback. But in mid-March, he's still on better footing than Hasselbeck, Griffin, Matt Moore, Sam Bradford and Andrew Luck.
No. 20: Kevin Kolb, Cardinals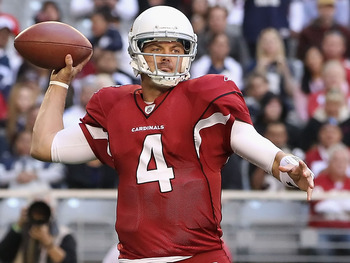 Christian Petersen/Getty Images
Skinny: When healthy, Kolb has the tools to be a top-15 quarterback, especially with playmakers like Larry Fitzgerald (80 catches, 1,411 yards, 6 TDs), Beanie Wells and the soon-to-be-unleashed Ryan Williams wreaking havoc. For Kolb's sake, though, the Cards need a more established WR2. Mike Wallace, anyone?
No. 19: Josh Freeman, Buccaneers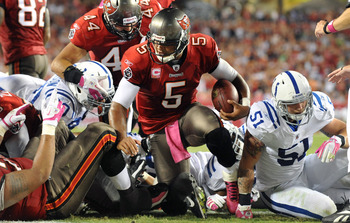 Al Messerschmidt/Getty Images
Skinny: No fringe quarterback has benefited more from this offseason than Freeman, who commendably racked up 3,592 yards passing and 20 total TDs in a fruitless 2011 campaign. And now, Freeman has Vincent Jackson, Mike Williams and Arrelious Benn at receiver, Kellen Winslow at tight end and LeGarrette Blount...and (hopefully) Trent Richardson at running back (2012 draft). That's a potentially serious upgrade.
No. 18: Andy Dalton, Bengals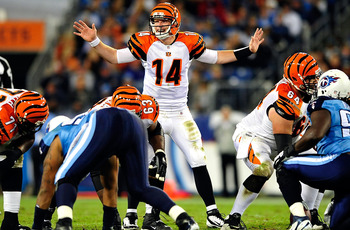 Grant Halverson/Getty Images
Skinny: It'll be interesting to see if 12- and 14-team owners draft Dalton (3,398 yards passing, 20 TDs last year) as a QB1 or QB2. As a fantasy backup, most GMs would be thrilled with modest gains from 2011; but as a fantasy starter, there may be unrealistic projections of 3,900 yards/25 TDs. It's too bad Bengals owner Mike Brown didn't (doesn't) covet Steelers WR and restricted free agent Mike Wallace.
No. 17: Ryan Fitzpatrick, Bills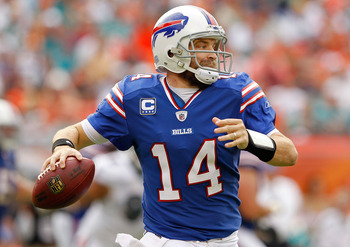 Mike Ehrmann/Getty Images
Skinny: Fitzpatrick deserves some props for attaining career marks in yards passing (3,832) and TDs (24) last season. But here's the killjoy fact of the day: Fitz tallied zero or one TDs in eight of the 16 starts...meaning he single-handedly contributed to at least four or five fantasy losses in 2011.
No. 16: Ben Roethlisberger, Steelers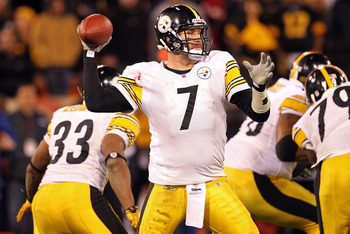 Karl Walter/Getty Images
Skinny: Mark it down: I solemnly pledge this will be the year that I stop viewing Big Ben as a preseason cinch for 4,200 yards passing and 28 TDs. He may be the AFC's best big-game quarterback, but he's also a fringe starter in 12-team leagues. Especially if Pittsburgh follows through on its abstract promise of prioritizing the running game.
No. 15: Jay Cutler, Bears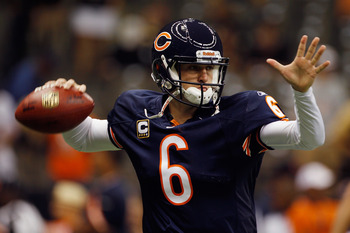 Chris Graythen/Getty Images
Skinny: With Brandon Marshall in the fold, Cutler (2,319 yards passing, 13 TDs in 10 games last year) could use one more upgrade at receiver or tight end, via free agency or the draft. Earl Bennett, Dane Sanzenbacher and Devin Hester each have unique talents, but the Bears still need help to rival the Packers or Lions in air-assault potential. Targets: 4,208 yards passing, 24 TDs.
No. 14: Carson Palmer, Raiders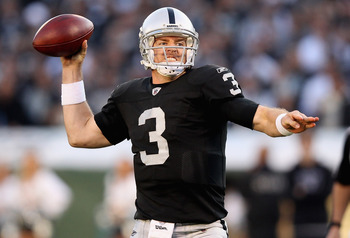 Ezra Shaw/Getty Images
Skinny: Palmer acquitted himself nicely last year with the Raiders (2,753 yards passing, 13 TDs in nine starts), despite little practice time or intimate knowledge of his receivers. The main source of our optimism lies with burgeoning talents like Darren McFadden, Darrius Heyward-Bey, Jacoby Ford, (maybe) Michael Bush and Palmer's annual knack for eclipsing the 60-percent passing mark. A stable mid-round pick for owners who platoon QBs.
No. 13: Mark Sanchez, Jets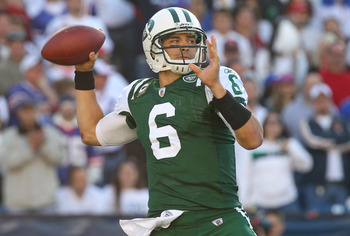 Tom Szczerbowski/Getty Images
Skinny: This lukewarm ranking seems a tad unfair for a quarterback who racked up 32 total touchdowns last year and inked a lucrative contract extension just a few days ago. But if Sanchez is going to ascend to the elite strata of fantasy QBs sooner than later, he'll need to flirt with 4,000 yards passing. Six rushing TDs might never happen again.
No. 12: Matt Schaub, Texans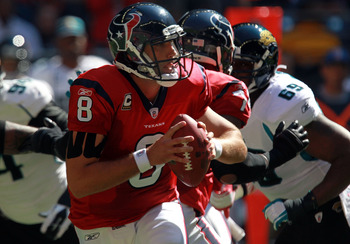 Ronald Martinez/Getty Images
Skinny: Schaub gets a free pass for last year's truncated season (2,479 yards, 15 TDs in 10 starts). But then again, perhaps he should garner more praise for racking up solid per-game averages, mostly without the typically bankable excellence of WR Andre Johnson (just one 100-yard receiving game). A 2012 revival is in the cards for both stars.
No. 11: Peyton Manning, Broncos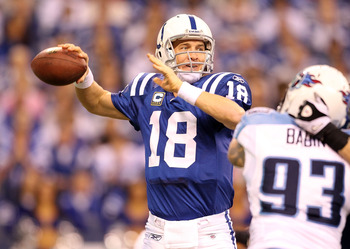 Andy Lyons/Getty Images
Skinny: I went on record last week to say Manning would have been a better fit with the Cardinals (climate-controlled home games, burgeoning talent, Larry Fitzgerald)...but I suppose the Broncos are a terrific Plan B. Especially if Manning surrounds himself with ex-Colts Jeff Saturday, Joseph Addai and Dallas Clark. (And he will.) Early projections: 4,050 yards passing, 27 TDs.
No. 10: Philip Rivers, Chargers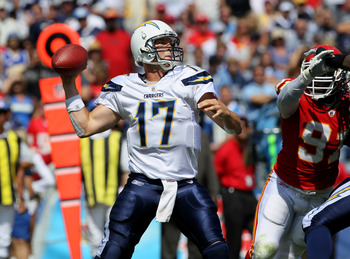 Stephen Dunn/Getty Images
Skinny: Vincent Jackson may be property of the new-and-improved Bucs, but I'm willing to take a double leap of faith on the Chargers. First, it's time for second-year WR Vincent Brown to take a major step forward; and Rivers will hopefully regain his prolific form of 2010 (4,710 yards passing, 30 TDs, 13 INTs), the same season V-Jax started only five games.
No. 9: Matt Ryan, Falcons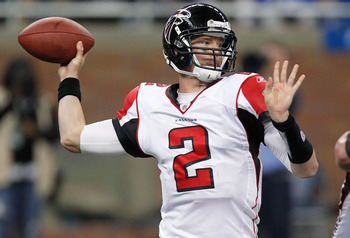 Gregory Shamus/Getty Images
Skinny: Would it be a stretch to hail Ryan as the Cole Hamels of fantasy football—a consistent, stellar force who's too quiet for his own good? From a big-picture standpoint, Ryan has evolved into an annual threat for 4,200 yards passing and 30 TDs. But here's why he'll garner a ranking ahead of Peyton Manning in August: Of Ryan's three sub-200-yard passing games last year, he accounted for four, two and two TDs, essentially wiping out any weekly cries of mediocrity. He's a fantasy ace.
No. 8: Michael Vick, Eagles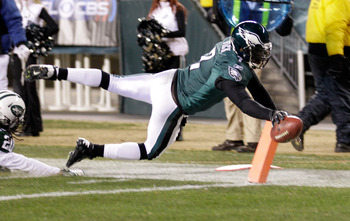 Rob Carr/Getty Images
Skinny: There's a reason why ESPN fantasy guru Matthew Berry had Vick as the No. 1-ranked talent during the 2011 preseason. Vick is quite possibly the NFL's most gifted athlete—even in his 30s—and plays in a progressive offense with LeSean McCoy, Jeremy Maclin and DeSean Jackson. When healthy, Vick has the capacity for 4,800 total yards and 30 TDs...but it would also be naive to assume Vick will start and finish 16 games in 2012.
No. 7: Tony Romo, Cowboys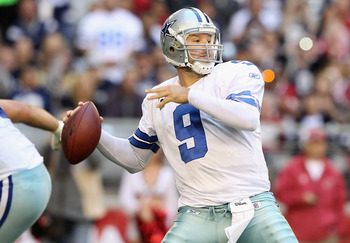 Christian Petersen/Getty Images
Skinny: Romo attempted 30 or more passes 13 times last season (15 full games), a figure that should inspire fantasy owners to wait three full rounds before selecting a QB who's a virtual lock for 4,100 yards and 30 TDs.
No. 6: Eli Manning, Giants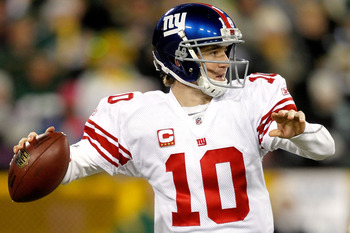 Matthew Stockman/Getty Images
Skinny: Once the NFL schedule gets released, I'll have better clarity on the too-close-to-call fantasy race between Tony Romo and Manning. In the meantime, we'll side with the championship QB who's a no-brainer lock for 4,400 yards passing and 29 TDs.
No. 5: Cam Newton, Panthers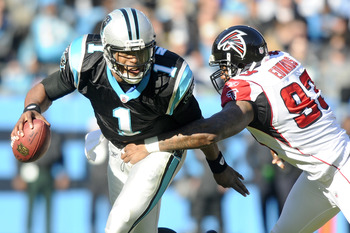 Jared C. Tilton/Getty Images
Skinny: Michael Vick may someday go down as the most electrifying dual-threat quarterback in NFL history; and yet, he never came close to approaching Newton's rookie numbers: 4,757 total yards (706 rushing) and 35 total TDs (21 passing). In other words, fantasy owners would be crazy to drop Newton in keeper leagues, or let him slide past Round 3 in snake drafts.
No. 4: Tom Brady, Patriots
Elsa/Getty Images
Skinny: Brady's three greatest performances from 2011 occurred in Weeks 1-3—and in descending order. For most quarterbacks heading into their age-35 seasons, that might serve as a red flag for predicting future success. But Brady has never been a more reliable threat for 4,700 yards passing and 38-40 total TDs.
No. 3: Matthew Stafford, Lions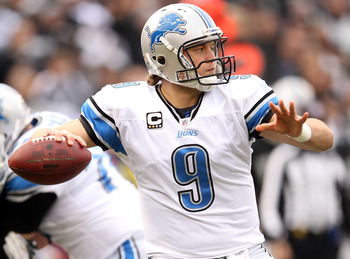 Ezra Shaw/Getty Images
Skinny: We could fawn over Stafford for eclipsing 5,000 yards passing and 40 TDs in his first injury-free season as a pro, and for throwing at least one TD in every game last year. Instead, we'll focus on his worst game of 2011: Throwing two pick-sixes and four INTs in a blowout loss to the Bears. At his darkest hour, in a game where people were questioning the Lions' legitimacy, Stafford still amassed 329 yards and one TD, prompting an insightful, Were you not entertained!!!???!!!!.
No. 2: Drew Brees, Saints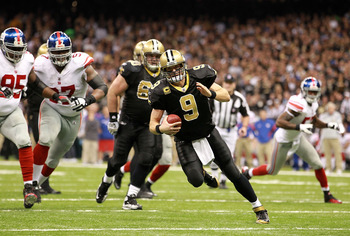 Ronald Martinez/Getty Images
Skinny: The yearlong suspension to head coach Sean Payton has diminished some of the delirium surrounding #9's stat projections for 2012. But as of March 21, Brees (46 TDs/NFL-record 5,476 yards passing last season) remains a strong No. 2 in fantasyland -- behind Aaron Rodgers. Both stars are virtual shoo-ins for 4,500 yards and 36 TDs every season...rain or shine.
No. 1: Aaron Rodgers, Packers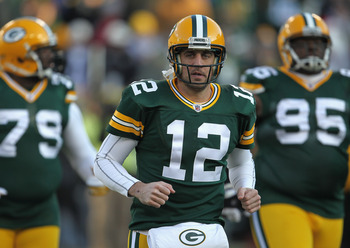 Jonathan Daniel/Getty Images
Skinny: Anyone who can pull off a de facto Dan Marino, circa 1984, and rack up 48 total touchdowns (45 passing) in their relative prime deserves a plum spot at No. 1. Yes, history has shown that QBs who throw 45 or more TDs one year endure a noticeable dip the following season...but it's still not enough to bump Rodgers from the highest perch of an impressive class of elite passers.
Keep Reading