Peyton Manning Contract: Denver Reportedly Inks Future Hall of Fame QB
March 20, 2012

Doug Pensinger/Getty Images
Peyton Manning has reached an agreement with the Denver Broncos, according to ESPN's Adam Schefter.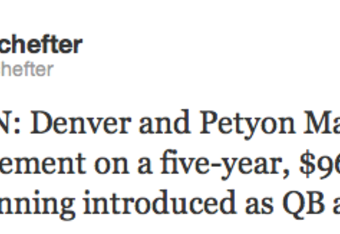 Update: 12:05 p.m. EDT
National Football Post's Andrew Brandt has a breakdown on how Manning's contract will shake out over the course of five years.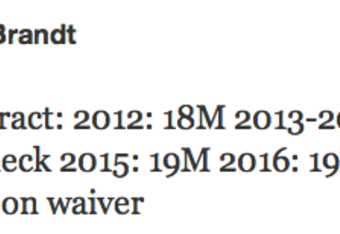 They have no injury insurance for the first year and are paying the QB $18 million for the upcoming season. 
ESPN's Chris Mortensen and Adam Schefter first broke the news on Monday morning that the former Colts QB instructed his agent, Tom Condon, to negotiate a deal with Denver, and he has done exactly that.
The future Hall of Fame signal-caller is reportedly receiving a five-year, $96 million deal that is expected to be officially announced at 3 p.m. ET during an introductory press conference in Denver.
This ends a nearly two-week saga that began when Indianapolis officially cut Manning back on March 7.
According to reports, Peyton decided to choose the Broncos after working out for and meeting with the Tennessee Titans, Miami Dolphins, Arizona Cardinals and San Francisco 49ers while he was a free agent.
Manning was the most coveted quarterback on the market—possibly ever—and many teams were simply not concerned about his neck problems.
He has undergone four surgeries in the past 19 months, but has been cleared by team doctors from the Broncos, 49ers and Titans, according to Mortensen and Schefter's report.
Denver certainly does not feel those surgeries are going to be an issue and the franchise was not afraid to shell out big bucks to lock Manning up for five years. The Broncos most likely included a number of clauses to protect their reported $96 million investment.
Kudos to Broncos executive vice president of football operations John Elway, who seems to have done a great job recruiting the future Hall of Famer to the Mile High City. He has made it apparent that he wants to revive the franchise's winning tradition and will do so by any means necessary .
He isn't afraid to bring in a player of Manning's caliber for a few years and now must find a team to jettison the controversial Tim Tebow to.
It's a bold move but one that will pay off now that they may soon have one of the best players the league has ever seen under center.