2012 NFL Draft: Redskins Reportedly Agree to Trade with Rams for No. 2 Pick
March 10, 2012

Joe Robbins/Getty Images
The quarterback-starved Redskins have always been seen as a major player for the Rams' No. 2 overall pick, and as the world awaits to see where Peyton Manning will land, the Redskins have taken a proactive approach to landing their QB of the future.
Update: 1:50 p.m. EST by Andrew Kulha
According to Pro Football Weekly's Twitter handle, both general managers involved in this trade have confirmed it's validity: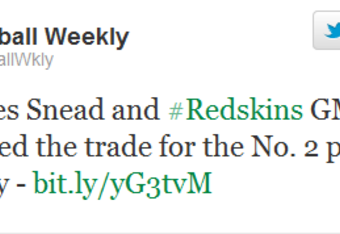 According to Fox Sports' Jay Glazer, the Redskins have reached an agreement with the Rams to move up to the No. 2 spot in this year's draft.
Major scoopage: Redskins have agreed to a trade w Rams for #2 pick of draft. Rams and Skins swap (cont) tl.gd/gbhvr8

— Jay Glazer (@JayGlazer) March 10, 2012
It's no secret whom the Redskins are jumping up to target. With the No. 2 pick, the Skins are guaranteed to land either Andrew Luck or Robert Griffin III, and all signs point to Indy going with Luck No. 1 overall.
The Redskins will be getting a QB with track speed, no ceiling, off-the-charts leadership qualities and a grossly underrated arm.
RGIII might not be Manning, but he'll be an immediate upgrade from the John Beck-Rex Grossman nightmare Washington has had to suffer through.
Giving up two future first-round picks and additional picks is a heavy price to pay, but if the Heisman winner lives up to his hype, it's well worth the loot for the Redskins to finally land their quarterback of the future.
The Rams couldn't have asked for a better beginning to the Jeff Fisher era. They have a quarterback they can build around in Sam Bradford, a chance to improve tenfold immediately and a bevy of picks to work with.
This is a win-win for both parties involved, and though we're still in March, the Redskins are wise not to leave anything to chance by locking down that pick now.