2012 NFL Mock Draft 1.0: Andrew Luck vs. Robert Griffin III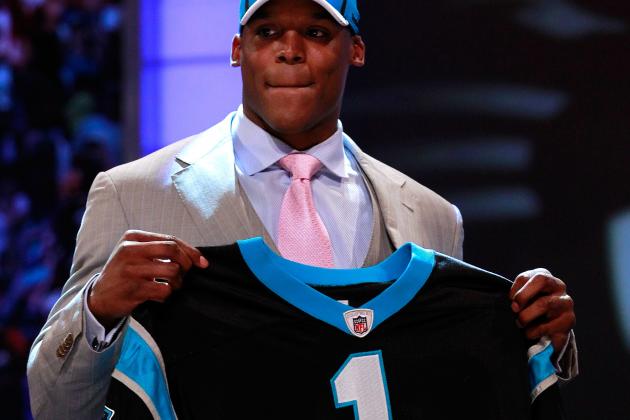 Chris Trotman/Getty Images
Who will be the first overall pick this year?
It's that time of year again when all of us in the draftnik community get excited. The Super Bowl is over, free agency is right around the corner and college-age athletes everywhere are getting ready for their biggest interview of their lives in the NFL Combine and their individual pro days. \
Each year, hundreds of experts try to predict where each team will go with their pick in April using stats gathered from game tapes, drills and personal interviews.
In the end, no one will ever know in February what each team will do two months from now. The only thing that we can be certain of is that it will be exciting to watch.
Begin Slideshow

»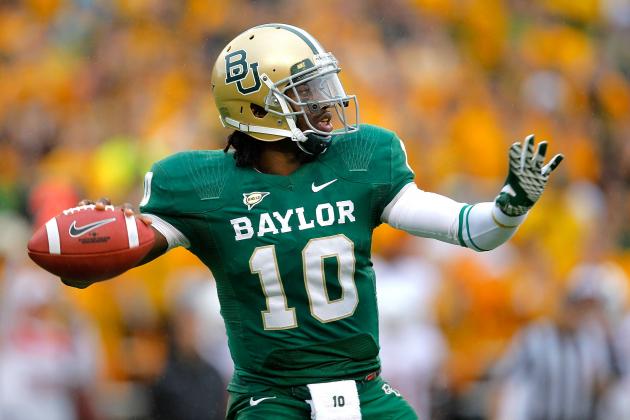 Sarah Glenn/Getty Images
RG3 will provide the spark that is needed in this aging locker room
Listening to the Colts' front office recently has convinced me of two things, one of which is that Peyton Manning is done in Indianapolis. The other is that RG3 is looking more and more like the choice as the top draft pick overall this coming April.
Jim Irsay saw how much of an impact a player like Griffin could have on his team in the short-term last season, when Carolina took Cam Newton at No. 1 overall. Griffin has the running ability of Newton, but is a more polished QB, having worked with Art Briles while he was at Baylor.
It would not surprise me one bit to hear this year's Heisman trophy winner's name called by commissioner Goodell to start off the 2012 NFL Draft.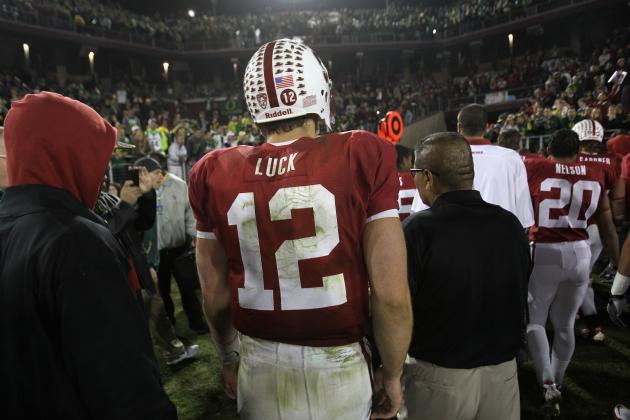 Ezra Shaw/Getty Images
Luck will easily upgrade Colt McCoy
TRADE ALERT!!! (St. Louis to Cleveland for Cleveland's two first round picks and their second round pick)
I know...I know...Andrew Luck is the next coming of Peyton Manning, but I think people have started to realize that the quarterback position is changing. Not only can the quarterbacks of the future threaten you with their arms, but also their legs.
Look at the recent success of Michael Vick, Cam Newton and Tim Tebow (a little less of a passing threat with Tebow). Andrew Luck is also a mobile threat, but not as much as Robert Griffin.
Luck will still be a franchise signal caller for the next decade...just for the Browns, instead of the Colts.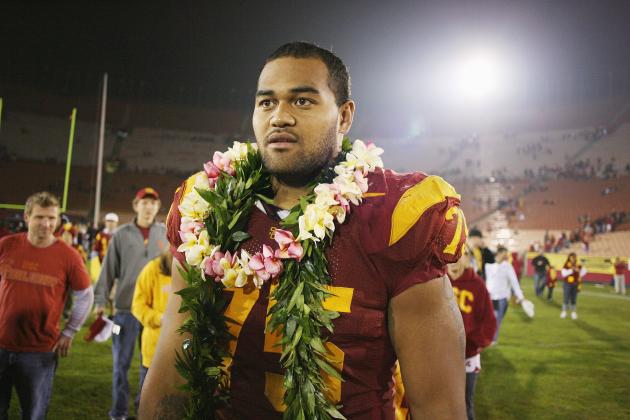 Jeff Golden/Getty Images
The Vikings need to protect Christian Ponder, either with a blocker or an offensive weapon.
The Vikings have to protect Christian Ponder if they want to ensure any chance of his success at this level. Luckily, they land the best OT prospect to come along since Jake Long. Matt Kalil will be an anchor on the blindside for the Vikings for years to come.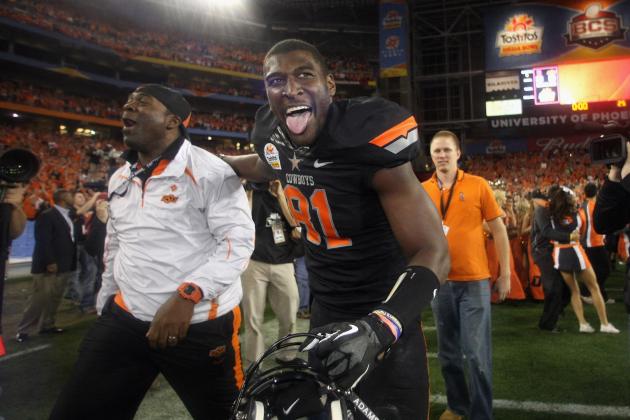 Donald Miralle/Getty Images
Just what the doctor ordered for Sam Bradford
Speaking of talent that only comes around every once in a blue moon, Justin Blackmon is the best WR prospect since Calvin Johnson.
St. Louis needs to find weapons for Sam Bradford that aren't named Brandon Lloyd. They also need to find some decent protection for Bradford, but Blackmon is just too good to pass on.
Chris Graythen/Getty Images
The Honey Badger's right hand man is a necessity for the Bucs.
Tampa will be in HUGE need of a cornerback if Aquib Talib goes to jail and Ronde Barber retires. If you're a Buc's fan, let's hope that doesn't happen—but even if one of these guys leaves, the team will still need a replacement.
Claiborne is the best corner to emerge from this year's class. He'll also provide a nice boost to the return game.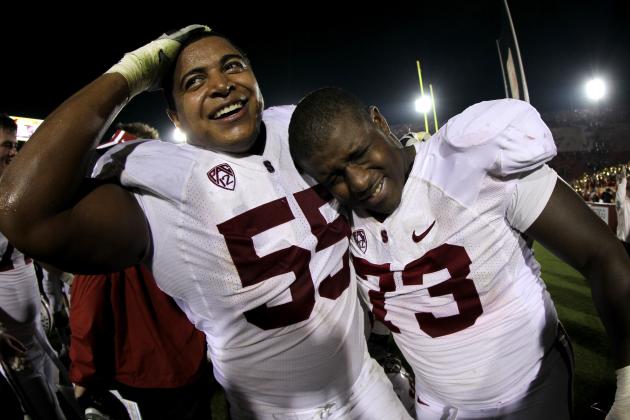 Stephen Dunn/Getty Images

If the Redskins succeed in getting Peyton Manning this offseason like I think they will, they'll need to either get him some weapons, or get him some protection.
Jonathan Martin provides the latter in the short-term for Manning, and he'll be able to anchor the right tackle position opposite Trent Williams.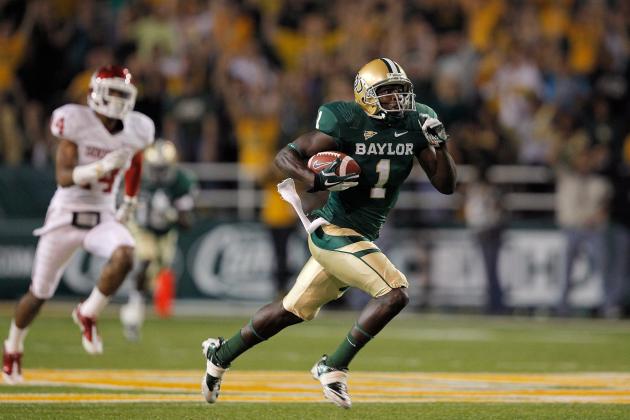 Sarah Glenn/Getty Images

The Jaguars are not quite ready to give up on Blaine Gabbert, so they'll need to get him some weapons.
Kendall Wright will offer an immediate upgrade at the wide receiver position, and along with Cecil Shorts and Mike Thomas, the Jaguars could have a pretty nice corp of receivers. The Jags could also upgrade the right tackle position.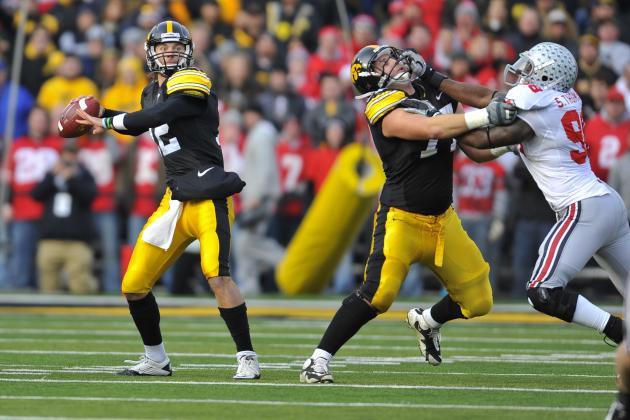 David Purdy/Getty Images

Matt Moore played well enough to, number one, stay with the team and compete for the starting job, and two, get the Dolphins far enough from the top of the draft to have a chance at RG3 or Andy Luck.
They'll need to get whoever their QB is (probably Moore or Matt Flynn) either a nice weapon here, or some added protection. Riley Reiff will be a nice addition to the offensive line opposite Jake Long.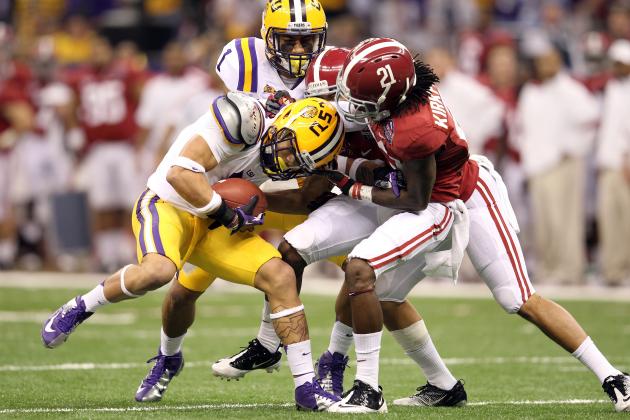 Andy Lyons/Getty Images

I can see Carolina trading down here to pick up some more choices later in the draft. They need to completely over-haul their secondary in order for the Panthers to take the next step and make the playoffs.
If they stay put, I can see them reaching for the second best corner in this year's draft—Dre Kirkpatrick. Kirkpatrick helped the Crimson Tide win the National Championship this past season, and he will provide an instant impact in Carolina's secondary.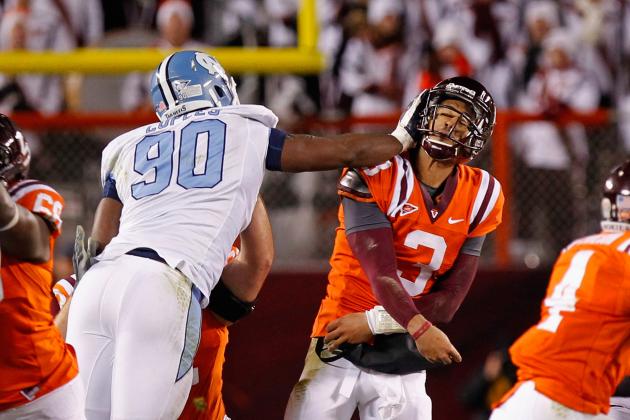 Geoff Burke/Getty Images
Smack!
I'd like to give Buffalo and Ryan Fitzpatrick a nice offensive weapon here, but they desperately need help getting to the quarterback on defense.
Quinton Coples is a nice polished pass rusher when he is properly motivated. Hopefully Chan Gailey can find the right buttons to push with Coples, and he'll provide the spark this defense has lacked.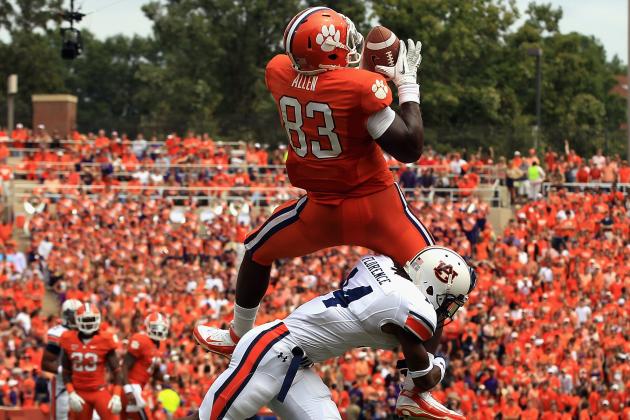 Streeter Lecka/Getty Images
Dwayne Allen. The Steal of the first round.
There will be more detailed picks to come, including multiple rounds and combine interview breakdowns, but for now here is the rest of the first round:
No. 11. Kansas City - Mike Adams | OT | Ohio St. - I can easily see the Chiefs taking a quarterback here, but since they are still in the running for either Matt Flynn or Peyton Manning, I'll save that for another update. Mike Adams will help protect whoever is taking snaps for Chiefs, while shoring up their line for years to come.
No. 12. Cincinnati - from Seattle - Trent Richardson | RB | Alabama - If Trent Richardson falls this far...and that's a BIG if...I see Cincinnati trading up to snatch him up. Cedric Benson isn't taking advantage of what I think is one of the better offensive lines in the NFL. Richardson would go into 2012 as the leading Offensive Rookie of the Year candidate with that kind of blocking.
No. 13. Arizona - Michael Floyd | WR | Notre Dame - Arizona NEEDS someone else to throw the ball to other than Larry Fitzgerald. Whether their quarterback is John Skelton or Kevin Kolb is neither here nor there—Michael Floyd would provide a nice compliment to Fitzgerald, and he would also take some of the coverage away from Fitz as well.
No. 14. Dallas - Janoris Jenkins | CB | Northern Alabama - Rob Ryan needs help—in more ways than one. A top five talent at cornerback would be a nice start, as Dallas has a glaring weakness in the secondary. Janoris Jenkins, has had off the field issues, but Jerry Jones has started to look the other way when it comes to character concerns. If Jenkins can keep his mind right, he'll be a first game starter for Big D.
No. 15. Philadelphia - Luke Kuechly | LB | Boston College - If you look for one of the biggest weaknesses in the "Dream Team" last season, you will more times than not end up with their linebacking corp. I'll be the first to admit that I thought Casey Matthews would have been able to handle it. Not only was he not the answer, but nobody on their roster was really effective all year. Andy Reid doesn't usually draft linebackers this early, but he might have to this year. Why not, when the best linebacker in this year's draft is right there waiting for you? Luke Kuechly was one of the few bright spots for this year's BC defense. He would be a no brainer pick at this point in the draft.
No. 16. New York Jets - Courtney Upshaw | OLB | Alabama - Rex Ryan needs a pass rushing defensive lineman so that he can stop bringing "everything but the kitchen sink," as Cris Collinsworth would say. Courtney Upshaw is the best option for the Jets at this point in the draft. He will help return Ryan's defense to dominance in 2012.
No. 17. Seattle - from Cincinnati - from Oakland - Ryan Tannehill | QB | Texas A&M - I definitely see Seattle trading down in the first round, either here or further down, since they're too far away from RG3 or Andy Luck. They'll take the next best thing in Ryan Tannehill. If anything, he'll provide nice competition to Tavaris Jackson. I expect Tannehill to be over valued on draft day, as most QBs usually are. He's a second-round pick that will most likely go in the mid-first round.
No. 18. San Diego - Nick Perry | DE | USC - Say it with me, Norv...P A S S - R U S H...the Bolts in Baby Blue need to get more pressure on the quarterback. Nick Perry would provide that pressure and add some "Nasty" to this rather tame defense.
No. 19. Chicago - Mohamed Sanu | WR | Rutgers - Chicago needs to draft for Jay Cutler, whether it's in the form of a receiver or a lineman. I can see this pick going either way between Sanu or David DeCastro, but since there will be other nice offensive line prospects later in the draft, I see the Bears drafting a wideout early. Sanu had a great season for the Scarlet Knights and he would be a day one starter on this team.
No. 20. Tennessee - David DeCastro | OG | Stanford - The Titans spent a lot of money on Chris Johnson (although very much well deserved). They now need to pave the road for him. Their offensive line took a step back last season, and David DeCastro would help get this unit back to it's former standards. DeCastro is the best interior lineman in this year's draft.
No. 21. Cincinnati - Alfonzo Denard | CB | Nebraska - The Bengals need to replenish their aging secondary. Aflonzo Denard had a great season for the Corn Huskers of Nebraska and with a great performance at the combine, his stock could be on the rise come April.
No. 22. St. Louis - from Cleveland - from Atlanta - Zebrie Sanders | OT | Florida St. - St. Louis NEEDS to protect Sam Bradford. He is a great QB...when he stays on his feet and has targets to throw to. Luckily, the Rams have a shiny new toy in Justin Blackmon, so they'll have a target. Zebrie Sanders could provide the protection. With a good pro day and combine, he very well could be gone at this point.
No. 23. Detroit - Vontaze Burfict | LB | Arizona St. - This pick makes perfect sense: Detroit needs a linebacker, and Vontaze Burfict needs a home big enough for his attitude and ego. In the right environment, Burfict could be the next Lawrence Taylor. I think he would flourish in Detroit's "Bad Boy" defense.
No. 24. Pittsburgh - Stephon Gilmore | CB | South Carolina - After getting torched by Denver of all teams, I think the Steelers are starting to realize that they can't play their veterans forever. They'll need to draft for the future and for depth. Stephon Gilmore would be a great addition to the secondary of Pittsburgh. He, like Zebrie Sanders, might not be available at this point with a great pro day and combine.
No. 25. Denver - Michael Brockers | DT | LSU - Brockers shouldn't be available at this point. He is an absolute terror and if he does fall this far to Denver, they wouldn't think twice about turning in this pick. With Brockers, Dumervil and Miller the Bronco's would be set for the foreseeable future.
No. 26. Houston - Alshon Jeffrey | WR | South Carolina
No. 27. New England - from New Orleans - Whitney Mercilus | DE | Illinois
No. 28. Green Bay - Mark Barron | SS | Alabama
No. 29. Baltimore - Peter Konz | C | Wisconsin
No. 30. San Francisco - Cordy Glenn | OG | Georgia
No. 31. New England - Rueben Randle | WR | LSU
No. 32. New York Giants - Dwayne Allen | TE | Clemson
Think I'm wrong (...and you're probably right)? Who would you pick?