2012 NFL Mock Draft: Bold Predictions for How Draft Will Turn Out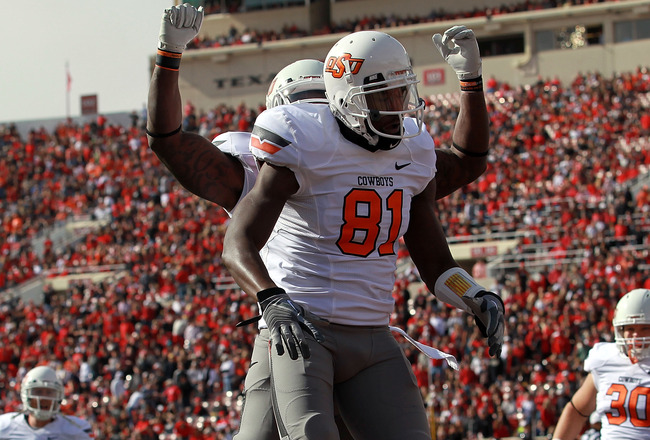 Ronald Martinez/Getty Images
The top three of my latest 2012 NFL mock draft hasn't changed, and figures to remain the same until we get closer to the draft. However, there are more than enough adjustments to spark some good debates. Working trades into a mock draft is always an interesting subplot, and this mock features one.
Quarterbacks always gain a lot of attention come draft season, and this year won't be any different. However, there are only two quarterbacks that I rate as first-round prospects. This means that teams such as the Washington Redskins, Miami Dolphins, Cleveland Browns and Seattle Seahawks need to work a trade to land a top prospect.
No. 1 Indianapolis Colts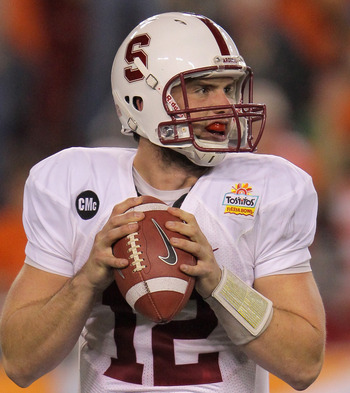 Doug Pensinger/Getty Images
Pick: Andrew Luck, Quarterback, Stanford
As the Peyton Manning rumors continue to swirl, the one thing that is almost certain is the Indianapolis Colts will select Stanford's Andrew Luck with the No. 1 pick. Indianapolis spent the past few weeks revamping their coaching staff, another sign they are ready to move in a different direction.
Adding Luck doesn't only provide hope for the future; it also immediately improves the position. Last season, the Colts quarterbacks were among the league's worst averaging only 187 passing yards per game. Any team looking to replace a legend would love to do so with a talented player like Luck.
No. 2 Washington Redskins (Trade: From St. Louis)
Ronald Martinez/Getty Images
Pick: Robert Griffin III, Quarterback, Baylor
Trade: No. 2 overall pick to the Washington Redskins for No. 6 overall, 2012 second-round pick and 2013 second-round pick
Baylor's Robert Griffin III will be one of the most sought-after prospects in the 2012 draft class. His combination of athletic ability and passing gives him tremendous upside. The Washington Redskins desperately need to find some direction at the quarterback position. Owner Dan Snyder and the fanbase are fed up with the failed experiments of Donovan McNabb, Rex Grossman and John Beck.
Griffin is much more than an athlete—he showed this past season that he has the potential to be an accurate passer. His ability to attack the deep part of the field rivals that of top prospect Andrew Luck. Griffin's high character and strong work ethic will help him make a quick transition into the NFL. There's no reason he can't start from day one.
No. 3 Minnesota Vikings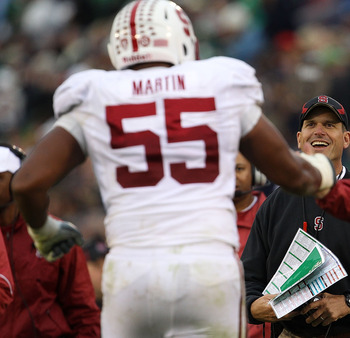 Jonathan Daniel/Getty Images
Pick: Jonathan Martin, Offensive Tackle, Stanford
Call me crazy, but Stanford's Jonathan Martin still sits atop my offensive tackle ranking. His athletic ability and fluid motions allow him to effectively protect the passer. He does a great job sitting into his stance and anchoring after contact.
Martin's balance helps him react to countermoves and mirror the rusher. He also fires out of his stance and generates a push in the running game. Overall, Martin possesses more upside than any other tackle in this draft class.
The Minnesota Vikings absolutely need to address the left tackle position early in this draft. Their current starter Charlie Johnson fits better in a backup role. Adding Martin will be a key to the development of quarterback Christian Ponder, as young quarterbacks need to be protected.
Here is my reason why Jonathan Martin is rated higher than Matt Kalil.
No. 4 Cleveland Browns
Christian Petersen/Getty Images
Pick: Justin Blackmon, Wide Receiver, Oklahoma State
It might be just a hunch, but I expect Oklahoma State's Justin Blackmon to run a better-than-expected 40 time at the upcoming combine. A fast time would cement him as the top wide receiver prospect and potential top-five pick. The Cleveland Browns offense lacks many explosive playmakers, especially on the outside.
Adding Blackmon would give Colt McCoy the weapons needed to be successful. At the very least, it would allow the Browns to finally make a decision on his future. The combination of Blackmon, Greg Little and Mohamed Massaquoi is a good young corps of receivers.
Cleveland also needs to consider making a move for Robert Griffin III. McCoy's inability to take a major step forward gives the decision-makers something to think about.
No. 5 Tampa Bay Buccaneers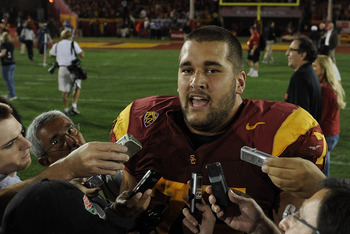 Harry How/Getty Images
Pick: Matt Kalil, Offensive Tackle, USC
Tampa Bay Buccaneers new head coach Greg Schiano is a defensive-minded guy who wants to control the clock on offense. This means a strong running game is needed and in turn a powerful offensive line. USC's Matt Kalil plays with great leverage and a strong leg drive, which allows him to consistently open running lanes.
Kalil's ability to run-block is only one of his strengths; he also does a good job in pass protection. His addition would allow Donald Penn to shift to right tackle, giving Tampa one of the league's best tackle tandems.
The Buccaneers will also need to consider adding LSU's Morris Claiborne at this spot. However, offensive tackles represent more value than cornerbacks. They could potentially add an impact corner later in the draft.
No. 6 St. Louis Rams (Trade: From Washington)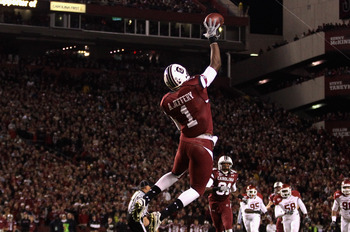 Streeter Lecka/Getty Images
Pick: Alshon Jeffery, Wide Receiver, South Carolina
Trade: No. 6 overall, 2012 second-round pick and 2013 second-round pick to the St. Louis Rams for the No. 2 overall pick
The St. Louis Rams need to make finding a potential No. 1 receiver a priority this offseason. Sam Bradford's sophomore slump is directly linked to the lack of playmakers on the outside. South Carolina's Alshon Jeffery would give the Rams a difference-maker on the outside.
His excellent size and body control allow him to attack the defense in different ways. He is a great red-zone threat and can make the tough catch in traffic. A wide receiver who knows how to use his size is a great assets for a young quarterback.
Trading down to this spot would allow the Rams to pick up some extra assets and still land a potential No. 1 receiver. However, this move will depend on how their board shakes out because some might have a significant gap between Jeffery and Justin Blackmon. Adding extra picks is always great, but not at the expense of losing your top-rated player.
No. 7 Jacksonville Jaguars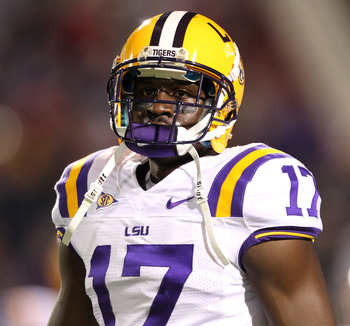 Joe Murphy/Getty Images
Pick: Morris Claiborne, Cornerback, LSU
The Jacksonville Jaguars aren't in a position to head into the draft looking to fill specific needs. They must focus on adding talent to the roster by going best player available. LSU's Morris Claiborne is an elite-level talent with the potential to develop into a shutdown cornerback.
Cornerbacks like Claiborne are capable of bringing multiple benefits to a defense, above and beyond good coverage. That coverage also provides the pass rush more time to get after the quarterback. Selecting Claiborne also is much less of a risk than adding someone like North Carolina's Quinton Coples.
Jacksonville has been burned before by Derrick Harvey and might be a little hesitant to add another risky defensive end prospect.
No. 8 Carolina Panthers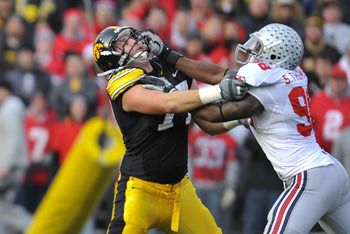 David Purdy/Getty Images
Pick: Riley Reiff, Offensive Tackle, Iowa
NFL teams are finding out the hard way that neglecting your offensive line can have disastrous results. The Carolina Panthers have an opportunity to instantly improve their offensive line and provide stability for the future. Iowa's Riley Reiff boasts the quickness and balance needed to play left tackle in the NFL, but also fits on the right side.
Reiff can start his career at right tackle and eventually take over for the aging Jordan Gross on the left side. With Cam Newton in place, Carolina needs to ensure that its prize quarterback is upright and healthy.
The Panthers need a lot of help on the defensive side of the ball. They could also turn their attention to Alabama's Dre Kirkpatrick, who would help improve their pass coverage.
No. 9 Miami Dolphins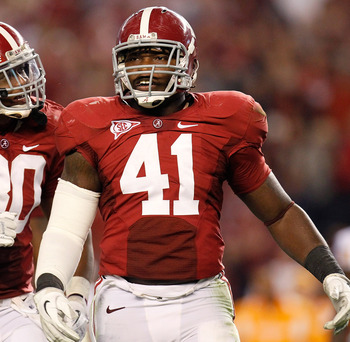 Kevin C. Cox/Getty Images
Pick: Courtney Upshaw, Linebacker, Alabama
New Miami Dolphins defensive coordinator Kevin Coyle is expected to run a hybrid 3-4/4-3 attack. This slight change in philosophy means that the Dolphins will need to add versatile players to the defensive side of the ball. Alabama's Courtney Upshaw can line up at either defensive end or outside linebacker. His size, strength and quickness allow him to both rush the passer and hold up against the run.
Miami's current roster lacks a player capable of fitting the ideal mold of a 4-3 defensive end. Adding Upshaw will fill that void and also give them a replacement for Jason Taylor when they line up in a 3-4 set. Upshaw boasts the skills needed to contribute double-digit sacks and strong play against the run.
Don't rule out a possible move up the draft in order to land Robert Griffin III. The Dolphins lack a long-term answer at quarterback, and this draft has only two top-level quarterback prospects. They can either make a move for Griffin or wait until the third round to add a quarterback.
No. 10 Buffalo Bills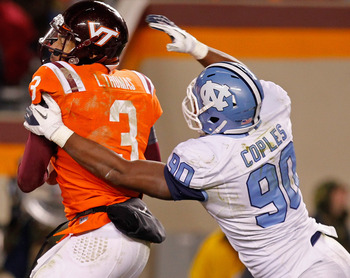 Geoff Burke/Getty Images
Pick: Quinton Coples, Defensive End, North Carolina
The promotion of Dave Wannstedt to defensive coordinator prompted a change from a 3-4 alignment to a 4-3 scheme. This means the Buffalo Bills need to spend time during the offseason finding pieces to help with this transition. At this point, the priority must be finding a pass-rushing defensive end. North Carolina's Quinton Coples has the potential to develop into a double-digit sack contributor.
Coples not only does a good job generating pressure, but also provides solid run defense. However, it's his quickness off the edge and ability to get to the quarterback that makes him a special prospect. A defensive line featuring Coples, Marcell Dareus and Kyle Williams would really help speed up the transition process.
Adding Coples needs to be the Bills' draft priority; they need to be willing to be aggressive if it looks like he won't be available at No. 10.
No. 11 Kansas City Chiefs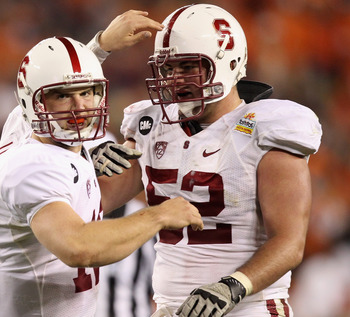 Christian Petersen/Getty Images
Pick: David DeCastro, Guard, Stanford
Adding an offensive guard early in the first round isn't a sexy choice but can have a major impact. Stanford's David DeCastro boasts the ability to dominate the trenches for 10-plus seasons. The Kansas City Chiefs' guard situation doesn't inspire confidence, making this pick a potential slam dunk.
The Chiefs want to control the clock with a strong running game, which means they need strong line play. Adding DeCastro to the interior of the line would provide Jamaal Charles plenty of space to run. Scott Pioli was part of the New England Patriots' decision-making process when they selected Logan Mankins in the first round of the 2005 draft.
Alabama's Trent Richardson is also a possibility for the Kansas City Chiefs. He would represent the best player available and give them a great running back tandem.
No. 12 Seattle Seahawks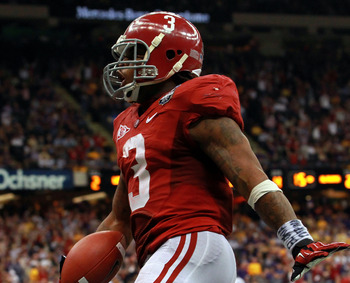 Ronald Martinez/Getty Images
Pick: Trent Richardson, Running Back, Alabama
Marshawn Lynch and "Beast Mode" are fun to watch and have provided the Seattle Seahawks with an offensive spark. However, that type of running style will wear down Lynch and ultimately shorten his career. Alabama's Trent Richardson would provide injury insurance, a complement to Lynch now and a likely replacement down the road.
Most NFL teams employ a two-back system in order to keep the freshest players on the field. The combination of Richardson and Lynch would give Seattle the best running back duo in the NFL. It also would help compensate for the average quarterback play of Tarvaris Jackson.
The Seahawks could shock a lot of people and make a move to land Robert Griffin III. Moving up that far would cost a lot, but also fill a major need.
No. 13 Arizona Cardinals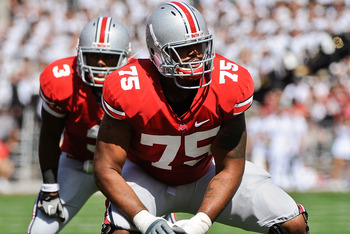 Jamie Sabau/Getty Images
Pick: Mike Adams, Offensive Tackle, Ohio State
Arizona Cardinals quarterbacks were under constant pressure this season, as the offensive line surrendered 54 sacks. The inability to protect the quarterback forced Kevin Kolb out of the lineup with injuries and brought instability to the offense. Ohio State's Mike Adams boasts the skills needed to line up at left tackle and protect the passer.
During his Senior Bowl appearance, Adams showed he can handle top-level pass-rushers such as North Carolina's Quinton Coples and Alabama's Courtney Upshaw. Adams would be an immediate upgrade over current starter Levi Brown, who is a better fit at right tackle.
Outside linebackers such as Upshaw and South Carolina's Melvin Ingram will also get some play here.
No. 14 Dallas Cowboys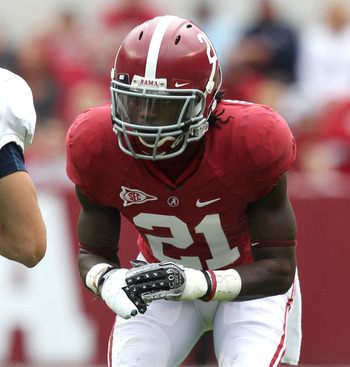 Mike Zarrilli/Getty Images
Pick: Dre Kirkpatrick, Cornerback, Alabama
Landing Alabama's Dre Kirkpatrick is a dream scenario for the Dallas Cowboys. Their defensive secondary was by far the weakest part of their entire roster. Both Terence Newman and Mike Jenkins underperformed and face an uncertain future with the team. Adding Kirkpatrick and cutting ties with Newman and Jenkins would save Dallas some cap room.
Kirkpatrick's long arms and aggressiveness help him fit multiple schemes. His physical style of play makes him a strong bump-and-run defender. Defensive coordinator Rob Ryan could stick Kirkpatrick on an island and expect solid man coverage, which would allow Ryan to dial up some exotic blitz packages.
If Kirkpatrick is off the board, look for the Cowboys to consider North Alabama's Janoris Jenkins.
No. 15 Philadelphia Eagles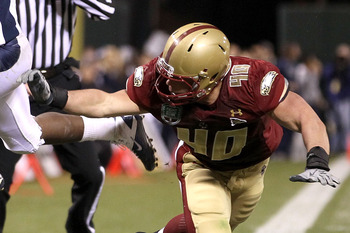 Ezra Shaw/Getty Images
Pick: Luke Kuechly, Linebacker, Boston College
The Philadelphia Eagles head into the offseason knowing they need to address their linebacking corps. This unit received much of the blame for the struggles of the entire defense, especially its inability to stop the run. Boston College's Luke Kuechly would bring consistency and a high football IQ to a defense that is in need of both.
Philadelphia's linebackers are athletic but struggled this past season with tackling and putting themselves in position to make a play. Kuechly possesses excellent instincts and does a great job diagnosing the developing play. These attributes put him in great position to make a play on the football. However, these skills are only useful because of his ability to consistently bring down the ball-carrier.
No. 16 New York Jets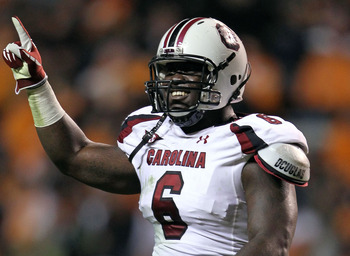 Andy Lyons/Getty Images
Pick: Melvin Ingram, Linebacker, South Carolina
A lot went wrong for the New York Jets this season, but one of the biggest disappointments was their inability to generate a consistent pass rush. Head coach Rex Ryan is known for his ability to design a scheme to get after the quarterback. However, he seemed to lack the type of players needed to accomplish this task. South Carolina's Melvin Ingram knows how to create pressure and can do so from several spots on the field.
Ingram is a versatile player capable of lining up at linebacker, defensive end and defensive tackle. He uses an excellent first step to get into the backfield and pressure the quarterback. Ryan's system knows how to get the most out of this type of player.
No. 17 Cincinnati Bengals (from Oakland)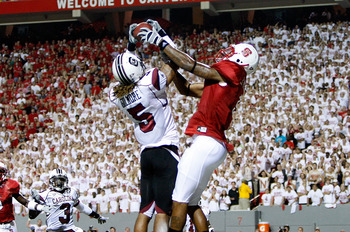 Streeter Lecka/Getty Images
Pick: Stephon Gilmore, Cornerback, South Carolina
South Carolina's Stephon Gilmore has a great feel for the game of football. His toughness and instincts help him provide excellent coverage. Gilmore's willingness to support the run and play bump-and-run coverage gives defensive coordinators plenty of options. The Cincinnati Bengals have a need at the position, thanks to the loss of Johnathan Joseph in free agency.
Adding Gilmore opposite Leon Hall would give the Bengals one of the better young cornerback duos in the league. Opposing offenses would have a tough time executing against such physical and aggressive cornerback play.
The Bengals could be a team to watch come April, as they have the ammo to make a major trade. Don't rule out a possible move up the draft to land Alabama's Trent Richardson.
No. 18 San Diego Chargers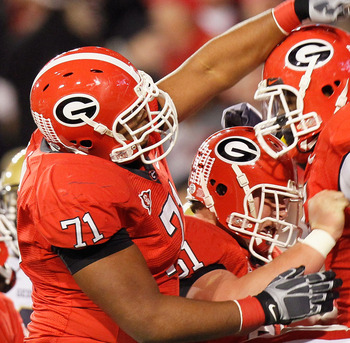 Kevin C. Cox/Getty Images
Pick: Cordy Glenn, Offensive Line, Georgia
The San Diego Chargers offensive line is in a complete state of uncertainty. Marcus McNeill, Kris Dielman and Nick Hardwick all face a realistic possibility of not returning to the team next season. Add these possible losses to the ineffective play of Jeromey Clary, and the Chargers are facing some major problems.
Georgia's Cordy Glenn brings a lot of versatility to the table, boasting the capability of lining up at left tackle, right tackle or guard.
When a team is dealing with multiple holes, finding a player with this type of versatility is a necessity. Quarterback Philip Rivers doesn't do a great job evading the rush and can become rattled when faced with pressure. This last season showed that if he isn't protected, turnovers can become a problem.
No. 19 Chicago Bears
Jonathan Daniel/Getty Images
Pick: Michael Floyd, Wide Receiver, Notre Dame
Anybody who follows the Chicago Bears knows that adding a wide receiver with size has been a heavily discussed topic. Actually, adding any type of receiver capable of filling the No. 1 receiver role would be welcomed. Notre Dame's Michael Floyd would fit both of the above descriptions, as he possesses No. 1 receiver potential and size.
In years past, Jay Cutler let it be known that he enjoys throwing to receivers with size and leaping ability. However, most of his current targets don't top 6'0". Adding a dynamic playmaker such as Floyd has the potential to really increase the effectiveness of the entire offense.
Bigger wideouts use their size and leaping ability to make plays on poorly thrown balls and in turn help prevent interceptions. Matt Forte and the running game would also benefit from a legitimate No. 1 receiver, as it would take that extra defender out of the box.
No. 20 Tennessee Titans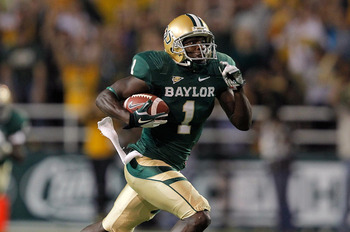 Sarah Glenn/Getty Images
Pick: Kendall Wright, Wide Receiver, Baylor
Look for Baylor's Kendall Wright to make a move up draft boards after the combine. He easily could run one of the fastest times out of the wide receiver class and should have no problem outrunning other top prospects such as Alshon Jeffery and Justin Blackmon. The Tennessee Titans offense needs some explosiveness to help open things for the running game.
Teaming Wright with Kenny Britt would give the Titans a dynamic receiver corps. Tennessee needs to continue adding offensive weapons as it prepares to turn things over to Jake Locker. His chance for success greatly increases with more surrounding playmakers.
No. 21 Cincinnati Bengals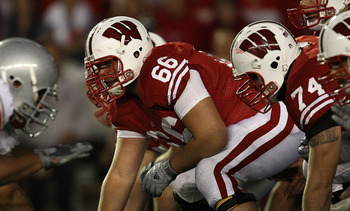 Jonathan Daniel/Getty Images
Pick: Peter Konz, Center, Wisconsin
The interior of the Cincinnati Bengals offensive line needs an infusion of youth and talent. Upgrades could be found for Kyle Cook, Nate Livings or Mike McGlynn. Wisconsin's Peter Konz projects as a center in the NFL, but could potentially play guard.
Konz possesses good size, strength and a high football IQ—all skills needed to be a successful NFL center. While at Wisconsin, he showed the ability to move defenders off the line and make all the necessary on-ball adjustments. His addition would help the development of quarterback Andy Dalton and increase the effectiveness of the running game.
As I mentioned earlier, the Bengals would be wise to explore moving up to acquire Alabama's Trent Richardson. An offense featuring young stars such as Dalton, A.J. Green and Richardson would have the potential to contend for a Super Bowl.
No. 22 Cleveland Browns (from Atlanta)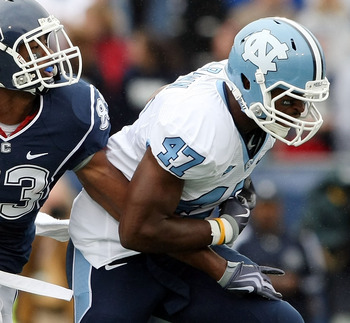 Elsa/Getty Images
Pick: Zach Brown, Linebacker, North Carolina
North Carolina's Zach Brown boasts exceptional quickness and athleticism that allows him to make plays on the football. He's able to make plays from sideline to sideline because of his range and short-area burst. The Cleveland Browns need an upgrade at both outside linebacker spots, where Chris Gocong and Scott Fujita have struggled.
Brown is a four-down player, capable of holding up in coverage and contributing on special teams. His quick first step gives him the potential to develop into a strong pass-rushing threat. Brown's upside increases his overall draft stock and what makes him a steal at this point in the draft.
Cleveland also has needs help along the offensive line and could target someone like Georgia's Cordy Glenn, if he is available.
No. 23 Detroit Lions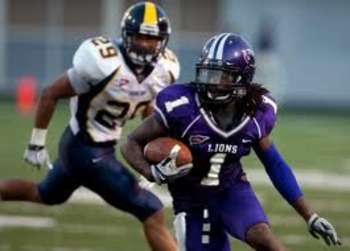 nepatriotsdraft.com
Pick: Janoris Jenkins, Cornerback, North Alabama
North Alabama's Janoris Jenkins boasts top-10 talent but falls to this point because of his off-field issues. Jenkins was removed from the Florida football team after two marijuana-related arrests. Teams tend to frown upon mistakes that become a pattern. However, the Detroit Lions don't shy away from players with character questions.
The Lions will do their homework, and if they feel comfortable, they wouldn't hesitate to add such a talented player. Jenkins would represent both taking the best player available and filling a need. His combination of quickness, instincts and ball skills makes him a very dangerous cover man.
No. 24 Pittsburgh Steelers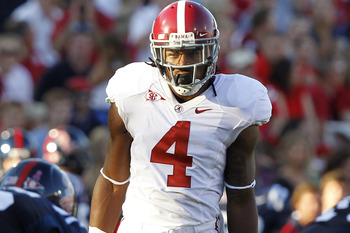 Butch Dill/Getty Images
Pick: Mark Barron, Safety, Alabama
The Pittsburgh Steelers enter the offseason facing a wide range of questions. Figuring out how much their aging defensive stars have left in the tank might be the biggest issue. Casey Hampton, Troy Polamalu, Ryan Clark, James Farrior, James Harrison and Ike Taylor are all over 30 years old. Adding a young safety such as Alabama's Mark Barron could help combat some of the age concerns.
Barron is a multi-talented player who does a good job supporting the run and holding up in coverage. His ability to fill multiple roles will help him see the field early in his career. He could get worked in on nickel packages and eventually replace either Clark or Polamalu.
No. 25 Denver Broncos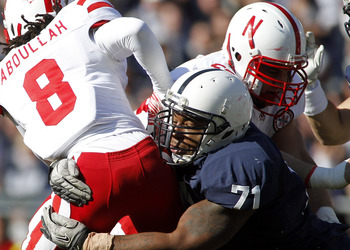 Justin K. Aller/Getty Images
Pick: Devon Still, Defensive Tackle, Penn State
Penn State's Devon Still proved to be one of the most disrupting defenders in all of college football, as evidenced by his 17 tackles for loss and 4.5 sacks. His ability to get upfield and into the backfield really makes it difficult for the offense to execute its game plan. The Denver Broncos defense has great edge-rushers in Von Miller and Elvis Dumervil but lacks a push from the middle.
Adding Still to this defensive front would be a great way to continue to support quarterback Tim Tebow. The key will be keeping the games close enough for him to work his late-game magic. This should be the game plan until he either improves as a passer or is replaced.
Don't rule out a running back at this spot. John Fox has no loyalty to Knowshon Moreno, and Willis McGahee doesn't have many productive years left.
No. 26 Houston Texans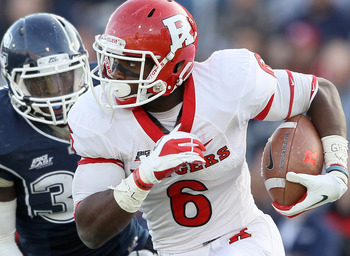 Elsa/Getty Images
Pick: Mohamed Sanu, Wide Receiver, Rutgers
Outside of Andre Johnson, the Houston Texans receiving corps is a very average unit. This problem is exacerbated by the recent string of injuries suffered by Johnson. Adding another playmaker such as Rutgers' Mohamed Sanu would bring more explosiveness to the unit and provide some insurance.
Sanu is a well-rounded player who's capable of lining up on the outside or in the slot. At 6'2", 215 pounds, he brings good size and bulk to the position. He combines that with good quickness and the ability to create in space. Sanu is still developing, with his best football still ahead.
No. 27 New England Patriots (from New Orleans)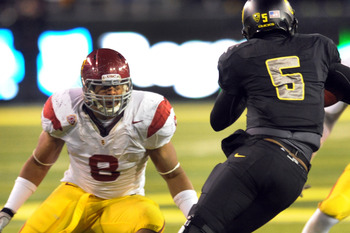 Steve Dykes/Getty Images
Pick: Nick Perry, Defensive End/Linebacker, USC
USC's Nick Perry is one of a handful of prospects who could fit multiple defensive schemes. He's capable of lining up at defensive end in a 4-3 or outside linebacker in a 3-4. This type of versatility is something coach Bill Belichick and the New England Patriots covet.
New England needs to spend this offseason making upgrades on the defensive side of the ball. One of the biggest areas of concern is its inconsistent pass rush. This past season, the Patriots needed vets like Mark Anderson and Andre Carter to provide a spark. However, neither is a long-term pass-rush solution.
No. 28 Green Bay Packers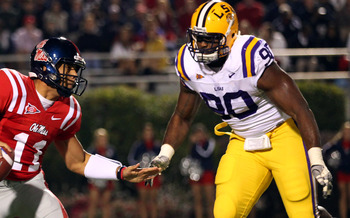 Joe Murphy/Getty Images
Pick: Michael Brockers, Defensive Line, LSU
After this past season's disappointing early playoff departure, the Green Bay Packers will focus on making upgrades on the defensive side of the ball. LSU's Michael Brockers is a young and talented defensive lineman who possesses a ton of upside. He would be a great fit in the Packers' 3-4 system.
Brockers needs more time to develop, but he's talented enough to immediately be an important part of the rotation. He does a good job holding at the point of attack while also boasting the quick burst to create some pressure.
Ideally, Green Bay will be able to add a top-notch pass-rusher to complement Clay Matthews. However, at this point Brockers offers more potential than someone like Oklahoma's Ronnell Lewis.
No. 29 Baltimore Ravens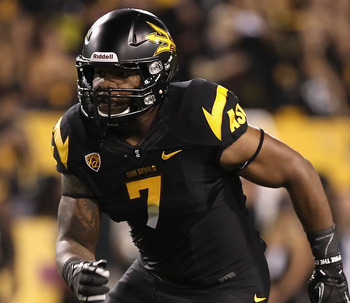 Christian Petersen/Getty Images
Pick: Vontaze Burfict, Linebacker, Arizona State
Arizona State's Vontaze Burfict has top-10 talent but also brings some negative baggage. He really struggled controlling his emotions, which resulted in benching and demotion to the second team. The Baltimore Ravens offer the type of locker-room stability needed to get the most out of Burfict.
He could sit behind Ray Lewis, learn the ins and outs of the position and eventually replace the future Hall of Famer. Most teams don't have the capabilities to handle the immaturity of a young player, but with Lewis and Ed Reed in place, this shouldn't be an issue.
No. 30 San Francisco 49ers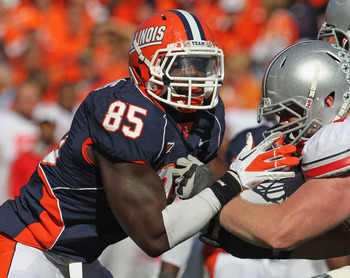 Jonathan Daniel/Getty Images
Pick: Whitney Mercilus, Defensive End/Linebacker, Illinois
The San Francisco 49ers roster is ready to win now but also has young talent at a lot of key positions. This means that they can head into the draft focusing on selecting the top player on their draft board. Illinois' Whitney Mercilus possesses the quick burst needed to create pressure off the end. He could develop into a consistent double-digit sack threat.
A lot of the 49ers' success this season came thanks to the play of the defense. However, it was the emergence of rookie Aldon Smith that really allowed this unit to take the next step. Smith can expect to see much more attention next season. Adding Mercilus would help make teams pay for double-teaming Smith.
No. 31 New England Patriots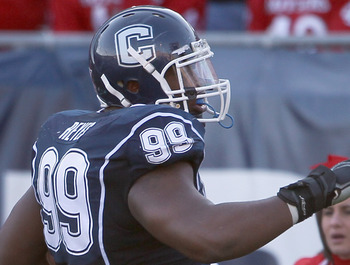 Elsa/Getty Images
Pick: Kendall Reyes, Defensive Line, Connecticut
Connecticut's Kendall Reyes is the type of player who can fit multiple positions in varying alignments. This type of versatility fits what the New England Patriots look for in a defender, especially along the defensive line. Adding Reyes would allow coach Bill Belichick to continue rotating between a 4-3 and a 3-4 scheme.
Reyes plays with a high motor that helps him get the most out of his athletic ability. He does whatever he's asked to do, whether it's occupying blockers or penetrating the pocket. Because he's raw, his best football has yet to be seen.
Don't rule out the addition of a deep-threat wide receiver. Someone like Kendall Wright could be a Patriots target.
No. 32 New York Giants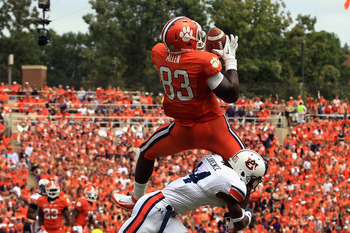 Streeter Lecka/Getty Images
Pick: Dwayne Allen, Tight End, Clemson
The New York Giants are a team that loves to feature playmaking tight ends. They had Jeremy Shockey, Kevin Boss and now Jake Ballard. However, Ballard doesn't possess the speed to consistently attack the defense. He flew under the radar this season, which contributed to his ability to make plays. Clemson's Dwayne Allen has the type of quickness needed to threaten the seam.
Allen is a well-rounded player who made strides as a blocker. New York could gain an advantage by lining up with both Allen and Ballard on the field. They will get a good look how to utilize two tight ends during this weekend's Super Bowl.
If an offensive lineman happens to unexpectedly slip, the Giants would leap at that opportunity.
Keep Reading