SuperBowl 2012: XLVI Reasons the Patriots Will Win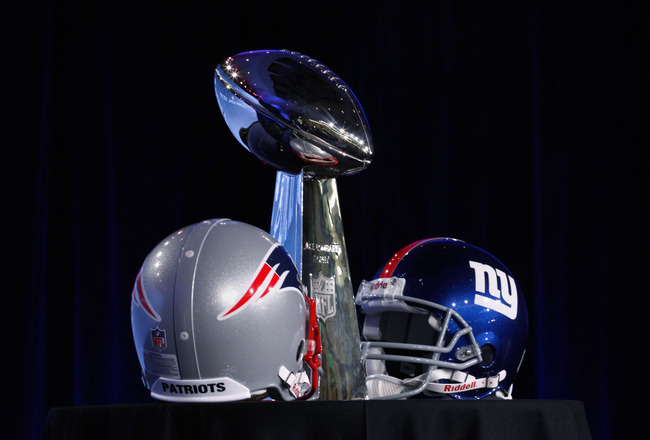 Rob Carr/Getty Images
And then there were two.
After 17 weeks of the regular season, and all the drama that ensued in the playoffs, we've reached the Super Bowl for the 46th time; and we've whittled the contenders down to just two.
The New York Giants will come up against the New England Patriots in the rematch that everyone is talking about—and that we all secretly wanted to happen.
Thirty teams tried and failed this year, and now it's down to just two to determine who will walk away with the Super Bowl XLVI trophy.
Or is it?
Are there two sides that can win this—or just one?
Here are 46 reasons why only one side can win the 46th Super Bowl. And that side is the New England Patriots.
1. The Patriots Have Tom Brady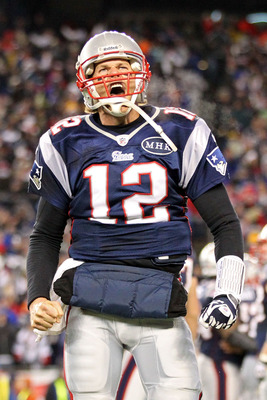 Jim Rogash/Getty Images
Tom Brady is without a doubt one of the most successful quarterbacks in the modern era, if not of all time, and he will certainly be a factor in this one.
His ability to read defenses, make big-time throws and hit his targets with perfection is second to none in the National Football League.
2. The Patriots Have Gronkowski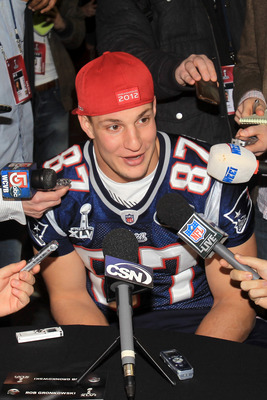 Scott Halleran/Getty Images
If he plays, Gronkowski will be a handful for the Giants to defend.
If he doesn't play, Gronk will still have a huge influence on this team and will simply open the way for Brady to hit any of his other receivers.
And there's nothing quite like using an injured player to inspire a team, which I'm sure has crossed Belichick's mind for his pregame speech.
3. The Giants Run Game Is Appalling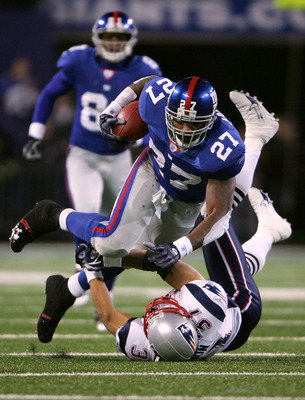 Chris McGrath/Getty Images
I wrote recently about the fact that the Giants running game won't ever win the Super Bowl, and I still stand by it.
Brandon Jacobs couldn't run over my grandmother, and Bradshaw can't be expected to take carry after carry for this team.
If they stick with the run, expect the Patriots to come away with the trophy.
4. Aaron Hernandez Will Dominate the Secondary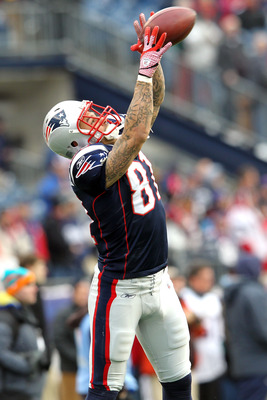 Jim Rogash/Getty Images
No Gronk means more Hernandez, who deserves far more attention than he's received so far this year.
His running abilities as well as his tight end duties have turned him in to one of the hardest players in the league to contain. And, with the many threats that Brady has, the Giants defense can't double team Hernandez every single play.
So expect him to make some big plays. I'd say he goes for over 100 yards and reels in at least one touchdown.
5. The Giants Can't Stop Tight Ends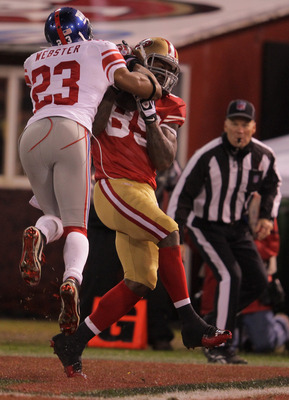 Doug Pensinger/Getty Images
Vernon Davis exposed a critical flaw in the Giants secondary—they can stop every other receiver except the tight end.
And, if Alex Smith can find an open receiver on a long ball with his arm, imagine what Brady can do with his arm and his tight ends—scary thought really.
6. The Belichick-Brady Combination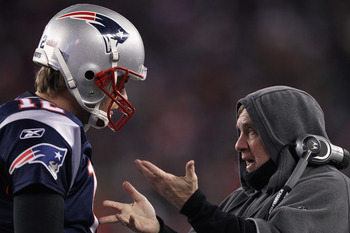 Elsa/Getty Images
Bill Belichick and Tom Brady have already chalked up the most wins between the same coach and quarterback, and their dominance will be seen again in this one.
Expect both of them to have some interesting surprises awaiting New York and for each to leave their mark on this game in a dominant way.
7. This Is Peyton's House, Not Eli's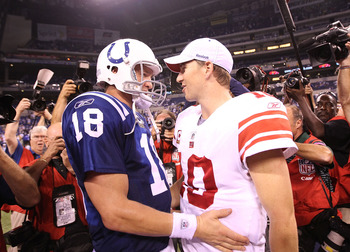 Andy Lyons/Getty Images
I'm going with Peyton being shown on camera over 20 times in this one. This is his house, and his little brother is trying to win a Super Bowl in it.
Don't tell me Eli Manning doesn't feel the pressure. He has never come close to winning in Indy, and, if he really wants to prove himself, he's going to have to do it in a place that he will be far from comfortable in.
Good luck with that.
8. Wes Welker Cannot Be Contained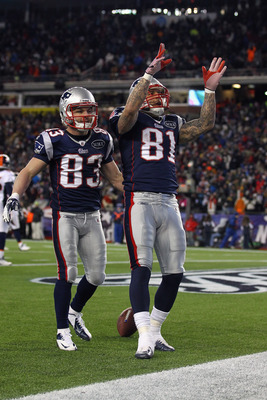 Al Bello/Getty Images
So you try and stop Gronkowski and Hernandez?
That's fine; Brady will just hit Wes Welker, who has become the go-to guy for Brady in recent seasons.
Look for him to be an option on the deep ball and for him to drive Coughlin insane by converting some huge third-down plays.
9. The Win over Baltimore Showed That Offense Prevails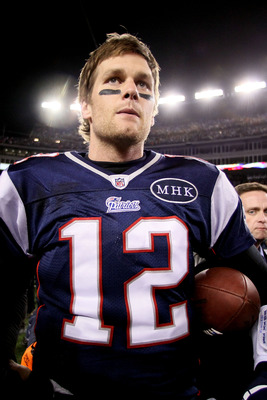 Elsa/Getty Images
Brady may have had an "off game" by his standards against Baltimore, but in a match that was dubbed by many as an offense vs. defense showdown, the Patriots proved that offense wins.
And in this one, they have the better offense. Which either means that the Giants offense is going to have to play spectacularly to keep up or this one could get personal.
Which I'm pretty sure it already is.
10. They're the Favorites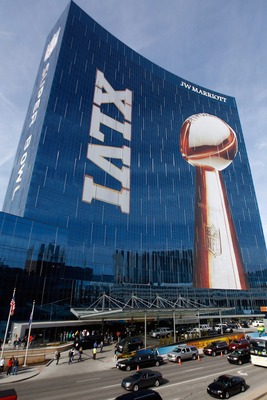 Chris Graythen/Getty Images
New England loves being the favorites.
Brady loves being the favorite.
They're the kids at school that thought they were going to win the 100m and usually did. They knew they were good and they knew you weren't good enough.
Expect more of that from the Patriots come Sunday night.
11. BenJarvus Green-Ellis Could Have a Big Day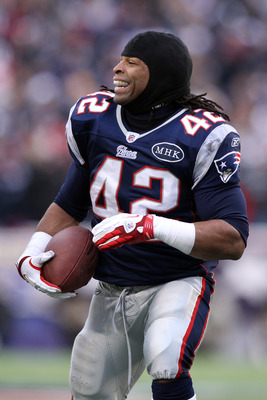 Elsa/Getty Images
With the plethora of receivers Brady already has at his disposal, BenJarvus Green-Ellis could have a monster day both running and receiving the football.
Not only will he be efficient in moving the chains, he gives Brady an option underneath should the coverage be sound and also acts as a block should the Giants line cause havoc.
12. Eli Manning Can Be Spectacular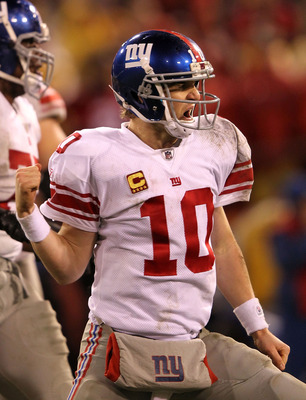 Jamie Squire/Getty Images
That's spectacularly good—or spectacularly poor.
I've haven't seen an average performance from Manning at all lately, which means that he's either going to be brilliant again in this one, or he won't find his feet at all.
That remains to still be seen.
13. The Giants Only Threat Is Victor Cruz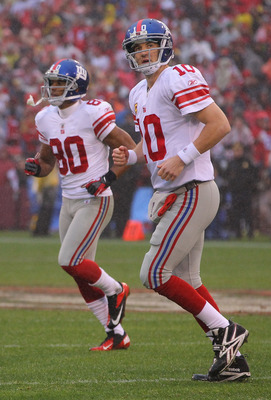 Doug Pensinger/Getty Images
After watching the Niners defense suffocate the Giants passing attack (but for one man), the Patriots will be looking to blanket Victor Cruz, Manning's go-to guy.
He made several huge plays in the NFC Championship, and, if Cruz is covered well, Manning will be forced to think again and make an even greater throw.
Good luck with that Eli.
14. The Patriots Have Bigger Weapons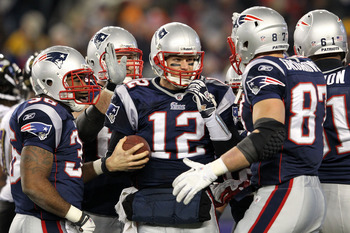 Jim Rogash/Getty Images
When you're going to war, you always take the guy that has either the bigger weapons or more weapons.
The New England Patriots have both.
15. New England Won't Allow a Bonehead Play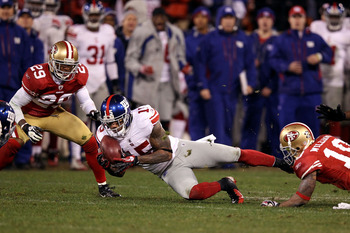 Ezra Shaw/Getty Images
The Giants won the NFC Championship courtesy of two bonehead plays by the 49ers special teams—gifting them great field position off two punting errors.
The Patriots won't do that in this one; they're too disciplined and organized to just hand New York a win like that.
If they want it, they'll have to earn it the hard way.
16. Vince Wilfork Will Dominate the Line of Scrimmage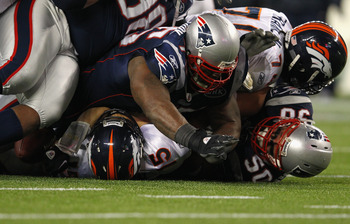 Al Bello/Getty Images
If you can pressure the quarterback well enough, you usually win the game.
With Jason Pierre-Paul for the Giants looking to be a handful, watch for the ever improving Vince Wilfork to dominate the line of scrimmage and give his team a boost up front.
17. They've Been Consistently Better Throughout the Season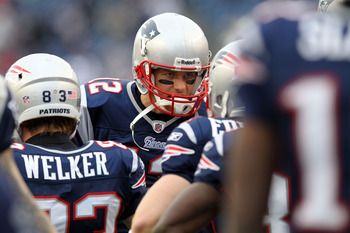 Jim Rogash/Getty Images
The Giants only just limped into the playoffs after winning in the final round. Two weeks before that, they got smacked by up Rex Grossman's Washington Redskins.
New England, on the other hand, has been far more clinical this season. They never looked in danger of losing their division, or the conference title either really, and have proven throughout the year that they are the side to fear.
18. Eli Manning Has All the Pressure on Him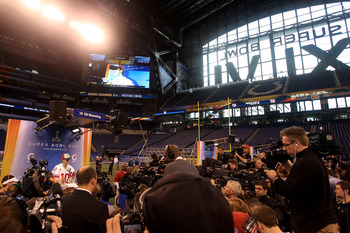 Scott Halleran/Getty Images
It's all on Eli really.
He will either win it or lose it for the Giants, kind of like Tim Tebow really when you think about it.
Looked how that turned out when he played he Patriots.
19. The Patriots Will Heap Even More Pressure on Manning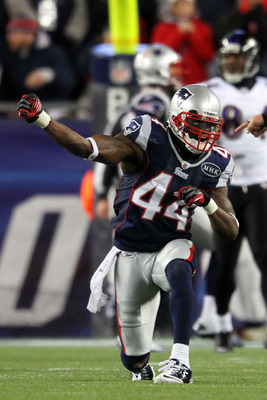 Jim Rogash/Getty Images
And if there wasn't enough pressure on Manning to begin with, expect the Patriots defensive line to blitz him early and blitz him hard—enough to ruffle a few feathers.
How many feathers they actually can rip off will probably make or break for the Giants.
20. Quick Routes Will Undo the Giants Secondary
Elsa/Getty Images
Quick slanting routes could kill the Giants, especially when you have the sure hands of Hernandez, Welker and Gronkowski.
The threat for the deep strike is always on, so the safeties can't get too high for fear of being exposed long. That will play right into Brady's hands, as he consistently moves the chain and frustrates the defense all evening.
21. Players Like Danny Woodhead Will Step Up for the Pats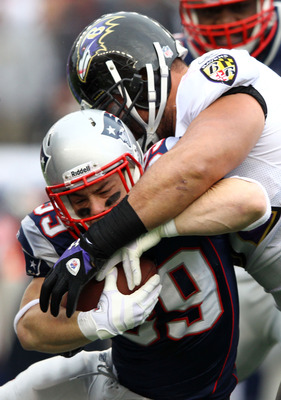 Al Bello/Getty Images
It's the Super Bowl and players make themselves heroes by their strong, unexpected performances.
And Danny Woodhead, after almost fumbling Baltimore back into the match, could be one of those guys, after he reels off a big return and puts Brady in excellent field position.
It only takes one big play, and Woodhead could just be the unsung hero to do it.
22. David Tyree Isn't Playing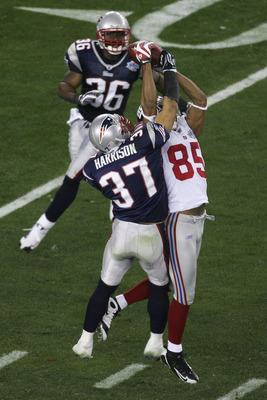 Jim McIsaac/Getty Images
I guess that helps a little?
23. This Is a New-Look Patriots Defense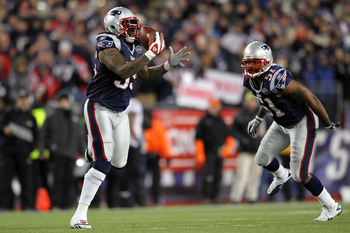 Jim Rogash/Getty Images
Throughout the year, the Patriots defense was woeful. It really was.
But suddenly, come the playoffs, they have turned it around in spectacular form. They're allowing minimal points and are making huge plays on the football and receivers.
They've also only allowed 34 first downs in the entire postseason, which is significantly fewer than the Giants have.
24. New England's Defense Is Finally Healthy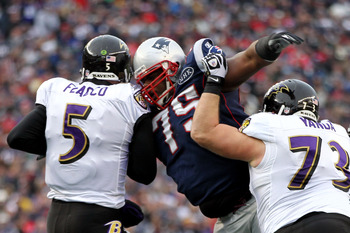 Jim Rogash/Getty Images
It does help that the defense is finally healthy.
Crippled by injury throughout the regular season, the Pats at full strength are proving that they are also a force to be reckoned with defensively.
It's amazing what happens when you don't have wide receivers playing at safety.
25. Boston Beats New York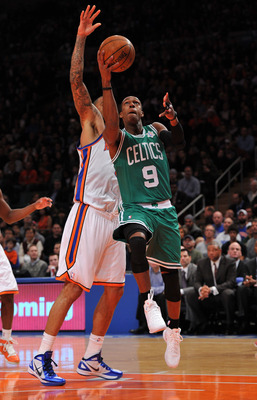 Christopher Pasatieri/Getty Images
Looking at the bigger picture for a minute, Boston currently has the winning edge over New York in the sporting arena.
Out of the four major codes—football, baseball, ice hockey and backetball—the most recent encounter between a Boston side and a New York side was yesterday in the basketball.
The Celtics beat the Knicks by two.
I'm pretty sure that's science.
26. Brady vs. Manning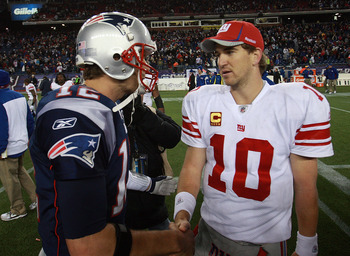 Jim Rogash/Getty Images
Look at the postseason numbers, for all those fans that try and excuse Manning's regular season stats:
The Pats score 34 points per game compared to the Giants' 27.
The New England receivers get 6.4 yards per catch compared to 5.6 for New York receivers.
Brady has a 68.6 percent completion compared to Manning's 61.8 percent.
You choose: more passing yards or more rushing yards?
27. The Patriots Will Remember Their Regular Season Loss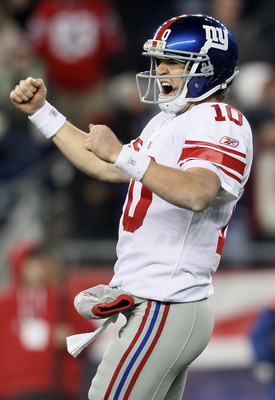 Elsa/Getty Images
Tell me it didn't turn when Manning threw that touchdown in the final seconds to beat the Patriots and TV crews everywhere started showing that Super Bowl pass again?
Don't think they've forgotten that loss earlier in the year. Manning beat Brady at his own game once; it won't be happening again.
28. Eli Manning Doesn't Have the Same Receiving Depth as Brady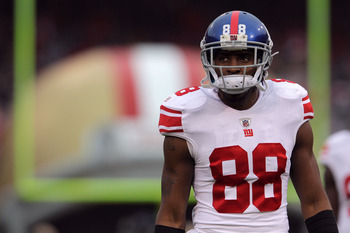 Doug Pensinger/Getty Images
We've already seen Brady's billion receiving options. Manning has Victor Cruz and Hakeem Nicks.
I like Mario Manningham, but he isn't getting as many throws, and it seems like Manning is set on hitting one of those two guys. Jake Ballard simply isn't in the same class as the other tight ends in this game, so expect him to keep quiet as well.
The depth in receivers is substantial and will be a huge reason for the Patriots' success.
29. Tom Brady Has Nothing to Prove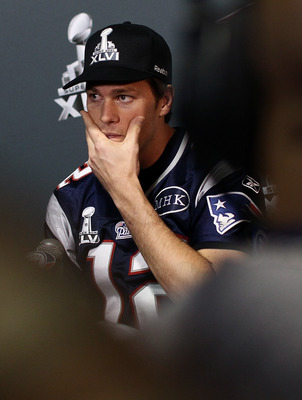 Win McNamee/Getty Images
He's won three Super Bowls. He's right in the hunt for league MVP. Again.
He has already proven that he is brilliant and one of the best quarterbacks of all time.
People have already starting using his name and his hero Joe Montana's name in the same sentence.
Unlike Manning, Brady doesn't have anything to prove. He just gets to go out there and do what he does best, which is win football games.
30. The Giants May Have Already Peaked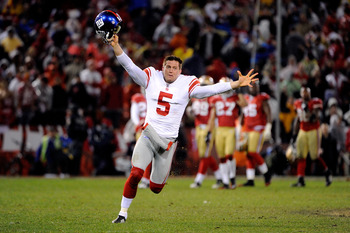 Thearon W. Henderson/Getty Images
Look at this photo.
They won the NFC Championship off of two incredible San Francisco mistakes.
They landed a 30-odd yard chip shot.
You'd have thought he won the world series.
And after smacking up the Falcons, destroying the Packers and then coming from behind to beat the Niners, the Giants may have already played their Super Bowl two or three weeks ago.
This is a premature celebration, if you ask me. Somebody should see a doctor.
31. Eli Manning Has a Big Mouth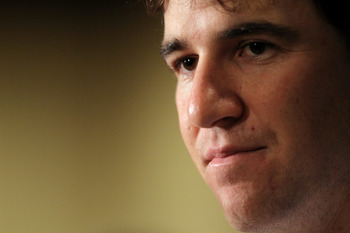 Andy Lyons/Getty Images
Elite quarterbacks become elite when people say they're elite.
Elite quarterbacks prove they're elite by winning Super Bowls.
They don't become elite just because they say they're elite.
That one statement may come back to kill Manning. Now he has everything to prove and nothing to gain except the solace that he was right.
Expect an "elite quarterback" media backlash on him if he loses.
32. Consistency Points Towards New England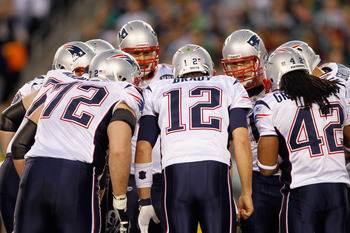 Rich Schultz/Getty Images
They have been more consistent throughout the year. They didn't get flogged by Washington, and they didn't almost cough up divisional titles to inconsistent players like Tony Romo.
Sure the Giants have won a few in a row.
But, for every one that the Giants have won, the Patriots have also won. And they've won a few more as well.
33. Brady Has the Greater Touchdown Ability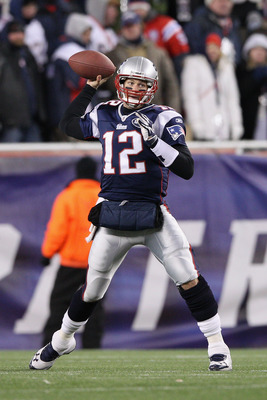 Elsa/Getty Images
Whether this game is high scoring or not, it will be a touchdown shootout at times.
Whichever quarterback can lead that drive and throw that touchdown will win themselves a championship.
And if you're looking at players that can lead drives that result in touchdowns, Brady is far superior to Eli Manning, as he will prove again Sunday.
34. Losing the Turnover Battle Won't Lose the Game for the Patriots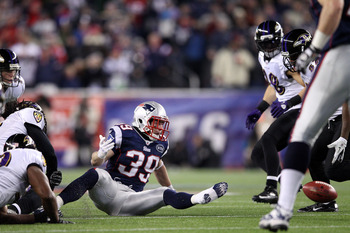 Elsa/Getty Images
The Giants beat the Niners because they got some lucky turnovers.
The Patriots lost the turnover battle and still beat the Baltimore Ravens, who have been almost impossible to knock off in tight, hard-fought matches.
Even if both sides do come into this one with a turnover ratio that screams Giants, that won't necessarily scream victory.
35. The Numbers Just Add Up: Example I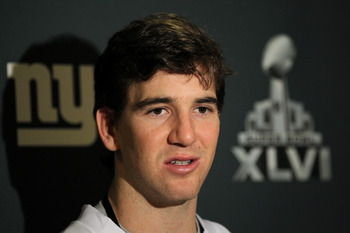 Andy Lyons/Getty Images
This is more science. Trust me.
Super Bowl XLVI—number 46 right?
Eli Manning will never be as good as Peyton, as we shall see Sunday.
Forty-six characters.
36. The Numbers Just Add Up: Example II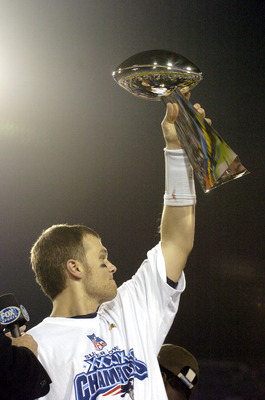 A. Messerschmidt/Getty Images
That wasn't scientific enough for you?
Tom Brady will win another Super Bowl title in Indy 2012.
Forty-six characters.

37. Brady Won't Give Up Cheap Field Position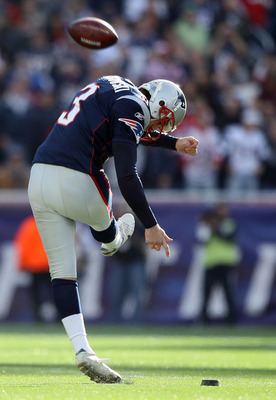 Elsa/Getty Images
Getting back to some more serious stuff: Tom Brady won't give up cheap field position to the Giants like Smith did with his inability to convert third down all game.
They won't give up the interceptions or fumbles that would play in to the Giants' hands.
They're going to have to earn every yard they get.
38. The Patriots Will Come out All Guns Blazing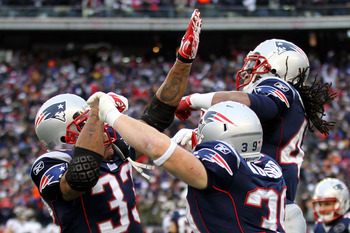 Jim Rogash/Getty Images
Try and contain this side early.
The last time these two met, it was 0-0 heading into halftime.
Yeah, that won't happen here.
If you can't stick with the Patriots early, you won't be able to come from behind to steal a victory.
Well you can try, you'll just be too far behind—just ask Baltimore.
39. Momma Kraft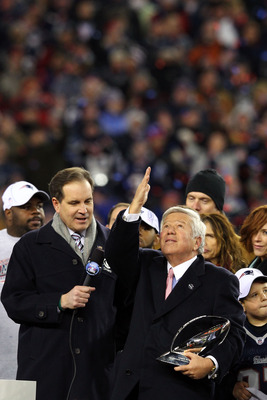 Al Bello/Getty Images
This season is all about Myra Kraft, who, after losing her battle with cancer, is in the hearts and minds of every Patriot player.
They know just know great she and husband Robert Kraft have been to this club, and they will say thank you in the ultimate way by taking another Super Bowl title home to New England.
MHK.
40. Eli Manning Can't Move on Easily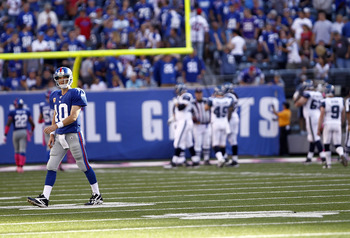 Jeff Zelevansky/Getty Images
Players make mistakes all the time, and both Tom Brady and Eli Manning will make mistakes throughout the course of the match.
We're not going to see 158.3 people.
But the next time they have the ball after a mistake, who is more likely to put it behind them and move forward?
Brady and his discipline? Or Eli and that scrunched up face?
Again, you choose.
41. Manning Doesn't Have Enough Luck Left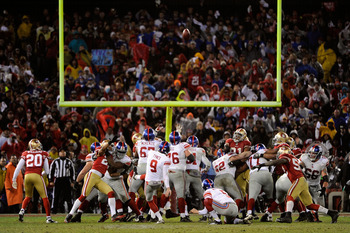 Thearon W. Henderson/Getty Images
There are so many puns in that headline that this could be an article for the Indianapolis Colts.
But all jokes aside, you do need luck to win football games at times.
Maybe the footballing gods used up all of the Giants' reserves to get them over the line in San Francisco.
After all, I count two bonehead plays to one.
Advantage New England.
42. Brady Is Going for No. Four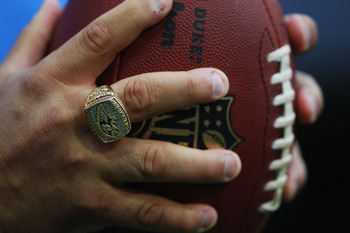 Warren Little/Getty Images
How many Super Bowl titles Eli?
Oh, right.
43. Pressure on Tom Coughlin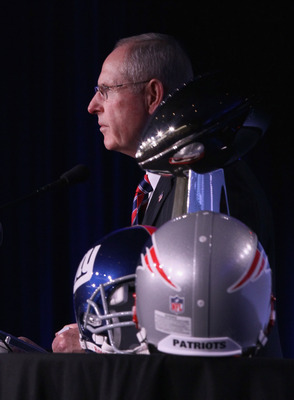 Elsa/Getty Images
This was a guy that was all but sacked during the regular season until the Giants turned it around and made a playoff run.
And whilst his job is safe for now, that pressure won't have gone far.
Like Brady, Belichick has nothing to prove—he will coach the Patriots as long as he wants.
Tom Coughlin, on the other hand, has a little more heat directed at him.
44. Clutch Factor Points to Brady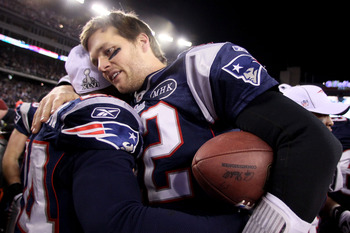 Elsa/Getty Images
Down the stretch, for all the hype around Manning this year, you take Brady.
He has proven he is better down the stretch and can win this football game for the Patriots.
That's nothing off Manning—not in this slide anyway. He is playing great football—just not great enough to win a championship.
45. Revenge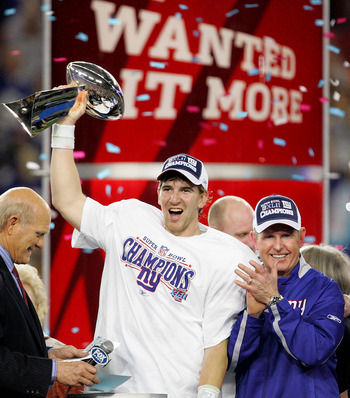 Streeter Lecka/Getty Images
If this photo hasn't had darts thrown through it all week, I'd be amazed.
Not every Patriots player was there when Manning stole their championship, but you can bet that the Patriots players that were there haven't forgotten.
Revenge is a dish best served cold—and best served when you're winning by 50.
46. I've Got Money on Them...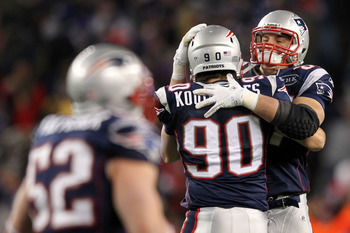 Jim Rogash/Getty Images
At the end of the day, they have to win because that's where my money's going, and I'm never wrong.
Okay, so I'm wrong sometimes, but not here: Patriots to win 24-20 and Green-Ellis to score the first touchdown.
The Patriots will win, and they will do so for all of the XLVI reasons mentioned above.
I mean, after all, this is Super Bowl XLVI, and it will be heading back to New England.
Read more articles by Dan here or follow him on Twitter: @dantalintyre
Keep Reading

New England Patriots: Like this team?