NFL Playoff Picks: 10 Crazy Prop Bets for Each Potential Super Bowl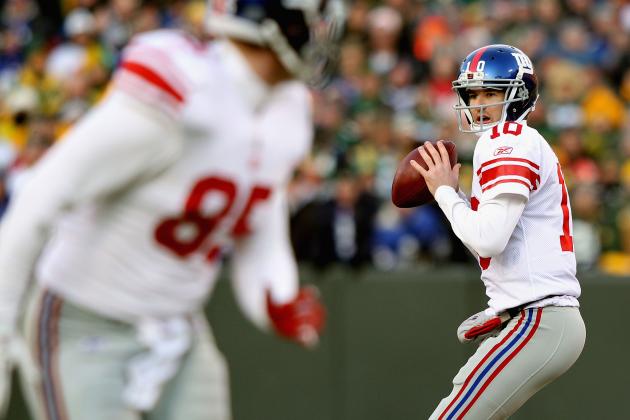 Jamie Squire/Getty Images

Break out your checkbook my friends because it's time for some big-time NFL prop bets!
As gambling fans, sometimes simple spreads and over-under's are too cut and dry for our liking and we need something to spice up our viewership a little bit.
That's what we have prop bets for, and as you will see throughout this slideshow, you can essentially bet on anything when it comes to the Super Bowl.
We've taken all four potential Super Bowl match-ups and provided 10 potential prop bets for each game.
Check them out and let me know where you'd place your money in the comments section!
Begin Slideshow

»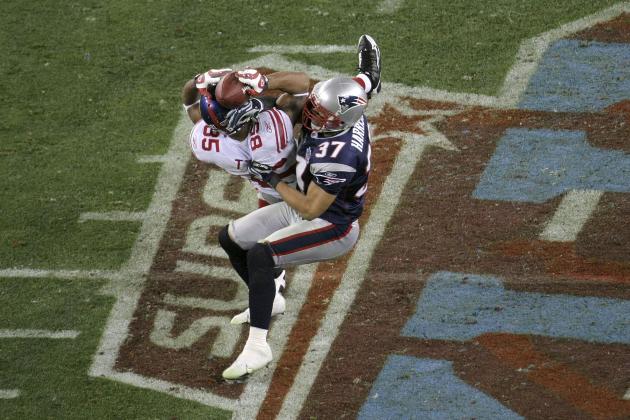 Doug Pensinger/Getty Images

The Bets:
Over/Under 3.5 on the amount of David Tyree "The Catch" replays shown throughout telecast
-You know it's going to be brought up, shown, and then dissected as if we've never seen it before. Question is: just how many times?
Over/Under 315.5 passing yards for the Giants' Eli Manning
-Patriots defense is prone to giving up bunches of yards no matter who they play; will Eli answer the call?
Over/Under 5.5 total sacks between both teams
-Giants were the league's third-best sack team in the regular season while the Patriots got after Tim Tebow for five sacks of their own in the divisional round.
Which team scores the game's first points (New England -120, New York -105)
-Giants' scored first nine times this season including once in the playoffs and in the Patriots-Giants first matchup of the season.
Will the first points of the game come from a touchdown or a field goal/safety? (TD -150, FG/SFTY +125)
-Two pass-heavy offenses, could be an interesting take.
Over/Under 6.5 mentions of the Patriots' 2007 season
-C'mon, they went 18-0 until they lost to the Giants in the Super Bowl, you know it's going to keep coming up.
Over/Under 1.5 sacks for the Giants' Jason Pierre-Paul
-This guy is a freak. How many times do you think he gets in on Tom Brady?
Over/Under .5 smiles from Bill Belichick during the game
-Love this prop because it all depends on if the camera's catch him.
Over/Under 3.5 touchdown passes from Patriots' Tom Brady
-After throwing six against the Broncos I almost feel like this is too low.
Which coach will NBC show more throughout the course of the game (Bill Belichick -125, Tom Coughlin -105)
-Two high profile coaches in the biggest game of the year, the number is bound to be close to even.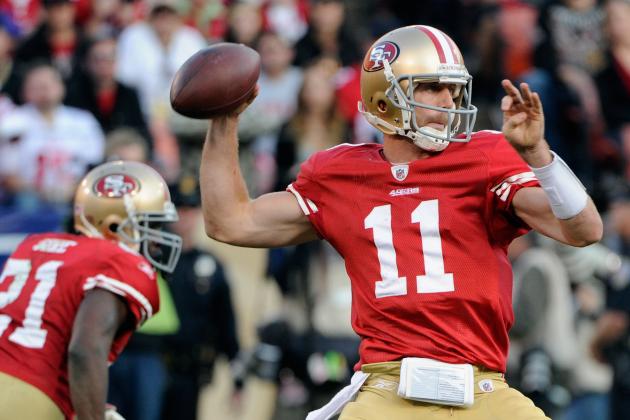 Thearon W. Henderson/Getty Images

The Bets:
Over/Under 4.5 combined sacks from the San Francisco 49ers' Justin Smith and Aldon Smith.
-I like to call these guys S-Squared for Smith-Smith and also Smith-Squared. Jokes aside, these two are monsters.
Over/Under 8.5 tears shed from 49ers tight end Vernon Davis.
-Vernon Davis pulled a Terrell Owens after his catch against the New Orleans Saints, can't wait to see what he brings if the 49ers win the Super Bowl.
Over/Under 260.5 yards thrown by quarterback Alex Smith.
-Alex Smith isn't known for throwing for a lot of yards but the Patriots defense is certainly known for giving them up.
Which team scores the game's first points (New England -115, San Francisco -105).
-New England seems like the easy pick here but that 49er defense is stingy and could create something early.
Over/Under 1.5 balls spiked by New England tight end Rob Gronkowski.
-Obviously Gronk only spikes balls when he scores touchdowns so if you bet this one think of it that way.
Jersey number of first player from either team to score a touchdown (Odd number -115, Even number -115).
-This one is an easy and fun way to try and lose your money. Hint: Gronkowski, Wes Welker and Frank Gore all wear odd numbers!
Over/Under 1.5 different times that will NBC mention Peyton Manning and the Colts during their telecast.
-The game is being played in Lucas Oil Stadium, you know it's going to happen.
Which quarterback throws more touchdown passes? (Tom Brady -150, Alex Smith +125).
-Patriots pass defense is bad, 49ers pass defense is good, this one could be a lot closer than you initially think.
Over/Under 2.5 field goals made by San Francisco kicker David Akers.
-David Akers set NFL records for field goals attempted and made during the regular season.
What color will the Gatorade be that gets dumped on the Super Bowl winning head coach's head? (Red -105, Yellow -105, Blue -105, Orange -105)
-Someone is going to get "Gatorade-ed", instead of predicting who, try predicting the color of the dump-drank.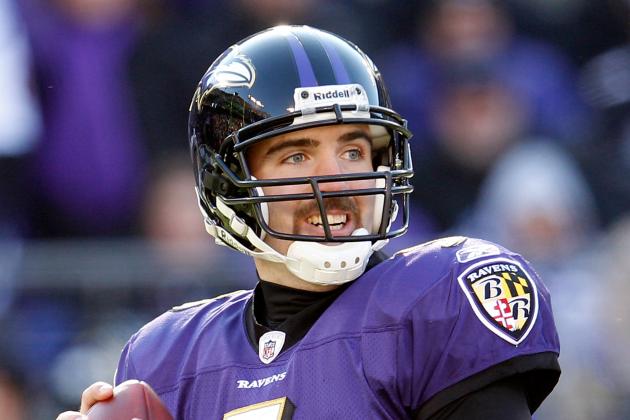 Rob Carr/Getty Images

The Bets:
Over/Under 1.5 time Cris Collinsworth mentions Ravens' head coach John Harbaugh's brother, Jim.
-Clearly, Jim is the hotter topic of conversation because of his miraculous season with San Francisco.
Over/Under 3.5 replay segments of the Giants-Ravens clash in Super Bowl in 2001.
-The Ravens manhandled the Giants back in Super Bowl XXXV by the score of 31-7.
Over/Under 7.5 total sacks combined.
-Both of these defenses know how to get after the quarterback. Terrell Suggs. Jason Pierre-Paul. Enough said.
Over/Under 2.5 direct screen shots of Joe Flacco's hideous Fu Manchu mustache.
-Do I need to reiterate the fact that I think that is the ugliest thing I've seen in my short lifetime?
Which Giants' receiver will have more receptions at game's end? (Victor Cruz -105, Hakeem Nicks -115).
-Interesting choice here but Nicks is clearly the hottest receiver in the playoffs.
Over/Under 2.5 mentions of how Tom Coughlin's job was once in jeopardy.
-Once upon a time we talked about Tom Coughlin being on the "seriously flaming hot" seat. Don't really hear it anymore. I wonder why?
Over/Under 3.5 mentions about Eli Manning's Super Bowl wins in comparison to his brother, Peyton.
-Peyton Manning has one Super Bowl win. Eli Manning has one Super Bowl win. Eli wins and he has two. Archie would probably still love Peyton more.
Over/Under 5.5 times Cris Collinsworth regards Ray Rice as the best running back in the league.
-Collinsworth has a tendency to talk up who ever is the hottest player in the game to "best ever" status.
Over/Under 10.5 times Cris Collinsworth annoys me throughout the telecast.
-OK, you can't really bet on this, but he's one of the worst commentators in the game today and I think it's a sin to allow him to commentate a Super Bowl. Luckily he has the ageless wonder, Al Michaels by his side.
Which team wins the coin toss? (Giants -105, Ravens -105).
-One of the all time classic prop bets. This is literally is as 50/50 as it gets.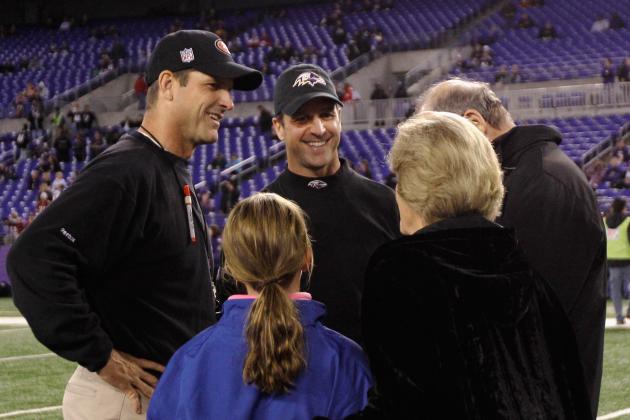 Rob Carr/Getty Images

The Bets:
Over/Under 4.5 different Harbaugh family interviews shown during NBC's telecast.
-This one is literally going to be like a Harbaugh family reunion.
Over/Under 5.5 total field goals made by both kickers.
-David Akers is the best kicker in the game this year and odds are the the Ravens will be stymied when they near the red zone.
Over/Under 32.5 yards for the longest touchdown scored in the game.
-Even this may be a stretch but you still have to keep the people honest.
Over/Under 8.5 screen shots of the Harbaugh family sitting in the stands.
-You know that Mama and Papa Harbaugh and the wives and children will all be there. Maybe the most interesting bet would be to guess which team the parents will be rooting for.
Over/Under 10.5 times the phrase "Harbaugh Bowl" is said by anybody throughout the game.
-It was said a lot during the two teams first game this season. Who knows how much it may blow up if they both reach a Super Bowl.
Over/Under 149.5 total rushing yards by both teams combined.
-The two teams ranked one and two in rushing yards allowed during the regular season. 75 yards a piece is not going to be a walk in the park.
Which pass rusher will record more sacks? (Terrell Suggs -115, Aldon Smith -105).
-The veteran from Ball So Hard University or the Mizzou Maniac (my own creation). The two are best in show at what they do.
Over/Under 1 minute 44 seconds for it to take Kelly Clarkson to sing the National Anthem before the game.
-Last year it took Christina Aguilera 1:54 to complete the nation's song, but we all know how Christina loves to stretch things out longer than they need be (her career for one). Oh, she likes to mess up too.
Over/Under 2.5 interceptions for Ravens' quarterback Joe Flacco.
-Joe Flacco loves to throw interceptions. He likes to throw them even more on the biggest of stages.
Odds on whether or not the 49ers give a rushing touchdown. (Yes +115, No -135).
-The 49ers defense only gave up three rushing touchdowns all season. Can Ray Rice or Ricky Williams find a way to sneak one in against the Willis Wall?