Cleveland Browns Quarterback Situation: Is Drafting Robert Griffin III Smart?
January 19, 2012

Ronald Martinez/Getty Images
"The NFL is a passing league" is a phrase that has been used about 178,493,334 times this past season. ESPN even had their "Year of the QB" series in 2011.
In Cleveland, we know this very well because we haven't had a reliable QB since returning to the league in 1999 and consequently haven't won. I feel fairly confident in saying that the Browns will never win as long as the quarterback situation is unsettled.
There are a few options going into 2012 that I am sure the Browns will address to nail down that spot.
The first is to continue to build around Colt McCoy. Now, I like McCoy a lot as a person. I think he has all the intangibles that you look for in a leader. The question with Colt is never about his heart and drive to be great.
The question is does he have the tools to be a great NFL quarterback? He's a fairly accurate passer and makes pretty good decisions most of the time. He does not have a big arm nor does he possess the zip on his passes that is a trademark of Drew Brees, Aaron Rodgers and Tom Brady.
But the biggest problem in evaluating Colt over his two-and-a-half or so years as a starter is that he has not had great receivers to throw to. This is really the only defense that Colt-backers have to give why he should be built around. That's not exactly the best reason to give a guy another shot.
I do not think that McCoy has what it takes to ultimately be the quarterback of a team that wins a Super Bowl. But I'm also not willing to give up on him yet.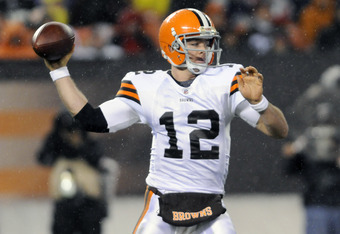 Jason Miller/Getty Images
However, I definitely think another viable starting option should be brought in to compete for the job.
I'm just going to say really quick that I don't think Seneca Wallace is that guy. He's a career backup, and in his time as a starter, he's shown me nothing to make me think he's better than Colt.
The sexy name out there in free agency is Matt Flynn of the Green Bay Packers. To me, he's really the only guy I'd ever consider in free agency. None of the other names like Jason Campbell or Kyle Orton make much sense for this team in building for the future.
Despite the fact that Flynn threw for a jaw-dropping six touchdowns and 480 yards against the Lions in Week 17, I don't think he's that much better than McCoy, if at all.
If Colt McCoy were to be inserted into that game, he could have done just what Flynn did with those receivers—that play-calling (44 pass attempts) and that shoddy Detroit defense.
Now I live in Wisconsin and you know what Packers fans' response to that game was? It was some combination of "Wow, our offense would still be great with anybody at QB" and "That's too bad because now we'll probably lose our back-up QB because some team will pay him thinking that he can be a starter."
No one here I know thinks that he can be a reliable starting quarterback. They all like him a lot as a backup. But they laugh at the thought of another team signing him to be their starter.
That tells me a lot, and it should be a caution for anybody wanting to jump on the Matt Flynn bandwagon.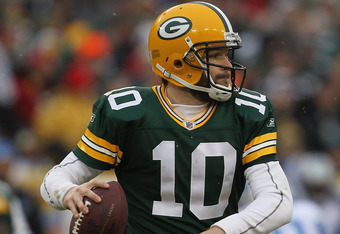 Jonathan Daniel/Getty Images
The other option then for bringing in a QB is through the draft where the biggest name is without a doubt the Heisman Trophy winner from Baylor—Robert Griffin III. (That is of course ruling out trading a million picks for Andrew Luck)
The biggest red flag with Griffin is that he's coming out of a spread offense in college, and some people worry about him being able to adjust to the pro game. I know Griffin isn't Cam Newton, but it certainly didn't slow him down much in his rookie season. Drew Brees also played in a spread offense in college.
I think the biggest question that needs to be asked is "does he have the skills and decision-making abilities to be a great pro QB?"
I do not profess to be an expert on the game of football or evaluating talent. I'm not breaking down each of Griffin's games play-by-play.
But I think that he has all the ability in the world to be a great quarterback. And I'm not alone as there's a growing swell of former coaches and players-turned analysts that say that Griffin might actually be better than Luck. That should make everyone stand up and take notice.
The biggest complaints that I've heard so far from Browns fans who do not want Griffin are the following:
"He won't be able to adapt to the pro game."
"We have so many other needs we need to address, we can get a QB later."
"There have been so many first round QB busts, it's just not worth the risk."
Let's address that third question. Have there really been so many first-round busts with quarterbacks that it's too big of a risk to use that high of a pick on that position?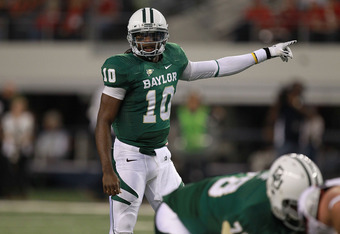 Ronald Martinez/Getty Images
I did a bunch of research on this, and here's what I found out...
I started by looking back at the past 20 Super Bowl winners. Out of those 20 teams, there are 14 quarterbacks as some have won multiple championships.
Out of that total 14, this is the breakdown as far as the round they were drafted:
First: eight
Second: two (One note here is that Drew Brees was taken with the 32nd pick of the draft which is now in the first round but was the first selection of the second round in 2001. While some people like to call him a first rounder I still stuck him in the second.)
Sixth: two
Ninth: one
Undrafted: one
So clearly since no third-round quarterbacks have ever won the Super Bowl then we should give up on Colt right now.
Just kidding.
What's clear is that the greatest majority of winners were first-round draft picks, as it should be since those players are supposed to be the best.
I still wanted more data so I analyzed the 15 drafts from 1995-2009 and picked out which players in those years were busts and which ones were hits. I did not look at the past two drafts since those players still need more time to be properly evaluated.
In that time span, there were a total of 36 quarterbacks taken in the first round and 145 taken in the subsequent rounds.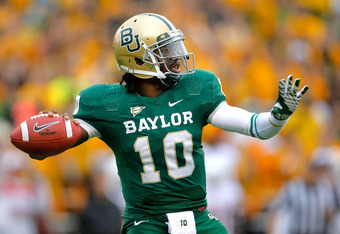 Sarah Glenn/Getty Images
I looked at every player and using the most unscientific process ever (my general opinion of each player) picked out which first-rounders were busts and which late-round players ended up being serviceable.
Of the 36 first rounders, 14 were busts. These guys included the likes of Tim Couch, Ryan Leaf, Byron Leftwich and Matt Leinart. (I will include the full list in the comment section.)
What I was looking for here were guys who basically were not capable of nailing down a starting role in the NFL. If I thought a guy was on the fence (like Leftwich), I included him since I was trying to prove that first round QB's were not worth the risk.
So on a hit rate with first-rounders in that 15-year span there were 22 out of 36 that I deemed "good" which is a 61 percent success rate.
As with the first-round group, I also included "fringe" guys into my list of "hits" on second round and later picks.
My list includes 18 players ranging from the likes of Matt Flynn, Kevin Kolb and Tarvarvis Jackson to more accomplished guys like Tom Brady, Drew Brees and Matt Hasselbeck. And for the record, I also included our "boys" Derek Anderson and Seneca Wallace. (Once again I will include my full list in the comment section.)
Now I don't consider all of these guys to be "good" per se. But I was looking to include as many names as I could to sway the tide in favor of the argument.
What we ended up with was 18 serviceable quarterbacks out of a pool of 145 which comes out to be only a 12.4 percent success rate.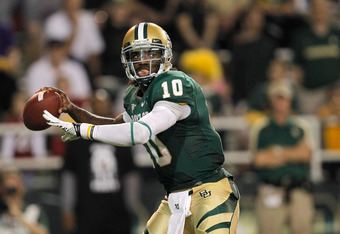 Sarah Glenn/Getty Images
So to recap, if you take a first-round QB you have a 61 percent chance that he won't suck. And if you wait to take a QB later and develop him then you only have a 12.4 percent chance of that method working.
This seemed to me to be overwhelming evidence in favor of taking a QB in the first round.
But considering that Robert Griffin III is a top-five talent, I thought it would be valuable to look specifically at the top five QB's taken in that same time span.
The list is as follows with my specific distinction of "bust" meaning you could never win with him or "great" meaning you could win a Super Bowl with him as your QB:

1995: Steve McNair (great), Kerry Collins
1998: Peyton Manning (great), Ryan Leaf (bust)
1999: Tim Couch (bust), Donovan McNabb (great?), Akili Smith (bust)
2001: Michael Vick (great)
2002: David Carr (bust), Joey Harrington (bust)
2003: Carson Palmer
2004: Eli Manning (great), Philip Rivers (great)
2005: Alex Smith (?)
2006: Vince Young (bust)
2007: JaMarcus Russell (great...I mean bust)
2008: Matt Ryan
2009: Matthew Stafford (great), Mark Sanchez (probably bust)
What I have is six players who were definitely great and seven who were definitely busts.
Two of the busts, Couch and Carr, I think could have been very good quarterbacks had they not gotten sacked so often early on in their careers. But those are toils of playing quarterback for an expansion team.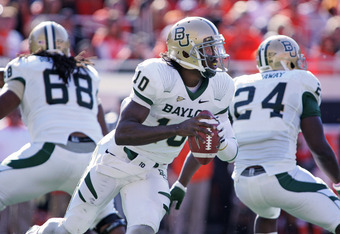 Brett Deering/Getty Images
When I look at this list, I'm more than fine taking a quarterback in the first round.
Are there risks? Of course there are. But there are busts at every position in the first round.
If you want a great player, you're going to have to eventually take a step of faith and do it. The NFL is no place for the timid and the cautious. The only thing that will get you is consistently having a team that isn't good.
And when I look at the list of great QBs taken in the top five, I see some great talents. I see guys that you will never get later in the draft.
In fact, of the guys taken after the first round, there are only two that I would count as being great: Tom Brady and Drew Brees. And just to make it a fair argument, I'll even throw in Matt Schaub and Matt Hasselbeck. That makes four great QBs out of 145!
That's a fantastic 2.8 percent!
I don't know how, when all the data is on the table, and the team is in position to take a potentially great quarterback, fans can still go with the "Let's give Colt more time" argument.
And for everybody who thinks that we should give Colt 2012 and if it doesn't work out just take Matt Barkley in 2013, you're dreaming. Barkley will probably be the first pick in the draft next year.
Maybe the worst thing about Colt McCoy is that he's just mediocre enough so that if the Browns stick with him, they may never be in position to take a great franchise QB again. You cannot pass on these kinds of opportunities when they present themselves.
I want the Browns to draft Robert Griffin III. I think he's going to be a great NFL quarterback.
Believeland.
You can follow Benjamin Flack on Twitter @ClevelandFlack.