New York Jets: Predicting the Outcomes of the Remaining 2011 Schedule
December 6, 2011
Rob Carr/Getty Images
The playoffs are right around the corner and the New York Jets are currently on the outside looking in. With a fairly manageable schedule, Gang Green's postseason hopes are very well alive, however, they still rely on certain teams losing at least one game.  
The way they have played as a whole of late, other than a few major lapses in special teams play, the Jets postseason chances are looking pretty good.  If they continue to play with the same intensity they've exhibited in big moments of the game, you can count on seeing Gang Green in the playoffs.  
However, there are two teams the Jets may have a hard time with because those teams just happen to be fighting for a playoff spot as well. 
With the Chiefs, Eagles, Giants and Dolphins remaining on New York's schedule, take a look at the predictions for each of the four games.
Week 14: vs. Kansas City Chiefs
Kansas City is still mathematically in the playoff race, even though Tim Tebow shows no signs of letting up, so you can expect them to play the Jets with their very all.  But, on this given Sunday their very all will not be enough.  
Going up against the Chiefs' 25th overall ranked rushing defense, Shonn Greene should have another spectacular performance.  Sanchez has been managing this offense a lot more efficiently of late, scoring five touchdowns in his last two outings.  
This game will start out close, but Gang Green's rush attack, mixed with deep throws to Plaxico Burress and Santonio Holmes, will be too much for Kansas City to handle throughout the entire contest. 
Predicted Outcome: Kansas City Chiefs 13, New York Jets 33
Week 15: at Philadelphia Eagles
The Philadelphia Eagles have struggled both with and without Michael Vick this season.  Their main problem has been that they simply cannot outscore opponents when they put up more than 20 points. In all four of Philadelphia's wins, they held their opponents to under 14 points.  
Rex Ryan and his complex schemes will be way too much for Vick and the Eagles to handle.  As long as Mark Sanchez limits his mistakes, the Jets should walk away with the win. 
Predicted Outcome: New York Jets 27, Philadelphia Eagles 16
Week 16: vs. New York Giants
Even though this is a home game for the Jets, the fan bases present should be fairly close to 50/50. With many tickets available on StubHub, although very overpriced, it is likely that the die-hard Giants fans will give up the $100 or so in hopes of routing Big Blue to a postseason run.
When it comes to who has the better offense, you have to give it to the Giants.  However, with all of the injuries the Giants have suffered, the Jets clearly have the defensive edge.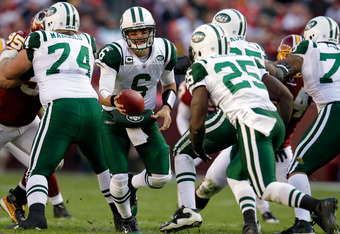 Rob Carr/Getty Images
As obvious as it seems, the Giants will truly go as far as Eli Manning will take them.  In this game, Eli will have a big performance and possibly shatter the playoff hopes of Gang Green.  
Predicted Outcome: New York Giants 24, New York Jets 23
Week 17: at Miami Dolphins
After losing their first seven games of the 2011-12 NFL season, the Dolphins have now won four of the last five contests.  Even though they have no chance at making the playoffs, Miami is on a hot streak.  
With the Dolphins being the last game on New York's schedule, there is no way Ryan and company would allow Miami to stand in their way of reaching the playoffs.  
If the Jets defense can shutdown Miami's offense like they did on Monday night in Week 6, this will be a blowout.
Predicted Outcome: New York Jets 30, Miami Dolphins 10