Tim Tebow Winning Doesn't Matter to Denver Broncos' Franchise QB Search
November 16, 2011
Jamie Squire/Getty Images
There's something about Tim Tebow. Urban Meyer, his former coach at the University of Florida, knows about it. Tebow's devout followers see it in him. And now that Tebow is finally getting a chance in Denver, Broncos fans are witnessing it.
He. Just. Wins.
With three wins in four starts, The Legend of Tim Tebow grows. It isn't always pretty, but Tebow just wins.
And his success won't matter. Tebow could win every start for the rest of the season. That won't stop Denver from searching for a franchise quarterback. No coach or general manager would entrust an offense to a quarterback that can't execute consistently.
It doesn't matter that Tebow has protected the ball, throwing seven touchdowns to one interception. His athleticism as a runner is impressive. Maybe his throwing motion can be forgiven. But as long as Tebow is completing less than 50 percent of his passes and around 100 passing yards per game, he has no future as the Broncos quarterback.
The deck was already stacked against Tebow. He was promoted to starter just as Denver traded Brandon Lloyd, the Broncos' best receiver. It was almost like Tebow was being set up to fail.
Maybe that was the plan. With Tebow's acolytes demanding for Tebow to start, head coach John Fox and John Elway, the executive vice president of football operations, caved in. If Tebow was the same player in games as they've seen in practice, it wouldn't take long for Tebow to fail and silence his supporters.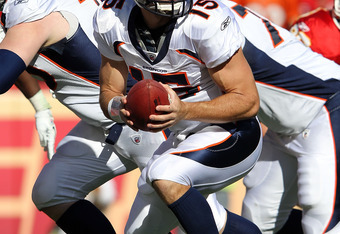 Jamie Squire/Getty Images
So far plan A isn't turning out as planned. Tebow directed an improbable comeback against Miami in his first start.
After an abysmal performance against Detroit, a threatened benching was never utilized as Tebow and the Broncos ran all over the Oakland Raiders. The momentum continued as they defeated Kansas City.
Give the coaching staff credit. They've adapted the offense to Tebow's strength. The Broncos are running the ball more and even added read-option plays to take advantage of Tebow's talents.
The success of the option won't last long. Opponents have two games to study and will be ready to shut down Tebow and Denver's read option. Think about how long the Wildcat lasted in the NFL. Better yet, ask QB Michael Vick how long he ran the option in Atlanta.
It's one thing to beat a then-winless Miami and two AFC West teams. Watch what happens when Tebow faces the rest of the NFL, starting with the New York Jets. That is a much better defense with head coach Rex Ryan the mastermind. Tebow the runner won't get far.
The remaining schedule isn't friendly either. Minnesota's front seven, led by DE Jared Allen, is big and aggressive. Chicago's D is fast, mean and has a knack for forcing turnovers. Head coach Bill Belichick first deciphered the Wildcat and will have New England ready to stop the intricacies of Denver's multiple looks on the ground.
Take away the run from Tebow and you're left with a less-than-marginal quarterback. Tebow is completing 44.8 percent of his passes when 60 percent is today's minimum standard. He's passing for a measly 121 yards per game, well below the NFL average of 231.7 yards.
Just this past Sunday, Tebow completed just two passes for 69 yards (56 of those yards came from one completion) in a win over Kansas City. Tebow misfired on his four first-half attempts. He improved to 2-of-4 in the second half for a total 2-of-8 performance—25 percent completed. That's unacceptable at any level.
And Tebow's job is about to get harder. RB Knowshon Moreno will miss the remainder of the season with a torn ACL and RB Willis McGahee is nursing a hamstring injury.
If Tebow struggles and the losses start piling up, Fox must make the right decision and do nothing.
Suggesting Tebow could get hooked if he played poorly against Oakland would had been the wrong move. If the goal is to prove that Tebow isn't an NFL quarterback, sending him back to the bench after just two starts isn't a fair chance for Tebow to prove himself or silence Tebow's supporters.
If Fox and Elway are going to prove their point, they must leave Tebow as the starter for the rest of the season, no matter what. Let Tebow crash and burn to the point that it's embarrassing. Let Tebow suffer to the point Tebow's Tribe begs for mercy.
Leave no doubt that Tim Tebow isn't an NFL quarterback now. When the search for a franchise quarterback takes the next step after the season, Denver can cross Tebow off the list and no one can dispute the decision.
Randolph Charlotin writes a blog at www.randolph.com.  Send any questions or comments to talktome@randolphc.com.