NFL Power Rankings: Teams That Would Be Nothing Without Their Quarterbacks
November 15, 2011
Thearon W. Henderson/Getty Images
I want to talk to you about WAR.
Baseball geeks will know that WAR stands for "wins above replacement." It's a stat that, in essence, measures how valuable a given player is to his team.
I bring it up because football could use a stat like WAR, especially when it comes to quarterbacks. ESPN tried to come up with one with their QBR thing, but the stat has proven to be entirely useless. As such, we have no choice but to evaluate the worth of the league's quarterbacks as we always have:
With our eyes.
There are a lot of good quarterbacks in the NFL right now. But when I take a look around, I notice five teams in particular that would be nothing without their quarterbacks.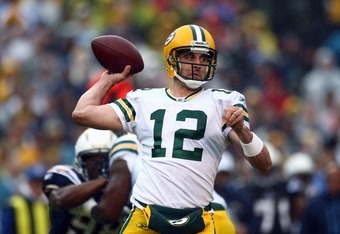 Donald Miralle/Getty Images
Honorable Mention: Green Bay Packers (No. 1)
Aaron Rodgers is the best quarterback in the NFL. As such, I initially thought about making the Packers a fully-fledged member of this humble little list.
One reason I didn't is because the team around Rodgers is pretty darned good. So is Matt Flynn. Somebody needs to give him a real shot.
Denver Broncos (No. 20)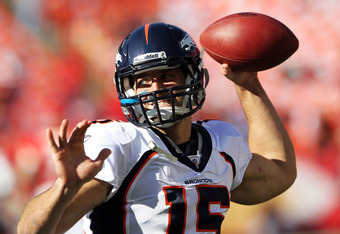 Jamie Squire/Getty Images
The Denver Broncos are succeeding with Tim Tebow under center because they're not trusting him to do too much. Even John Fox admitted that Tebow's not cut out for an NFL offense.
"If we were trying to run a regular offense, he'd be screwed," said Fox, per NFL.com.
Maybe so. But hey, you can't argue with results. Tebow has been Denver's starter for four games, and the Broncos have won three of them. The offense he's running may not be pretty, but it's working.
Besides, you have to consider what the Broncos were before Tebow took over. In a word, they are atrocious.
They are no longer atrocious, so you have to tip your cap.
Tennessee Titans (No. 17)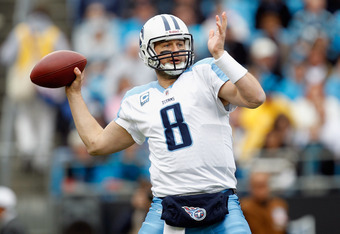 Streeter Lecka/Getty Images
It's my opinion that the Titans are not a truly good football team, despite what their 5-4 record may say about them.
However, that the Titans are 5-4 is a testament to Matt Hasselbeck. He stepped right in and proceeded to make the best of a bad situation. If not a bad situation, something close to one, anyway.
To illustrate just how much Hasselbeck has helped the Titans, it could be Vince Young under center right now.
Perish the thought.
New York Giants (No. 6)
Okay, we're moving way up the list here. You could make cases for a number of teams and quarterbacks in between, but I think the trail picks up again with the Giants.
You've probably noticed (and/or been told) that Eli Manning is having his best season as a pro this year. The Giants should be thanking their lucky stars for that, because they're a pretty weak team beyond Manning. They have pretty much no running game to speak of, and they've had to make do with a number of injury replacements on defense.
As it is, the Giants have had to fight tooth and nail to get wins this season. When they've gotten them, it's been thanks to Manning and his fourth quarter cunning.
New England Patriots (No. 4)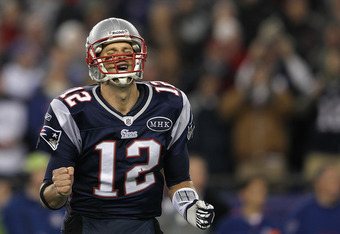 Jim Rogash/Getty Images
Where would the Patriots be without Tom Brady?
It's a question that will make a lot of Pats fans shudder, but some will also point out that the Pats went 11-5 after Brady got hurt in 2008.
Point taken, but the Pats aren't the same team this year. Their defense is awful, and it stands to get worse thanks to injuries. They're a team that needs Brady to be at his best in order to win.
Thankfully, Brady is at his best more often than not. He's no longer the NFL's top QB, but he's still pretty damn good.
New Orleans Saints (No. 3)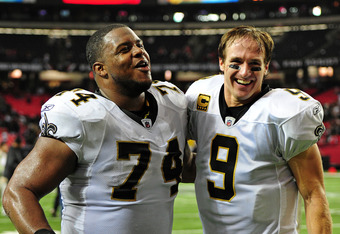 Scott Cunningham/Getty Images
Drew Brees is without a doubt the most underappreciated quarterback in the NFL. The dude rarely has a bad game, and few others quarterbacks in the league could master Sean Payton's offense like Brees has over the years.
If you took Brees out of the equation, my guess is that the Saints wouldn't be much better than the Peyton Manning-less Indianapolis Colts. It's not so much that they would be bad. It's that they would be totally lost.
The good people of New Orleans are hoping it never comes to this.
Zachary D. Rymer's Week 11 Power Rankings
| | | |
| --- | --- | --- |
| Rank | Team | Record |
| 1 | Green Bay Packers | 9-0 |
| 2 | San Francisco 49ers | 8-1 |
| 3 | New Orleans Saints | 7-3 |
| 4 | New England Patriots | 6-3 |
| 5 | Houston Texans | 7-3 |
| 6 | New York Giants | 6-3 |
| 7 | Pittsburgh Steelers | 7-3 |
| 8 | Chicago Bears | 6-3 |
| 9 | Cincinnati Bengals | 6-3 |
| 10 | Baltimore Ravens | 6-3 |
| 11 | Detroit Lions | 6-3 |
| 12 | Dallas Cowboys | 5-4 |
| 13 | Oakland Raiders | 5-4 |
| 14 | New York Jets | 5-4 |
| 15 | Atlanta Falcons | 5-4 |
| 16 | Buffalo Bills | 5-4 |
| 17 | Tennessee Titans | 5-4 |
| 18 | San Diego Chargers | 4-5 |
| 19 | Tampa Bay Buccaneers | 4-5 |
| 20 | Denver Broncos | 4-5 |
| 21 | Kansas City Chiefs | 4-5 |
| 22 | Seattle Seahawks | 3-6 |
| 23 | Washington Redskins | 3-6 |
| 24 | Jacksonville Jaguars | 3-6 |
| 25 | Arizona Cardinals | 3-6 |
| 26 | Philadelphia Eagles | 3-6 |
| 27 | Minnesota Vikings | 2-7 |
| 28 | Carolina Panthers | 2-7 |
| 29 | Miami Dolphins | 2-7 |
| 30 | St. Louis Rams | 2-7 |
| 31 | Cleveland Browns | 3-6 |
| 32 | Indianapolis Colts | 0-10 |