NFL Power Rankings Week 8: Which Teams Are Moving the Most?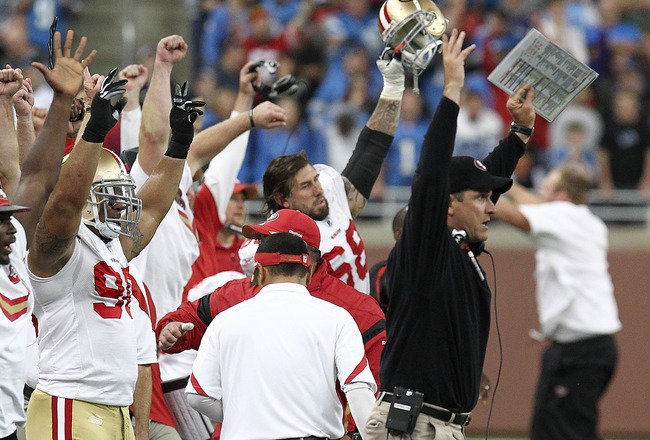 Dave Reginek/Getty Images
We are about to be halfway through the 2011 NFL season (that was fast, huh?), and the season remains as unpredictable and startling as it has been since Week 1.
The last few weeks have given us even more surprises to consider, and no, I'm not talking about middle-aged men fighting after their teams finish a solid game.
Some teams that started the season at the bottom of the list have found their way to the ranks of the elite (San Fransisco 49ers anyone?), while others like the Philadelphia Eagles have done just the opposite.
Then there are the implacable teams who are difficult to really place a finger on; those teams that will lose to terrible clubs but win against the tough opponents easily. Teams that started the season on an awful note but have been resurgent in recent weeks.
Here is a look at the way the NFL stacks up heading into the midway point of the 2011 season.
(Please note: "All previous rankings" are from my Week 3 Power Rankings)
32. Indianapolis Colts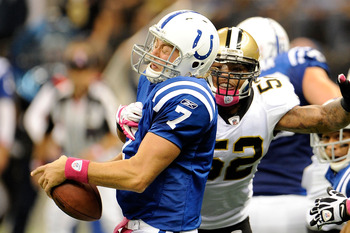 Stacy Revere/Getty Images
Oh boy.
Losing 62-7 against the New Orleans Saints. Does anything else even need to be said about these winless Indianapolis Colts?
At least we know now that Peyton Manning really is the MVP of the NFL. The New England Patriots lost Tom Brady for 2008 and still won 11 games, whereas this Colts squad is heading full-steam for an 0-16 season.
The only interesting thing about this club is whether they will trade Andrew Luck or keep him to replace Manning when he retires.
It's clear now that they'll be needing him when that day comes.
Previous Ranking: 28
31. Miami Dolphins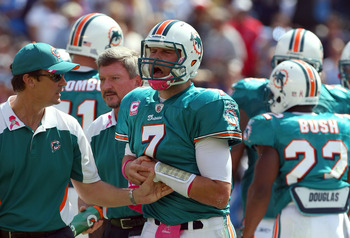 Donald Miralle/Getty Images
Ouch. In 2007, the Miami Dolphins experienced a 1-15 season under head coach Cam Cameron.
In 2008, they exploded with an 11-5 wild card revival led by Tony Sparano, Chad Pennington and the Wildcat offense.
Now, just like that, they suck all over again. The listless Dolphins handed Tim Tebow a win in his first start of 2011, and things are not looking any better.
If the NFL wants them to be relevant, they should arrange a playoff game between the Dolphins and Colts, where the winner gets to keep Andrew Luck.
You have to feel bad for him.
Previous Ranking: 31
30. St. Louis Rams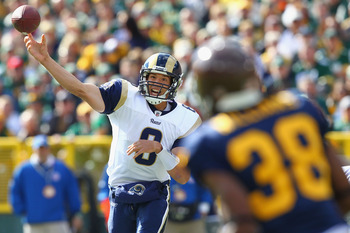 Dilip Vishwanat/Getty Images
It's pretty funny that fans are so surprised by the St. Louis Rams' 0-6 record. If you look at their 2011 schedule, you'll see that it was perfectly conceivable for them to start the season 0-7.
Regardless, a terrible offensive line, sophomore slumping Sam Bradford, a porous defense and a smattering of injuries are already threatening to end the Rams' season early.
At this point, Steve Spagnuolo might want to consider benching Sam Bradford on account of the offensive line. We all saw what happened to David Carr after all.
Previous Ranking: 25
29. Minnesota Vikings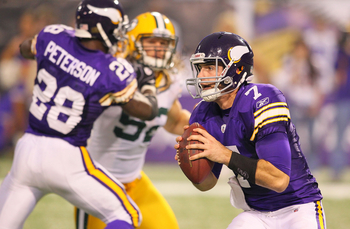 Adam Bettcher/Getty Images
Christian Ponder actually looks pretty good out there throwing the football. There's just one problem: His presence on the field basically means the Minnesota Vikings are looking towards future seasons.
It makes sense, because they aren't going to any playoffs, but it is still sad to see a talented team waste a whole year.
The Vikings are going to need some serious help at wide receiver if they don't want to stunt Ponder in the future. Ashlon Jeffrey from South Carolina should be smack in the center of the Vikings' crosshairs.
Previous Ranking: 27
28. Seattle Seahawks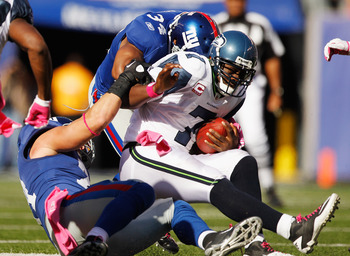 Mike Stobe/Getty Images
No. Just no.
Lets not even talk about the Seattle Seahawks. They are just as bad as the teams below them here, and they just get a leg up for their fluke-y record.
This is a team that couldn't even score enough to beat the Cleveland Browns, who only racked up two field goals in Week 7.
Previous Ranking: 29
27. Arizona Cardinals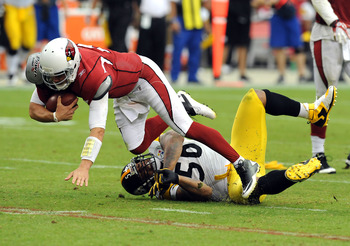 Norm Hall/Getty Images
Kevin Kolb is not quite the savior the Arizona Cardinals had hoped he would be, but neither is he a flop yet. Either way, Ken Wisenhunt is not a huge fan of his footwork right now.
Still, the numbers do not lie, and this team currently sits at 1-5. They are going to have to find a way to step it up on defense if they don't want to be considered a joke.
Still, any preseason playoff aspirations have been basically eliminated by a poor start and a surging San Fransisco 49ers team.
Previous Ranking: 21
26. Cleveland Browns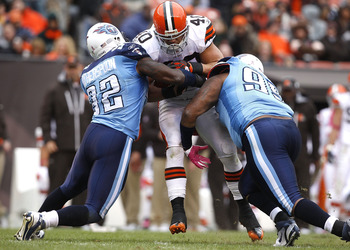 Matt Sullivan/Getty Images
Somehow, these Cleveland Browns are 3-3. It makes no sense, but they are.
However, with Peyton Hillis injured/mired by contract talks/slumping, they have to let Colt McCoy throw the ball 35-50 times per game.
Somehow, it doesn't seem likely for them to pick up wins that way.
Previous Ranking: 20
25. Tennesee Titans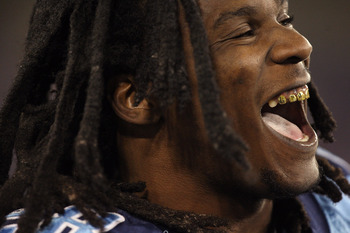 Streeter Lecka/Getty Images
The Tennesee Titans are fooling you all with their 3-3 record. This is a 1-5 team that got lucky against the Baltimore Ravens while beating the Denver Broncos and Cleveland Browns on a hot streak from Matt Hasselbeck.
Chris "Greedy Grill" Johnson got his massive contract and quit the NFL. Nice job to the imbecile who agreed to pay the gold-teeth-sporting money-grubber.
That one will stain your resume a little.
Previous Ranking: 23
24. Jacksonville Jaguars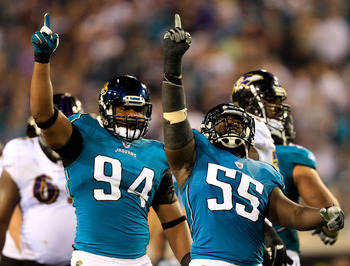 Sam Greenwood/Getty Images
Talk about a magical night. Somehow, the Jacksonville Jaguars managed to pull out their first win since Week 1 with a massive defensive victory over the Baltimore Ravens.
They are shockingly only two games out of the AFC South lead, (not that it really matters) making them an interesting team for at least one more week.
If that defense continues to stymie opponents the way they did the Ravens, there may yet be hope for the 2011 season in Jacksonville. The massive free agency investments are paying off it would seem.
Previous Ranking: 30
23. Denver Broncos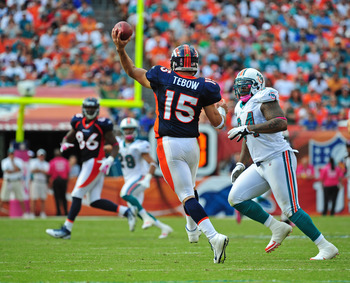 Scott Cunningham/Getty Images
How things have changed in Denver. Don't get it wrong, the Broncos are still really bad, but now they're going to be really bad and win, instead of being really bad and losing.
Tim Tebow, as crazy as it sounds, will change the entire culture of the Denver organization. He will help them win games. It will never be pretty, but somehow he will make it happen.
The fans love him and his teammates believe in him. Even if they suck for 55 minutes every game for the rest of the year, they still might win another couple of games.
Tebow might just be the real deal.
Previous Ranking: 26
22. Washington Redskins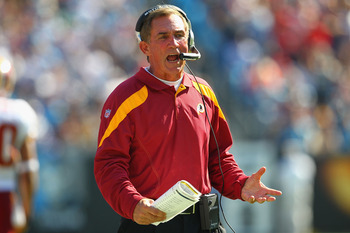 Dilip Vishwanat/Getty Images
Rex Grossman started the 2011 season brilliantly. Then he crashed and burned with four interceptions against the Philadelphia Eagles, causing crazy old Mike Shanahan to bench him for John Beck.
Oh well, Shanahan is throwing away another season with his quarterback love triangle. Next year if he still has a job, he'll probably bench John Beck for whoever is backing HIM up.
Tim Hightower is out for the season with a torn ACL, and the Washington Redskins defense has not looked to be in top form the last couple of weeks.
Santana Moss being out four to six weeks with a broken hand doesn't help. Things aren't looking good in our nation's capital.
The 'Skins defense is fantastic, but until a real quarterback rolls into town, it won't be fun to be a Redskin fan.
Previous Ranking: 13
21. Carolina Panthers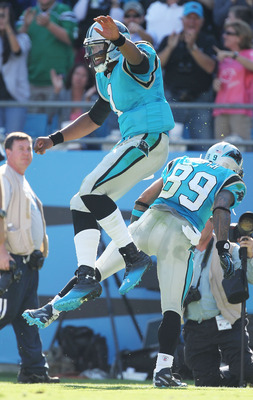 Scott Halleran/Getty Images
Is it me, or does Cam Newton just keep playing better and better?
After seven games, he is already tied for the rookie record of quarterback rushing touchdowns with seven. Vince Young clearly won't be holding that record for long, as Newton will likely shatter it along with rookie yardage totals.
Newton has led the Panthers to a revival, and at this point their record really doesn't matter. He has made Panther football relevant and exciting to watch, which will eventually mean more W's.
He'll be keeping defenses on their heels all season.
Previous Ranking: 22
20. Philadelphia Eagles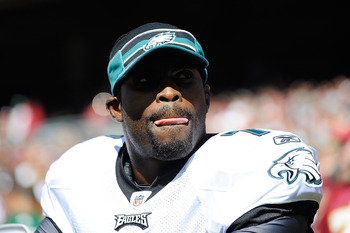 Patrick McDermott/Getty Images
Don't be impressed by their win over the Washington Redskins. This Philadelphia Eagles team is far from doing anything noteworthy.
Maybe the bye week afforded them time to fix their issues, and maybe it didn't. This team cannot stop the run, and their vaunted secondary has underperformed.Meanwhile, their explosive offense is hampered by a horrendous offensive line, which is on a path to get Michael Vick knocked out for the rest of the season.
If they come out playing the way they've played all season, expect this team to drop and drop hard.
Having said that, they have the talent to finish the season without losing a game. They lack leadership and motivation for now.
Previous Ranking: 16
19. Kansas City Chiefs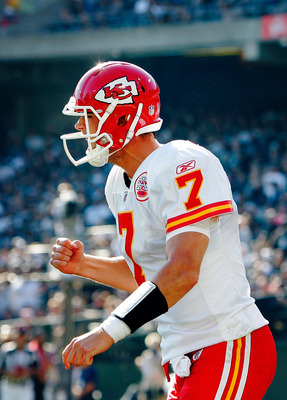 Brian Bahr/Getty Images
This is one of those aforementioned implacable teams. The Kansas City Chiefs started the 2011 season by losing three straight games, Eric Berry and Jamaal Charles. However, looking back, two of those three losses were against the surging Buffalo Bills and Detroit Lions, who we now realize are actually quality teams
It goes without saying that the San Diego Chargers are a good opponent as well. So when it comes down to it, the Chiefs lost to three good teams, then beat two really bad teams and an Oakland Raiders team sporting a couch potato at quarterback.
This all begs the question: WHO are the Kansas City Chiefs of 2011? Amazingly, they are right in the thick of the divisional race for the AFC West.
Logic tells us that they are at best a mediocre team, since their victories came against bad opponents while their losses were against good teams.
Time will reveal what this team is really made of, but either way they have made the AFC West a much more interesting place.
Previous Ranking: 32
18. San Diego Chargers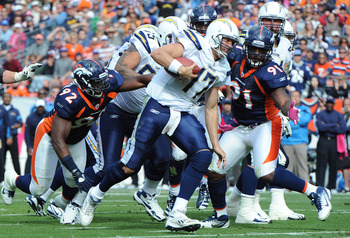 Bart Young/Getty Images
Philip Rivers and company have been about as disappointing as it gets so far this year. Their four wins are against winless and losing ball clubs, while their two losses came against the Patriots and the struggling New York Jets, both teams that are good but beatable.
Their vaunted offense has been ineffective so far against quality opponents, and they hold only a tenuous lead over the AFC West with the Chiefs and Raiders right on their heels.
They had better get their crap together if they intend to make the playoffs this year in a suddenly competitive division.
Previous Ranking: 15
17. Oakland Raiders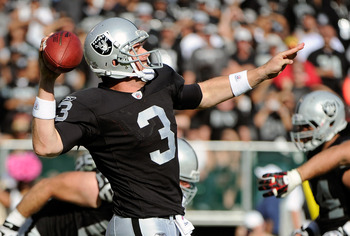 Thearon W. Henderson/Getty Images
Well look at this. All three contending AFC West teams on top of eachother.
Why the massive drop for the Oakland Raiders? Well that's what happens when you spend major draft picks on a couch potato who throws three INTs in one half....in relief of a guy who threw three INTs in the OTHER half.
I have no doubt that Carson Palmer can turn it around after spending the bye week working with his Raider teammates, but a healthy Darren McFadden is the difference between a playoff berth and miserable failure.
These guys had better hope McFadden heals up, or Jason Campbell will be laughing at them all the way to his next job.
Previous Ranking: 9
16. Tampa Bay Buccaneers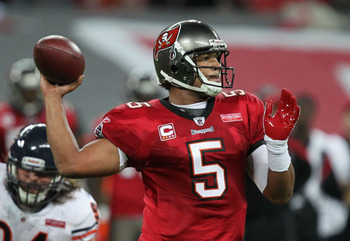 Streeter Lecka/Getty Images
What the heck is with these Tampa Bay Buccaneers? First they get spanked by the San Fransisco 49ers, then they come back and kill the New Orleans Saints, before going across the pond to get spanked again by the Chicago Bears.
With Earnest Graham out for the remainder of 2011, the Buccaneers need to make sure LeGarrette Blount stays healthy. Josh Freeman needs to stop playing like 2009's Mark Sanchez and more like 2010's Josh Freeman.
A defensive line staffed exclusively by first and second round picks should not be giving up big plays.
The bottom line is, the Bucs are a playoff-caliber team when they want to be. They need to start playing like they want to be every game. Until then, they're going to be stuck right here in the middle of the pack.
Previous Ranking: 11
15. Dallas Cowboys
Wow, Tony Romo didn't choke against the winless St. Louis Rams. Impressive. Though it may have had a lot more with DeMarco Murray's 253 rushing yards than Romo's play during the game.
Still, the Cowboys beating a team that can't win a game is a sign they're heading in the right direction.
Dallas's defense is a solid component of their game, so as long as they get some offensive consistency they'll continue to move up.
Previous Ranking: 12
14. Cincinnati Bengals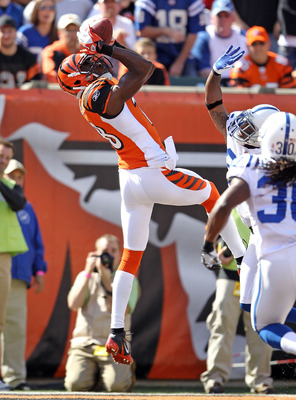 Andy Lyons/Getty Images
What is this?? Well, for starters it is not a joke. The Cincinnati Bengals have very quietly won three straight games thanks to their stellar defensive play and remarkable rookie combination in Andy Dalton and A.J. Green.
They are fifth in total yards allowed on defense (they've played the Colts, but still, this team was horrible last season), and Dalton only looks to be getting better.
This team is right there in the playoff race for the time being. A force to be reckoned with.
Previous Ranking: 24
13. Atlanta Falcons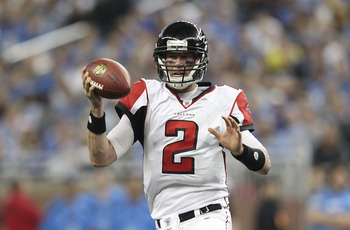 Leon Halip/Getty Images
Winning two straight games is a great way to enter the bye. Going into the bye on a win streak so a slightly dinged-up quarterback has time to heal is nothing short of spectacular.
After a really rocky start, the Atlanta Falcons are in good shape right now to compete for an NFC Wild Card this year. If they can keep playing hard-nosed defense and running the football, they will be fine.
Previous Ranking: 17
12. Chicago Bears
The Chicago Bears deserve a little bump in the rankings after two straight decisive victories.
It looks like their beleaguered offensive line finally decided to do something after the drubbing they received at the hands of Ndamakong Suh and the Detroit Lions.
The Bears enter the bye playing improved football in all facets of the game, with Matt Forte as possibly the most dangerous runner in the NFL right now.
By beating the Buccaneers they proved that they deserve to be mentioned in playoff conversation for the time being.
Previous Ranking: 18
11. New York Jets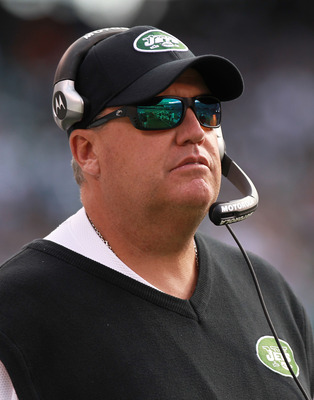 Nick Laham/Getty Images
The New York Jets are another one of those confusing teams that doesn't seem to have a true identity yet.
After an ugly three-game losing skid, they were bailed out twice in a row by stud cornerback Darrelle Revis.The Jets' running game has got to improve to take some pressure off of Sanchez, who has shown some good but inconsistent play.
Still, having beaten the San Diego Chargers proves the Jets are not to be counted out just yet.
Luckily for them, they have the bye week to work out their locker room issues. Their true test will come after that.
Previous Ranking: 10
10. Houston Texans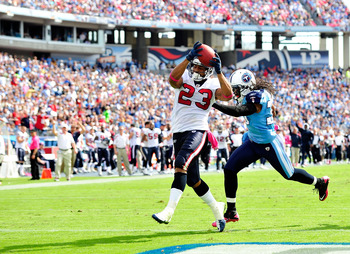 Grant Halverson/Getty Images
Despite the loss of defender Mario Williams for the season and the current injury of Andre Johnson, the Houston Texans remain the best team in the AFC South and are a dangerous playoff contender.
Arian Foster hasn't missed a step since returning from his hamstring injury, running for 115 yards and two scores and hauling in five passes for 119 yards and another score. Ben Tate is likewise playing well, and he also recorded over 100 yards rushing in their last game.
The rest of the defense is still formidable without Mario Williams, and the Texans will remain dangerous throughout the season.
Previous Ranking: 5
9. Buffalo Bills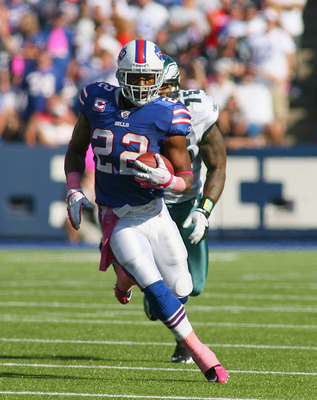 Rick Stewart/Getty Images
Despite a loss to the New York Giants going into the bye week. The Buffalo Bills proved themselves to be as explosive as ever during their last game, scoring their touchdowns on very short (1-5 plays) drives.
They have spent the bye working on improving their relatively weak defense. If they improved, the Bills will be an even more dangerous team than they were before the bye week .
Obviously they have to take a hit from their previous ranking for losing to the Giants, but the feisty and hard-nosed Bills should come back with a vengeance in Week 8.
Previous Ranking: 6
8. New York Giants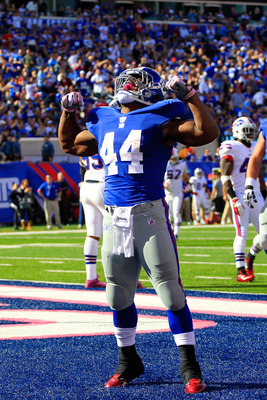 Chris Trotman/Getty Images
The New York Giants were expected to have a washout year given the injury-plagued preseason. However, they roared into the bye week at 4-2 (and should have been 5-1) and have now had two weeks to recuperate minor injuries.
The defense that already led the league in sacks prior to the bye remains tied for first with 21 sacks in just six games, and in Week 8 will see the return of defensive captain Justin Tuck.
Also returning to the lineup will be guard Chris Snee, running back Brandon Jacobs and possibly rookie cornerback Prince Amukamara.
The New York Giants are coming off the bye to face the winless Dolphins, and they are stronger than they were going in. The NFC East leaders are a dangerous team for Week 8 and beyond.
Previous Ranking: 14
7. Pittsburgh Steelers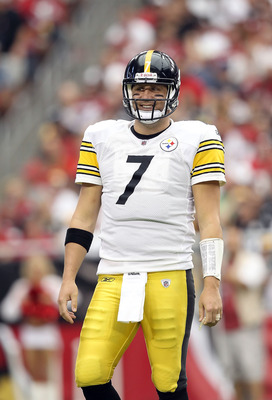 Christian Petersen/Getty Images
The Pittsburgh Steelers have considerably stepped up their level of play since the last rankings in Week 3. The reigning AFC Champions have won three straight and done so in domination fashion.
Look for that dominance to continue into Week 8.
Previous Ranking: 8
6. Detroit Lions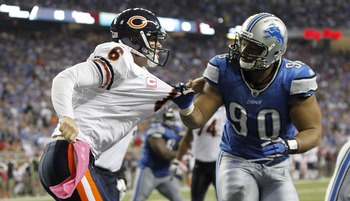 Leon Halip/Getty Images
After starting out the season a perfect 5-0, the Detroit Lions have hit a road bump with two straight losses to the San Fransisco 49ers and the Atlanta Falcons.
Matthew Stafford started the season brilliantly, but tailed off in the last couple of games, as has every member of the Lions not named Calvin Johnson Jr.
This young team is still one of the most dangerous in the league, but they have to regroup and get control of themselves quickly before this two-game losing streak turns into anything worse.
They need to ignore the media, and focus on protecting Matthew Stafford and stopping the run on defense.
Previous Ranking: 2
5. New England Patriots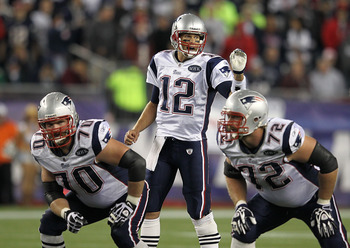 Jim Rogash/Getty Images
The New England Patriots are coming off of their bye week, and for their sake, I hope they used it to work on their passing defense.
The Dallas Cowboys' defense led by Rob Ryan proved that the Patriot offense is not invincible, although they still couldn't figure out a way to beat them in spite of that.
This team will continue to rack up the victories all season, but don't expect a deep playoff run.
Previous Ranking: 7
4. Baltimore Ravens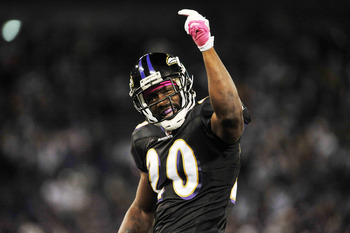 Larry French/Getty Images
Don't let the crazy loss to a desperate Jacksonville Jaguars team fool you. The Baltimore Ravens are not soft.
They will bounce back from the loss on Monday night. The defense is still one of the league's best, and the offense has too much talent to repeat Week 7's abysmal performance.
Previous Ranking: 3
3. San Fransisco 49ers
You have to give credit to Jim Harbaugh. He went to San Fransisco this season, basically with the exact same personnel left behind for him by Mike Singletary.
Singletary made great strides with some individuals (Vernon Davis), but his Alex Smith-led squad was a major disappointment.
Harbaugh steps in to coach the same group of players, and he suddenly has them at 5-1,. with their only loss coming on a crazy overtime play against the Dallas Cowboys. They have beaten the Detroit Lions, and their coach has them thinking NFC West title and maybe beyond.
This team plays hardcore smash-mouth football, and they are here to play with the NFL's elite.
Previous Ranking: 19
2. New Orleans Saints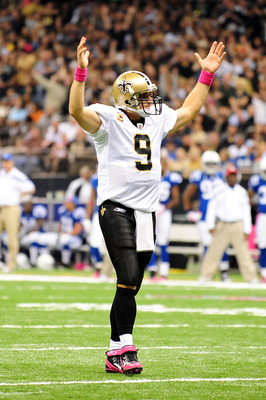 Stacy Revere/Getty Images
The New Orleans Saints continue to play dominant football. Despite a loss to their division rival Tampa Bay Buccaneers, they are primed to win their division and make a deep playoff run.
Darren Sproles is looking like the steal acquisition of 2011 with his crazy all-purpose yardage totals.
They put up 62 points in Week 7. 'Nuff Said.
Previous Ranking: 4
1. Green Bay Packers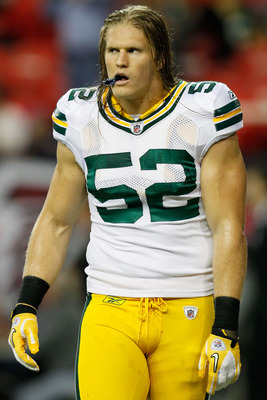 Kevin C. Cox/Getty Images
The Packers have yet to lose a game. They've barely even come close except for Week 1 against the Saints.
That's all there is to say on the subject. Far and away the NFL's best team.
Previous Ranking: 1
Keep Reading