NFL Power Rankings: Which Direction Every Team Has Trended Since Start of Season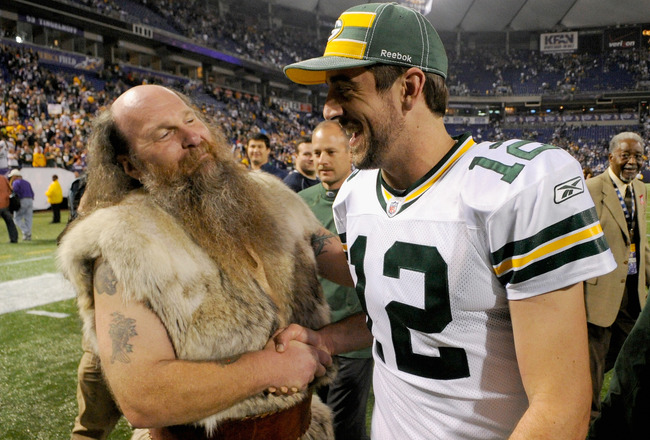 Hannah Foslien/Getty Images
With the 2011 NFL season almost halfway in the books, many teams have given us a true glimpse of how they will fare in the NFL power rankings when the year is said and done. The predictable Packers and Patriots have climbed to the top of the power rankings to the surprise of no one, and the Rams and Dolphins have matched their rock-bottom expectations.
But with the predictable teams, shockers have also emerged. The 49ers, Lions and Bills are enjoying Cinderella seasons, while the Eagles and Colts are in early holes. As a result, it makes for interesting trends in the NFL power rankings.
As a result, a recap is in order for how each team has fared since the season's start:
Arizona Cardinals: Downward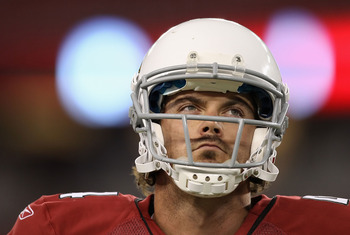 Christian Petersen/Getty Images
After Kurt Warner left, the Cardinals immediately transformed from Super Bowl contenders to cellar dwellars in one of the NFL's weakest divisions. The acquisition of Kevin Kolb was supposed to be the answer. Turns out it wasn't.
Kolb has been dreadful in his first opportunity as an everyday NFL starter, and the Cardinals' record mirrors that. The 1-5 team is still looking for answers in the passing game, and the defense is amid a rocky transition with new defensive coordinator Ray Horton.
You would think there's nowhere to go but up, but the Cardinals went from a team that was in every game they played to one that's getting blown-out on a regular basis. Until that changes, the downward trend will continue.
Atlanta Falcons: Push
Leon Halip/Getty Images
Until Sunday, the Falcons had not put consecutive wins together in 2011, and it was difficult to determine what kind of team would take the field each week. Some weeks provided a resilient group that could put late points on the board, and others provided a mistake-prone team that could never get into a rhythm.
Now, the Falcons appear to have turned a corner after an impressive road victory against the Detroit Lions. But after eclipsing last seasons loss total just seven weeks into the 2011 season, it's hard to say that the Falcons are a team that is transcending new realms of the NFL power rankings.
Baltimore Ravens: Upward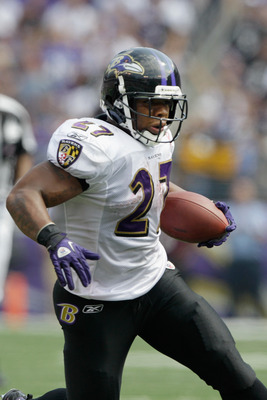 Rob Carr/Getty Images
We got the message, Ravens. You're really, really tired of playing second-fiddle to Pittsburgh in the AFC North.
This season, that's been anything but that case. The Ravens have been riding the momentum of an impressive Week 1 blowout over their rivals and have had a killer mentality that is vital for a championship-caliber team.
The Ravens suffered an dreadful Week 2 loss in Tennessee, but are clearly past that. They're in the midst of a three-game winning streak and haven't defeated a team by less than 15 points. With an easy part of their schedule on the horizon, it's not out of the question to project the Ravens to be a 13-win team.
Buffalo Bills: Upward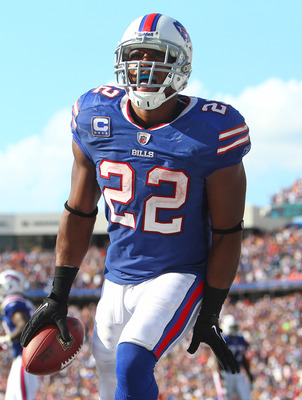 Tom Szczerbowski/Getty Images
Nobody envisioned this type of success for the Buffalo Bills early in the season, but the truth is, we should have.
Their offense has playmakers in Fred Jackson and Stevie Johnson and could pose a devastating threat if and when C.J. Spiller comes into his own. The only question mark was if Ryan Fitzpatrick could get them the ball on a consistent basis.
Well, he can.
Though the defense still leaves room to be desired, the Bills possess the firepower to hold their own against the NFL's best, as shown in their Week 4 victory of the New England Patriots. If their defense can improve over the course of the season, the Bills will find themselves in the playoffs for the first time in 12 years.
Carolina Panthers: Upward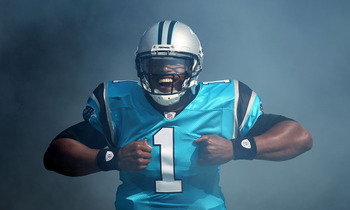 Scott Halleran/Getty Images
Don't let their 2-5 record fool you; the Carolina Panthers are no pushovers. Rookie quarterback Cam Newton has electrified the league in his first seven NFL games and is only going to get better as time goes on.
But still, how has a 2-5 team trended upward over the course of the season?
Because they were a team that had nowhere to go but up. And in wake of a dreadful 2010, a new head coach and a potential franchise quarterback have laid the groundwork to give the Panthers a chance to shock the league as the second half of the season approaches.
Chicago Bears: Push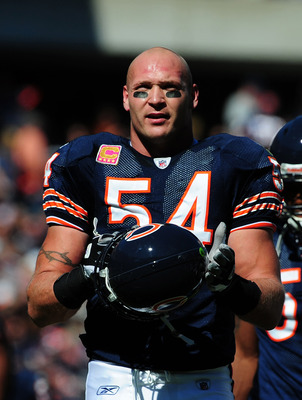 Scott Cunningham/Getty Images
Like the Atlanta Falcons, the Bears have displayed a similar Jekyll and Hyde mentality in 2011; their victory on Sunday marked the first time all season that they notched consecutive wins.
Not only have the results been mixed, so has their caliber of play. They've convincingly defeated teams like Minnesota and Atlanta, but were in complete disarray against New Orleans and Detroit.
The Bears have the potential to challenge the Lions and the Packers, and though they're in power-rankings limbo, expect upcoming games against Philadelphia, Detroit and San Diego to tell us—in the words of Dennis Greenif "the Bears are who we thought they were."
Cincinnati Bengals: Upward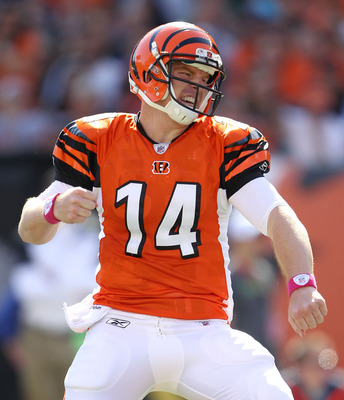 Andy Lyons/Getty Images
Few envisioned that the Cincinnati Bengals would be 4-2 heading into their bye week, but that's exactly what has happened.
It hasn't been the prettiest of efforts, but so far, they've kept mistakes to a minimum and enjoyed a stout effort from Marvin Lewis' defense. Andy Dalton has been careful with the football and has wisely developed a rapport with rookie receiver A.J. Green, who looks to be as advertised.
Despite being labeled as a poorly-run organization, the Bengals have quietly established a core of talented young players that could sooner than later surprise the incumbent juggernauts of the AFC North.
Cleveland Browns: Push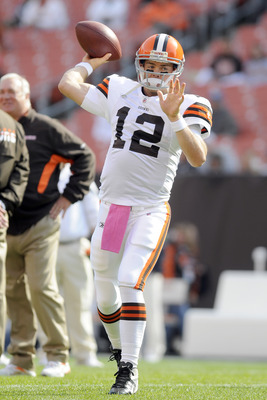 Jason Miller/Getty Images
The Browns entered the 2011 season with much to look forward to. Sure, they were a team in rebuilding mode, but with a solid draft and a promising young quarterback under center, there was every opportunity to turn a new page in the franchise's storied history.
So far, they've come out of the gates flat, but nevertheless, have a 3-3 record. Their defense showed an encouraging performance by holding the Seahawks to just three points on Sunday, but their lack of offense made a nail-biter out of a game that should have been a convincing beatdown.
The Browns remain a team with promise, and there's an old adage that states "you have to win before you get good." Unfortunately, this may be all the Browns have on their side to convince the rest of the NFL that they are a team capable of climbing the power rankings.
Dallas Cowboys: Push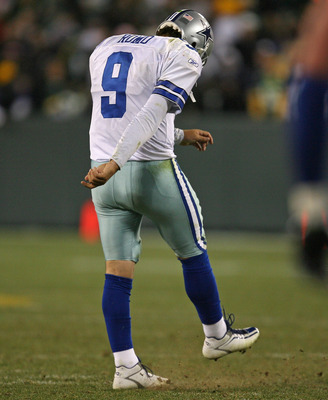 Jonathan Daniel/Getty Images
Hop aboard the Romo-coaster, everyone.
The Dallas Cowboys' season has been nothing but a series of ups and downs, which by no coincidence defines Romo's individual output. With Romo at the helm of both game-winning and game-losing drives, the Cowboys appear to have the talent to compete with the league's best (see: New England) and the vulnerability to hand opponents a win (see: everyone else).
Nonetheless, the Cowboys are back at .500, and the jury is still out on which direction they'll head from there. If they avoid mistakes, they should soar the rankings.
Then again, that is a very big if.
Denver Broncos: Upward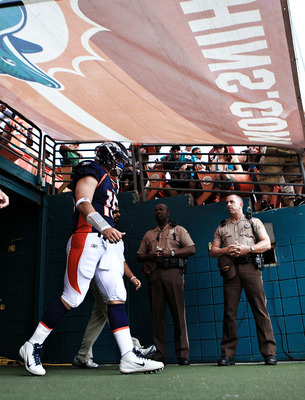 Marc Serota/Getty Images
The Broncos turned-in an uninspired effort in 2010, only finishing ahead of the Carolina Panthers in terms of wins and losses.
With a new head coach in John Fox and a quarterback that has led two comeback wins in four career starts, the Broncos could have better days ahead of them. Though Tim Tebow's effort on Sunday left much to be desired despite the victory, he is in a position where there is nowhere to go but up after Denver's rock-bottom effort a season ago.
For a team that has lost 16 of its last 22 games, it's hard to get worse. Getting better certainly isn't out of the question either.
Detroit Lions: Upward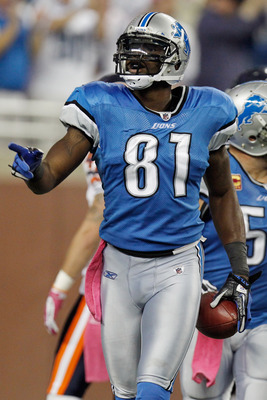 Gregory Shamus/Getty Images
The team that was often labeled as a team with potential appears to finally be coming into their own.
Despite two consecutive losses, the Lions are 5-2 and a team on the rise. Jim Schwartz's squad sits only behind the undefeated Green Bay Packers in the NFC North standings while showing the resilience to come back while behind late.
The Lions are enjoying a long-forgotten taste of success, and with youth on their side, it's a taste that should linger.
Green Bay Packers: Upward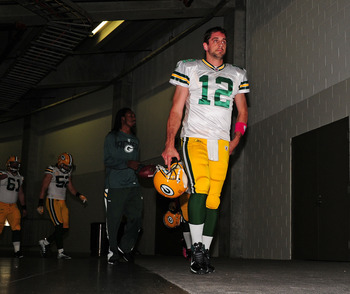 Scott Cunningham/Getty Images
When can the 16-0 talk begin?
Aaron Rodgers is on another planet this season and is on pace for over 5,400 yards and 45 touchdowns. He has thrown for over 300 yards in every game this season, with the exception of the matchup against the Chicago Bears, where he accumulated 297.
The NFL's last unbeaten team does not have a cream-puff of a schedule in the coming weeks, but the Packers have looked so dominant that it may not matter. Whichever team can muster raising the chalk and putting a tally in their loss column will be no simple task. The Packers are the most difficult team to beat in the NFL right now.
Houston Texans: Upward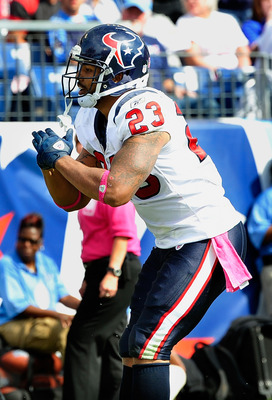 Grant Halverson/Getty Images
Peyton Manning is out. The Jaguars are starting a rookie quarterback. Tennessee is in a transitional season with a new head coach. If the cards are not stacked in the Houston Texans favor, then I don't know if they ever will be.
So far, the Texans have taken advantage of their opportunities by grabbing the AFC South by the horns on Sunday. Their dismantling of the Tennessee Titans puts them in sole position of first place, and with the return of Andre Johnson coming soon, expect to see the Texans' lead only grow.
Indianapolis Colts: Downward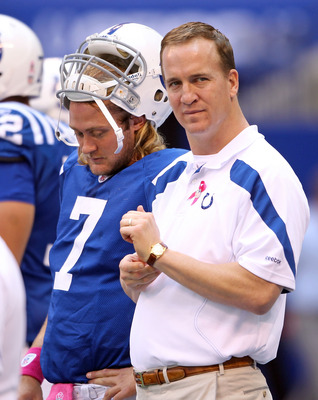 Andy Lyons/Getty Images
There isn't a circle of Hell deep enough to house the ever-plummeting Indianapolis Colts in 2011.
At 0-7, the only thing more astounding than that figure is their ability to find ways to lose.
Big plays have consistently plagued their defense, and their sputtering offense is often presented with too tall of a task late in games.
No one is holding their breath for a Colts win with upcoming opponents like the Falcons and Titans challenging them. Their soonest chance for a win will come in Week 10 against the Jaguars, but nothing is a sure thing with this team.
But giving up over 60 points is not out of the question, oddly enough.
Jacksonville Jaguars: Downward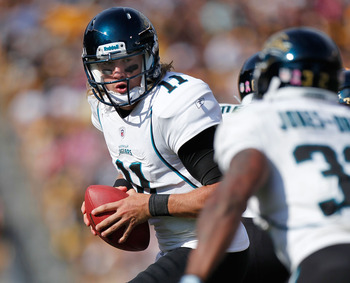 Gregory Shamus/Getty Images
The offseason moves of General Manager Gene Smith were confusing. He bolstered the defense with talent like Dawan Landry and Paul Posluszny while paving the way for offensive rookies like Blaine Gabbert and Cecil Shorts. Was he trying to win now? Or build for the future and win later?
At 1-5, the Jaguars don't have much of a choice but to assess what they have and try to build for their future. Blaine Gabbert is now at the helm and has shown promise, but with an ugly schedule, it may not be enough to save their season.
Kansas City Chiefs: Push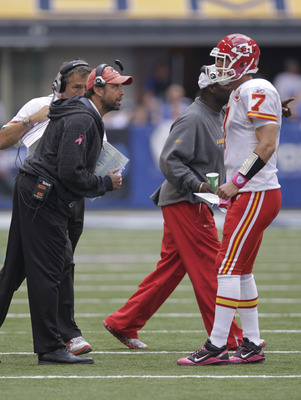 John Sommers II/Getty Images
It's been a strange season in Kansas City. After losing their first two games by a combined 79 points and losing Jamaal Charles to a season-ending knee injury, the Chiefs looked like the worst team in the NFL.
Five weeks later, we're looking at an entirely different animal. The Chiefs have won three straight games to even their record at 3-3, including a shutout of the rival Oakland Raiders. The team that got blown out in the first two games of the season appears to be a thing of the past, and now they are in the thick of what looks like a wide-open competition for the AFC West crown.
Miami Dolphins: Downward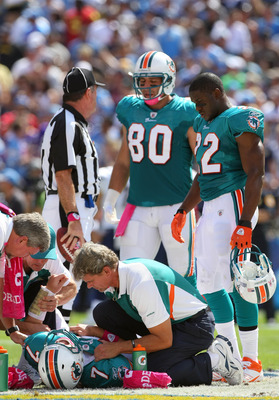 Donald Miralle/Getty Images
Ugh.
It's bizarre how a player like Tom Brady can change perceptions. He torched the Dolphins defense for 517 yards in Week 1, yet it was widely accepted as an inevitability, given Brady's talent. While Brady's talent is unrivaled, it was truly a sign of things to come for the Dolphins' season.
So far, their defense hasn't been able to stop anybody. They held the Cleveland Browns to 17 points, but couldn't stop them from scoring a go-ahead touchdown in the final moments of the game when it mattered most. It was the same song, second verse against Denver on Sunday.
Their offense has been dismal, too. Chad Henne is out for the season, and Brandon Marshall has reeled-in zero of his 13 end-zone targets. Daniel Thomas has been the lone bright spot, but it's not bright enough to instill any confidence in a team that continues to plummet.
Minnesota Vikings: Downward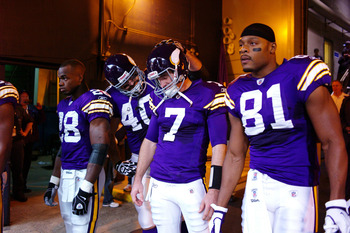 Adam Bettcher/Getty Images
There isn't much to like about a 1-6 team, but the Vikings did give the NFL's last unbeaten team their biggest scare of the season. Rookie quarterback Christian Ponder gave the football world an early glimpse of why he was worthy of a 12th overall pick, and Adrian Peterson was in his usual form.
Still, the Vikings find themselves in the dungeon of the NFC North and are in a rebuilding year with their young signal-caller poised to finish the season under center. Growing pains should continue to be a common theme as the season progresses, but after Ponder's encouraging performance, fans should understand that it's for a greater good.
New England Patriots: Upward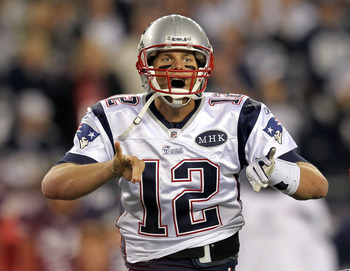 Jim Rogash/Getty Images
NFL fans have been treated to a decade of great football from the New England Patriots under Bill Belichick, and 2011 is providing more of the same.
The Patriots are 5-1 at their bye, and are a bizarre four-interception game away from being undefeated. Though their defense has been adequate at best, Tom Brady and company have been their usual selves and lit-up scoreboards across the league.
As a result, the team's position in the standings hasn't wavered, and there isn't much reason to suggest that should change.
New Orleans Saints: Upward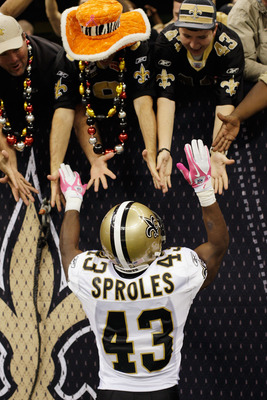 Jamie Squire/Getty Images
The Saints are just two-years removed from a Super Bowl victory, yet it feels like they are flying under the radar. If that's the case, the media should spring for a new radar.
Drew Brees and company have quietly persevered through a series of tests. New pieces on offense and defense had a lockout-shortened offseason to learn a complex system. Brees' favorite target, Marques Colston, was sidelined for two games with a shoulder injury. Their starting center springs a sudden decision to leave the team.
Despite all of this, the Saints have emerged from these circumstances at 5-2. It's been anything but smooth-sailing for them in 2011, and the amount that these issues have been downplayed speaks volumes about what the Saints could be capable of accomplishing this season.
New York Giants: Push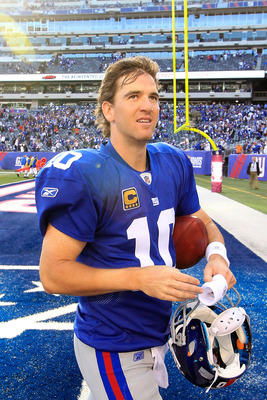 Chris Trotman/Getty Images
After a crippling wave of injuries decimated the Giants' roster this summer, the season's outlook seemed dreary for New York. Not the case, it turns out.
The Giants have notched convincing wins against Buffalo, Philadelphia and a come from behind thriller against Arizona to sit in first place in the NFC East.
Yet, as impressive as they looked in their wins, they have looked dreadful in their losses. The Redskins, a team that has sputtered offensively, imposed their will on the Giants' defense. The Seahawks have yielded a porous defense for much of the season, yet found a way to force five Giants turnovers.
While the Giants' resilience is remarkable, more consistency needs to be displayed before the rest of the league buys that their injuries won't hinder them from being successful.
New York Jets: Push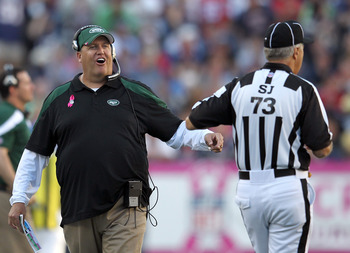 Jim Rogash/Getty Images
Though the Jets have made back-to-back AFC Championship appearances, they have yet to consistently show the form that got them there.
At 3-3, a team that boasts a "run the ball and stop the run" philosophy has yet to excel in either regard. The Jets run defense and run offense rank 28th in the NFL.
However, their total pass defense ranks ninth overall and has nine interceptions on the season. Momentum is riding high for a team that came from behind to earn a home win against the Chargers, and the Jets may have to latch onto Darrelle Revis and company if they are to return to contention.
Oakland Raiders: Push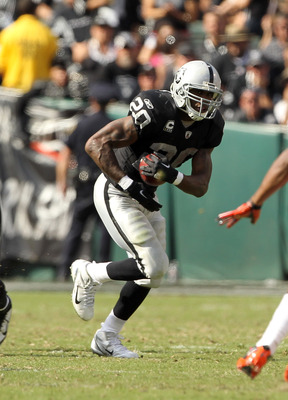 Ezra Shaw/Getty Images
The Raiders finished a promising 2010 season with an 8-8 record. Whether they can build upon that in the 2011 season remains to be seen.
Progressing from one season to the next is anything but natural for a team with a new head coach and a starting quarterback that has yet to spend a week in his new city. Despite this, and receiving a 28-0 drubbing from the Kansas City Chiefs, the Raiders are 4-3 and in the hunt for a playoff berth.
Darren McFadden, when healthy, has been unstoppable. However, if Carson Palmer can't pass a crash-course and become better familiarized with the Raiders offense, McFadden will have to continue being that. That's a lot to hang your hopes on, especially for a player with such a rich injury history.
The Raiders have plenty of young talent and the potential to emerge as a playoff team. But with so many unknowns and with such varied results, it will be difficult for them to rise from the pack.
Philadelphia Eagles: Downward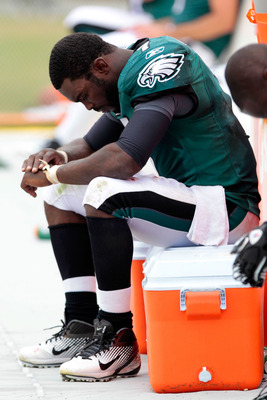 Chris Trotman/Getty Images
It's encouraging that the Eagles could pull-off a Week 6 win against the Washington Redskins, but it hasn't been enough to dispel labels of a disappointing start to the season.
The "Dream Team" may have awoken, but for a team with Super Bowl expectations, they have vastly underperformed.Turnovers and poor defense have played the biggest role in the Eagles' 2-4 start, but adjustments appear to be on the horizon. Their lone turnover against the Redskins came from Vince Young with Michael Vick sidelined, and their defense forced four turnovers and allowed just 42 rushing yards.
While things could be looking up in Philadelphia, it's also the only direction for them to head after such a horrific start.
Pittsburgh Steelers: Push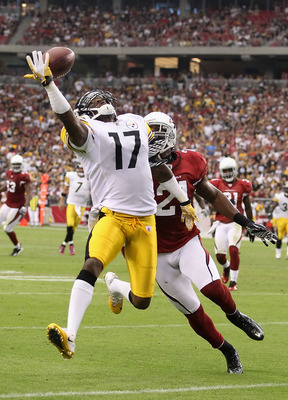 Christian Petersen/Getty Images
Things did not look good in the early goings of the Pittsburgh Steelers' 2011 NFL season. They were on the receiving end of a Baltimore Ravens beatdown, and barely emerged victorious against the winless Indianapolis Colts in Week 3.
Despite their shortcomings, the Steelers are 4-2 and have battled through injury and embarrassment to remain in the AFC North race. With the easy part of their schedule ahead, and with Mike Wallace continuing to emerge as one of the NFL's premier weapons, it's not shortsighted to say that the worst of the Steelers' troubles are over.
San Diego Chargers: Push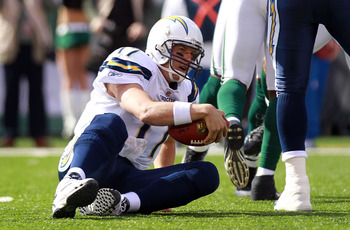 Nick Laham/Getty Images
The Chargers haven't shown the same electric offensive output that made Philip Rivers famous in past years, but with an early 4-2 record, it's hard to imagine anyone being unhappy in San Diego.
Norv Turner's team has traditionally sputtered out of the gate but recovered in time to earn a playoff berth. Last season, the Chargers could not overcome their early struggles, and the fact they got off to a 4-1 start is music to Turner's ears, no matter how ugly.
The ugliness finally got the better of a team that still hasn't found its groove on Sunday against the New York Jets. But with Rivers and the offense underperforming, it's scary to think of what the Chargers record will be if and when they find their stride.
San Francisco 49ers: Upward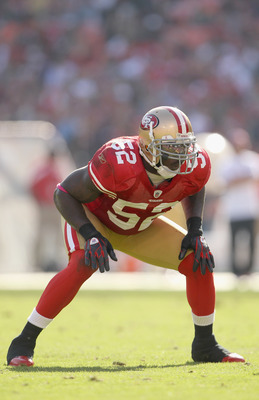 Ezra Shaw/Getty Images
The NFC West was supposed to be the laughingstock of the NFL this year. Somebody forgot to tell that to the San Francisco 49ers.
Anchored by a top-10 defense and a revitalized Alex Smith, the 49ers sit atop the standings at 5-1 and have more wins than the rest of the teams in their division combined.
A gritty road-win against the Detroit Lions and a 48-3 thrashing of the Tampa Bay Buccaneers provided many reasons to suggest that the 49ers have what it takes to usher-in a new era of competitiveness not seen since the Steve Young era. Even with just one loss on the season, the best is still yet to come.
Seattle Seahawks: Downward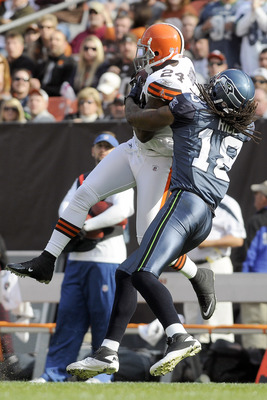 Jason Miller/Getty Images
When a team's defense gives up just six points and still can't find a way to win a game, don't expect them to be high up on the power rankings. However, it's not like many expected the Seahawks to near the top of the ranks despite a pseudo-playoff appearance in 2010.
Despite a convincing victory against the New York Giants, the Seahawks have fallen back to earth and look every bit like the 7-9 team they were a season ago. Their opponents have outdueled them in almost every statistical category, and with matchups against Dallas and Baltimore approaching, it's hard to see those ratios improving.
St. Louis Rams: Downward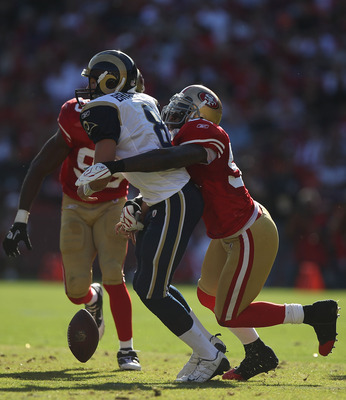 Jed Jacobsohn/Getty Images
This should be a sight that most of us are used to at this point. Sam Bradford has been routinely wrapped-up and thrown down, while the same thing that happened to any hope that the Rams may have had entering the 2011 season.
The Rams have a promising young passer in Bradford, but at 0-6, the distant future is all they have to look forward to. It will continue to be a long year in St. Louis.
Tampa Bay Buccaneers: Push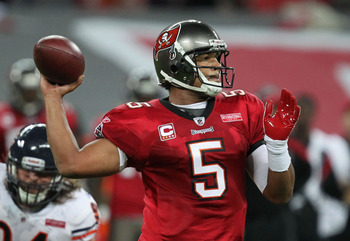 Streeter Lecka/Getty Images
The Buccaneers are another team that has given fans the best of both worlds. They are a team that has come up big in the clutch to defeat the New Orleans Saints, but also lost by 45 points to the San Francisco 49ers.
The roller coaster of the young season has left the Buccaneers in contention at 4-3, and that ride will likely continue. Their next three opponents are the high-flying offenses of New Orleans, Houston and Green Bay. Expect a dropoff.
Tennessee Titans: Downward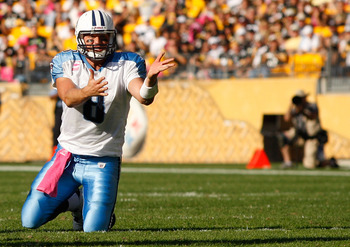 Jared Wickerham/Getty Images
The Titans appeared to be a dark horse playoff contender after beginning the seasons with convincing victories over Baltimore and Cleveland. But the spotlight faded as soon as they entered it after getting crushed by Pittsburgh and Houston in their most recent games.
The start was very encouraging, but that's about it. Chris Johnson is yet to return to form, and Matt Hasselbeck's production has plateaued after losing Kenny Britt for the season. Unless something drastic happens (Terrell Owens?), there isn't much to like about the rest of the Titans' season.
Washington Redskins: Downward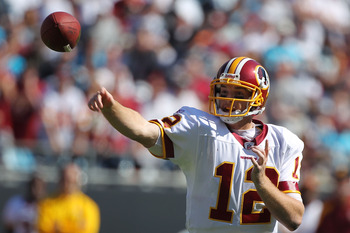 Scott Halleran/Getty Images
After a nightmarish 2010 season where almost everything imaginable went wrong for the Redskins, it was a breath of fresh air when they began 2011 at 3-1. However, only one of those wins, which was against the New York Giants, was in truly convincing fashion. Another victory was against the winless St. Louis Rams, who almost came back to win.
Now, after two consecutive losses at the hands of two one-win teams, the Redskins have fallen back to Earth. Their improved defense has not been able to keep offenses off the field, and Rex Grossman's comeback story was slammed shut by throwing nine interceptions in four and a half games.
The Bills and 49ers are next for the Redskins. John Beck will need every bit of a miracle if they are to give a winning output on offense without Santana Moss, Chris Cooley, Trent Williams and Tim Hightower.
Keep Reading