Kyle Boller Must Start for the Oakland Raiders, Period
October 18, 2011
Thearon W. Henderson/Getty Images
Kyle Boller has to be the starter for the Oakland Raiders.  After Jason Campbell suffered a broken collarbone, the Raiders are left with only Kyle Boller, a first-round draft bust, and Terrelle Pryor, a rookie who has taken as many snaps in the NFL as Jessica Simpson.
The Raiders are exploring trade options since Campbell will be out for the reminder of the year. They shouldn't. Again, I repeat myself: Kyle Boller must start for the Oakland Raiders.
Kyle Orton does not fit
Kyle Orton isn't a good match for the Oakland Raiders. Do you know why? Because Al Davis spent decades to build an offense based on running plays and deep vertical passing plays. Mr. Davis might be dead, but this offense hasn't changed.
Orton can't throw downfield. The Raiders aren't built to play a West Coast offense right now. Bringing Orton would be useless.
Even more, the Broncos would ask a lot to trade their backup quarterback to a divisional rival. It's not worth it. Orton is inconsistent and not good enough to make a difference.
Carson Palmer is not a good option
Carson Palmer didn't take a snap all year. Actually, he hasn't take part in a practice for several months. How do you expect him to perform right away for the Raiders? He doesn't know the playbook and wouldn't be synchronized at all.
I hear people saying Palmer would help the Raiders to reach the Super Bowl. This is ridiculous. In the past two years, Palmer threw 33 interceptions and never had a QB rating over 84.
Palmer is not Peyton Manning—actually he isn't even near being as good as Tony Romo, and everyone says Romo can't lead the Cowboys to a Super Bowl. How could Palmer bring the Raiders there?
Finally, there is no way that the Bengals' owner Mike Brown will trade his ex-franchise quarterback. First, he would send him to a potential playoff team. The Bengals will be fighting for a playoff spot and they don't want to help any other team. Second, Brown had plenty opportunities to trade him before and hasn't made any move. Why would he do it now? It won't happen.
Terrelle Pryor is not an option at all
Terrelle Pryor starting for the Oakland Raiders is impossible. Buy a lottery ticket and your chances will be higher.
First, Pryor hasn't been present for the training camp. Second, he hasn't been near the team until last week because of his suspension. 
This isn't college football. Pryor would not have any success in the NFL right now. He will start in the future, but not this year. Hue Jackson has been clear about that.
Pryor sent a text message to his coach last night to tell him he was ready to start. Jackson simply replied that he is a rookie and need a lot more reps. The message is clear. Pryor isn't ready.
No draft picks to trade
The Oakland Raiders already traded their second- and fourth-round draft picks of 2012. They also lost their third-round draft pick by acquiring Terrelle Pryor. Last week, they acquired Aaron Curry from the Seattle Seahawks for conditional draft picks.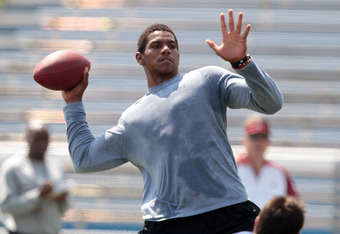 Jared Wickerham/Getty Images
Bad news for the Raiders, it's not legal to trade your additional draft pick. Therefore, they could only trade their picks of 2013 or their 2012 first-round draft pick. Is there any guy worth a first-round draft pick? Absolutely not!
Al Davis' death and Hue Jackson's mission
Hue Jackson is in charge. Actually, he is the most powerful coach in this organization for the past 60 years. He has full control of the team, including player management.
Jackson is a natural leader and helped these players to believe in themselves. He has many similarities with Rex Ryan in his first year with the New York Jets. His emotional speeches and his imposing stature make him a unique coach.
The death of Al Davis, an icon of the NFL and the Raiders, gave energy to the players. They are led by an additional source of motivation, as the New Orleans Saints after Hurricane Katrina. A quarterback is the leading man of an offense. If you bring an outsider, he won't be in the same mental state than the other players.
Actually, bringing an outsider to play such an important position might negatively affect the spirit of this team. 2011 is a special year for the Raiders—you can't bring a new quarterback in the middle of the season.
Kyle Boller is the man
If you're the Oakland Raiders, your best option is currently Kyle Boller. Bring in Trent Edwards as a backup and let Boller starts. He knows the playbook and will get more reps to get used to the offense.
Does anyone remember Jim Plunkett? In 1980, he replaced starting quarterback Dan Pastorini in Week 5. In his first game, he threw five interceptions. After this game, he led the Raiders all the way to the Super Bowl.  So far, Boller has been better than Mr. Plunkett!
Darren McFadden is the hottest running back in the NFL—take advantage of it. Instead of talking about trades, the Raiders should focus on getting Boller ready. Build a game plan around him and your running game.  Make sure that he won't throw too many times in the middle of the field. Let the defense step up for this team.
Boller is built for this offense and is the best viable option.  Let him start and Davis' spirit will take care of the rest for this Raiders' magical year.