Jason Garrett Not the Right Coach for Dallas Cowboys, Tony Romo
October 10, 2011
Ronald Martinez/Getty Images
Jason Garrett is not the right man to coach the Dallas Cowboys, nor will he be able to "help" quarterback Tony Romo with his turnover issues. 
See, Garrett has been Romo's offensive coordinator since his first full season as the starter (2007), and Romo has turned the ball over 64 times in 59 games played since then.
If Garrett hasn't been able to get through to Romo about his questionable-at-best decision-making after five full seasons, it's never going to happen. 
Romo's main problem is bad decision-making due to over-confidence in his ability to make every play, which cannot really be coached out of him, anyway. 
If Garrett were to try to coach the improvisation out of Romo's game, he would be robbing him of the very thing that makes him so dangerous—the ability to make plays out of thin air when all looks lost. 
Beyond the fact that Garrett has failed to help Romo progress as a quarterback, I do not believe he is the right coach for this football team. 
I documented my fairly extensive feelings on Garrett last season, but I also feel that much of the logic behind one of the biggest factors in his hiring was extremely flawed. 
Garrett was credited with turning around the Cowboys season after he took over for Wade Phillips on an interim basis eight games into the 2010-11 season, and that was cited as a major factor in his hiring as the head coach full time.
Dallas was 1-7 at the time he took over and rebounded to go 5-3 once Garrett replaced Phillips. 
While that tidbit might might make it sound like Garrett did in fact turn the season around, it conveniently ignores the fact that the Cowboys were actually expected to be good last season. 
Of 25 experts polled by ESPN and Sports Illustrated prior to last season, 22 picked the Cowboys to reach the playoffs, 20 took them to win the NFC East, five predicted they would represent the NFC in the Super Bowl and two expected them to win it all. 
Since the NFC East is annually one of the toughest divisions in all of football, it's fair to say most experts expected the Cowboys to win at least 10 games, which is usually the minimum amount needed to win the East in most seasons. 
Garrett merely got the team to meet preseason expectations. It only seemed that he turned the season around because the Cowboys had so badly underachieved under Phillips, who the team seemed to quit on about three or four weeks in.
Additionally, if the Cowboys weren't given gift-wrapped wins by the Indianapolis Colts—four interceptions by Peyton Manning, two of which were returned for scores—and Philadelphia Eagles—Michael Vick, LeSean McCoy, DeSean Jackson and Jeremy Maclin, among others, didn't play in the season's final game—no one would argue that Garrett had turned the 'Boys season around at all. 
If you take a closer look at the games he coached, many of the problems that plagued the Cowboys under Phillips' direction still persisted once Garrett took over.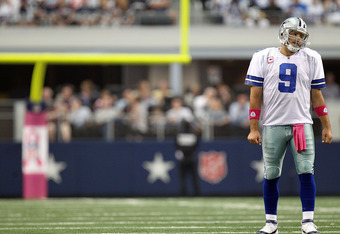 Ronald Martinez/Getty Images
The Cowboys blew leads in each of their three losses under Garrett—to New Orleans, Philadelphia and Arizona—and blew a 20-point third-quarter lead against the Washington Redskins in a game they eventually won on a David Buehler field goal. 
They blew a game on a missed extra point (Arizona) and another on a fumble on what should have been the game-winning drive (New Orleans). 
The Cowboys took 41 penalties in the eight games after Garrett took over, an average of more than five per game. Garrett's offense was penalized 109 times last season, sixth most in the entire league.
The defense still surrendered and average of 25.2 points per game once Garrett took over, not much better than the 28.6 they allowed under Phillips. 
They couldn't find a way to get the ball to No. 1 wideout Miles Austin, who finished with just 24 catches for 386 yards in the eight games Garrett coached. 
The Cowboys offense as a whole has arguably regressed since Garrett was named coordinator in 2007 as well. 
After his offense was ranked second in the league in 2007 with 28.4 points per game, the Cowboys offense has yet to hit 25 points per game in a season since. 
They've ranked 18th, 14th and seventh in points per game since he turned down the Falcons and Ravens head coaching jobs after the 2007 season. 
Elsa/Getty Images
Let's not forget that in 2007 Garrett had former Cowboys offensive line coach and current Miami Dolphins head coach Tony Sparano helping him with play calling.
Since Sparano left, Garrett has struggled to regain the rhythm and balance as a play caller that allowed the Cowboys to sport one of the most explosive offenses in the league. 
Garrett's tenure coincided with the downfall of former No. 1 running back Marion Barber, who became increasingly ineffective under Garrett. His touchdown total dropped progressively each season. 
He's also failed to turn former first-round pick Felix Jones into a successful running back, as the Arkansas product has seen both his yards per carry and touchdown total drop each year he's been in the league. 
Martellus Bennett has failed to turn into the weapon the Cowboys envisioned him as when they drafted him out of Texas A&M in 2008.
Arguably the only offensive player who is better now than when Garrett took over is Miles Austin, and the Cowboys lucked into that one. Austin only got a chance because Roy Williams was out with an injury for the Cowboys' Week 5 contest against the Kansas City Chiefs in 2008.
If it wasn't for Williams' injury, they may have never known what they had in Austin. 
Dallas' best weapon in Garrett's tenure has been tight end Jason Witten, but he somehow had seasons of just two and four touchdowns in 2008 and 2009 with Garrett coaching the team. This is mostly due to Garrett routinely keeping Witten in to block once the team reached the end zone, a strategy that doesn't make any sense at all.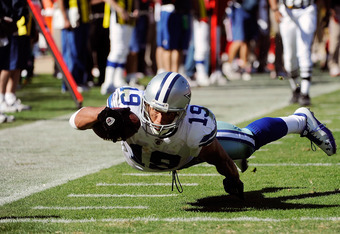 Thearon W. Henderson/Getty Images
It's not a surprise that the problems that plagued the offense—turnovers and penalties—while Garrett was the offensive coordinator have persisted since he's become the head coach.
The offense is again in the top half of the league in penalties, checking in at 12th in the NFL with 28 through four games. 
The Cowboys have 10 turnovers through the first four games of the year, tied with Kansas City, the Jets and Philadelphia for third most in the league. 
Romo has five interceptions and has arguably lost two games for the Cowboys all by himself. 
Of course, Garrett had a big hand in the Lions loss, too. He refused to run the football in the second half, even though it appeared Romo was trying to hand Detroit the game. 
The Cowboys threw the ball 47 times and ran it just 27 in a game they once led by 24 points. That is simply inexcusable. 
In a Week 1 loss to the Jets, which the Cowboys led by 14 points in the fourth quarter, the Cowboys ran 44 passing plays to just 16 rushes. 
There's really no reason to believe Garrett will get any of these problems cleaned up—they've been prevalent for his entire tenure. 
He's still the same guy, he just has a new title.